Whether you are a natural traveler, a wannabe traveler, an armchair traveler or simply new to the whole travel community, you probably know what you like when it comes to seeing the world. You may even already have your own set of 'travel goals' that keep you working, saving, planning and enjoying every moment of your well earned adventures; or you might be in the market to start setting some of your own.
Popular travel goals range from the lofty heights of seeing every country in the world to simply taking more weekend trips; or from learning a new language to seeing a white Christmas. Everyone is different and not all travel goals are a good 'fit' for everyone, but hopefully at least one of the goals listed below (contributed by a whole heap of travel bloggers who know a thing about travel!) will speak to you – either to add it to your own travel bucket list or inspire you to get creative and come up with your own unique travel goal.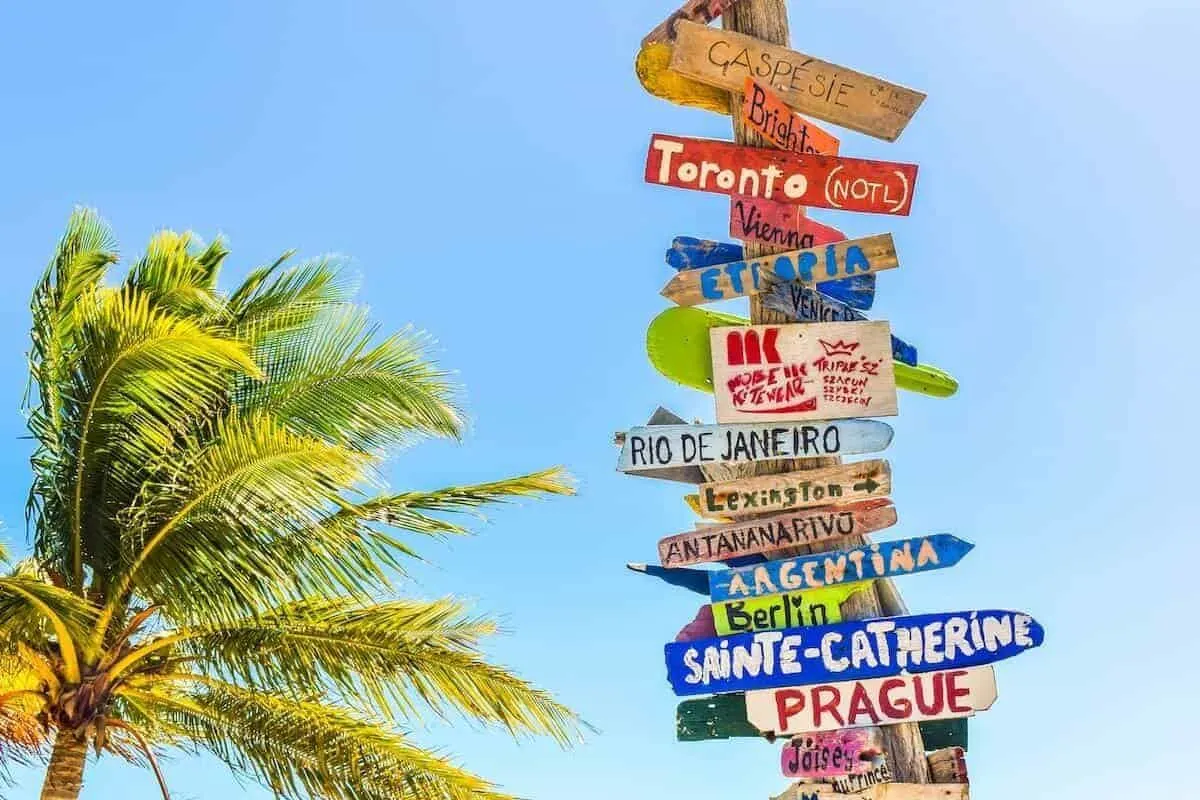 Disclaimer: Almost all posts on this site contain Affiliate links, and this one is no different. This means that if you click on any of the links in this post (and make a purchase) I may receive a small commission at absolutely no cost to you. Each post is carefully crafted to (hopefully!) answer all your questions and recommendations are made where we believe they will improve your trip and help with your planning. As such we thank you in advance should you decide to click & buy. Read my full Disclosure here.
'Traditional' Travel Goals
Whilst everyone's travel goal is unique and driven by their own motives, the aspirations listed in this section are what could be considered as 'traditional'. I don't really want to use the word 'common' as some of these goals are lofty and worthy of being called a goal in their own right, but I have put them in this section as I believe they are probably goals held by many, and are no stranger to the typical travel bucket list.
Hop on a random flight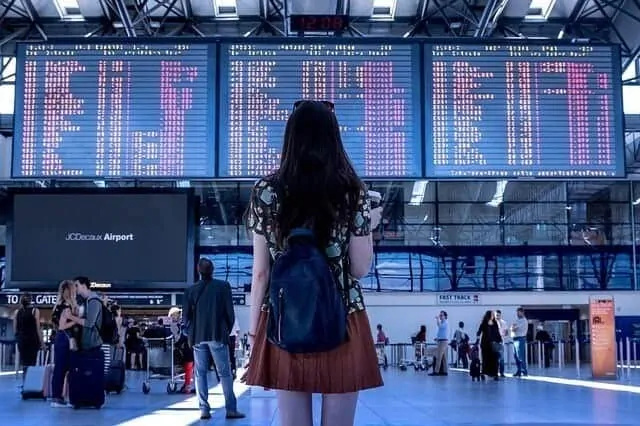 "My goal is to rock up at the airport and choose a random flight to take. I've visited lots of countries and made many last minute trips, but I've never just turned up and hopped on a flight – and I've always wanted to! One day I'd love to turn up to the airport with a packed suitcase and no idea of where I'll be going, and just choose a random destination from the departures board (and hopefully get an epic flight deal!)"
~ Jodie form Alajode
Lean another language
"My goal for 2020 is to learn conversational Spanish by studying at a Spanish school in Colombia while living with a local host family. Once I am confident in Spanish I would like to backpack around Colombia and many other South American countries, including going hiking in Patagonia."
~ Erika from Erika's Travelventures
Visit One New Country Each Year
"In addition to my lofty bucket list goals, I have an annual goal to visit at least one new country and one new U.S. state every year. This goal allows me to experience new cultures and lands every year while also exploring more of home."
~ Tyra at The Traveling Esquire
Go on an Epic Road Trip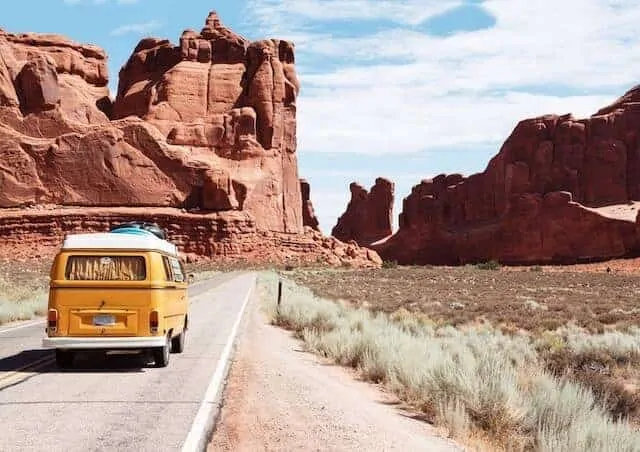 NORTH AMERICA: "My travel goal is to go on an insane road trip in the Americas because these continents have the most diverse places (and people) in the world. The adventure would begin visiting the main cities and national parks in Canada. Then I would visit all states in the US (mainland) to then drive south towards Latin America. I have no aspirations to visit every country on the way to Brazil, though, but the Caribbean would be nice! And one thing is for sure: I want to finish this year-long road trip in a winery or brewery, just because."
~ Bruna from I Heart Brazil
SOUTH AFRICA: The Garden Route between Cape Town & Johannesburg is one of the most incredible road trips on the planet, and a fantastic way to discover South Africa. From the wine regions, to the wildlife; amazing coastlines to great towns and even greater cities. It is an absolute must if you find yourself in South Africa.
SPAIN: "My favorite destination is Spain so my goal is to take a road trip in each one of Spain's regions including its islands. I'd love for each road trip to be at least 10-day long so I could see as much as possible of each region"
~ Or from My Path in the World
AUSTRALIA: The Great Ocean Road is an iconic road trip that is at the top of the travel wish-list for anyone that loves the coast and the open road. National parks, Natural wonders, Seaside hospitality and that laid-back Aussie lifestyle. Could anything be more perfect? (Well apart from the 100+ other AMAZING things to do in Australia!)
See Wildlife in the Wild (Ethically)
On a Safari in Africa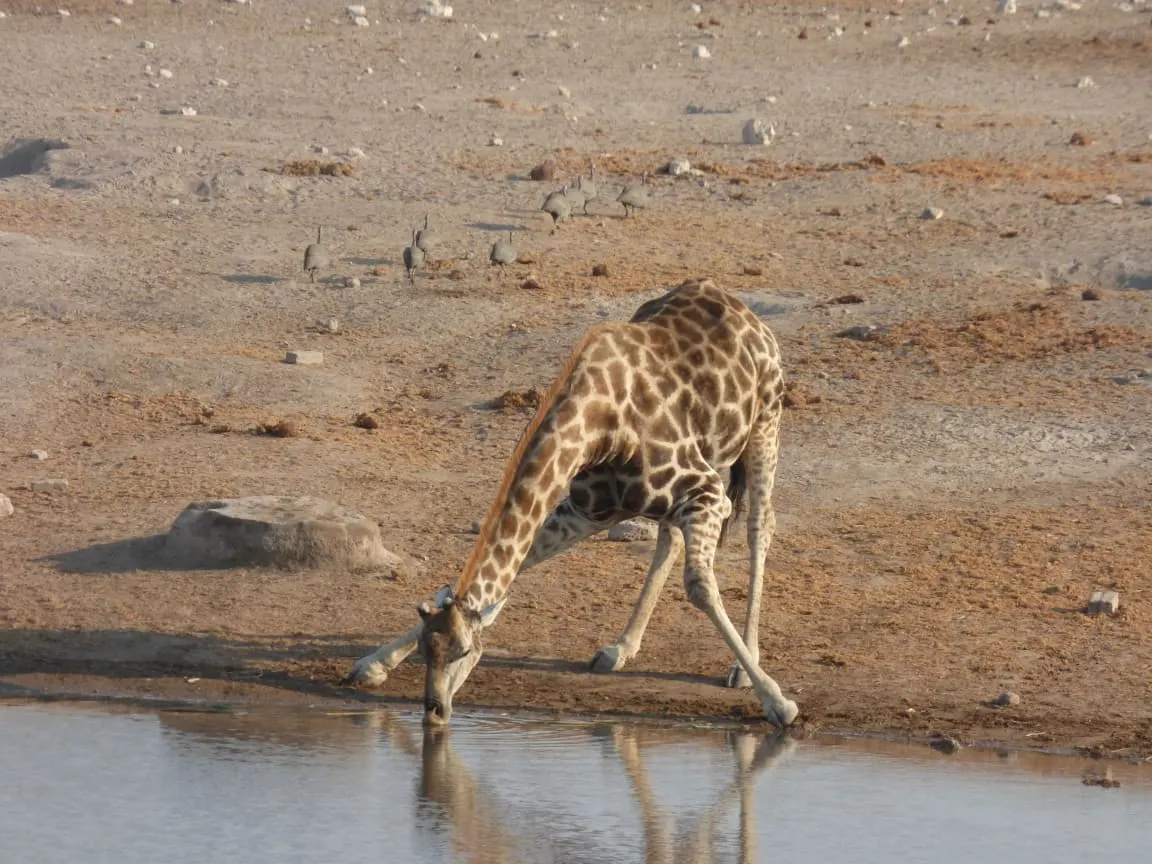 "Our 20th wedding anniversary is in 2020 and we aim to do something extra special and very expensive! Africa has alluded us so far (apart from Morocco) so the plan is to head there before our annual sojourn to Greece mid year. We will fly into Johannesburg and explore South Africa before moving onto Botswana and Zimbabwe, hopefully by luxury train, and ending at Victoria Falls. This will include 2 or 3 safaris. We did an elephant safari in Sri Lanka a few years ago and it was just incredible to see over 200 elephants in their natural environment so seeing the Big 5 African Animals is our next BIG goal!"
~ Sandy of Greece Travel Secrets
Dive (or Swim) with Whale Sharks
"My goal is to see a whale shark while diving. Obviously not in a tourist trap kind of place where they feed them but I just hope to be lucky enough that one day I see one during a dive. They are such majestic creatures and it must be amazing (and a little scary) to swim close to one! So I'll just keep keeping my fingers crossed and my eyes peeled on every scuba dive."
~ Lotte from Phenomenal Globe
Go on a Cruise

Take a World Cruise
"My biggest travel goal is to go on a World Cruise. Since our first cruise to the Caribbean 15 years ago, we have been in love with this way of travel and truly love "cruise life". Over 20 cruises later, our destination goals have broadened. The idea of living life on a cruise ship for about 100 days and having the opportunity to visit so many places in the world, we probably wouldn't see otherwise, is in our future plans and big dreams!"
~ Ilana from Life Well Cruised
Sail the 3 Longest Rivers in the World
"One of my many travel goals is to sail or cruise down the 3 longest rivers -the Nile, Amazon and Mississippi Rivers I love being on boats and I think rivers are a fascinating glimpse into history, culture and nature These three rivers are iconic for different reasons and travel on them is also very different So far I have sailed on a felucca down the Nile, but I still have the other two to go."
~ James from Travel Collecting
Volunteer Abroad
"During my last year at high school, my classmates and I traveled to Malawi for 3 weeks to assist in the development of a school for girls with hearing impairments. It is our goal at highlands2hammocks to return to Malawi and once again help in the communities by building and teaching."
~ Campbell from highlands2hammocks
See (and photograph) an Aurora Event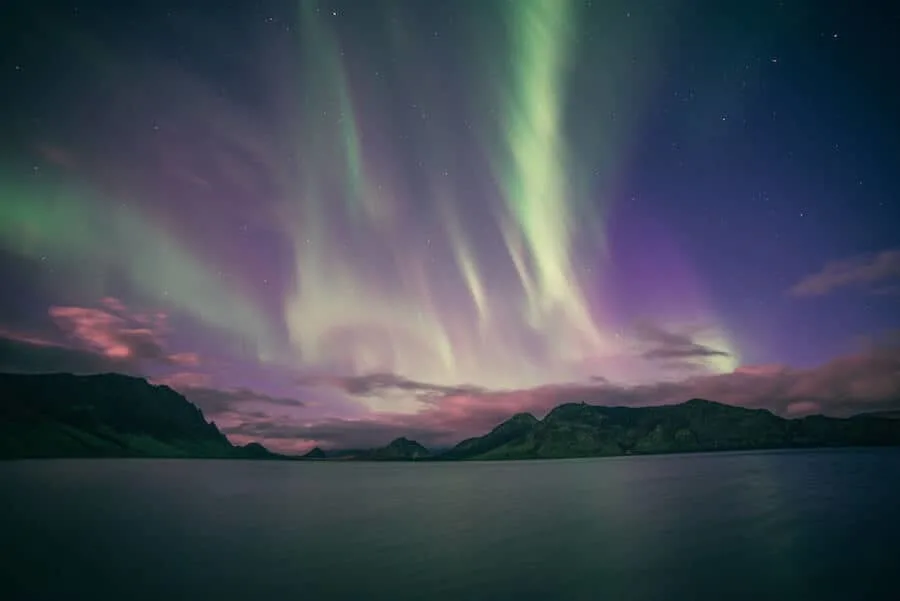 "I'm a photographer and I have always wanted to photograph the Northern Lights. We love traveling to see and learn how other people live and are passionate animal lovers. Our dream/goal is go on a an overnight reindeer safari where you camp out with the local Sami people in the Arctic Circle surrounded by about 300 reindeer. You get to walk among the reindeer, go on a sleigh ride, share a meal and hear stories from the Sami people and then sleep under the northern lights. Magic."
~ David from Travel with Little One
Learn to Surf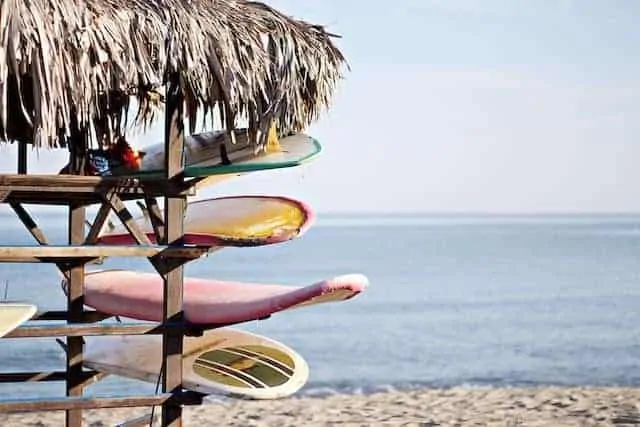 "Paul's goal is to learn to surf properly at the age of 40 by visiting surf beach destinations all over the world. So far it hasn't gone quite according to plan with illness striking, preventing him from taking anymore surf lessons or getting anymore practice in for months. We've also found ourselves having to detour to landlocked countries where there isn't a surf in sight. Thankfully, he still has just over a year left to smash the goal!"
~ Paul & Milene from Surf & Unwind
Visit ALL the UNESCO World Heritage Sites
"My wife and I are aiming to visit all 1121 UNESCO World Heritage Sites. This journey has so far taken us to three continents, 50+ countries and to around 450 World Heritage Sites. We both really love the variety that World Heritage Sites offer: it's not just old buildings! We've also seen beautiful national parks, factories, mines, war memorials, observatories and botanic gardens."
~ Joel from World Heritage Journey
Get off the Beaten Path
"I've spent much of 2019 traveling through US and Canadian National Parks. There's no denying they're some of the most beautiful places on earth, but overcrowding are having a devastating impact on these places. My travel goal for the rest of the year is to spend time in and bring awareness to alternatives to these major destinations. I'll be seeking out less-known national parks, national monuments, state parks, and national forests throughout North America that are just as spectacular but have more capacity for foot traffic, and writing about them to help encourage other travelers to experience them firsthand."
~ Taylor from Travel Outlandish
Travel Full Time for 1 Year (or More)
"My goal is to be able to travel for 1 full year in either Asia or Europe visiting multiple countries without taking any breaks."
~ Esther from The Adventurous Feet
.
Adventure Travel Goals
Think big or go home. Go crazy with creativity. Put yourself out there. These travel goals are for the adventure seekers, the brave or the downright insane (depending on how you look at it!)
Visit Every Country in the World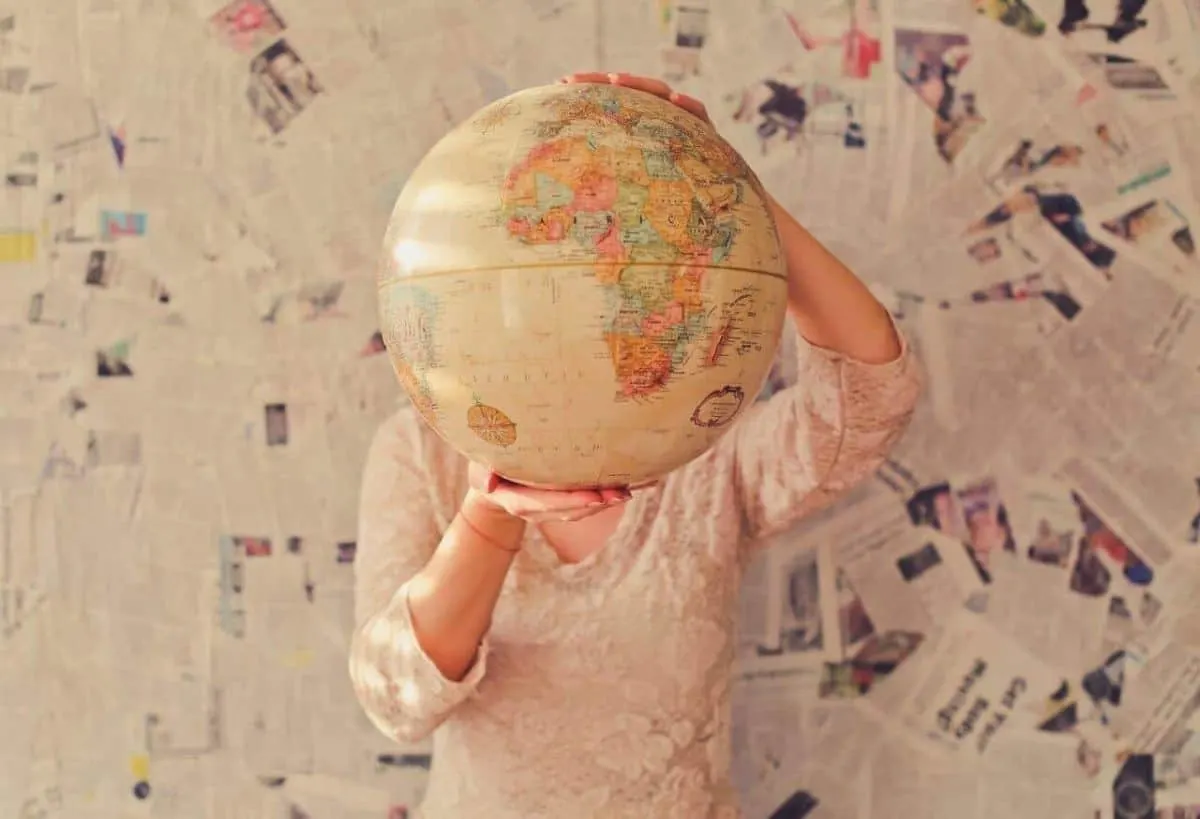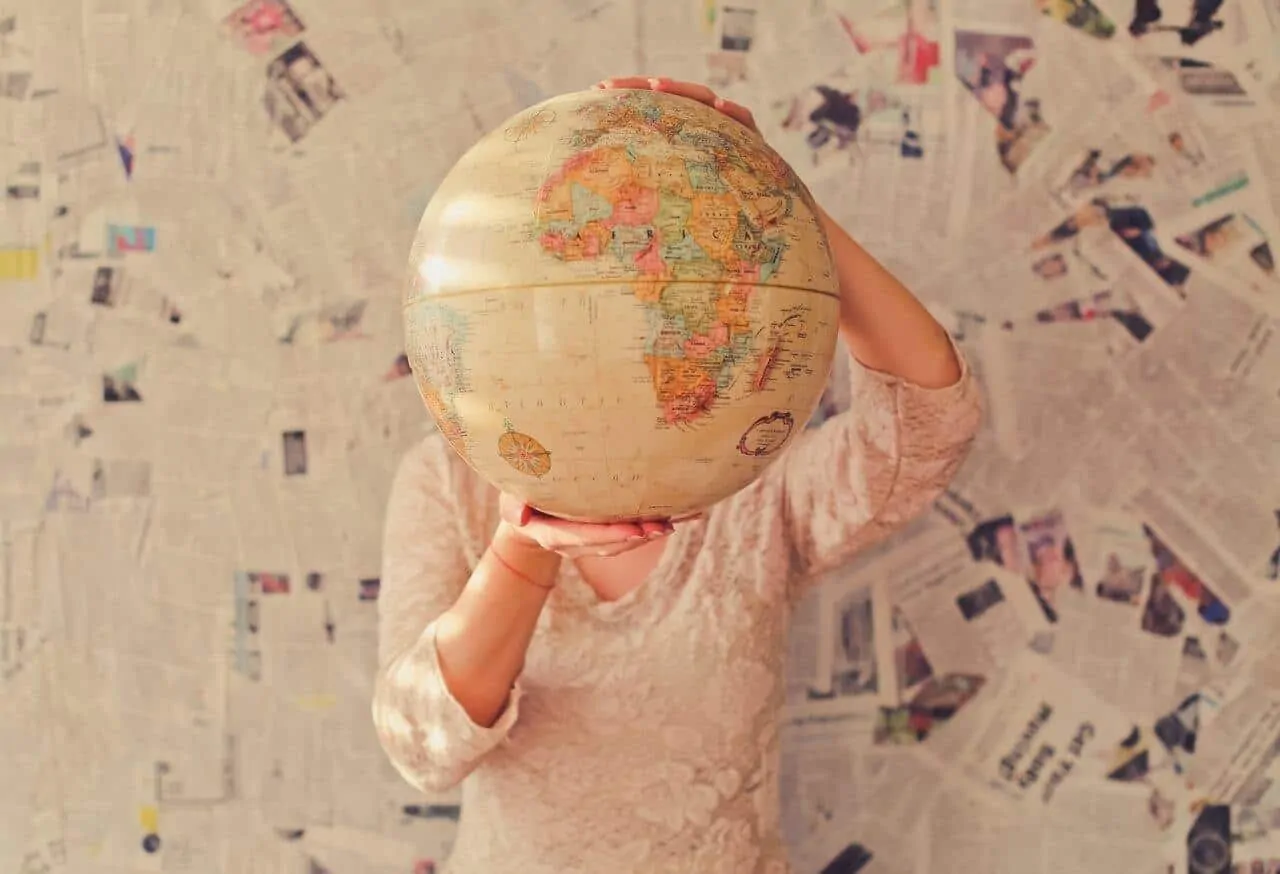 "My goal is to visit every country in the world before I am 50. It has taken me 25 years of traveling abroad to visit 115 countries and I have 10 years left to visit the last 78 countries. I've been doing a lot of the harder countries first and I just finished an overland trip from Morocco to Nigeria. My next trip will be to the Balkans and a few other countries in Europe I have yet to visit. I want to do this because its important to me to learn about new cultures and places. Once I finish I hope to start over again and visit places I haven't been in 20 years!"
~ Nicole from Travelgal Nicole
"One of my most craziest travel goals is to circumnavigate Cape Horn in South America on a sailing boat. Feel the wind on my face, watch the waves hindering the task. And in the end join the group of people who lived through this one of its kind sailing adventure. And finally understand the real sense of marine stories (hopefully!)"
~ Dominika from Sunday in Wonderland
Walk/Hike the Most Beautiful Treks in the World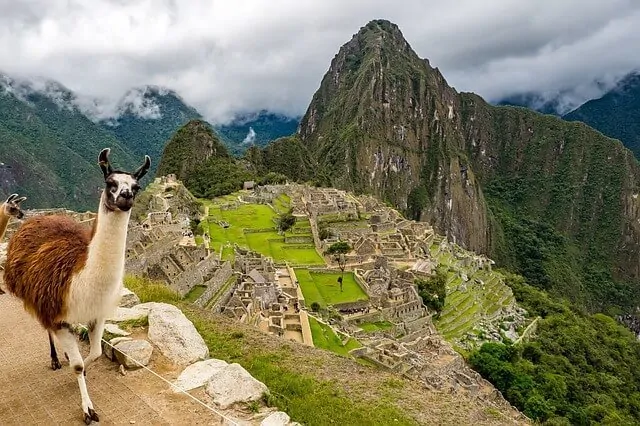 PERU, CHINA, NEW ZEALAND ETC: My travel goal is to walk the most beautiful treks in the world. I love hiking and I have a bucket list of 100 Great Treks in the World, with the most famous treks but also lesser known treks in France. During my one-year world tour I did already many of those treks, like the W Trek in Torres del Paine Chile, Inca Trail to Machu Picchu in Peru, Tiger Leaping Gorge in China or Milford Track in New Zealand. I hope to go through the whole list (and especially Everest Base Camp) when I am still young and fit!
~ Elisa at World in Paris
ENGLAND: My travel goal is to do the multi-day walk across northern England on the 84 mile long Hadrian's Wall Path. The Roman Emperor Hadrian built the wall to protect Roman era England from people he considered to be barbarians in what is now Scotland.
~ Suzanne from Boomeresque
SPAIN: One of my main travel goals is to complete the 6-week long journey of "El Camino de Santiago de Compostela". It's a famous pilgrimage that I think deserves to be on everyone's bucket list, and everyone who has told me about it has said nothing but incredible experiences. I'd love to do this before I turn 35, as it's quite a challenging adventure, and requires walking over 20 kilometers every day! I recently did a road trip through Northern Spain, and we encountered a few people in the smaller towns who were just beginning it, and it really inspired me! Spain is one of my favorite countries, and I think this is one of the best ways to explore it properly.
~ Dave from Jones Around The World
PATAGONIA: My personal travel goal is to go back to Patagonia and rehike the granite Torres to the top, but this time I want to make it. Last time I stubbornly brought too much equipment and was too winded to make it in our guide's timeframe. Next time I will go on my own, with limited equipment, and make the entire hike to the top.
~ Lori from Travelinmad
We have a longstanding travel goal to journey entirely around the world without using any flights, yet sticking to a budget of $60 a day. There's great romanticism of traveling slowly overland and across the world's oceans. Taking a grand world cruise would be a dream but that would be too costly to accomplish this goal affordably. So we plan to form our own cheap world cruise by piecing together inexpensive repositioning cruises, while using a series of trains and buses to take us overland in between the overseas voyages.
~ John & Heather from Roaming Around the World
Experience an Epic Train Journey

Ride the Longest Train Journey in the World inc. the Trans-Siberian
Our goal is to do the longest train route in the world. We are Portuguese and this would start here and end in Vietnam, going through Russia, and encompassing the legendary Trans-Siberian railroad. In total this would be more than 11 000 miles.
~ Jorge at TravelDrafts
Coast to Coast across the USA on AmTrak
My goal is to travel coast to coast in the USA on Amtrak. Firstly, for the actual travel experience: I love the old-fashioned romance of train travel and the opportunity it provides to strike up conversation with random people! There are few greater joys than watching a landscape unfolding and changing, a country slowly revealing itself. And train travel provides a sense of scale you don't get from air travel. This journey takes in so many great cities that are on my bucket list. In fact, I view this train journey as fulfilling more than one travel goal and isn't that great?
~ Bridget from The Flashpacker
Visit Every Country in Europe
A dream of mine is to see every country in Europe before I turn 40. That gives me 7.5 years to go from 25 countries to 44. It would be great to see as many as possible by train, there is just something about trains that gets under my skin, but I know a few will have to be cheap, weekend breaks on a budget airline. My travels have been so focused on far-flung destinations, that I have somewhat neglected my neighbors and Europe is amazing!
~ Rosie from Flying Fluskey
Drive 1 Full Lap of Australia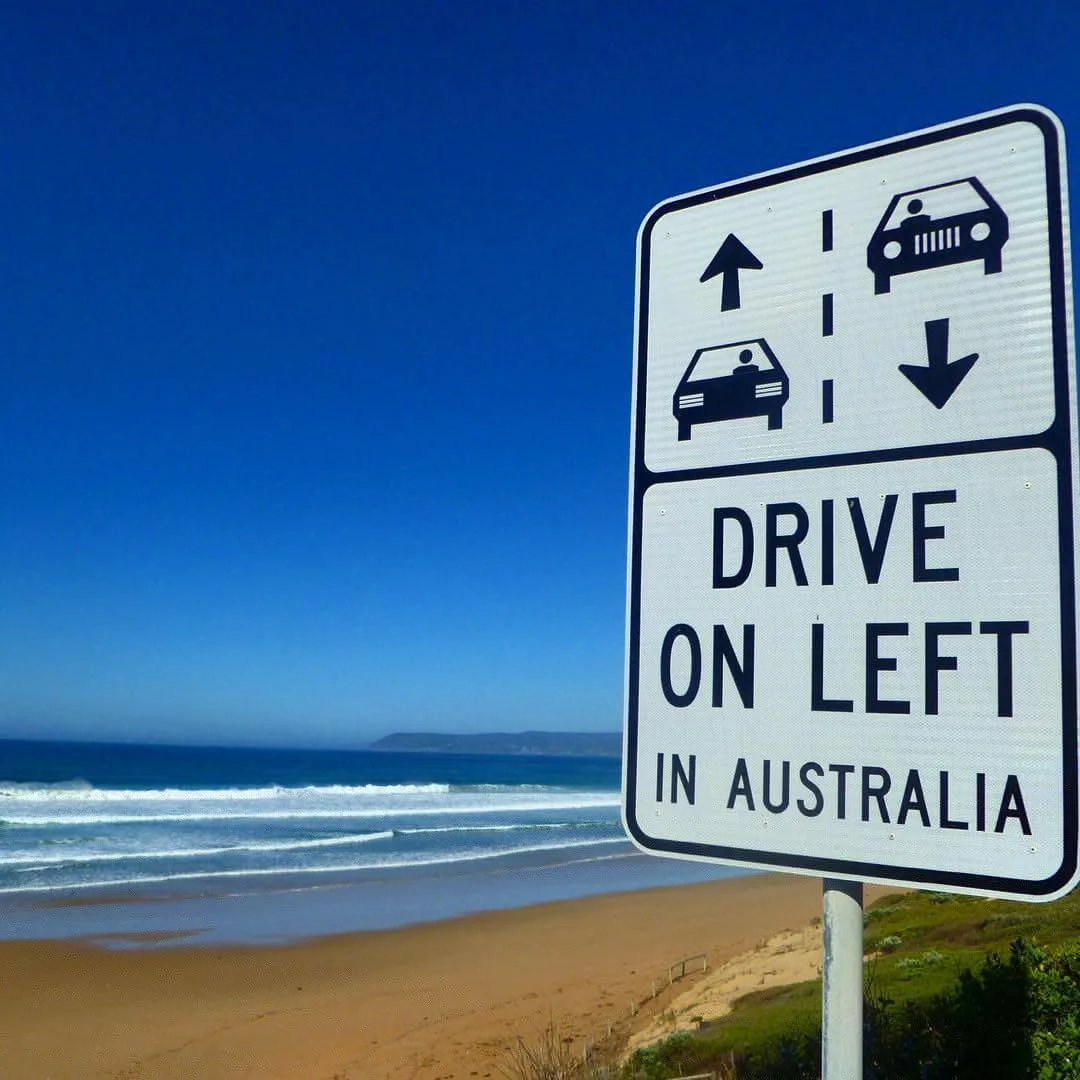 "My husband Marty and myself are Aussies and have explored every State in Australia. We've road tripped, ski tripped, snorkelled and camped, all over a period of 40 years. Our Australian trips have by necessity been slotted between family commitments and book-ended by overseas travel. Our ultimate goal is to drive our 4 wheel drive vehicle around Australia in either direction, cris-crossing from coast to outback. We will tow our caravan and plan a time frame of between 1 and 2 years."
~ Jan from Budget Travel Talk
Kayak Around Madagascar
"A huge personal and travel goal for me is to circumnavigate one of the world's largest islands by kayak. Madagascar is home to some of the largest coral reef systems in the world, wildlife find nowhere else, and an interesting Malagasy culture. I can think of no better way of testing personal limits and connecting with nature than exploring this tropical paradise lost in time."
~ Rai from A Rai of Light
Sail Across the Pacific & The Atlantic
"My goal is to take a boat/ship across both the Atlantic and Pacific. Traveling on the ocean can be a bit daunting for many as it is an endless horizon with perhaps not too much to see or do. Weather, nature and its elements are put to the test when traveling in such a vulnerable way and it is a goal of mine to be able to brave the oceans this way."
~ Diana from The Elusive Family
USA Based Travel Goals
The United States of America is huge and has a lot to offer any traveler. As such, there are a whole heap of travel goals which can be achieved without leaving it's fair shores.
50 States before 50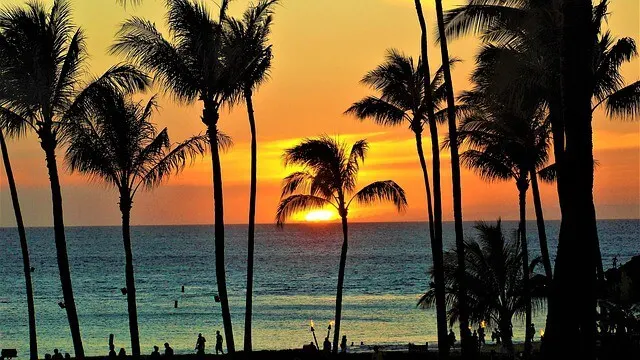 "I am working on seeing all 50 states of the United States of America before my 50th year on earth is completed— it's my own 50 by 50. I have just visited my 40th, Alaska, and plan to end it with a good one – Hawaii. (Read our first timers guide to Hawai'i or Maui here!) This goal is bringing me many unexpected adventures."
~ Jamie from The Daily Adventures of Me
Visit all the National Parks in the USA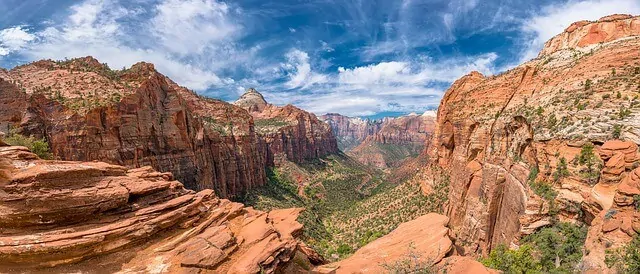 "Last year we started on our newest travel goal which is to visit all of national parks in the USA. The USA National Parks are one of the USA's best offers to tourists and encompass some of the best landscapes and natural scenery on earth in my opinion. There are currently 61 parks which means there is a long way to go but I can't wait for the journey."
~ Leona from Wandermust Family
"Our travel goal is to build a campervan (for the second time!) and travel in it to national parks around the United States."
~ Katie from Two Wandering Soles
Take an Epic US Road Trip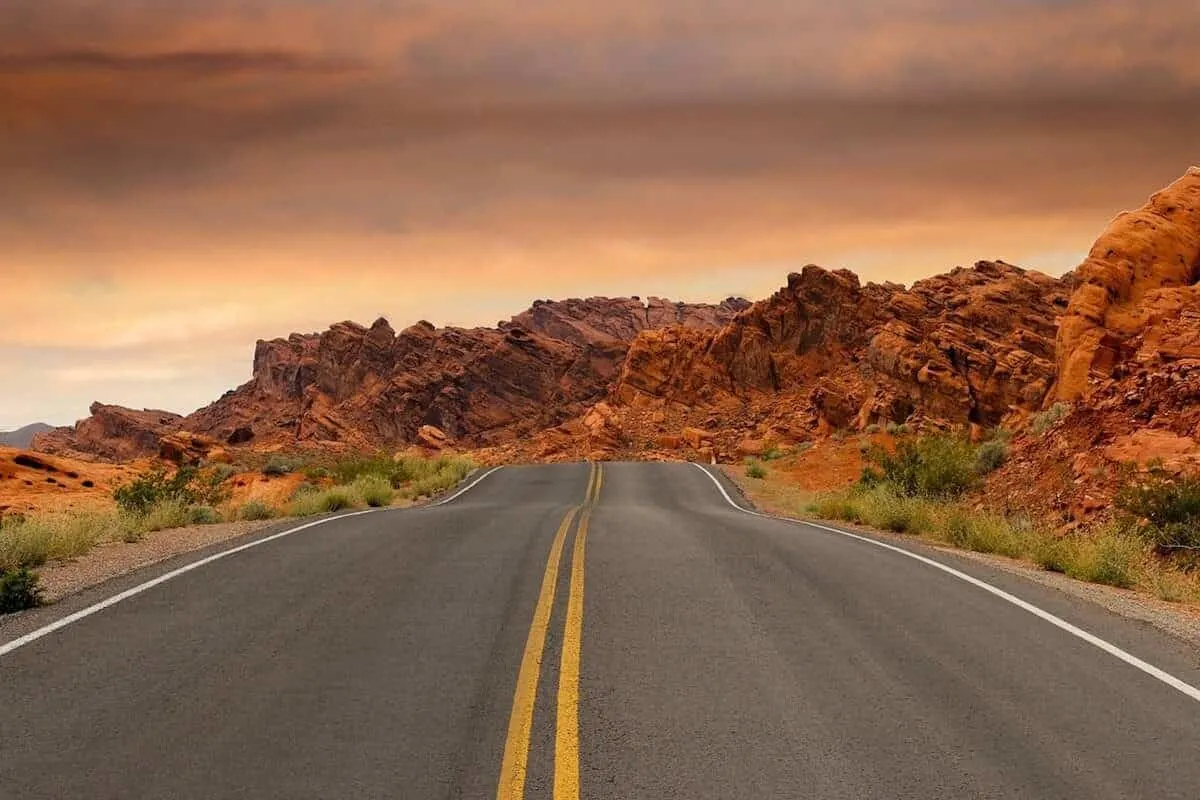 Route 66
"I would love to do a classic American road trip specifically following the path of historic Route 66 from my hometown of Chicago to Santa Monica. I've always lived in a large city so it would be a great opportunity to see places in the USA that are completely different to where I live, including smaller towns and rural destinations."
~ Matilda from The Travel Sisters
California to Alaska
"It's our goal to drive from tip of Baja California to Alaska in a camper van on a six-month road trip. Starting in Baja for the winter and reaching Alaska for the midnight sun. Along the way, we want to swim with whale sharks, kiss baby grey whales, hike in the redwoods, drink wine in Napa, and see glaciers in the arctic. Heading west and hitting the open road always represented freedom. This trip represents our journey from the corporate world into the great unknown."
~ Jenn and Ed from Coleman Concierge
Lighthouse Loop (Florida)
"My biggest goal right now is to drive the Lighthouse Loop in Florida. Overall, I try to show others the beauty of unknown Florida, and many people don't realize how many lighthouses we have. A lot of those lighthouses are located in out-of-the-way places so it's quite special to visit, photograph, and learn about the history of both the lighthouse and the surrounding region."
~ Cris from Wander Florida
Cultural Travel Goals
To Get to the Heart of a Different Country
BRAZIL: "My travel goal is to visit all Brazilian states while eating lots and lots of delicious dishes along the way. I would get a car somewhere in the south, stop by the biggest cities there and drive north towards all parasitic beaches and national parks in the Northeast of the country. Brazil is so massive and full of undiscovered gems that it would take quite some time to visit all 26 states, but I'm not in a hurry. Also, I have the best guide someone could ask: a well-traveled Brazilian wife. She is my inspiration to discover such a beautiful country."
~ Frank at Maps 'N Bags
TIBET: "Our next travel goal is to visit the forbidden land of Tibet. Although it is no longer forbidden, but the aura about the land still remains. One of the first travel books that I had read way back in my teens was a book about Tibet written in Bengali, our mother tongue. And the interest kept growing since then. Different parts of India have Tibetan influence and these places attract both of us. So both of us have decided to visit Tibet and explore the country within the next 2 years. We want to stand in awe in front of the Potala Palace, visit the village where his Holiness Dalai Lama was born and finally trek to the sacred Kailash and Mansarovar."
~ Amrita & Agni from Tale of 2 Backpackers



JAPAN: "My travel goal is to visit Japan during each season. As the landscape of the country can change so drastically according to each season, every trip would be so different. Since my summer visits I've been constantly imagining what it would be like to enjoy the cherry blossoms on Mt Yoshino in Nara in spring, admiring the stunning red hues surrounding Nikko in autumn, and paying a visit to alpine towns such as Takayama and Shirakawa-go during heavy snowfall in winter. I love revisiting a country over and over because the experience is different, each and every time!"
~ Alyse from The Invisible Tourist
SUNDARABAN: "My goal is to visit Sundarban from India side and explore it. This is low lying delta near the Bay of Bengal and home to rare species of plants. It is also home to endangered species of animals like Royal Bengal Tiger, Water monitor lizard, Gangetic dolphin and some rare species of turtles. It is a UNESCO world heritage site spread in 10,000 sq km in India and Bangladesh. Other than visiting the mangrove forests of Sundarban, I wanted to explore the small villages of this area and understand how people live in difficult situations."
~ Sapna at My Simple Sojourn
Visit every Spanish speaking country in the World
"Our travel goal is to visit every Spanish-speaking country in the world. Together, we've been to 14 so far and have 4 in the pipeline for the rest of the year. However, we're not going to rush to finish the list as we've decided to settle in Colombia and use it as a homebase while we plan how to see the rest."
~ Lozzy & Andy from Cuppa to Copa Travels
Visit the Holy Land of Israel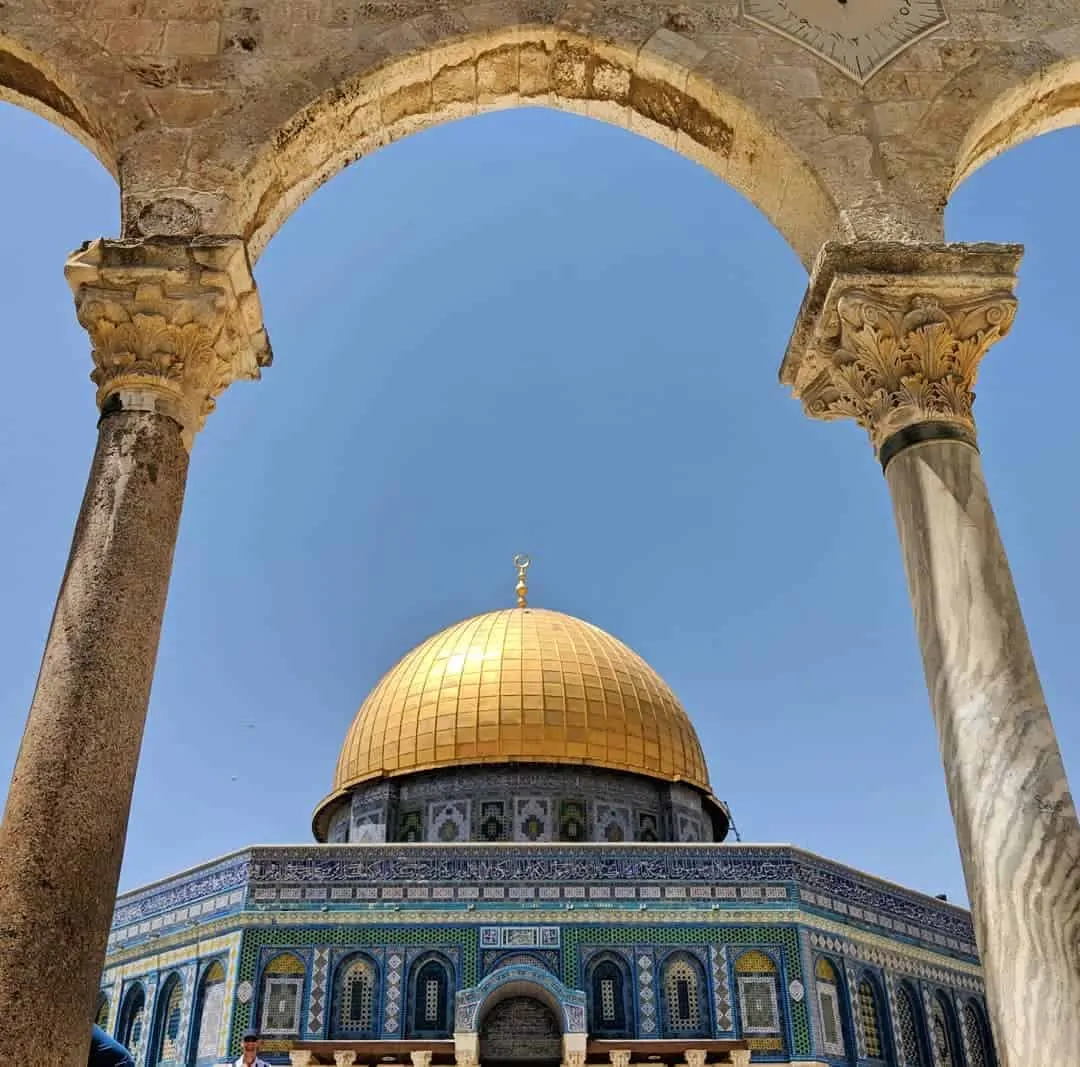 "Whilst Israel may be divisive for some, the history of this embattled land in undeniable. To go and learn about the various different claims to such a small part of the world, the historical and religious significance and the unyielding faith of so many subsets of society. It's fascinating. Add in that from there you can float in the Dead Sea, Hike a UNESCO World Heritage Site at Masada, Live it up in Tel Aviv and even hop across the border into Jordan to visit Petra – one of the 7 Natural Wonders of the World. It really is a fantastic destination for ticking off a few incredible travel experiences."
.
Family Travel Goals
To Show our Kids the World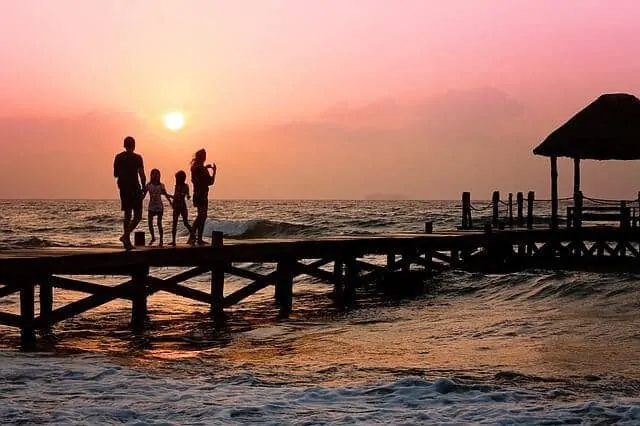 "Our goal is to explore as many countries with different cultures, history and religions with our kids. The more we show show them the more understanding and accepting of different people, ideas and cultures they will be."
~ Mark from WyldFamilyTravel
"Our goal for the next years is to explore Europe as much as we can with our kids in our RV. Epic road trips, hiking with toddlers and yummy dishes are ahead of us."
~ Katalin from Our Life, Our Travel
"Our goal has always been to maximize the time that we are able to spend as a family. My husband is active duty military and we are often separated by my husbands work, so travel has always been one of the ways that we can spend time together as a family. In a few years my husband will retire for active duty and we want to take our young son on a trip around the world to see 6 out of the 7 continents."
~ Chelsea from Pack More Into Life
To Let Our Child Attend a Green School in Bali
"My husband and I lived in Bali for six months and we'd love to return one day with our son, Otis, so that he can go to the Green School for a year or so. It's the most amazing school I've ever seen – it's all made out of bamboo, they have a creative curriculum, and the jungle setting is unreal. I would have loved to go there myself."
~ Victoria from Bridges & Balloons
To Encourage Our Kids to Get Outside
"Our aim is to hike up to Mt Ollivier in Mt Cook National Park, New Zealand, the first summit that Sir Edmund Hillary ever climbed, and to take my 5 year old with me to do it. This hike takes an adult 4-5 hours to the summit, includes over 2000 stairs, narrow cliff top tracks and climbing through scree. We aim to overnight at Mueller Hut and see marvel at some of the darkest skies in the world in the Aoraki Dark Sky Reserve. Seeing Mt Cook, New Zealands highest mountain at such an altitude would be an absolute dream . We hope to inspire our 5 year old and help him realize that he can do anything if he just tries his best."
~ Jennifer from Backyard Travel Family
To Go on a Family Road Trip
"Our goal is to go on a road trip in Canada with our kids and visit some of the big national parks. We think it is really important to show our kids the planet they live on, and we are hoping it will make them think about how they treat it in the future. We hope seeing the world with their own eyes will make them appreciate how big, wild and diverse our planet is."
~ Line from Nordic Travellers
Unusual, Ambitious, Weird & Wonderful Travel Goals
These are the highly personal travel goals, the creative ideas and will more than likely include some one-of-a-kind aspirations that you would never have thought of in a million years!
Live on Each Continent
"My goal is to live on each continent (except Antartica) and to learn one of the languages spoken. I'm currently missing Africa (where I'm in the process of learning Arabic) and Asia where I'd love to one day learn Mandarin."
~ Ahlan from Ahlan Monica
Visit Every Island in The Mediterranean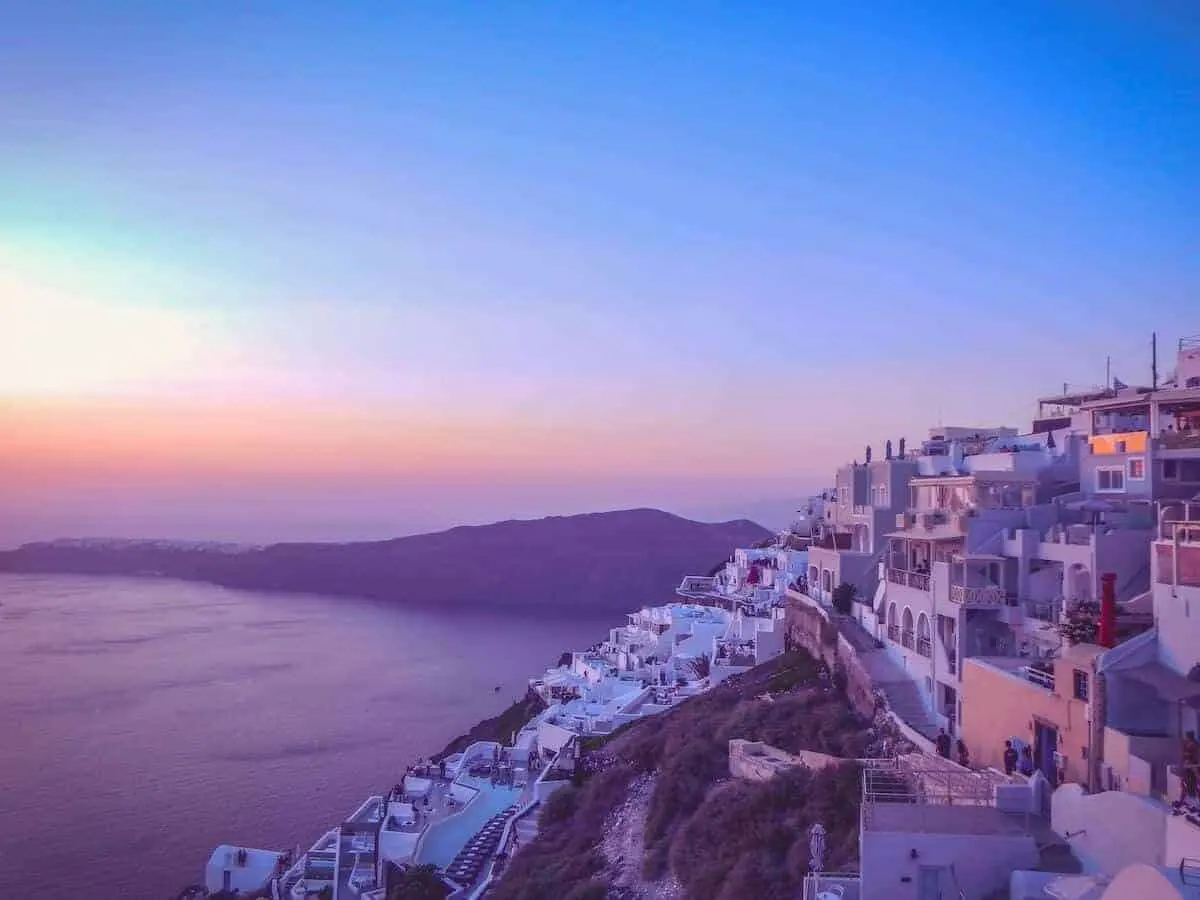 "I'm happy for this to take the rest of my life – I'm in no rush – but I'd love to visit every inhabited island in the Mediterranean. It's my favorite region and I love visiting islands – the tinier and more remote the better. Of course, a yacht would definitely make this easier . . ."
~ Steph from The Mediterranean Traveler
GET STARTED:
Island hopping is a whole heap of fun, and our Guide to
Island Hopping in Greece
is a great place to get started; or if you want to go further than Europe why not consider
Samoa,
Antigua and Barbuda
, the Cook Islands or anywhere else in the Caribbean (Saint Kitts and Nevis / St Vincent and the Grenadines etc)
Watch a game at every home stadium in the USA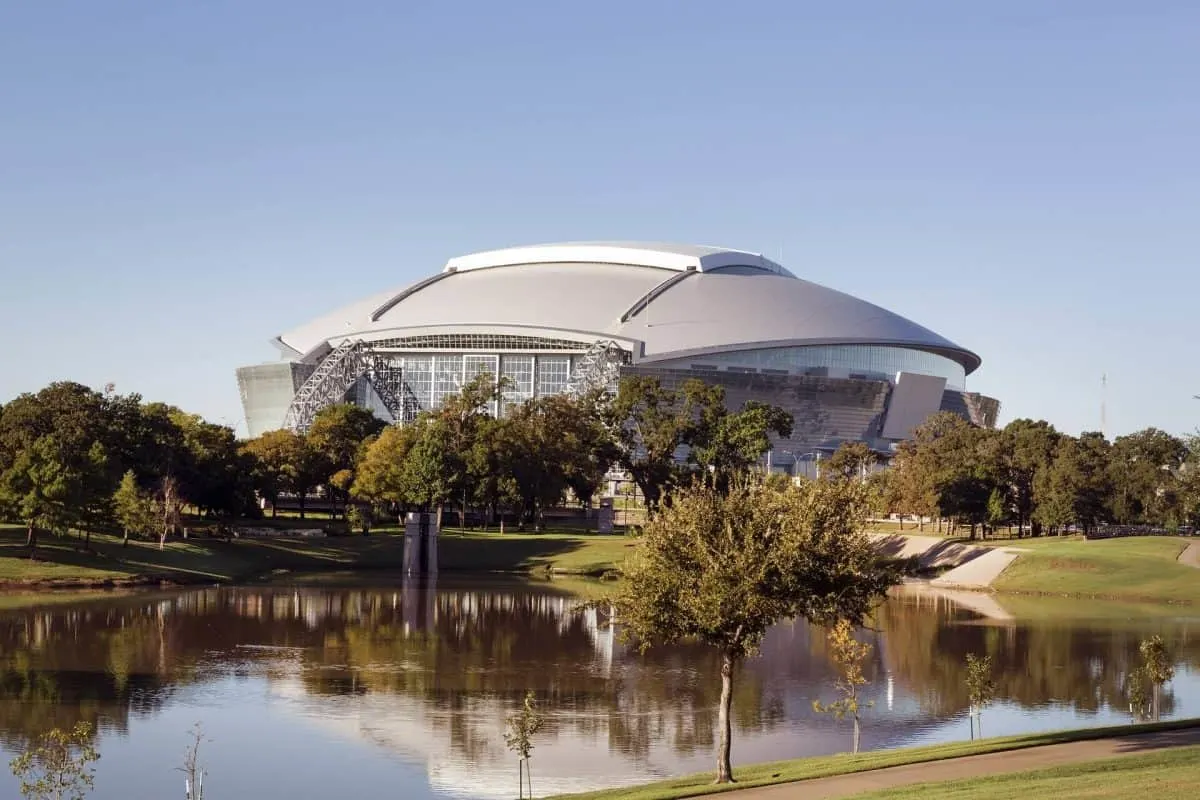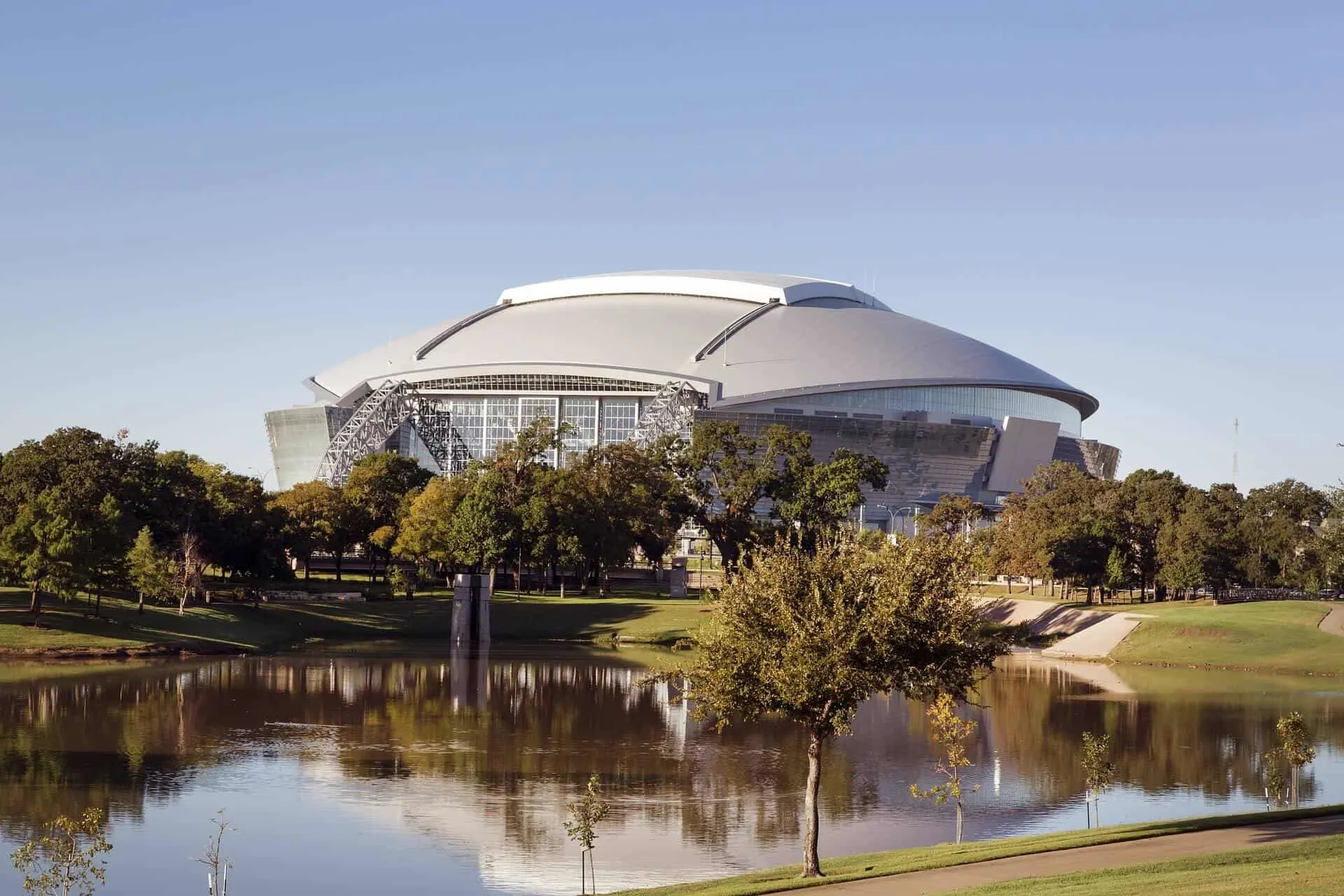 My goal is to watch a game at the home stadium for every team in the NBA, NHL, NFL, and MLB. The total number changes from time to time, but it hovers around 123 venues (currently at 10). Sports are an awesome way to experience the micro culture of a destination. The food and booze options, noise of the crowd, little traditions involved, and so much more make each experience unique.
~ Jub from Tiki Touring Kiwi
To Trace the Wives of Genghis Khan
As a long time horse rider and lover of history my travel goal is to ride across Mongolia, tracing the wives of Genghis Khan. chronicling the work that these wives completed whilst the men folk were away conquering. Taking the time to dive into to the culture of the nomadic communities is still impacted today by the decisions that these women made when in positions of power.
~ Jean from Traveling Honeybird
To Travel Every 6 Weeks
My goal is to travel a minimum of every 6 weeks of my life for at least 30 years. I have already done this for over 25 years and would like to continue doing it for at least another 5 years as a lifetime goal. I didn't start out having this goal in mind, but a trainer I once hired for my Chiropractic business told me that it is good to have travel goals every six weeks to keep things fresh. He told me that it was like a dangling fruit in front of your face and would keep you motivated to keep your head down and build your business. It worked for me and my family and so now, of course, as a travel writer and digital content creator, I travel more than that. But I would like to continue this goal for at least another five years.
~ Cacinda from PointsandTravel
To have a Destination Wedding (with a difference)

I want to have a destination wedding in Antarctica with penguins around. I am from Pakistan and in my country weddings are very typical with a huge number of guests and a lot of extravagant stuff. People prefer spending money on the décor of the wedding rather than saving it up for meaningful purpose like exploring the world together. I want to change this perspective and so want to opt for an off-beaten wedding destination.
~ Nabiha from Verses by a Voyager
And that's a wrap folks! We hope these epic travel goals have inspired you to get your travel priorities in order and to get out there and travel the world. Or, alternatively, have helped you start to plan how to put your own travel dreams into reality. (And remember, you can never have to too many travel goals to accomplish!)

If you liked this post of know of someone that needs a little travel inspiration, please share this post on social media (Twitter, Facebook, Flipboard or Pinterest!) y using the icons in the sharebar to the left!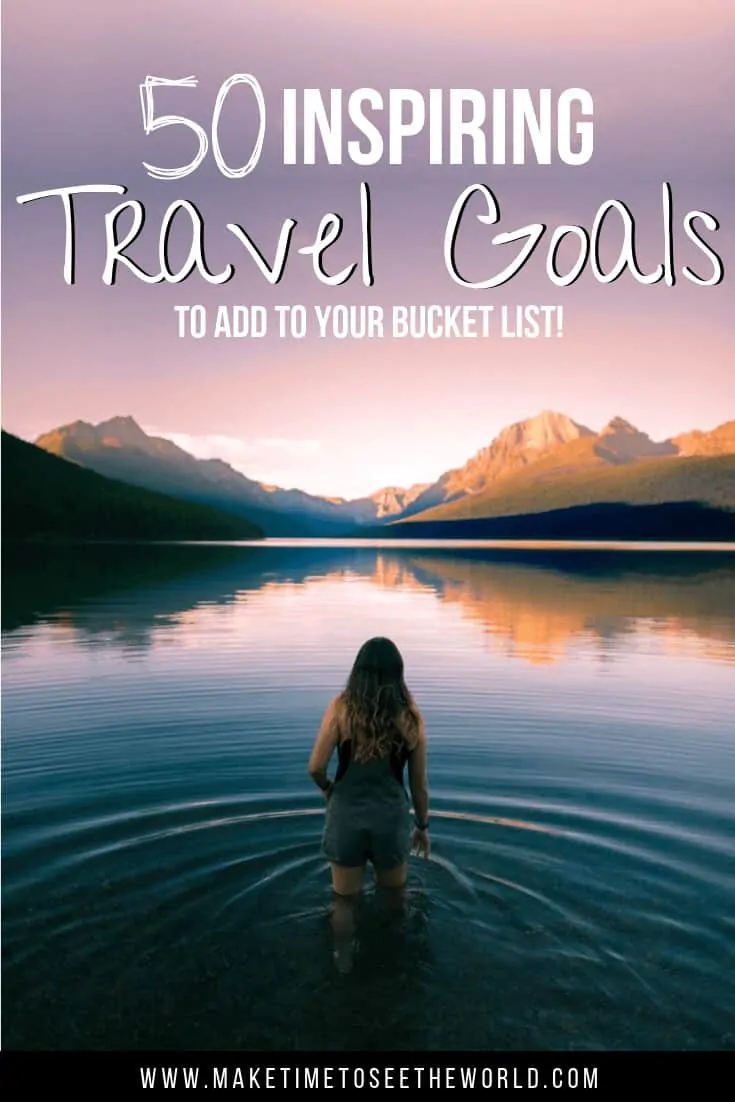 READY MORE TRAVEL INSPIRATION? YOU MIGHT BE INTERESTED IN THESE TRAVEL TIPS, TRAVEL ARTICLES, DESTINATION GUIDES, TRAVELER RESOURCES AND RELATED STORIES:
Hi There! Thanks for reading my post about Epic Travel Goals to Add to Your Travel Bucket List! I just wanted to let you know that this post contains affiliate links, which means if you purchase something after clicking a link, I may get a small commission – which is at absolutely no cost to you. If you enjoyed this article and are going to be searching for some of the things I mention anyway, I would love it if you could click through from the links above & thank you in advance! Read my full Disclosure here.
Thank you for reading the MakeTimeToSeeTheWorld travel blog posts.