As travelers we love to explore this beautiful planet and try to do as much as we can to reduce any negative affects we (and others) may have with our actions. But what the world needs is for more people to jump on board and help – and this green gift guide packed with eco friendly gifts for travelers will definitely give you some ideas about things you can do to make your adventures more sustainable (+ they make to perfect presents!)
And the good news is, this list is only going to get better as every year, more and more companies are designing wonderful environmentally-friendly travel accessories and utilities to help all of us work towards saving the world as we see it! Whether you are exploring your own backyard or on the other side of the world, these Eco friendly travel accessories help to save the planet one single-use-plastic-free component at a time. And so without further ado, here's our run-down of the best Eco friendly gifts for the wanderlusters among us.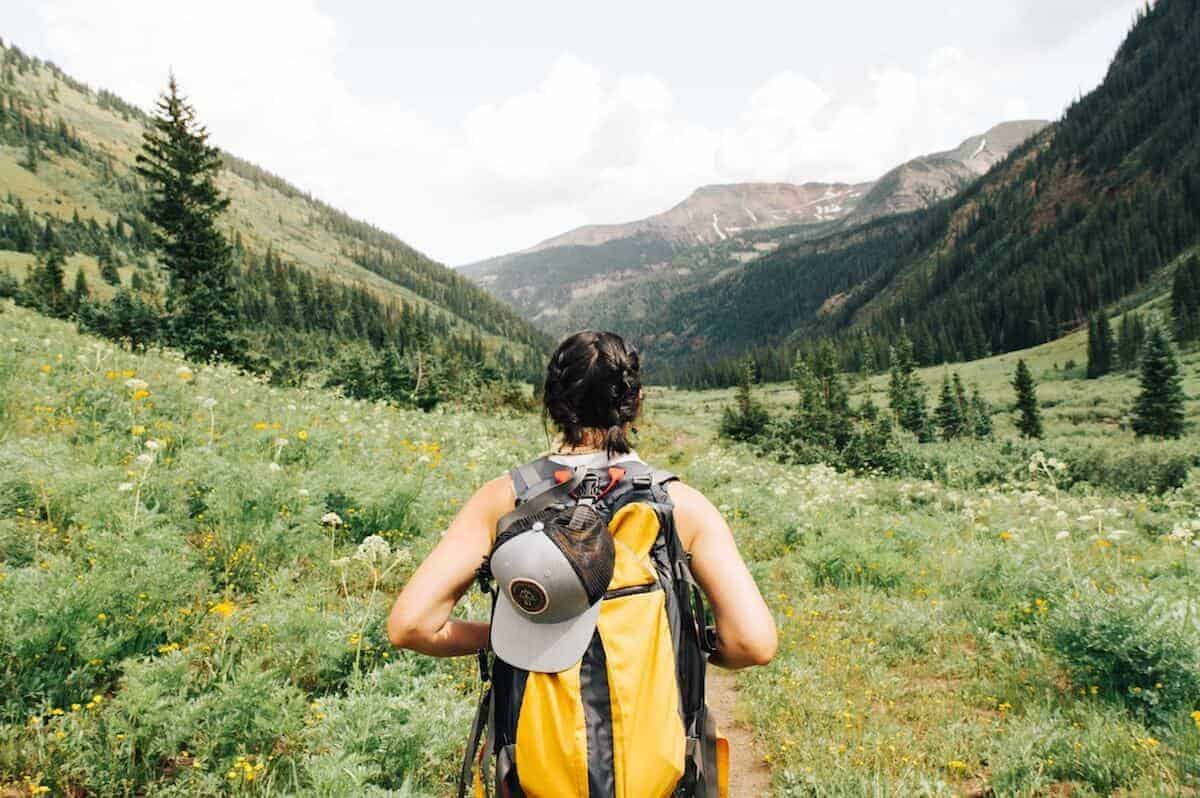 Disclaimer: This very helpful post about ecofriendly gifts contains affiliate links, which means that should you click any of the links and make a purchase I may get a small commission at absolutely no cost to you. If you are thinking about buying a green gift (for yourself or anyone else) – please consider using the links below. And you can read the legal stuff about it all in my Disclosure.
28 Eco Friendly Gifts & Eco Friendly Products that are Perfect for Travel Lovers
Eco Friendly Toiletries
Sweet & Sassy shampoo and conditioner bars
Not only do these solid shampoo and conditioner bars cut out plastic bottles, they are also made using only natural ingredients and are the perfect green gift. They smell amazing, come in recycled packaging, two travel-ready tins and are perfectly compact to fit in even the smallest of wash bags. Grab a set here.
Bamboo toothbrush with charcoal activated bristles
Fight the war on plastic with one of these recyclable bamboo toothbrushes. They are kinder to the environment and with their charcoal activated bristles they are also kind on your teeth, and come with charcoal powder to help gently whiten your nashers whilst you brush. (Don't worry – it tastes like mint just like most other toothpastes!). It's the perfect gift for those wanting pearly whites! Order a kit here.
Green People organic sun lotion
Caring for the habitats and wildlife beneath the waves is very important to most us and this organic sun lotion from Green People contains no nasty chemicals, making is 100% ocean friendly. It also offers UVA and UVB protection, and is suitable for those with sensitive skin. Order yours here. Protect the oceans and your skin – it's a win win.
Mooncup / DivaCup menstrual cup
With this reusable menstrual cup, ladies can have environmentally friendly period. I know that sounds absolutely ridiculous, but the fact remains that tampons and sanitary towels – albeit essential (without a cup) – are simply not an environmentally friendly option. You can be kinder to your body by cutting out sanitary products which use bleach and deodorisers and invest in a menstrual cup. Although this is a very personal call – and I would say this should be an Eco friendly Gift for yourself (rather than something you would buy as a present without a specific request), it would go a long way to having a zero waste cycle. Order a Mooncup or DivaCup here.
Skincare muslin face cloths
Say goodbye to disposable face wipes with these reusable muslin face cloths. Made from 100% Egyptian muslin cotton these cloths will help to gently exfoliate and cleanse your face throughout your travels. Order a pack here.
.
Eco Friendly Products for Eating & Drinking
Tree Tribe stainless steel water bottles
There are so many reasons to fall in love with Tree Tribes range of stainless steel water bottles. They are indestructible, insulated, come in a range of bright colors and with every purchase, 10 trees are planted to help give back to the earth. Grab one as a gift here or read out full Travel Water Bottle Review Guide.
Bamboo cutlery set
With a bamboo cutlery set you can enjoy your meals on the go when travelling without contributing to the production of single-use plastic. This reusable cutlery set is non-toxic, lightweight and durable for long-lasting reliability. And comes in a cute slimline travel case. Buy a set here.
Stainless steel straws
Sometimes a drink is better enjoyed with a straw and there's no need to fill your suitcase with plastic straws when you can have one of these stainless-steel folding drinking straws. Designed to last, these straws are easy to clean and take up little space in your luggage when slipped into their hygienic travel case. Order a 4 Piece straw set here.
Collapsible coffee cup
Coffee lovers with a desire to travel will rejoice when they see these collapsible coffee cups, so compact they can fit in your pocket! With no need for disposable takeaway cups anymore, this coffee cup is specially designed for traveling with a spill-proof lid and sturdy base. A keep cup is great for at home use – but on when your traveling can take up a little more space than necessary in your bag. Opt for collapsible cup and pack an extra top/skirt or dress! Order yours here.
Folding shopping bag
You will be surprised how many times these reusable folding shopping bag comes in handy on your travels. It's lightweight, compact and is there when you need it most (like that unexpected souvenir purchase – you know the 3kg wooden elephant you just had to buy in Thailand. Or maybe that was just me!). Get a set of 3 reusable folding tote bags here.
.
Eco Friendly Gadgets
RAVPower Solar Charger
This 24W solar panelled charger has triple USB ports for maximum charging. It's also waterproof and foldable, making it the ideal travelling charging port. Charge up on the go here.
Electronic lighter
A pretty handy gadget if you are needing to light a camp fire (or are a secret smoker!), this USB rechargeable electronic lighter uses no fuel, making it an environmentally friendly choice for your travel adventures. Pick one up here.
Steri Pen water purifier (or Lifestraw)
An absolute life saver for those going off-grid during the travels who will need access to clean water. The Steri Pen can perform up to 60 purification treatments per set of batteries, providing you with clean, fresh water, wherever you may be. Get clean water on the go here.
USB rechargeable LED Head Torch
Keep your hands free with this easy to use head torch and its adjustable strap for up to 40 hours of use before recharging it via any USB port with the included cable. Grab one here.
RELATED –
A headtorch is a great piece of kit for any backpacker – take a look at our other
adventure essentials
to make sure you are not caught short!
USB rechargeable batteries
These fast charging USB rechargeable batteries cut out the need for the unnecessary wastage of disposable batteries, helping you to plug and play wherever you go. Order a kit here.
.
Eco Friendly Fashion + Accessories
Nordgreen Scandinavian Watches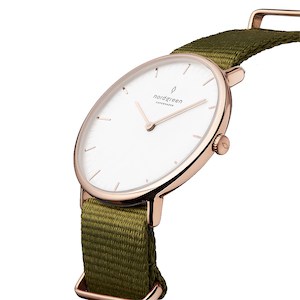 Minimalist Scandinavian designed watches that look like they are worth a million dollars! And the best bit: their aim is to inspire and support global sustainability one watch at a time, with money from each purchase being donated to Clean Water Projects in Central Africa, School Education in India and Ecological efforts to save the Amazon Rainforest.
And with 4 different watch face designs, interchangeable straps, white, black and blue faces and various color hardware options, you can create a Nordgreen Watch that is truly unique.
TropicFeel – The Ultimate Travel Shoe
TropicFeel are the ultimate travel shoe: quick drying, versatile (you can walk, swim, run, climb, hike and jump with the same shoes!) and, best of all – they are sustainable and vegan friendly! With each pair of shoes created from 2-3 plastic bottles, and 1% of sales going to National Parks and other wildlife protection organisations, you can be confident that you are putting your best Eco-friendly foot forward when you get a pair of TropicFeel shoes. The even have special Christmas Packs available for the festive season!
TenTree Hoodie (and other cool clothes)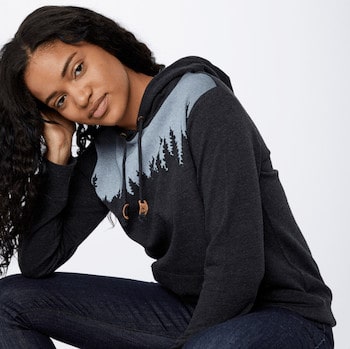 tentree is a lifestyle apparel brand that plants ten trees for every item they sell! This ultra cozy hoodie is made with eco-friendly materials such as organic cotton and recycled polyester sourced from plastic bottles, making it the perfect gift that gives back to nature. Check out their hoodies (and you might just end up buying your whole wardrobe from them!)
Reusable Canvas Tote
Everyone needs a high quality canvas tote in their life – and if it can have an adventure or travel theme, even better! Pick one up here.
Vegan Leather Backpack
Beware – not all Vegan Leather products are created equal – and contrary to widespread belief, not all Vegan Leather products are ethical. When choosing a vegan leather product be on the watch for PVC (terrible for the environment) and PU (slightly better) materials – which are not ethical or environmentally friendly. This bag is smart, stylish and with premium hardware looks a lot more expensive than it actually is whilst being 100% vegan with the company not testing any products on animals. Order this cute backpack here.
RELATED –
Looking to spoil the lady in your life? Take a look at our guide to the
best gifts for female travelers
and find the perfect pressie to make her day.
Proof Sunglasses
Proof Eyewear is a pioneer in sustainable sunglasses and "embraces the idea of being global citizens by doing good around the world." Their sunglasses are created from FSC-certified wood, cotton-based acetate and repurposed skateboard decks and he company gives 12% of their annual profits to projects in India, El Salvador, Nepal, the Philippines, and Uganda. They are true ambassadors for eco-friendly products and a brand you would be proud to get behind. Grab your new pair of sunnies here.
4Ocean Signature Bracelet
4Oceans are on a mission to clean up the world's oceans – and you can help when you purchase one of their products. This Signature Bracelet is made from recycled materials and every bracelet purchased funds the removal of 1 pound of trash from the ocean and coastlines. Be part of the solution and show your support with your purchase.
Planet Flops Natural Rubber Flip Flops
Planet Flops Flip Flops are made in Brazil from natural Brazilian rubber. Unlike synthetic rubber, natural rubber comes from rubber trees and is an eco-friendly material. They have skinny and standard sized straps and lots of vibrant colors to choose from. Put you best foot forward with a pair of eco-friendly flip flops here.
.
Eco Friendly Utilities (The Useful Stuff!)
Veggio reusable bags
Step away from the zip lock bags and instead, keep all your travel snacks together in one of these environmentally friendly drawstring bags which are the perfect size for for a variety of foods and veggies. Made from long lasting plastic, these bags are also breathable, allowing your fresh food to stay fresher for longer. Buy a set of 5 here.
Decomposition Notebook
Keep a note of all your travelling adventures on the 100% post-consumer-waste recycled lined pages of the Decomposition Notebook. What's even better is the process used to make these notebooks is environmentally friendly, manufactured in a mill powered by methane captured from a local landfill. Get journaling here.
Recycled pen
You are going to need an eco-friendly pen for your green notebook and you can't go wrong with the Pilot Begreen B2P Recycled Retractable Gel Rollerball. It's made from recycled water bottles and is refillable too.
Scrubba portable clothes washing bag
For super-efficient washing whilst travelling, the Scrubba washing bag is a must. Within three minutes your clothes will be squeaky clean with the easy to follow instructions. All you need to do is pop your clothes in the bag, add water and soap, close and deflate the bag, and rub your clothes against the washboard inside. Doubling up as a drying bag, the Scrubba can also help remove excess water from your clothes after swimming. Order one here.
Soap nuts
For natural clothes washing without the chemicals, use natural Indian soap nuts for clean clothes in no time. Allergy free, cost effective these soap nuts are also easy to transport throughout your trip. Get hold of a set here.
.
And that's a wrap! With these must-have, Eco friendly travel gifts (that also make perfect Christmas gifts, holiday gifts – even as wedding gifts for the eco-minded couple!) picked out and ready for the next big travel adventure you can be rest assured that at the same time as fulfilling your travel goals, you will also be making small steps to helping save the planet too.
Don't forget. We would love to hear what you thought of any of the products featured in this guide and if you think we've missed the next best Eco friendly gift or travel accessory, be sure to tell us in the comments below.
And if you liked our green gift guide – or just know one someone who needs a few green gift ideas – please share this post on Flipboard, Twitter or Facebook – we'd really appreciate it!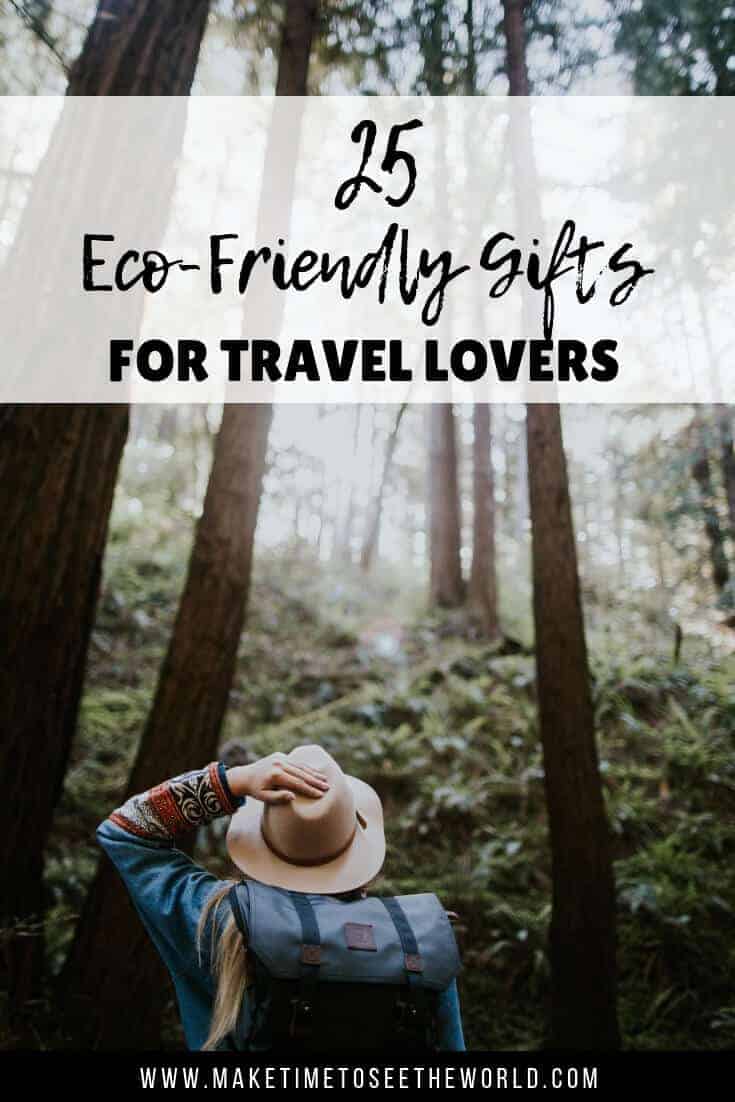 And if you liked this guide to the best eco friendly gifts gift for travelers, take a look at the other gift guides, packing guides & travel gear posts in this series:
Hi There! Thanks for reading my buying guide to The Best Eco Friendly Gifts & Eco Friendly Products for Travel! I just wanted to let you know that this post contains affiliate links, which means if you purchase something after clicking a link, I may get a small commission – which is at absolutely no cost to you. If you enjoyed this article and are going to be searching for some of the things I mention anyway, I would love it if you could click through from the links above & thank you in advance! Read my full Disclosure here. Thank you for reading the MakeTimeToSeeTheWorld travel blog posts.
28 Planet-Saving Eco Friendly Gifts (Perfect for Travel Lovers!)
was last modified:
June 23rd, 2020
by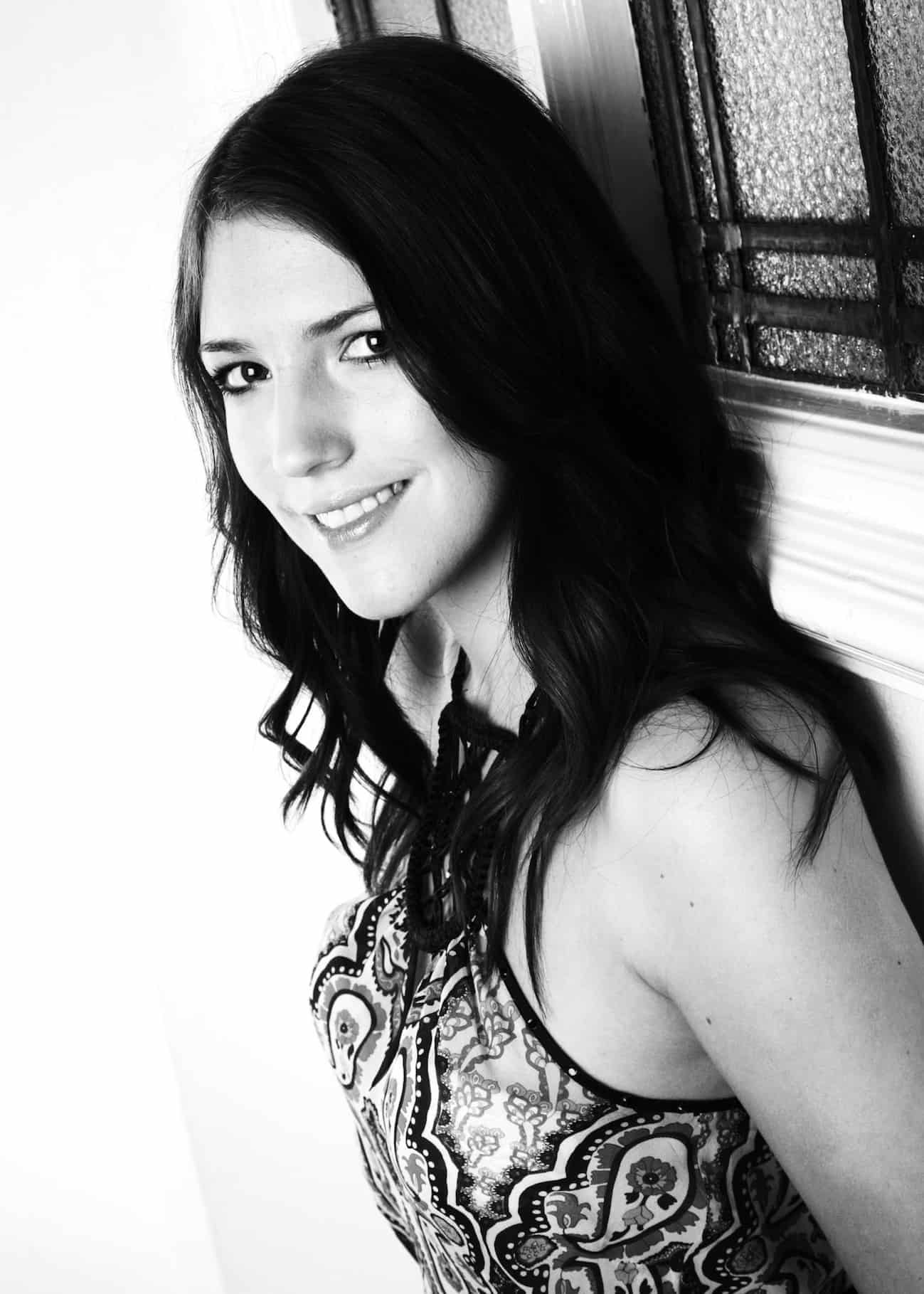 Vicki is the Lawyer turned Content Creator, Editor-in-Chief and all round Boss Lady at MakeTimeToSeeTheWorld.
She has lived and worked in 7 different countries and started the site to show everyone that it is possible to travel whilst holding down a full time job (because not everyone can – or wants to – quit and walk away from it all).
Her style of travel has always been to get the best out of a destination as a time poor traveler making the most of limited vacation days and all without breaking the bank; BUT she does know where to save and where to splurge to have the most incredible travel experiences – such as luxury hotels and over-water bungalows, safaris, spas and more(!) – where the situation calls for it.
If you want to join the work to travel revolution, follow MakeTimeToSeeTheWorld on Facebook, Twitter, Pinterest or Instagram – and if you are a travel brand who would like to find out how to work with Vicki, contact her here.