These are the 30 Most Instagrammable Places in HK & the ULTIMATE list of Hong Kong Photography spots – including a map & directions to each!
I typically don't advocate traveling for the perfect Instagram shot (and I don't for one second think it should be the only reason you visit Hong Kong!) – but whilst you are there, you may as well head to some of the most photographic spots in the city perfect for Hong Kong Photography. This post is dedicated to 30 of the most stunning Hong Kong Instagram Spots (aka the Best Photo Spots in Hong Kong) – which come complete with a Map, and my favorite shots taken in each location.
Ideally, you'll need a couple of days to cover all these photographic gems on this self guided Hong Kong photo tour. If you still haven't decided how long to stay in Hong Kong (香港), take a look at our Ultimate Hong Kong Itinerary which comes with suggestions for 3, 4 and 5 day stays – but if you want to dedicate a day to it, you can get a lot done!
(I walked 22km using my TEP Wireless device for WiFi and rewarded myself with ALL the dumplings) And with Hong Kong's very temperamental weather, picking just one day for photography might not be the worst idea.
An Interactive Map of the Best Hong Kong Instagram Spots & Photography Locations
This interactive map has the locations separated into daytime Hong Kong photography locations and night-time and sunset Hong Kong Instagram spots. I've also numbered them for your reference and refer to these numbers below to help in planning your route.
Full disclosure – I did at lot of these spots in 1 day (1 crazy hot day with a lot of walking) but it went a little something like this: Day Time 1-10 and Night-time 1 and 3-7. I walked 22km that day (and ate all the dumplings as a reward) but I don't expect anyone else to join me in my crazy photo quest. But many many props to you if you want to!
(Honestly, it's one exhausting Hong Kong photography tour featuring all the best Instagram spots in Hong Kong – but with great effort comes great reward in your quest for some amazing photos!)

The Most Instagrammable Places in Hong Kong for Day Time Photography + Overall Best Spots for Hong Kong Photography
1. Lok Wah South Estate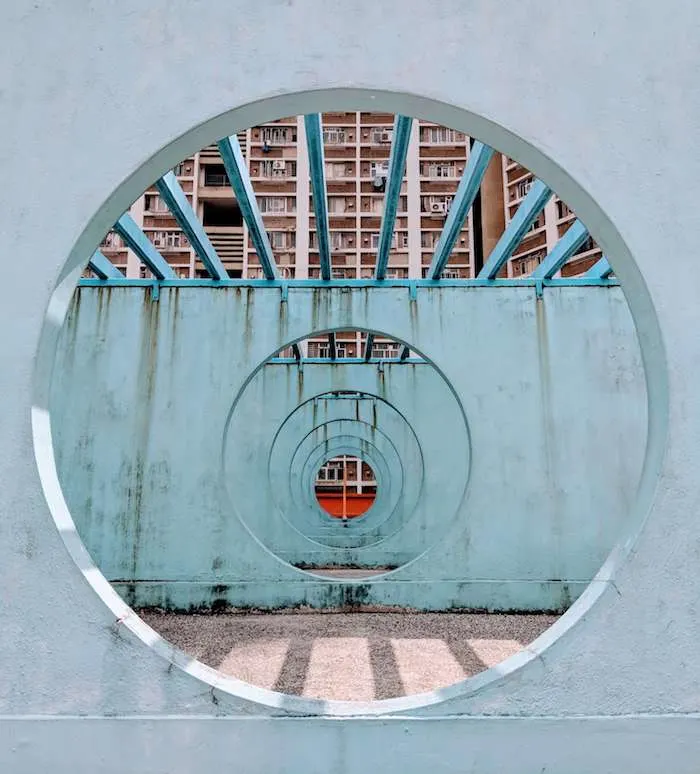 First on the list, and hardest to get to, I would actually recommend not bothering with this photo opportunity unless you really really want the shot. And follow my directions below – google maps actually shows you a much longer route including a very steep uphill walk in what is likely to be in high humidity and glorious/energy sapping sunshine! (I found out the hard way!)
But if you are going, it's best to time your visit around midday when the sun is highest in the sky and you get the shadows of the bars on the floor which add an extra element.
LOCATION GUIDE: HOW TO GET TO LOK WAH SOUTH: MTR to Ngau Tau Kok Station -> Exit B3 into the Garden -> Turn left and walk up Ngau Tau Kok Road -> Turn Right onto On Shin Road -> As you reach the top of the road on the right there is a pathway through the gardens: walk to the top and continue straight along the road, you'll pass a primary school on the right and the next building, also on the right is the car park.
The top 2 levels have the Blue Circles, so if the first one is 'occupied', head up the next flight of stairs. (Walk Time approx 20-25 mins uphill)
.
2. Ping Shek Estate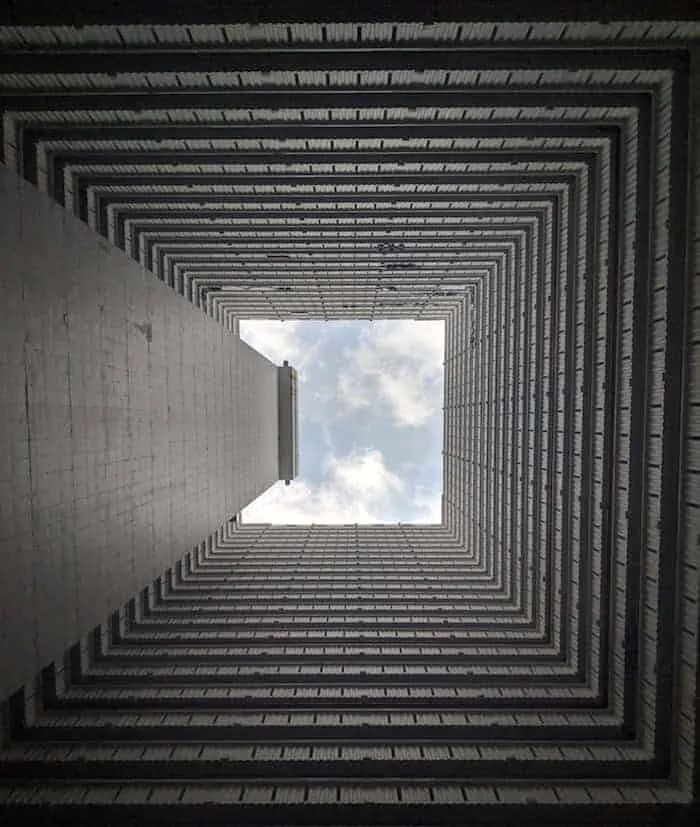 This trippy condo stack is one of the most perfect photography spots in Hong Kong. Due to the overcrowding in the city, these high rise buildings and housing estates in Hong Kong City are the norm – but not all of them are configured in such a photogenic way. It is one of the cities best spots for Hong Kong Photography.
HOW TO GET TO PING SHEK ESTATE: MTR to Choi Hung Station -> Exit A2 will take you straight into Ping Shek Estate. The location of this stack is in the middle of the complex. After walking in and past the shops in the hall I turned left, right, right and left. It's pretty small area so shouldn't be too hard to find!
.
3. Choi Hung Estate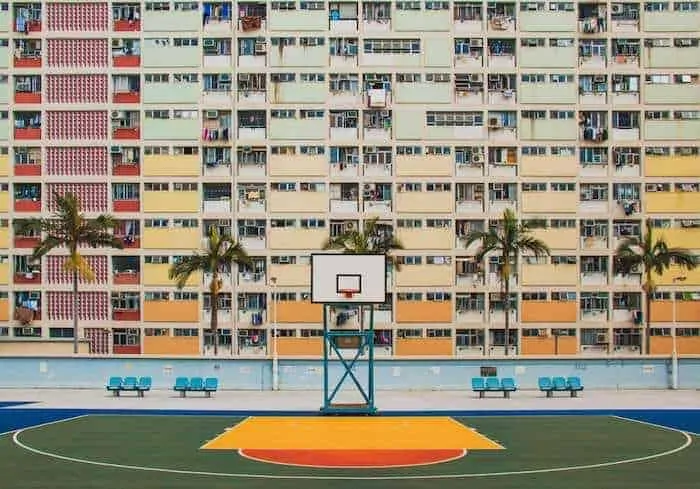 Now if you have googled Hong Kong Images, this colourful condo and basketball court combo are the darling of Instagram. If you are dead set on getting the place to yourself, I recommend getting there as early in the day as possible, as this place gets super busy and you may struggle to get a clean shot.
It is a lot of fun watching everyone trying to get their shot though with travel tripods, extension sticks and the folks laying on the floor for the perfect angle!
HOW TO GET TO CHOI HUNG ESTATE: From Choi Hung MTR Station take Exit C4. Walk into the Estate and turn left which takes you to the car park. The colourful basketball court is on top of the structure.
.
4. Chi Lin Nunnery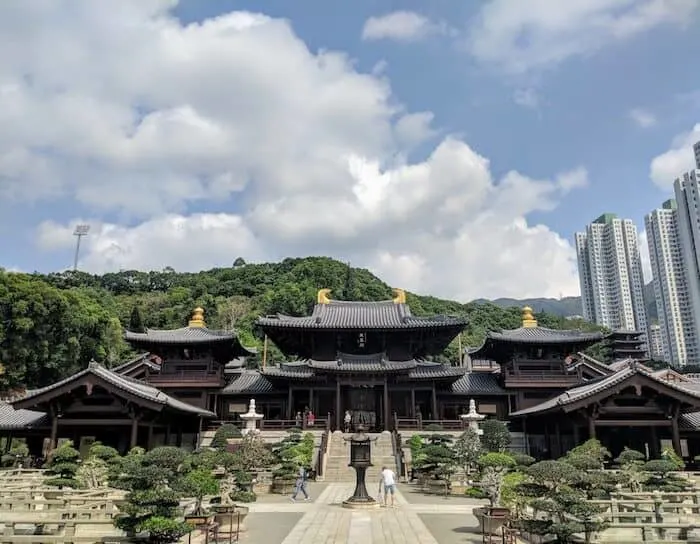 Nestled in and among the skyscrapers lies this haven of tranquility. From stepping into the complex (which is one of the most beautiful places in Hong Kong) there is a sense of quiet, calm, peace. The view above is The Maitreya Hall and comprises several elegant wooden buildings behind perfectly manicured gardens. All of which are open to the public daily and are free of charge to enter.
HOW TO GET TO CHI LIN NUNNERY: I walked from Choi Hung Estate (It's 1.4km) but the closest MTR station is Diamond Hill, Exit at C2 and follow the signs.
.
5. Nan Lian Garden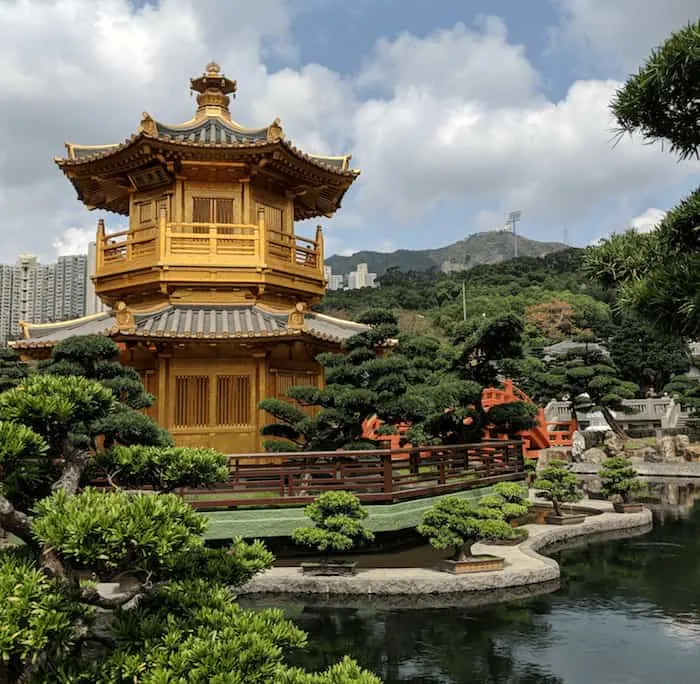 Nan Lian Garden sits directly in front of Chi Lin Nunnery and covers 35,000 Square meters (which is maintained by the Nuns). Its a photographers dream with numerous different parts just made for 'the Gram. Spend an hour of so wandering the ground and you're sure to capture YOUR perfect shot. (My favorite shot is the one below!) And I'm not a professional photographer!
HOW TO GET TO NAN LIAN GARDEN: Same as above for Chi Lin Nunnery
.
6. Yuen Po Bird Garden
Located in a Chinese Garden, the Yuen Po Street Bird Garden (also known as the Bird Markets) is where you'll find multiple exotic birds, intricately crafted bamboo cages (and other bird paraphernalia) where bird owners preen their pets in exchange for a song.
Birds have always been a favorite pet, and this garden is essentially where their owners take them for a walk or to show them off. They often spend a couple of hours in garden chatting with other folks walking their birds or wandering through the market picking out their next purchase, making this spot a great place for a spot of Hong Kong street photography too.
HOW TO GET TO THE YEUN PO BIRD GARDEN: MTR to Price Edward – Exit at B1 and walk left for 5 minutes up Prince Edward Road. On the left you'll see Yuen Po Street. Walk up and you'll see the traditional Moon Gate that leads to the garden.
.
7. Flower Market
How can you go wrong with flowers?! And located in the market district, the Flower market is right next to the Bird Garden and close the Goldfish Market and Ladies Night Market.
HOW TO GET TO THE FLOWER MARKET: At the end of Yuen Po Street, just before the start of the Bird Garden, turn left into Flower Market Road. From the end of the road turn left and then right to walk back to the Prince Edward MRT Station.
.
8. Golden Bauhinia Square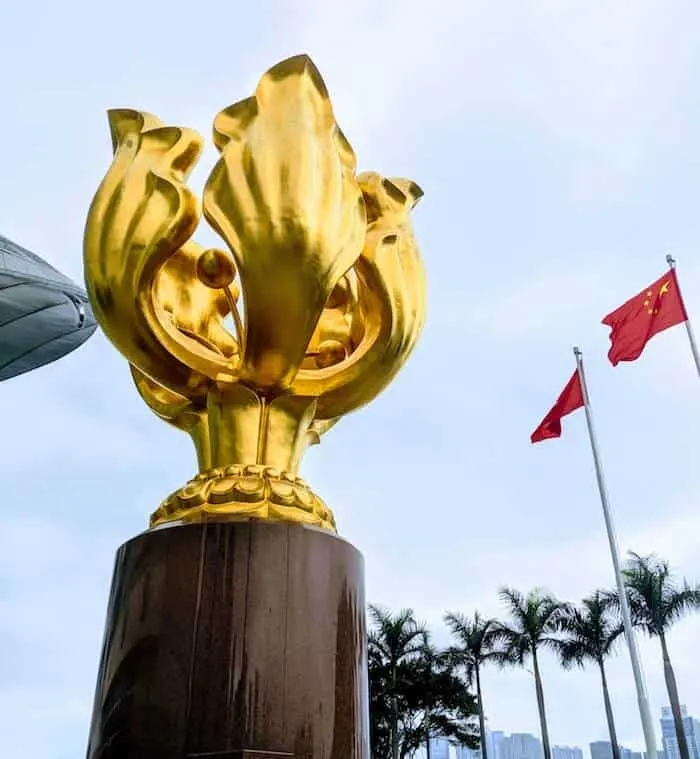 A symbol of reunification and an emblem of Hong Kong, the ever blooming Golden Bauhinia draws huge number of Chinese visitors each day and is a site of significant cultural importance. The promenade in front also has a nice view of the Kowloon side of Victoria Harbour. There is also a daily flag raising ceremony which lasts for 10 minutes from 7.50am (in case you are a morning person and are in need of a little pomp and ceremony).
HOW TO GET TO GOLDEN BAUHINIA SQUARE: Take Exit A1 from Wan Chai MTR station and walk towards the harbour. You'll pass through Central Plaza before exiting on the left side and following the signs and walkway down to the square. (Walk time approx 15-20 mins)
.
9. Man Mo Temple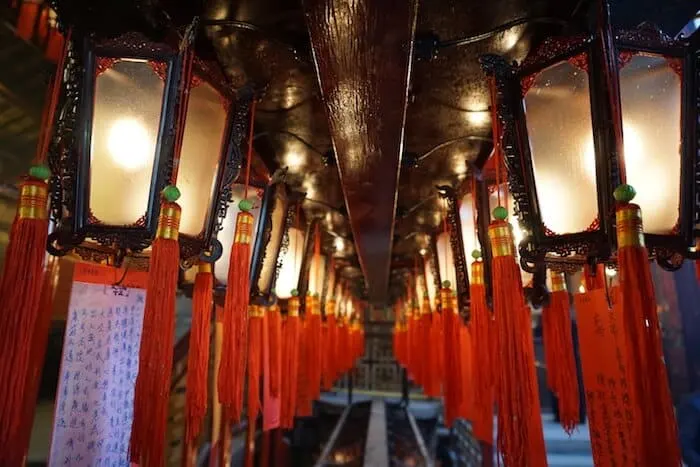 Man Mo Temple is located on Hong Kong Island and is one of the prettiest temples I have ever been in. From the red fringed lanterns to spirals on the ceiling and the incense wafting through the air. It was hard to pick just one perfect Instagram shot.
HOW TO GET TO MAN MO TEMPLE: Take Exit A2 from Sheung Wan MTR and walk up Hillier Street; turn Right onto Queens Road and then left to walk up Ladder Street to Hollywood Road. Man Mo Temple is on the left.
.
10. Tank Lane
Just a short walk from Man Mo Temple is Tank Lane, Hong Kong's homage to street art. There are wonderfully coloured walls and a couple of fantastic murals. Any street art lovers dream and one of the best places a spot of people watching and some amaing Hong Kong street photography opportunites.
HOW TO GET TO TANK LANE From Man Mo Temple turn left and walk 150m, Tank Lane is on the left and covers 2-3 block upwards with steps running through the middle.
.
11. Western District Public Cargo Working Area aka Instagram Pier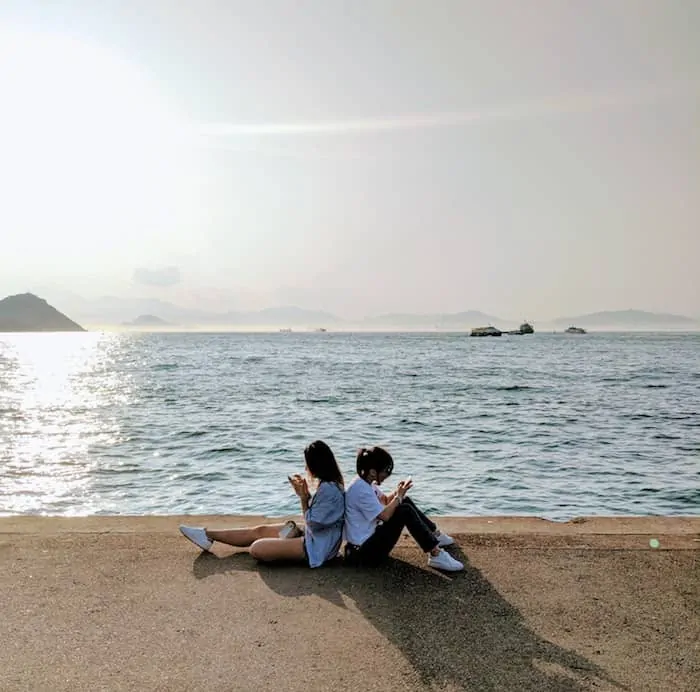 I'll be honest, I was pretty underwhelmed by the so-called "Instagram Pier". There were only a few stacks of wooden crates and a couple of containers, none of which were really inspiring or provided enough of a feature. It would probably be OK if you wanted a new head shot with an interesting background. I think these girls were pretty underwhelmed by these Hong Kong photo spots too.
HOW TO GET TO INSTAGRAM PIER: Exit from B2 at HKU MTR Station; turn right onto Hill Road and walk to wards the coast. The Pier is at the end of the road on your left.
.
12. Lugard Road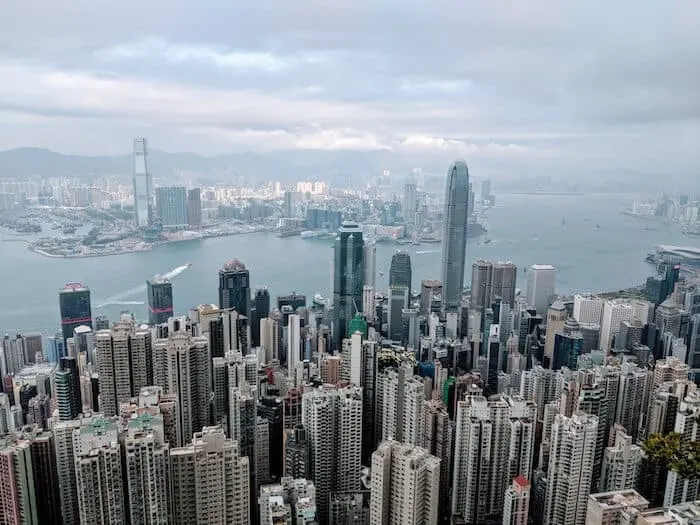 Definitely the best 'free' view of Victoria Harbour in the whole of Hong Kong. Located at the top of Victoria Peak on Lugard Road – the viewpoint gives you the perfect side on view of that iconic Victoria Harbour skyline. It's 'free' because once you're at the top of the peak, either via bus/tram/taxi/walking – it is just a short 20 minute stroll from The Peak Tower Galleria. But for the BEST view – is from SkyTerrace428 (below).
HOW TO GET TO LUGARD ROAD LOOKOUT: From Central Hong Kong MTR Exit J2 turn left onto Jackson Road, follow the curve of Des Voeux Road Central round to the left onto Garden Road to reach The Peak Tram. Upon exiting the Peak Tower, turn right and take the small path (Lugard Road is a path not a traditional car faring road) and walk approximately 20 minutes to reach the lookout.
.
13. Lion's Pavillion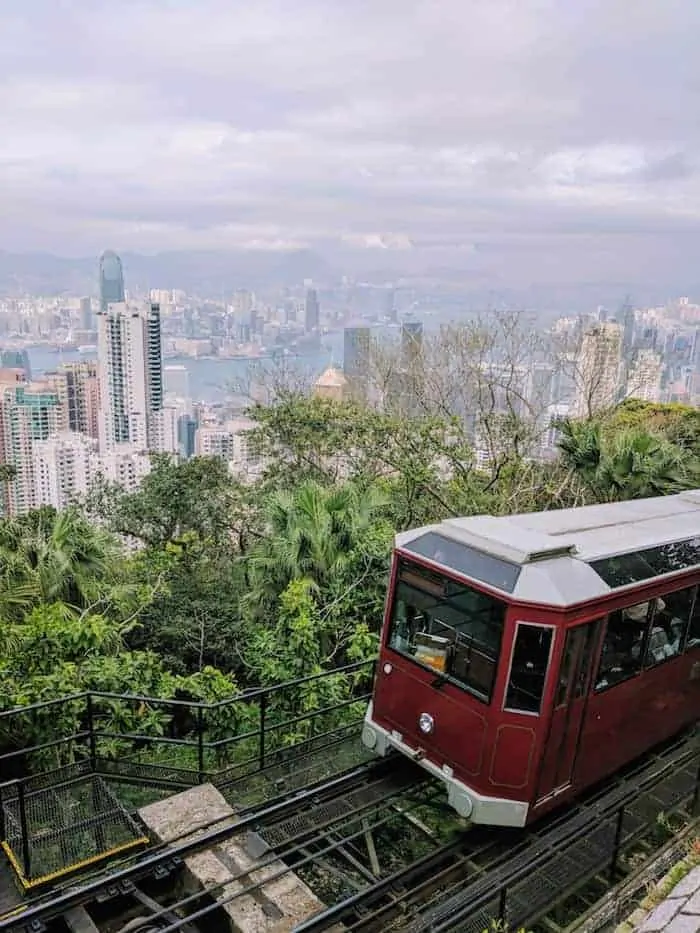 Just to the left of the Peak Tower is the Lion's Pavilion which offers another great 'free' view of the Skyline, but is a little hampered by vegetation as it is not particularly high up. However I recommend stopping for this stop just before you reach the pavillion where you can get an iconic shot of the Peak Tram with Victoria Harbour and the Skyline in the background.
HOW TO GET TO LION'S PAVILION: Exit the Peak Tower, turn left and walk around 20m. It's really really easy.
.
14. Lai Tak Tsuen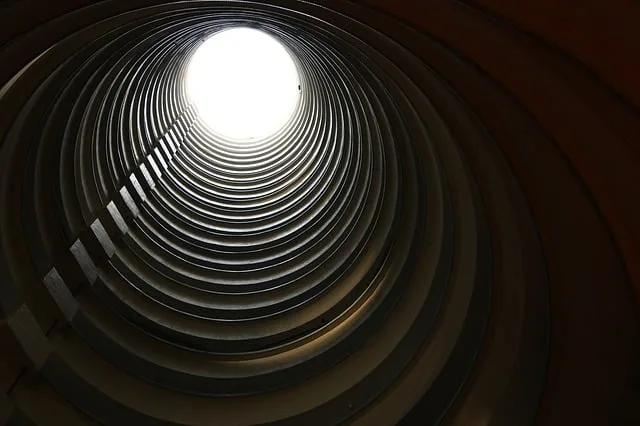 **NOTE: This estate is now closed to the public. Please respect the residents and do not attempt to go there**
Another public housing estate, but different from the others in that it is the only housing estate and residential buildings in Hong Kong which employ a byclindrical design. If you're a fan of lines and architecture, this is the photographic destination for you. However after reading the directions below, no one will blame you if this one ends up in the 'too hard' basket!
HOW TO GET TO LAI TAK TSUEN: Exit Tin Hau A1. Turn Right onto King Road, and diagonally left onto Tung Lo Wan Road; Left onto Wan Sha Street and take the 90 degree right turn (otherwise you'll walk into a dead end); Turn left onto Tai Hang Road and left again onto Lai Tak Tsuen Road. It's only 1.5km from the MTR to the building but can be a little overwhelming.
.
15. Ngong Ping 360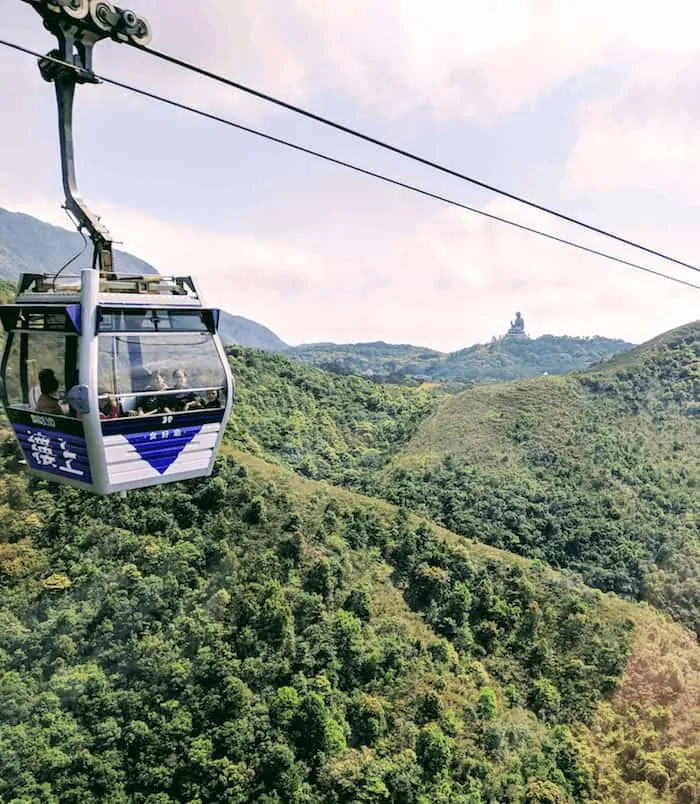 This is one of my favorite shots from my trip to Hong Kong. Taken from the Cabin of the Ngong Ping 360 Cable Car, the windows don't open so you need to practice your 'through glass' shots before reaching this iconic photo op which is roughly a couple minutes form the end of the 25 minute cable car ride.
HOW TO GET TO NGONG PING 360: MTR to Tung Chung and it's a short walk to the Cable Car Terminus. Pre Book your tickets as the queues can be quiet long. And if you want the ultimate 'fake drone' shot, upgrade your ticket to the Crystal Cabin which has a glass floor!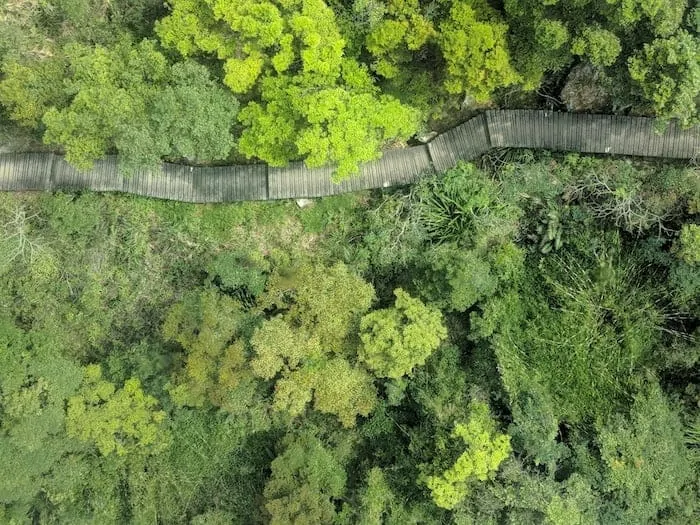 .
16. Tian Tan Buddha (Big Buddha)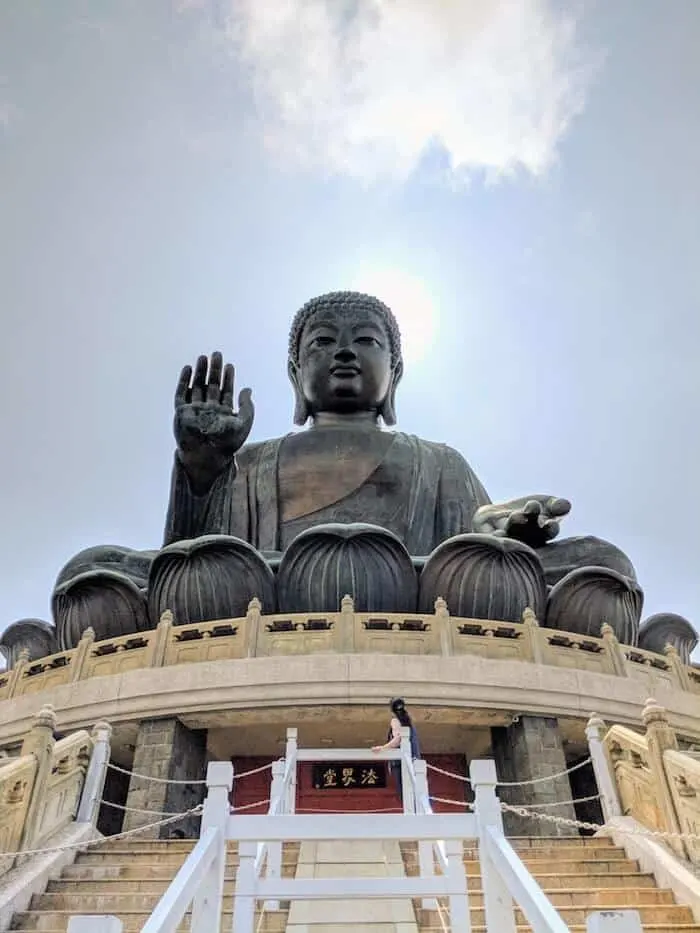 One of the most well known and iconic spots in Hong Kong, the Tian Tan Buddha (or Big Buddha as most people call it) is a beautiful spot in all senses of the word. It's peaceful, sits high above Lantau Island and is a site of great religious significance.
HOW TO GET TO THE TIAN TAN BUDDHA: Take the Cable Car to Ngong Ping Village and walk out to the Statue. It's pretty big. You can't really miss it.
.
17. Po Lin Monastery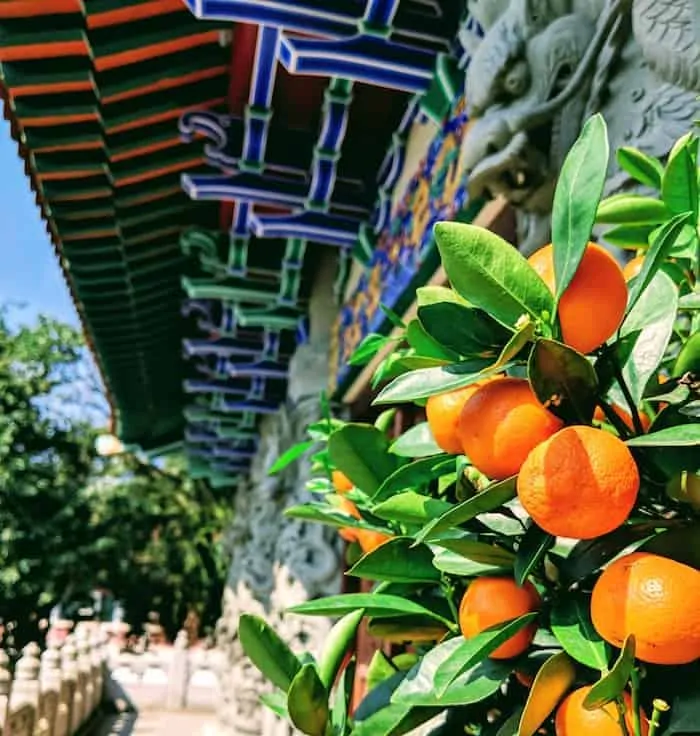 Just a hop, skip and a jump from the base of the Tian Tan Buddha Statue, the Po Lin Monastery is one of Hong Kong's most important Buddhist sanctums and is home to multiple devout monks. The temple is beautifully colourful, with orange trees punctuating the multicolored facade wherever you turn (in season).
HOW TO GET TO PO LIN MONASTERY: Exit Ngong Ping Village, walk past the base of the Big Buddha statue on a slight left bearing.
.
18. Wisdom Steps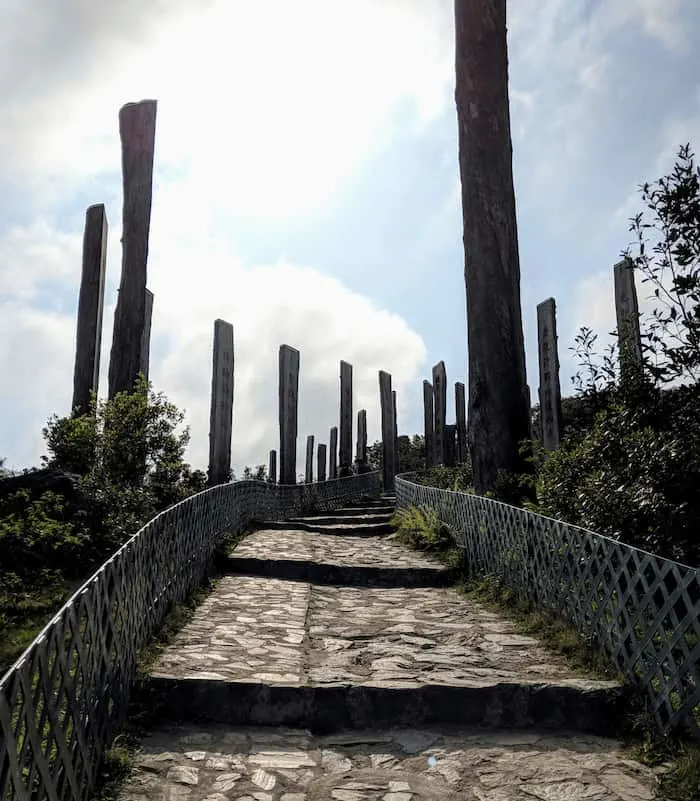 Whilst there are several different walks available from Ngong Ping Village, my favorite is the short walk to the Wisdom Path where you'll find 38 wooden steles containing verses from the centuries-old Heart Sutra — one of the world's best-known prayers revered by believers of several religions.
HOW TO GET TO THE WISDOM STEPS: From Ngong Ping Village, walk to the base of Tian Tan Buddha and take the path heading diagonally right. Follow the path towards Lantau Peak and the steps appear at the base of the Lantau Trail on the right.
.
19. Tai O Fishing Village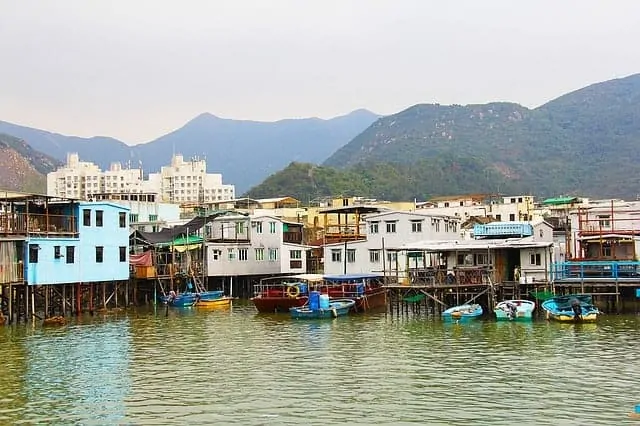 A fishing village on Stilts – perfect for photography and for a glimpse at traditional life on the water.
HOW TO GET TO TAI O FISHING VILLAGE: From Ngong Ping Village Take Bus 21. The journey takes about 20 minutes; Or take Bus 11 directly from Tung Chung Station and the journey takes approximately 50 minutes.
.
The Most Instagrammable Places in Hong Kong for Sunset and/or Night Time Photography
1. Sai Wan Swimming Shed
One of the most beautiful spots in Hong Kong – and certainly one of the most Instagrammable (thanks to lists like this). But just 20 mins walk from Kennedy Town MTR this coastal spot hardly feels like it is in Hong Kong at all.
It's highly unlikely that you will be on your own at this now infamous sunset spot but if you wait long enough – I recommend around half an hour after the sun sinks below the skyline when the colours become most vibrant, the crowds dissipate and you can have the place to yourself and capture stunning imagery.
For me, it's the best time to photograph the pier and the only thing with this approach is that it will be dark going back up the steps, so make sure your smartphone still has battery to use your torch. (I always carry my power bank to ensure I can always charge my phone/camera!)
HOW TO GET TO SAI WAN SWIMMING SHED: MTR to Kennedy Town -> Exit C onto Forbes Road -> Walk Left along Forbes Street to Cagodan Street. At the intersection turn left onto Victoria Road. Walk 20 minutes along the coastal side of the road and look for green steps leading down to the shed to find one of the premier Hong Kong Instagram spots.
.
2. Sky Terrace 428 @ Victoria Peak
If you are looking for the iconic, insta-fomous Hong Kong Skyline shot, the only place to get it is at Sky Terrace 428. Located on the top of the Peak Tower, the unobstructed view is the perfect place to photograph Victoria Harbour from above.
Be warned, it can be windy up there, but pre-book your Peak Tram + Sky Terrace entrance ticket and head up half an hour before sunset and plan to stay until half an hour after the sunsets so you can get the day time view and the night time view.
HOW TO GET TO SKY TERRACE 428: Take the Peak Tram (or Bus 15) to the Peak Tower and follow the escalators to the top.
.
3. A Symphony of Lights @ The Promenade @ Tsim Sha Tsui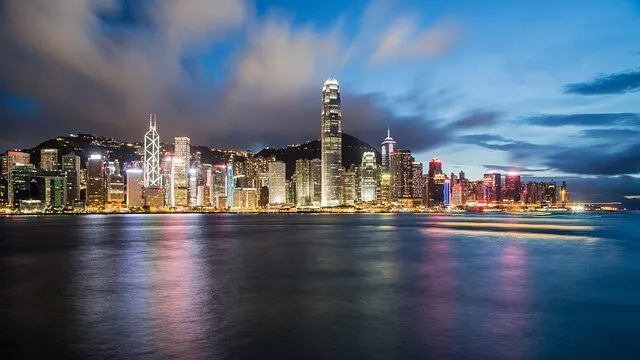 The Tsim Sha Tsui Promenade on the Kowloon Peninsula side of Hong Kong is absolutely the best place to watch the nightly 'Symphony of Lights' Show. Played at 8pm each night, the skyscrapers come alive with a light and laser show, which at different celebratory times of the year is also accompanied by music.
The Tsim Sha Tsui Promenade is also home to the Avenue of Stars – which is undergoing renovation and not expected to be completed until the end of 2019 – but will definitely be added to this list of the Most Instagrammable Places in Hong Kong once it is open again.
HOW TO GET TO THE SYMPHONY OF LIGHTS: The closest MTR station is East Tsim Sha Tsui but The Symphony of Lights can also easily be reach from the major station of Tsim Sha Tsui at Exit J at Tsim Sha Tsui, which practically brings you out right on the Promenade.
.
4. Kowloon-Canton Railway Clock Tower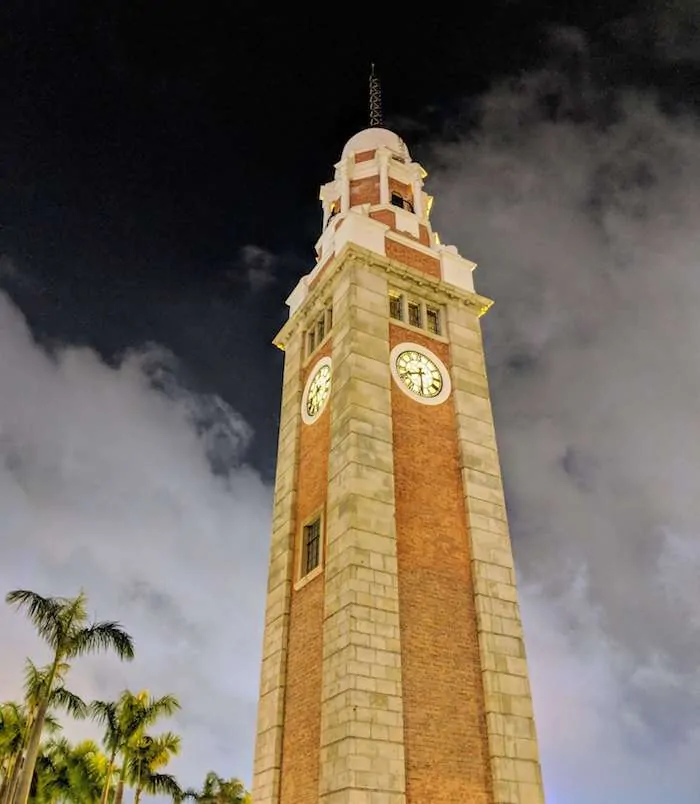 Standing 44-metres tall, the Clock Tower was erected in 1915 as part of the Kowloon–Canton Railway station which is now long gone. It stands at the end of a palm lined water way and makes for a great photography spot; and at night gives great contract to the often cloudy sky.
HOW TO GET TO KOWLOON CLOCK TOWER: Located at the end of Tsim Sha Tsui Promenade the closest MTR Station is Exit L6 from Tsim Sha Tsui.
.
5. Nathan Road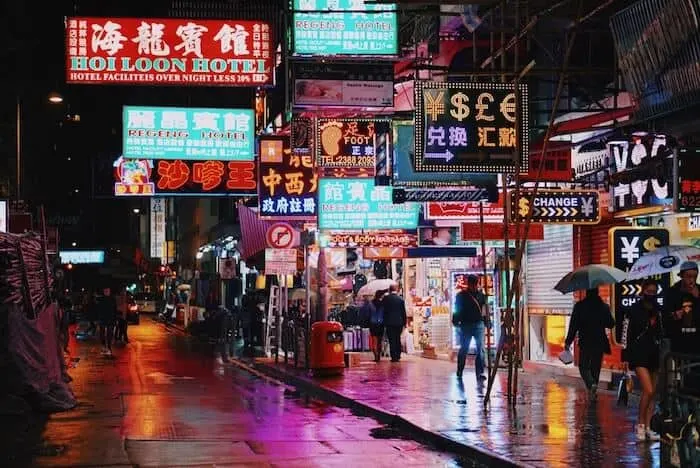 One of Hong Kong's favorite Neon-Studded Walkways. The different Neon roads are listed to help you decide which one is the closest to where you are staying so it's a short walk to get back to your room after some late night photography.
HOW TO GET TO NATHAN ROAD: Running directly up from TST Promenade on Kowloon Pensinsula, take the short stroll from Sailsbury road or exit the MTR at E, N5, A1 or A2 at Tsim Sha Tsui Station.
.
6. Jordan Road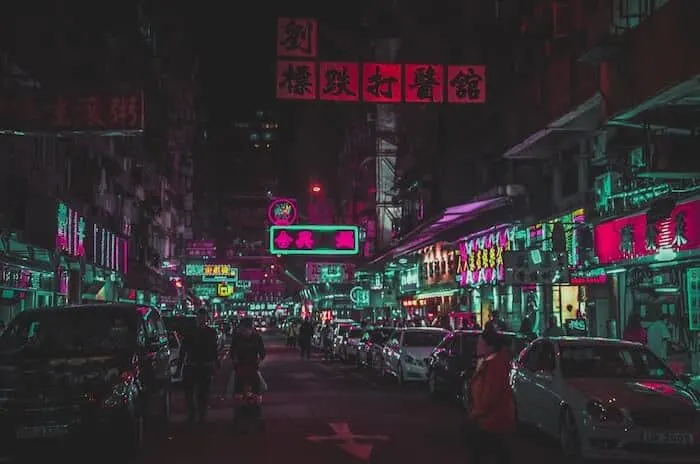 Another Neon signs soaked hotspot. It's pretty much everywhere in Hong Kong, but for a lot in a small area, Jordan Road is a great choice.
HOW TO GET TO JORDAN ROAD: Take Exit A at Austin MTR Station.
.
7. Temple Street Night Market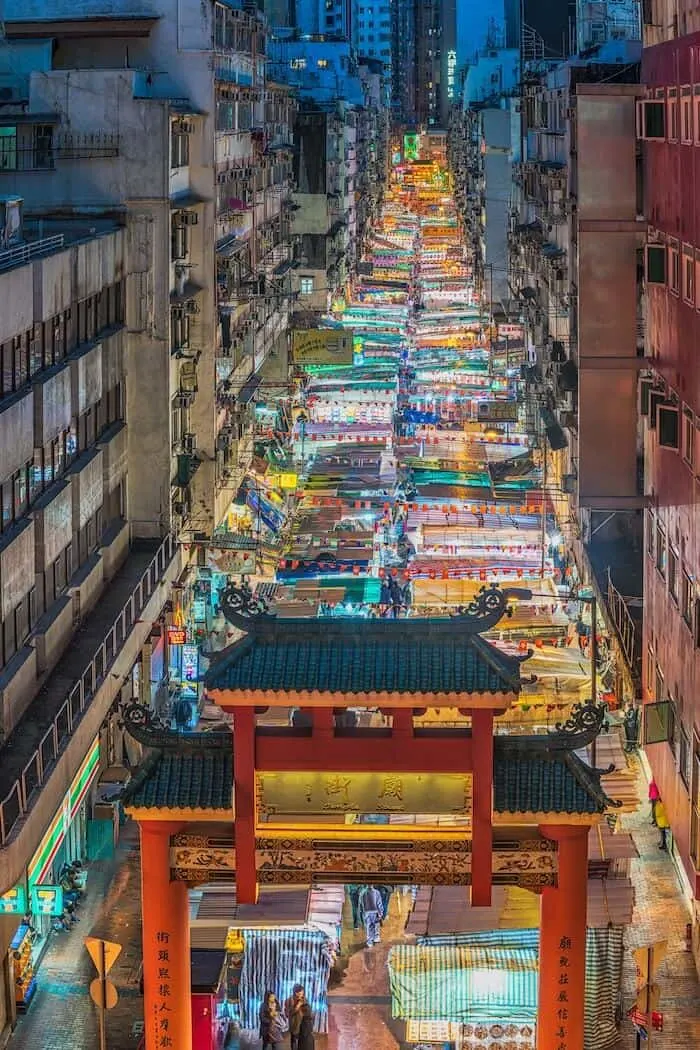 One of the best markets in Hong Kong – and wonderfully photogenic – you can get pretty much everything and more at this market and is a must-visit on your Hong Kong vacation. Oh, and this view from up top of a nearby carpark is one of the most instagrammmable Hong Kong.
HOW TO GET TO TEMPLE STREET NIGHT MARKET: For Jordan MTR exit A turn right along Jordan Road and then Right onto Temple Street. Head to the Car Park and up to the 4th floor where you'll be able to capture this perspective with a zoom lens.
.
8. Sky 100 Observation Deck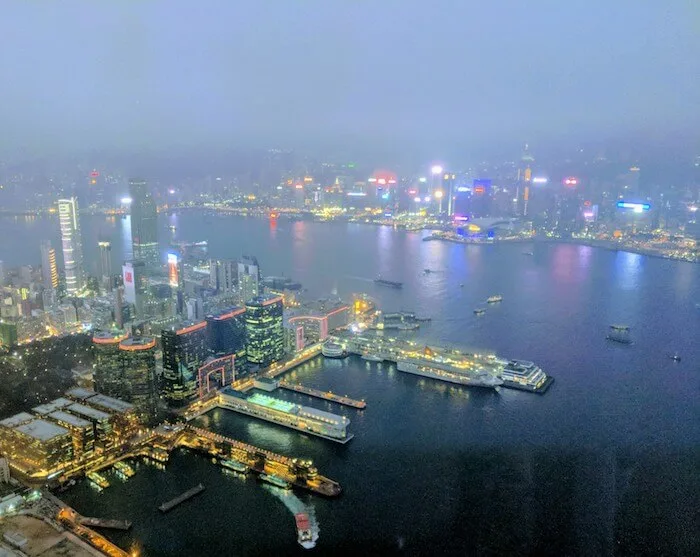 The Sky100 Observation Deck is so-called because it is located on 100th floor of the International Commerce Centre, in West Kowloon and is the 10th tallest commercial building in the World. Providing yet another angle of the Vicoria Harbor skyline, it is also a great indoor activity if the weather is less than perfect. They even have simulated lookout stations which give the view with perfect weather via VR!
HOW TO GET TO SKY 100: Hop off the MTR at Kowloon and follow the signs. Simples.
.
9. Goldfish Market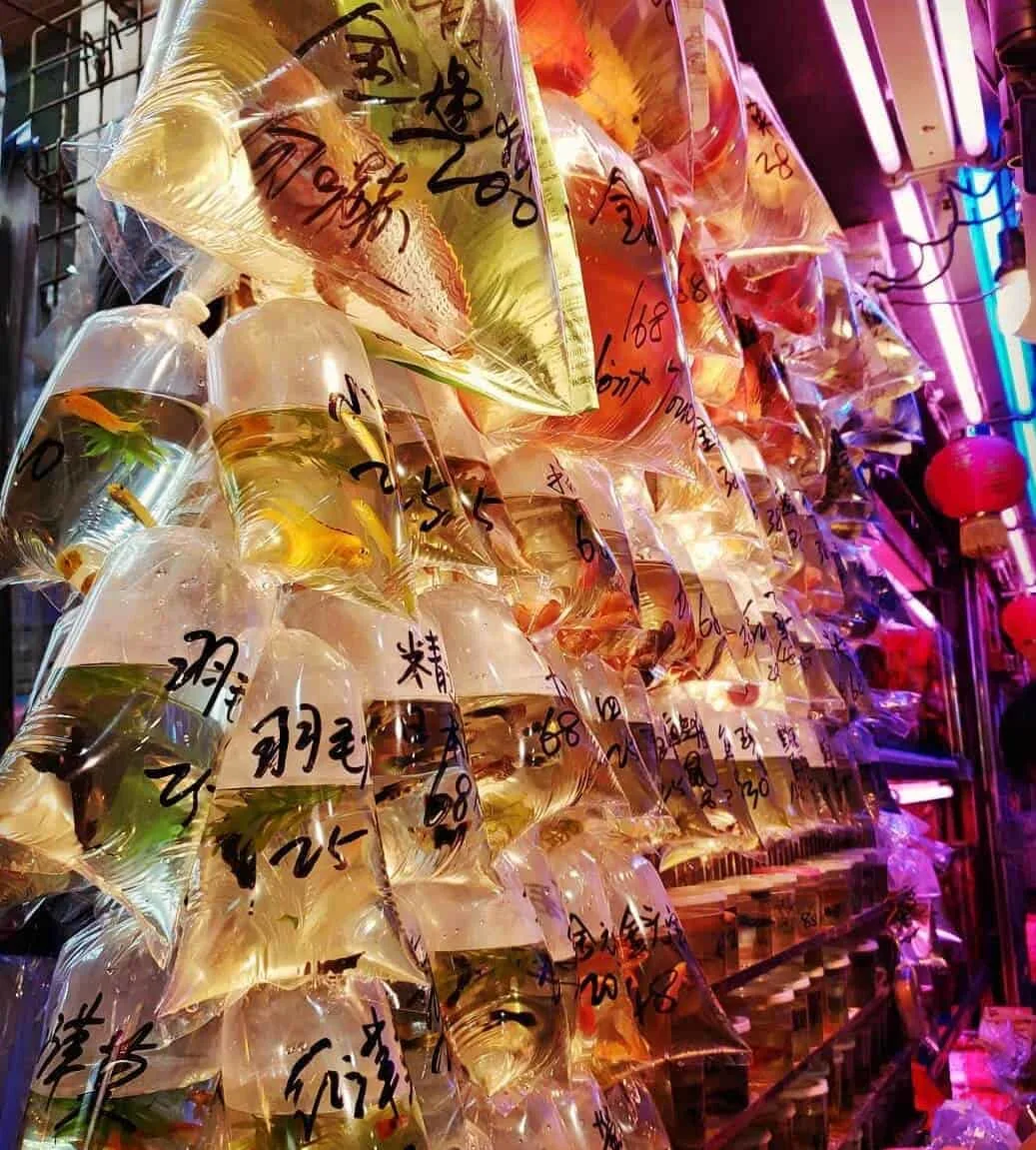 This is literally the weirdest pet store you are ever likely to visit, but the two blocks on Tung Choi Street are home to hundreds of bags of tropical fish – at largely obscene prices.
I'm personally not thrilled about the fish being sold this way but I felt I had to include the Goldfish Market on this list as it has been recognised as one of the Most Instagrammable Places in Hong Kong, and it is a fascinating look at local life. (Oh, and Google would smite me for not including it when everyone else does..)
PHOTO LOCATION – HOW TO GET TO THE GOLDFISH MARKET: Turn right out of exit B3 from Mong Kok, at the intersection take the first right onto Mong Kok Road and then first left onto Tung Choi Street and walk 1.5 blocks.
.
10. Lockhart Road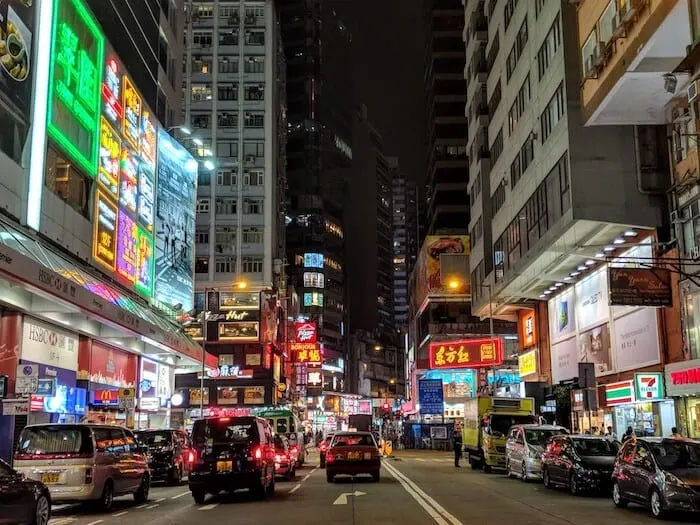 Can you ever get bored with photographing Neon? Lockhart Road is a favored Neon hotspot on Hong Kong Island.
HOW TO GET TO LOCKHART ROAD: Exit at Causeway Bay exit B, turn 180 degress and walk to the next main street – that is Lockhart Road.
.
11. Yick Cheong Building (aka. Monster Building)
So I've left this one until last because practically everyone knows about the Monster Building Hong Kong. Being featured on the 'Transformers – Age of Extinction' movie will do that. Located in Quarry Bay, it has turned what should be a quiet residential area into a mecca for those toting camera.
It is easily the most Instagram famous location in Hong Kong, but the residents of the Yick Fat Buidling are not impressed with the influx of people into their living quarters and management of the building have recently banned all photography. It hasn't stopped people flocking to the site daily, but I would urge you to reconsider out of respect for the residents – I mean you would get sick of people wandering through your apartment block would you?
As an alternative – spend some time in Causeway Bay and photograph the Iconic double decker trams that run along the base of Hong Kong island (it's perfect for street photography!), or distract yourself from the missed photographic opportunity with a pit stop at Times Square – one of the largest and most vibrant shopping centers in Hong Kong.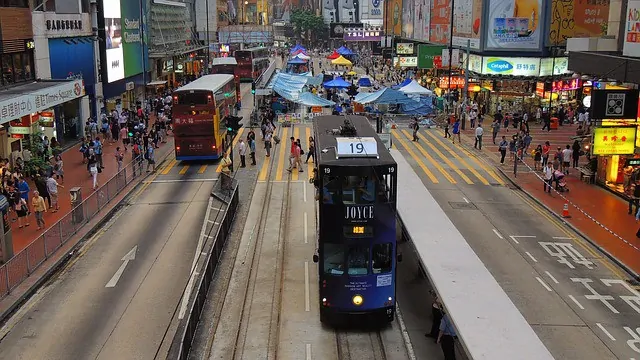 RELATED: Looking for more Hong Kong Photography Inspiration? Here are 3 Hong Kong Street Photographers / Hong Kong Photographers to follow on Instagram: Victor Cheng, Vivien Liu and Harimao Lee.
And there you have it folks. I hope you enjoyed this Photographers Guide to Hong Kong China – it's the best self guided Hong Kong Photography Tour out there (if I do say so myself!) complete with the best photo spots in Hong Kong + photo location maps with detailed directions. They come together to become the Most Instagrammable Places in Hong Kong!
What is your favorite photography spot in Hong Kong? Let me know in the comments below.
And if you liked this Hong Kong travel guide post, please pin, flip, tweet or share on Facebook – I'd really appreciate it!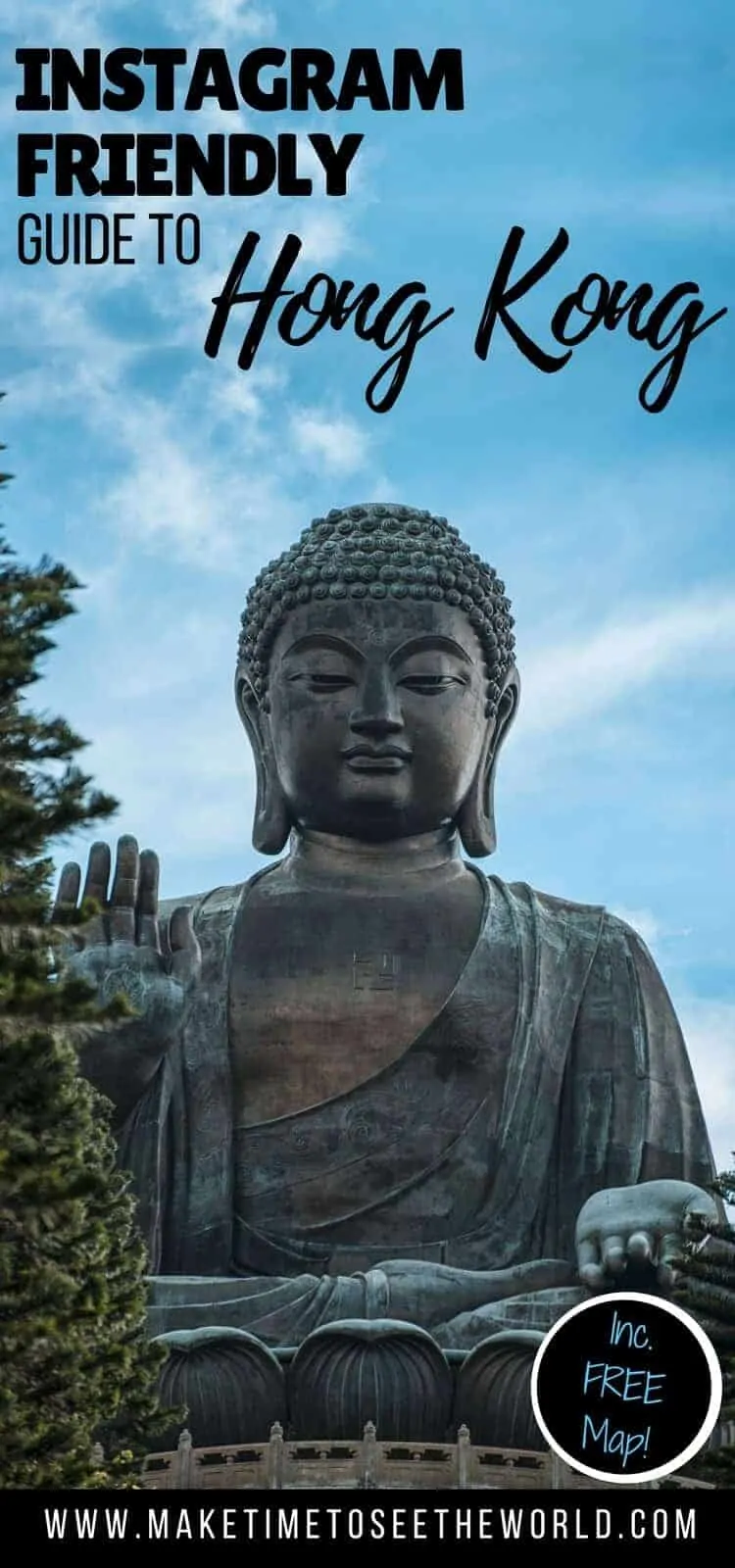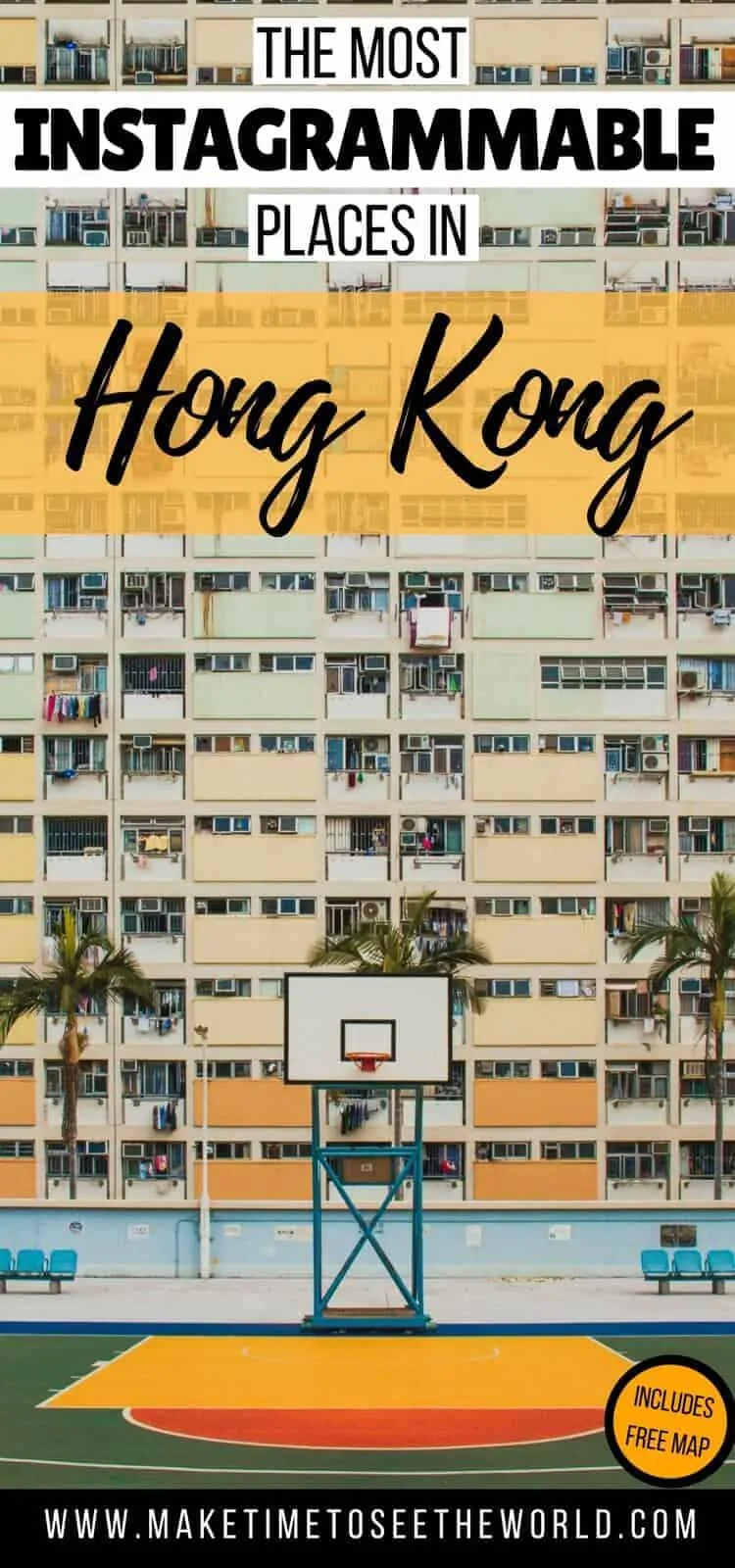 READY TO EXPLORE MORE OF ASIA? YOU MIGHT BE INTERESTED IN THESE RELATED POSTS

Hi There! Thanks for reading our Hong Kong travel guide to The Most Instagrammable Places in Hong Kong (inc a Map + Photos!) A Complete Hong Kong Photography Guide. I just wanted to let you know that this post may contain affiliate links, which means if you purchase something after clicking a link, I may get a small commission – which is at absolutely no cost to you. If you enjoyed this article and are going to be searching for some of the things I mention anyway, I would love it if you could click through from the links above & thank you in advance! Read my full Disclosure here.
And Thank you for reading the MakeTimeToSeeTheWorld Travel Blog.