Going traveling and don't have a travel tripod for your camera? You need to get one, fast!
Owning a tripod can elevate your travel photos in a number of ways including allowing you to position your shot and get creative with your composition; take the weight of a heavy camera off your arms safe in the knowledge that it is secure on the tripod. It provides you will stability and practically eliminates camera shake (especially where you use a remote trigger), can improve your macro photography, help you achieve those dreamy long exposure shots where a slower shutter speed is required – and give you extra freedom to create epic selfies.
And before we dive right in to showing you what are the top travel tripods for 2019, here are a few things to consider when it comes to picking out out your favorite travel partner:
Consider the weight of your camera. Ideally, the tripod load capacity should be 3x the weight of your camera. (Use our handy travel tripod comparison table below to quickly the check the load capacity and how it relates to your camera).
Cost: Obviously, your budget is going to play a key role in your decision, but if you have invested in your camera and other photography gear, spending a little more on a tripod which is light, stable and can be comfortably carried around on your travels is a no-brainer. We would recommend budgeting $75-300 (USD) but have included a few options below this to show you what your money can buy.
Size and Weight: If your are buying a tripod to add to your travel kit, you want to be relatively light – not just for packing into limited space, but for carrying around whilst you are discovering a new destination.
Do you want to use the tripod with your Smartphone or GoPro? If so, keep in mind you will need an adapter, but there is no reason that you can only use it with your DSLR cameras or mirrorless camera.
Do you need the added functionality of a monopod? (If you do a lot of (or have an interest in) wildlife photography or sports photography, a monopod can be a great addition to your kit because of the smooth panning ability).
Now that we have opened your eyes as to a few reasons why you should add a travel tripod to your kit, and a few things to consider when making your selection, all you need to do now is pick the best one for you. And to help, we have put together our ultimate guide to the top 10 travel tripods available on the market – all which can be fit in a standard sized carry on bag – with a range of different tripods to fit every type of traveler and for every size of budget! (And click here for our Top 21 Travel Photography Tips to up your photography game).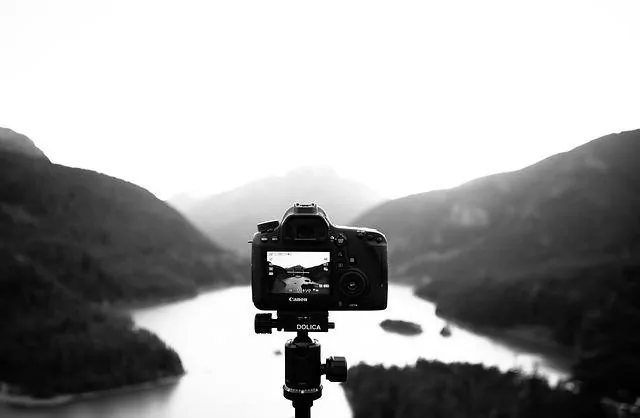 The 10 Best Travel Tripods for Photography Goals
Tripod
Folded
Height
Max
Height
Load
Capacity
Physical
Weight
Cost
50cm /
19.7in
140cm /
55in
2kg /
4.4lb
1.16kg /
2.55lb
$$
46cm /
18in
156.5cm /
61in
8kg /
17.6lb
1.1kg /
2.43lb
$$$$
18.5cm /
7.3in
18.5cm /
7.3in
1.5kg /
3.3lb
180gm /
0.4lb
$
48cm /
18.9in
165.5cm /
65in
12kg /
26.5lb
1.8kg /
4lb
$$$$
45cm /
17.7in
163cm /
64in
8kg /
17.6lb
1.35kg /
2.97lb
$$
41cm /
16in
119cm /
47in
200g /
0.45lb
0.4kg /
1lb
$
36cm /
14.17in
141cm /
55.51in
12kg /
26.5lb
1.8kg /
4lb
$$
31.75cm /
12.5in
132cm /
52in
3.6kg /
8lb
1.1kg /
2.4lb
$$$
30cm /
11.8in
30cm /
11.8in
3kg /
6.6lb
300gm /
0.86lb
$
40cm /
15.75in
150cm /
59in
4kg /
8.8lb
1.6kg /
3.6lb
$$$$$
POLAM-FOTO Lightweight Tripod
This easy to use travel tripod is made from lightweight aluminum and comes with a compact carry-bag. Including a wide range of great features, it's the ideal tripod choice to meet all your shooting needs whether you are new to photography or a seasoned pro.
Customers love this tripod because it's lightweight yet can support your camera securely, and comes with it's own carry-case.
Top features
Weight: 1.16kg
Folds to 50cm
Working height: 47 – 140cm
Three-way head
Four-section tripod legs
Quick-release plate
Bubble level

.
K&F Concept Compact Camera Tripod
Made from durable aluminum, perfect for all your travel adventures, the K&F Concept tripod features a quick release plate and snap-secured legs for fast camera setup when you only have a matter of moments to capture that perfect shot.
Travel Photographers love this tripod for its compact size which is ideal for when you have limited packing space.
Top features
Weight: 1.3kg
Folds to 46cm
Working height: 41.5 – 156.5cm
Quick release plate
Leg flip locks
360-degree ball head

.
iGadgitz PT310 Mini Lightweight Table Top Stand Tripod
The table top tripod from iGadgitx might be mini but with its textured rubber legs you will have great stability, no matter what the surface. The is a great option for vloggers – or those who require a hand held stabilization option, and even better for those who do unboxing or over the shoulder type instructional videos who need to be close to the action. It's one of the best tabletop tripods, especially for the price and build quality.
Photographers love this tripod for its easy tilt adjustable top with maximum stability for all cameras – from compact digital cameras to full frame SLR cameras with zoom lens.
Top features
Weight: 0.18kg
Height: 8cm
360-degree locking head
Textured stabilizer legs
Built-in spirit level

.
.
.
K&F Concept Carbon Fibre Professional Tripod
If you are looking to upgrade your tripod to something more professional, we highly recommend this model from K&F Concept. One of the top carbon fiber tripods it is also a super lightweight travel tripods and its detachable legs make it one of the most flexible and versatile tripods available for all your shooting requirements.
Photographers love this tripod for robustness and easy setup.
Top features
Weight: 1.8kg
Folds to 48cm
Working height: 44 – 165.5cm
Max Load: 12kg
Travel tripod with ball head (360º)
Converts to a Monpod

.
.
Heoysn Camera Professional Travel Tripod
Didn't think you could have a travel tripod that has it all? Think again! This professional tripod from Heoysn is lightweight yet durable, compact yet adjustable and features a wide range of control features to help you achieve the perfect shot, no matter what angle.
Photographers love this tripod for its quick setup and storage bag, making it easy to carry.
Top features
Weight: 1.35kg
Folds to 45cm
Working height: 45.5 – 165 cm
360-degree ball head
Two independent control knobs
Bubble level indicator
Quick release plate
Converts to Monopod

.
.
Convertible Telescopic Pole and Tripod Base Kit
The convertible tripod is a great choice for everyone out there looking to achieve the perfect shot or video with their GoPro, compact camera or smartphone. This easy to use telescopic pole and tripod base kits offers great flexibility for when you are snapping on the go or are looking for a mini tripod kit.
Smartphone photography ethusiasts love this tripod because it's versatile and affordable.
Top features
Weight: 0.55kg
Folds to 41 cm
Working height: 40 – 119cm
Ball socket mount
Easy-grip rubber feet

.
.
Ranges Portable Travel Tripod
Transforming from a traditional three-fork tripod to a sturdy monopod provides you with precision to take breath-taking shots. Enjoy capturing 360-degree panoramic shots with the flexible ball-head and built levels.
Customers love this tripod for its quality and two-year guarantee.
Top features
Weight: 1.9kg
Folds to 36cm
Minimum height: 35cm
Maximum height: 139cm
Made from lightweight compact aluminum
Two independent control knobs

.
.
.
AmazonBasics 52-Inch Carbon Fiber Travel Tripod
Amazon have joined the travel tripod market with their very own carbon fiber version. With all the features of other bestselling tripods and a compact travel bag for when to are on the go, what's not to like about it?
Photographers love this AmazonBasics lightweight tripod for its sturdy adjustable leg sections and ability to support mid-weight or lightweight cameras at a bargain price.
Top Features
Weight: 1.1kg
Fold length: 31.75cm
Working height: 31.75 – 132cm
360-degree ball head
Invertible central column
Built in level
Maximum load: 3.6kg
Quick release mounting plate

.
.
.
Joby GorillaPod
For the adventure photographers among us, the Joby GorillaPod is an absolute demon to have in your bag. It's moveable legs can attach to virtually anything, be it a branch, a pole or a bit of railing. Nature is no match for the Gorilla Pod! This particular one is 3k, but there is also a Joby Gorillapod 5k for those that require a higher load capacity.
Adventure Photographers love this tripod kit for its versatility and strength in the most challenging environments.
Top features
Weight: 0.6kg
Folds to: 47cm
Adjustable legs
Screw in mounting plate
360° pan ability

.
.
.
Manfrotto Be Free Aluminum Travel Tripod
The Manfrotto BeFree travel tripod is proof that never again will photographers have to compromise on their photo quality whilst traveling. This compact, lightweight tripod features patented leg angle selectors for maximum versatility when it comes to positioning your camera. It's one of the top DSLR tripods on the market.
Photographers love this Manfrotto Befree compact tripod for its incredible build quality and adjust-ability.
Top features
Weight: 1.4kg
Folds to: 40cm
Working height: 34 – 144cm
Adjustable legs with twist lock and invertible center column
Quick release mounting plate

What do you think? We hope this guide was helpful and you have already ordered the perfect camera travel tripod for all your future adventures.
Don't forget, we want to hear from you regarding any of the tripods featured in this article and please tell us thoughts in the comments box below. We would also love to see all the amazing photos you have achieved using your brand-new tripod, so please send us those too!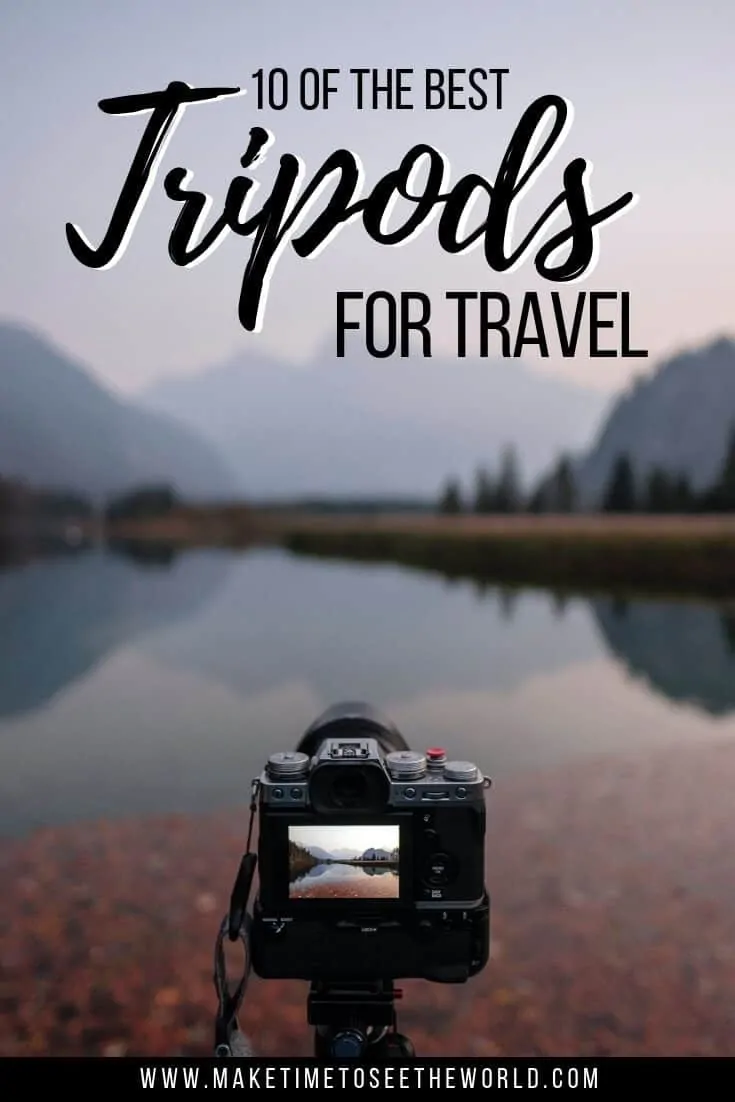 READY MORE TRAVEL TIPS & INSPIRATION? YOU MIGHT BE INTERESTED IN THESE ARTICLES:
Hi There! Thanks for reading the MakeTimeToSeeTheWorld travel blogs buying guide to the 10 Best Travel Tripods on the Market in 2019! I just wanted to let you know that this travel tripod guide contains affiliate links, which means if you purchase something after clicking a link, I may get a small commission – which is at absolutely no cost to you. If you enjoyed this article and are going to be searching for some of the things I mention anyway, I would love it if you could click through from the links above & thank you in advance! Read my full Disclosure here.