Who doesn't love travel quotes?! They're a little slice of inspiration perfect for any situation. Whether you're planning for a trip, recovering from a trip, battling post-trip blues or are just looking for a little something to give you a boost, there's a quote out there that can speak to whatever you need.
And right now, I think we could all use some of the most inspirational travel quotes for 2022 with what we are all currently going through.
There are quotes about travelers, travel quotes about journeys, travel quotes about self-discovery, adventure quotes, and – my favorite – travel quotes that inspire you to live life to the fullest (they are the true wolderlust quotes!) – with a couple of travel tips thrown in for good measure!
Ready for a little wanderlust inspiring pick me up? Of course you are! And don't forget to let us know in the comments if you agree with our list of the Best Travel Quotes with photos – or if you think we have missed a good one. We're always happy to add more to the list!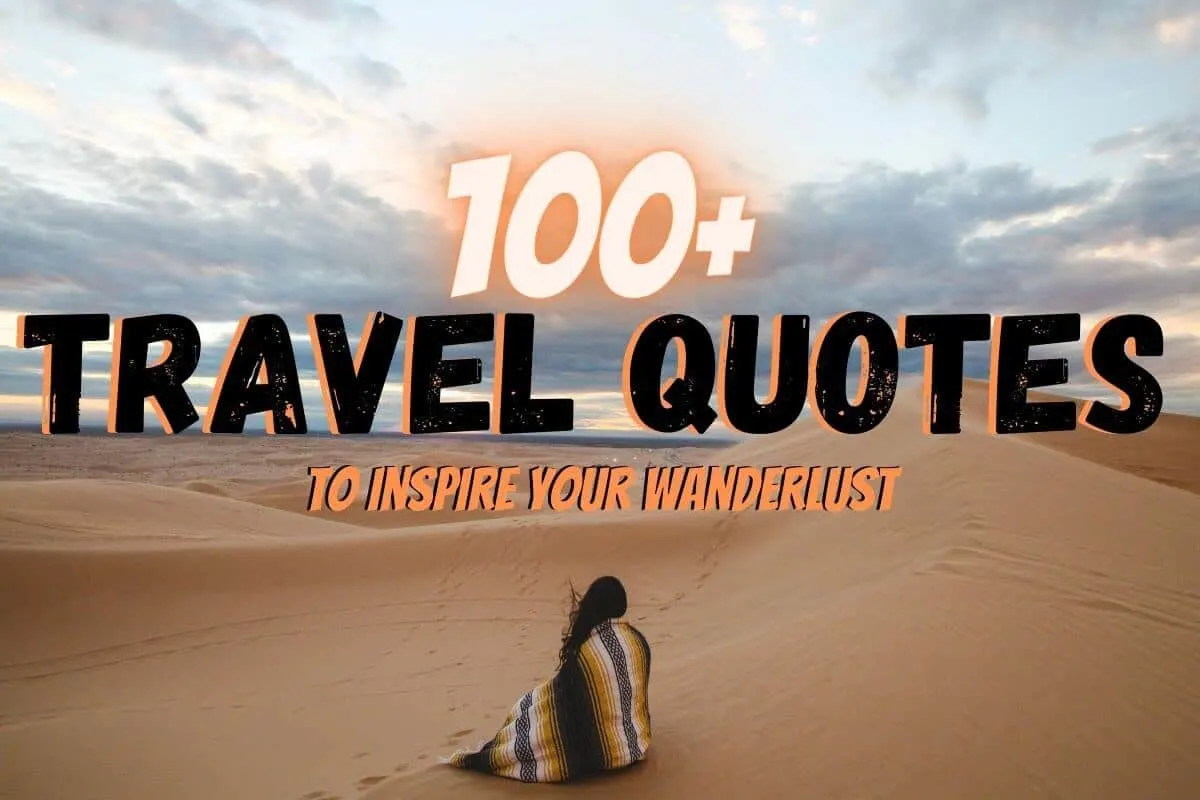 Disclaimer: Almost all posts on this site contain Affiliate links, and this one about the best travel quotes on the planet is no different. This means that if you click on any of the links in this post about the best travel quotes (and make a purchase) I may receive a small commission at absolutely no cost to you. Each post is carefully crafted to (hopefully!) answer all your questions and recommendations are made where we believe they will improve your trip and help with your planning. As such we thank you in advance should you decide to click & buy. Read my full Disclosure here.
We understand you might be feeling a little overwhelmed by the length of this list – I mean – can 100+ Travel Quotes really ALL be the best in the world?! We might be biased – but we think so. And there are certainly some travel quotes that don't deserve to be on any of these kinds of lists – "No matter where to, or how we travel, our heart must make the first step" – no kidding?! The same can be said for popping to the supermarket!
This post about the best travel quotes and captions for traveling has some of the most beautiful travel quotes, inspiring travel quotes and motivational travel quotes out there from some incredible authors including Paulo Coelho, Lao Tzu, the Dalai Lama, John Steinbeck, Mark Twain, Bill Bryson, Oscar Wilde (and many, many more) – we're sure that you can find something to get your motor running and encourage you to use the table of contents to narrow down your options if you're struggling!
Categorically, 100+ of the BEST Travel Quotes in the World
1: "Travel isn't always pretty. It isn't always comfortable. Sometimes it hurts, it even breaks your heart. But that's okay. The journey changes you; it should change you. It leaves marks on your memory, on your consciousness, on your heart, and on your body. You take something with you. Hopefully, you leave something good behind." – Anthony Bourdain (This one of my favorite quotes that inspires wanderlust and one of the best travel quotes on this list.)
2: "Travel is never a matter of money but of courage" – Paulo Coelho
3: "Wherever you go, go with all your heart" – Confucius (don't you think these are such wise words from the Chinese philosopher?!)
4: "With age, comes wisdom. With travel, comes understanding." – Sandra Lake
5: "Oh Darling, Let's Be Adventurers." (I just love this! and I think it is one of the best quotes about wanderlust and love.)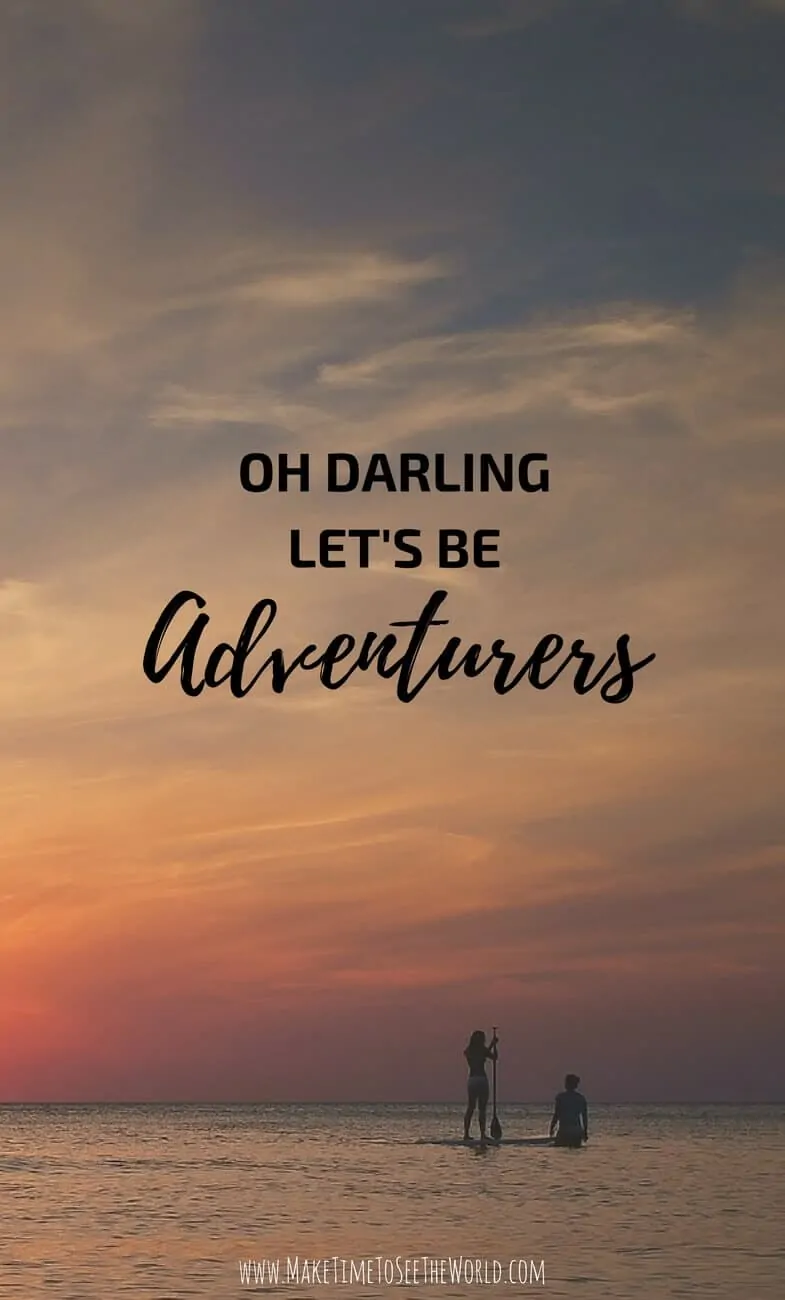 6. "Man cannot discover new oceans unless he has the courage to lose sight of the shore." – Andre Gide
7. "Remember that happiness is a way of travel – not a destination." – Roy M. Goodman
8: "I met a lot of people in Europe. I even encountered myself." – James Baldwin (Meeting new people while traveling is one of the best bits.)
9. "It is not down in any map; true places never are." – Herman Melville
10. "Life is either a daring adventure or nothing at all." – Helen Keller (such an inspiring travel quote!)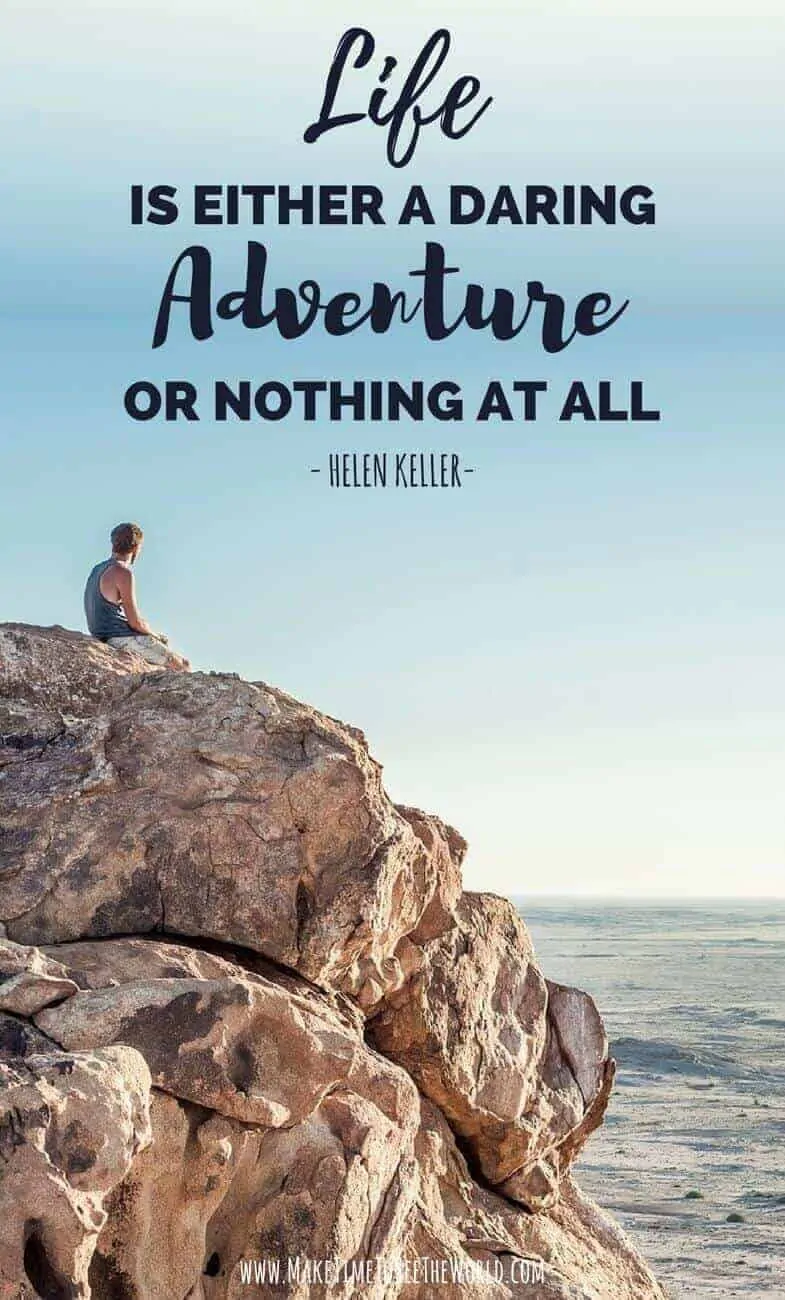 11: "Better to see something once than hear about it a thousand times"
12: "Adventure may hurt you but monotony will kill you."
13: "Better to see something once than to hear about it a thousand times" – Asian Proverb (for me, the place that springs to mind for this travel quote is Christmas Island. Where would it be for you?)
14: "Dare to live the life you've always wanted."
15. "Adventure is worthwhile in itself." – Amelia Earhart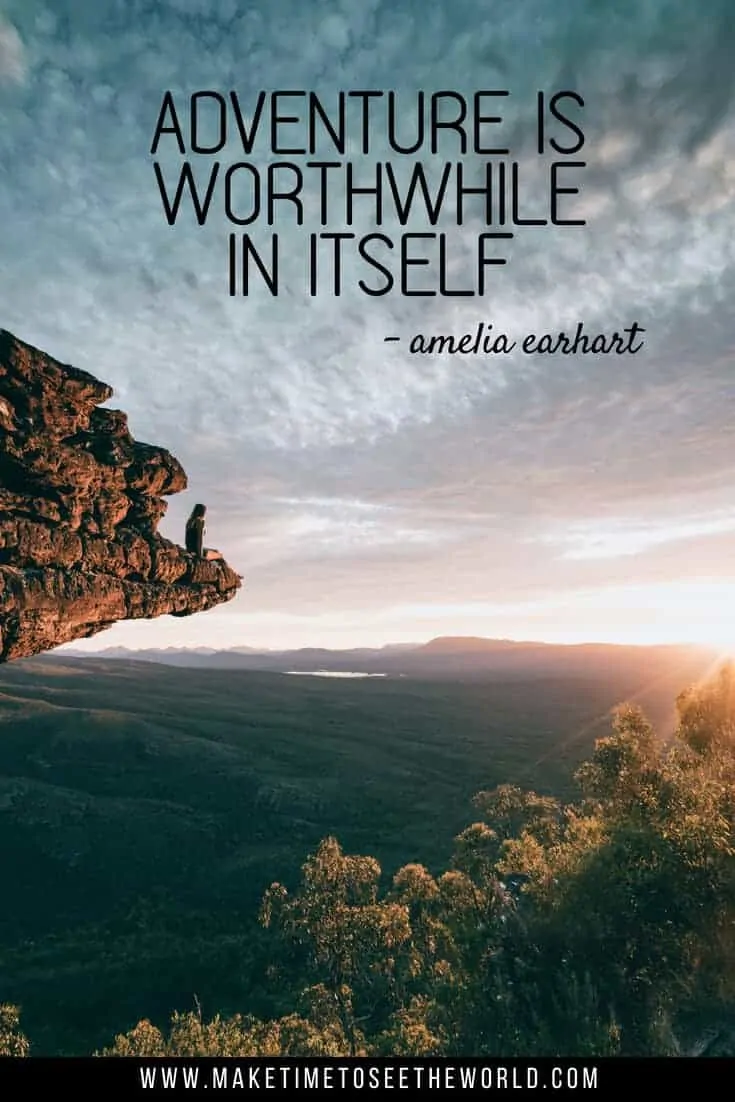 16: "Never go too long without watching a sunset" – Atticus
17: "The journey not the arrival matters." – T.S. Eliot (one of the most simple yet powerful journey quotes)
18: "Wanderlust: n. a strong desire for or impulse to wander or travel and explore the world"
(one of my favorite explore quotes – even if it is a definition of a word!)
Famous Travel Quotes about Travelers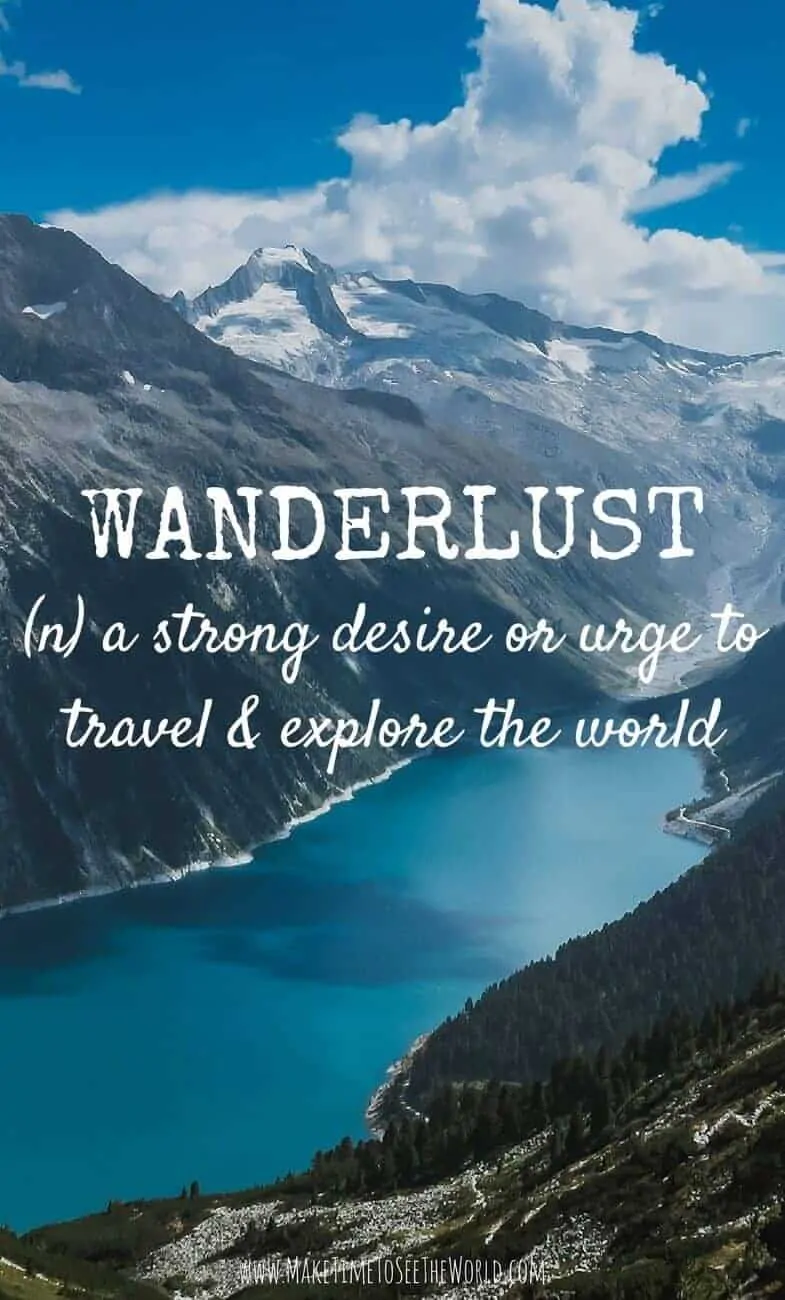 19. "Because in the end, you won't remember the time you spent working in the office or mowing your lawn. Climb that goddamn mountain." – Jack Kerouac (I wonder how many mountains Jack Kerouac climbed? I'm guessing many!)
20. "Twenty years from now you will be more disappointed by the things that you didn't do than by the ones you did do. So throw off the bowlines. Sail away from the safe harbor. Catch the trade winds in your sails. Explore. Dream. Discover." – Sarah Frances Brown, mother of author H Jackson Brown (but is often incorrectly attributed to Mark Twain – although I don't think Mark Twain would complain!)
21: "The most beautiful in the world is, of course, the world itself." – Wallace Stevens (don't you think he has coined one of the most amazing travelling captions and one of the best world quotes?!)
22: "And then there is the most dangerous risk of all — the risk of spending your life not doing what you want on the bet you can buy yourself the freedom to do it later." – Randy Komisar
Short Travel Quotes (Perfect for Instagram Captions!)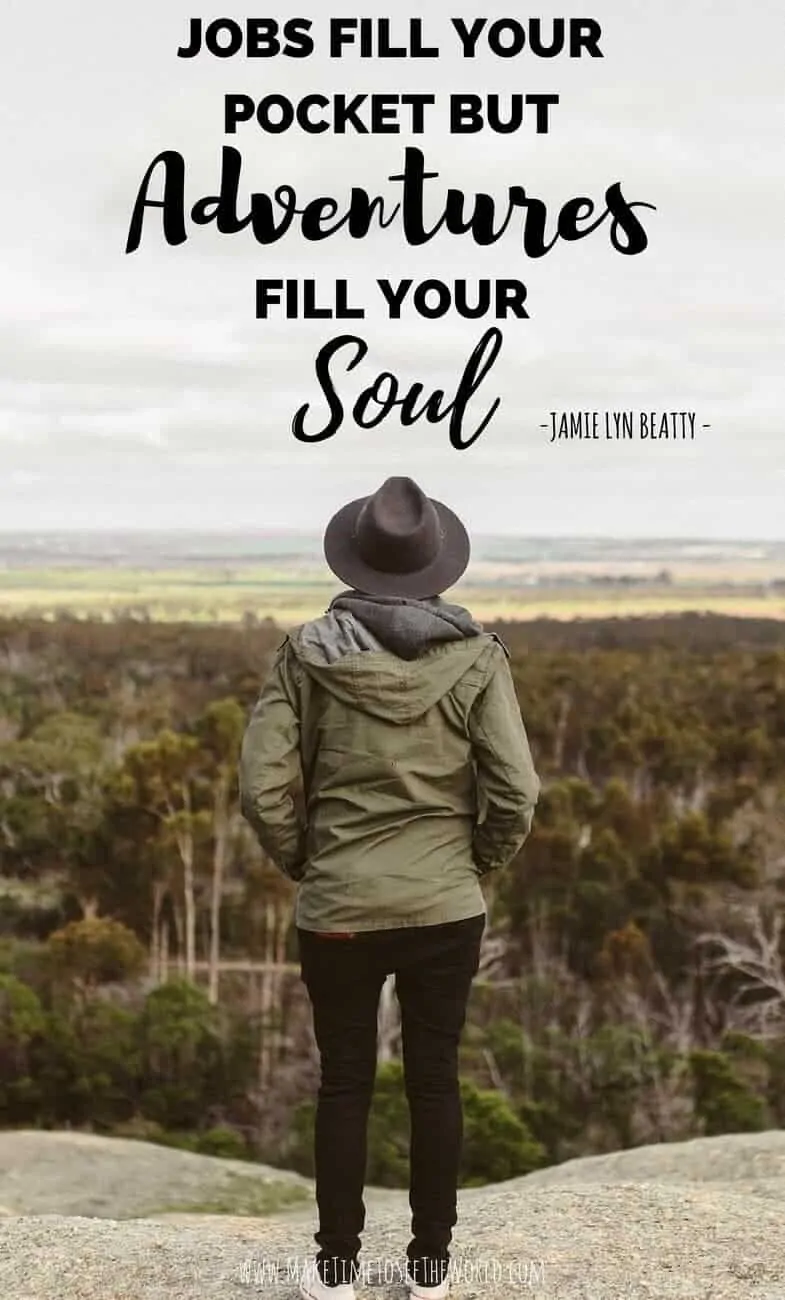 23: "Remember that happiness is a way of travel – not a destination." – Roy M. Goodman
24: "All you need to know is that it's possible." – Wolf, an Appalachian Trail Hiker (one of the true original traveller quotes)
25: "It feels good to be lost in the right direction"
26: "The best view comes after the hardest climb" – Unknown
27: "To Travel is to Live" – Hans Christian Andersen (couldn't agree with you more Hans Christian and really reminds me how great it is to travel the world)
28: "The life you have led doesn't need to be the only life you have." – Anna Quindlen (a fabulous travel quote that lets you know it's never too late to change your life and try something new!)
29: "Jobs fill your pocket, but adventures fill your soul." – Jamie Lyn Beatty (This one is one of my favorite travelling quotes – and one of the reasons I made the above graphic!)
30: "Don't listen to what they say. Go see."
31: "Blessed are the curious for they shall have adventures." – Lovelle Drachman
The Best Travel Quotes for Inspiration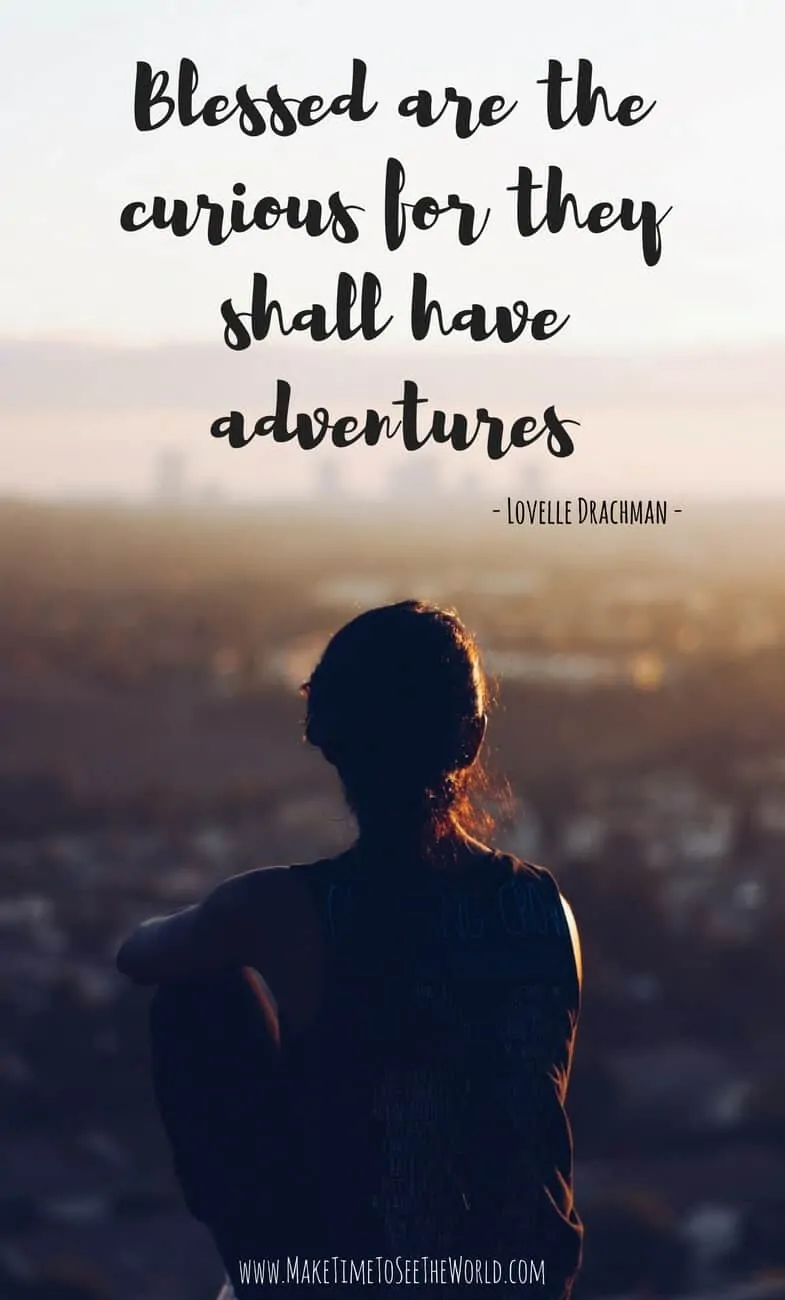 32: "Travel makes one modest. You see what a tiny place you occupy in the world." – Gustave Flaubert
33: "I'm in love with cities I've never been to and people I've never met." – John Green
34: "If you're twenty-two, physically fit, hungry to learn and be better, I urge you to travel – as far and as widely as possible. Sleep on floors if you have to. Find out how other people live and eat and cook. Learn from them – wherever you go." – Anthony Bourdain (do anything to get out of your comfort zone!)
35: "Take only memories, leave only footprints." – Chief Seattle (this is one of the most inspiring travel quotes on the list!)
36. "He who must travel happily must travel light." – Antoine de St Exupery
37. "I'm in love with cities I've never been to and people I've never met." – Melody Truong
38: "No one realizes how beautiful it is to travel until he comes home and rests his head on his own, familiar pillow." – Lin Yutang
Travel the World Quotes + Travel Phrases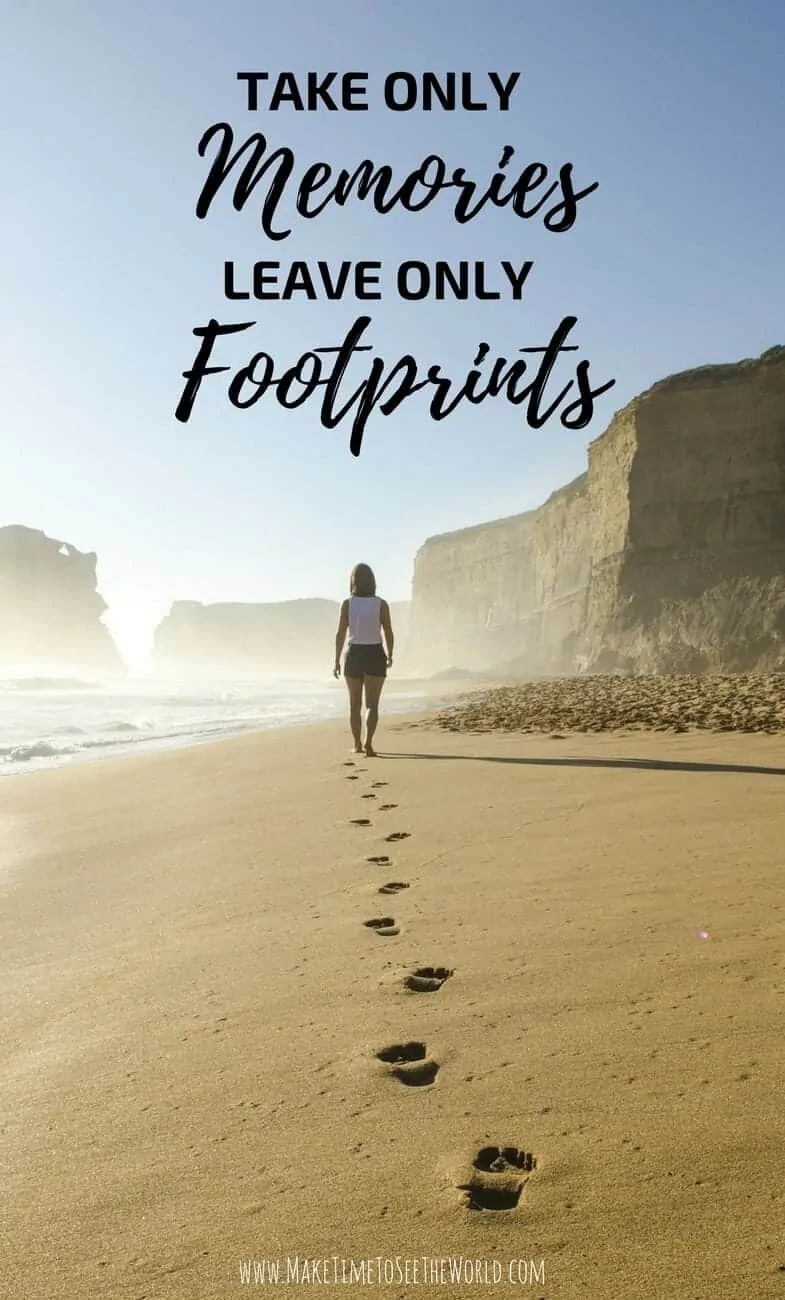 39. "Once the travel bug bites there is no known antidote, and I know that I shall be happily infected until the end of my life" – Michael Palin
40. "Traveling – it leaves you speechless, then turns you into a storyteller." – Ibn Battuta (a top travel quote if ever I saw one – where in the world leaves you speechless?!)
41: "Paris is always a good idea" – Audrey Hepburn
(and here's a perfect 3 day Paris Itinerary, free things to do & day trip ideas to get you excited!)
42. "We travel, some of us forever, to seek other states, other lives, other souls." – Anaïs Nin
43. "The world is a book and those who do not travel read only one page." – St Augustine of Hippo / Saint Augustine of Hippo (this is one of the most epic old world traveling quotes – and who wants to only ever read one page of an incredible book?!)
44. "Travel is the only thing you buy that makes you richer"
45. "If you think adventures are dangerous, try routine: It's Lethal." – Paul Coelho (this one of the most famous quotes on travel but I'll be honest, I don't really like it!)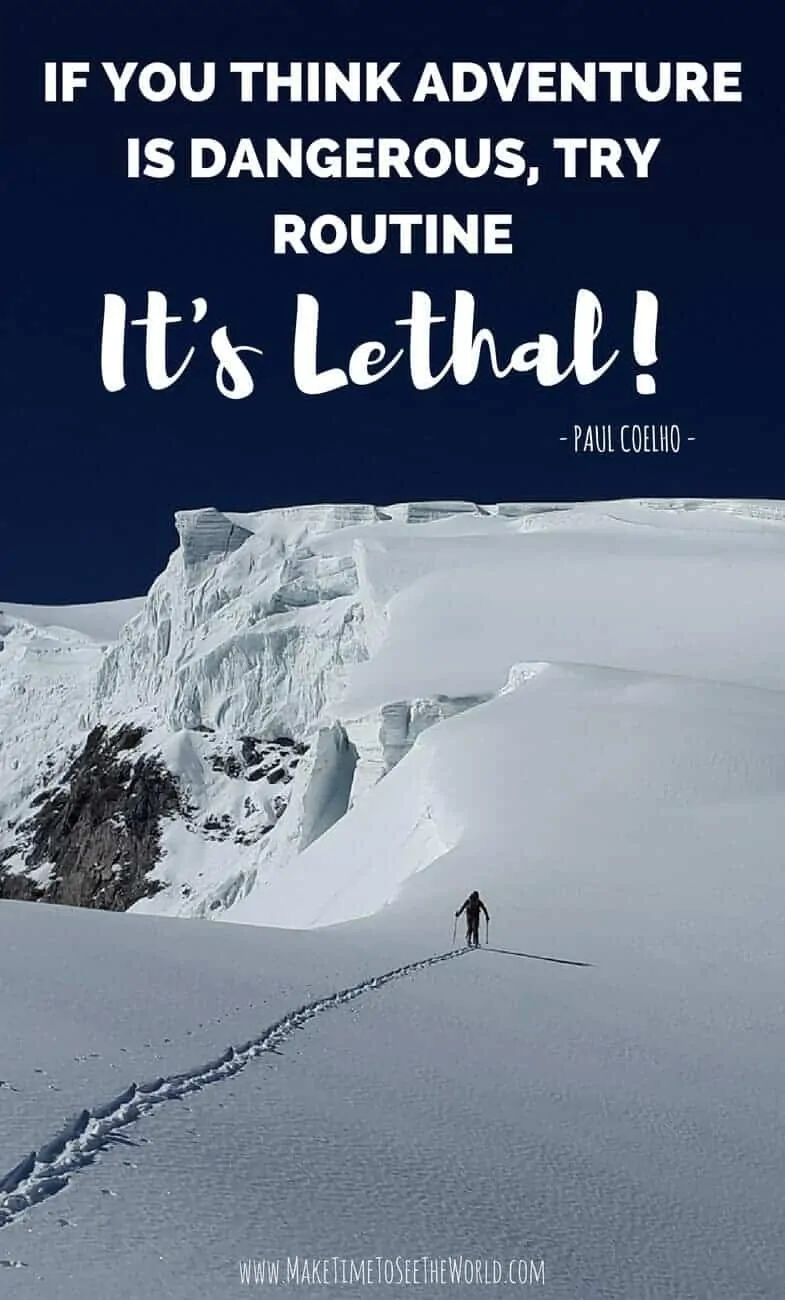 46: "Live your life by a compass not a clock." – Stephen Covey
47: "If you want to go somewhere you like but no one else wants to, go by yourself. You'll meet people with similar interests as you." – Unknown (a great travel quote to encourage you to get off the beaten path!)
48: "Not all those who wander are lost." – J.R.R. Tolkien
49: "Live life with no excuses, travel with no regret" – Oscar Wilde
50: "Once a year, go someplace you've never been before." – Dalai Lama (don't you think he gave us one of the most famous travel quotes of all time?!)
Quotes on Travelling + Inspirational Travel Quotes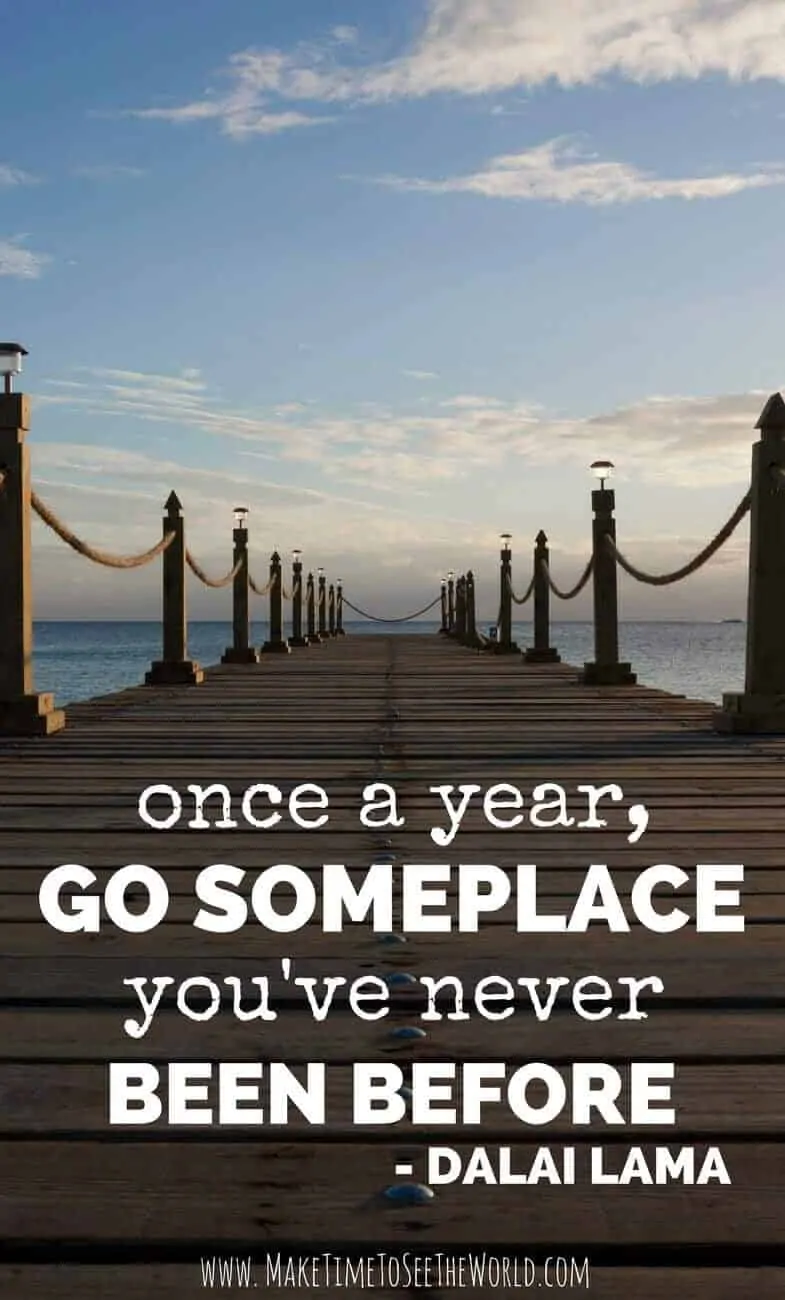 51. "Oh the places you'll go." – Dr. Seuss
52. "Adventure is worthwhile." – Aesop
53. "Wherever you go becomes a part of you somehow." – Anita Desai
54. "A ship in a harbor is safe, but it not what ships are built for." – John A. Shedd
55. "Go, fly, roam, travel, voyage, explore, journey, discover, adventure."
Whimsical Wanderlust Quotes for Travel Inspiration!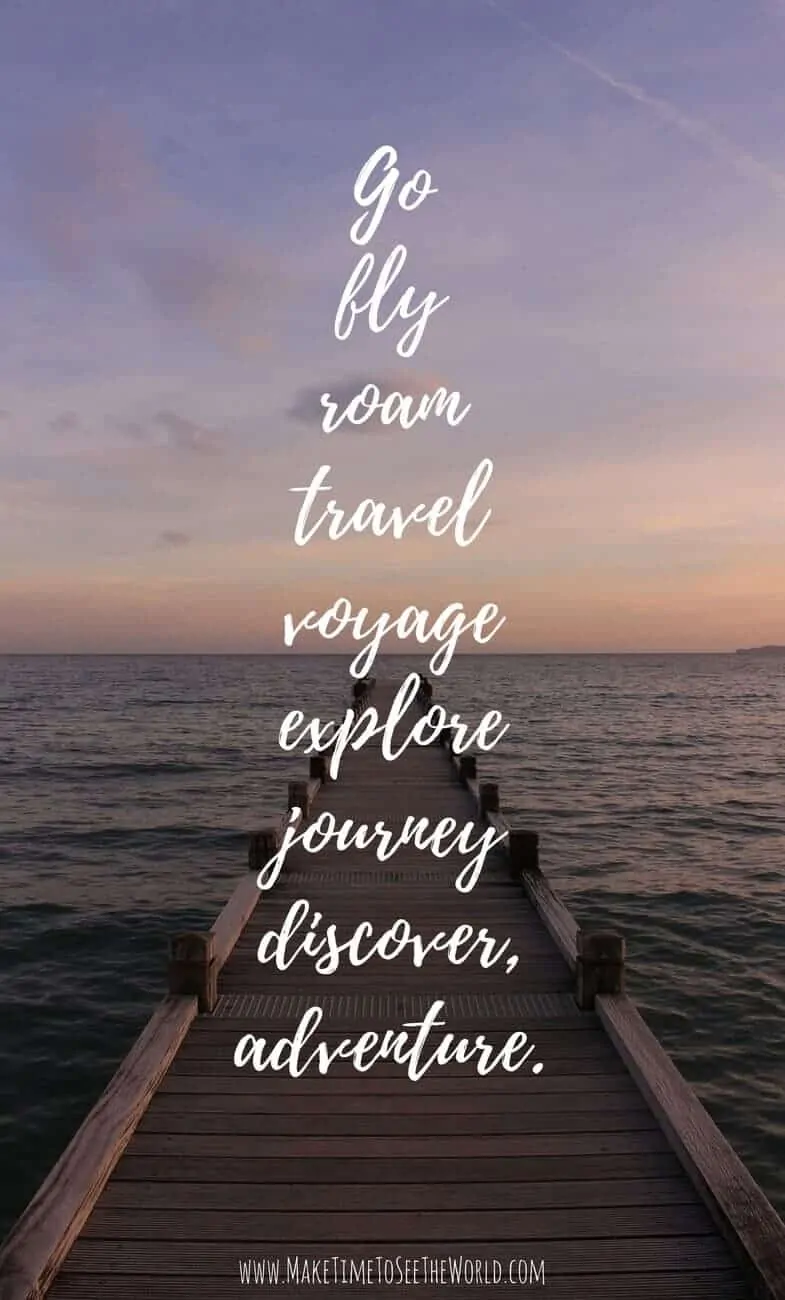 56. "We live in a wonderful world that is full of beauty, charm and adventure. There is no end to the adventures we can have if only we seek them with our eyes open." – Jawaharial Nehru
57. "Collect Moment, Not Things."
58. "We travel not to escape life, but for life not to escape us." – Anonymous
59. "Travel far enough, you meet yourself" – David Mitchell
60. "I am not the same having seen the moon shine on the other side of the world." – Mary Anne Radmacher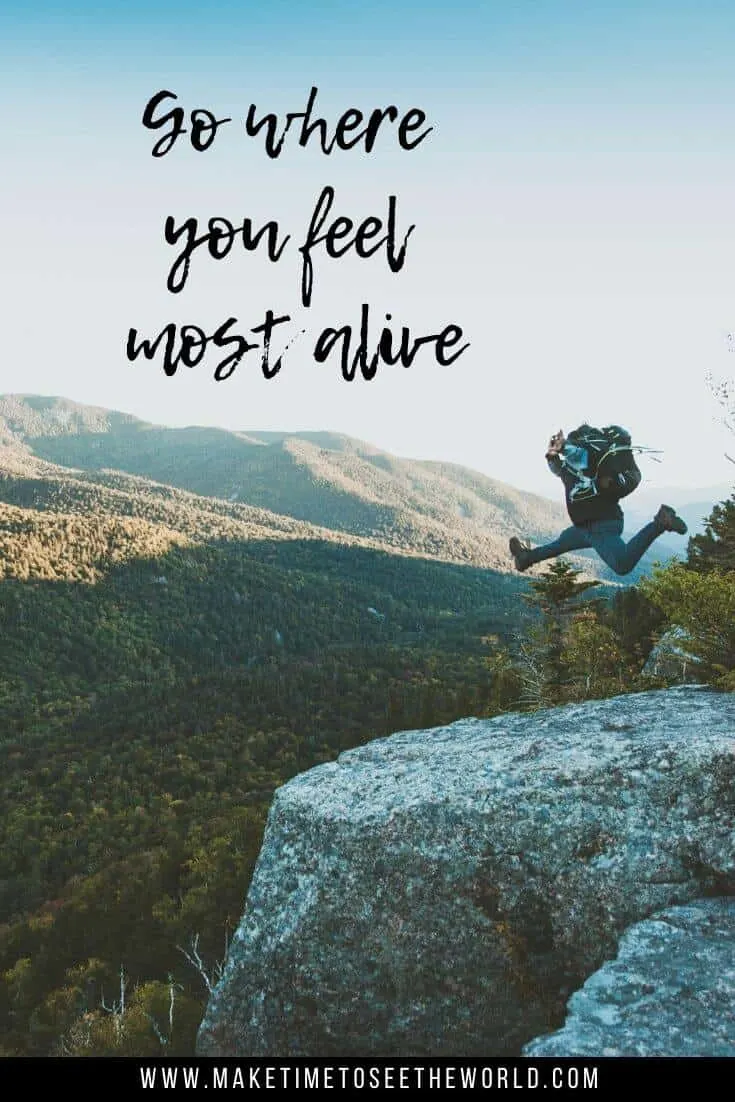 61. "Go where you feel most alive" – Unknown
62. "The gladdest moment in human life is a departure into unknown lands." – Sir Richard Burton
63. "Work, Travel, Save, Repeat" (I think this just sums up my everyday traveling status!)
64. "Travel makes a wise man better, and a fool worse." – Thomas Fuller
65. "Quit your job, buy a ticket, get a tan, fall in love, never return."
Inspirational Travel Quotes + Inspirational Quotes about Adventures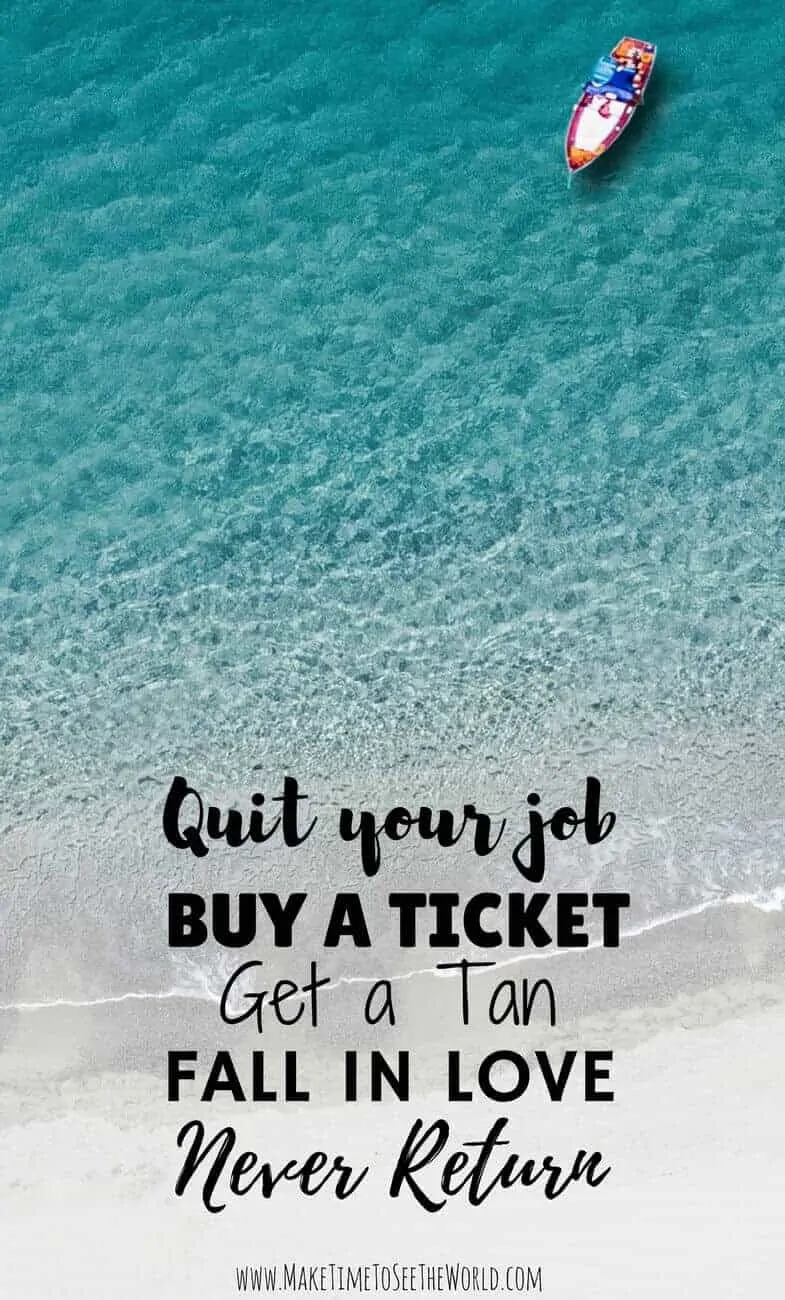 66. "If you reject the food, ignore the customs, fear the religion and avoid the people, you might better stay at home." – James Michener
(Don't ignore the customs – they are some of the best bits about traveling! And if you reject the food, you're just going to go hungry! Staying home could be considered as 'money saving' – but what good is money over experiences?)
67. "I travel a lot; I hate having my life disrupted by routine." – Caskie Stinnett
68. "In the end, we only regret the chances we didn't take."
(Don't you think this is one of the most awesome trip quotes?!)
69. "People don't take trips, trips take people." – John Steinbeck
(Very true John Steinbeck, very true!)
70. "I haven't been everywhere, but it's on my list." – Susan Sontag (She really did give us one of the great travel captions and exploring quotes of all time, don't you think?)
71. "Life was made for good friends and great adventures." – Unknown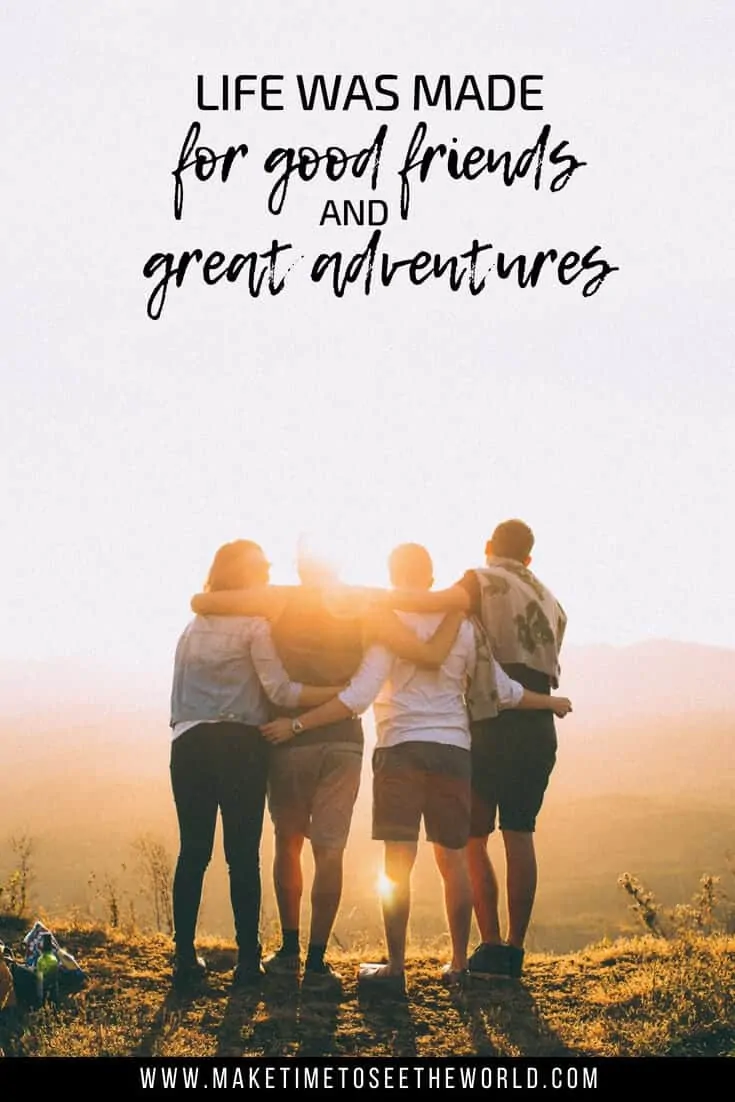 Wanderlust Quotes
72. "Travel is only glamorous in retrospect" – Paul Theroux (I think My Africa Outtakes are the perfect example of this – because they certainly weren't glamorous at the time! Thanks for the reminder Paul Theroux!)
73. "Perhaps travel cannot prevent bigotry, but by demonstrating that all peoples cry, laugh, eat, worry, and die, it can introduce the idea that if we try and understand each other, we may even become friends" – Maya Angelou (another fantastic wander quote – so inspiring!)
74. "To travel is to discover that everyone is wrong about other countries" – Aldous Huxley
75. "Adventure is a path. Real adventure, self-determined, self-motivated, often risky, forces you to have firsthand encounters with the world" – Mark Jenkins
76. "Traveling is a brutality. It forces you to trust strangers and to lose sight of all that familiar comfort of home and friends. You are constantly off balance. Nothing is yours except the essential things: air, sleep, dreams, sea, the sky – all things tending towards the eternal or what we imagine of it." – Cesare Pavese
(what a great travel quote to get you out of your comfort zone and help you understand what travel is all about!)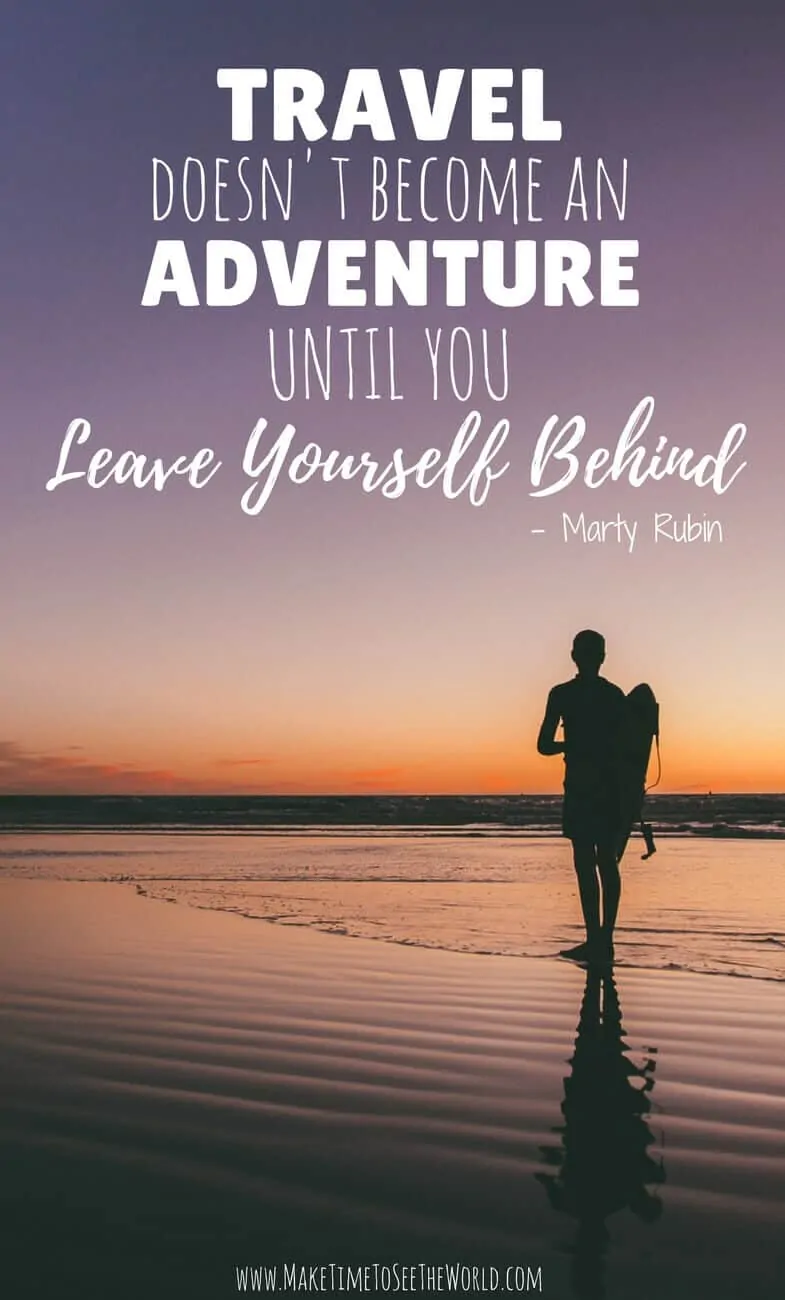 77. "A journey of a thousand miles begins with a single step" – Lao Tzu
78. "The pleasure we derive from journeys is perhaps dependent more on the mindset with which we travel than on the destination we travel to" – Alain de Botton
79. "We travel for romance, we travel for architecture, and we travel to be lost." – Ray Bradbury
80. "A person susceptible to "wanderlust" is not so much addicted to movement as committed to transformation." – Pico Iyer (this one is a relatively obscure travel sayings but still so true!)
81. "Travel doesn't become adventure until you leave yourself behind" – Marty Rubin
82. "I travel because it makes me realize how much I haven't seen, how much I'm not going to see, and how much I still need to see." – Carew Papritz (and completely encapsulates my reason to travel and day to day travel status!)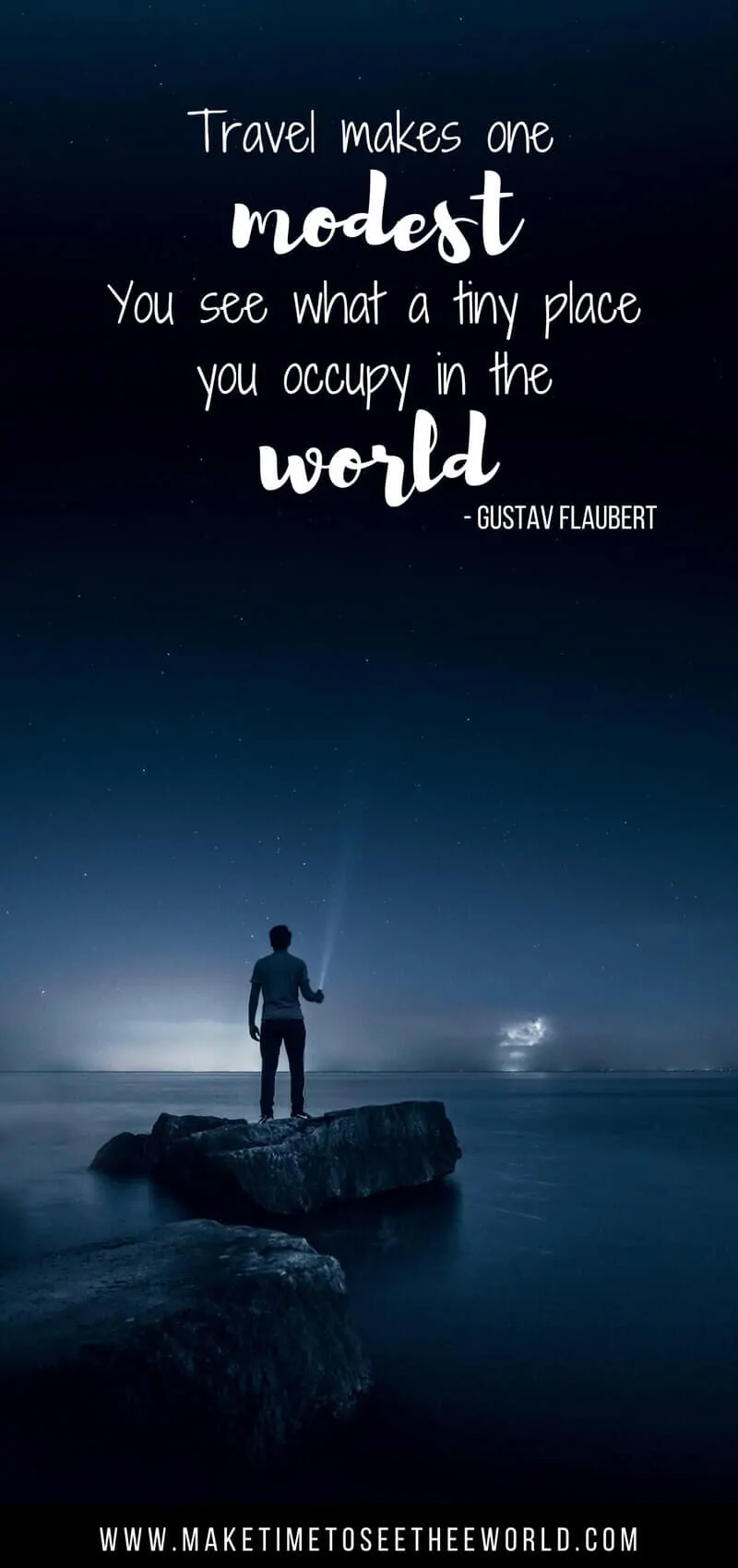 83. "We travel, some of us forever, to seek other states, other lives, other souls." – Anais Nin
84. "I travel not to go anywhere, but to go. I travel for travel's sake. The great affair is to move." – Robert Louis Stevenson (another of my own personal fave wander quotes – there are so many on this list!)
85. "A good traveler has no fixed plans, and is not intent on arriving." – Lao Tzu
86. "The world makes way for the man who knows where he is going." – Ralph Waldo Emerson
Extra Travel Quotes for Epic Adventure Travel Inspiration
87. "There are no foreign lands. It is the traveler only who is foreign" – Robert Louis Stevenson
This is one of my top quotes about travelling – and made all the more pronounced since my visit to the Robert Louis Stevenson Museum in Samoa! He was certainly walking the walk when he spoke of foreign lands.
88. "Life is short and the world is wide."
89. "It's not what you look at that matters. It's what you see." – Henry David Thoreau (True Henry David Thoreau, very true…)
90. "Two roads diverged in a wood and I – I took the one less traveled by, and that has made all the difference" – Robert Frost (hopefully, this Robert Frost quote gives you a bit of inspiration to get out of your comfort zone!)
91. "We wander for distraction but we travel for fulfillment" – Hilaire Belloc
92. "The real voyage of discovery consists not in seeking new landscapes, but in having new eyes" – Marcel Proust. (Another one of my best travel quotes because it is such a fantastic quote about travel!)
93. "What you've done becomes the judge of what you're going to do – especially in other people's minds. When you're traveling, you are what you are right there and then. People don't have your past to hold against you. No yesterdays on the road." – William Least Heat Moon
94. "A journey is best measured in friends rather than miles." – Tim Cahill
(Tim Cahill has given us such a beautiful wanderlust caption & one of the best travel quotes that emphasize the value of friendship and camaraderie)
95. "To awaken quite alone in a strange town is one of the pleasantest sensations in the world" – Freya Stark
(I couldn't agree with you more Freya Stark, although sometimes I have woken up after a trip covering multiple destinations with massive jet lag and have taken a couple of minutes to work out where I was. That's absolutely not one of the pleasantest sensations in the world! and Jet lag is never pleasant in any location!)
96. "Traveling's not something you're good at. It's something you do. Like Breathing." – Gayle Foreman
(Another of my favorite captions for travelling – again because it's true. And while travel might seem hard at first, it does become as normal as breathing after a while!)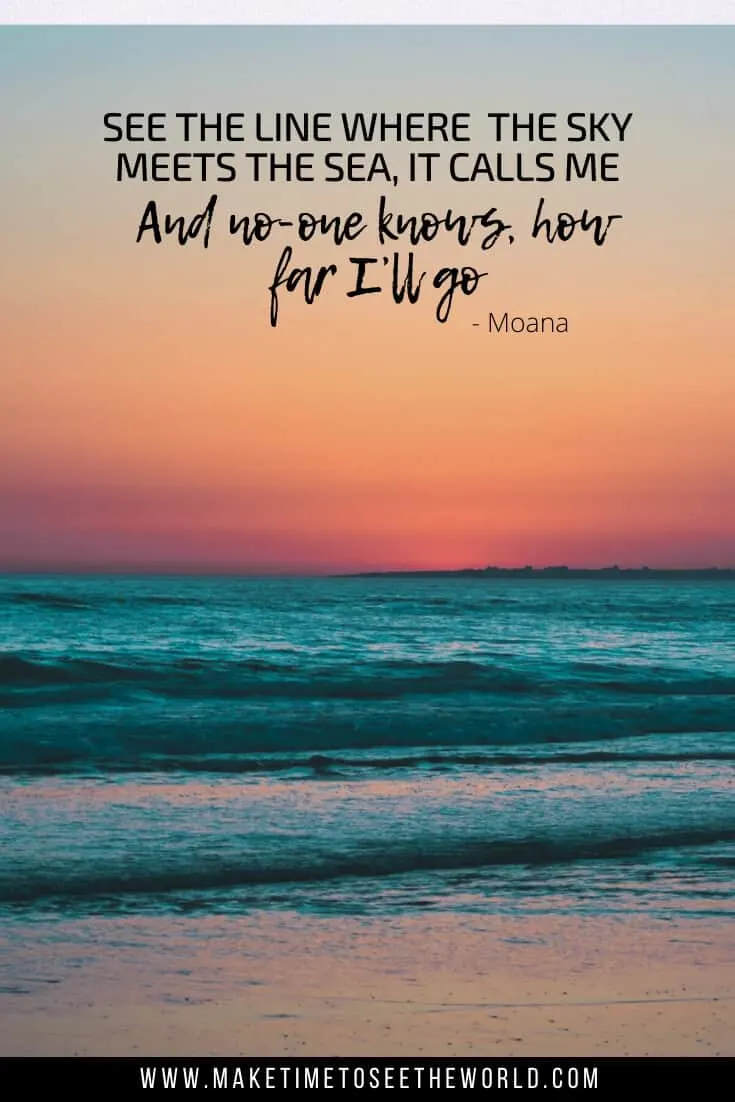 97. "See the line where the sky meets the sea, it calls me. And no one knows, how far I'll go" – Moana
98. "But that's the glory of foreign travel, as far as I am concerned. I don't want to know what people are talking about. I can't think of anything that excites a greater sense of childlike wonder than to be in a country where you are ignorant of almost everything. Suddenly you are five years old again. You can't read anything, you have only the most rudimentary sense of how things work, you can't even reliably cross a street without endangering your life. Your whole existence becomes a series of interesting guesses." – Bill Bryson
(Bill Bryson has definitely given us one of the longest travel quotes in this list – but is definitely one of the best travel quotes!)
99. "One's destination is never a place but rather a new way of looking at things" – Henry Miller
100. "All journeys have secret destinations of which the traveler is unaware" – Martin Buber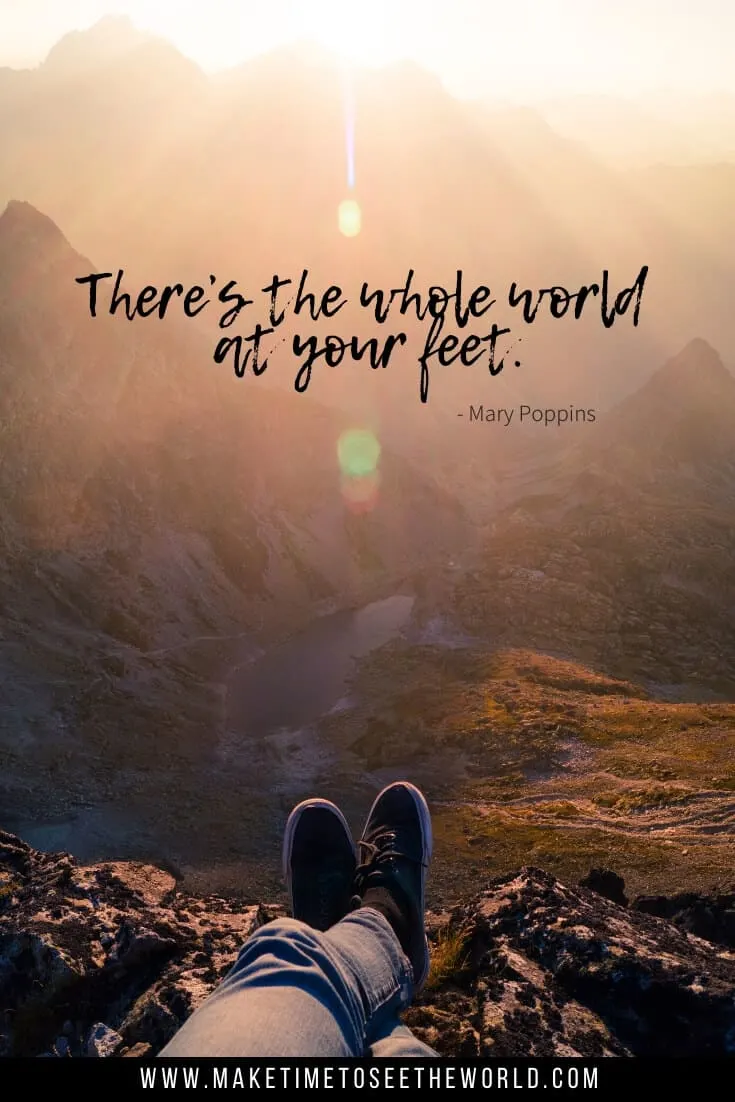 101. There's a whole world at your feet." – Mary Poppins
102. "It's useful to go out of this world and see it from the perspective of another one." – Terry Pratchett
103. "I travel light. I think the most important thing is to be in a good mood and enjoy life, wherever you are. Travel is a new experience that can transport you out of your everyday routine to create memories with the ones you love." – Benjamin Disraeli (travel memories are the best memories!)
104. "It does not do to dwell on dreams and forget to live" – Albus Dumbledore (Harry Potter) This isn't really that much of a famous travel caption or a funny travel quote, but who doesn't love a good movie quote?!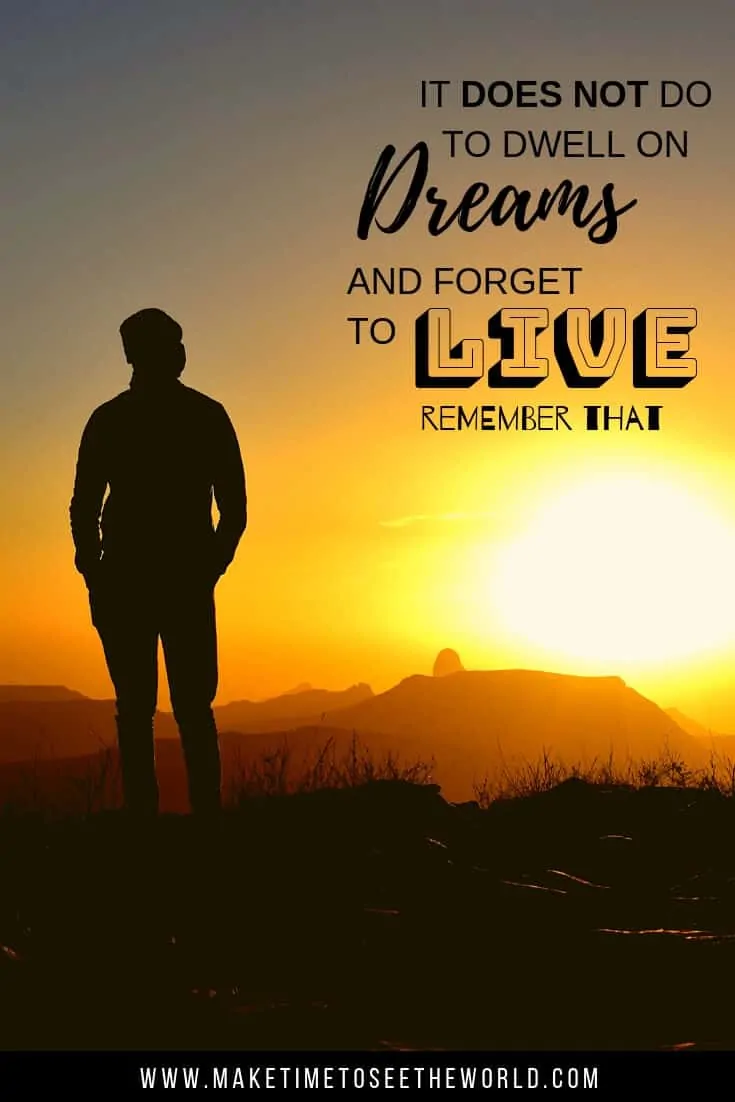 105. "Don't ask for security, ask for adventure. Better to live 30 years full of adventure than a 100 years safe" – Jim Rohn
Yes. Yes. Yes. It's easy to see why this is one of the best travel quotes because if makes you ask 'Where will your next adventure travel trip take you'?!
106. "Don't worry about the world coming to an end today. It is already tomorrow in Australia" – Charles M. Schulz (Book me a ticket to Australia now! And check out these Quotes About Australia to give you an idea of what to expect when you get there!)
107. "One way to get the most out of life is to look upon it as an adventure" – Anonymous
108. "Add life to your days, not days to your life" – Unknown
109."The potential for adventure makes life worth living" – Vicki Garside @MakeTimeToSeeTheWorld
(yup, it's my own travel quote! I've said this to people for years and thought it was time to make it official and add it to the list and make a pretty graphic for it! It's certainly one of the most unique adventure travel quotes out there that's for sure, and one of the motivational quotes that I live my life by! Hopefully, it can inspire you to head off on the biggest adventure and live the life of your dreams too!)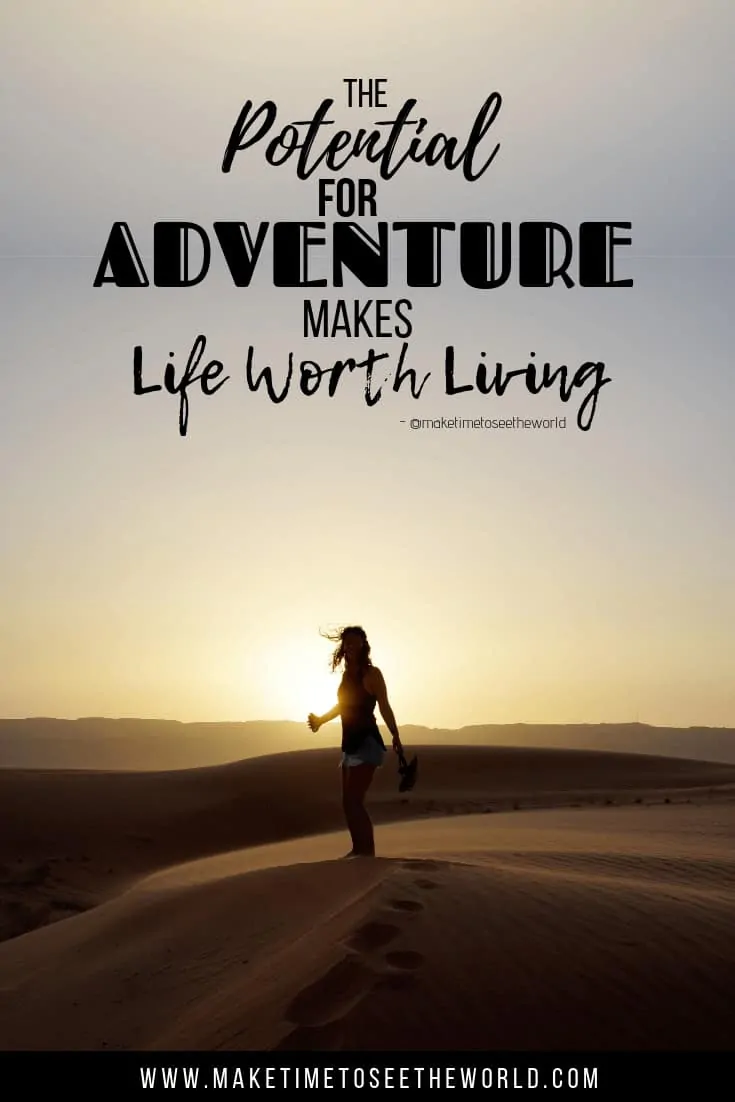 110. "We live in a wonderful world that is full of beauty, charm and adventure. There is no end to the adventures we can have if only we seek them with our eyes open." – Jawaharial Nehru
111. "Once a year, go someplace you've never been before." – Dalai Lama (this is easily one of the best travel quotes on the planet – and pre-2020 was quite an easy one to follow!)
112. "To Travel is to Live" – Hans Christian Andersen
113. "To travel is to discover that everyone is wrong about other countries" – Aldous Huxley (this is one of the real travelers quotes, and how a lot of people feel once that have taken their first big overseas trip)
114. "She is free in her wildness, she is a wanderess, a drop of free water. She knows nothing of borders and cares nothing for rules or customs. 'Time' for her isn't something to fight against. Her life flows clean, with passion, like fresh water." – Roman Payne
115. "To accomplish great things, we must not only act, but also dream; not only plan, but also believe" – Anatole France
116. "I love to travel, but hate to arrive." – Albert Einstein (Albert Einstein had such a brilliant mind didn't he?!)
117. "Travel is fatal to prejudice, bigotry and narrow mindedness." – Mark Twain
118. "Man cannot discover new oceans unless he has the courage to lose sight of the shore." – Andre Gide
119. "Why do you go away? So that you can come back. So that you can see the place you came from with new eyes and extra colors. And the people there see you differently, too. Coming back to where you started is not the same as never leaving." – Terry Pratchett
110."I have found out there aint no surer way to find whether you like people or hate them than to travel with them" – Mark Twain
111. "I googled my symptoms; it turns out I just need a vacation!"
I thought we would finish with one of my fave funny travel quotes. Mostly because it's true. I have googled symptoms and come to exactly this conclusion!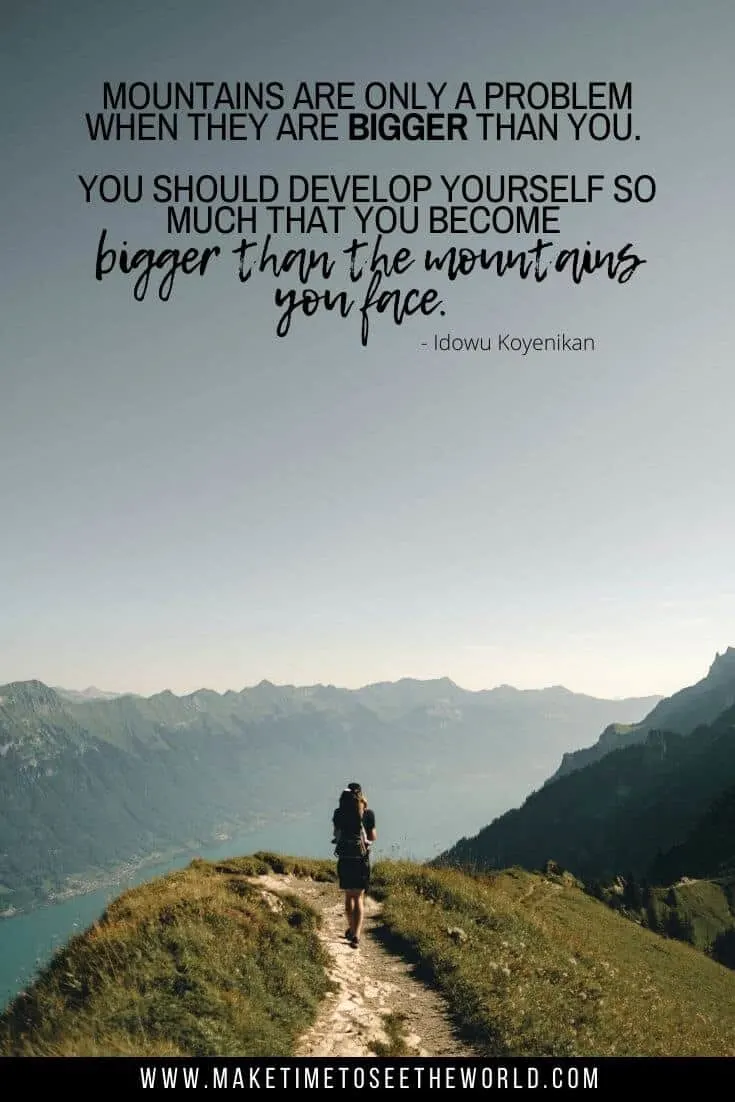 I hope you have enjoyed these inspiring quotes about travel and are looking forward to exploring our wonderful world. And let me know what your favorite travel quote is in the comments below!
AS A TRAVEL LOVER I HOPE YOU ENJOYED THESE LIFE QUOTES AND TOP TRAVEL RESOURCES QUOTES AND IF YOU ARE READY MORE TRAVEL INSPIRATION, YOU MIGHT BE INTERESTED IN THESE RELATED POSTS, RECENT ARTICLES, TRAVEL HACKS, TRAVEL GUIDE AND TRAVEL TIPS POSTS:

Hi There! Thanks for reading our travel guide about the Best Travel Quotes, Travel Phrases, The Most Inspiring Quotes on the Planet, Inspirational Travel Quotes and Wanderlust Quotes to Inspire! They really are inspirational travel quotes for 2021! I just wanted to let you know that this travel tips post may contain affiliate links from the Amazon affiliate advertising program, which means if you purchase something after clicking a link, I may get a small commission – which is at absolutely no cost to you.
If you enjoyed the traveling quotes in this travel inspiration article and are going to be searching for some of the things I mention anyway, I would love it if you could click through from the links above & thank you in advance! Read my full Disclosure here.
And THANK YOU for reading the MakeTimeToSeeTheWorld Travel Blog.