Sri Lanka is more than just beaches and wildlife (although those are just two of the other great reason to book a trip to Sri Lanka!) – but is actually packed to the brim with culture. From temples to national parks, ancient cities to vast highland regions, UNESCO have picked out 8 sites (so far) that are worthy of being listed as a World Heritage Site described as being "of outstanding universal value" and meet at least one out of ten selection criteria. Of the 8 sites in Sri Lanka, 6 are Cultural World Heritage Sites and 2 are Natural World Heritage Sites. Have you visited them all?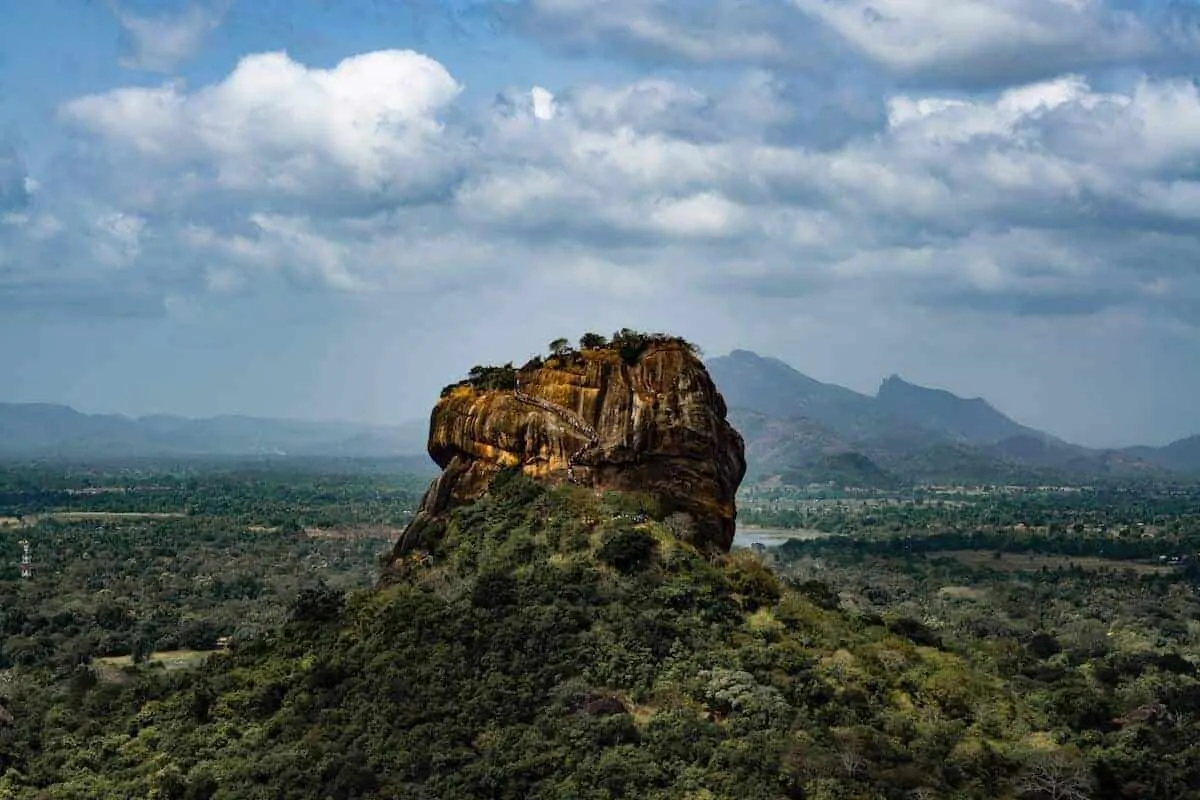 Disclaimer: This post was produced as part of the #TBCAsia Campaign sponsored by Cinnamon Hotels & Sri Lanka Airlines.

Sri Lanka Quick Tips & Info
– How to Get There:
Sri Lankan Airlines
is the countries national carrier servicing 114 destinations in 48 countries, and includes daily direct flights from both London and Melbourne to the capital, Colombo.

– Best Time To Visit:
Sitting squarely on the equator, temperatures remain consistent at around 26-30°C (78 -86°F) for the majority of the year.
It is generally hot and humid by the coast, getting cooler as the altitude increases. In general the best time to visit is December to April, as this is dry season in the popular west and south coastal areas and Hill Country. April and September are the best to see the whole country, while the inter-monsoonal season in October and November sees fine weather for most of the island interspersed with sudden thunderstorms.
But be aware, global warming is real, and these 'good,' 'bad' and 'better' months are just that on paper, the reality may be slightly different.

– Where to Stay:
Cinnamon Hotels
have 10 hotels in various spots throughout the country allowing for easy access to all of the best places to visit – and to some beautiful off the beaten path spots too!

– Essential Things to Bring:
Sunglasses
,
Sunscreen
,
Mosquito Repellent/Bug Spray
,
cute bamboo crossbody bag
and
a sun hat
.
Map showing the location of the 8 UNESCO World Heritage Sites in Sri Lanka
Sigiriya
View this post on Instagram
Date Inscribed by UNESCO: 1982
Sigiriya is arguably Sri Lanka's most popular tourist attraction and is often thought of as the 8th Wonder of the Ancient World.
It is both a rock fortress and palace constructed by King Kasyapa at the end of the 5th Century, and the gateway was once decorated by a huge lion cut into the rock itself (although today only it's front paws remain). For this reason it is also known as 'The Lion Rock' by locals and tourists alike.
It is just over 1200 steps to the top where you can wander among the remains of the palace and look out for miles over the surrounding forest and perfectly landscaped gardens below. On the hike up you will walk past the famous 'mirror wall' which contains verses dating back to the 8th Century and (as long as you opt for the spiral staircase ascend and descent) will have the opportunity to see some beautifully colorful frescoes which have adorned the walls for over 1600 years. The are one of the most well guarded and revered pieces of artwork in the country and in an effort to preserve them, visitors must not touch or photograph them. (To do either will likely result in your arrest and a costly fine.)
.
TRAVEL TIP –
Download the
FREE SkyScanner App
and have cheap flights at your fingertips whenever you want to take to the skies!
Anuradhapura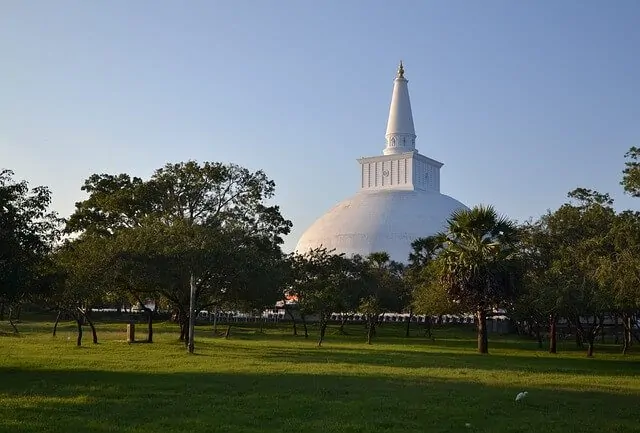 Date Inscribed by UNESCO: 1982
Anuradhapura is the capital of the North Central Province in Sri Lanka and is home to several monasteries, palaces and monuments which are one of the best preserved examples of ancient Sri Lankan civilization. It's a sprawling complex built around a cutting from the 'tree of enlightenment', the Buddha's fig tree (Bhodi Tree), brought there in the 3rd century B.C (making it the oldest living tree in the world) and was the town that ruled Sri Lanka for over 1300 years before being abandoned following the invasion in 993. Today is is reopened to the public, and is the site of pilgrimage for Buddhists throughout the world.
It is best to visit the site with a guide to fully understand the sprawling site which in addition to the Bodhi Tree is also home to the remains of the Citadel, Several Stupas and Multiple Monasteries. Pictured above is the Ruwanwelisaya Stupa (aka 'The Great Stupa') whose construction was started in 161 BC. The gleaming white monument dominates the skyline at a height of 91.4 meters and is a long walk around with a circumference of 290 meters.
.
Old Town of Galle and it's Fortifications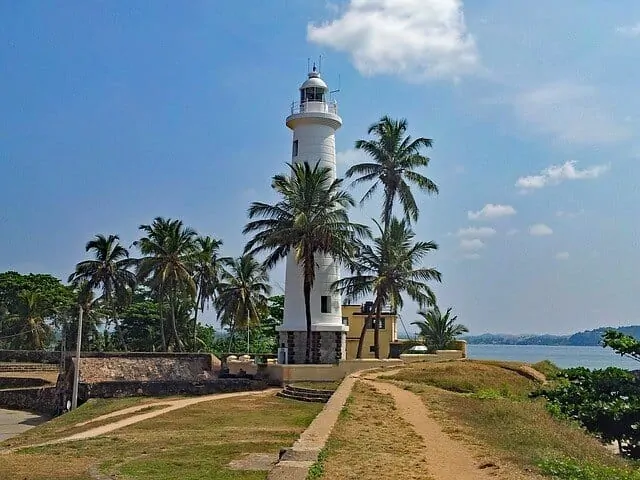 Date Inscribed by UNESCO: 1988
Galle is the main city and port on the south coast. First built in 1588 by the Portuguese it was then extensively fortified by the Dutch during the 17th century (from 1649 onwards). The Old Town of Galle and its fortifications show the interaction of European architecture and South Asian traditions, and houses with art decoration from the Dutch and British period can be seen throughout the streets, most of which are now boutique shops and guest houses.
There are two main gates to the Fort, containing the Dutch Coat of Arms on one side and the British on the other and several major landmarks lie within the city walls including the Dutch Reformed Church, National Maritime Museum, Old Dutch Hospital and the New Orient Hotel.
.
The Ancient City of Polonnaruwa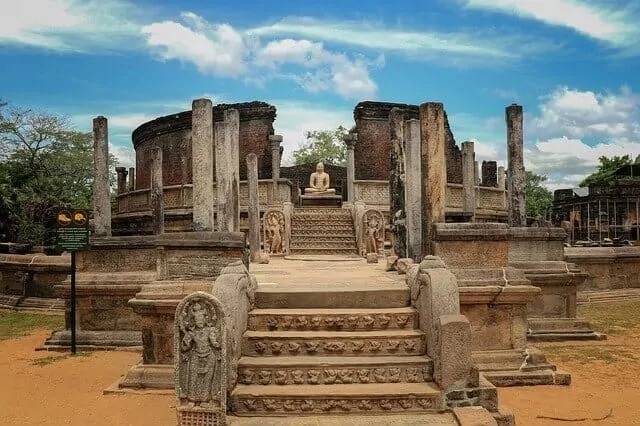 Date Inscribed by UNESCO: 1982
The city of Polonnaruwa is the second most ancient of Sri Lanka's kingdoms, and is recognized as such after the first capital of Anuradhapura. A combination of art, medieval architecture and great irrigation facilities which make for a very green environment, it is much more of a museum than a living city when compared to Anuradhapura. It is also smaller in size than Anuradhapura, but routes around still cover 6-10km and as such it is recommended that visitors cycle around the facility.
.
Royal Cave Temple at Dambulla
View this post on Instagram
Date Inscribed By UNESCO: 1991
The Royal Cave temple at Dambulla (also known as the Golden Temple of Dambulla) is the largest and best-preserved cave temple complex in Sri Lanka and dates back to the 1st century BC. It has five caves which house over 150 statues of Buddha, three statues of Sri Lankan kings and four statues of gods and goddesses; plus, one cave has over 1,500 paintings of Buddha on the ceiling.
It's a very peaceful place, visitors are required to remove their footwear before entering, and if you can time your visit with sunset you may be treated to a sky like the one I saw. Just be aware that if you do stay for sunset, it will mean descending back to your car/bus in the dark and whilst there are some street lights, our top tip would be to make sure you leave some battery on your mobile phone and use the inbuilt torch app. (And if you don't have one, download one before your visit).
.
Sacred City of Kandy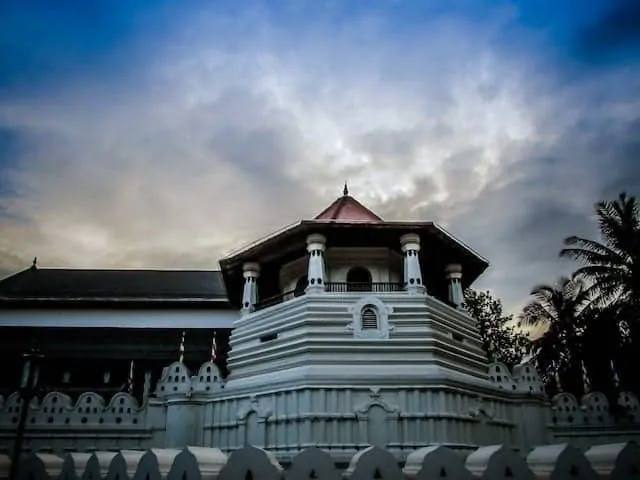 Date Inscribed by UNESCO: 1988
Kandy is thought of as Sri Lanka's cultural capital and is home to the Temple of the Tooth (also known as. Sri Dalada Maligawa) so called because it contains Sri Lanka's most important Buddhist relic – a tooth of the Buddha. It was built in the grounds of the Royal Palace, and is one of Sri Lanka's holiest shrines. It is a site of Pilgrimage throughout the year however if you happen to visit during July or August, you will get to see and experience the Kandy Esala Perehera, an annual ritual of the Sacred Tooth Temple.
In addition, Kandy itself is a very pretty city. It is built around a lake, set in forested hills and surrounded by tea plantations and as such it is thought to be one of the most beautiful cities of Sri Lanka. Whilst these reasons contributed to its inscription as a UNESCO World Heritage Site in 1998, it was the existence of the Temple of the Tooth Relic that drew UNESCOs attention.
*Insider Tip* The train journey between Colombo and Kandy is absolutely stunning. If you are looking for a way to get between the two cities, definitely take the train if you can!
.
Sinharaja Forest Reserve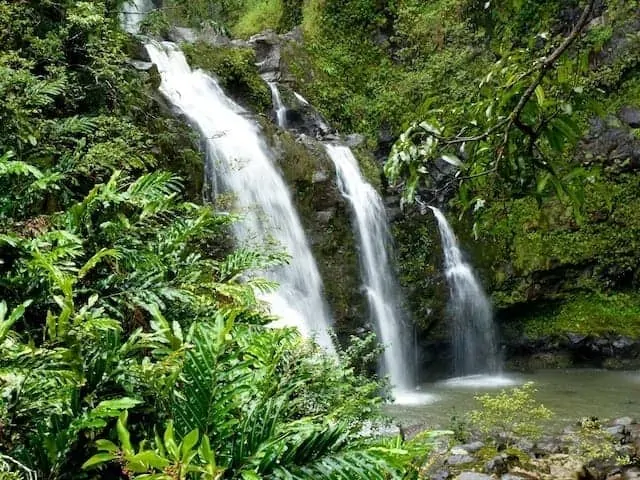 Date Inscribed by UNESCO: 1988
A national park and a biodiversity hot-spot, Sinharaja Forest Reserve (which can be translated as 'Kingdom of the Lion') is the countries last undisturbed area of primary tropical rainforest. It is home to an abundance of rare endemic species including mammals, butterflies, birds, fish, reptiles and amphibians (although they are difficult to spot in the drier months due to the dense vegetation and as such we recommend visiting between August and September and between January and April if you are keen to see some of the residents!)
It is one of the two sites on the list that have been inscribed in the UNESCO World Heritage List as natural sites rather than those of cultural significance and is just a short distance from Galle should you wish to tick two sites off in one go!
RELATED –
Want to combine Sri Lanka's history and culture with it's amazing coastlines? Our guide to the most
STUNNING Beaches in Sri Lanka
is just what you need!
.
Central Highlands of Sri Lanka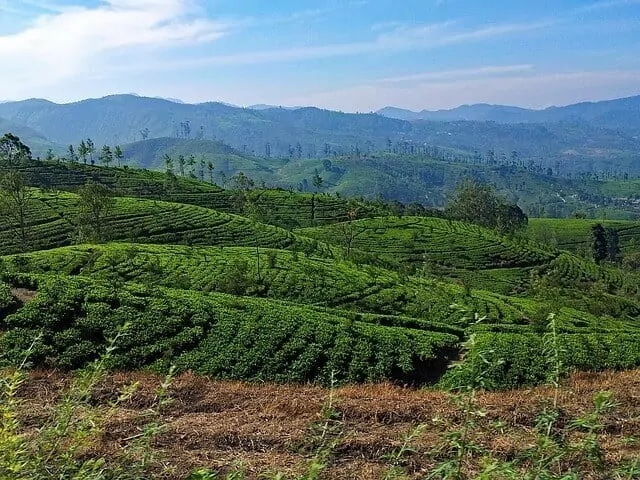 Date Inscribed by UNESCO: 2010
Sri Lanka's central highlands are newest addition to the UNESCO World Heritage list, and is made up of three wet-zone parks: the Horton Plains National Park, the Peak Wilderness Protected Area, and the Knuckles Conservation Forest. Almost all of the zones have their fair share of tea fields (one of Sri Lanka's largest exports) who thrive on the high humidity, cooler temperatures and regular rainfall; and the peaks throughout can rise as high as 2500m above sea level.
The highest peak within the Central Highlands zone is Adam's Peak – also known as Sri Pada ('sacred footprint'), which has become a significant center both for Buddhist pilgrims and those who enjoy a challenging hike (I attempted it as part of my Sri Lanka Safari, but gave up around 2/3 of the way up!)
.
And that's a wrap, folks. I told you that Sri Lanka was packed with culture – and hopefully these 8 UNESCO World Heritage Sites have convinced you of the same! Which one would you want to visit first? Or if you have already ticked a couple off the list, which one(s) do you still need to see?
And if you liked this post, please flip, tweet, pin or share – I would very much appreciate it!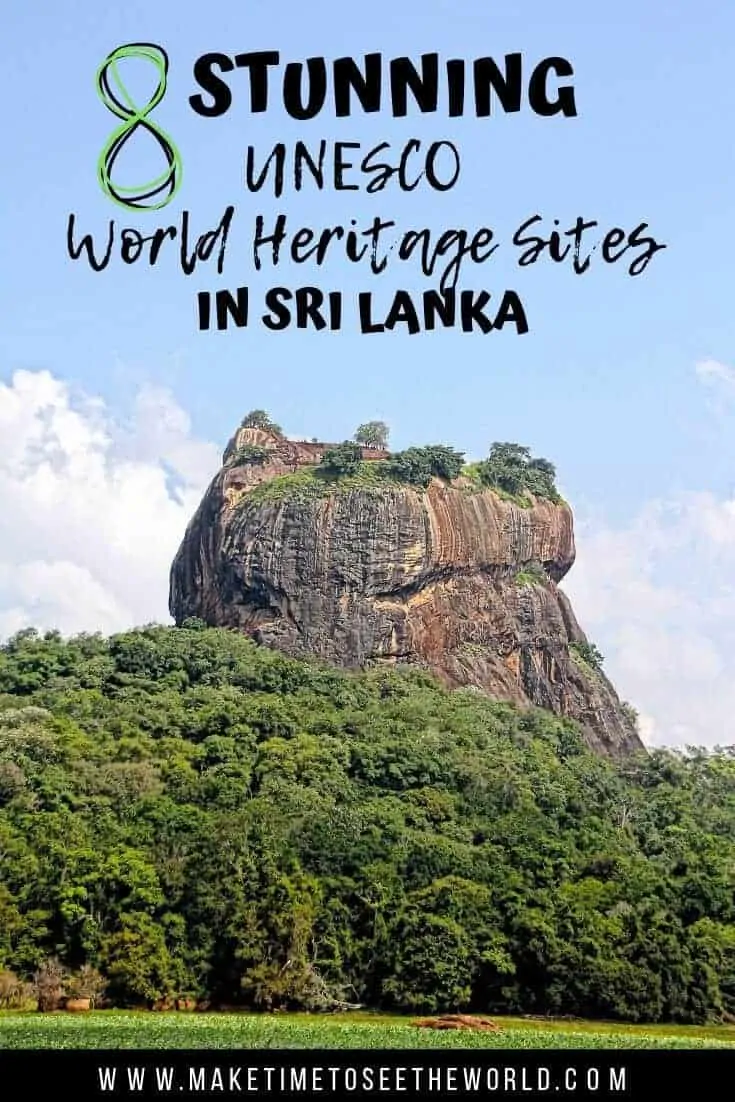 READY MORE TRAVEL TIPS & INSPIRATION? YOU MIGHT BE INTERESTED IN THESE ARTICLES:
Hi There! Thanks for reading our travel guide to the 8 STUNNING UNESCO World Heritage Sites in Sri Lanka! I just wanted to let you know that this post may contain affiliate links, which means if you purchase something after clicking a link, I may get a small commission – which is at absolutely no cost to you. If you enjoyed this article and are going to be searching for some of the things I mention anyway, I would love it if you could click through from the links above & thank you in advance! Read my full Disclosure here. Thank you for reading the MakeTimeToSeeTheWorld Travel Blog.