Sri Lanka is a beautiful, teardrop shaped island off the Southern tip of India.
It has long been a favorite country on the backpacker trail, and has more recently been rediscovered by tourists and travellers alike. Indeed, having recovered from a long civil war and devastation from the 2004 tsunami, the tourist industry is now booming again in this incredible country.
In this post I will be highlighting some of the essential info and best bits for any first time travellers planning their Sri Lanka itinerary!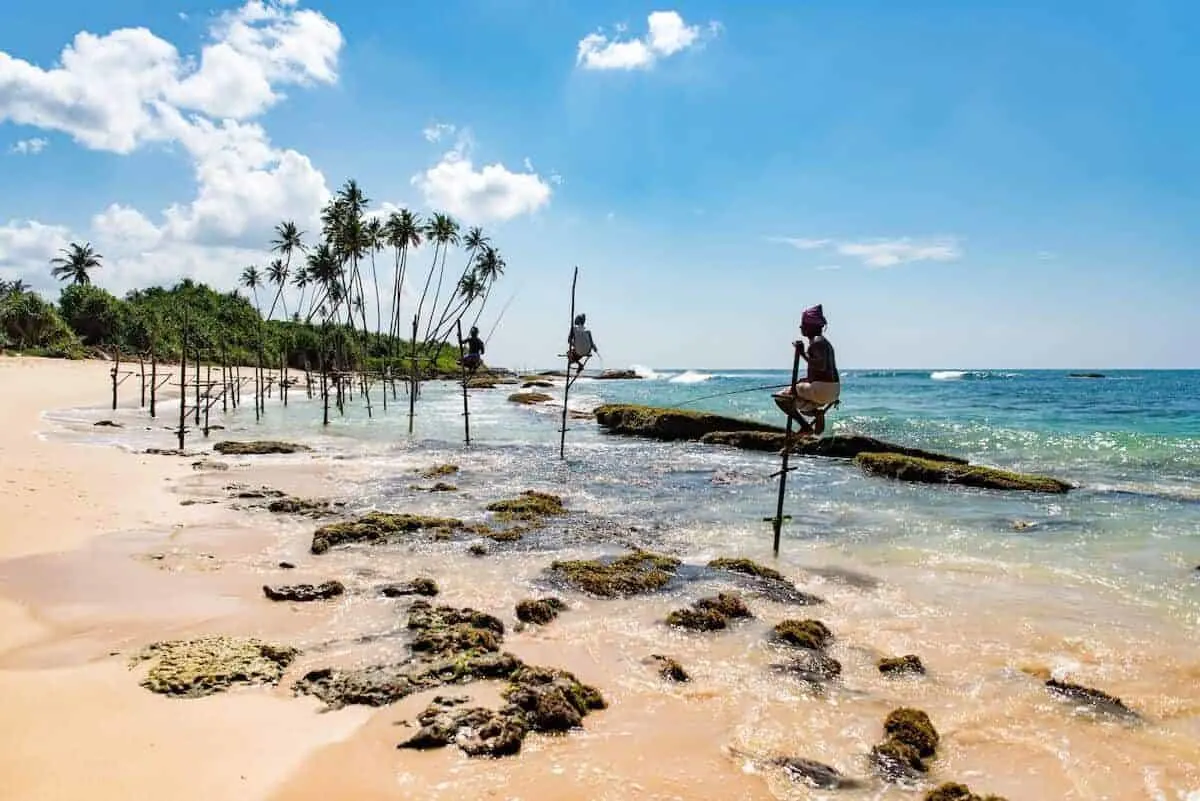 Disclaimer: Almost all posts on this site contain Affiliate links, and this one is no different. This means that if you click on any of the links in this post (and make a purchase) I may receive a small commission at absolutely no cost to you. Each post is carefully crafted to (hopefully!) answer all your questions and recommendations are made where we believe they will improve your trip and help with your planning. As such we thank you in advance should you decide to click & buy. Read my full Disclosure here.
A Guest Post by Danny Newman from Whats Danny Doing?
Sri Lanka Travel Tips: What To Know Before You Go:
Visa Requirements:
Regardless of how long you plan to stay, you'll need a visa to enter Sri Lanka!
Head to the Electronic Travel Authorisation site to find out exactly what you need to do & submit your application. The visa isn't free and the price varies on the nature of your trip: business or tourism.
According to this site you can apply and pay for your visa on arrival in Colombo, but it's cheaper to do so online in advance, and I personally prefer having visa's sorted before traveling to prevent any delays or issues on arrival.
Vaccinations:
Unfortunately, you'll need a couple of jabs for Sri Lanka! For up-to-date vaccination advice, check out the CDC or NHS advice sites, which will tell you everything you need to know about health precautions for any country around the world.
Basic Sri Lanka Information:
Religion: Predominantly Buddhist, with smaller numbers of Muslims, Hindus and Christians.
Language: Sinhala, Tamil and English.
Currency: Sri Lanka Rupee (LKR)
Approx rate of exchange:
GBP: £1 = 225 r
USD: $1 = 176 r
EUR: €1 = 200 r
The Best Time to Visit Sri Lanka
Sri Lanka has two different monsoon seasons, which impacts the best time to visit.
For South, West, and Hill country, go between December and March; for the East coast, go from April/May to September. The temperature remains fairly consistent due to its proximity to the equator.
.
A Perfect Sri Lanka Itinerary for First Time Visitors
There's something for everyone in Sri Lanka. Whether you're travelling as a family, going with a group, or exploring the country solo, everyone who heads there will love exploring this incredible place.
Here's a selection of must-see parts of the country to incorporate on your Sri Lanka itinerary.
Day 1 – 2: Colombo & Negombo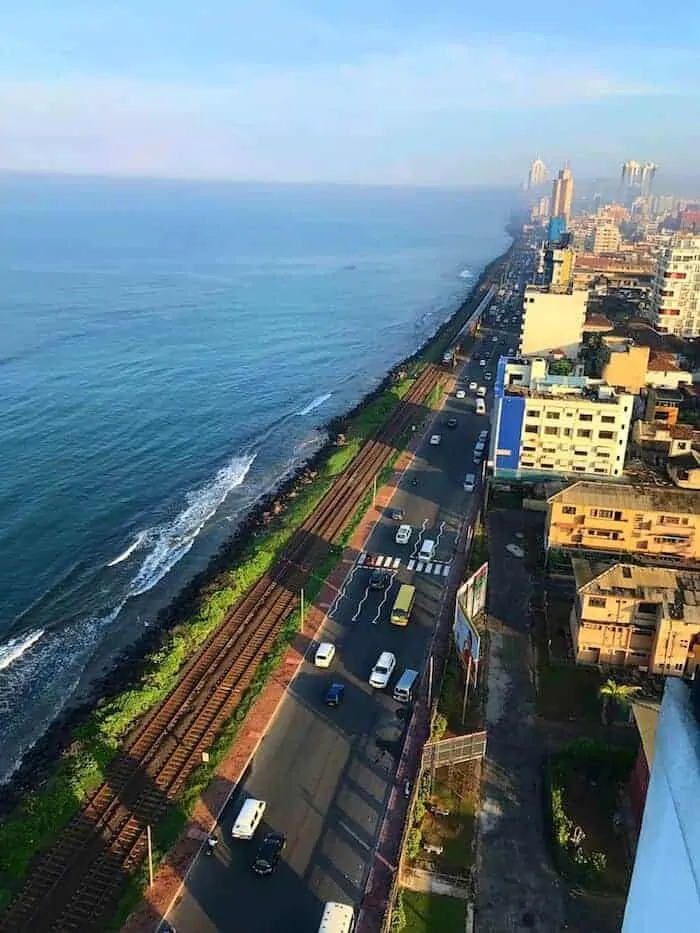 Sri Lanka's main airport (Bandaranaike International) is in Colombo, so it's more than likely that you'll land in the capital city anyway upon arrival. That's no bad thing. Colombo is a cool, bustling place, heaving with activity at all times and well worth exploring.
The remnants of Sri Lanka's colonial past (it was part of the British Commonwealth until 1972) are evident in many of the attractions in the city. For instance, there's the old 17th Century Dutch period museum, Dutch Hospital (now a shopping centre), the Victoria Park (now Viharamahadevi Park) and the National Museum. Other sights worth seeing are the Federation of Self-employees Market and Galle Face Green, the sandy promenade along Colombo's impressive coastline. The beach and sea make for a lovely backdrop to the city. And if you are more of a beach than a city person, base yourself in the quieter fishing village of Negombo beach, just north of Colombo.
.
Day 3: Yapahuwa & Dambulla
View this post on Instagram
The UNESCO World Heritage site of Dambulla is an essential stop on any Sri Lanka Itinerary. A Royal Cave Temple which houses over 150 statues of Buddha, three statues of Sri Lankan kings and four statues of gods and goddesses. And one of the 5 caves has over 1,500 paintings of Buddha on the ceiling.
It is, however, a few hours drive from Colombo/Negombo which makes Yapahuwa – a rock fortress which was once a royal residence and a site of the Temple of the Tooth Relic – a great stop to break up the journey. The 90m climb to the top is worth it for the views – but as it is practically vertical and via an ancient set of 'steps', it is not for the faint-hearted or those a little unsteady on their feet.
.
Day 4: Anuradhapura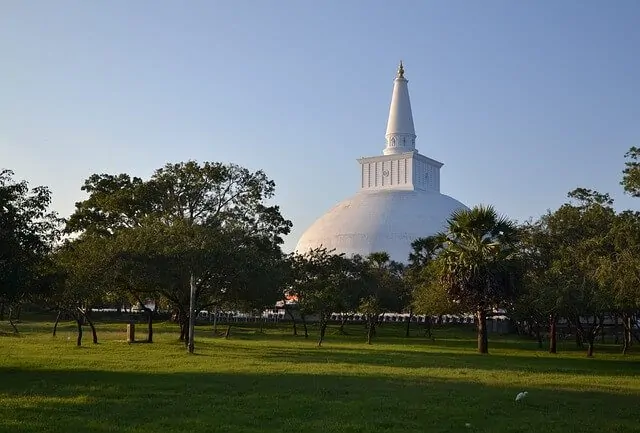 Towards the North of the country is Anuradhapura, one of the oldest continuously inhabited cities in the World and famous for the ancient Sri Lankan ruins that are situated there.
It's one of eight UNESCO World Heritage Sites in Sri Lanka and a sacred place for Buddhists, with monasteries absolutely everywhere.
The Great Stupa (Ruwanwelisaya Stupa) is the second highest in Anuradhapura (91.4m high; 290m circumference) and was commissioned in 161BC. That's pretty flipping old and considering it's still used as a place of worship, mightily impressive.
Another ancient, sacred must see here is the Bodhi tree, which was planted in 288BC. That's an old tree- the oldest in the world, in fact. This fig tree, grown from the tree under which Buddha achieved enlightenment, is a holy place, where people worship every day of the year.
For a remarkable glimpse into an ancient civilisation, Anuradhapura is not to be missed.
.
Day 5 – 6: Sigiriya Rock, Pidurangala Rock + Kaudulla National Park
View this post on Instagram
Known as the 8th wonder of the world, Sigiriya Rock (aka Lion Roack) is like nothing I've ever seen before.
It's a marvel to behold: a giant rock plateau formed from the magma of an extinct volcano, rising 200m above the surrounding jungle, dominating the area.
You navigate your way up and along the staircases and walkways (some far more precarious than others) of the rock, passing frescos of almost 1000 years of age as well as a 'mirror wall' that was once so polished the Kings could see their faces.
You eventually get to the top, from where the view of the surrounding area is breathtaking. Explore the ancient ruins and grounds that once stood; gaze out over expanses of jungle to the horizon all around. It's an incredible place to be.
Relatively speaking, it isn't a cheap stop for a budget traveller in Sri Lanka. However, in my opinion it's well worth it, despite having to share the space with reams of other tourists. When else will you get to experience and explore a place like this?!
Also, whilst you are here, be sure to allocate a sunrise or sunset hike to neighboring Pidurangala rock for amazing panoramic views of Sigiriya. And for the animal lovers among you, you can't come to Sri Lanka and not see the elephants in one of the many national parks. Kaudulla National Park is just a short drive from Sigiriya and a jeep safari would be the perfect afternoon/morning activity on the day you climb Pidurangala. (And if you would like to leave the elephants to later in your trip you could visit Yala National Park on the Southern Coast or Udawalawe National Park in the South of the Country).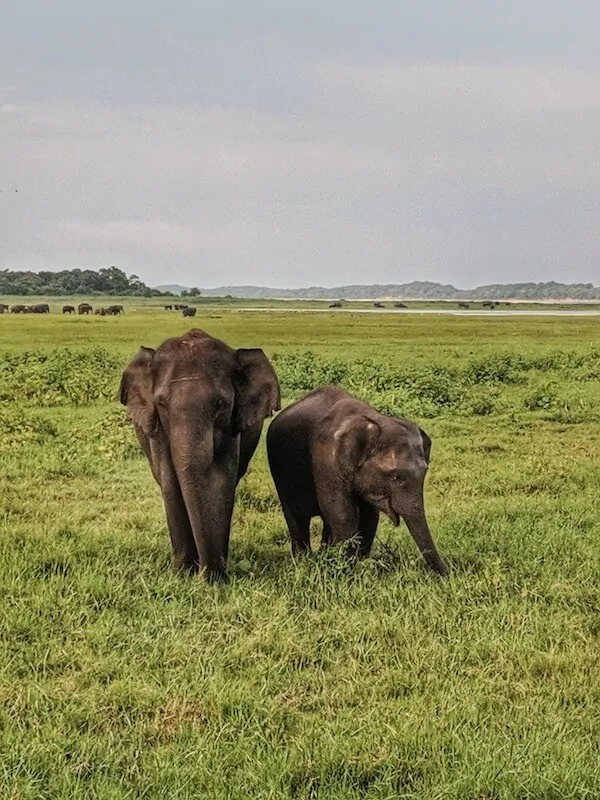 Optional Add On: Trincomolee
I have a lot of love for Trincomolee.
It's another stunning beach location, this time on the North Eastern side of Sri Lanka, however it is a full day of travel from Anuradhapura/Sigiriya. If you are planning to be in the country 2 weeks or less, traveling to and from Trincomolee would eat up valuable time, which could be better spent elsewhere.
Trincomolee was ravaged by the Tsunami in 2004 and when I was there in 2013, it felt like an undiscovered treasure. It was the archetypal paradise beach: white sands as far as the eye could see and turquoise blue waters stretching to the horizon, with barely another soul in sight.
As tourism has massively increased in Sri Lanka since my time there, I can imagine it being slightly busier these days. However, please don't let that idea put you off.
There's a host of awe inspiring things to do in Trincomalee, such as dolphin and whale watching (go at sunrise!), reef swimming with sharks and turtles around Pigeon Island, lazing on white sands…
It's a special place.
RELATED –
If you intend on hitting the beach at any point in your Sri Lanka itinerary, be sure you've checked our list of the
best beach essentials
. It's a one stop shop for making sure every beach day is perfect.
.
Day 7 – 8: Kandy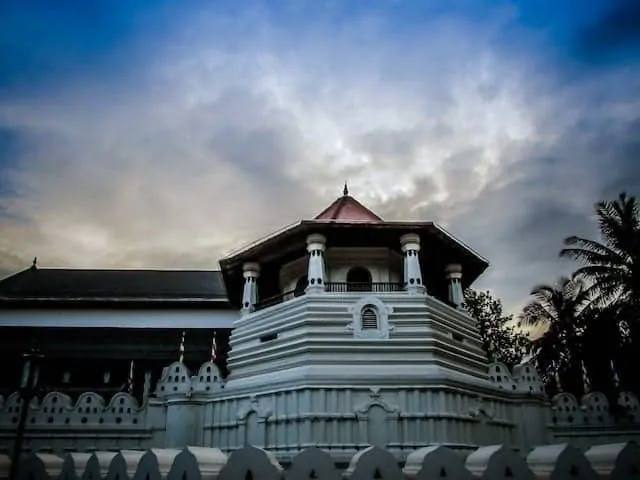 A large town in central Sri Lanka, Kandy is well known for its beautiful surroundings, ancient temples and picturesque central Lake.
Visit the sacred Buddhist 'Temple of the Tooth', so named because it houses the relic of Buddha's tooth (remember to cover your knees and shoulders out of respect), stroll around the outside of scenic Bogambara Lake (Kandy Lake), visit Memorial Garden, or simply explore the town.
A popular thing to do from Kandy is to take the train to the next place on this list- Ella. The train journey takes you through stunning scenery, running along hillsides through bright greens of tea country and showing off the best of Sri Lanka's landscapes.
.
Day 9 – 11: Ella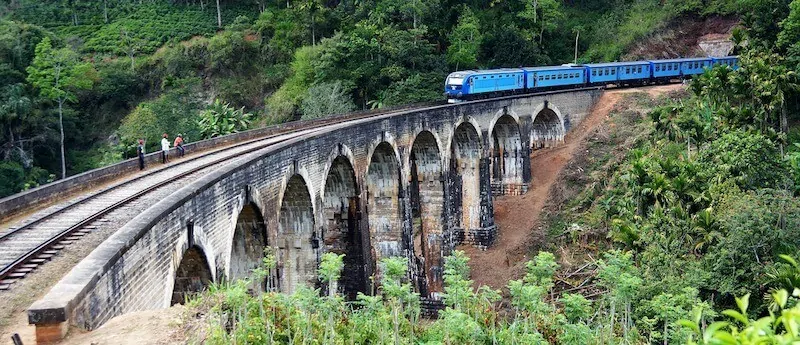 Ella is a tiny town in the central-south-east area of Sri Lanka- the sort of place you intend to go for a day and stay for a week.
It's simply another beautiful part of Sri Lanka, but with a very distinctive feel.
Set quite high up in tea country, the greens of the area make it visually stunning; rolling hills offer amazing views over the land. The atmosphere of Ella is friendly and chilled out, with a host of laid back bars, restaurants and cafes catering for the travellers who roll in droves through the area.
There's plenty to do in Ella too. You could climb Little Adam's Peak (I'll get to the actual Adam's peak in a second!), take a natural shower in Ravana Falls (a popular waterfall for bathing among travellers and locals alike), or walk along the rails of the 99 foot high, Nine Arch Bridge. Despite its small size, you aren't short of things to do in Ella.
NOTE: The train ride from Kandy to Ella is considered one of the most scenic train rides in the world, but it does take over 7 hours. As such, Day 9 of this itinerary would work out to be a full travel day.
.
Optional Stop: Arugam Bay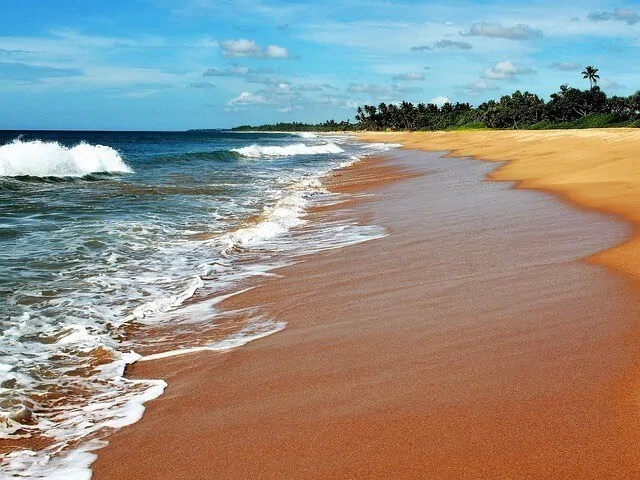 On the South Eastern side of the country, and about 3 hours drive from Ella is Arugam Bay, a stunning stretch of sandy beach and popular tourist stop.
Arugam Bay is definitely a touristy destination. So, for people after a taste of authentic Sri Lanka, it might not be up your street.
However, its natural beauty and chilled out beach vibes make it a tropical paradise that provides a great location to let your hair down.
Golden sands are lined with beach bars, restaurants and cafes; the waves of the Indian Ocean make it a great place to surf too and people come from all over the ride the waves here.
Likewise, the surrounding area boasts even more to do. From hiking (check out my list of hiking gifts!), to safaris, to epic moped trips. There's a lot here to enjoy!
.
Day 12: Haputale and Lipton's Seat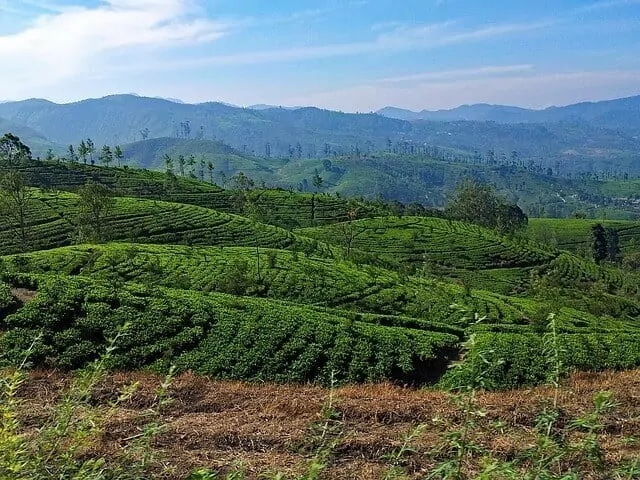 In a similar region in Sri Lanka to Ella (about an hour's drive South), is one of my favourite places: Haputale.
Haputale is situated relatively high up in the hill country of Sri Lanka, the air feels wonderfully fresh here and the night skies are sublime; on a clear day you're meant to be able to see all the way to the South Coast.
You feel high (in terms of altitude…) in Haputale: the land falls away on either side of the ridge its situated on, which creates views of immense beauty, overlooking wide open expanses all the way to the horizon.
High up in the tea country of Haputale is Lipton's seat, so called as this was where Sir Thomas Lipton (of Lipton's tea) sat to overlook his tea plantations. He chose a good spot. Get a ride to up top of the hill and sit in the peace and quiet, overlooking the vast swathes of land (and ceylon tea) that stretch out before you; you can even buy a cup of tea while you're up there!
After you've taken in the view, go for a walk through the plantations; befriend the locals work in the tea fields and visit the tea factory to learn just how the tea is picked and produced.
.
Optional Stop: Adam's Peak (Sri Pada)
View this post on Instagram
In central Sri Lanka lies Adam's Peak, the country's 5th highest mountain.
This impressive 2243m high conical mountain has been a pilgrimage site for over 1,000 years.
Sri Pada means 'sacred foot' due to a foot shaped rock formation near the summit, hailed to be the footstep of Buddha or Shiva, depending on your religion. It is also said to be the place where Adam (of Adam and Eve) first stepped from heaven to Earth. It's easy to see why this mountain could become associated with godly interpretations. There's something profound about it.
To avoid cloud cover, it is best summited on a clear day. Wake at 3am to make the climb, up thousands of steps (around 5500!), in time for sunrise. When you're finally at the top, admire the small temple that's there (maintained throughout the year by monks), and gaze out over the mountains and hills that rise and fall all around you, interspersed with expanses of mist and cloud that extend away to the horizon.
Adam's peak is a great addition to your Sri Lanka itinerary if you are a keen hiker or simply want to challenge yourself!
RELATED –
In need of some R&R after this epic hike? Consider checking into an
Ayurveda resort
and enjoy some traditional Sri Lankan healing and detoxification. Its a real body reset!
Day 13 – 14: Mirissa / Unawatuna & Galle
On the South Western side of Sri Lanka are another two beachside towns that are well worth a visit.
Golden sands abound, as do the beachside bars and cafes. As tourism increases these places are becoming ever more commercialised and Westernised. However, they're perfect for more chilled vibes, beach time and nights out next to the sea.
It's not all about the beach though. The beautiful, white Japanese Peace Pagoda is in Unawatuna and provides stunning 360 degree views over the surrounding area. This is the perfect spot to watch the sunset and take a step back from the buzz of the beach.
Galle is just next door to Unawatuna too and well worth exploring. It's an old fortified colonial town with origins going all the way back to the Portuguese in early 16th Century. Walk the walls of Galle fort, enjoying the colonial architecture situated on the doorstep of the swathes of golden sands.
This is also a great area to see Sri Lanka's famed stilt fisherman. Perched at the top of Bamboo poles, these amazing guys catch small fish swimming in the clear waters below them.
.
That brings to a close my suggested itinerary for 2+ weeks in Sri Lanka (which can obviously be extended by adding in the optional stops – and can certainly be slowed down if you have longer than 2 weeks).
This beautiful country is being rediscovered by tourists and travellers from around the world. For a relatively small place, there's a huge amount to see and do. There's history, culture, art, natural beauty, friendly locals, incredible food to experience and enjoy.
I hope this piece has provided some inspiration and helped you with planning your trip here. Hit any or all of these top spots and your trip to Sri Lanka is guaranteed to be that bit better!
And if you like this 2 week itinerary, or have a friend travelling to Sri Lanka who needs a bit of inspiration, please share this ultimate guide with them via Facebook, Twitter, Pinterest or Flipboard. Just click the sharebar on the left for more options!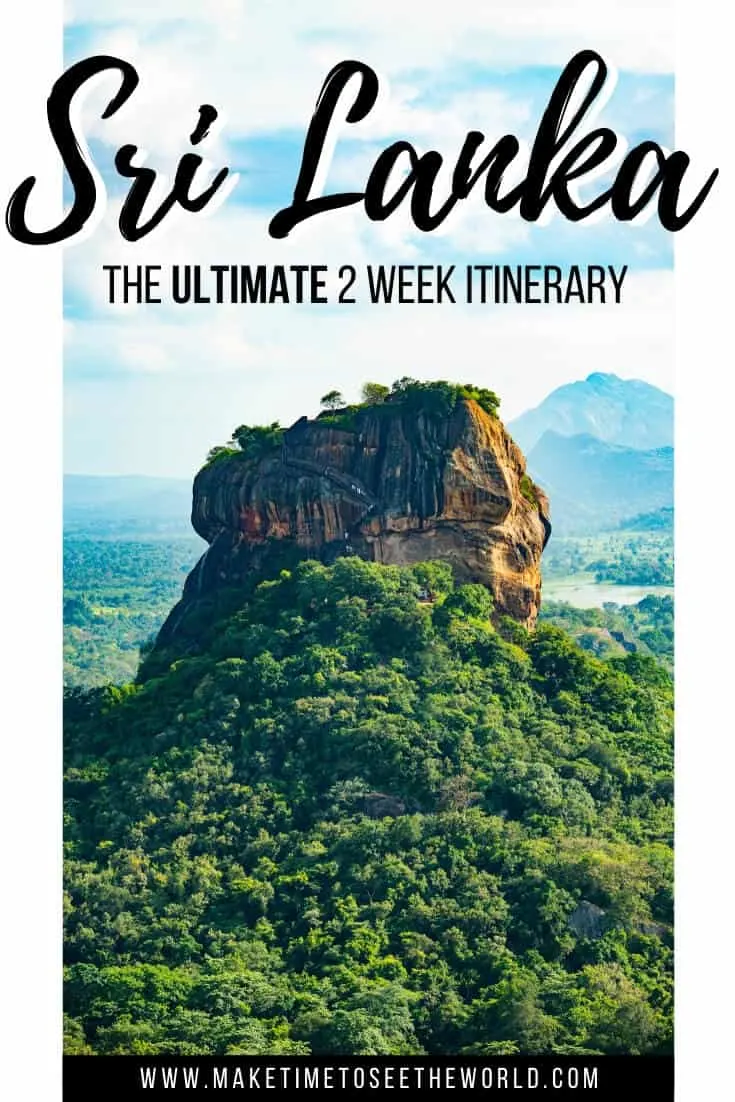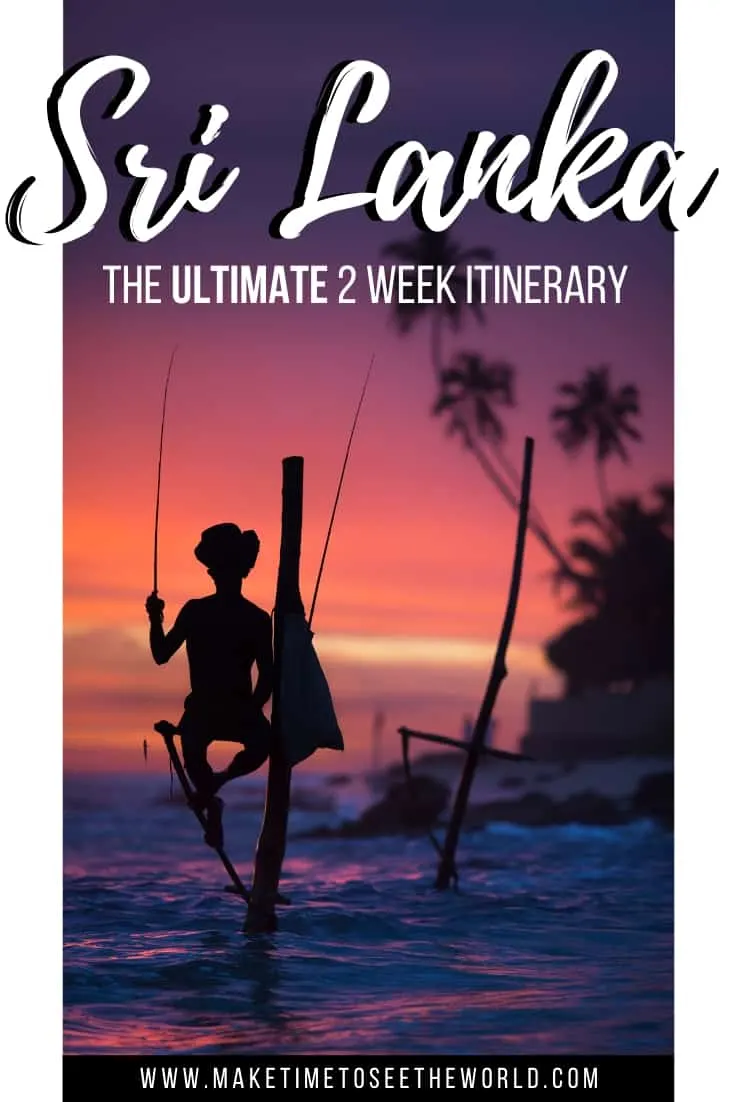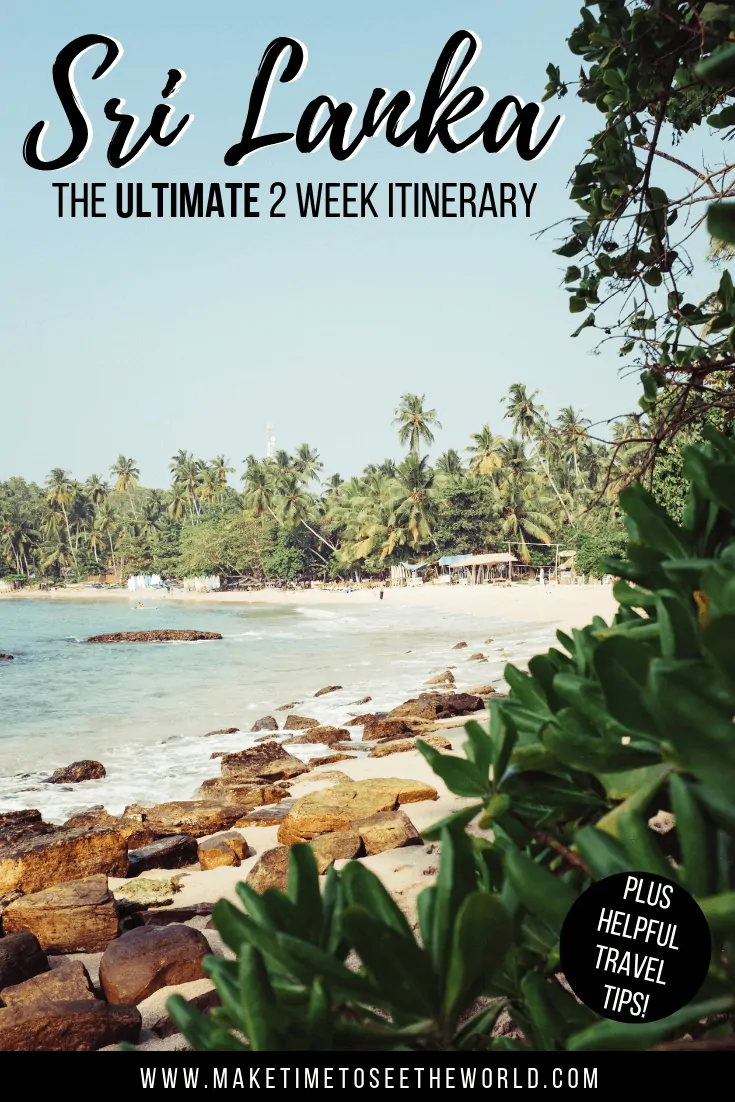 READY MORE TRAVEL INSPIRATION? YOU MIGHT BE INTERESTED IN THESE TRAVEL TIPS, TRAVEL ARTICLES, DESTINATION GUIDES AND RELATED POSTS:
Hi There! Thanks for reading my Sri Lanka travel guide packed full of travel tips and in this post the Ultimate Sri Lanka Itinerary (for 2 weeks or more!) I just wanted to let you know that this travel guide contains affiliate links, which means if you purchase something after clicking a link, I may get a small commission – which is at absolutely no cost to you. If you enjoyed this article and are going to be searching for some of the things I mention anyway, I would love it if you could click through from the links above & thank you in advance! Read my full Disclosure here.
And thank you for reading the MakeTimeToSeeTheWorld Travel Blog.