A collection of islands located in the South Pacific, for those of you who haven't heard of Samoa before, it is approximately halfway between Hawaii and New Zealand and the last country before the international date line. Sitting just south of the equator, visitors to the Samoan Islands can expect hot temperatures throughout the year, with an average temperature of around 26 degrees Celsius and a monsoonal rainy season that runs from November to April.
Over the past 20 years, tourism has started to increase on the island (although you would hardly notice because there are VERY few tourists) and for any of you looking to visit somewhere a little different, we highly recommend a trip to this Polynesian island. To help you get started with your travel plans, read our essential Samoa travel tips below and find out everything you need to know before you go!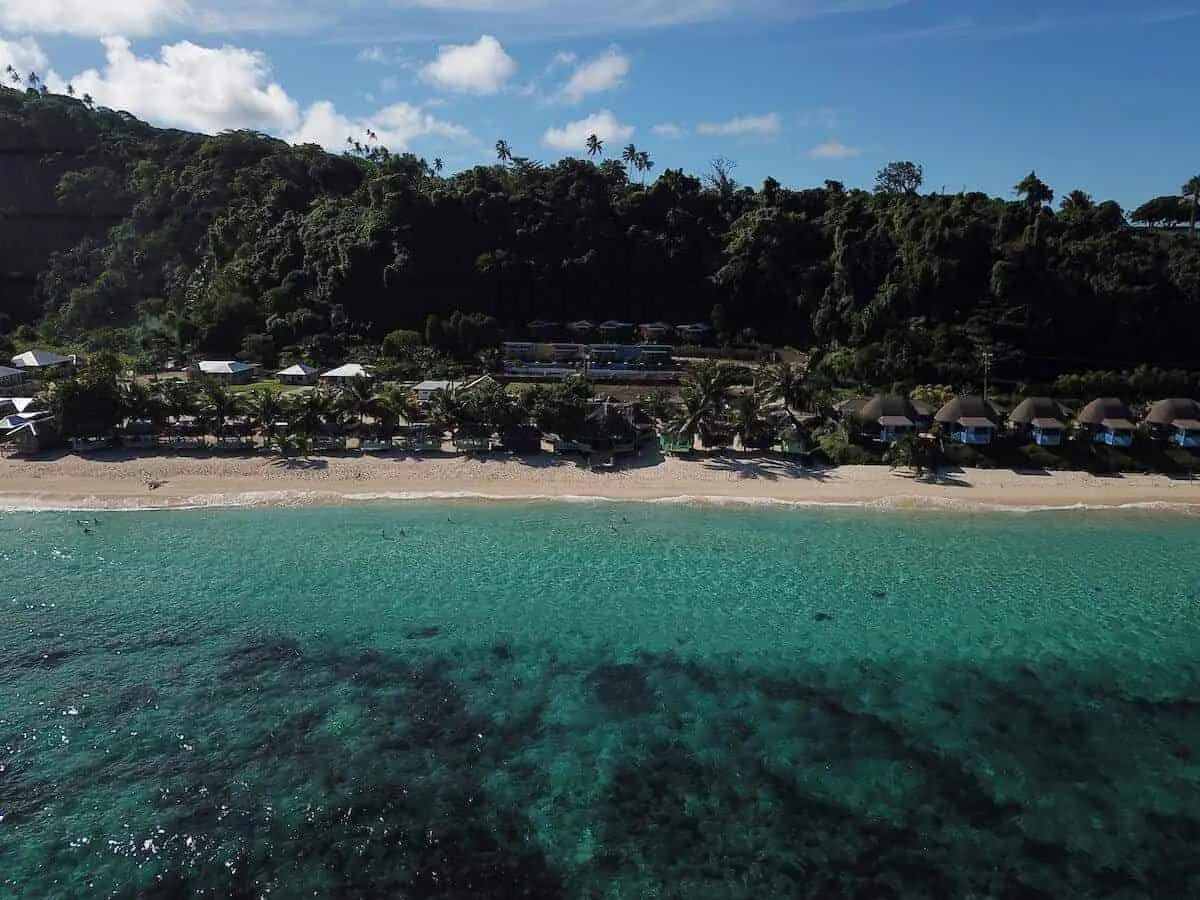 Disclaimer: I visited Samoa as a guest of the Samoa Tourism Authority in partnership with Blogilicious, however all beautiful sights seen, amazing meals eaten, traditional dances enjoyed (and more) remain entirely my own.
25 Samoa Travel Tips – Your Essential Samoa Travel Guide
Learn about the history of Samoa
With volcanic origins that date back over 3000 years, it wasn't until the 18th century that Europeans first discovered the Polynesian island of Samoa, followed by the American's during the 19th century, when whaling and trading vessels began visiting the island. Germany also showed commercial interest in Samoa and it was a struggle between America, the UK and Germany that lead to the country's civil war. Germany then ruled the country between 1900 – 1914, followed by New Zealand during WWI to 1962, when after repeated efforts by the Samoan independence movement the island was finally granted independence. Later, in 1997 the country changed its name from Western Samoa to Samoa, as it is known today.
Learn about Fa'a Samoa – The Samoan Way
Whilst there are plenty of hotels in Samoa that have a nightly culture show once a week which features traditional dancing from men and women, along with fire dancing – and usually a bit of audience participation (not the fire part!), one of the best places to learn about Samoan life, traditions and beliefs is at the Samoan Cultural Village in Apia.
Tours are free of charge (although donations are greatly accepted) and run between 10.30-12.30 on Tuesday, Wednesday and Thursday (between April and October) and at 10.30am on Thursday between November and March.
Each tour features a traditional 'Ava (also known as Kava) ceremony welcome, cooking demonstration (which you then have for lunch!), wood carving, paper and fabric preparation plus lots of singing and dancing. And if you are lucky, you will have the honor of witnessing a section of the inking of a Samoan full body tattoo. There is no entrance fee but any tips are greatly appreciated.
The Confidence of the Samoan People is Delightful
The Samoan people have a way about them. Beyond warm and welcoming, there is a confidence built on community support and acceptance for all that means no matter the size, shape, weight, gender, religion – or any other 'defining' feature (that there is typically so much emphasis on in Western Society) everyone appears confident and comfortable with who they are.
The Samoan culture is not one of bullying, or tearing people down, but lifting people up. And you can see it as you explore the island.
Samoa is Remote
If you are planning a trip to Samoa you're going to get used to how gosh darn remote the country is. Located between New Zealand and Hawaii, and mere miles from the international date line (on the other side of which is American Samoa) flights arrive throughout the week from Sydney and Brisbane in Australia; Auckland in New Zealand; Nadi in Fiji, American Samoa (Pago Pago) and Tonga.
That being said, you'll need to plan to get yourself to (or travel via) one of these hubs before you start planning your Samoa adventure. And if you are traveling from North America, most flights connect through Hawaii.
.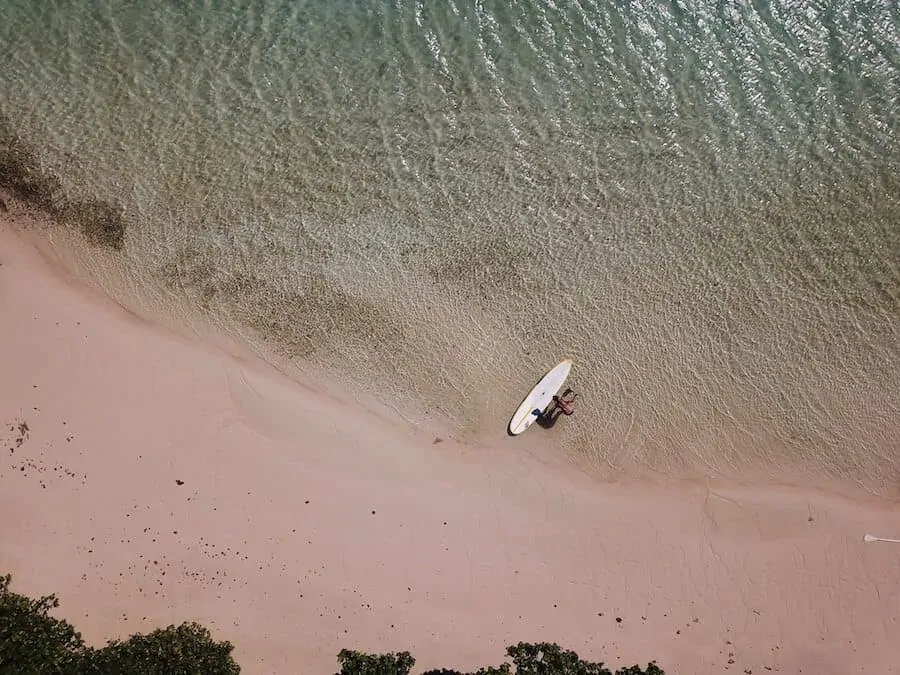 There is more than one island
Hence the name the Samoan islands. Made up of two main islands, the larger being Savaii Island and Upolu Island which were formed by a large volcano. There are also eight smaller islands, which include the Apolima Strait, the Aleipata Islands and Nu'usafe'e, although only 4 are inhabited.
Samoa is pronounced: Sah-Mo-Ah
And not Sam-o-a as has been used in Western cultures (and how I incorrectly pronounced it until I visited and was taught the correct way!)
The difference between Samoa and American Samoa
Despite being a neighboring island to Samoa, American Samoa is, in fact, an entirely separate territory, owned by the United States and is therefore heavily influenced by its American affiliation. The most fascinating thing about this for me is that it is barely a 30 minute flight between the two nations – but American Samoa is a whole 24 hours behind Samoa (due to the fact they sit each side of the international date line). Mind blowing, right?!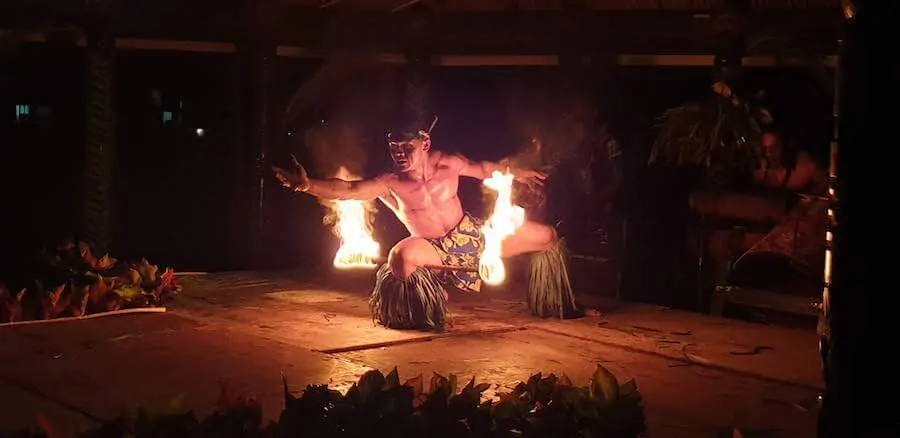 Fa'afafine – The Third Gender in Samoa
Fa'afafine are people who are assigned male at birth but embody both masculine and feminine gender traits. They identify as having a third gender which is one that has a recognized role in society and is an essential part of Samoan culture. It is an identity unique to Polynesia, and typical 'Western' descriptions (Gay, Transsexual, Transgender etc) do not fit with Samoan cultural beliefs and as such are not used.
Fa'afafine are majoritively accepted as an integral part to Samoan society and are known for their hard work and dedication to the family; however some denominations of the Catholic Church and some elder leaders are not as accepting.
Samoa is a Christian Country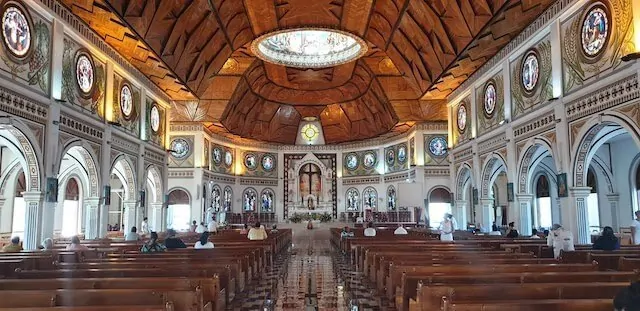 Christianity has been one of the few western influences that has been accepted into Fa'a Samoa, and as of June 2017, the constitution had even been amended to reflect that Samoa is a Christian – rather than a secular state, as a result of the religions dominance.
Today the motto on Samoa's crest reads, Fa'avae I Le Atua Samoa – 'Samoa is founded on God', and found in every village are churches of various denominations. Samoans are devout Christians and Sunday in Samoa is a day of worship and time to spend with family where no physical work is done.
The importance of Tatau (Tattoo)
Traditional full body tattoos have been ingrained in Samoan culture for centuries, and it is both an art-form and a ritual that is still heavily practiced today.
For men, the Pe'a covers the body from waist to knees and is extremely painful. Tattooing is performed by a tufuga ta tatau (master tattooists), using a set of handmade tools pieces of bone, turtle shell and wood. It is ritualistic, and no photos or video are permitted as it is believed that spirits are present during the inking. It can take anywhere from a couple of weeks to a couple of years to complete, and those who complete the design are afforded respect and the title Soga'imiti and wear their Pe'a as a mark of courage.
For women, the Malu covers the legs from just below the knee to the upper thighs just below the buttocks, and is typically finer and more delicate in design compared to the Pe'a. It is not considered to be as cultural significant as the Pe'a but considered a symbol of commitment to the Samoan way of the life.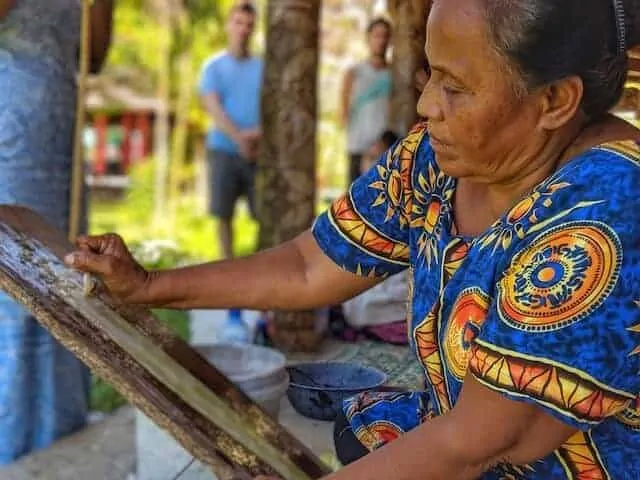 Samoa is tiny
The total land area of the Samoan Islands is a teeny tiny 2,842 km2. Which makes exploring super easy and it is possible to cover a lot of ground each day should you wish to do so.
The primary language is…
Although both English and Samoan are the official languages of Samoa, you will find that more people on the island speak Samoan.
Exchange your cash
The currency in Samoa is the Samoan Tala (WST) and if you haven't already exchanged your cash before your arrival you can do this at either the airport or in the city's capital. There are currency exchange desks before and after passport control on arrival, and once you have collected your luggage there is a cash machine in the arrivals hall if you prefer to withdraw cash direct (as I do).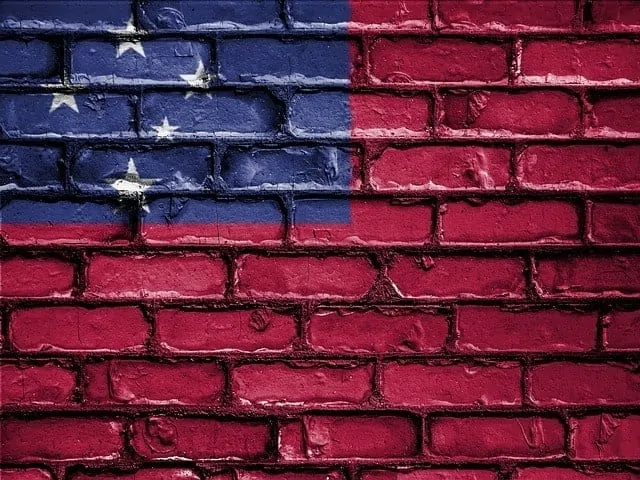 The capital city is Apia
Located to the north of Upolu is the country's capital of Apia. Situated on the coast, the city's harbor is of particular interest if you are interested in the country's history. It is also 25km from Faleolo International Airport and the city also makes for a good stop off point when you first arrive in Samoa before heading off to explore the rest of the island(s).
The best time to visit is…
Although Samoa is hot throughout the year, it is considered that the perfect time to visit the island is between July and September during a period of relief between the intense humidity and the rainy season that begins shortly after in November.
Stay cool
As we have already mentioned, Samoa remains hot throughout the year and extremely humid for the majority of that. Which is why it's important you pack appropriately with plenty of light clothes. Sun cream is a must and make sure you take a bottle of water with you on a day out.
Check if you need a visa to visit
Depending on where your passport was issued, entry requirements will vary. Typically, if you are visiting Samoa for 60 days or less, you are not required to get a visa to visit the country for tourism purposes. However, you will need to have a return or onward ticket and a passport that is valid for at least the next six months on arrival. Check with your home countries travel advisory body (USA / UK / AUS) for specifics.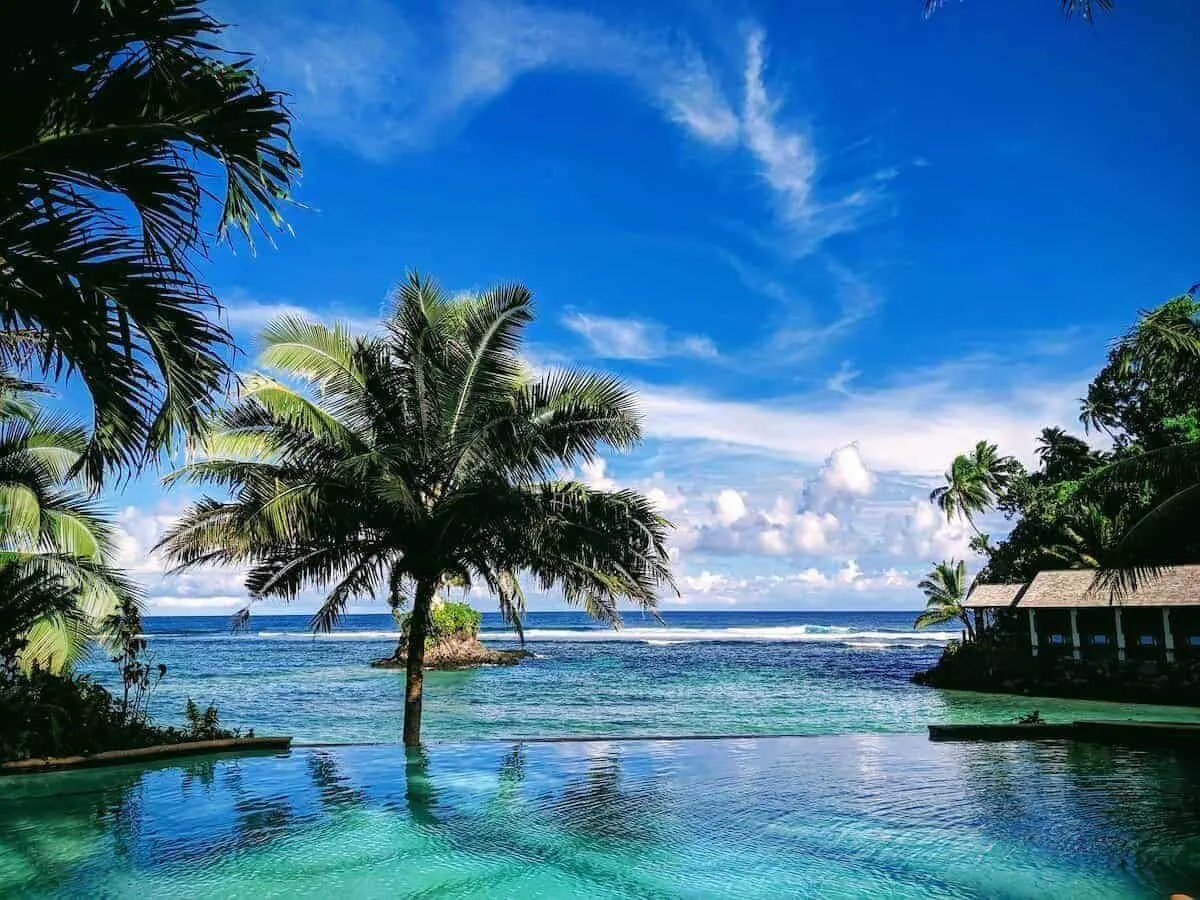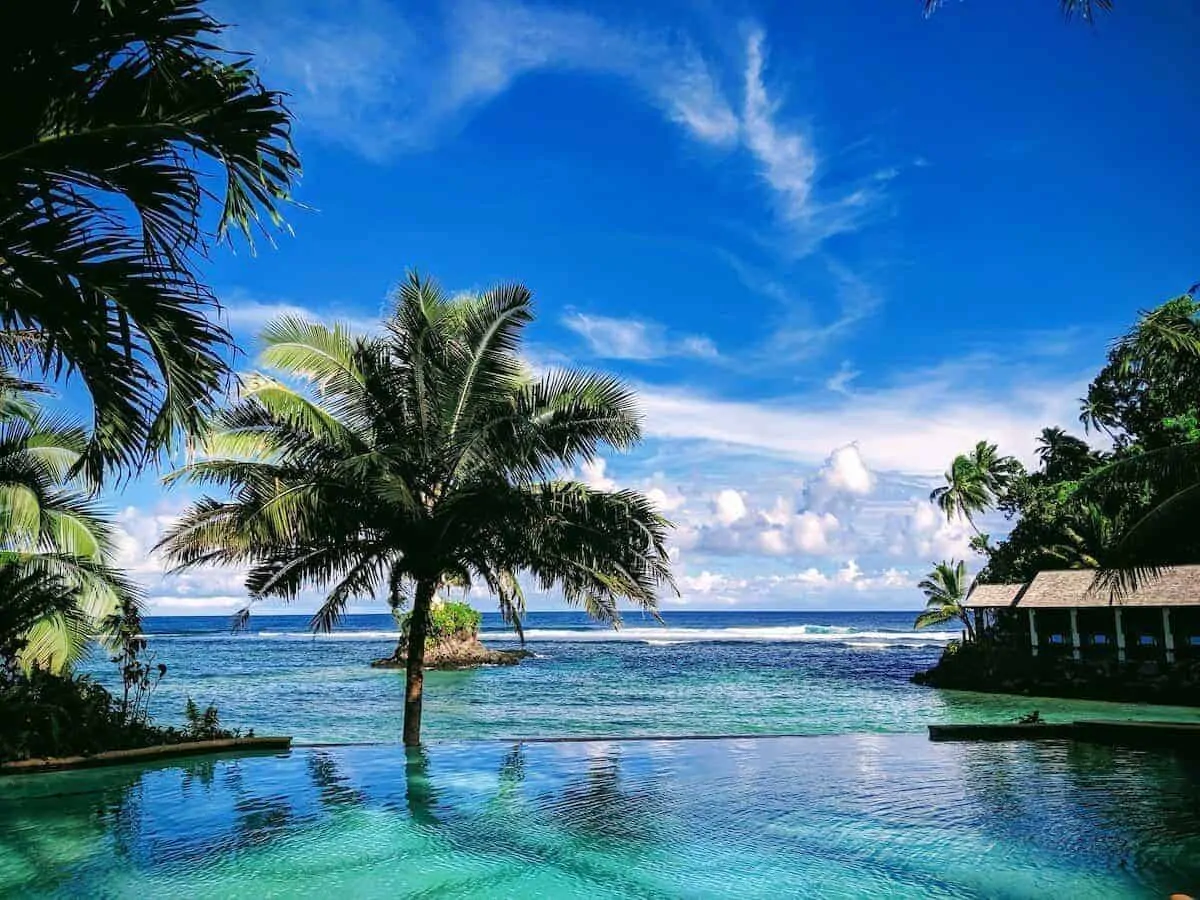 Robert Louis Stevenson is a National Treasure
Robert Louis Stevenson is a Sottish author famous for writings such as Treasure Island, and (the Strange Case of) Dr Jekyll and Mr Hyde. Choosing to settle in Samoa due to the tropical climate which assisted with his illness, he was known to the Samoans as the man with great 'manas. Due to his many positive interactions with the local community he became very popular and when he passed away on December 3, 1894 (aged 44), he was buried at Mount Vaea at a beautiful spot over looking the ocean.
Recommended vaccinations
It is best to check with your doctor before you travel but there are generally no specific recommended vaccinations for Samoa outside of routine vaccinations such as Measles, Mumps and Rubella (MMR) and Rabies, along with Hepatitis A and Typhoid for most travelers, plus, Yellow Fever and Hepatitis B for some travelers.
Pack mosquito repellent and relief
Like many country's with high humidity, mosquitos are present, which is why it's important to pack both mosquito repellent and relief, just in case you are unfortunate enough to get bitten by these pesky critters. However, despite the presence of mosquitoes, there is NO risk of contracting Malaria, although there is currently a risk of Zika (in mid-2019) and as such pregnant women or couples trying for a baby may wish to consult their travel doctor before visiting.
The best way to get around is…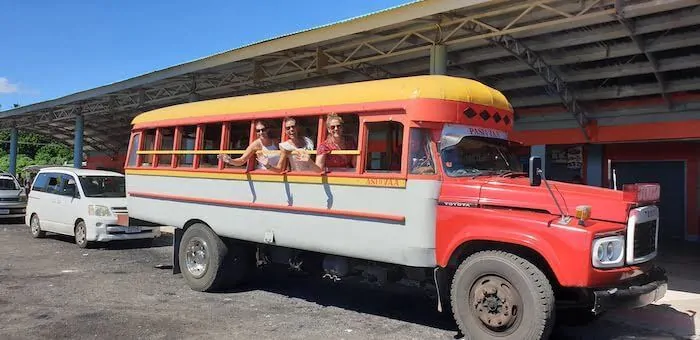 For your own convenience, the best way to explore Samoa is by car, which you can rent from the airport. As an alternative, you can also get a taxi or use the islands bus service. However, this is known to be somewhat intermittent – but most locals are happy to help you if you want to give it a try! Journeys cost a couple of Tala per person.
Activities to keep you entertained in Samoa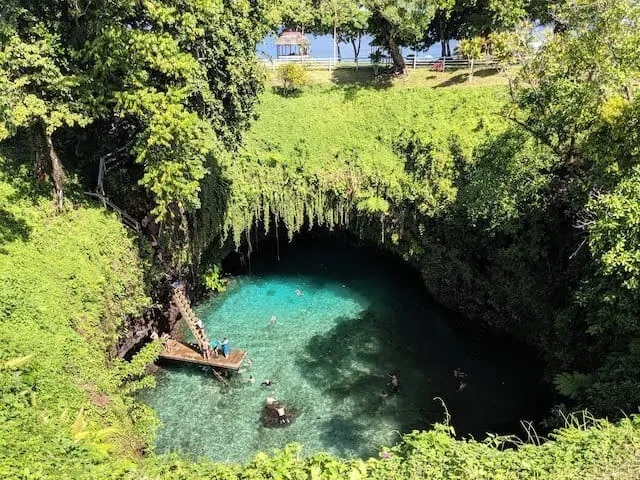 Over the years Samoa's natural beauty has begun to attract more and more tourists (but not so many that you won't feel like practically the only tourists there!) From natural wonders such as the To Sua Ocean Trench, Sopo'aga Waterfall, Lava Fields and Papase'ea Sliding Rocks to the pristine, endless beaches and historical sites, and some ah-maz-ing seafood, it's a great place to explore and relax. Take a look at our full guide to the top 25 things to do in Samoa and start getting excited at the possibilities.
Try the local cuisine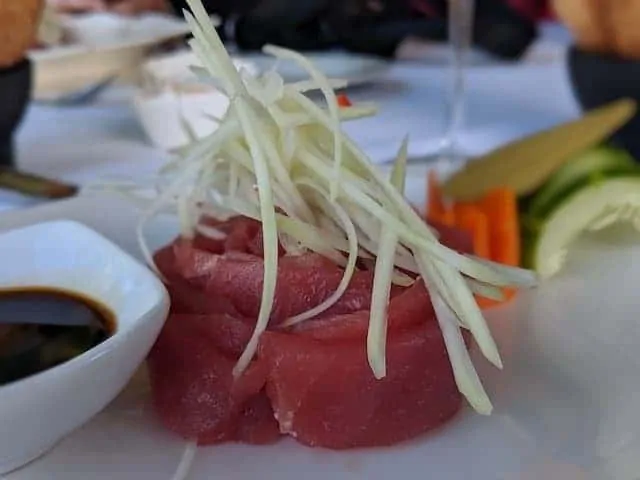 Being an island, fresh fish and seafood feature heavily as part of the Samoan diet and you will find a huge array of local delights on all local restaurant menus. In fact, everything you try on the island is extremely fresh, including all the fruit and veg, particularly the coconuts!
By a local sim card
With both phone signal and internet limited on Samoa, it is recommended that you buy a local sim when you arrive at the airport. There are two providers that will be pushing for your business – Digicell and BlueSky and each offer tourist/visitor cards and can be topped up at various spots around the country.
BUT we found that Digicell was not only cheapest (you can get 6GB of data with a 7 day expiry for 20 Tala ($7.50USD / $11AUD / £6GBP)) – and they had the best coverage. The ladies in the shop at the airport will also get it all set up and active on your phone so you know it's working before you leave the airport!
To buy your Digicell sim card, turn right as you exit the arrivals hall and walk approximately 5-10m. The shop is dressed is red and they will likely have the largest queue outside, but it is definitely worth waiting for.
*NOTE* Whilst a lot of hotels have wifi available, it is not always complimentary. If you need access to the world wide web, we highly recommend getting a sim card at the airport!
Learn a few words in Samoan
Talofa (Tah-lo-fa) – Hello
Tofa (Toh-fa) – Goodbye
Fa'amolemole (Fa-ah-moh-le-moh-le) – Please
Fa'afetai (Fa-ah-feh-tie) – Thank you
Ioe (Ee-oh-e) – Yes
Leai (Le-ai) – No
Book a fale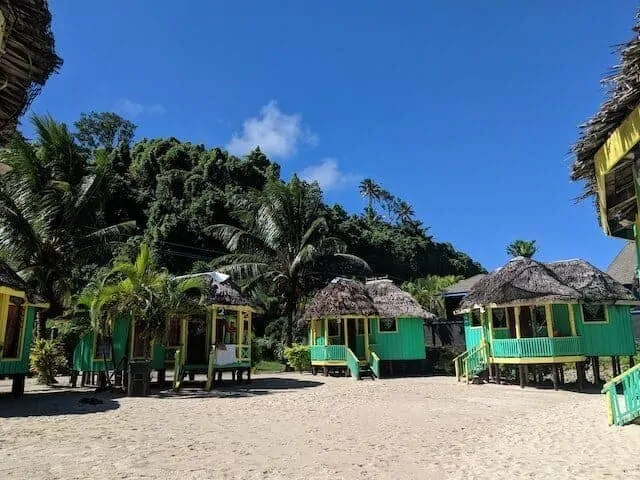 A fale is the typical word used to describe accommodation in Samoa. Traditionally these are thatched huts on the beach which are absolutely amazing to experience and great value for money. However, during peak seasons it is highly recommended that you book any of the beach fales in advance to avoid disappointment.
And for other suggestions on where to stay, or to take a peek at some of the most luxurious resorts in Samoa, take a look at our complete Samoa Accommodation Guide and find out where to stay in paradise!
What things cost in Samoa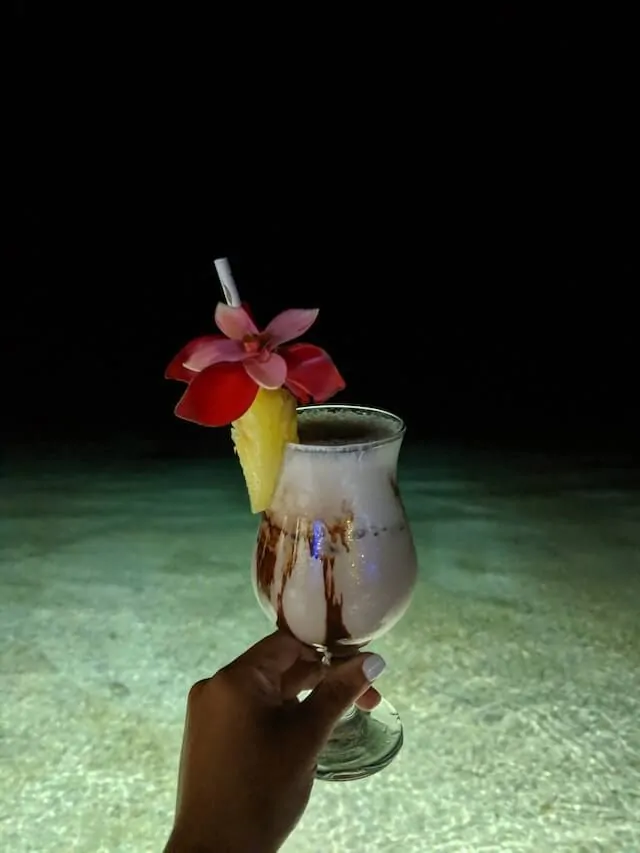 Costs below are current as of June 2019, and are approximations as different bars, restaurants, and resorts will charge slightly different rates.
Soft Drink: 2.50 Tala
Bottled Water: 2-3 Tala
Coffee: 5-7 Tala
Local Beer: 9-12 Tala
Glass of Wine: 15-19 Tala
Cocktail: 15-20 Tala
Light Meal: 25-50 Tala per person
3 Course Meal: 90-120 Tala
.
We hope that with our travel guide to Samoa, it has enabled you to gain a pretty broad understanding of what to expect on the island, covering everything from the language to places to visit. If Samoa is an island you have visited before and have any additional tips you think we should add to our guide, let us know in the comments below.
And if you liked this guide or know of anyone that is currently planning a trip to this island paradise, please share this post with them via Facebook, Flipboard, Twitter or Pinterest.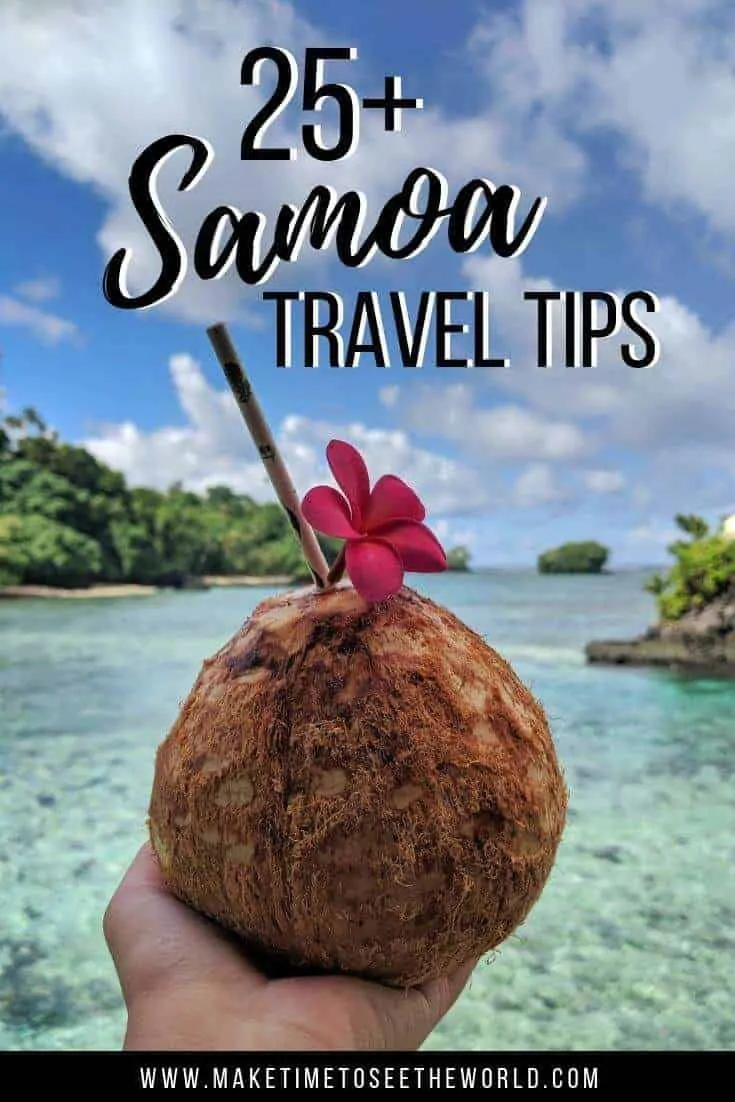 READY MORE TRAVEL INSPIRATION? YOU MIGHT BE INTERESTED IN THESE TRAVEL TIPS, TRAVEL ARTICLES, DESTINATION GUIDES AND RELATED POSTS:
Hi There! Thanks for reading my Samoa travel blog packed full of travel tips and in this post the 25+ Essential Samoa Travel Tips – What to know before you go! I just wanted to let you know that this travel guide contains affiliate links, which means if you purchase something after clicking a link, I may get a small commission – which is at absolutely no cost to you. If you enjoyed this article and are going to be searching for some of the things I mention anyway, I would love it if you could click through from the links above & thank you in advance! Read my full Disclosure here.

And thank you for reading the MakeTimeToSeeTheWorld Travel Blog.