The Solomon Islands are one of the most incredible, unspoiled places I have ever visited. From the remote communities with their kastom cultures to the clear blue waters, home to pristine coral and amazing sealife, not to mention the world war II history that projected these islands onto the world's stage in the first place.
If you're planning a visit (and we think that you should) or are just looking to learn a few things about this untouched paradise, we have put together over 20 Solomon Islands facts including history, culture, geography, language, things to do and more to help you get a little more familiar with the islands. (And make you a whiz for any pacific island quiz questions!)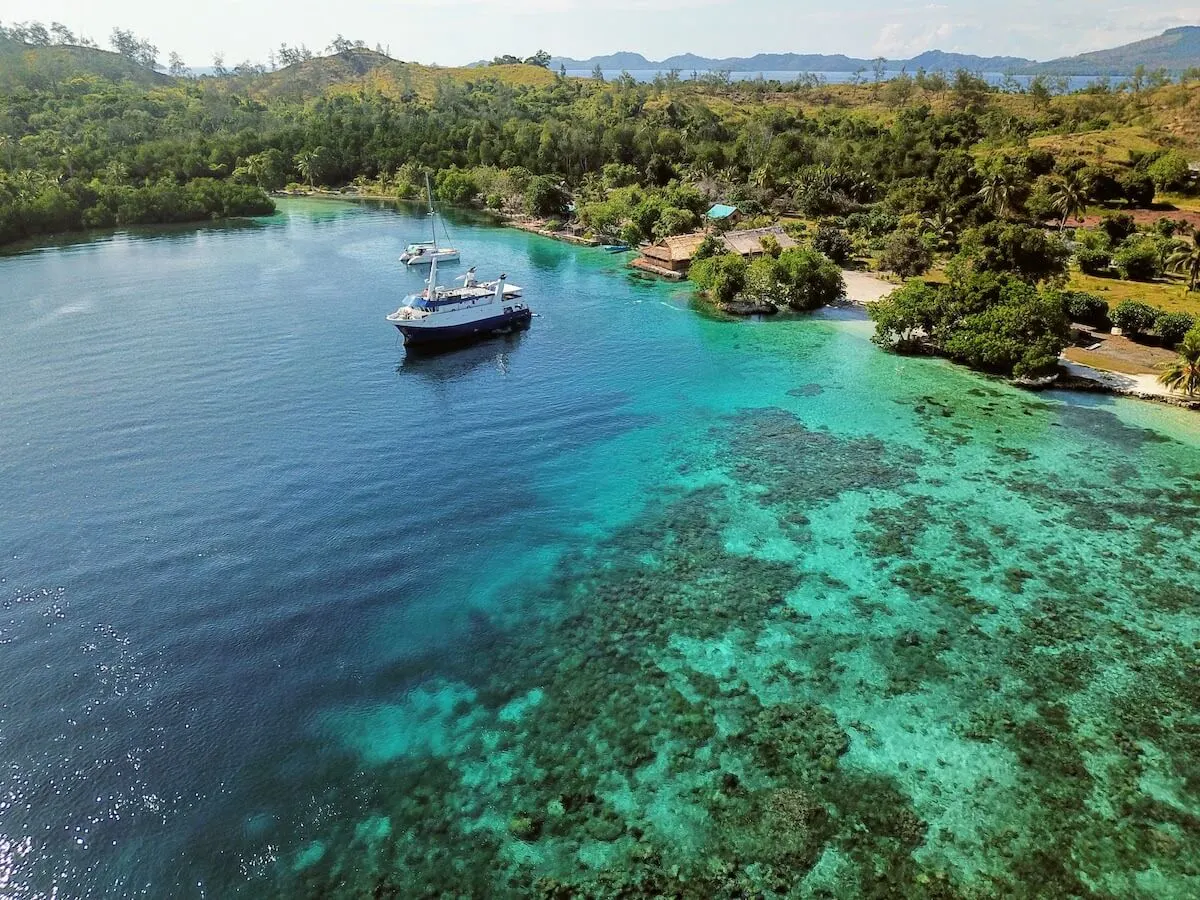 Disclaimer: Almost all posts on this site contain affiliate links, and this one about 20+ Solomon Islands Facts is no different. This means that if you click on any of the links in this post (and make a purchase) I may receive a small commission at absolutely no cost to you. Each post is carefully crafted to (hopefully!) answer all your questions and recommendations are made where we believe they will improve your trip and help with your planning. As such we thank you in advance should you decide to click & buy. Read my full Disclosure here.
Solomon Island Facts
– What you ABSOLUTELY need to know before you go! (Or just if you're vaguely curious!)
Where are the Solomon Islands located?
The Solomon Islands – consisting of six major islands and approximately 900 smaller islands, atolls and reefs – are located in the Pacific Ocean. They lie East of Papua New Guinea, Northwest of Vanuatu and are 2,122km (or a 3hr 15 minute flight) from Brisbane, Australia.
The 6 major islands are Choiseul, Guadalcanal, Malaita, Makira, New Georgia and Santa Isabel.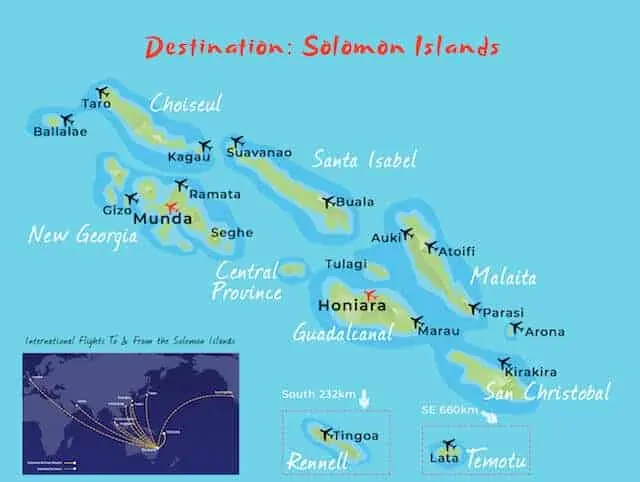 In what time zone are the Solomon Islands located?
UTC+11.
The Solomon Islands remain on Solomon Island Time (SBT) all year round, and do not make adjustments for daylight savings.
Although, it is highly likely that you will become accustomed to 'Island Time' while you are there. It's laid-back, slow paced and it's best if you don't expect most things to run on time.
What is the capital of the Solomon Islands?
The capital of the Solomon Islands is Honiara, and is located on the Island of Guadacanal.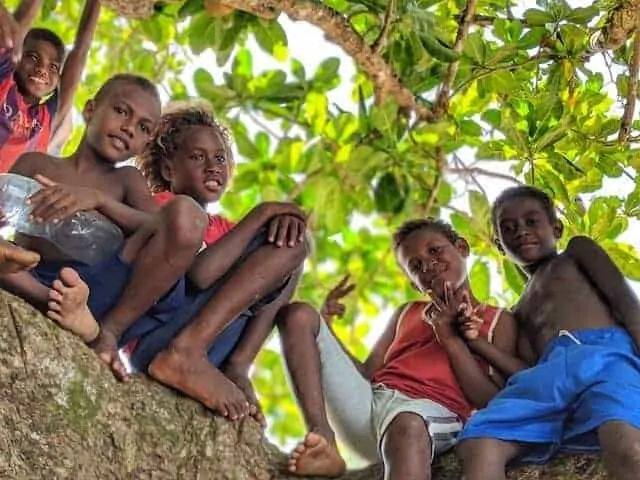 What is the population of the Solomon Islands?
636,733 (based on the 2019 United Nations estimates). This is equivalent to 0.01% of the total world population.
What is the currency of the Solomon Islands?
The currency in the Solomon Islands is the Solomon Island Dollar ($SBD) – and cash is undoubtedly king.
Whilst some of the larger hotels and restaurants will accept credit cards, smaller establishments, markets, bars, taxis etc all need cash (and preferably small denominations)
There are ATMs at the ANZ Bank and Bank South Pacific (BSP) in Honiara, as well as in Auki, Munda and Gizo; there may also be an ATM at your hotel (if it is one of the larger ones), check with your lodging prior to arrival.
What language is spoken in the Solomon Islands?
English is the official language (used for government and business transactions); however, Melanesian Pidgin – an English-Creole has remained the lingua franca or common language of the Solomon Islands and what is often used to converse in day to day life.
There have also been between 60 and 70 native languages recorded throughout the Solomon Islands archipelago.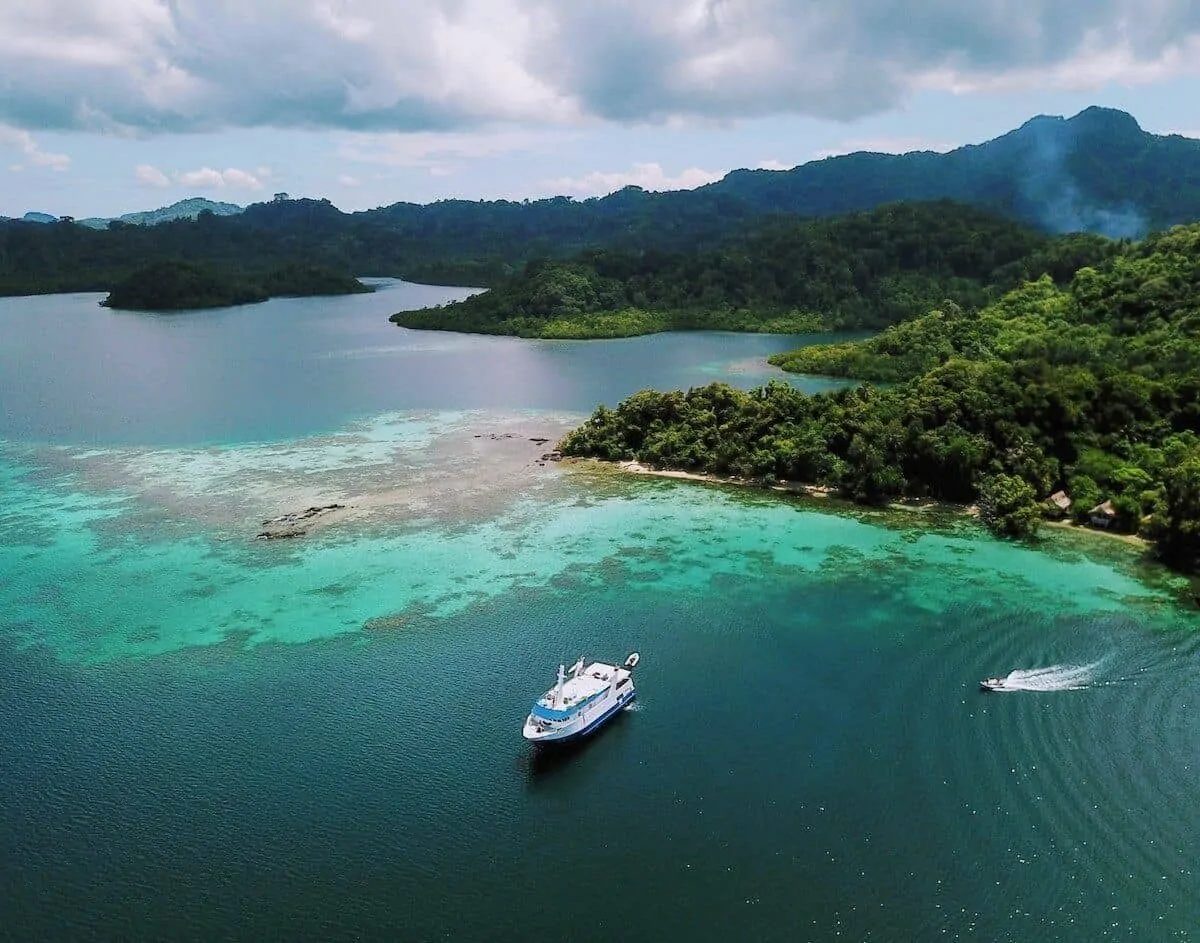 How do you get to the Solomon Islands?
The majority of flights arrive at Henderson International Airport, 11km east of the capital of Honiara. Direct flights are available from Fiji, Papua New Guinea, Vanuatu and Brisbane, Australia.

There is also a direct flight between Brisbane, Australia, and the island of Munda that departs Australia every Friday morning, and returns in the afternoon. If you plan to visit Munda, it may be cheaper to fly direct as internal flights can be quite expensive.
How Many Islands are there in The Solomon Islands?
The Solomon Islands are made up of 6 major islands (Choisuel, Guadacanal, Malaita, Makira, New Georgia and Santa Isabel) and approximately 900 smaller islands
How Do You Travel Around the Solomon Islands?
Small Aircraft and Dug Out Canoes will make up a large portion of domestic travel in the Solomon Islands – along with taxis, mini-buses, and boats.
Solomon Airlines have a wide network of domestic routes that connect Honiara with many of the outer islands and often fly with very small propeller planes. If you plan on visiting Munda or Gizo and will be required to board one of these small planes, be aware that your luggage weight will be limited due to the capacity of the aircraft – and will definitely be lower than the international baggage allowance you would have enjoyed on the international flight in.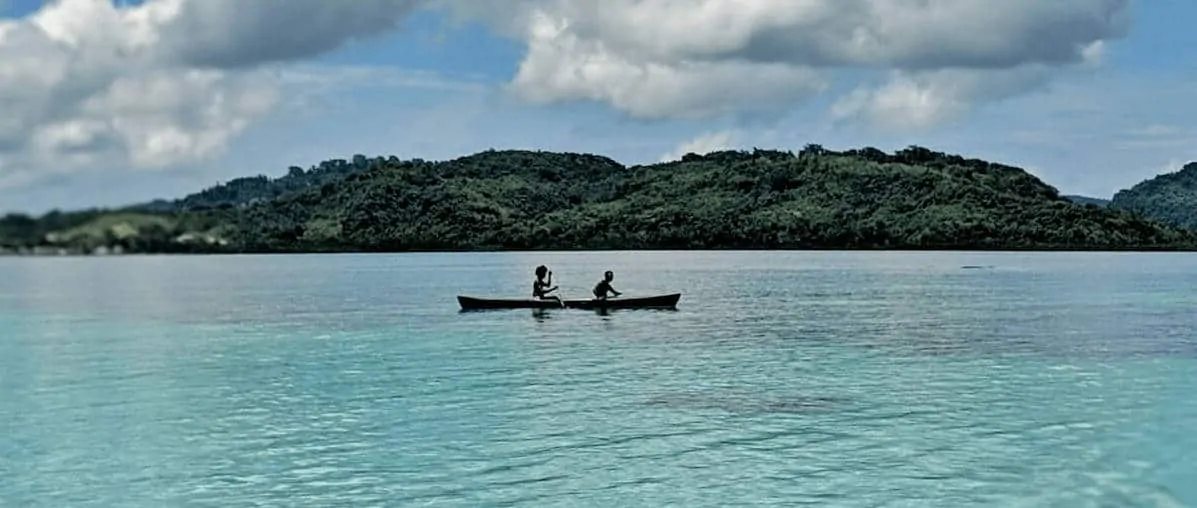 Do You Need a Visa for the Solomon Islands?
You probably won't need a visa to visit the Solomon Islands, as nationals of over 72 different countries can visit visa-fee. These include Australia, New Zealand, the United States, the United Kingdom, Canada, and most of the countries in Europe.
Can You Cruise the Solomon Islands?
The Solomon Islands are sometimes included in South Pacific cruise itineraries by the larger cruise companies (such as P&O, Silversea, Princess Cruises and Seabourne), which allow visitors to combine their visit with other countries nearby such as Vanuatu, Papua New Guinea, New Caledonia etc.
However, (in our opinion) the BEST way to cruise the Solomon Islands is expedition style on board the MV Taka with Solomon Islands Discovery Cruises. Traditionally a dive boat, the MV Taka now welcomes up to 30 guests per cruise to experience the Florida and Russell islands.
Visiting traditional villages to meet indigenous tribes, exploring the history of the island and it's role in World War 2, enjoying some water-sports – both above (Stand Up Padleboarding, Water skiing and Snorkeling etc) to below (scuba diving and free diving) and not to mention getting to amazing beaches and islands that the larger ships just can't get to.
It really is an incredible introduction to the country and will have you wanting to explore more as soon as you disembark. Read our full review to find out exactly what to expect.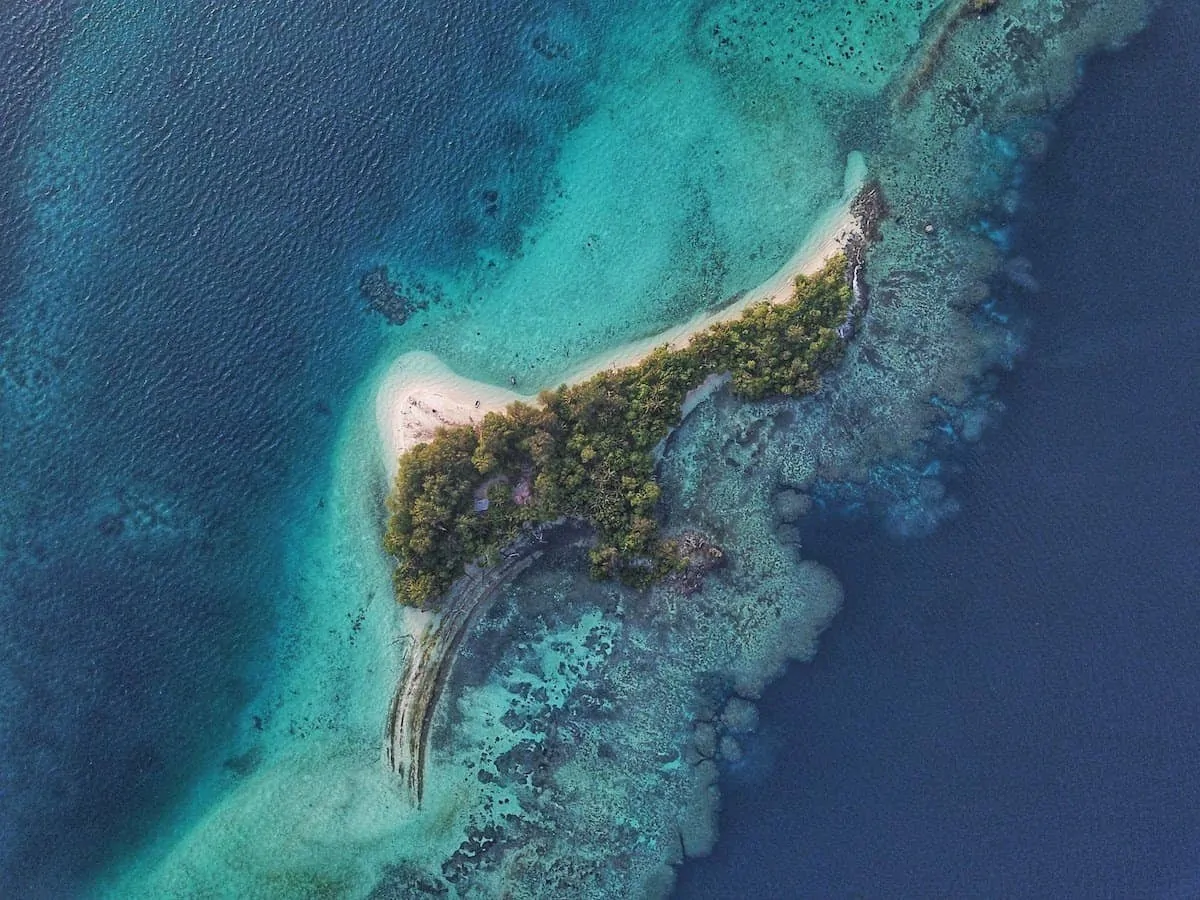 What Are the Best Things to do in the Solomon Islands?
Apart from the obvious island hopping, lounging on the beach, scuba diving, snorkelling and generally just relaxing and enjoying a slower pace of life, there are also heaps of other fun things to do in the Solomon Islands:
Wander around Honiara Botanic Gardens
Visit the largest raised coral reef in the world at Rennell Island on Lake Tegano
Shop local at Honiara Central Market
Spend a few hours at the Vilu War Museum
See the half-sunk World Discoverer Ship in the Sandfly Passage, Roderick Bay (which you can see in the video!) + the small community that lives there.
Stay at the luxurious Tavanipupu Private Island Resort
Join a liveaboard with Solomon Islands Discovery Cruises
Enjoy the Borare River Cascades
Visit Island Communities
Scuba Dive with Dive Munda
Visit the Guadalcanal American Memorial
Hike to Tenaru Falls (one of the most remote waterfalls in Honiara & requires permission and a guide to find!)
Spend an afternoon at Kennedy Island (also known as Plum Pudding Island & the local name is Kasolo Island)
Visit the Solomon Islands National Museum
Snorkel or Scuba Dive at the Bonegi I and II wrecks (Japanese warships that were sunk in WWII)
Hike to Trenches Creek Falls
Is there a Malaria Risk in the Solomon Islands?
Yes. There is a risk of Malaria throughout the country and we recommend all visitors take antimalarials for the duration of your trip (and for several days after) as prescribed by your doctor.
Please also be aware of the potential side effects of antimalarials. Doxycycline is one of the most commonly prescribed but increases the recipient's sensitivity to sunlight (so cover up and keep your high SPF suncream applied and topped up); whereas Malarone or Lariam may have psychiatric effects.
While mosquitos may not seem to be too much of a problem while you are there, it is always a good idea to cover up and use repellants in the evenings when the flying bugs are more prevalent. It's better to be safe than sorry. (And as someone that regularly gets eaten alive by the mossies, I always carry and use repellant)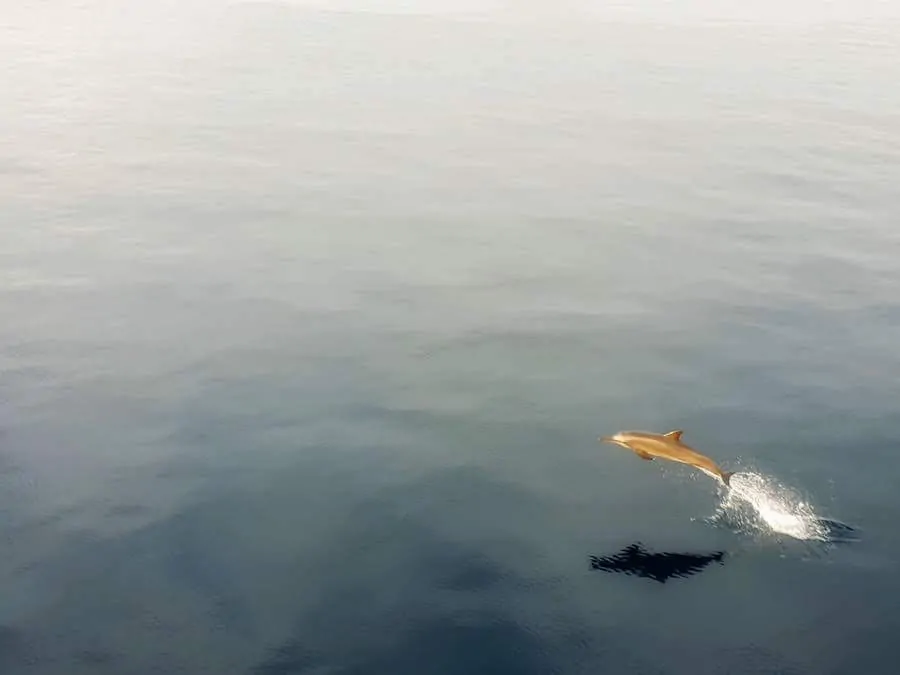 When is the best time to visit the Solomon Islands?
The dry seasons are the best time to visit the Solomon Islands and run between December and February & June and September. During this time the temperature remains pretty constant (around 90ºF/32ºC) and rain is at a minimum (although can definitely still happen!). The months of December and January are also considered to be peak season, as this coincides with Australian school holidays, and prices are slightly higher during this time.
The wet season runs from February to May and again from September to November, with the 'colder' months falling in June and July – although the temperature rarely falls below 80ºF/26ºC.
A high level of humidity is constant throughout the year – but that is only to be expected on a tropical island!
How Many People Visit the Solomon Islands Each Year?
The Solomon Islands is one of the least visited countries in the world and receives less than 30,000 visitors per year (compared to the 800,000 who visit nearby Fiji, or the 7 million who flock to Bali each year)
Are the Solomon Islands Safe?
For the most part, yes, the Solomon Islands are safe.
However, while in the capital, Honiara, there is an increased risk of pick-pocketing, handbag snatching and sometimes, violent robberies. It is also not advised to travel after dark in the city. Visitors are encouraged to be vigilant and take safety precautions (as you would in any capital city) when in Honiara.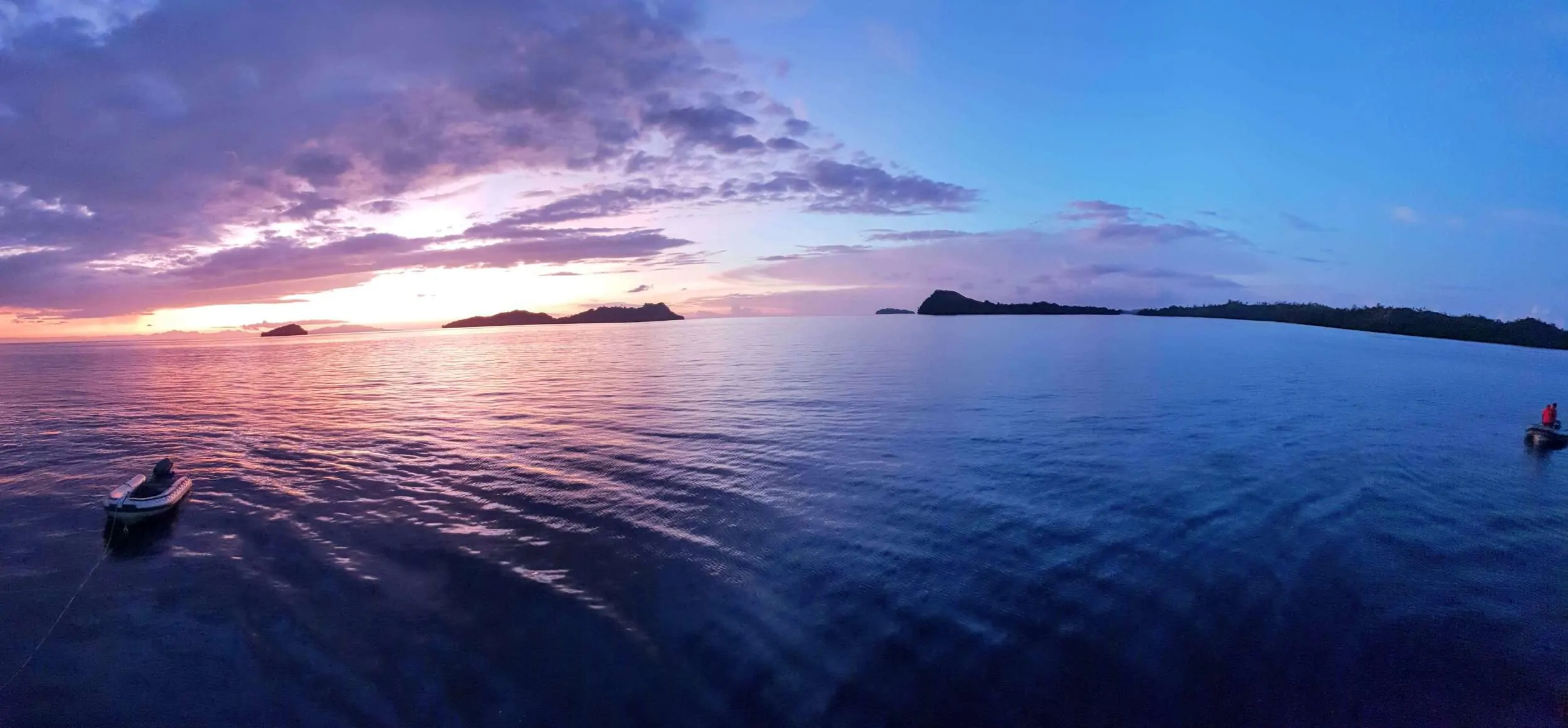 Are the Solomon Islands sinking?
A report published in 2016 concluded that 5 of the Solomon Island's outlying islands had been submerged by rising sea levels between 1947 and 2014, with a further 6 subject to receding shorelines requiring long-established villages to relocate.
When the report was initially published the outcry was such that man-made climate change was responsible for these rising sea waters and increased wave activity, however, the author quickly debunked this stating the Solomon Islands have been a hotspot for rising ocean levels due to climatic cycles and trade winds.
Regardless of the reasons, due to rising sea levels (and the various causes of the same), the Solomon Islands – like many low lying pacific islands – are sinking, and we as a society are doing little to help prepare these nations for what isexpected to happen in the years to come.
What is Solomon Island culture?
(this culture of the Solomon Islands section is taken from our guide to the People of the Solomon Islands)
About 95% of Pacific Islanders from the Solomon Islands identify as Melanesian; with smaller communities of Polynesian, Micronesian, Chinese and European people.

Also included in Melanesia (translated from Greek as the 'black islands') are Papua New Guinea, Fiji and Vanuatu along with New Caledonia (which is a territory of France) and Western New Guinea (a region of Indonesia).

More than 90% of Solomon Island people identify as Christians (as a result of the work of missionaries).

There are a variety of different Kastoms and Cultural differences throughout the Solomon Islands, which are often influenced by family, kinship and clan ties.
Kastom is a Pijin term derived from 'custom'. Throughout the Solomon Islands, kastom represents the idea of culture or traditional ways of doing things and together with the Wantok system, is central to village life and the way the society is organised.
Wantok literally means 'one talk', describing the way villagers feel a duty to those who speak the same language and why kinship and clan ties are strong in the Solomons
Chewing Betel Nut is a national past-time.
What is the History of the Solomon Islands?
The Solomon Islands are packed with rich history, and to visit is practically like stepping back in time. It is thought by some that ancient peoples may have arrived into parts of the Solomons from places far away as early as 25-30,000 BC, however islander stories – from various tribes – believe they originated from within the islands. However, what is known, through carbon dating, is that the earliest date of known human habitation has been put at 1300-1000BC following testing on remains that were found in a cave on Guadalcanal.
The first European to visit the islands was the Spanish navigator Álvaro de Mendaña de Neira, on a voyage from Peru in 1568. He named them The "Islands of Solomon", in the mistaken belief that this could be one of the locations in which King Solomon (the Israelite monarch) obtained gold for his temple in Jerusalem. He was followed by missionaries, traders and colonial administrators from Europe and Asia.
The United Kingdom declared a protectorate over the southern Solomons in response to the encroaching slave trade in June 1893; and in 1898 and 1899, more outlying islands were added to the protectorate. In 1900 the remainder of the archipelago, an area previously under German jurisdiction, was transferred to the British.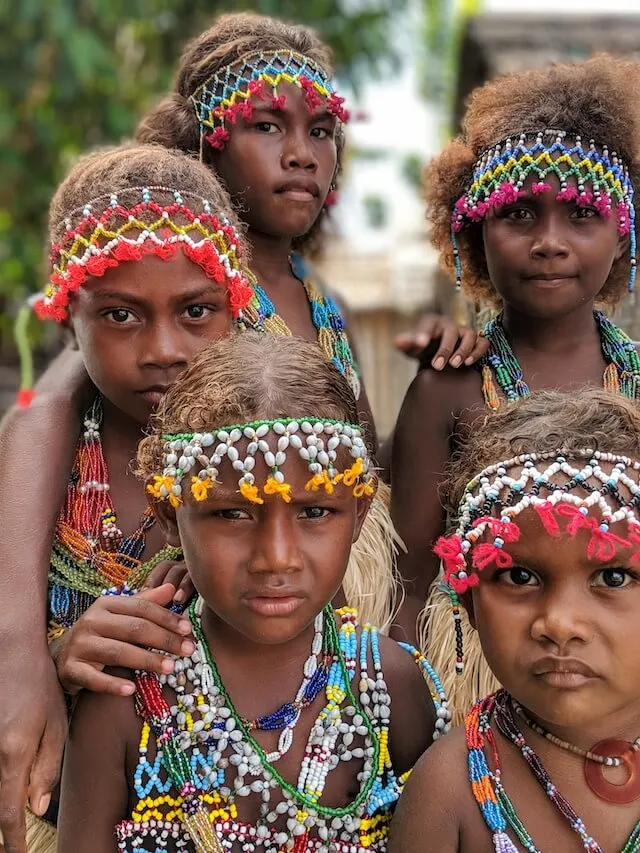 World War II had a significant and bloody impact on the Solomon Islands and was a site of intense fighting during the Pacific War between January 1942 and 21 August 1945. (A result of which is the number of unique wreck dive sites throughout the islands). The battles were fought primarily between the Americans and the Japanese, who believed that because of it's proximity to Australia, The Solomon Islands were a key vantage point.
The capital, Honiara, was created with the remnants of the infrastructure of war and a rise in Nationalism following WWII resulted in the end of colonial rule with the Islands gaining Independence from the British in 1978.
In 1998 tribal rivalries erupted in civil war and ethnic violence, which required the assistance of Australia, New Zealand and other Pacific Nations to negotiate peace. Assistance is still provided by those countries today but with a focus on sustainable development and community policing. Read more about the history of the Solomon Islands here.
What Should You Pack for the Solomons?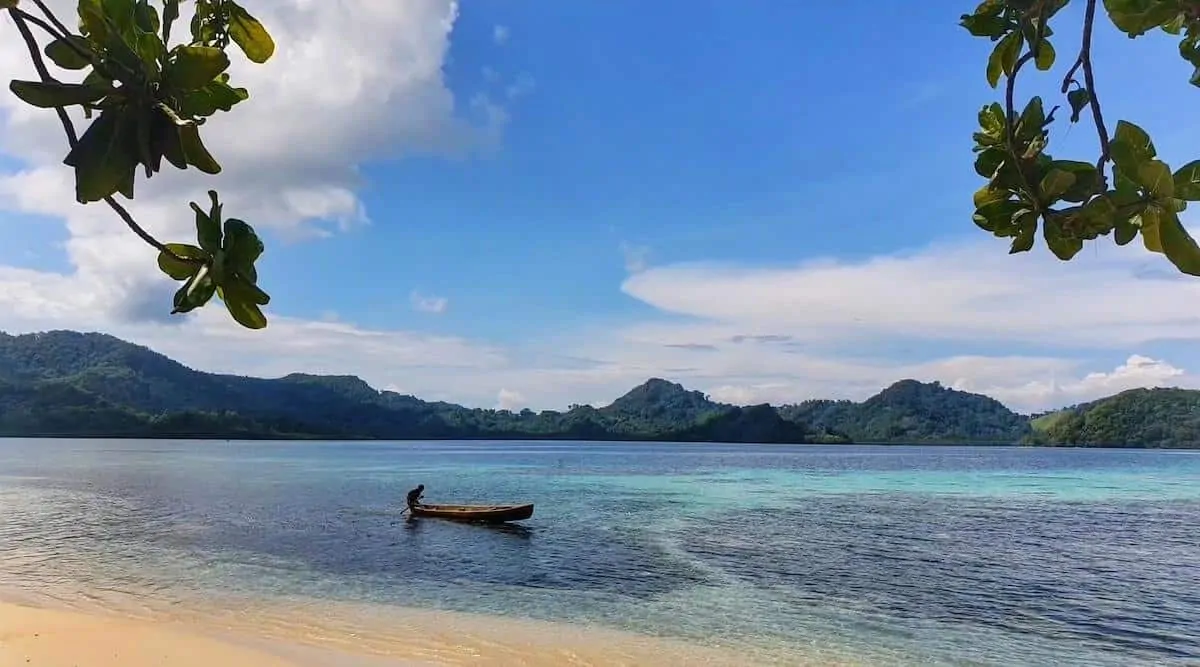 When trying to decide on a packing list for the Solomon Islands, I would recommend packing as you would for any tropical islands (like our Maldives Packing List for example) – bit have included a few key bits below:
GoPro (or another Underwater camera) & GoPro dome – the Solomon Islands are an underwater paradise, whether you scuba dive or snorkel, you're going to want to capture it in any way you can.
Swimwear & Cover-Ups
Reef Safe Sunscreen with a high SPF – the Solomon Islands have some of the most beautiful, untouched coral reefs in the world, along with an abundance of sea life – and we would like to keep it that way!
Antimalarials (as prescribed)
A Dry Bag – as it's highly likely some of your time in the Solomon Islands will be spent on, in, or near the water, a dry bag is a great way to make sure your electronics and other valuables stay dry.
Packable Rain Jacket – it's a tropical nation and showers can appear as quickly as they disappear and our guide to the best Packable Rain Jackets on the market can help you find the perfect waterproof for you.
And that's a wrap folks. I hope you have learned some fun Solomon Islands Facts and are fully prepared to visit this incredible island nation.

Oh, and if you liked this article, or know some people who would LOVE to go to the Solomon Islands (even if it's just you!) please share this article on Facebook, Twitter, Pinterest, or Flipboard – it would really help get the word out about this amazing place.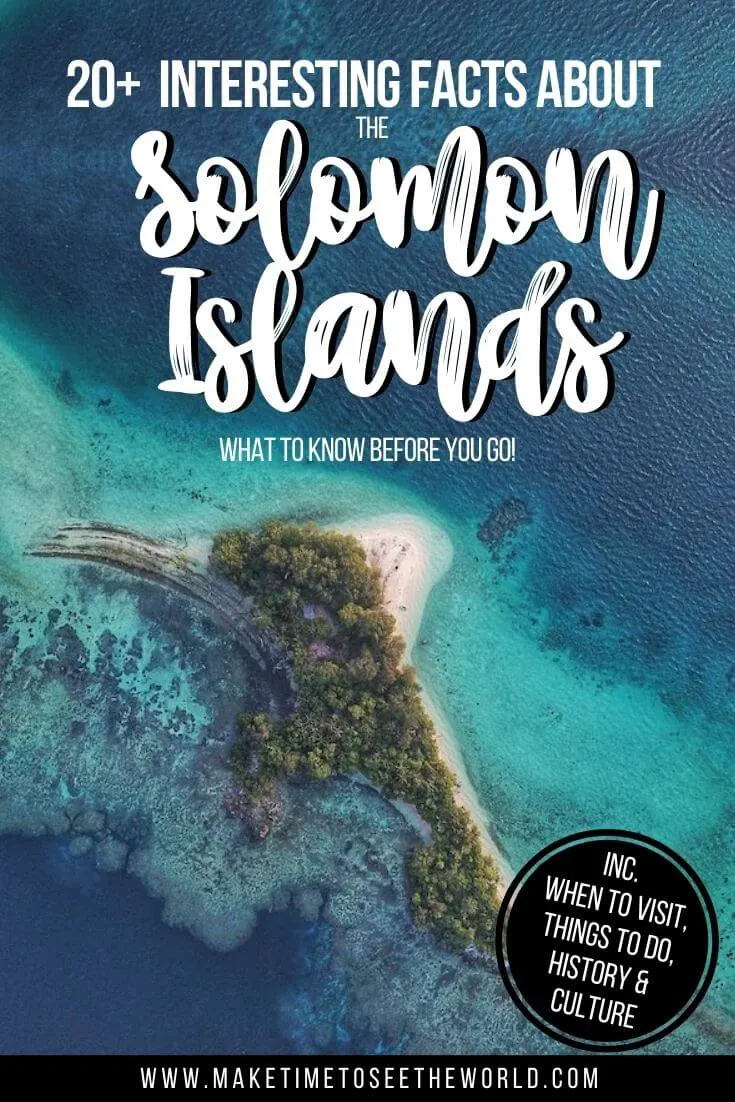 READY FOR MORE OCEANIA TRAVEL INSPIRATION? YOU MIGHT BE INTERESTED IN THESE TRAVEL TIPS, TRAVEL HACKS, TRAVEL ARTICLES, TRAVEL DESTINATIONS GUIDES, TRAVELER RESOURCES AND RELATED POSTS ABOUT OTHER BEAUTIFUL CITIES IN AUSTRALASIA TO HELP YOU EXPLORE AND TRAVEL THE WORLD:

Hi There! Thanks for reading our travel guide to the 20+ Interesting Facts About the Solomon Islands (To Know Before You Go) I just wanted to let you know that this post contains affiliate links, which means if you purchase something after clicking a link, I may get a small commission – which is at absolutely no cost to you. If you enjoyed this article and are going to be searching for some of the things I mention anyway, I would love it if you could click through from the links above & thank you in advance! Read my full Disclosure here.
And a huge Thank You for reading the MakeTimeToSeeTheWorld travel blog.