Australia, I love you. But you are so far away from everywhere else, which can make traveling to far away exotic locations expensive. And whilst no-one is denying there are lots of things to see, do and experience on the Australian mainland, being an island surrounded by water does have it's advantages and taking a cruise is becoming a favorite Aussie past-time – with P&O Comedy Cruises offering an intro-to-cruising like no other.
Accessible from major cities and between 2-5 days in duration, they are a great way to get out of Australia – without really leaving, and as floating resorts are truly "like no place on earth." Whether you are a comedy lover or you have simply been wondering what it's actually like to go on a cruise (or better yet, are a little bit of both), hopefully be the end of this post you'll be convinced to take a P&O Comedy Cruise as your next (and best!) short break from Australia.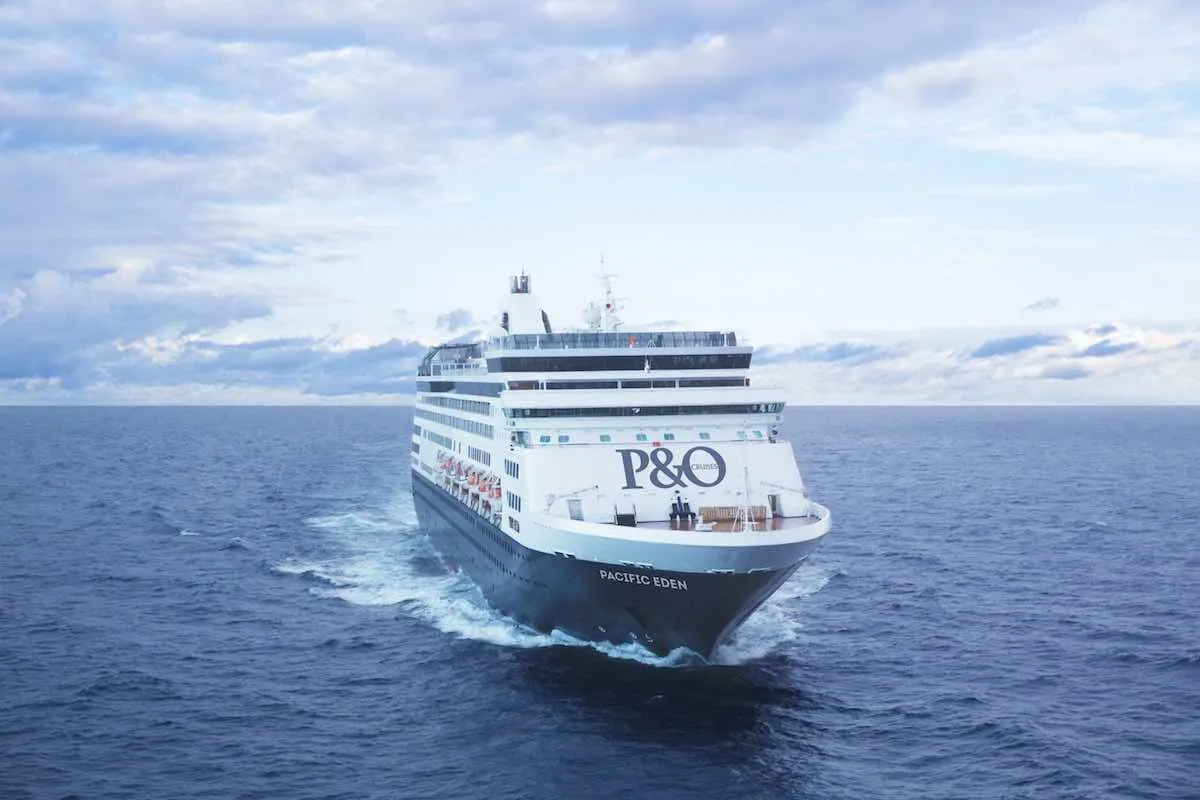 Disclaimer: I was a guest of P&O Cruise Lines on the Pacific Eden for their Comedy Cruise which departed from Melbourne, but all opinions (and the one not so glamorous experience listed below) are, as always, my own.
10 Reasons Why You Should Hop Onboard a P&O Comedy Cruise
It's the best short break from Australia (and NZ!)
If you've been looking for something different to a domestic city or spa break, and don't really fancy the long international flight out of the country, a cruise – and a comedy one at that – is a wonderful alternative. Leaving from various ports along Australia's East Coast (Melbourne, Sydney, Brisbane, Cairns + Auckland on New Zealand's North Island) P&O are bringing themed cruises to the masses and Aussies are jumping right on board. With 2-5 night cruises available, and a few different room options depending on your budget, it's easy to build the best short break from Australia to suit your needs. If you're a first time cruiser, we recommend an Ocean-view Room on one of the lower decks. You won't be spending much time in your room with so much to see and do on board, but it's still nice to have a view of the ocean. For those who prefer a bit more space and their exterior access, Balcony Rooms and Suites are available; and for those with a little bit of a tighter budget, interior rooms are more than adequate.
RELATED –
If this is your maiden voyage, have a read our our
Cruise Tips for First Timers
for lots and handy hings to get the most out of your cruise.
You'll Laugh So Much You'll Feel Like You've Done a Million Sit-Ups!
If you like stand up comedy, you'll love a Comedy Cruise. Typically hosting 5-8 top flight comedians (not your typical cruise ship comedian!) who perform various shows over the course of your cruise, if you want a giggle, you're in the right place. Daytime shows are family friendly and the Sit Down Comedy Club hosts adults only stand up shows after 10pm. With so many styles of comedy available there is something to tickle everyone's funny bone.
For aspiring comedians there is also a comedy workshop, and for the very brave among us – or just your mate that thinks he's hilarious – there is an opportunity to stand up and give it a go yourself. Each Comedy Cruise is host to a 'Gong Show' held in the main theater and all guest are encouraged to come and watch and where the booked comedians act as panel judges for 'acts'. Oftentimes the judges critiques are funnier than the actual comedy (but are never mean, it's not that kinda show) and you never know when you are going to see the next stand-up sensation. So even if it does comes with more cringe-worthy lines than belly laughs, it's a lot of fun.
ARE YOU ON BOARD? –
The Big Laugh Comedy Festival
is the headline event for the season. Departing and returning to Sydney aboard the Pacific Explorer with a shore excursion
s
to Moreton Island, all ships lead to here and it's something you don't want to miss. And with incredible standup comics lined up to perform 36 shows over 4 days, you're guaranteed to laugh more than you have ever done on a cruise before.
Book now to secure the best comedy cruise deal!
.
There is So. Much. Food. – and it's all amazing!
Foodies rejoice and get your tastebuds primed (by which I mean starve yourself for a couple days before your cruise!) as there are more restaurants, snack cabins and desert bars on board than you can waggle a fork at. All your meals are included in the ticket price (unless you would like to dine at one of the specialty restaurants – see below) and on a short cruise you are really going have to plan your meals military-operation-style to taste everything! But seriously, you won't go hungry.
I sailed on the Pacific Eden where there were multiple dining options to choose from (and whilst dining options are not identical on all ships or comedy cruises, they do all follow the same style and have the same inclusions):
The Pantry is the equivalent of a food court (but much nicer!) and has 8 different themed counters featuring different food styles around the world, which allows everyone in your group to eat exactly what they want – be it Italian, British, Asian, Mexican or Indian – just to name a few!
There are also 3 more formal restaurants – Angelo's (Italian), Dragon Lady (Pan Asian – and one of my favorites) which are both open nightly for dinner and The Waterfront (Modern Australian) which serves the three main meals throughout the day. The menu changes daily and serves a combination of traditional dishes, cutting edge cuisine – and has one of the best breakfast menus on board. Each of these restaurants accept bookings and walk in's but if you are wanting to make sure you don't miss out, you can book in your ideal dining time to avoid disappointment.
DON'T FORGET CRUISE INSURANCE –
I'm of the firm opinion if you can afford to travel you can afford travel insurance – and being on a cruise is no different. Most insurance providers don't automatically include 'cruise cover' but is often the case that you just need to tell them that you will be on ship and it can be added to your policy. If you don't have a regular insurer and want to see what the key differences are to include cruise cover, click here to compare
Cruise Insurance Policies
.
.
You Can Splash Out on an Incredible Specialty Dining Experience
For those who are looking for a little something extra – a celebration perhaps, or simply a one-off dining experience – The Chef's Table is a unique multi-course degustation feast – complete with paired wines – that is the creation of the on-board executive chef and the maître d. Served in an intimate private dining room and limited only by what ingredients the ship has on board, the chef creates an inspiring menu featuring flavors from around the world and showcases their best parts. And the wines – oh don't get me started. You may or may not know that I'm a wine lover (with the exception of rose!) and the perfectly matched wines throughout the meal were just divine – the perfect accompaniment. The Chef's Table was fantastic and something I highly recommend.
Other specialty dining options on board include The Salt Grill by Luke Mangan which serves lunch, afternoon tea and dinner for a moderate additional fee. Serving up dishes normally only available in Luke's brick and mortar venues on land, it's the perfect opportunity to indulge in some celebrity chef dining, at a fraction of the cost. Same great dishes at smaller prices? Who could resist.
And finally, a firm favorite with kids, adults (and party-goers!) is The Grill. Located on the pool deck and serving up crowd favorites such as pizza, burgers, pies and fries you can snack in the sunshine to your hearts content from 11am until really late and is where you should head for the typical takeaway option after a big night!
.
This is Plenty to Entertain the Kids (even the big ones!)
Each ship has it's own dedicated adventure deck where you can zip-line across the top of the boat (yes, really!), play giant chess, jump in the pool, relax in the hot tubs, challenge your friends to game of tennis or get a little 3 on 3 action going on on the basketball court – as just a few of the array of onboard activities. Add in a movie-theater, and the opportunity to 'walk the plank' off the edge of the ship (in a harness, obviously, 'man overboard' is not what you want to hear at any point!) and you've got enough to keep you busy for the whole time you are on the ship.
For the adults there is also an 'adults only' entertainment deck with it's own pool, army of sun loungers and, of course, obligatory island themed bar where the grown ups can go to chill out. And, as these comedy cruises to nowhere sail out into international waters there is a touch of Las Vegas on board with the opening of the casino and duty free shops.
.
You Can Pamper Yourself at the On-Board Spa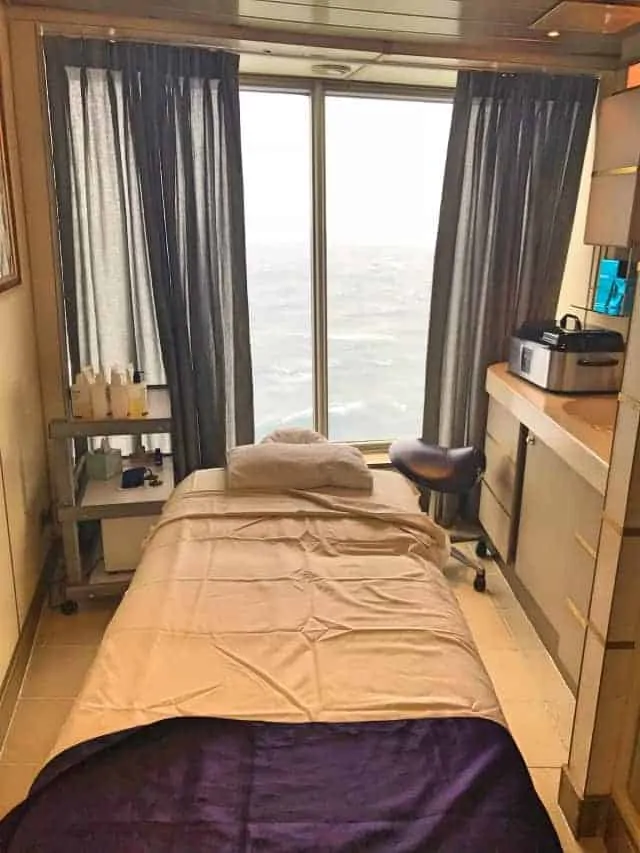 For the ultimate in pampering on board there is a beautiful spa where you can treat yourself to a massage, facial and various other indulgent treatments, conducted in beautiful surrounds by talented therapists. The spa is one of the most expensive things you can do on board, but if you fancy a splurge it is more than worth it. There is also a sauna and steam room on board too if you really want to detox from the night before.
.
It's Always A Short Walk Home After A Night Out!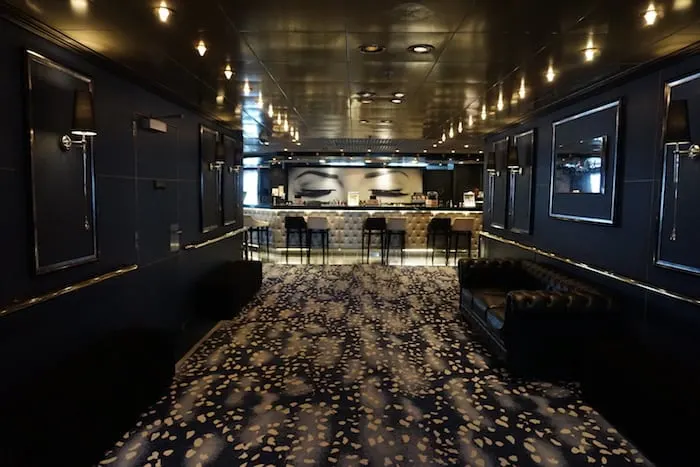 And there will be nights out. On board the ship there is a bar practically every 30 meters, each with a different style but all serving a variety of cocktails, beers, wines, spirits and soft drinks to suit your every need. There is even an onboard night club where you can dance the night away (with some very questionable music playing in the small hours – or so I was told! ;-) ) But you have been warned – the cruise cashless system – where everything is added to your bill with the swipe of your cruise card it's easy to understand how people can get carried away. (It's also how you get back into your room so most people wear them in a lanyard around their neck so they can't go missing – and you need to scan it to get off the ship so it's pretty important!) If you need to check your card balance at any time, there are automated machines located near to reception, but at the end of the day you are on holiday, so don't be afraid to enjoy yourself and be safe in the knowledge that your stateroom is never more than a few minutes walk away.
.
There Is No Dress Code – But there is Fancy Dress
You either love it or you hate it, but there are often a couple of fancy dress parties on board the cruise. They are entirely optional, but if you want to join in – and lots of people do – you be among friends. Popular dress up parties include the Bianco Party where everyone wears white – or simply something white (I think head-to-toe white for a lot of women is quite an intimidating prospect) and, always a winner – a 1920s themed Gatsby Party. Flapper dresses and feathers for the ladies and braces, fedoras and two-toned oxfords for the men make for one good looking ship! And all dress-ups are family friendly so it's great to see kids getting involved too.
Day to day, the dress code is pretty much whatever you want. Shoes and shirts are required in all dining establishments so nothing ever gets too loose and evening times are mostly smart casual – but if you want to wear your sundress all day and dance the night away in it too, no-one will bat en eye either. A P&O Comedy Cruise is all about giving you a short escapist break and wearing whatever you feel comfortable in is part of that.
.
They Have Sea-sickness Tablets Available (+ they are the good ones!)
This one is crucial. The nature of the ocean is that she is unpredictable – you may set off with clear skies and seas as flat as a pancake but things can change quite quickly. Obviously, your captain will do the absolute most to try and avoid any potential inclement weather but sometimes this simply can't be helped.
Case in point on my cruise, we took a look at the map of the cruise route and it showed the boat doing the equivalent of handbrake turns to avoid the worst of the weather. It can be bumpy, and the constant 'movement' can threaten to put a dampener on your cruise – but the ship does have the good drugs. I mean, nobody wants to be on board with a ship full of sick people – or for such an uncontrollable factor to ruin someone's holiday – and so the tablets they have available are some of the best on the market.
If you are susceptible to sea-sickness I recommend packing your favorite brand of sea-sickness tablets, but it it appears out of the blue and completely unexpected and you don't have a stash – the ship will provide.
**Insider Tip** If you are feeling a queasy – and it's not just the fault of the drinking the night before(!) – the crew recommend eating green apples, ginger (ginger beer counts too) and to avoid lots of water on an empty stomach. Sounds counter-intuitive, but lots of water swirling round in your stomach on a moving boat is a sure fire way to set a up a cuddle date with the toilet bowl. I found out this fun fact two hours too late. (And that is graphic honesty because I don't want it to happen to you too)
.
It's a Great 'Taster' Cruise
For those who have never done a cruise – or are convinced that it's for an 'older' clientele – think again. P&O Cruise Lines have spearheaded a shake-up of the cruise industry and the Comedy Cruises are fast becoming an Australian Institution, not to mention a new favorite cruise among long-time cruise fans. Welcoming people of all ages, families, friends and groups – they have hit home that a cruise is for everyone; and with short cruises departing from Sydney, Melbourne, Brisbane and Cairns, they're a great way for Aussie travelers to give cruise travel a try without having to commit to an extended time at sea.
RELATED: Want to spread your cruise wings
– check out this Baltic Cruise to Scandinavia & Russia!
And that's a wrap folks I hope my Top 10 Reasons To Hop On Board a P&O Comedy Cruise has convinced you to do just that!
And if you don't mind sharing the love, a tweet, stumble, or Facebook share would be much appreciated! Happy Travels and I hope to see you all on board a The Big Laugh Comedy Festival later in the year!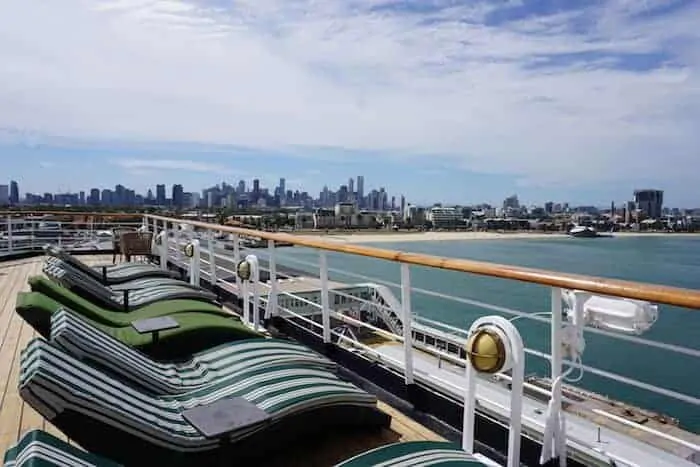 READY FOR MORE TRAVEL INSPIRATION? YOU MIGHT BE INTERESTED IN THESE ARTICLES
Hi There! Thanks for reading our post about the P&O Comedy Cruise: The Best Short Break From Australia! I just wanted to let you know that this post may contain affiliate links, which means if you purchase something after clicking a link, I may get a small commission – which is at absolutely no cost to you. If you enjoyed this article and are going to be searching for some of the things I mention anyway, I would love it if you could click through from the links above & thank you in advance! Read my full Disclosure here.