If you're ready to plan your dream Maldives Vacation, a Maldives Honeymoon or even a trip to the Maldives on a budget – then you are in the right place!
Over the past few years (let's all ignore 2020) I have visited the Maldives 3 different times and stayed in many of the incredible resorts featured in this guide.
On my first visit, I was surprised to find out that it wasn't as expensive as I had initially imagined, but there were a few hints and tips that would have helped with the planning – and so why I have put together this complete guide to planning the perfect Maldives Vacation.
With overwater bungalows attached to almost every resort island and some the bluest waters you're ever likely to see, it is truly a paradise. I once thought the Maldives were reserved only for the honeymooners and the super-rich, and whilst we can never describe the Maldives as a 'cheap' destination, this post will show you that there a range of flight, transfer and resort options to suit every budget.
A Maldives trip was a #travelgoal of mine and one that I would love to help all of you reach. Keep reading for my ultimate guide to how to plan a Maldives vacation on any budget! (that'll be a holiday to the Maldives on a budget for the Brits and Aussies amongst you!)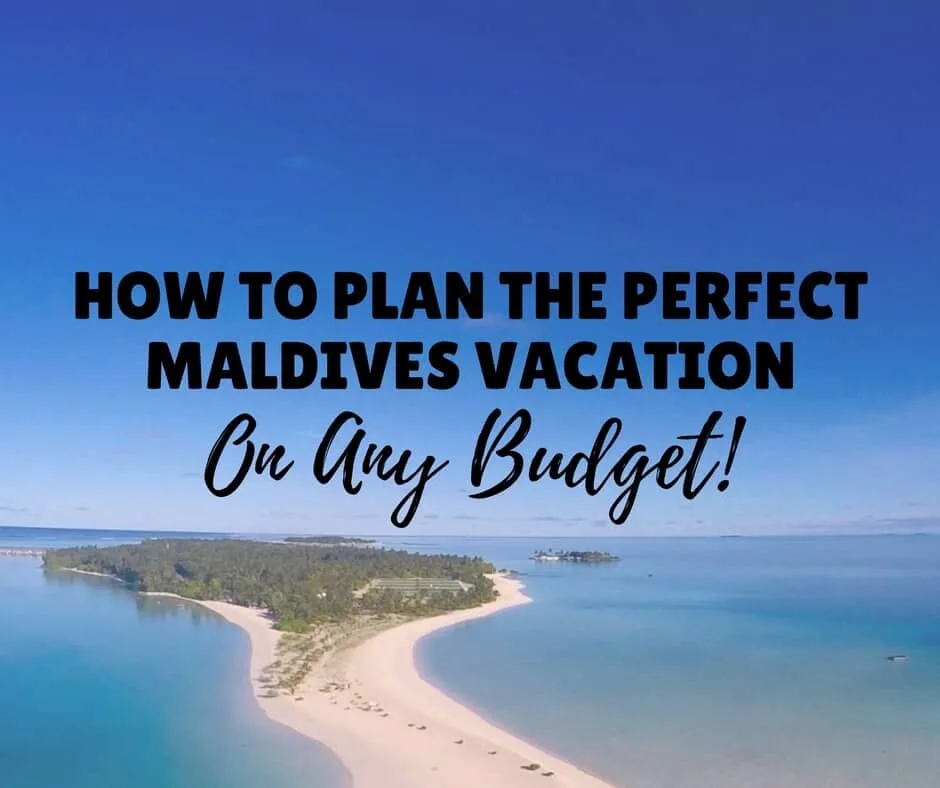 Disclaimer: Almost all posts on this site contain Affiliate links, and this post about How to Plan the Perfect Maldives Vacation – whatever your budget is no different. This means that if you click on any of the links in this post (and make a purchase) I may receive a small commission at absolutely no cost to you. Each post is carefully crafted to (hopefully!) answer all your questions and recommendations are made where we believe they will improve your trip and help with your planning. As such we thank you in advance should you decide to click & buy. Read my full Disclosure here.
Dependent on your budget, there are two ways that you can tick a holiday in the Maldives off your bucket list: the traditional resort route; or the backpacker-Esque local island route.
I'm all for saving money but wholeheartedly believe that if you want the full Maldives All-Inclusive Luxury Resort experience – you need to be prepared to spend a bit of money and there is no better place to splurge than in the Maldives.
But I know this may simply not be possible for everyone and so I've also got sections specifically related to traveling to the Maldives on a budget. Use the table of content below to get to the content that is most helpful to you!
.
Planning your Maldives Vacation: The Basics
How Much Do Flights To The Maldives Cost?
Your initial, and probably your second biggest expense – depending on your airline choice – will be booking your Maldives flights to get yourself to the Maldivian capital of Male.
However – with more and more budget islands adding the Maldives to their flight route, it may not be as expensive as you would think!
And as we're all about equal ops when inspiring you to head off on that dream vacation, we have included options and prices from the USA, UK, and Australia.
The journey time from each of these countries start at around the 24 marks, once you include airport, flights, and transfer times – but, oh my, it is so worth it when you get there!
And psst. if you're traveling from Asia prices get even cheaper! With flying times of 2-4 hours, flights can cost as little as $150 return from the airport such as Kuala Lumpur and Sri Lanka!

Cheap Flights from the USA to Male
Cheap flights from the USA to Male are as low as $1,150USD return and fly out of major international hubs such as Boston, New York, Las Vegas, Washington & LA rising the $1,500USD return from Chicago, San Fransisco and Atlanta. Check Skyscanner for the best travel deals available when you want to fly.
TRAVEL TIP –
Download the
FREE SkyScanner App
and have cheap flights at your fingertips whenever you want to take to the skies!
Cheap Flights from The UK to Male
Return flights from the UKs two major international hubs of Manchester or London can come in at as little as £450 return, rising to £750 return from the slightly smaller airports of Glasgow, Edinburgh, and Newcastle. Check Skyscanner for the best deals available when you want to fly.
Cheap Flights from Australia to Male
Return Flights from Perth can be as low as $500AUD return, rising to $700AUD return from Sydney, the Gold Coast, and Melbourne.
Whilst I have always been a Skyscanner girl, since moving to Australia, Momondo has been giving me great results – hop on over to their site to find the best deals for when you want to fly. Cheap flights are also available from Sri Lanka.
.
Visa Requirements for your Maldives Vacation

In order to enter the Maldives, all passports should be machine-readable and have no less than 6 months of time prior to expiration.
No pre-arranged visa is required, with all Nationalities being awarded a visa on arrival (VOA) for a period of 30 days. It is however recommended that you carry proof of your resort reservation and return flight details when passing through immigration.
Whilst the VOA is a predominantly stable system, it is always a good idea to check the current situation with your government agency prior to travel.
Click for the latest government travel advisories from the USA, UK, and Australia.
.
When Is The Best Time To Visit The Maldives?
Weather-wise – with a practically constant 29-31 Degrees Celsius (80F) all year round – any month is a good month to visit the Maldives!
However, the price of the resorts does fluctuate with the seasons. The dry season – November to April – is more expensive than the wet season of May to October and the most expensive months fall between December and March.
However don't be put off by the 'wet' season – it really isn't all that wet! At the least, you may experience short showers that last less than an hour – or at most – a full-blown day/night long storm (which is pretty cool to watch).
But if one of these storms happened on more than one day of your stay, you would be super unlucky! And if you're a scuba diver – it's all the same when you're underwater, right?!
*Insider Tip* To get the best deal on a Maldives trip, either book travel dates in the wet season really really early (like 12 months out early!) – or brave it and book within 6 weeks of travel.
As departure time approaches, resorts – even the top end luxury ones – drop their prices to maximize occupancy levels.
If you're ready to drop everything and go within the next few weeks there are some incredible flight + hotel Maldives vacation packages at Expedia available – click through now to see if you can book a Maldives vacation of a lifetime for a rock bottom budget price!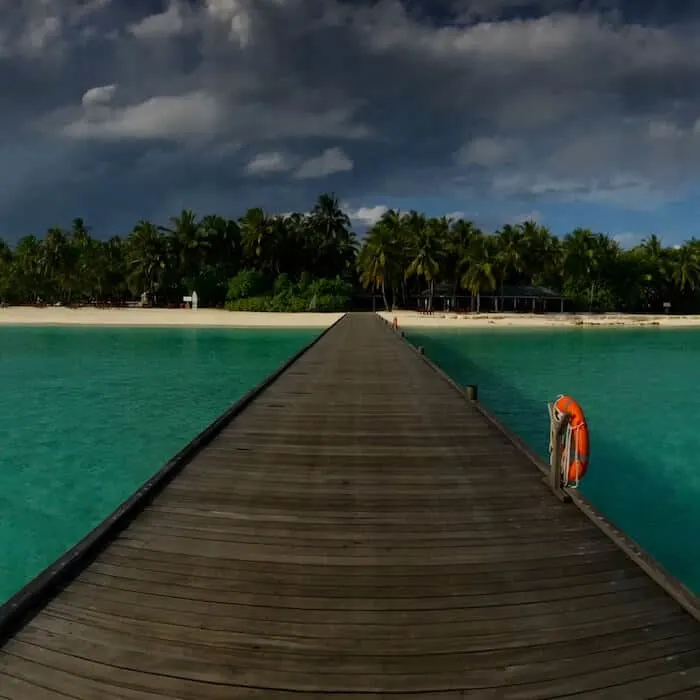 .
The Best Time To Visit The Maldives for Whale Sharks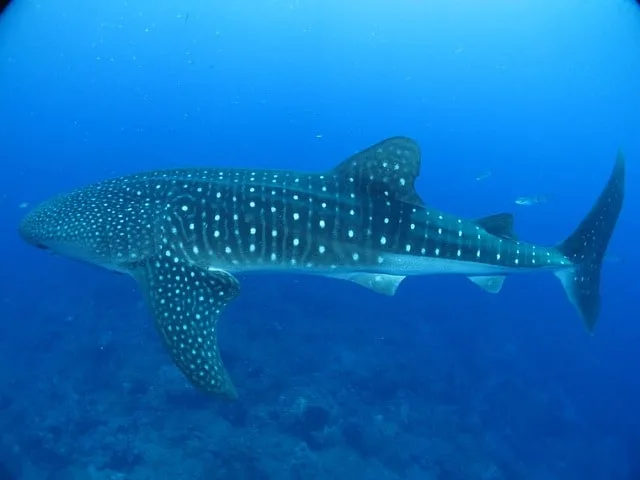 Whale Sharks are year-round residents to the Maldives (yay!) – however, that doesn't mean you are guaranteed a sighting.
The Maldives – and in particular – the South Ari Atoll – is a great dive site where male juvenile/teenage whale sharks spend a few of their formative years before moving on, and sharks as long as 10 meters have been sighted in the area. Read more about Scuba Diving with Whale Sharks and other male fish.
.
The Best Time To Visit The Maldives for Manta Rays
Manta Rays are also year-round residents of the Maldives, however, they migrate around the area in line with the two seasons: December – April, they can be found on the Eastern side of the archipelago. May – November they are more likely to be found on the Western side.
Almost all resorts in the Maldives offer both scuba diving and snorkeling trips (as an optional extra) with both Whale Sharks and Manta Rays giving everyone a magical opportunity to get a closer look at these incredible creatures.
And even if you don't spot them, there is an abundance of sea-life on display in the Maldives including turtles, dolphins, reef sharks and beautiful coral.
Internet (Wifi) Availability in the Maldives
If it is imperative that you have internet access whilst on holiday in the Maldives, there are a few options available to you. A lot of resorts will offer free WiFi in public areas, but not all offer blanket coverage of the island or in the hotel rooms/villas.
If you know you need guaranteed access to the web, I recommend purchasing a sim card from one of the two mobile network shops at the airport in Male. (Turn right out of arrivals and the shops are on your right as you walk towards the domestic terminal). There are 2 mobile networks – Dhiraagu and Ooredoo that offer coverage on the islands.
I opted for Dhiraagu where I purchased a $30USD+$2 gvmt fee sim card which was valid for 14 days and gave me 15GB of data. (If you only require 7 days validity, a sim card with 15GB data will set you back $20USD+$2 gvmt fee – although these deals are subject to change at any time) I had access to the internet everywhere on the islands and even out on the boat excursions – which was totally unexpected for the remoteness of the region!
Packing for Your Maldives Vacation: What To Wear In The Maldives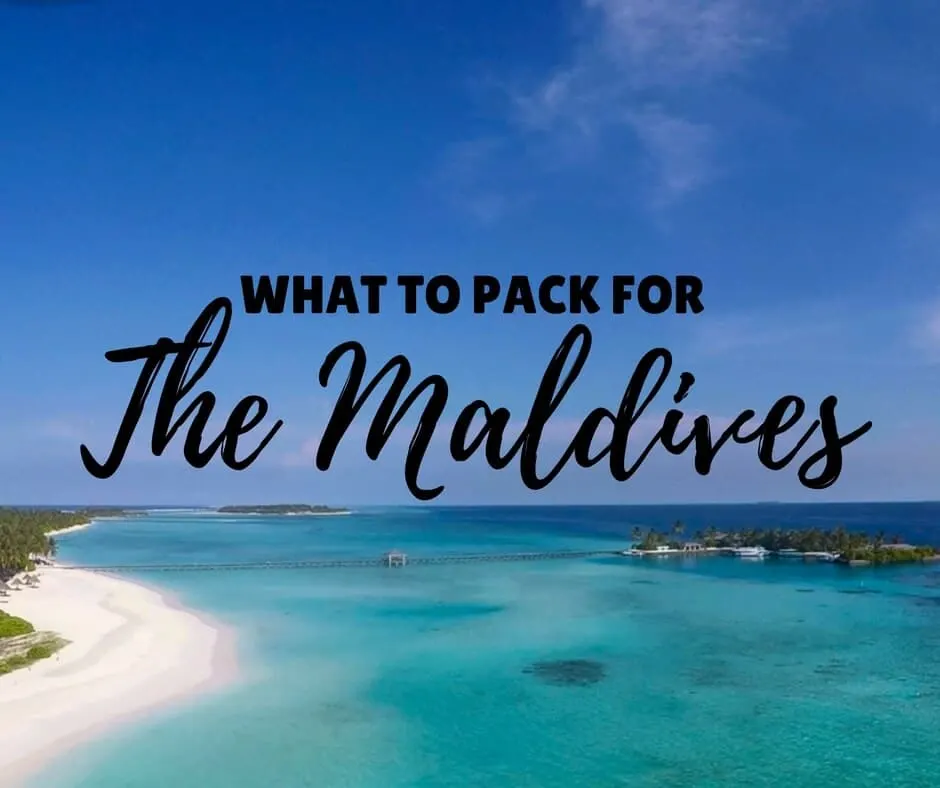 With pleasant, warm temperatures all year round think light and flowing fabrics. For the ladies, swimwear, beach cover-ups, maxi dresses, and skirts; for the gents: boardies, smart shorts, simple t-shirts, and collared shirts.
Dependent on your resort, shoes may or may not be required, but flip flops, sandals, and Toms will be sufficient for both men and women.
And ladies, if you simply can't travel without a pair of heels, wedges would be the best option. There is absolutely no need for high heels in the Maldives!
Check out my Maldives Packing List to make sure you have all the essentials!
4 Maldives Essentials (That you absolutely must pack)
A

UK 3 pin adapter plug

(if you're not from the UK)
Sun Cream – whilst it is available in the Maldives, it may be expensive in resort
US Dollars – in resort you'll charge everything to your room which can then be paid by credit card, but it is handy having small notes to tip service staff if so inclined. It is soo nice to have to carry physical money though!

Snorkeling gear

– some resorts change $20USD per day to rent it!
.
.
Important Maldives Vacation Logistics:
How To Get To Your Resort from Male Airport
One of the things that people often don't realise when they book a Maldives Vacation is that once you land in Male, you need a further internal domestic flight, speedboat or seaplane transfer – depending on where your resort is located – to get you out to your island paradise.
Most resorts will assist you in booking these transfers and for some, it may be included in the price. But it's nice to know what options are available.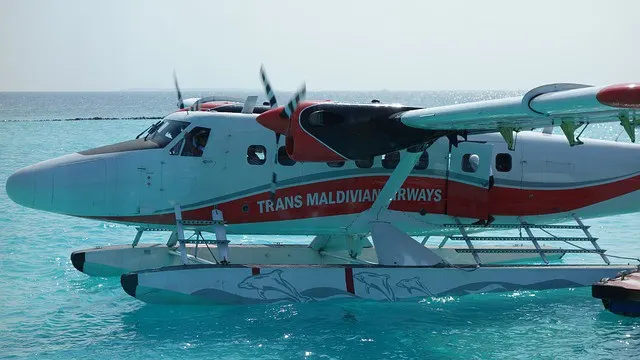 via Domestic Flight
Domestic flights are operated by FlyMe, Manta Air, and Maldivian Air and are often arranged through your resort. They are a great option when your resort is not accessible by speedboat and you don't want the expense of a SeaPlane.
They are also able to fly after sunset (last departures around 11.30 pm) so if your international flight arrives late in the evening, you can still get to resort the same day. Prices range from $110-300USD per person dependent on distance to travel.
If arriving by domestic flight, a short speedboat transfer to your resort will be required, and this is often included in the transfer fee.
*Insider Tip* – Internal flights often have smaller checked baggage weight allowances than international flights (think max 20kg) but more importantly, the domestic planes are often much smaller and are unable to accept wheeled hand luggage cases into the cabin.
This means that whilst you may have happily wheeled your case through 3 international airports before arrival, but to get to your final resort, you may have to pay an excess baggage fee for it to go in the hold (or nose of the plane!). Our recommendation: Be sure your hand luggage is in a soft bag/holdall (and not a hard shell wheelie case)
via Speed Boat
A speedboat is the traditional way of getting to resort but is only available for those located relatively close to Male International Airport.
These resorts are an attractive option for those that just want to get to their island paradise hotel room after a long journey, with transfer times as low as 15 minutes in some cases!
The jetty is located just a short 5-minute stroll from the International arrivals hall, is able to operate 24 hours a day and transfers are priced between $25-80USD per person dependent on the distance to be traveled.
via Sea Plane
The ultimate in Maldivian luxury is to arrive at your resort by SeaPlane and come with the price tag of anything up to $250-450USD per person dependent on the distance to fly.
They are only able to operate during daylight hours, so dependent on the time of your international arrival, it may not be the transfer option for you.
However, if you've got your heart set on a SeaPlane arrival, there are a few reasonably priced hotels close to the airport (Hotel Ocean Grand or Airport Beach Hotel) – however, be wary of the designated airport hotel, it is very expensive for a single night stay, which if you are trying to keep costs down may be an unjustifiable expense. (And I say that because I would never pay upwards of $450 for an airport hotel..)
The Best Maldives Resorts for Every Budget
With hundreds of luxury resorts – practically everything is rated 4.5-5* – it can be a bit overwhelming when it comes to deciding where to go.
You can get lost for hours staring at beautiful clear waters and over-water bungalows (or at least, I can!), so we've decided to pull together the resorts that are consistently rated at the places to visit – and listed them by nightly rate.
These rates are advertised as rack rates – which may seem expensive, but each regularly has last minute specials as low as 30% of the advertised price.
The last minute (within 6 weeks) booking is by far the cheapest way to book a luxury resort holiday in the Maldives!.
Top Resorts in the Maldives priced $1000-$1500USD per night
Gili Lankanfushi
View this post on Instagram
Voted the Best Hotel in the Maldives (and one of the Top 5 most Luxurious Resorts in the World) as part of Trip Advisors Travelers Choice Awards, it is an incredible island sanctuary located just a 20 minute speedboat ride from the International Airport.
Offering only Over-water villas as room options, the entry-level villas are huge with direct lagoon access; the Crusoe Residences are bigger again, and can only be reached by boat – and, the ultimate in private luxury – a HUGE 4 bedroom overwater villa standing along 500m from the main resort.
It is the largest overwater villa in the world and has its own spa, gym, cinema, the dedicated service of 2 Mr. Fridays and is the only villa to have its own swimming pool and water slide. It's not cheap, but if you are looking for a once-in-a-lifetime type of experience, it is the only choice!
Read my Full review of Gili Lankanfishi here.
Price per night: from $1500 (approx)
Book Now | Compare Prices for Later | Read Trip Advisor Reviews
Pullman Maldives Maamutaa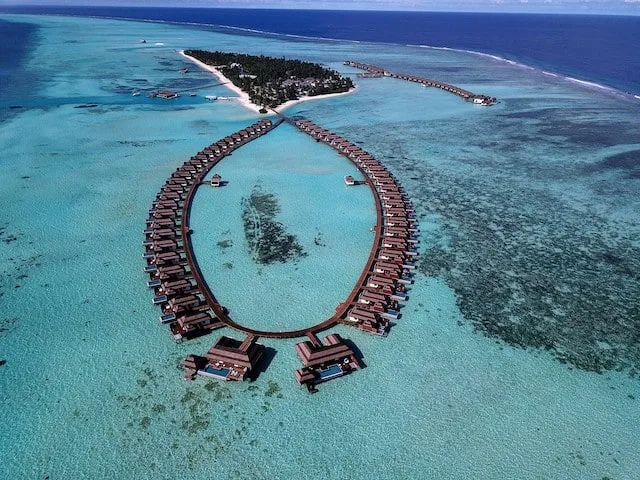 Just WOW! The brand new (opened late 2019) Pullman Maldives Maamutaa is one of the most incredible places I have ever stayed in my life.
The whopping 18-hectare island is home to 122 guest villas which can be overwater, beachside and even underwater!
Each room is beautifully designed and offers practically complete privacy and with the range of facilities on the island (spa, dive shop, water-sports center, gym, tennis court, kids zones + a variety of available excursions, it has the perfect balance of relaxation and adventure.
Add in some amazing bar and restaurant offerings (including the amazing Vegan & Vegetarian restaurant, Phat Chameleon!) – and the fact that the whole island is sold on an All-inclusive basis, you can eat, drink, relax and explore to your heart's content without worrying about a shock bill at the end.
Simply perfection, and well worth the money.
Price per night: $1500 (approx)
Book Now | Compare Prices for Later | Read Trip Advisor Reviews
Baros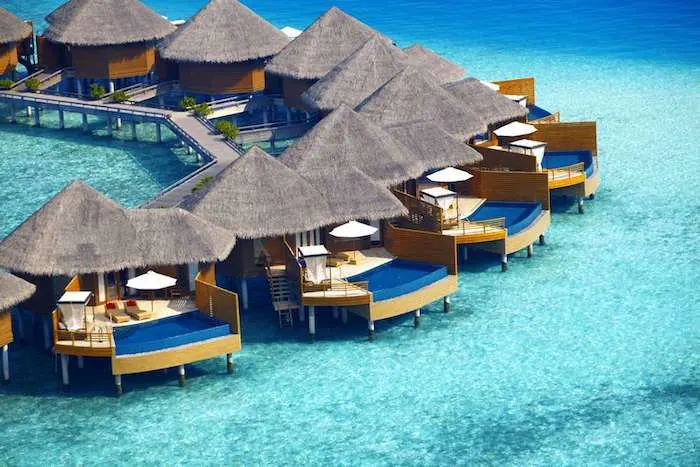 Baros Maldives luxury hotel resort is a small coral island in the Indian Ocean ringed by a sandy beach and a living house-reef, just 25 minutes by speedboat from Maldives International Airport.
It's one of the top resorts in Maldives and is a small leading luxury hotel Maldives resort. Baros offers a choice of tastefully-designed Beach and Water Villas, perfect for that romantic getaway.
Beach Villas of classic elegance, set in lush vegetation and secluded Water Villas offer the ultimate in privacy and many have their own private pools. Baros Maldives is one of the most romantic resorts on the planet and the perfect destination for a Maldives honeymoon.
Inspired by Maldivian traditions of heartfelt hospitality, Baros luxury hotel Maldives is a tropical island dream come true, with fine cuisine, a garden Spa, a gym, an overwater swimming pool, a variety of excursions and underwater experiences.
Price per night: $1200 (approx) but as low as $600 per night on offer
Book Now | Compare Prices for Later | Read Trip Advisor Reviews
.
Six Senses Laamu

Six Senses Laamu is the only resort in the Laamu Atoll, deep in the Indian Ocean. Just an inter-island plane trip from Malé International Airport and a short boat ride brings you to a place where dolphins swim.
The luxury Maldives resort is a combination of on-land and over-water villas constructed of sustainable materials and set around the palm-fringed paradise.
At several lounges and restaurants, our chefs from East and West prepare mouthwatering dishes, many created from produce grown in the island's organic gardens.
Price per night: $1000 (approx) but as low as $400 per night on offer
Book Now | Compare Prices for Later | Read Trip Advisor Reviews
.
Taj Exotica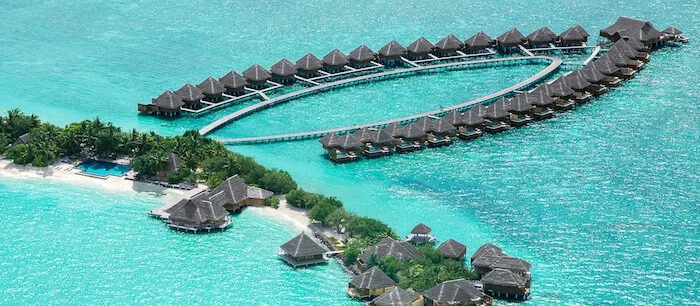 Renowned for its rich flora and fauna, this tropical isle, also known as the Three Coconut Isle, is situated amidst the coral reefs and is easy to the top resorts in the Maldives.
A 15-minute speedboat ride from the airport brings you to the idyllic resort surrounded by the azure waters of the Indian Ocean.
Set delicately over the lagoon, this postcard-perfect getaway offers 64 sea-view villas and suites that are luxurious and lavish; yet maintain a fine balance with nature.
Our world-famous, award-winning presidential suite is, arguably, the most beautiful place on earth.
At Taj Exotica Maldives, you are on Taj Time, where doing nothing is an art form. Time stands still—and yet there is never a dull moment.
Within this oasis of calm set in paradise, lounge by the infinity pool or at your private beach, laze in a hammock over the blue waters and just lay below the stars at night. Pure bliss – and why it is a top booked resort.
Price per night: $1300 (approx) but as low as $500 per night on offer
Book Now | Compare Prices for Later | Read Trip Advisor Reviews
.
Best Maldives Resorts priced $500-$1000USD per night
Lux South Ari Atoll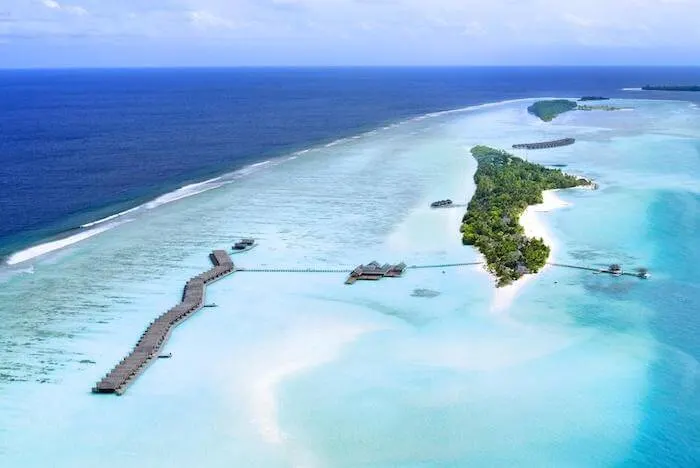 Whether seeking a peaceful hideaway or active adventure, the picture-perfect island of Dhidhoofinolhu is home to LUX* South Ari Atoll, a luxury Maldives hotel where your fantasy of a laid-back, desert island paradise is about to come true.
A real villa resort, you'll discover 193 private villas dotted at the water's edge along two miles of powder-fine beaches and perched on stilts above a crystal lagoon.
On land or above water, sunset facing or sunrise, these super spacious rooms and suites bring an entirely original vibe of coastal, beach house chic to the Maldives.
Price per night: $900 (approx) but as low as $300 per night on offer
Book Now | Compare Prices for Later | Read Trip Advisor Reviews
.
COMO Cocoa Island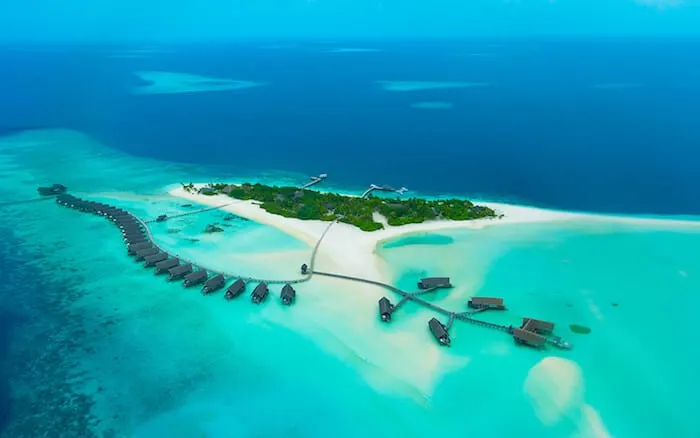 COMO Cocoa Island is an intimate private Maldives island water villa resort with 33 overwater suites allowing you to slip right into the turquoise lagoon to explore an exceptional house reef.
It's like being on your own private island hideaway! Encircled with powder white sand, the carefree, understated luxury experience includes holistic wellness treatments at COMO Shambhala Retreat, South Indian-influenced cuisine and world-class diving.
It will be a Maldives vacation package like no other and full of Maldives luxury!
The style and design of our 33 overwater suites and villas are like that of no other luxury resort in the Maldives.
Uniquely inspired by dhoni boats—the gently curving wooden vessels used by local fishermen—COMO Cocoa Island's rooms arc out from the island itself.
Simple wooden walkways built above the shallow lagoon connect them, forming a sinuous boardwalk pathway.
Price per night: $900 (approx) but as low as $350 per night on offer
Book Now | Compare Prices for Later | Read Trip Advisor Reviews
.
Velassaru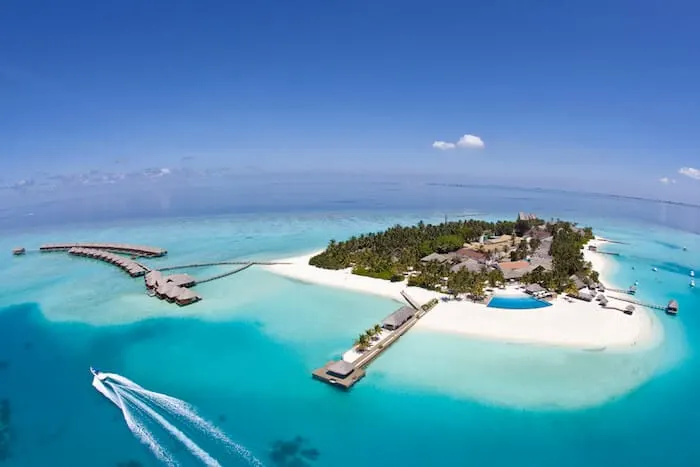 Velassaru Maldives is a true beach resort and offers luxurious beachfront and overwater accommodation with uninterrupted ocean views.
It features a wide range of water and adventure sports, as well as sunset cruises and yoga classes. No wonder it is one of the top booked Maldives resorts!
Guests can enjoy relaxing spa treatments in overwater pavilions, or hop on a Maldivian boat and watch the crew demonstrate traditional fishing methods.
Resort facilities include a fitness centre, tennis court, and a library.
Price per night: $750 (approx) but as low as $200 per night on offer
Book Now | Compare Prices for Later | Read Trip Advisor Reviews
..
Best Maldives Resorts priced $200-500USD per night
Kurumba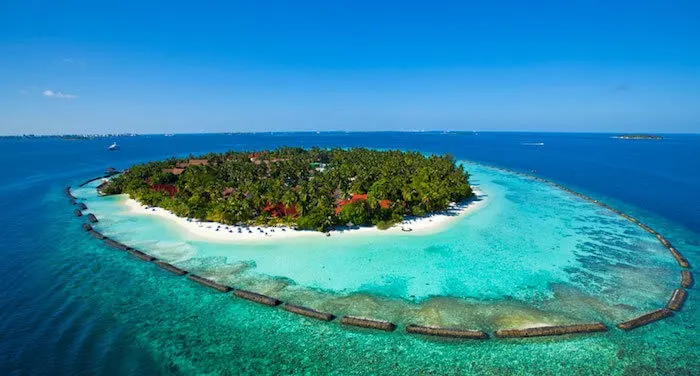 On a tropical private island in North Male Atoll, Kurumba Maldives features beautiful white sand beaches and scenic coconut trees.
It is just 10 minutes by speedboat from the airport with boat transfers available 24 hours a day.
It offers free WiFi in all rooms, 8 restaurants, and 3 bars, but, as it was one of the first official resorts in the Maldives, and water bungalows were not all the rage at the time, it currently does not offer any as an accommodation option. A great Maldives hotel.
The resort has 2 outdoor freshwater pools, 3 tennis courts, and a fitness center. Offering a wide range of treatments, Veli Spa proposes the unique Dhivehi Beys treatments, as well as both modern and traditional treatments.
Island-hopping tours and fishing trips are available, as well as customized excursions.
Price per night: $480 (approx) but as low as $150 per night on offer
Book Now | Compare Prices for Later | Read Trip Advisor Reviews
Sun Island Resort and Spa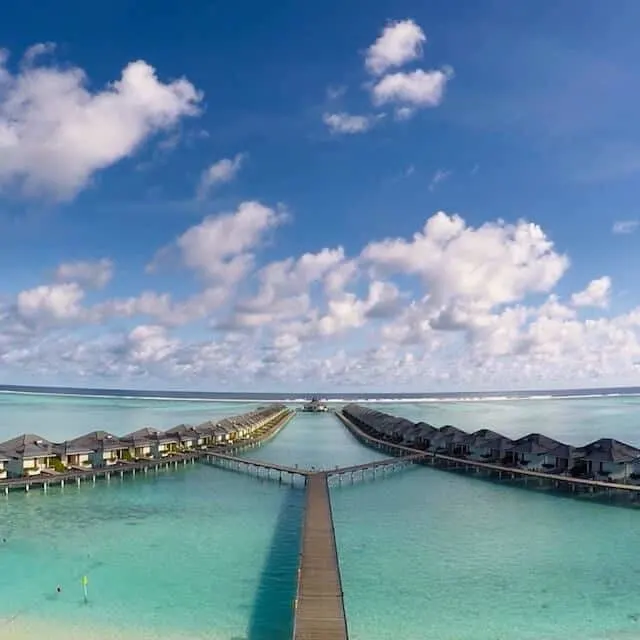 Sun Island Resort and Spa is a 4* resort located in the South Ari Atoll and boasts those day-dream worthy Over Water Bungalows that I just know are on your bucket list! With 462 rooms, 5 restaurants, multiple bars, a world-class dive center, its own house coral reef and an award-winning spa on the island, there is plenty for guests to see and do during their stay.
Accessed by a domestic flight + short speedboat ride, it is one of the best places to stay on a scuba diving trip is close to the famous Whale Shark point and in close proximity to where the Manta's hang out.
Whilst not offering the luxury of the top hotels in this section, the island is clean, villa size is ample, and the range of activities is unrivaled. For the price, its a winner for those on a restricted budget that still want the complete resort experience.
Price per night: $250 (approx) but as low as $100 per night on offer
Book Now | Compare Prices for Later | Read Trip Advisor Reviews
.
Vilamendhoo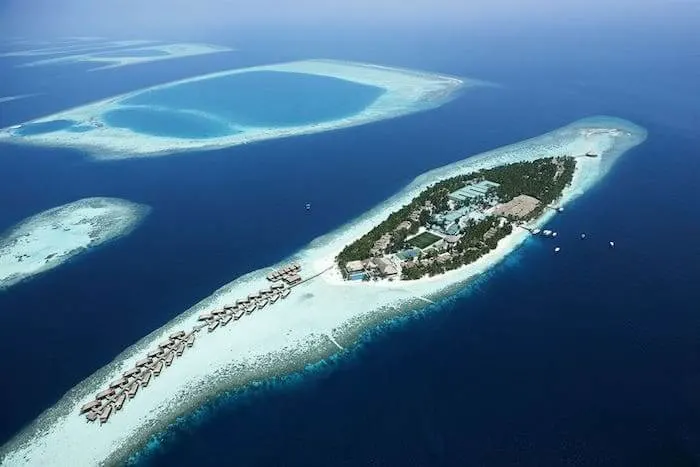 Vilamendhoo, formerly one of the uninhabited islands of Alif Dhaal Atoll of the Maldives, has been developed into a 184 room 4 star plus resort, called Vilamendhoo Island Resort & Spa
The resort is surrounded by a beautiful lagoon, an excellent house reef and long stretches of white, sandy beach, is the only Resort of Vilamendhoo, South Ari Atoll.
It is 900 meters long by 250 meters wide, about 55 acres. Your seaplane transfer from Velana International Airport is a scenic, 25-minute flight.
Price per night: $230 (approx) but as low as $90 per night on offer
Book Now | Compare Prices for Later | Read Trip Advisor Reviews
.
Hints & Tips for Staying on a Luxury Resort in the Maldives
For those of you who have stayed at a resort-like the ones above before, the standard workings will not be news to you.
But if this is your first time – the key take away is 'don't think all-inclusive means all-inclusive!' There are additional expenses in resort – mainly around the dining package you book, and any additional excursions and water sports you want to do.
Hotels can offer their resorts on a Bed and Breakfast Basis (self-explanatory, right?); Half Board (breakfast & dinner + soft drinks, beer and wine at mealtimes); Full Board (breakfast, lunch & dinner + soft drinks, beer and wine at mealtimes), and; All Inclusive (all meals + afternoon tea, beer, wine, soft drinks, basic spirits & cocktails whenever you like). In all Maldives vacation packages, premium spirits are often an optional extra.
All hotels offer additional paid excursions: snorkeling, local island visits, boat trips, fishing, whale shark spotting, swimming with turtles, etc which are typically around $25-50USD per outing
Water sports – paragliding, jet ski (if far enough from the marine protected zone), stand up paddleboarding, etc are paid extras.
Almost every luxury resort has a spa, and treatments are at an additional cost, but most places offer a discount for at least one visit throughout your stay and run special offers each month.
In the Maldives, there are 2 hidden charges: a 10% Government Island Tax + a 12% Local island Tax. Thankfully, these extras are often absorbed by the resorts, but this will be indicated in the resort.
.
Planning Your Maldives Vacation on a Budget:
Visit a Local Island
The Maldives were opened to independent tourism in 2009 and since then, more and more locally run guesthouses/holiday apartments/bed and breakfasts are springing up on islands that are not owned exclusively by the big resorts.
Whilst they cannot compete with the over-water bungalow boasting counterparts in terms of luxury, they do offer a very affordable option for visiting this notoriously expensive part of the world and are a great way to travel independently.
Booking a guesthouse on a local island is the ultimate way to plan a Maldives vacation on a super tight budget and whilst you won't have the luxury resort experience, you will have the opportunity to experience Maldivian culture, eat traditional foods (which are often overlooked in the resorts) and have access to local ferries and public transport to explore the region.
One must also remember that is is a Muslim Country and we have some travel tips below.
.
Maafushi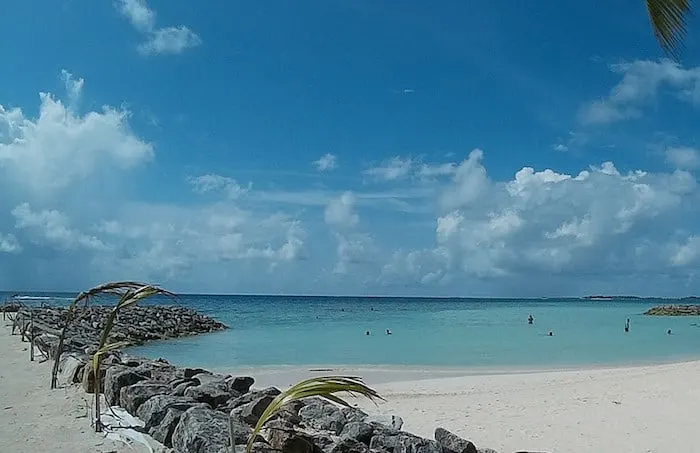 Maafushi is the largest local island and popular with both the backpackers and those in search of a more culturally immersive experience.
The south of the island is home to the only prison in the Maldives with the middle section dominated by a church, mosque, stadium, community center, and a school.
The North of the island is where the majority of the guesthouses are concentrated and are close to the water sports beach, public beach, coral beach, and 2 designated 'bikini' beaches.
There is also a floating bar – accessible by small boat (free) that takes you out onto the water and is the only place near Maafushi where alcohol is served. But exclusivity comes at a price – be prepared to be stung up to $6-8 for a beer and as must as $100+ for a bottle of spirits.
How to get to Maafushi
On arrival at Velana International Airport, take the 10-minute ferry ($1) or 4-minute speedboat ($2) across to Male. From here take a taxi to Jetty 1 (approx 10 mins/$2) in time for the Maafushi ferry that departs every day at 2.30 pm with the exception of Fridays.
The journey takes about 90 minutes and costs as little as $4. There is also an option to take a shared speedboat at $20USD per person which takes 30 minutes to reach Maafushi.
.
Fulidhoo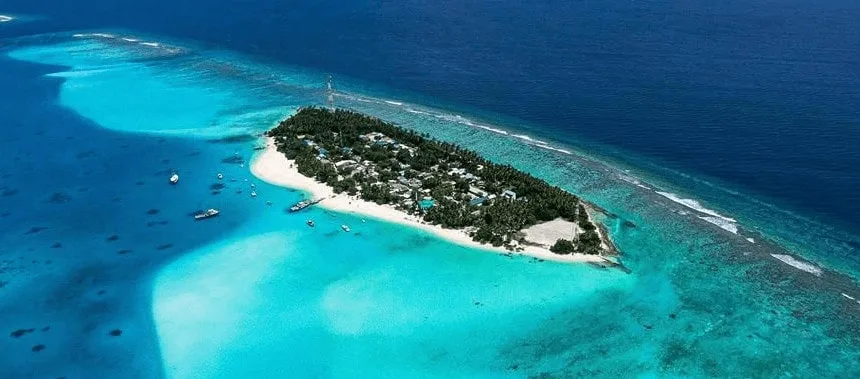 Fulidhoo, by contrast to Maafushi, is one of the smallest islands in the Maldives – where no part of the island is more than 5 minutes walk away – and offers visitors a choice of a handful of guesthouses, 2 restaurants, and a cafe.
It officially has around 450 residents, most of whom work away from the Island, which has a school, health and community center, administrative office and a church.
The sandy road that lines the middle of the street also home to several general stores selling limited supplies, and two souvenir shops that open only on the day's local community visits are organized by the big resorts.
You can organize excursions from a couple of the establishments on the island which can take you snorkeling, on a dolphin safari or arrange a day visit to one of the local luxury resorts (which can be seen from the beach on Fulidhoo).
If you're looking to have an island *practically* all to yourself without incurring the cost of hiring a private island, Fulidhoo could be exactly what you are looking for.
How to get to Fuludhoo
On arrival at Velana International Airport, take the 10-minute ferry ($1) or 4-minute speedboat ($2) across to Male. From here take a taxi to Jetty 1 (approx 10 mins/$2) in time for the ferry that departs every day at 2.30 pm with the exception of Fridays. (It is the same as the Maafushi ferry and stops there first before continuing onto Fulidhoo).
The journey takes about 3.5 hours and costs $6 and is a great way to travel independently.
.
Male/Hulhumale

Male is the capital of the Maldives, and one of the most densely populated places on the planet – so much so that Hulhumale was built/developed to accommodate the overflow.
Travelers have noted that neither is particularly inspiring and whilst there are on no beaches on Male itself, there are beach areas on Hulhumale. Visitors tend to opt to stay here either at the start or the end of their trip due to its close proximity to the airport (<5km)
How to Get to Male/Hulhumale

A short 10-minute ferry or 4-minute speedboat ride will get you from the airport to the capital city of Male or vice-versa. To get to Hulhumale there is a public bus that takes 15 minutes and costs approx $2-3. It departs every 30 minutes throughout the day.
.
The Best Guest Houses on a Budget Maldives Holiday
Isle Beach INN (Maafushi)
This property is 2 minutes walk from the beach. Situated within the South Male Atoll, Isle Beach Inn provides a 24-hour front desk, a restaurant serving local Maldivian and Western foods, and rooms with views of the garden or sea.
Free Wi-Fi is available in all rooms and public areas but is not noted for its speed.
Price per night: $50 (approx)
Book Now | Compare Prices for Later | Read Trip Advisor Reviews
.
Salt Beach Hotel (Maafushi)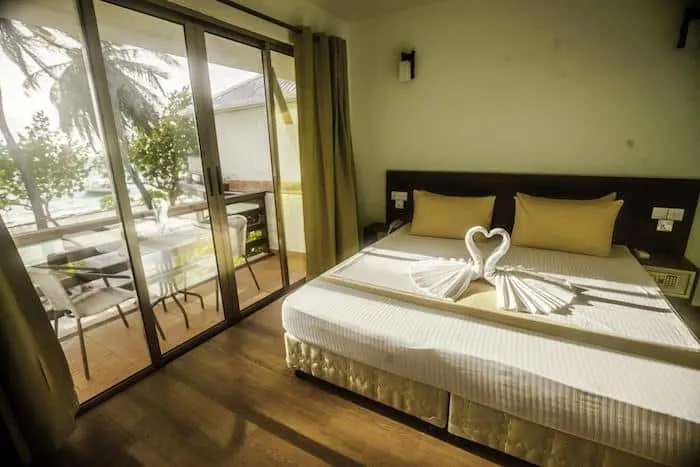 This property is a 1-minute walk from the beach. Located in Maafushi, 25.7 km from Male City, Salt Beach Hotel features air-conditioned rooms with free WiFi throughout the property.
The guesthouse has a barbecue and views of the sea, and guests can enjoy a meal at the restaurant.
Price per night: $80 (approx)
Book Now | Compare Prices for Later | Read Trip Advisor Reviews
.
Thundi Guest House (Fulidhoo)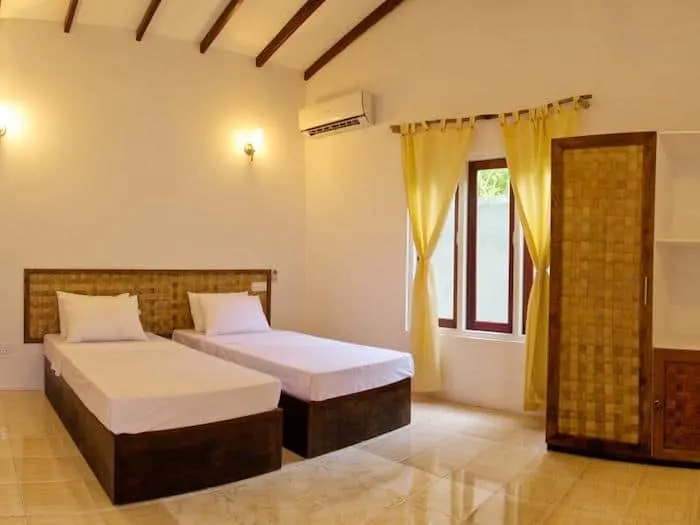 Located on a sandy beach with crystal clear seawater, Thundi Guest House offers simple accommodation in the island of Fulidhoo.
The property is 250 m from the Fulidhoo Cave and the Reef Tip Faru Kolu. All rooms come with air conditioning and have free WiFi access. The private bathroom includes A shower and free toiletries.
Price per night: $80 (approx)
Book Now | Compare Prices for Later | Read Trip Advisor Reviews
.
Sancia Lodge (Fulidhoo)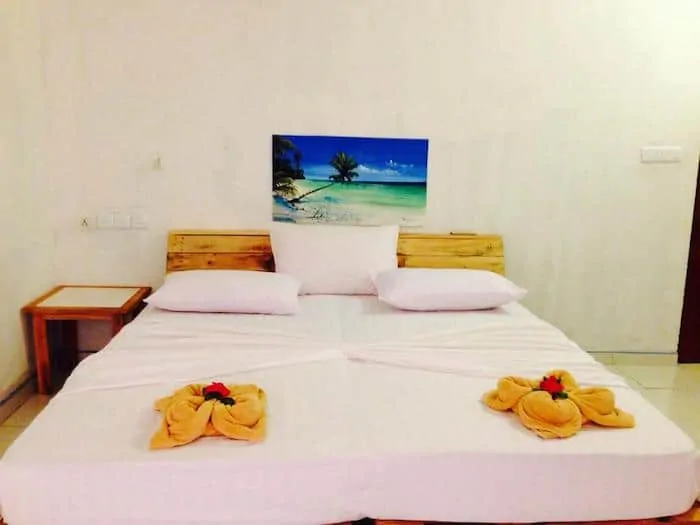 This property is a 1-minute walk from the beach. Featuring free WiFi throughout the property, Sancia Lodge offers accommodation in Fulidhoo. Guests can enjoy the on-site restaurant.
Price per night: $40 (approx)
Book Now | Compare Prices for Later | Read Trip Advisor Reviews
.
Hints & Tips for Staying on a Local Island in the Maldives
The Maldives is a Muslim country and as such:

Women must wear clothes that cover their shoulders and knees
Women can't wear swimwear unless they are on a designated 'bikini' beach – on other beaches, shorts and t-shirts will be required (even when swimming)
No alcohol is available
The call to prayer is broadcast 5 times per day

Beaches are less pristine
As independent travel in the Maldives is a growing industry, a lot of the islands have extensive ongoing construction work (think half-built hotels) and the disturbance to the land can affect the coral and reduce the variety of sea life in the area. If you are wanting to go snorkeling, it will be necessary to book a day trip/excursion to an uninhabited or less populated island.
Food options will be limited to locally available cuisine
On Fridays, most shops are closed and ferries so not run.
Most of the local islands do not have ATMs so it is necessary to stock up on cash at the Airport or in Male. The local currency is the Maldivian rufiyaa, however it is a closed currency and cannot be exchanged back at the end of your stay (unless you change it at the booth in the airport and keep your receipt). We advise you to travel with USD and withdraw a small amount of rufiyaa on arrival.
Pack toiletries (shampoo/conditioner/shower gel etc) as while these are provided as standard in resorts, they are not in local establishments
All prices quoted for meals and excursions will be subject to a 10% Government Island Tax + a 12% Local island Tax – which would mean something at $10 is actually $12.20 and is something to bear in mind when out and about.
.
Phew! That's about it folks. If you're still with me to this point you must be pretty serious about making your Maldives Vacation dreams come true – and I hope this post has armed you with the knowledge to help you make that dream a reality. If you have any questions about a holiday in the Maldives that I haven't covered, please let me know in the comments and I'll add any extra info that I have overlooked into the post.
Thanks for reading, and if you found this travel guide useful, please share on Facebook, send out a quick Tweet or grab a pin for Pinterest – all shares are very much appreciated. Oh and make sure you grab full-sized pins using the P in the share bar to the left!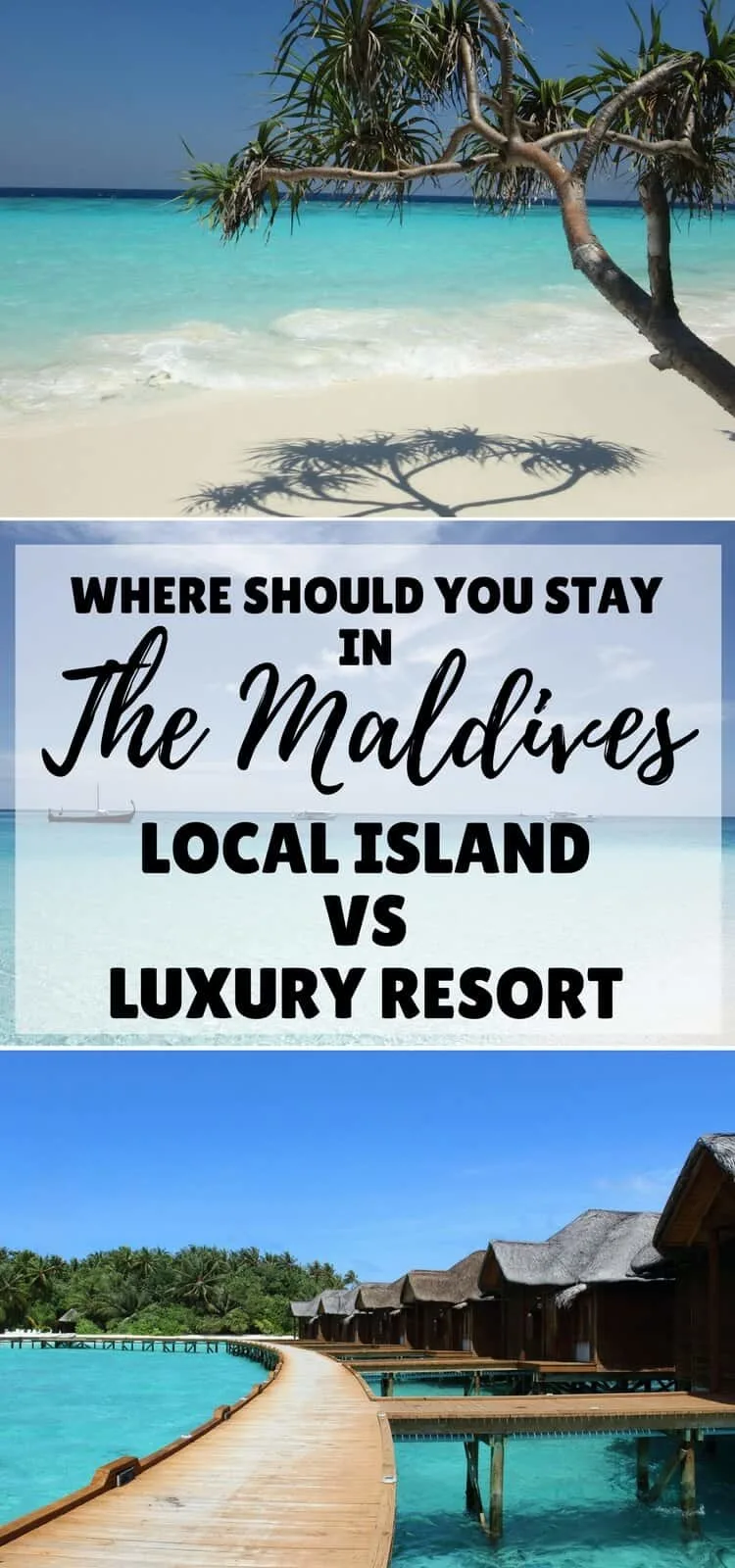 Hi There! Thanks for reading my post about Best Maldives Vacation for any Budget. I just wanted to let you know that this post contains affiliate links, which means if you purchase something after clicking a link, I may get a small commission – which is at absolutely no cost to you. If you enjoyed this article and are going to be searching for some of the things I mention anyway, I would love it if you could click through from the links above & thank you in advance! Read my full Disclosure here.