If you're ready to plan a your dream holiday to the Maldives but would rather not spend a large chunk of your life savings then you are in the right place! I had never realized there were budget friendly Maldives packages available until I was invited to spend 10 days at Sun Island Resort and Spa – and whoa, were my eyes opened! Sun Island is one of the Maldives all inclusive resorts, located in the South Ari Atoll and boasts those day-dream worthy Over Water Bungalows that I just know are on your bucket list! With 462 rooms, 6 restaurants, a world class dive shop and an award winning spa, you're in no danger of feeling like Tom Hanks in Castaway on this island getaway, although there are times when it feel like you have the Island all to yourself! Let me take you on a virtual tour of this island paradise which is the epitome of luxury travel on a backpacker budget!

Sun Island Resort & Spa, Maldives – Affordable Luxury on an Island Paradise
RELATED: The first post is this series is How to Plan the Perfect Maldives Vacation – with options for every Budget! Click the link to open a new window and read all about it!
.
How To Get To Sun Island Resort from Male
One of things that people often don't realize when they book a Maldives Holiday is that once you land in Male International Airport, you need a further internal domestic flight to get out to the island. To get to Sun Island Resort & Spa on Nalaguraidhoo Island there is only one option – Domestic Flight followed by a 5-10 minute speedboat ride and must be arranged through the hotel.
Domestic Flight

Flyme operate 5 flights daily, the earliest departing at 7.30am, the latest at 11.15pm and cost a flat fare of $252USD return per person (Nov – March) and $224USD return per person (April – October). The flight itself takes only 30 minutes, however check in, boarding, disembarking plus the 10 minute speedboat to the resort all up take about 2 hours. On this flight only a personal item may be carried as hand luggage, all suitcases and wheeled hand luggage must be checked in to the hold (which is actually the nose cone of the plane!) The flight lands at the Island of Maamigili, where you identify your luggage and you and it are loaded into a mini bus and taken down to the dock. From there you are transferred to speed boats which take you to Sun island resort in the Maldives.
TRAVEL TIP –
Download the
FREE SkyScanner App
and have cheap flights at your fingertips whenever you want to take to the skies!
.
About Sun Island Resort and Spa
Sun Island Resort Map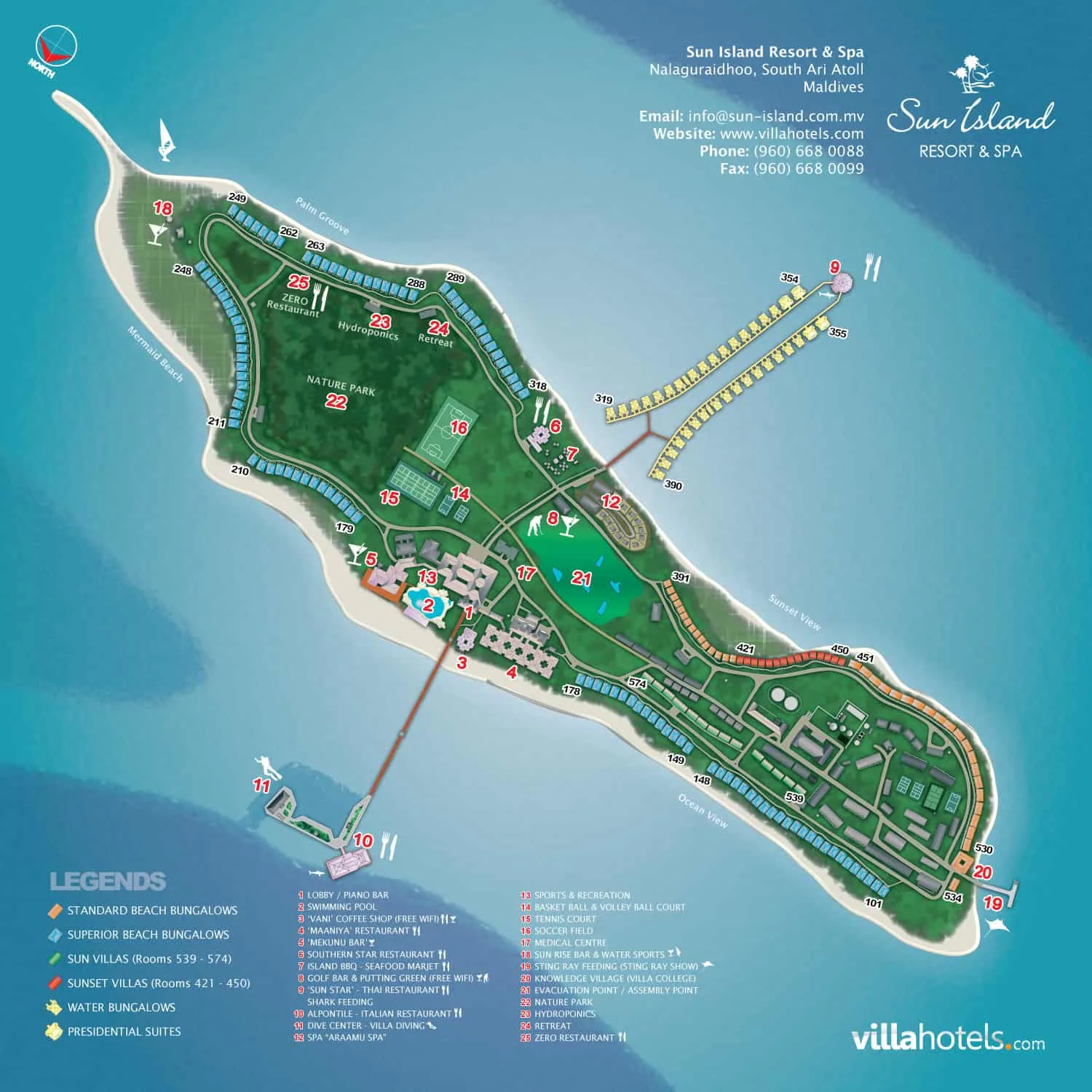 .
Room Types
There are a variety of room types available on the Island, dependent on your budget. All rooms are cleaned daily and are equipped with a bath and beach towel set person, which can be changed upon request. All rooms also have a mini bar, and one 500ml water bottle is included per person per day. All additional items in the mini bar are charged to your room upon consumption. Their is also air conditioning in each room and satellite television with approximately 30 channels.
A Standard Beach Bungalow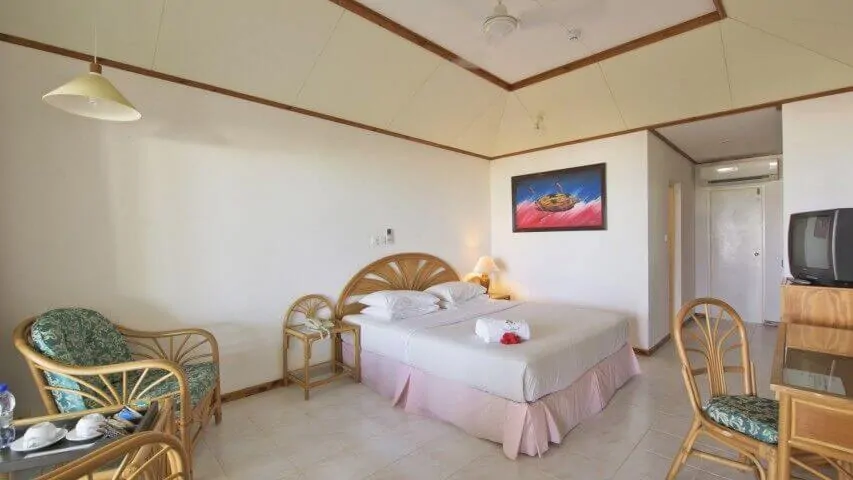 Prices starts at $150USD/£115GBP/$200AUD per room per night on a half board basis. At 21m2 they are roomy and each have a ensuite with additional outside shower facilities, air conditioning and direct beach/ocean access right outside the door.
A Superior Beach Bungalow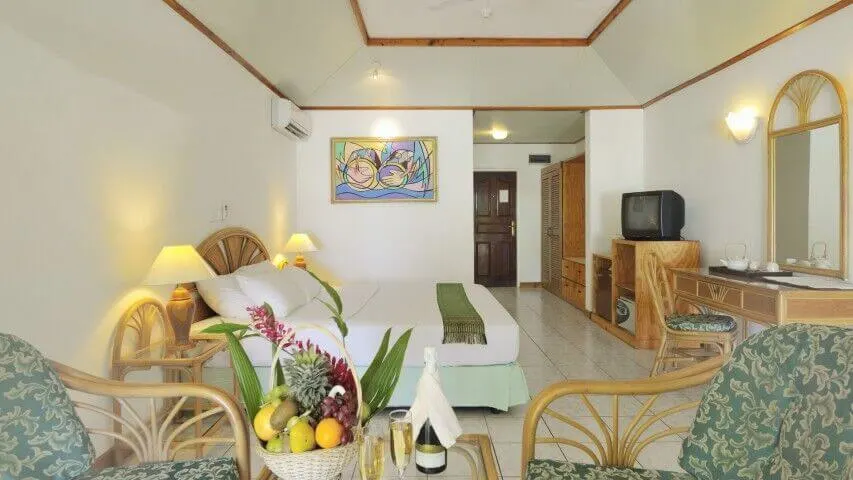 A Superior Beach Bungalow is slightly larger at 26m2 (280 square feet) and offers the same facilities as the standard beach bungalow.
Sunset Villas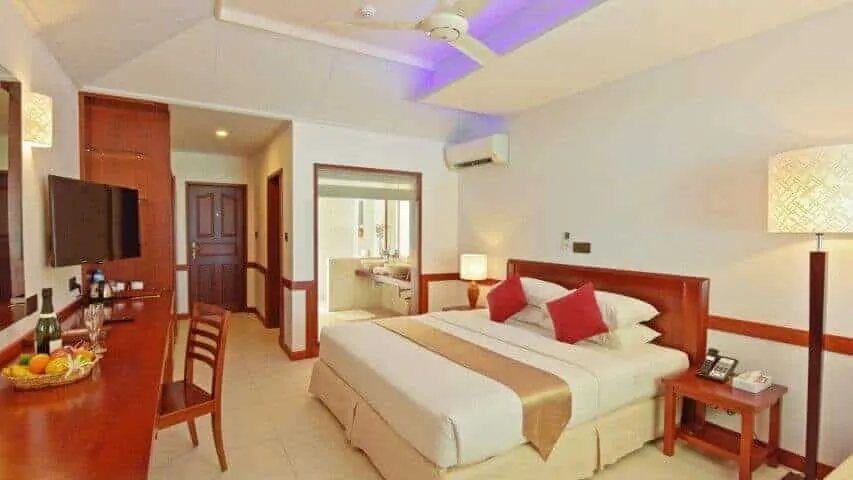 Sunset Villas are slightly larger again at 28m2; are located on the 'Sunset' (Water bungalow) side of the island and also include daily bicycle hire.
Sun Villas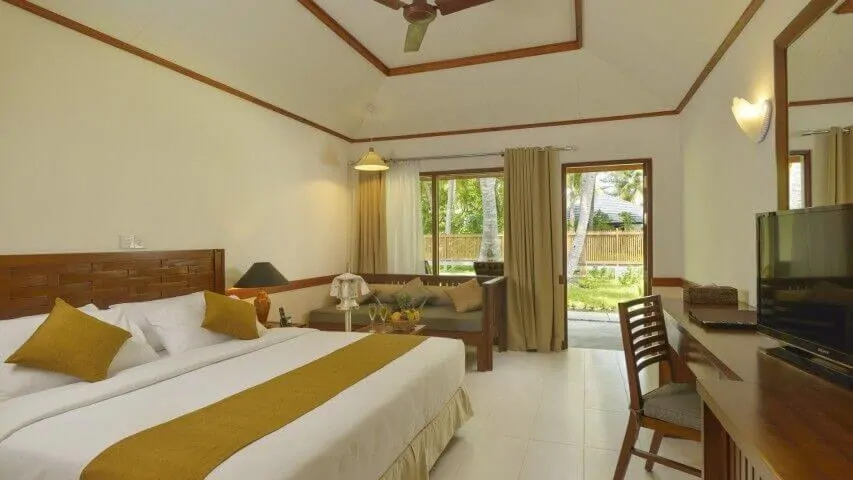 Sun Villas are located on the inside of the island and offer a garden instead of beach access and at 28m2 are slightly larger than the beach bungalows – the perfect family hotel room.
Over Water Bungalows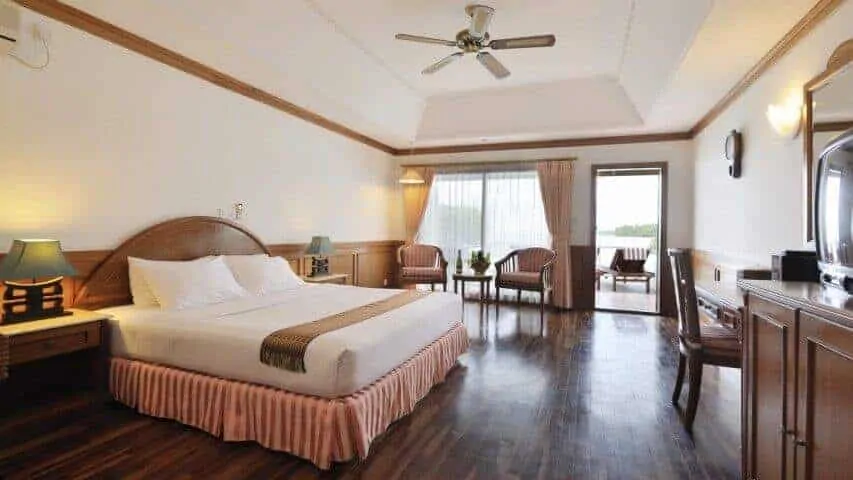 There are 64 Over Water Bungalows with prices starting at $250USD/£190GBP/$335AUD per room per night on a half board basis and each have their own private veranda above the turquoise lagoon below. They also have 2 Presidential Suites which are the equivalent of a 'double' overwater bungalow with 2 bedrooms, living area and private balcony.
.
Cashless System
Sun Island operates on a cashless system. This means that on arrival you'll be given a room card which tells staff which board basis you have booked (see below) and which you'll need to present each time you order something – food, drink, excursions, souvenirs etc and sign for each thing on receipt. (If you are booked on an all inclusive basis you'll receive a wristband to wear during your stay). At the end of your stay, there will be time to return your key and pay your bill, which is easiest paid by credit card. I would advise carrying/having small notes that you can use to tip at the end of your stay, should you chose to do so, although this is not mandatory.
.
Board Basis
There are 4 dining packages on offer at the resort. The standard that comes with each booking is Half Board which includes Breakfast + Dinner. Other options include Bed & Breakfast, Full Board (Breakfast, Lunch + Dinner) & All inclusive (Breakfast, Lunch, Dinner, Afternoon Tea + drinks).
.
Restaurants on Sun Island
The Main Restaurant – Maaniyaa – is an open air 250 seater beach side restaurant where everyone who is NOT staying in an Over Water Bungalow will dine. The restaurant serves up a sumptuous buffet with selections of local and international dishes for each meal, each day. Over-water bungalow folks will have the same dining options but served at the Southern Star Restaurant.
Outside of the standard inclusions and which can be charged to your room, Sun Island also offers 4 other al la carte restaurants choices and 4 different bars for when you are looking for something a little different:
Guraamuli Island Grill: serving the best of the Island's seafood daily, this beach side diner is the perfect place to relax of an evening. And if you have been out on one of the islands fishing trips – they even cook your own catch of the day for you!
Ristorante Al Pontile: The islands' very own authentic Italian joint, this restaurant sits over the water at the end of the main jetty and serves a range of Italian dishes – with some of the best pizza outside of Naples.
Sun Star Thai Restaurant: If you're yearning for some Thai flavors, Sun Star is the restaurant for you. Located at the end of the water bungalow jetty, you can dine under the stars and above the turquoise waters of the lagoon.
Zero Garden: Located within the lush green palm trees on the inside of the island, Zero garden is a small restaurant where you can pick your own salad ingredients from the vegetable garden and get delicious healthy smoothies made up to your taste.
.
.
Bars on Sun Island
Mekunu Bar: the main bar, located in the same section as reception and the Maaniyaa Restaurant is open 24 hours a day, and offers a wide variety of exotic cocktails and non-alcoholic beverages. Head here for your nightly entertainment – and don't miss out on the crab race on Thursday nights!
Lobby Bar: Open daily from 1700h to midnight.
Beach Bar: located out on the sandbank near the water-sports beach, this shorefront bar is open daily from 0900h to 1700h.
Pool Bar: you know when you're in a luxury hotel when they have a swimup bar allowing guests to enjoy a drink without ever having to leave the pool!
Club Greenhouse Bar: located next to the 9 golf course, the clubhouse serves great pizza too!
Vani Coffee Shop & Bar: casual beachfront outlet offering a variety of snacks, light meals and specialty dishes. Open 24 hours a day and the main wifi hub on the island.
.
Entertainment & Activities on & Around Sun Island
Nightly Animal Encounters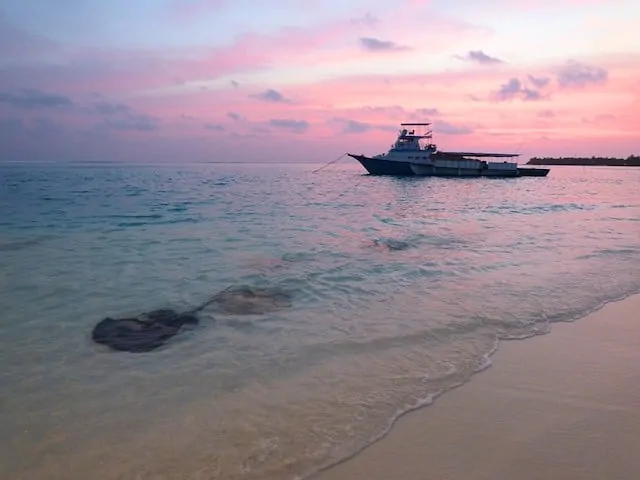 Sting Ray Feeding: At 6.30pm each evening, sting rays congregate on the sand on the eastern beach ready to be fed their nightly treats. Head down to the shoreline early to watch them arrive (and get better footage when the light is still bright and the sun is higher in the sky). Feeding goes on for approximately half an hour and is a sight not to be missed. Just be careful when standing on the shore as they are not scared to swim right up to you and their tails are quite long!
Reef Shark Feeding: Just like the sting rays, the reef sharks turn up to be fed at the end of the water bungalow jetty each night at 6.30pm. Although it very clear they have been essentially 'trained' to show up each night with the guarantee of food, it is fascinating to see these magnificent creature that are up to 5ft in length, start to arrive and line up on the bottom of the lagoon. And then watch as they grab at the food being thrown into the water. But don't worry – it's nothing as vicious as a shark feeding in the movies!

Crab Race (Thursday nights only): pick a number, pay your fee and enter your crab into the weekly race.


.
Sports & Fitness on Sun Island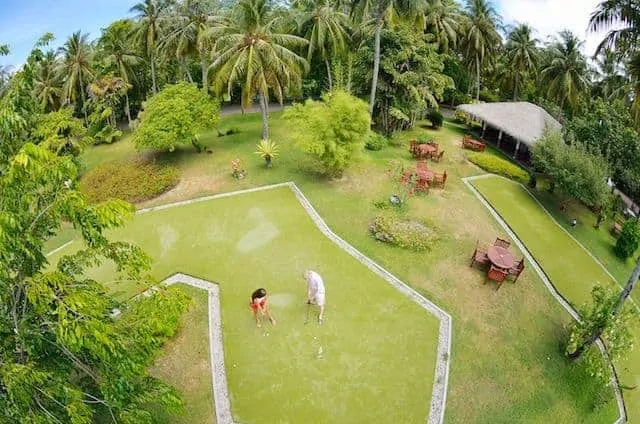 Guests have access to a wide range of recreational facilities (charged at an additional fee per activity), all of which feature up-to-date, modern equipment, and include:
Tennis Courts;
Volleyball Court;
Bicycle Rental (highly recommended from day 1 as the island is quite spacious);
Indoor Badminton Courts;
Fully quipped fitness center which features aerobic and strength training equipment;
Floodlit Basketball Court;
9 Hole Mini Golf Course
Squash Courts; and
Table Tennis
.
Water sports Available on Sun Island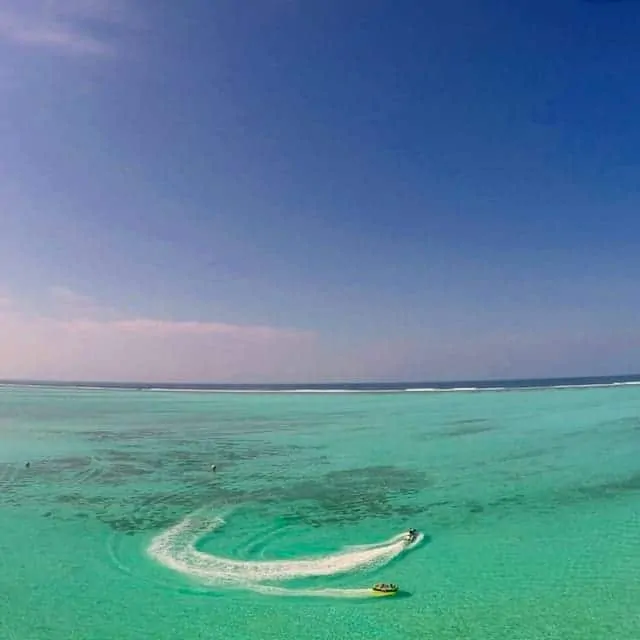 The water sports center is located on the east side of the island, and offers both rental equipment and lessons by professional staff alongside water sport favorites such as jet skis and the Mable (above). Some of the water activities available at the resort include:
Catamaran Hire
Jet skis
Windsurfing
Stand Up Paddle Boarding
Water-skiing
Canoes
Parasailing
There is also an outdoor pool with children's area complete with swimup bar, lots of sun loungers around the outside and is perfect for those who want a pool day!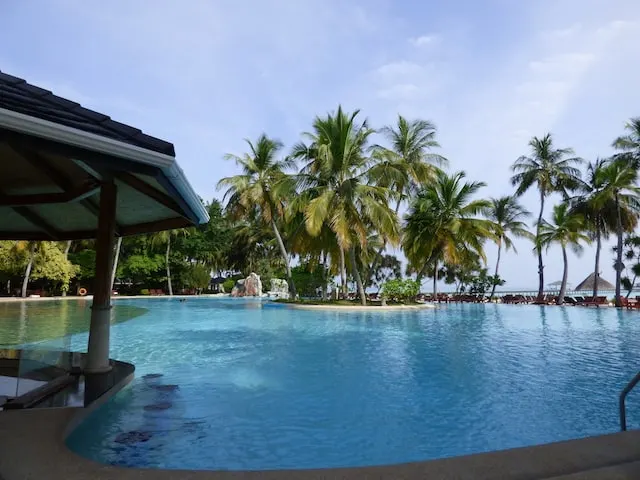 .
Excursions Available from Sun Island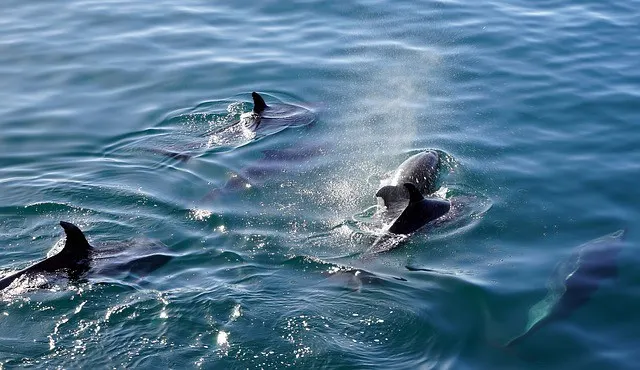 If you don't think all of the above is enough to keep you busy – or you're scared you'll enjoy relaxing 24/7, Sun Island has a lot of option excursions that will keep you busy and help you explore more of the wonderful country that is the Maldives.
Island Discovery: a full-day Maldives island hopping tour, which includes a barbecue lunch on an uninhabited island and offers a chance to learn about Maldivian culture and customs.
Follow the Dolphins: an organized dolphin safari designed to let visitors catch a glimpse of these gentle, graceful creatures. Available every morning – although there is no guarantee the dolphins will be there every morning!
Reef Explorer: takes snorkelers to the area's most beautiful reefs, where amazing multi-colored corals and sea creatures can be found.
Blue Lagoon: An hour ride through the shimmering waters of the Maldives leads you to an island in tranquility; the uninhabited "Hurualhi" beckons you to a day of snorkeling and BBQ lunch.
Tholhufushi Excursion: a real-life Robinson Crusoe adventure on a deserted island. Held daily from 0900h to 1700h.
Sunrise or Sunset Fishing: held before the sun rises, or as the sun sets in order to attract the "big ones" and your catch will later be barbecued at Guraamuli Grill.
.
Araamu Spa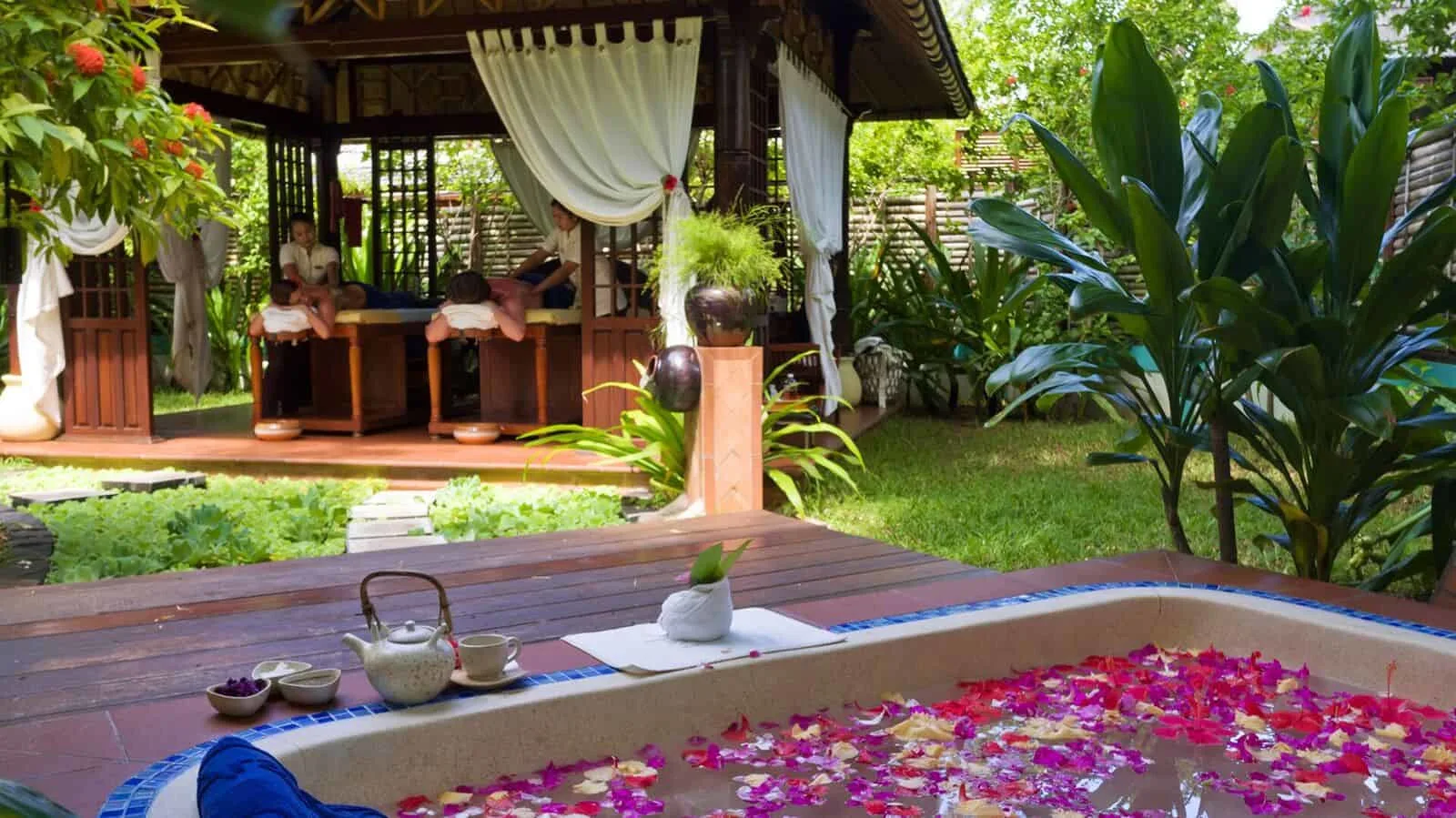 Sun Island Resort & Spa boasts one of the best Spa's in all of South East Asia – and despite it's location on an small island in the Indian Ocean, is actually the 3rd biggest spa in South East Asia!
With over 50 different spa treatments to choose from, received in one of 14 luxurious outdoor treatment gardens, each containing a sunken bath or Jacuzzi, outdoor shower, steam room and a traditional massage pavilion complete with two treatment beds, you're welcome to visit solo, or as part of a couple and the Araamu Spa is the ultimate in relaxation.
Read my full review of Araamu Spa here.
.
Dive Oceanus – The Professional Dive Shop on Sun island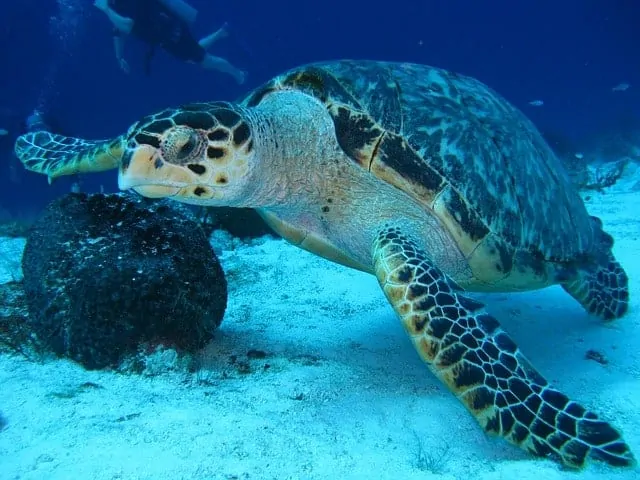 DiveOceanus is one of the most professional run dive shops I have ever had the privilege to dive with. They are organized, have high quality, well cared for equipment and the staff here are incredible. They are professional, friendly, knowledgeable and will go to great lengths to make sure you are comfortable in the water. (Which full disclosure – after a 2 year hiatus from diving, I was NOT comfortable at all to start with. If this is you, or you're not feeling confident – ask for Ali!).
They run multiple dives daily, teach PADI courses on the house reef and accompany snorkelers on trips to Whale shark point, Manta Ray point and Turtle point! If you have ever considered scuba diving, DiveOceanus would be a great place to start. Read about my full review of Scuba Diving with Whale Sharks here.
.
How to Book Sun Island resort & Spa

So by now I guess you ready to book your own stay on this paradise island, I mean, who doesn't want to stay on a secluded island in an over water bungalow for under $200 a night?! And once you've booked, click through to my guide to what to wear in the Maldives to make sure you pack everything you need!


If you have any questions that I haven't addressed in the post, just let me know in the comments blow and I'll do my best to find the answers for you.
+ GET BOOKING! You can tick this bucket list holiday island experience off your list and it won't cost the earth!

And if you like this travel guide, please tweet, pin and share :-)
Hi There! Thanks for reading Sun Island Resort And Spa: Affordable Luxury in an Island Paradise. I just wanted to let you know that This post contains affiliate links. This means that if you decide to stay at Sun Island and book through the links above, I get a small commission at absolutely no cost to you. This commission helps keep the site online – so thank you in advance for clicking through! Read my full Disclosure here.