Edinburgh is the first stop on many travelers' Scottish itineraries and rightfully so. Scotland's capital continually finds itself in the top 10 cities to visit in Europe down to its mixture of old, new, nature, and gastronomy. As an east coast local, I've been visiting Edinburgh since I was a wee girl and this is where you'll find my tearing up the dancefloor as an adult adventuress. Here's a guide of what to do with 48 hours in Edinburgh (or 2 days in Edinburgh!) Also, check out our guide 70 things to do in Edinburgh here for the extensive list and tips from locals, lovers, businesses and Visit Scotland.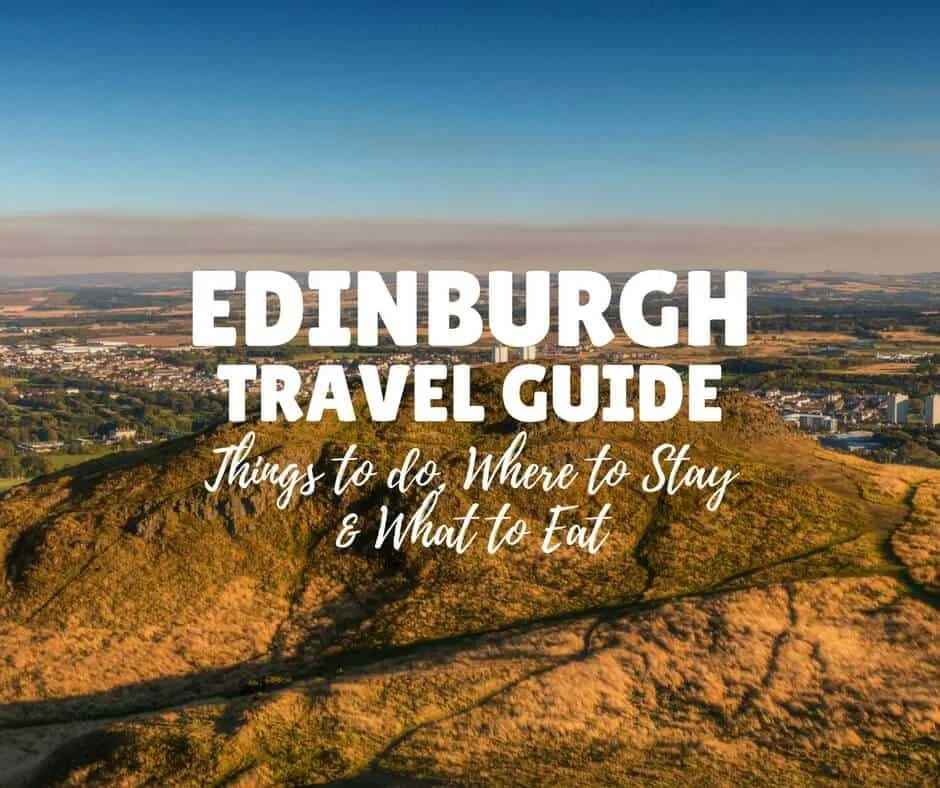 Disclaimer: Almost all posts on this site contain Affiliate links, and this guide to 48 Hours in Edinburgh – Things To Do, Where to Stay & What to Eat is no different. This means that if you click on any of the links in this post (and make a purchase) I may receive a small commission at absolutely no cost to you. Each post is carefully crafted to (hopefully!) answer all your questions and recommendations are made where we believe they will improve your trip and help with your planning. As such we thank you in advance should you decide to click & buy. Read my full Disclosure here.
A Guest Post by Gemma of Two Scots Abroad

Essential Visitor Info for 48 Hours in Edinburgh
How To Get to Edinburgh

Edinburgh has its own airport which is located approximately 25-30 minutes from the city center. From there an express bus runs to and from the city every 10 minutes and costs from £3.50 per single journey or from £6 return. A private taxi (up to 8 people) between the airport and central hotels will cost around $18, which may be a better option if you have lots of luggage or are traveling in a group. This is also a tram between the airport and city (York Place) with multiple stops along the way. A one way journey takes approximately 13 minutes and costs £3.50.
You can also arrive by train into the heart of the city.
How to Get Around Edinburgh

Edinburgh is a compact city which is easy to navigate on foot and is serviced by both buses and trams for those who prefer not to walk – or get caught out in Edinburgh's changeable weather!
When to Visit Edinburgh (Climate + High/Low Seasons)

Let's face it, no-one is headed to Scotland for the weather. Edinburgh has the typical northern hemisphere seasons: Spring (March – May), Summer (June – August), Autumn (September – November) & Winter (December – February). The best times to spend a weekend in Edinburg for 'optimal' (but by no means great) weather is Spring and Summer.

Edinburgh is particularly busy over the New Year (26 Dec – 4 Jan) and Fringe Festival (August) periods, along with the UK summer school holidays which falls in July, August and the start of September.
Top Things to Do in Edinburgh (Old Town)
Edinburgh is split into two areas, the medieval Old Town and sprawling New Town. Tourist spots to hit in the Auld Town include:
The Royal Mile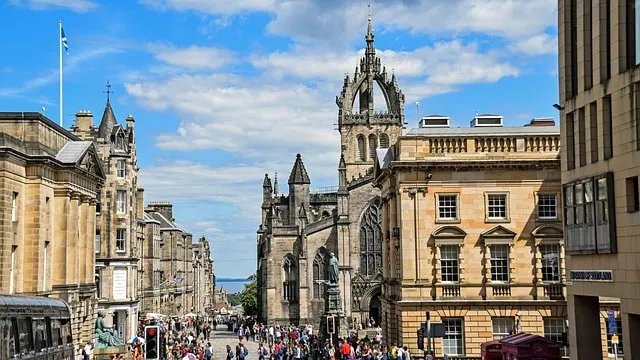 Not quite a mile as we know it today but this cobbled street is a hotbed of activity throughout the year with it hitting its peak in August during the Festival Fringe where street performers and PRs captivate attention to sell their shows.
At the top of the Royal Mile is Edinburgh Castle and at the bottom is the Scottish Parliament which is quite a controversial eyesore or architectural wonder, depending on your taste. If you are wondering what to do in Edinburgh, The Royal Mile is one of the top tourist attractions in Edinburgh Scotland and shouldn't be missed!
.
Edinburgh Castle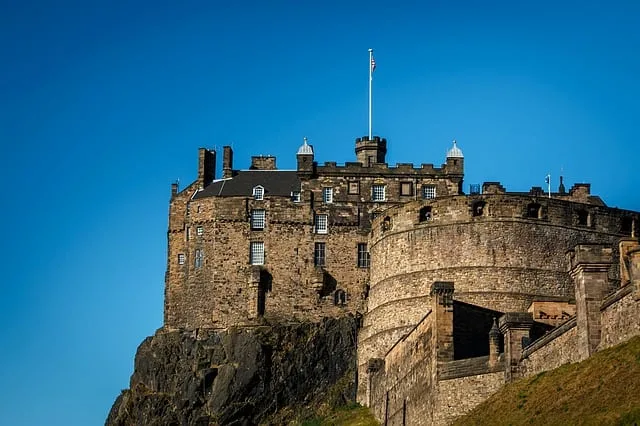 No visit to Edinburgh would be complete without a visit to Edinburgh Castle. Skip the line and explore this incredible historic building at your own pace. Learn about the history, the battles that were fought there and have the opportunity to view the crown jewels.
.
Grassmarket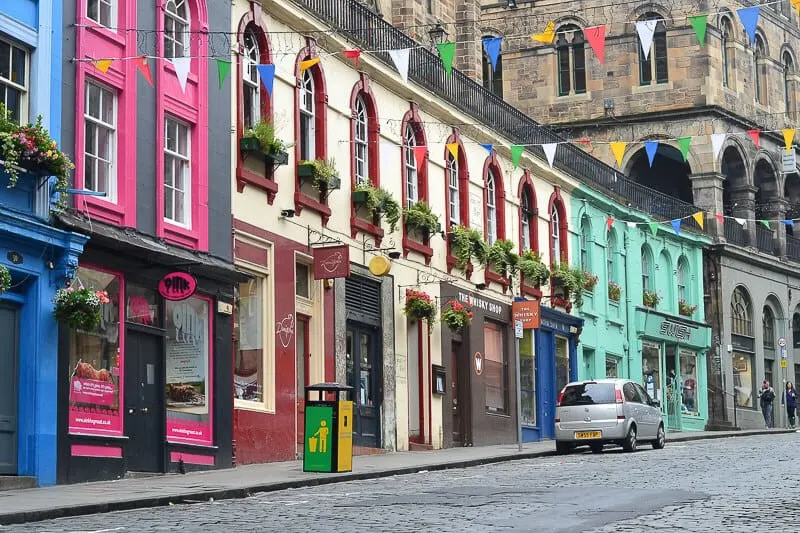 Just off the Royal Mile is an area called the Grassmarket. The Grassmarket is home to lots of cafes, restaurants and bars as well as a very popular vintage shop called Armstrongs (one of three around the city).
To get to the Grassmarket from the Royal Mile head down the curve of colorful Victoria Street (where lies my number one choice of club, Espionage, four floors of pure cheese and it's free, every Scot's favorite word!) or walk along George IV Bridge and say hello to Grayfriars Bobby and the Elephant Cafe (it's loo has been made famous by JK Rowling, the Harry Potter author).
RELATED: Calling all Potterheads – read this to find out about all the Harry Potter Locations in Edinburgh
.
Hike Arthur's Seat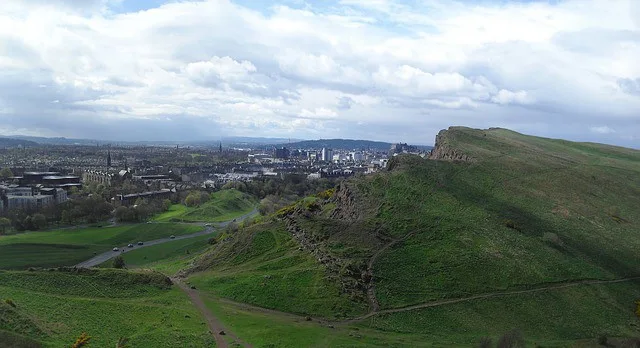 One of my favorite things to do on a Sunday morning to blow away the hangover induced cobwebs is to walk up Arthur's Seat just behind the Scottish Parliament. This easy one hour hike offers 360, beautiful views across the city and beyond with a bird's eye view of the Scottish Parliament and the Holyrood area.
Holyrood House (Holyrood Palace + Holyrood Gardens) – which make up the Royal accommodation in Scotland, is also in this area for Queen Elizabeth enthusiasts.
.
Things to do in Edinburgh (New Town)
Calton Hill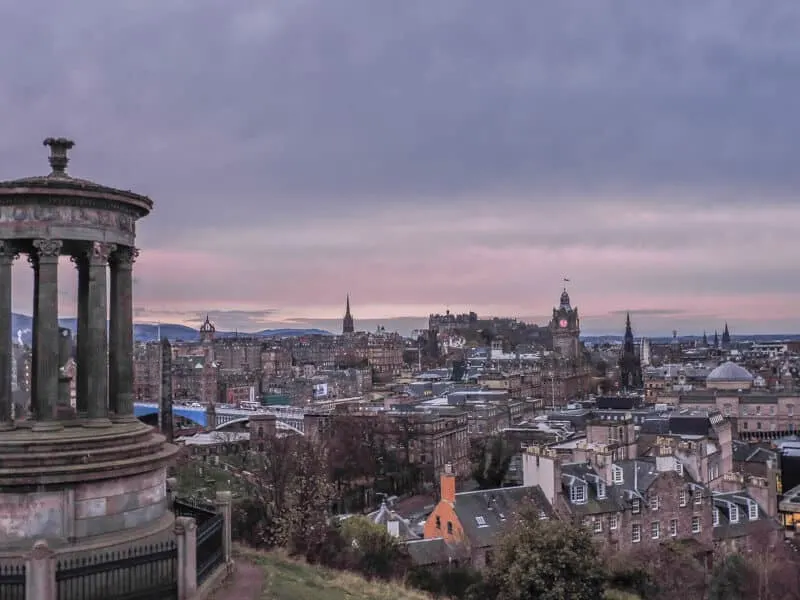 An even shorter trail can be found just off Edinburgh's famous shopping precinct, Princes Street. This 5 minute walk (uphill, with a rail to support those who may struggle) provides panoramic views of Edinburgh, overlooking Princess Street with Edinburgh Castle in the distance. Particularly lovely and busy at dusk (yes we do get the sun sometimes). The National Monument of Scotland and Nelson Monument can be found here also. It's easily of the best things to do in Edinburgh.
Princes Street Gardens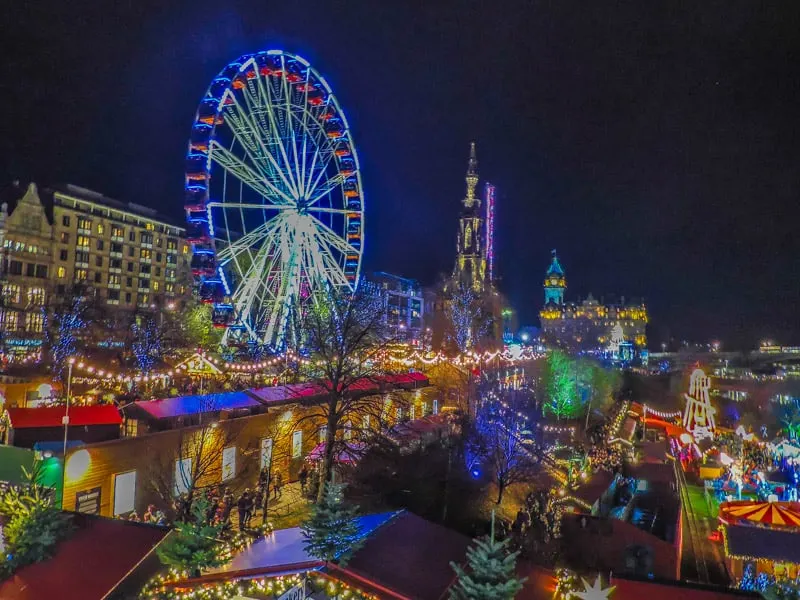 During summer this is where locals take their lunch breaks on that rare sunny afternoon and families sit under the Castle eating their picnics. Come winter time the Gardens are awash with lights, music, and wafts of meat and mulled wine as the European Christmas market takes over. Princes Street Gardens is one of the top things to see Edinburgh.
.
Leith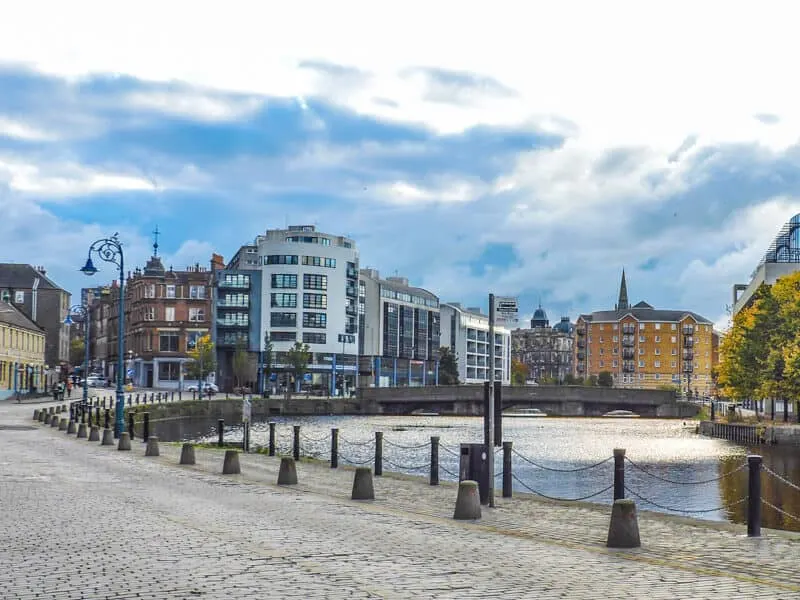 Leith is a neighbourhood in Edinburgh which feels like a village in the city. Cute shops, cool bars and packed restaurants are built around the waters of Leith. The Royal Yacht Britannia is docked in Leith close to the shopping centre, Ocean Terminal. There are many nice walks around the waters of Leith which take you to other areas of Edinburgh and back into the centre of the city. To get to Leith, head down Leith Walk from the Calton Hill end of Princess Street. Watch out for the growing street art scene in the area.
.
Edinburgh – City of Festivals
Edinburgh's most popular festival takes place in August for three weeks. The arts Festival Fringe doesn't just take over Edinburgh, it becomes the city. With over 50,459 performances of 3,314 shows in 313 venues there is something for every taste from comedy, to music, burlesque and theater. The Fringe also meets every budget with 'free' shows (paid through by tip) and half price tickets to get bums on seats, this electric festival really is not to be missed.
Fancy it? Here's my local's guide to the Festival Fringe, see you there in August! The Edinburgh Military Tattoo runs every night of the Festival too, shows take place at Edinburgh Castle and end in an explosion of fireworks – It is one of the most fun things to do in Edinburgh!
However, the Fringe is not the only festival in Edinburgh. Edinburgh Festivals put on a calendar of events throughout the year and other festivals include the Jazz and Blues Festival, Scottish International Storytelling Festival and of course, the biggest New Year's Eve party in the world… Edinburgh's Hogmanay Street Party. Read all about the 11 Major Edinburgh Festivals here.
RELATED: Festival Fan? You'll love this list: 35 of the Best Festivals and Cultural Events Throughout The World.
.
What to Eat in Edinburgh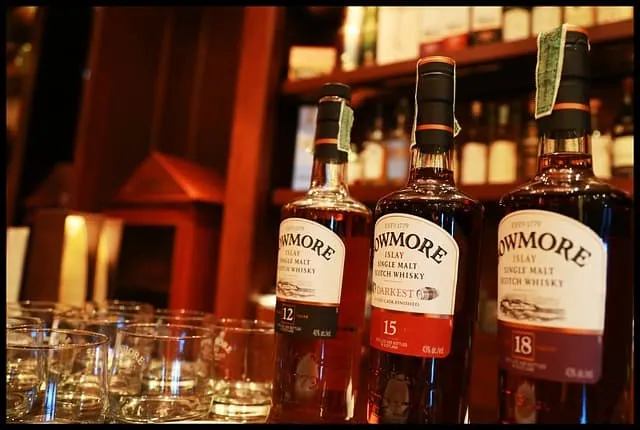 I'm sure you'll be doing lots of eating and drinking during your 2 days in Edinburgh and Scotland has a few famous staples, however not all of them may be to everyone's taste!
Haggis: traditional haggis is made from sheep's 'pluck' (a less graphic way of saying heart, liver and lungs). The meat is minced with onion, oatmeal, suet, spices and salt and boiled in the sheep's stomach for around three hours
Shortbread: Scottish Shortbread evolved from a medieval recipe for drying out left-over bread dough in an oven to make 'biscuit bread'. Eventually, the yeast in the biscuit bread was replaced with butter to make shortbread
Deep Fried Mars Bar: A 1200 calorie 'snack' originally conceived just outside Aberdeen, it is now available at most fish and chip shops throughout Scotland.
Scottish Porridge: Whilst porridge is eaten all over the world, the Scottish have a unique way of cooking and serving it. Scots cook the porridge slowly and use a spurtle (a 12" wooden stick) to get rid of lumps, which is then served with salt or even a little whiskey.
Scotch Whiskey: Whiskey is such a staple in Scotland they actually call it Scotch! Get your taste buds tingling with a Whiskey Masterclass or make a day of it on a Whiskey Tasting Day Trip for the full Scottish experience.
Bannock: a type of bread about the same thickness as a scone, traditionally made from oatmeal
Where to Stay for 2 Days in Edinburgh
Day Trips from Edinburgh

If you have the luxury of time and can't get enough of Edinburgh and want to explore more of Scotland, take a look at these great guided tours and day trips from Edinburgh to help you get out and about:

RELATED: TRAIN TRAVEL IN EUROPE IS SUPER EASY – CHECK OUT OUR 21 DAY EUROPE BY TRAIN HIGHLIGHTS TRIP WHICH TAKES YOU TO 12 COUNTRIES!
Two days is just about the right amount of time to spend in Edinburgh before heading off to many of Scotland's other attractions such as Loch Lomond, the Isles (Bute, Skye, Arran just to name a few), the Kelpies at Falkirk, the beaches of Fife, and of course our stunning bridges (Forth Road, Rail Bridge, North Bridge and our new bridge – the Queensferry Crossing) or even Glasgow!
Hopefully we've given you enough information to plan the perfect 2 Days in Edinburgh/48 Hours in Edinburgh – and given you a great list of Things To Do in Edinburgh to make sure you get the most from your visit. Don't forget to let me know your own highlights once you're back!

Oh, and if you liked this Edinburgh itinerary post please tweet, pin and share – I'd really appreciate it! Click the P in the share bar for full size images!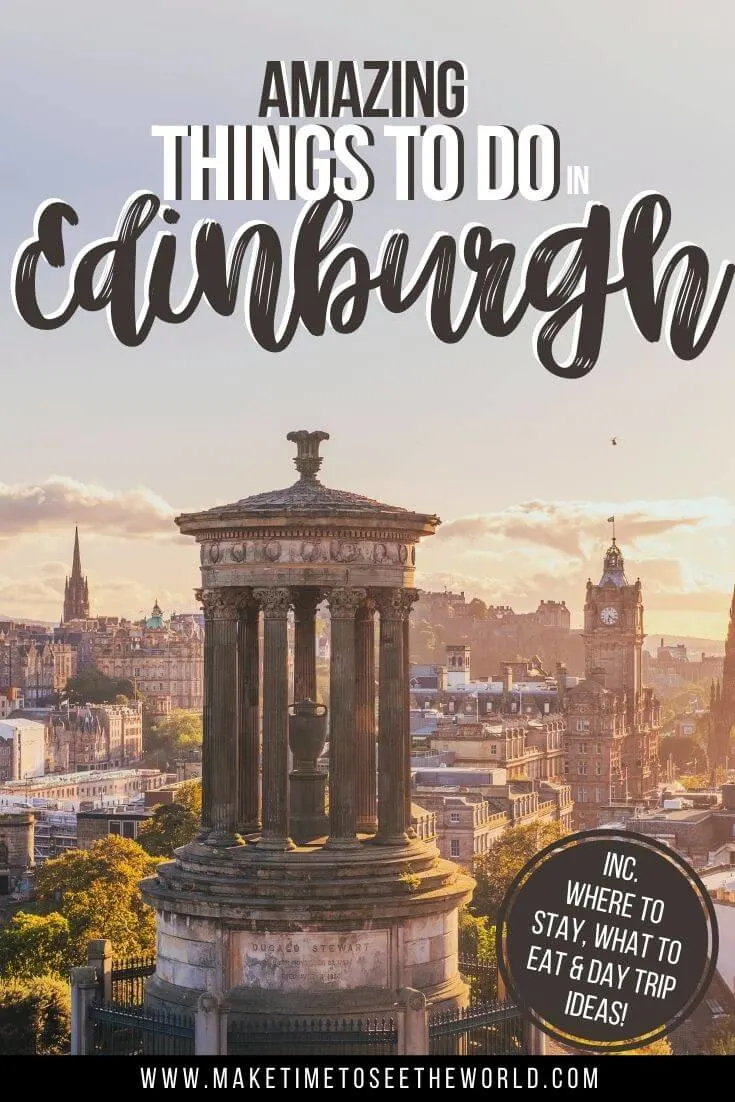 READY FOR MORE EUROPE TRAVEL INSPIRATION? YOU MIGHT BE INTERESTED IN THESE TRAVEL TIPS, TRAVEL HACKS, TRAVEL ARTICLES, TRAVEL DESTINATIONS GUIDES, TRAVELER RESOURCES AND RELATED POSTS ABOUT OTHER BEAUTIFUL CITIES IN EUROPE TO HELP YOU EXPLORE EUROPE AND TRAVEL THE WORLD:
Hi There! Thanks for reading our travel guide to the most perfect 2 Days in Edinburgh / 48 Hours in Edinburgh (inc Where to Stay in Edinburgh, What to Eat in Edinburgh & epic ideas for Day Trips from Edinburgh) I just wanted to let you know that this post contains affiliate links, which means if you purchase something after clicking a link, I may get a small commission – which is at absolutely no cost to you.
If you enjoyed this article and are going to be searching for some of the things I mention anyway, I would love it if you could click through from the links above & thank you in advance! Read my full Disclosure here.
And a huge Thank You for reading the MakeTimeToSeeTheWorld travel blog.