Perfect for first-timers our guide to the Best Things to do in Dubrovnik includes where to stay, what to eat, how to get around & 4 amazing day trip ideas to help you explore more of Croatia.

When planning a trip to Croatia, Dubrovnik is often at the top of the list. Here in the 'Pearl of the Adriatic,' a Unesco World Heritage Site, home to King's Landing (of Game of Thrones fame) and Canto Bight Casino (from The Last Jedi) are just some of the features that make Dubrovnik a bucket-listers' darling. Perfect for solo travelers, couples, groups and anyone looking for an intoxicating mix of nature, history, sweeping views, and those oh so sweet summer vibes.
And to help you make the most of your stay we have put together a complete first-timers guide to Dubrovnik including how to get around, where to stay in Dubrovnik, where to eat and the top things to do in Dubrovnik (including 5 amazing day trip ideas!)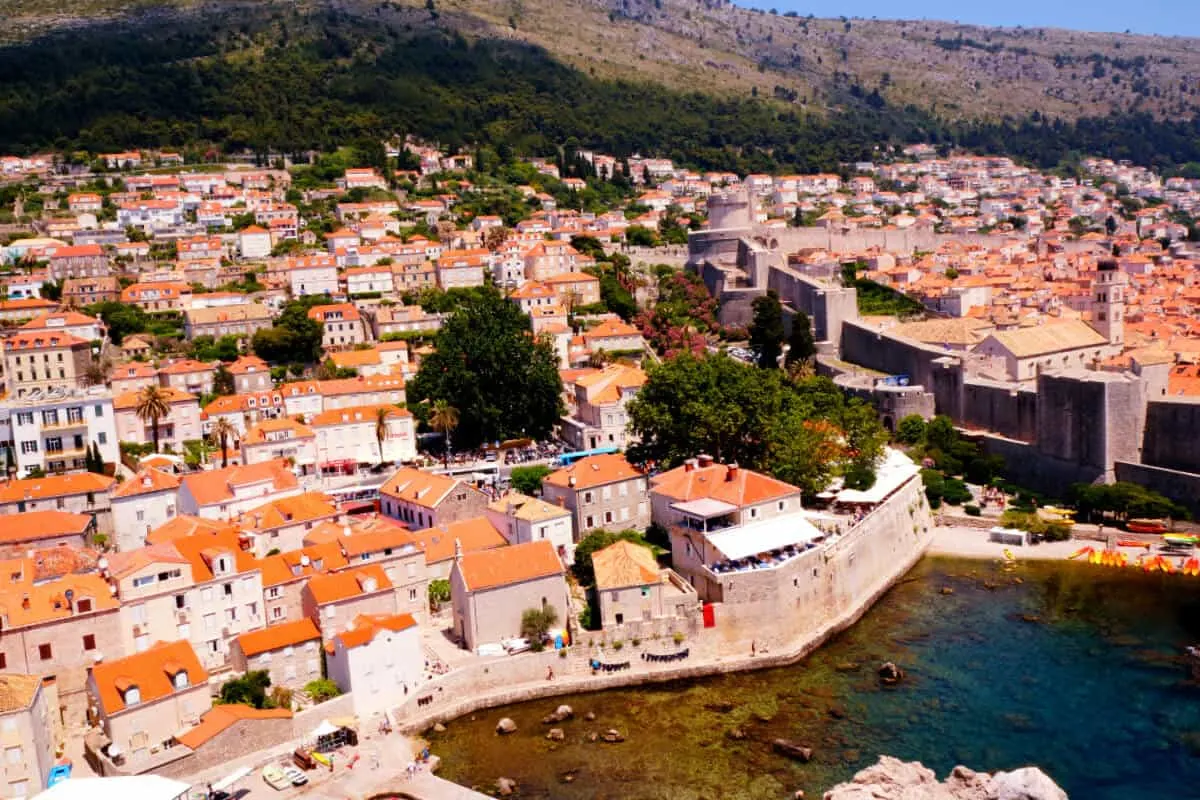 Disclaimer: Almost all posts on this site contain Affiliate links, and this one about The Top Things to do in Dubrovnik (inc Dubrovnik Travel Tips, Where to stay in Dubrovnik, What To Eat and 4 Incredible Dubrovnik Day Trips) is no different. This means that if you click on any of the links in this post (and make a purchase) I may receive a small commission at absolutely no cost to you. Each post is carefully crafted to (hopefully!) answer all your questions and recommendations are made where we believe they will improve your trip and help with your planning. As such we thank you in advance should you decide to click & buy. Read my full Disclosure here.
Contributed by Martina from The Global Curious
Essential Dubrovnik Travel Tips
How to Get Around Dubrovnik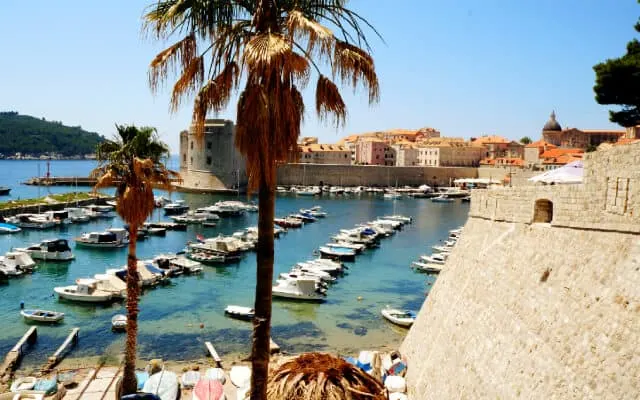 Dubrovnik is a relatively small city, which means you can explore most of its attractions easily within a short time, and mostly on foot. There are actually not that many ways to get around town -no metro or tram-, so the bus is pretty much the only choice for the tourst attractions outside the Old Town.
Of course, you can hire a car, but you'll struggle for parking space. And taxis mean traffic jams! It's important to note that the Old Town of Dubrovnik is a pedestrian-only area. To head out of town on a day trip, simply hop on a ferry and visit the islands around the city as well.
If you are arriving at Dubrovnik's airport, located 20 km south of the city, you can either catch an airport taxi or the Atlas Shuttle service. It's a 20-minutes trip, and the cost ranges from USD 10 to USD 35 -note that 6.5 Croatian Kunas are roughly 1 USD.
Where to Eat in Dubrovnik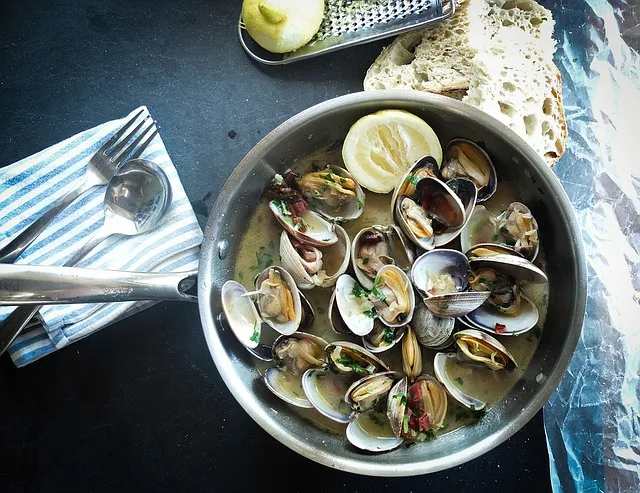 Active travelers can easily get some food on the go at any of the great bakeries located just outside the Old Town's main gate. You can also visit the Old town market for fresh products and yummy snacks.
Sitting at any of the many alfresco restaurants for a high-quality seafood sesh is an absolute must -and one of the top things you can do in Dubrovnik. My personal favorite is Dubravka 1836. Set next to the main gate, this classic outdoor terrace restaurant offers a great dining experience with views of the Lovrijenac Fortress, the Old Town, and the Adriatic Sea in full bloom. They serve fresh seafood at fairly affordable prices, and their service is great.
If you fancy dining within the town walls, reach Prijeko Street and wander around its many small and cute restaurants. For sunset drinks, head to a wine bar on the cliffs and chill above the sea with a cocktail! And for the real foodies among you, make sure you book yourself onto a Gastronomy tour: Sample some incredible dishes and enjoy a spot of wine tasting at the same time!
Where to Stay in Dubrovnik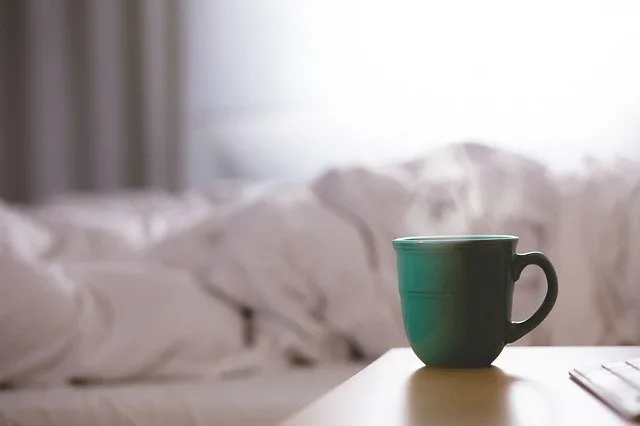 Find the perfect Dubrovnik hotel with our budget, mid-range and luxury options.
Budget: Hostel Sol – Budget-friendly accommodation less than 500m from Gruz Port with twin, double and family rooms available (and really comfy beds!)
Mid-Range: Villa Four Winds – Set within the walls of the Old City, only 100 m from the Stradun Promenade, it offers free Wi-Fi and air-conditioned rooms with modern furnishings and an LCD satellite TV.
Luxury: Prijeko Palace – Located in the heart of the UNESCO-protected and only 50 m from Stradun Promenade, Prijeko Palace (as the name implies) is set within a palace recreating 16th century architecture and alternating between modern and Baroque elements, with a pebbly beach a short 600m stroll away.
Top Things to Do in Dubrovnik
Old Town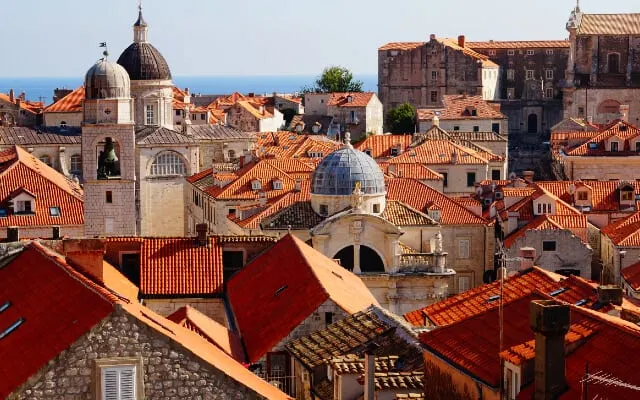 The sight of the walled Old Town will transport you back in time as your imagination plays out how Dubrovnik must have been as a thriving medieval city -I even shed a few tears of joy the first time we crossed the main bridge.
The Old Town of Dubrovnik sits on the border of the Adriatic Sea, still as prominent as it was during medieval times. This UNESCO World Heritage site embodies its own kind of ancient charm, and it won't fail to fascinate anyone. Take your time and walk along its cobblestone alleyways. Go back and forth Stradun Street -the main pedestrian thoroughfare within the walls- admire its old buildings' facades, grab a bite, meander, get lost, and feel like a time traveler!
Walk Dubrovnik City Walls
View this post on Instagram
Dubrovnik's Old Town is surrounded by high walls as a means of protection from invaders and natural elements. Today, these walls, built between the 12th and 17th centuries, can be visited making for a spectacular experience. Walk the entire loop -around 2 hours – or explore a part of it! You can access the wall via 3 points, but the main entrance is by the Pile Gate.
The visiting hours vary throughout the year. Over summer the Walls of Dubrovnik open at 8 am and close at either 7 pm or 7.30 pm. The cost of the tickets also changes. An off-season visit costs KN 50 whereas a summer stroll up on the walls is KN 200 -about USD 30!
If heights aren't your thing, get a unique view of the Walls from a water-based outdoor activity – maybe a Sea Kayak Tour, a Catamaran adventure, a speedboat trip or even a sunset cruise.
Go for a swim outside the city walls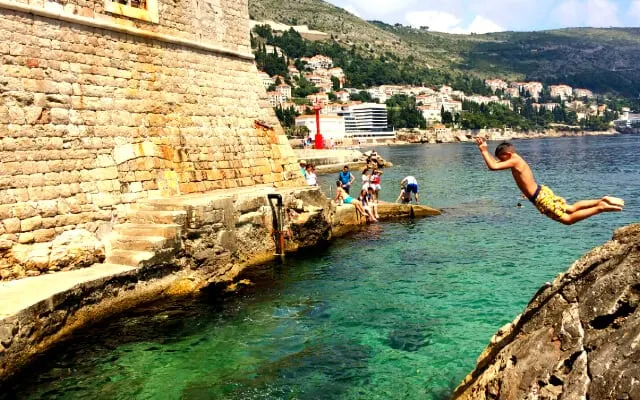 The Adriatic's waters are too pristine to deny yourself a swim, especially when you have had a good walk under Croatia's blazing sun! So, get your swimsuit ready and head outside the city walls, closer to the port entry. Here, at the base of the walls, swimmers of all levels can easily go for a jump and dip, and you cannot really wish for a better place.
The sole idea of bathing next to a 1000-year-old fortress is worthy of any bucket list! If you need a more shallow area, head to Banje Beach (one of the most popular beaches in Dubrovnik due to it's proximity to the Old Town).
Take Game of Thrones Tour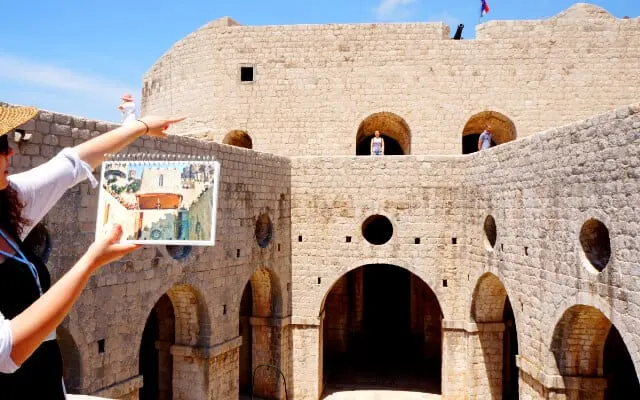 Dubrovnik's recent popularity as a tourist site partly comes from Game of Thrones fans who flock to visit how the TV series was brought to life in this ancient city. So, if you love GoT – despite its ending(!) – here's your chance to explore the filming locations of King's Landing.
If you are curious to hear funny insider stories, take the 2 to 3 hour guided walking tour (it's a top rated tour in Dubrovnik) Alternatively, do your research and go on a self-guided tour. Either way, visiting these Game of Thrones locations has fast become one of the top things to do in Dubrovnik.
Visitors short on time can select a Game of Thrones Walking Tour not only to go crazy at any of the locations but also to learn about Dubrovnik's history. Earthquakes, wars, change of empires and fires are just the tip of the iceberg.
Dubrovnik Cathedral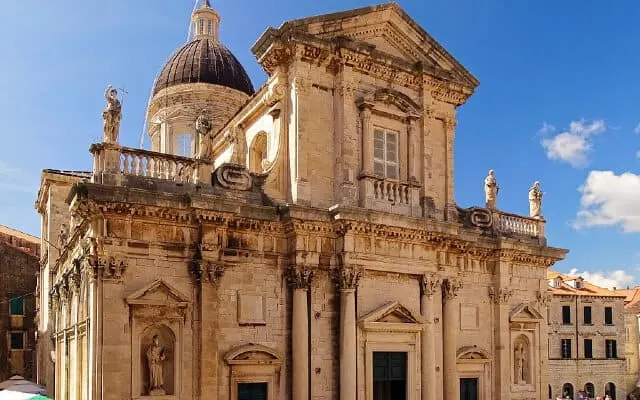 Visiting the 17th-century Romanesque cathedral is undoubtedly one of the top things to do in Dubrovnik. It's believed to be built on the premise of much older cathedrals, the earliest one dating back to the Byzantine Empire.
There's no cost to enter the Cathedral, which opens every day from 9 am to 5 pm. Keep in mind it's not possible to enter during mass if you are not planning to stay.
Jesuit's Stairs

The popular scene of "Walk of Shame" from Game of Thrones took place in this impressive flight of stairs! But that's not the only reason why you should check them out. The Baroque style of the Jesuits Staircase resemble the Spanish stairs in Rome, and represent a tiny fraction of the 5423 steps visitors would come across in Dubrovnik -yup, there's a lot of going up and down around town.
Fort Lovrijenac (Fort of St Lawrence)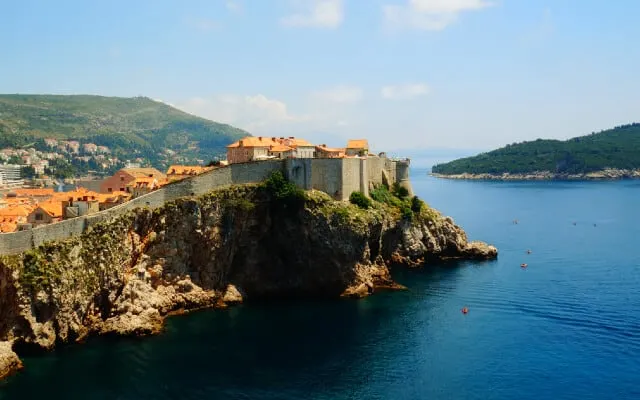 Also known as Fort of St. Lawrence, this magnificent structure stands atop a cliff overseeing the Adriatic Sea. Fort Lovrijenac is stunning! More so if you visit it in the evening as the sun fades in the background over the West harbour. The fort was built in a triangular shape to suit the contour of the massive rock back in the 11th century. It was a focal point of defense in the past, and today it's a hotspot for wedding ceremonies. The fort is another setting for GoT and it's also used for famous plays like Shakespeare's Hamlet.
Your ticket to Lovrijenac is included in the City Walls entry. If you are visiting only the fort, the ticket costs KN 50.
St. John's Fortress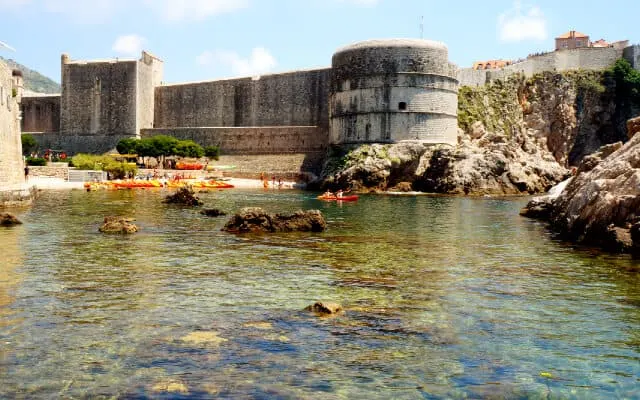 Protecting the entrance of the Dubrovnik Harbor stands a fortification known as St. John's Fortress -or Fort St Ivana. This guardian was built by merging two older forts in the 16th century to protect the port. Today, it's renowned for its Maritime Museum and Aquarium, for which you have to purchase tickets separately.
However, if you don't feel like hanging out at a museum, don't worry! You'll walk on the top of the fort during your City Walls' tour. If you happen to visit Dubrovnik during the Summer Festival, don't miss the cultural performances that take place on the fort's terrace.
Ride the Dubrovnik Cable Car to Srd Mountain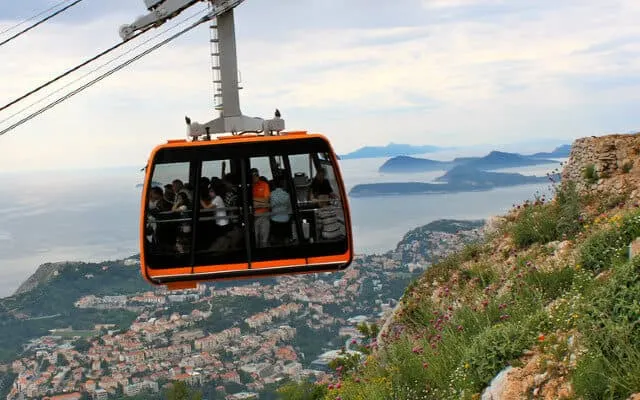 For a thrilling sightseeing experience of Dubrovnik city, go on a cable car ride. The 778-meter long journey takes you to the peak of Srd Mountain, which is yet another great picture spot! One of the top attractions in Dubrovnik, visitors can feast on spectacular views of the Old Town, Lokrum Island, and of course, the Adriatic Sea.
Reach the lower cable car station located near the eastern entrance of the Old Town to join the ride. The upper cable station has a restaurant and café, so sit back and enjoy the panoramic views from the top of Mount Srd. And if you are up for a hike, put on your hiking boots and go up the hill on a 1-2 hours track!
The round-trip cable car tickets cost KN 160. The operating times vary throughout the year, so check the website for more information.
Walk Through Pile Gate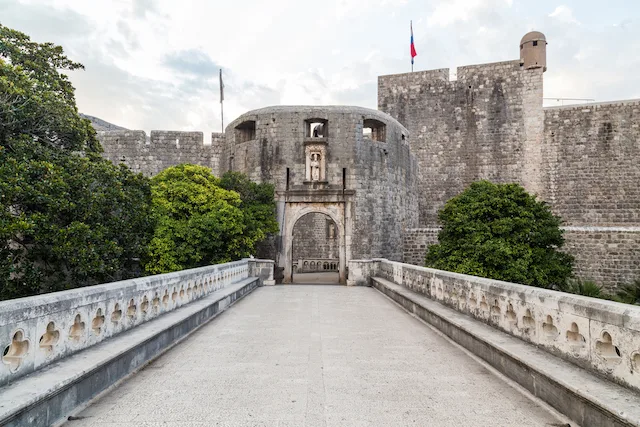 Another Game of Throne specialty! The Pile Gate is truly the typical castle entrance you'd see in fairytale movies. But, it's actually the main entrance to Dubrovnik's Old Town, consisting of two gate doors. A stone bridge, combined with a wooden drawbridge which the ancient Old Town used to pull up every night, leads to the outer gate door. On the gate's arch is a statue of St. Blaise, the beloved protector of Dubrovnik.
At the other end of town, and the entrance from the Eastern side, is the Ploče Gate (also known as Vrata od Ploča). This gate is less ornamental than the Pile Gate, but is still a beautiful spot to see if you're in the area.
Church of St. Blaise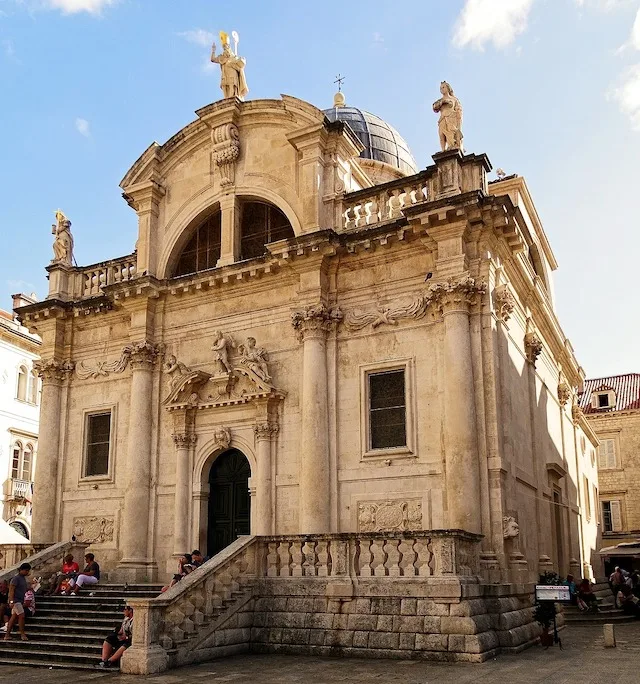 St. Blaise Church is probably the most celebrated church in Dubrovnik, mainly because it's dedicated to the revered saint of the city, St. Blaise. The Baroque style church is embellished by a large dome and ornate carvings. Even if you'd rather not go in, make sure to walk by this beauty and admire its facade!
Sponza Palace and the Rector's Palace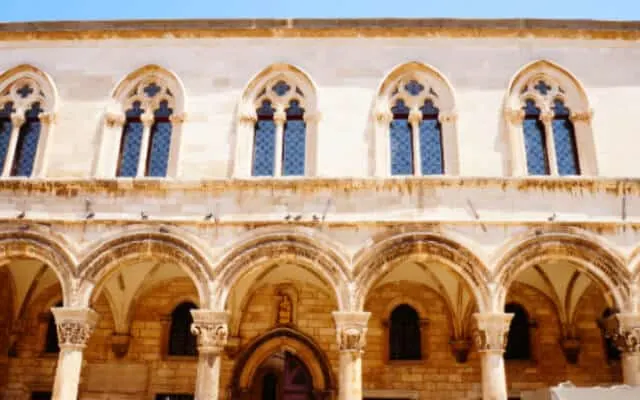 You get 2 in 1 here! For those who love architecture, the Sponza Palace and the Rector's Palace are two-of-a-kind. Both are located within meters from each other and represent important historical sites dating from the 1516 and the early 15th century.
The Sponza Palace was originally a customs house for processing taxes. The palace features a blend of gothic and renaissance styles and remains one of the best-preserved structures that survived the 1667's earthquake. It's a charming place to explore, and you'll notice many interesting sculptures decorating both its interior and exterior. There's a memorial room dedicated to defenders of the Siege of Dubrovnik.
Moving on to the Rector's Palace! This gem was rebuilt twice and now hosts the Museum of Dubrovnik.
The Sponza Palace is open from 8 am to 7 pm -tickets cost KN 25. The Rector's Palace opens from 9 am to 6 pm and its combined ticket -with access to many other sites- costs KN 125.
Visit the Open-Air Market at Dubrovnik Old Town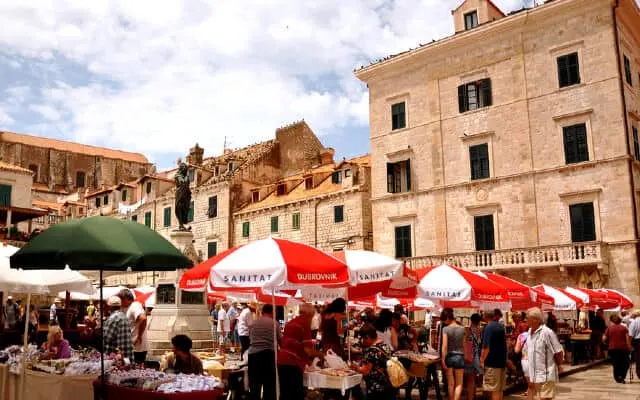 If you are looking to purchase some souvenirs, grab a snack of local fresh produce, or just do random shopping, head to Gundulić Square, where Dubrovnik's open-air market takes place every day from 7 am to 5 pm. Treat yourself to fresh fruits like strawberries, apricots, and peaches, and grab some dried fruits to take home! You would also find vendors selling essential oils like lavender, and hand-knitted items. It's no wonder it's one of the best things to do in Dubrovnik!
Top 5 Day Trips from Dubrovnik
Granted that if you are visiting Dubrovnik for only a short time, you may want to focus on the top things to do around town first. Still, if you can spare a few days, make sure that you head on a day trip (or 2, or 3)!
Lokrum Island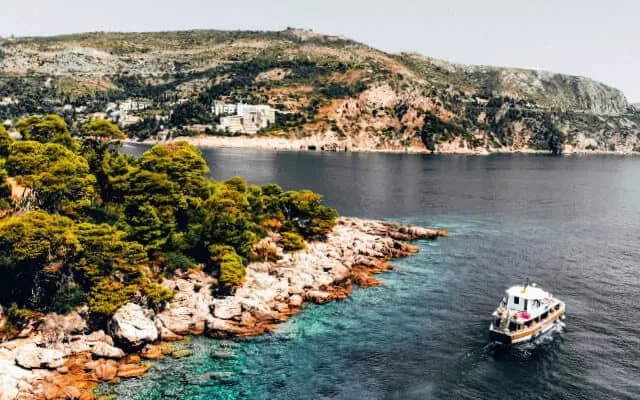 Another gem of Dubrovnik, The Island of Lokrum is Game of Thrones' City of Qarth, located only a 15-minute boat ride away from the city. The Betina Cave on the island is a great spot for swimming and snorkeling, allowing you to get a glance of the Adriatic's pristine marine life. The Benedictine Monastery, Botanical Garden, Fort Royal, and Charlotte's Well are attractions not to be missed here. The Dead Sea, which is a saltwater lake, is a shallow, cozy, secluded area ideal for relaxing, picnicking and going for a splash. So, if you need to spend some time away from the city noise, you know where to tiptoe now!
To reach Lokrum Island, simply get on one of the boats departing the Old Port. There are no cars allowed on the island, which only adds to the fun!
Mljet National Park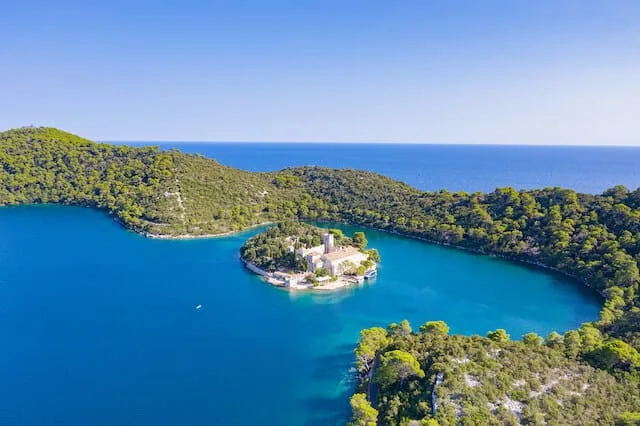 If your idea of a day trip is an escape into the wilderness, then Mljet National Park is a great choice. Tucked on the island of Mljet, the park features many sights such as two saltwater lakes, caves, and a quaint village.
While cycling or walking on the park's scenic landscapes is enough to liven up any traveling heart, you can also add action-based activities like swimming, scuba diving, and even canoeing. So remember to pack your backpack and bring the outdoorsy gear you have at hand as you can camp here!
To get to the Mljet National Park, take the ferry departing from Dubrovnik's old port, and be there in just under 2 hours.
Mostar (Bosnia & Herzegovina)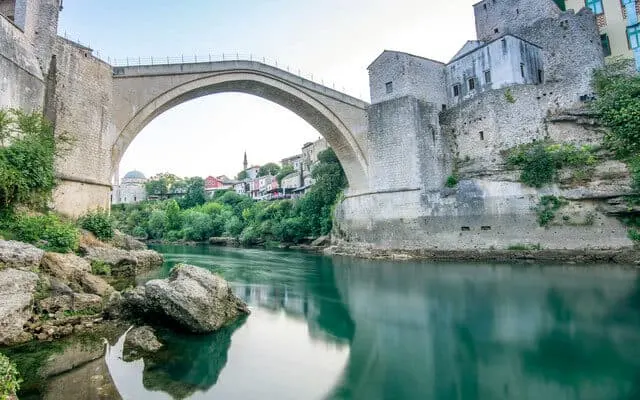 Feel like setting foot in another country for a day? Then Mostar, in Bosnia and Herzegovina is for you! A picturesque city a bit further from Dubrovnik, Mostar is totally worth it if you are considering places for a long-ish day tour. The journey would take around 2-3 hours by car, or 3.5 on a bus. Nature lovers would go crazy here as it's filled with gorgeous waterfalls, beautiful riverways, and a bit of a mystical vibe (especially at the Kravice waterfalls!)
You can take the bus from Dubrovnik, book a day tour, or rent a car for the day. Don't forget your passport -you'll go through customs!
Montenegro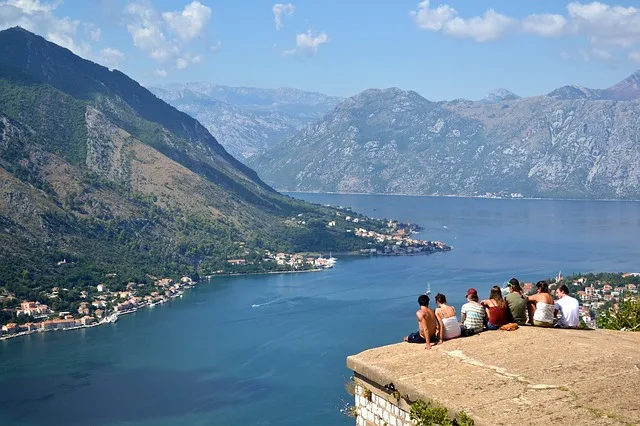 If fitting a 3rd country into your trip sounds like your kind of travel experience (after Bosnia, above) – then look no further than a day trip to Montenegro. There are a few different options for your day trips to Montenegro, with options to cruise in Kotor Bay, visit Budva and Perast. Take a look at the Montenegro Fullday Trips below and pick the perfect one for you.
Split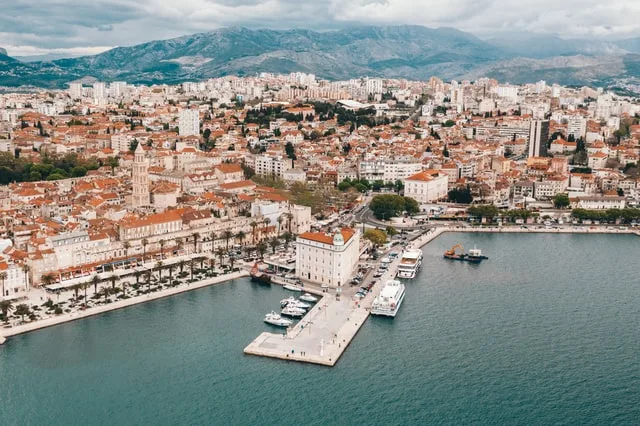 The second-largest city of Croatia, Split, it's worth a visit if you can't get enough of all these ancient towns that are beyond charming and unique. With a quite distinctive and authentic style, Split boasts a variety of sights to keep you entertained for the day. Discover the classic Roman lifestyle with a visit to the Diocletian's Palace, walk the promenade, dive into history at the Archaeology Museum, and enjoy the city's vibrant beach club nightlife. You can also go on boat trips to view this port city better!
If you are going for only 1 day, it's best to either book a private tour or rent a car. The bus takes nearly 4 hours so it'd leave you too little time to delve into this vibrant city. A car is a great option as it gives you more freedom, plus Croatian's roads are in great condition!
Final thoughts on the top things to do in Dubrovnik
It's totally possible to visit all the main sights and tourist attractions in a couple of days, but of course, this would depend on your pace as a traveler, and if you can spend more time, we think you definitely should. Dubrovnik is a crowded town, but it's an absolute sunny beauty breathing life in every corner. Learn about the city's history, go for a swim, chill by the sea, book a kayak tour, go island hopping, and simply delve into your own vision of the 'Pearl of the Adriatic.'
We hope this guide to 13 Best Things to do in Dubrovnik Croatia (perfect for first-timers) had been a huge help planning your trip to Dubrovnik, and has shown you all the best things to see in Dubrovnik + plan a couple of great day trips from Dubrovnik while you are there!

If you know of anyone else that needs a little bit of inspiration or assistance in planning their Dubrovnik vacation (or how to explore Dubrovnik while they are there!), please be sure to share this post on social media: Facebook, Flipboard, Twitter or grab one of the images from below for Pinterest. And remember – sharing is charing (and we thank you in advance!)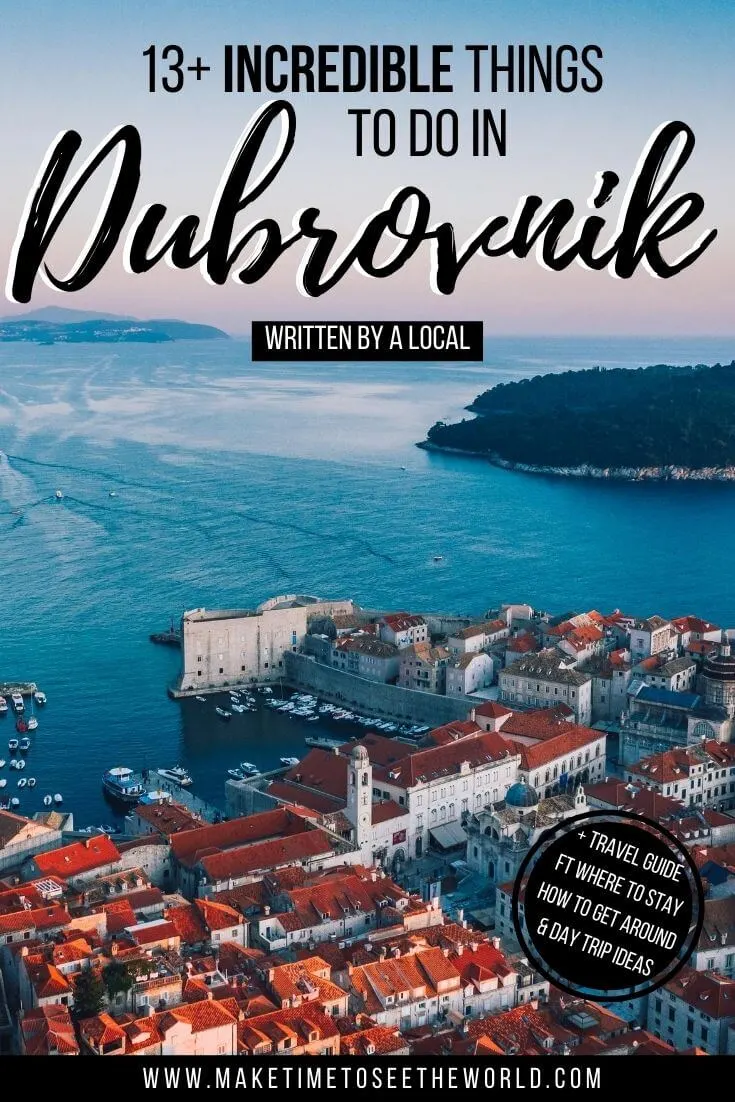 READY MORE EUROPE TRAVEL INSPIRATION? YOU MIGHT BE INTERESTED IN THESE TRAVEL TIPS, TRAVEL HACKS, TRAVEL ARTICLES, DESTINATION GUIDES, TRAVELER RESOURCES AND RELATED POSTS ABOUT OTHER AMAZING CITIES IN EUROPE:

Hi There! Thanks for reading our guide to the most 13 BEST Things to do in Dubrovnik Croatia (Perfect for first-time visitors) I just wanted to let you know that this post contains affiliate links, which means if you purchase something after clicking a link, I may get a small commission – which is at absolutely no cost to you. If you enjoyed this article and are going to be searching for some of the things I mention anyway, I would love it if you could click through from the links above & thank you in advance! Read my full Disclosure here.
And a huge Thank You for reading the MakeTimeToSeeTheWorld travel blog.