The capital of Queensland and 3rd largest city in Australia (with approx. 2 1/2 million people), Brisbane still manages to retain a small town vibe and is referred to as Brissie or BrisVegas by the locals.
Another name for Brisbane is the River City because of the way the Brisbane River, a tidal estuary, slowly meanders its way through the city. The river plays an important role in the Brisbane lifestyle with running tracks and cycle paths following along the rivers edge as well as many parks bordering the river that are popular destinations for picnics or BBQ's.
"Brisbanites" are laid back by nature and enjoy an outdoor lifestyle thanks to the beautiful subtropical climate and the 283 days of sunshine each year. You're more likely to see Brisbane residents dressed in shorts and a t-shirt than in a suit and tie.
Disclaimer: Almost all posts on this site contain Affiliate links, and this one about the Best Things to do in Brisbane + Brisbane Travel Guide (Perfect for First-Time Visitors) is no different. This means that if you click on any of the links in this post (and make a purchase) I may receive a small commission at absolutely no cost to you. Each post is carefully crafted to (hopefully!) answer all your questions and recommendations are made where we believe they will improve your trip and help with your planning. As such we thank you in advance should you decide to click & buy. Read my full Disclosure here.
Contributed by Susan Gan of Thrifty After 50
Essential Brisbane Travel Tips
How to get around Brisbane
If you plan to stay within the Brisbane CBD and don't require a car then the easiest way to get from the Brisbane airport to the city would be either catch a taxi, Uber or the AirTrain. If you are travelling on your own then the AirTrain will be the cheapest option whereas if travelling in a group if will be cheaper to catch a taxi or Uber.
Once you are in the city itself, you can easily walk to all the major tourist spots. Alternately you can take advantage of the free public transport options available to tourists which are the free CityHopper Ferry and City Centre Bus Loops.
If you don't intend to stay within the Brisbane CBD but instead plan to explore the Gold Coast or Sunshine Coast then you can rent a car at Brisbane airport.
You can also catch the AirTrain from Brisbane airport to the Gold Coast.
What or Where to Eat in Brisbane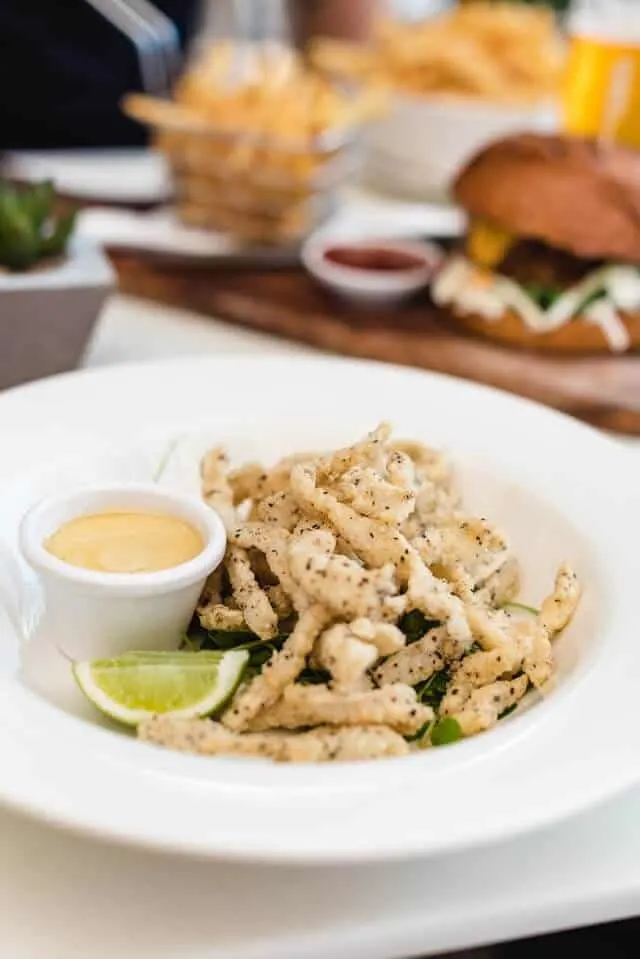 Brisbane is a very multicultural city with nearly a third of its population being born overseas.
As a result of this diverse culture, you can pretty much find a restaurant from any country in the world. There's Thai, Chinese, Indian, Spanish, Mexican, Vietnamese, German, Turkish, French, Italian, or classic Aussie Pub Food to name a few.
A popular location for tourists to eat is the South Bank Parklands precinct.
As well as being a beautiful location, the South Bank precinct is very safe for tourists to walk around at any time of the day or night and has a wide range of restaurants to choose from:
the River Quay restaurants have views of the Brisbane River;
there are several pubs in the Stanley Street Plaza;
Little Stanley Street is crammed full of restaurants from one end to the other; and
Grey Street has a wide range of restaurants and takeaway options.
Where to Stay in Brisbane
Luxury (5*): Emporium Hotel South Bank – a 5* boutique

hotel with luxury facilities in South Bank, featuring stunning suites and a gorgeous rooftop infinity pool.

Mid-Range (3*): Royal on the Park –

Overlooking the City Botanic Gardens, this refined hotel offers rooms and suites featuring floor to ceiling windows with shared features including a fine dining restaurant and outdoor pool and hot tub.

Budget (2*): City Edge Brisbane Hotel – Located i

n a historic redbrick building within 5 minutes' walk of Roma Street train station, this humble budget hotel is also 6 minutes' walk from the Queen Street Mall shopping & entertainment areas.
For more suggestions on where to stay in Brisbane click here.
The Best Time To Visit Brisbane
Summer in Brisbane (Dec – Feb) is hot and humid with temperatures regularly reaching maximums in the mid to high 30's °C. Those days in the high 30's °C usually result in a summer storm with impressive thunder and lightning shows plus heavy rain.
Brisbane is also famous for its mild winter weather with average temperatures ranging from 11 – 21°C (51.8 – 69.8°F). Every year thousands of residents from Australias colder southern states make the annual northern pilgrimage to the Sunshine State to defrost and soak up the sun.
As such, any time is a good time to visit Brisbane but for excellent weather alongside smaller crowds, plan your trip in the shoulder seasons of Spring and Autumn.
Top Things to do in Brisbane
Take your photo in front of the Brisbane sign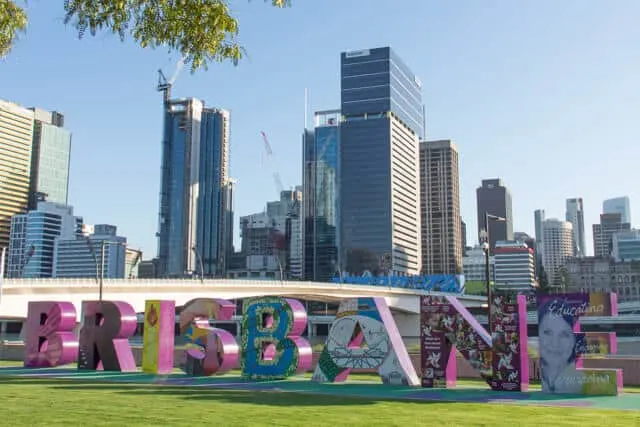 A great place to start your visit to the River City is with a photo in front of the Brisbane sign. The brightly coloured sign sits perched on a grassy area between the banks of the Brisbane River and the Qld Performing Arts Centre.
Swim at Australia's only inner city beach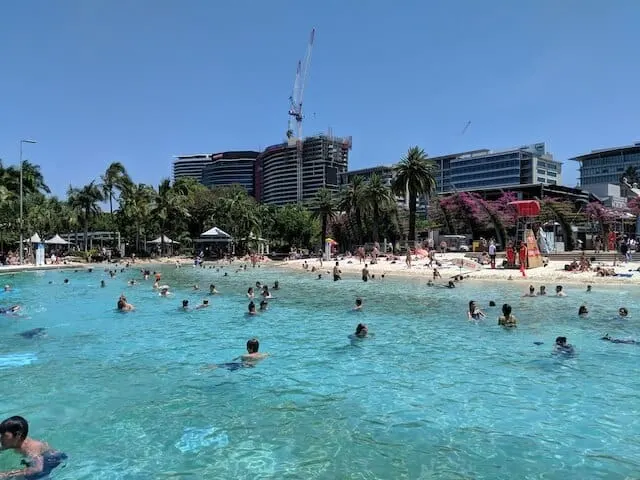 Australia's only inner city beach is located in the middle of South Bank Parklands and is a beautiful oasis of palm trees and sand in the middle of a bustling city.
Thanks to Brisbane's subtropical climate and the average maximum temperature in winter of 22 °C (72 °F) means that you'll find tourists and locals swimming at South Bank all year round. South Bank Beach is free to use and is even supervised by lifeguards with hours varying from 9am-7pm in winter to 7am-8pm in summer holidays.
Explore South Bank Parklands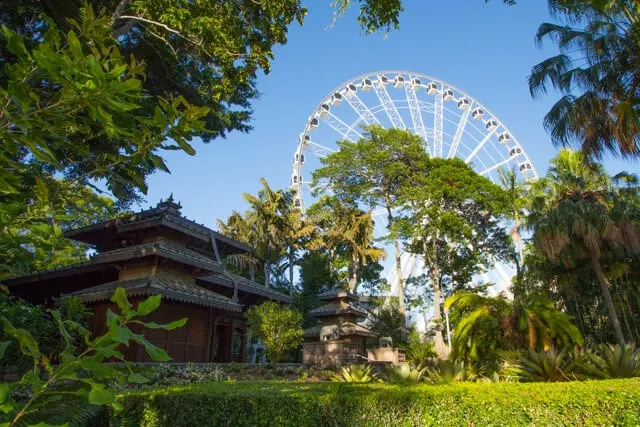 Originally the site of Brisbane's World Expo 88, South Bank Parklands was re-invented as a green space for all of the residents of Brisbane to enjoy.
A 1km long arbour covered in vibrant magenta bougainvillea winds its way through the parkland leading tourists through the various spaces; a rainforest, several children's playgrounds, green spaces for picnics and BBQ's, areas from swimming and water play, an Epicurious garden, a riverfront promenade to walk along or just sit and relax, and even a Nepalese Pagoda that was a gift from the Kingdom of Nepal.
South Bank Parklands is free to use and is open from 5am to midnight, 7 days a week.
Visit Lone Pine Koala Sanctuary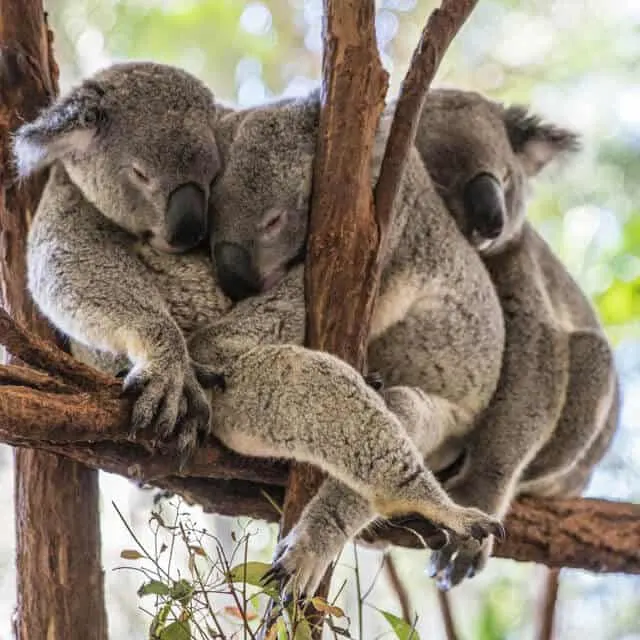 Lone Pine Koala Sanctuary is the oldest Koala sanctuary in the world and the perfect place to experience Australia's diverse range of native animals. See platypus, echidna and wombats, hand-feed the kangaroos, and even get your photo taken while holding a koala.
And if you're looking to see and experience some more of Australia's amazing nature and wildlife, take a 1 hour drive up the coast to Australia Zoo, made famous by the late Steve Irwin and his wife Terri and whose legacy has been continued by his famous children, Bindi and Robert.
Explore the Brisbane River on a free City Hopper Ferry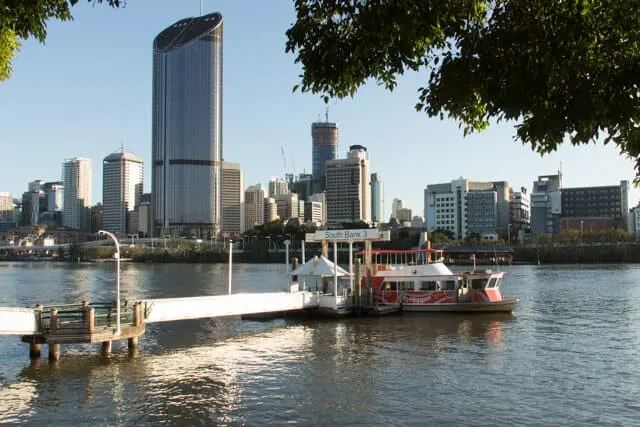 The Brisbane City Council provide a free ferry service that stops at eight inner city locations along the Brisbane River, including South Bank Parklands. The service runs every 36 minutes between 6am and midnight, seven days a week.
Admire the view from the Mt Coot-tha Summit Lookout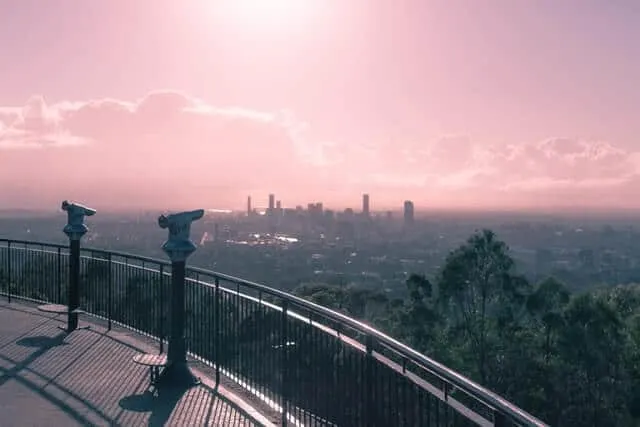 The Mt Coot-tha Summit Lookout is a popular location with both tourists and photographers for stunning views of Brisbane and Moreton Bay.
If you don't have access to a car you can catch the 471 bus (stop 34 or 41) from Adelaide Street in the Brisbane CBD. Get off at either the Brisbane Botanic Gardens Mt Coot-tha (stop 19) for the gardens and Visitor Information Centre, or continue up the hill to the Summit for those Insta-worthy panoramic views of the city skyline.
If you are travelling by car there is free parking at both the Mt Coot-tha Summit Lookout and the Mt Coot-Tha Botanic Gardens.
Visit the Brisbane Botanic Gardens Mt Coot-Tha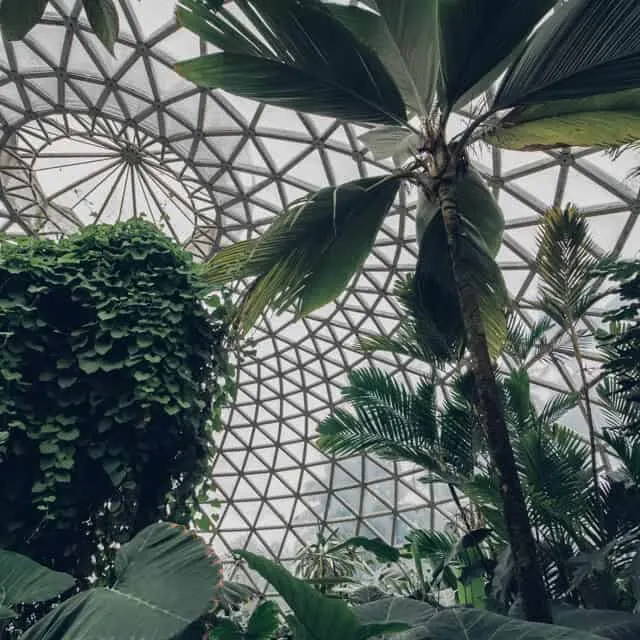 The Brisbane Botanic Gardens Mt Coot-Tha has been the official Botanic Gardens in Brisbane since 1976 and has the world's largest collection of Australian native rainforest trees.
Entry to the gardens is free and open daily from 8am-6pm in summer (September to March) and 8am-5pm in winter (April to August).
Go on a free Brisbane Greeters Tour

Brisbane Greeters are a group of volunteers that offer free walking tours of Brisbane.
Admire the city views from the Kangaroo Point Cliffs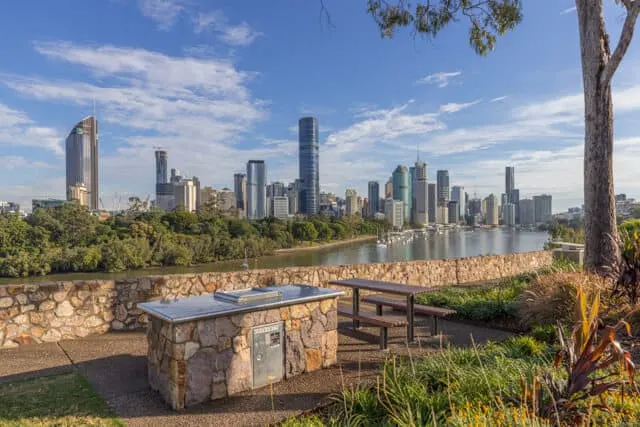 The Kangaroo Point Cliffs are located along the edge of the Brisbane River in the suburb of Kangaroo Point and are a popular recreation area for locals. The grassy areas at both the top and bottom of the cliffs provide stunning Brisbane City views and a popular place for a picnic, while the cliff face itself is used daily by rock climbers and abseilers.
The Kangaroo Point Cliffs are within easy walking distance of both the city and South Bank Parklands.
Wander Around the Queensland Cultural Centre
Located just on the opposite side of the river to Brisbanes CBD, the Queensland Cultural Centre is the arts and cultural hub of Brisbane. It is home to the State's leading arts and cultural institutions such as the Queensland Art Gallery, Gallery of Modern Art, Queensland Museum and the State Library of Queensland.
Take a free Brisbane City Hall Tour (incl. Clock Tower Tour and Museum of Brisbane)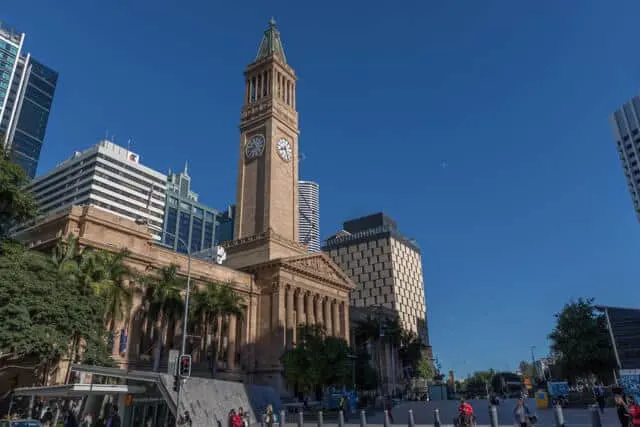 Visit the Museum of Brisbane on Level 3 of Brisbane City Hall to to book your free City Hall tour and tour of the City Hall Clock Tower. Learn about Brisbane's history, including its early years as a penal colony as well as how General MacArthur used Brisbane as a base during WWII to direct the Allied Forces.
And if you are in the mood to learn, be sure to head to the Sir Thomas Brisbane Planetarium while at the Botanic Gardens – it's a fabulous rainy day activity if you are unlucky with the weather.
Take a self-guided walk through the City Botanic Gardens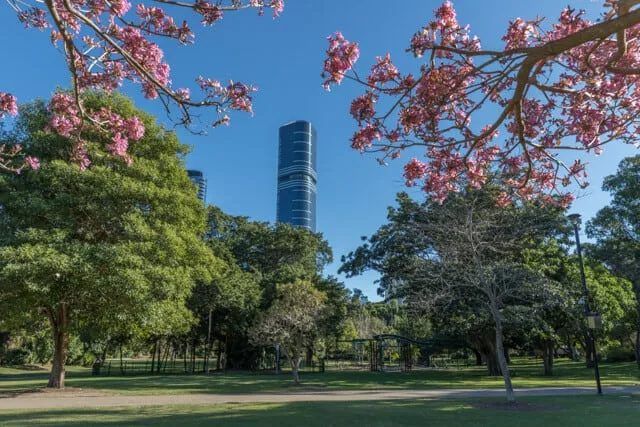 Take a self-guided walking tour through the City Botanic Gardens and discover some of the first plants to be formally planted in Queensland. The gardens were established in 1828 and once provided food for Brisbane when it was an early penal colony.
Located on Alice Street in the Brisbane CBD and bordered on two sides by the Brisbane River, the gardens have flooded on numerous occasions, resulting in Brisbane's official Botanic Gardens being moved to Mt Coot-Tha in 1976.
The City Botanic Gardens are open 24 hours a day and entry is free.
Best Day Trips from Brisbane
Day Trip to Moreton Island

The beautiful Moreton Island is the fun capital of Queensland!
Make sure you pack your togs and a towel when you visit here because there are lots of outdoor activities, including snorkelling among the Tangalooma shipwrecks, drifting along in a clear bottomed kayak, sandboarding down the sand dunes and swimming from deserted white sandy beaches.
You can also feed the dolphins, spot dolphins, turtles, whales and dugong swimming in the Moreton Bay or go on a bush walk and spot kangaroos and koalas.
Day Trip to O'Reilly's Rainforest Retreat, Lamington National Park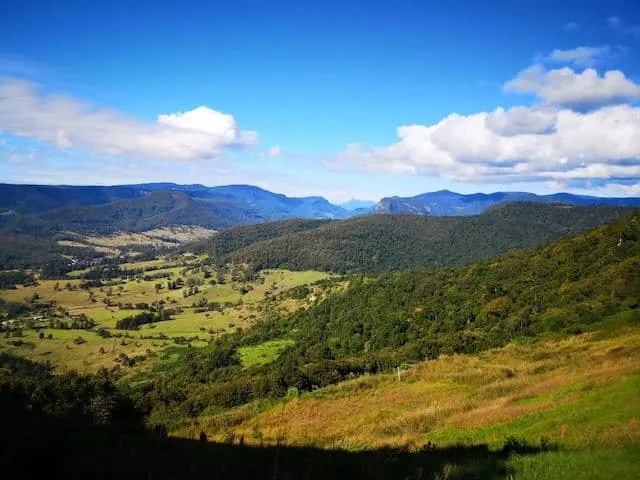 O'Reilly's Rainforest Retreat is a popular destination for thousands of tourists each year and is part of the Gondwana Rainforests of Australia World Heritage Area.
Head to O'Reilly's and explore the many bushwalking tracks as well as some of Lamington National Parks 500+ waterfalls. You can also take part in the daily bird feeding and explore the rainforest canopy from the Tree Top Walk.
For more tips on the best Brisbane Day Tours click here.
.
We hope this guide to 10+ Best Things to do in Brisbane Australia (perfect for first-timers) had been a huge help planning your trip to Brisbane, and has shown you all the best things to see in Brisbane + plan a couple of great day trips from Brisbane while you are there!

If you know of anyone else that needs a little bit of inspiration or assistance in planning their Brisbane or wider Queensland vacation (or how to explore Brisbane while they are there!), please be sure to share this post on social media: Facebook, Flipboard, Twitter or grab one of the images from below for Pinterest. And remember – sharing is charing (and we thank you in advance!)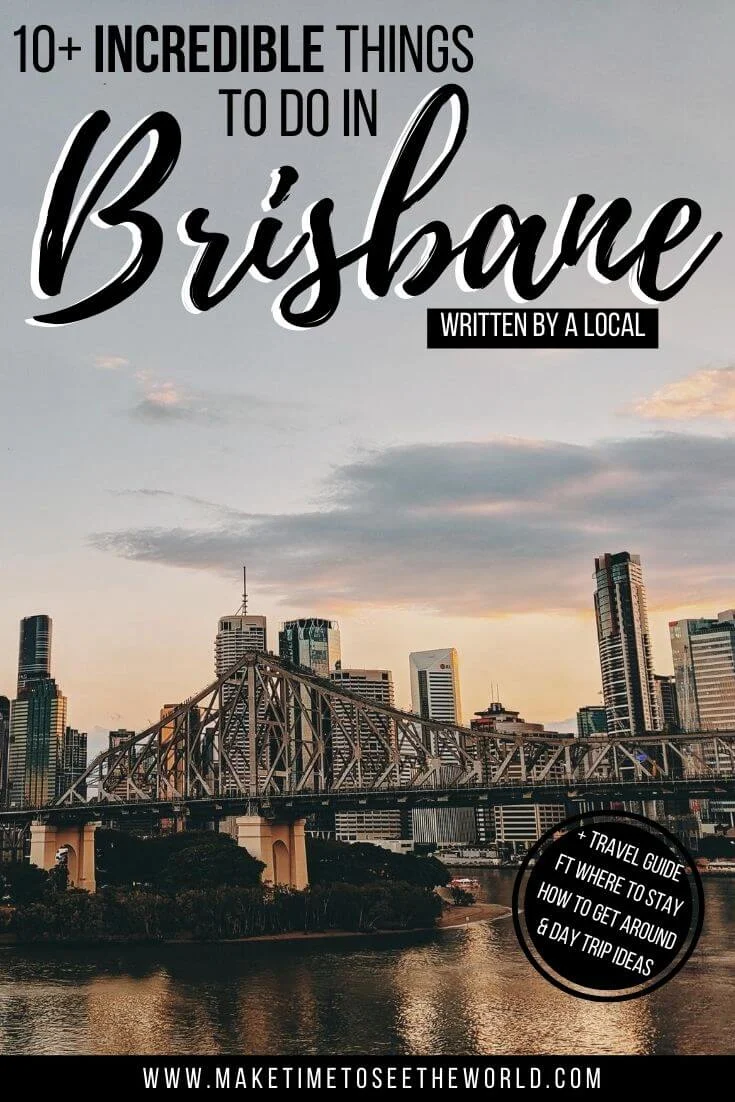 READY MORE TRAVEL INSPIRATION? YOU MIGHT BE INTERESTED IN THESE TRAVEL TIPS, TRAVEL ARTICLES, TRAVEL DESTINATION GUIDES AND RELATED POSTS:
Hi There! Thanks for reading our guide to the Best Things to do in Brisbane (Perfect for First Timers!) I just wanted to let you know that this post contains affiliate links, which means if you purchase something after clicking a link, I may get a small commission – which is at absolutely no cost to you. If you enjoyed this article and are going to be searching for some of the things I mention anyway, I would love it if you could click through from the links above & thank you in advance! Read my full Disclosure here.

And a huge Thank You for reading the MakeTimeToSeeTheWorld travel blog.