I'm a Disney Geek. Always have been and always will be. (I even worked at Walt Disney World in Florida back in 2008!). From the theme parks filled with magic to the movies that bring joy and the music and songs that I think could be the soundtrack to everyone's life (at one point or another!) and are so catchy they get stuck in your head for an eternity – the Disney empire has a lot to answer for.
But beyond the incredible visuals and sounds, 'Disney' has given us so much more when it comes to the words uttered by our favorite characters across the hundreds of Disney films made over the years.
And being the good little Disney devotee that I am, I have pulled together a collection of 80+ Inspirational Disney Quotes about Life, Love, Travel, Adventure & Happiness to hopefully bring a little escapism and job to your day.
Because Travel, Love & Adventure is the ultimate trifecta for me. And if I can get that all wrapped up in Disney Quotes, I am almost there, right?!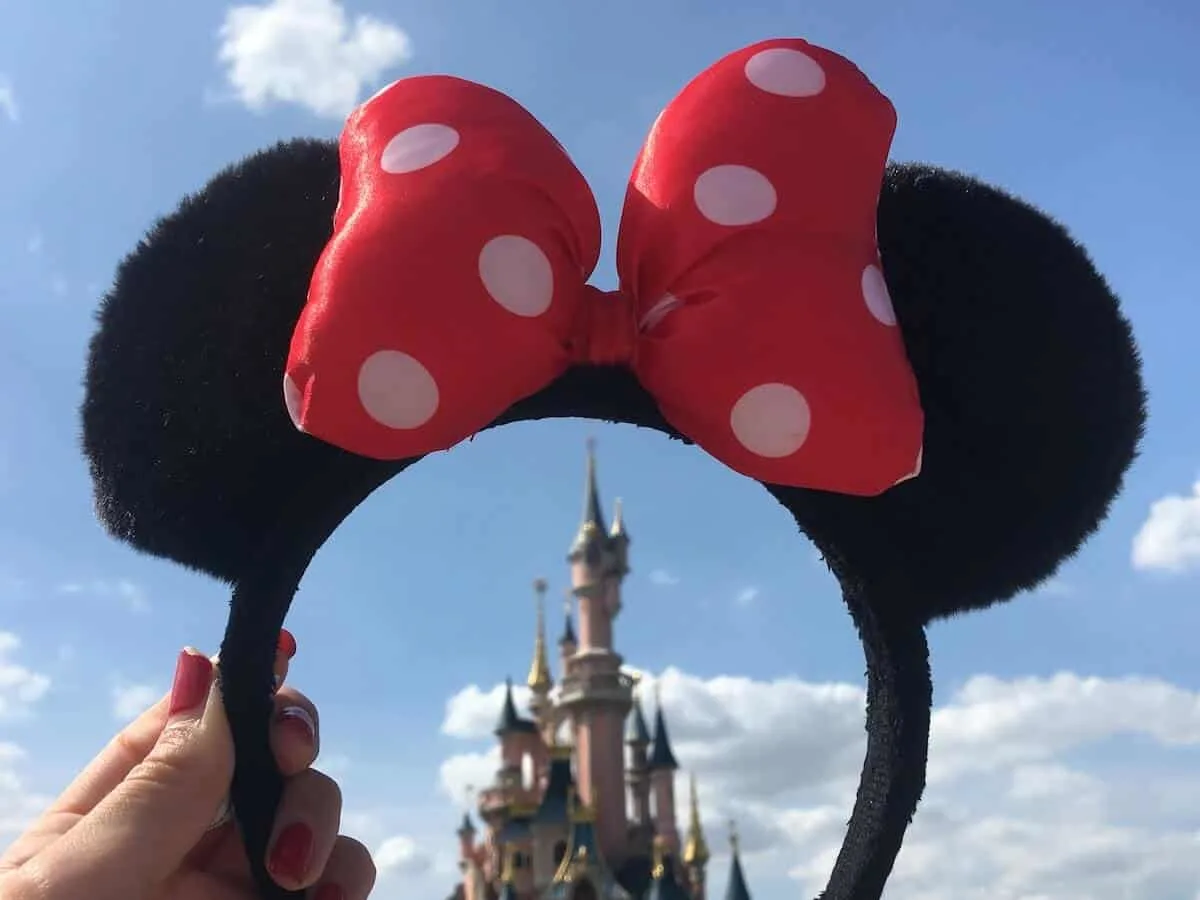 Disclaimer: Almost all posts on this site contain Affiliate links, and this one containing 80+ Inspirational Disney Quotes about Life, Love, Travel & Adventure is no different. This means that if you click on any of the links in this post (and make a purchase) I may receive a small commission at absolutely no cost to you. Each post is carefully crafted to (hopefully!) answer all your questions and recommendations are made where we believe they will improve your trip and help with your planning. As such we thank you in advance should you decide to click & buy. Read my full Disclosure here.
Inspirational Disney Quotes about Travel, Love, Adventure (& more!)
Disney Quotes About Travel
1. "The wilderness isn't quite what I expected. It's wild!" – Russell, Up
2. "Unbelievable sights, indescribable feelings, soaring, tumbling, freewheeling, through an endless diamond sky, a whole new world…" – Jasmine, Aladdin (🎶)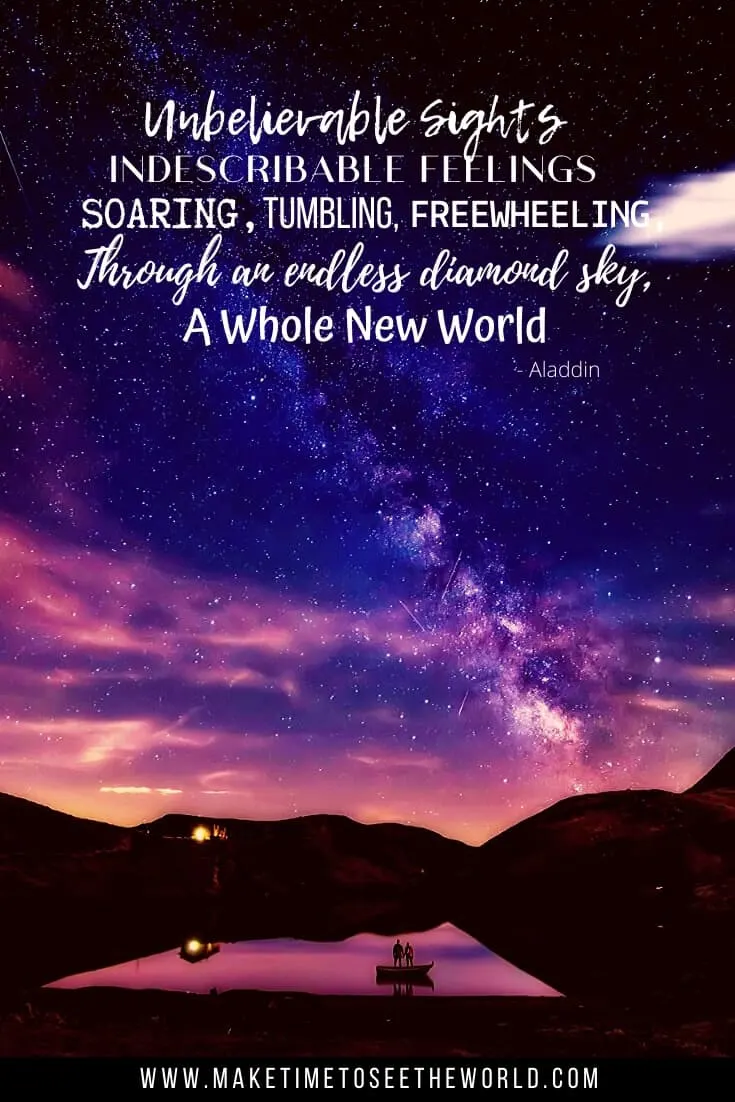 3. "And out there, living in the sun. Give me one day out there. All I ask is one to hold forever." – The Hunchback of Notre Dame (🎶)
4. "When I get home I shall write a book about this place… If I ever do get home." – Alice, Alice in Wonderland
5. "Always let your conscience be your guide." – Jiminy Cricket, Pinocchio
This is one of the oldest and most famous quotes from Disney films – from all the way back in 1940!

6. "If you walk the footsteps of a stranger, you'll learn things you never knew you never knew." – Pocahontas (🎶)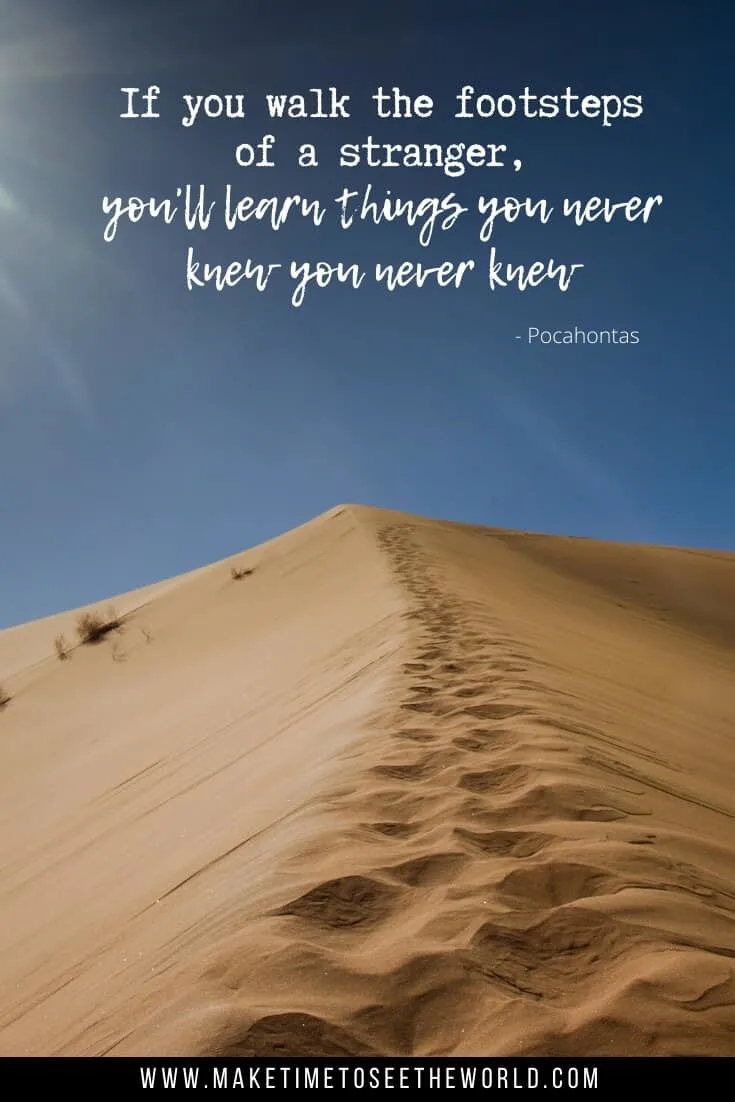 7. "When there's a smile in your heart, there's no better time to start. Think of all the joy you'll find, when you leave the world behind and bid your cares goodbye. You can fly." – Peter Pan (🎶)
8. "There's a great big hunk of world down there with no fence around it" – Tramp, Lady & The Tramp
9. "See the Line where the sky meets the sea, it calls me. And no-one knows, how far I'll go" – Moana, Moana (🎶)
10. "To infinity and beyond." – Buzz, Toy Story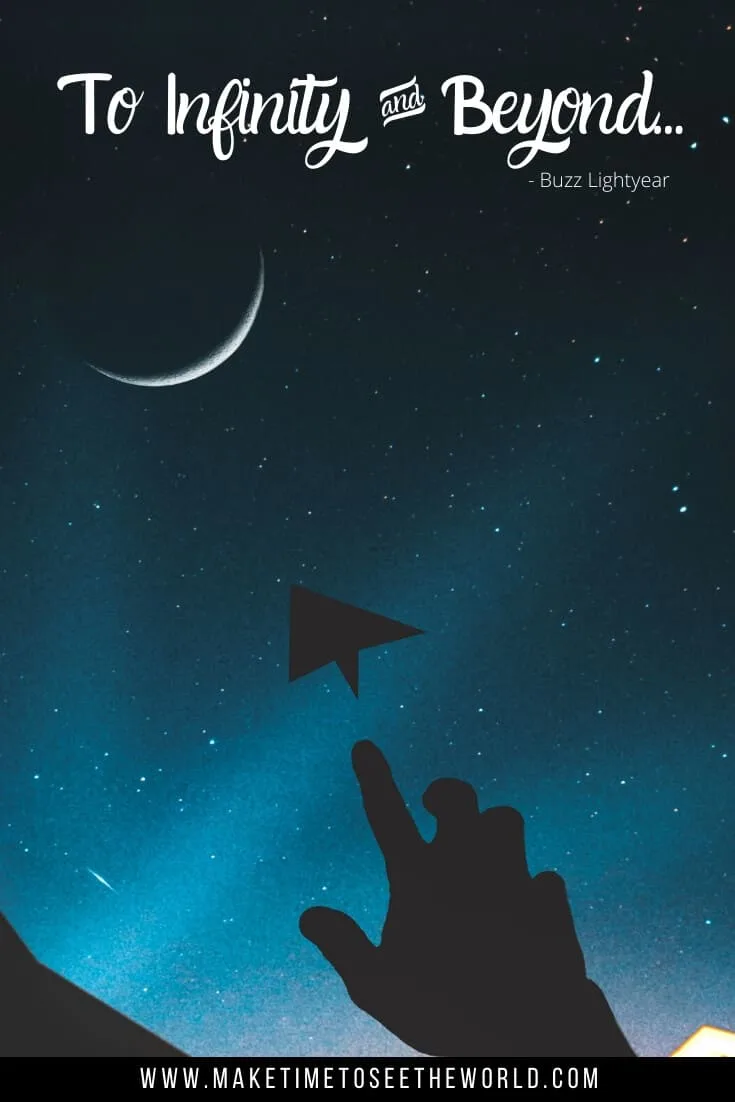 11. "If you don't know where you want to go, then it doesn't matter which path you take." – Cheshire Cat, Alice in Wonderland
Inspirational Disney Quotes About Love
12. "You will always be my greatest adventure." – Ellie, Up (this is one of those Disney movie quotes that makes me cry!)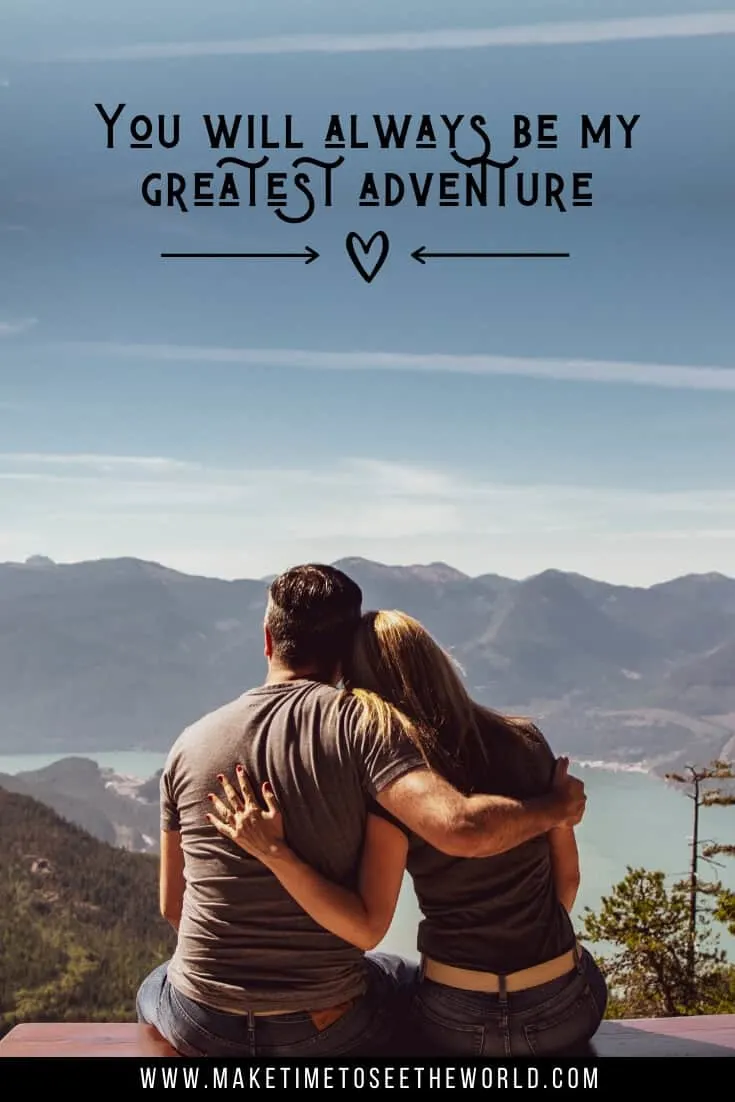 13. "A whole new world. A dazzling place I never knew, but when I'm way up here, it's crystal clear that now I'm in a whole new world with you." – Jasmine & Aladdin, Aladdin (🎶)

14. "Remember me, though, I have to travel far. Remember me each time you hear a sad guitar. Know that I'm with you the only way that I can be. Until you're in my arms again, remember me." – Coco (🎶)

15. "Love is putting someone else's needs before yours." – Olaf, Frozen
(This is one of my favorite Frozen quotes!)

16. "Love is a song that never ends." – Bambi (🎶)
17. "I'd rather die tomorrow than live a hundred years without knowing you." – John Smith, Pocahontas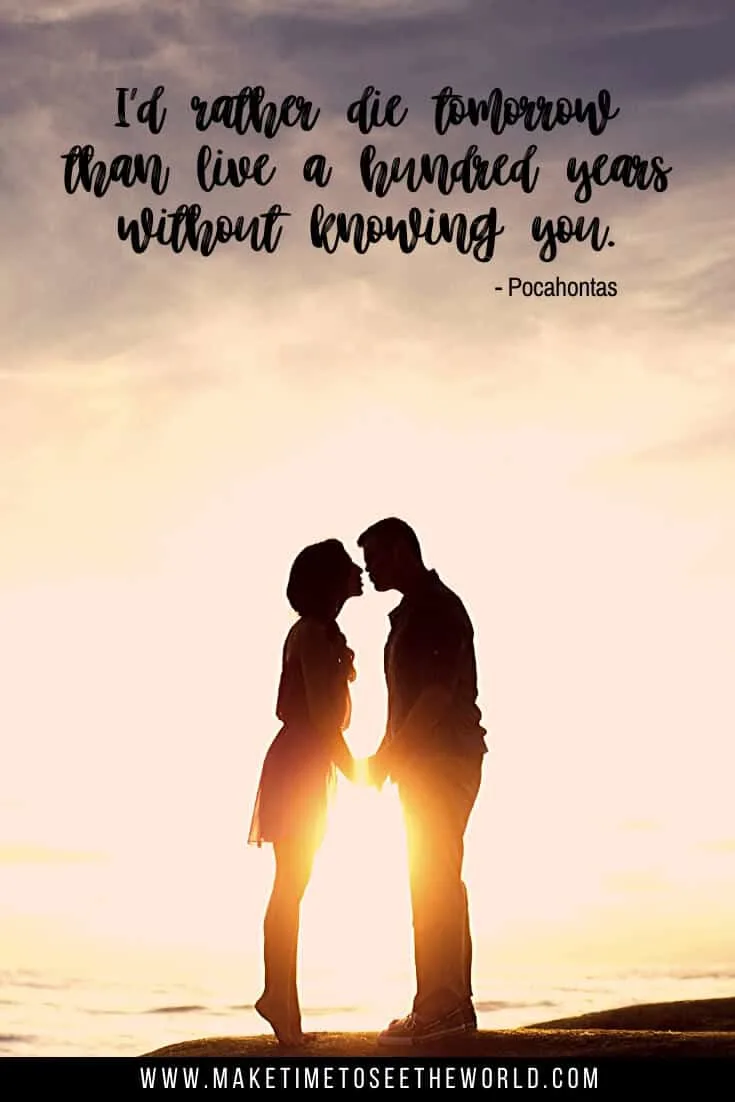 18. "Can you feel the love tonight? You needn't look too far. Stealing through the night's uncertainties, love is where they are."-The Lion King(🎶)
19. "Ohana means family. Family means nobody gets left behind." – Stitch, Lilo & Stitch
I personally think this is one of the best quotes about family, would you agree?

20. "Any day spent with you is my favorite day. So, today is my new favorite day." – Pooh, Winnie The Pooh
This is one of my favorite Disney friendship quotes; and I have been lucky enough to feel this with many friends from around the world.

21. "To spend a life of endless bliss, just find who you love through true love's kiss." – Giselle, Enchanted
22. "Because when I look at you, I can feel it. And I look at you and I'm home." – Dory, Finding Nemo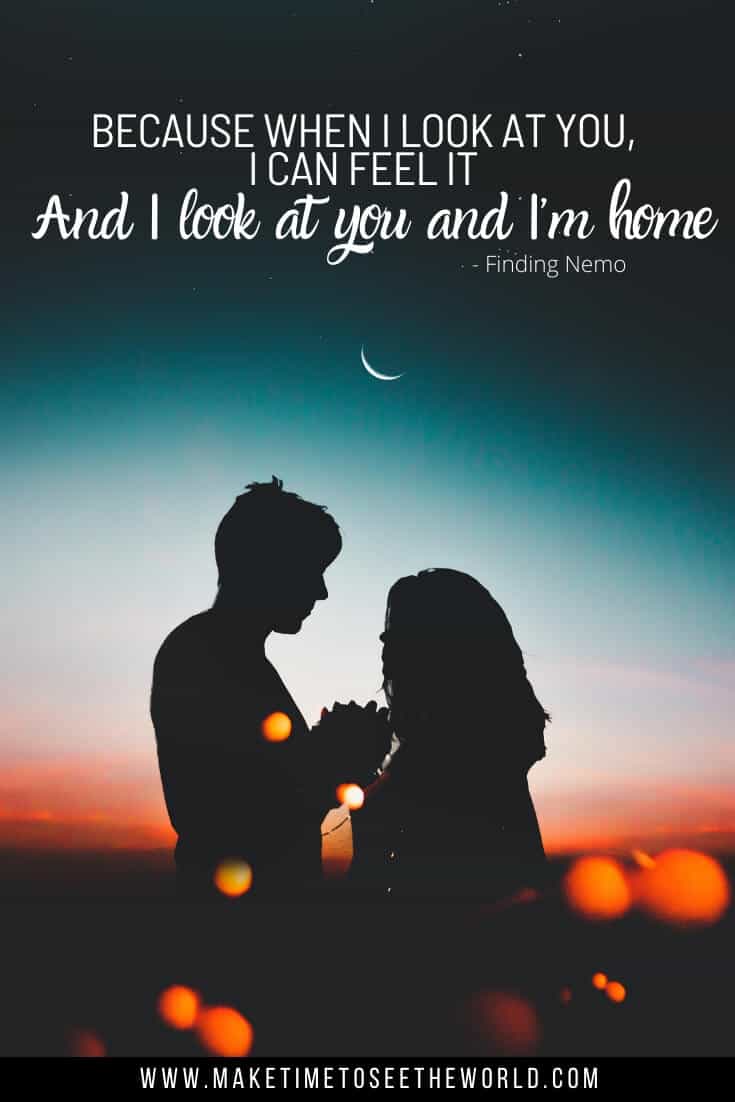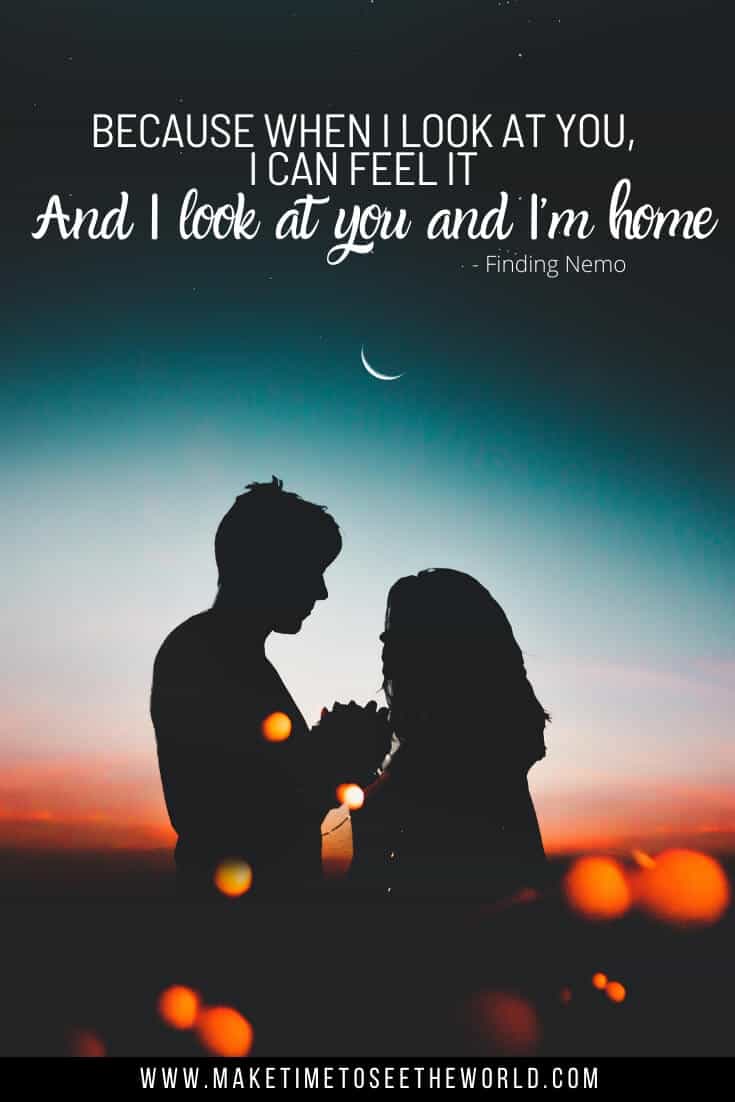 23. "Some people are worth melting for" – Olaf, Frozen
Olaf is one of my favorite modern-day cartoon characters and this is one of my top Frozen quotes!

24. "How lucky am I to have something that makes saying goodbye so hard" – Pooh, Winnie The Pooh
Isn't this just one of the most beautiful Winnie the pooh quotes?!

25. "I would have nothing if I didn't have you" – Monsters Inc
26. "Sometimes the smallest things take up the most room in your heart."– Winnie The Pooh
Disney Movie Quotes About Adventure
27. "I want adventure in the great wide somewhere. I want it more than I can tell. And for once it might be grand, to have someone understand, I want so much more than they have planned." – Belle, Beauty and the Beast (🎶)
This literally sums up my life. I want adventure, a life more than what everyone typically expects (marriage, kids etc) and for someone to not only understand, but want to join me. Maybe this is a little too much information for you all and an unobtainable travel goal, but applications will be accepted on postcards from exotic places!
28. "There's the whole world at your feet." – Bert, Mary Poppins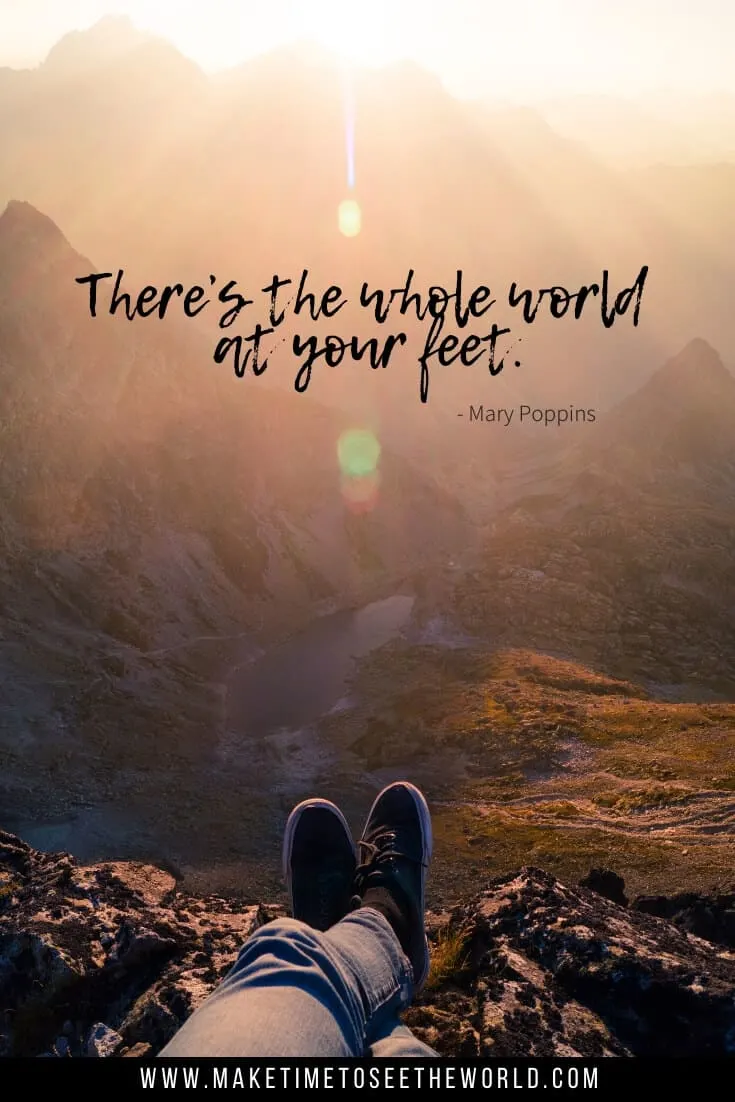 29. "When's it my turn? Wouldn't I love, love to explore that shore above? Wandering free, wish I could be, part of that world." – Ariel The Little Mermaid (🎶)

30. "Adventure is out there." – Charles Muntz, Up
This is simply one of the most epic short Disney quotes out there. No if's or buts.
31. "There's no mountain too great." – The Lion King (🎶)

32. "On this journey that you're making, there'll be answers that you'll seek. And it's you who'll climb the mountain. It's you who'll reach the peak." – Tarzan (🎶)

33. "Don't just fly, soar." – Dumbo, Dumbo
34. "Every adventure requires a first step." – Alice, Alice In Wonderland (this is one of my favorite Disney movie quotes!)

35. "You don't have time to be timid. You must be bold and daring!" – Lumiere, Beauty & The Beast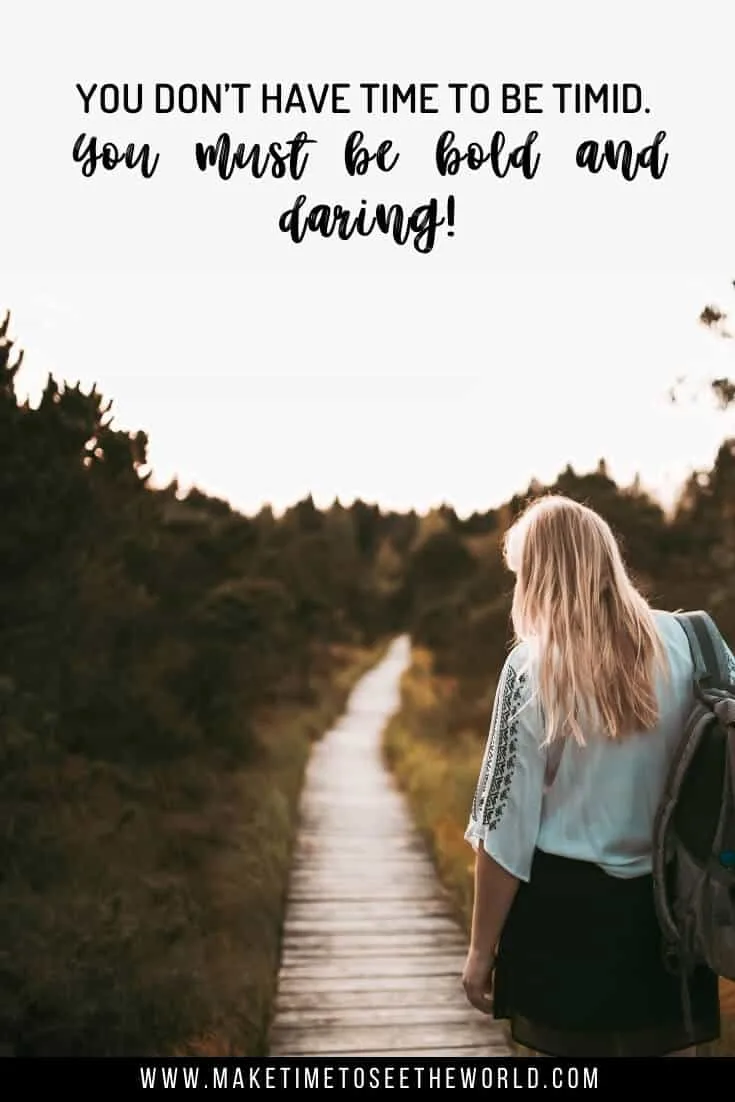 36. "This is just a part of growing up. A little adventure, a little rebellion" – Flynn Rider, Tangled
37. "Sometimes the right path is not the easiest one." – Grandmother Willow, Pocahontas
38. "You are braver than you believe, stronger than you seem, and smarter than you think." – Christopher Robin, Winnie the Pooh
Inspiring Disney Quotes About Life
39. "Happiness is a state of mind. It's just according to the way you look at things." – Mickey Mouse
40. "Life is a journey to be experienced, not a problem to be solved." – Pooh, Winnie The Pooh.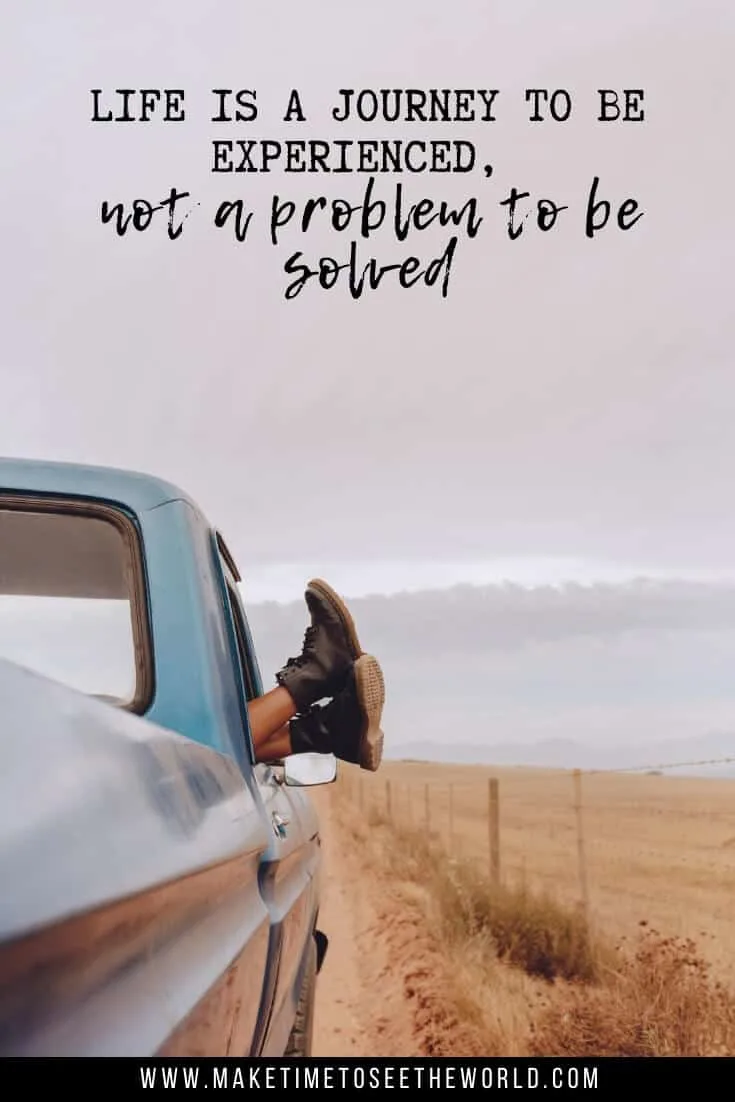 41. "Our fate lives within us, you only have to be brave enough to see it." – Merida, Brave
One of the new breed of Disney princess that has been developed recently, but with epic quotes to inspire like her predecessors, Merida fits right in as a Disney princess! Remebering that our fate lives within us is a great life motto!

42. "Just keep swimming!" – Dory, Finding Nemo
43. "[Quasi,] take it from an old spectator. Life's not a spectator sport. If watchin' is all you're gonna do, then you're gonna watch your life go by without ya." – Laverne, The Hunchback of Notre Dame (one of the great Disney movie quotes)
44. "Venture outside your comfort zone. The rewards are worth it." – Rapunzel, Tangled
45. "The past can hurt, but the way I see it you can either run from it or learn from it." – Rafiki The Lion King
46. "I'm sure I'll get along somehow. Everything's going to be alright." – Snow White, Snow White and the Seven Dwarves
47. "If you focus on what you left behind, you will never see what lies ahead." – Gusteau, Ratatouille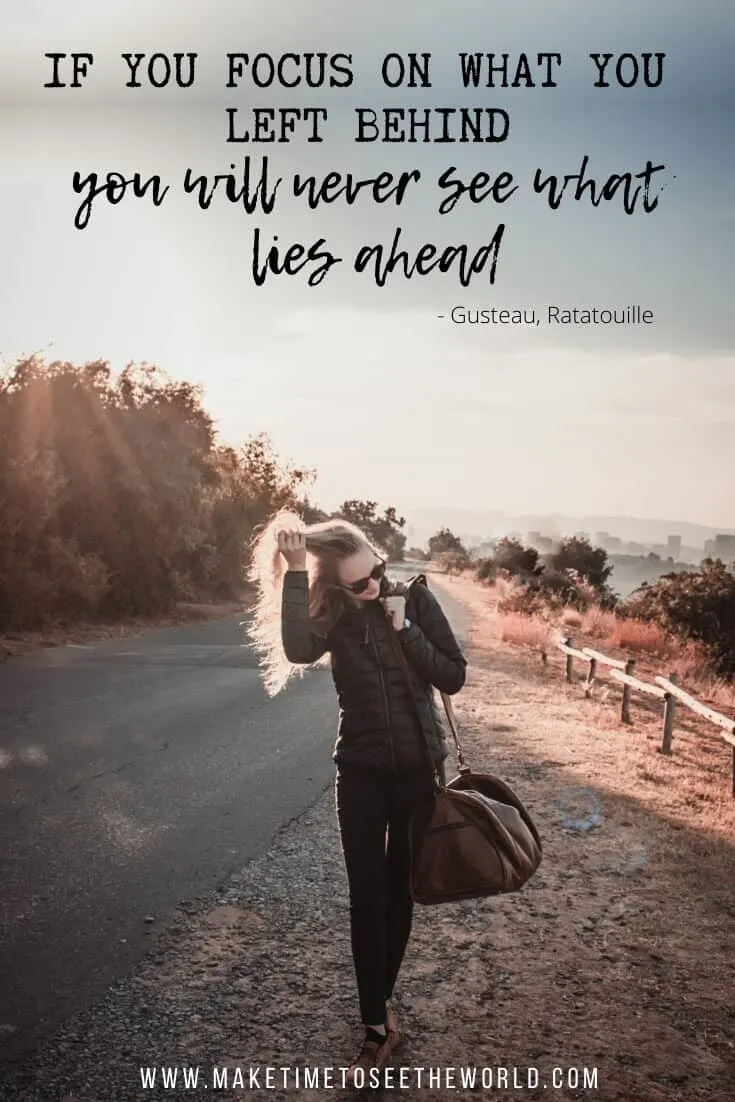 48. "It's up to you how far you'll go. If you don't try, you'll never know." – Merlin, The Sword In The Stone
49. "Open different doors, you may find a you there that you never knew was yours. Anything can happen." – Mary Poppins
50. "The moment you doubt whether you can fly, you cease forever to be able to do it." – Peter Pan, Peter Pan
51. "Being Famous isn't the same as being a true hero… Look inside your heart." – Zeus, Hercules
52. "I'd say it was half-full" – Dory, Finding Nemo
53. "The past can hurt, but you can either run from it, or learn from it." – Rafiki, The Lion King
54. "I never look back darling, it distracts from the now." – Edna Mode, The Incredibles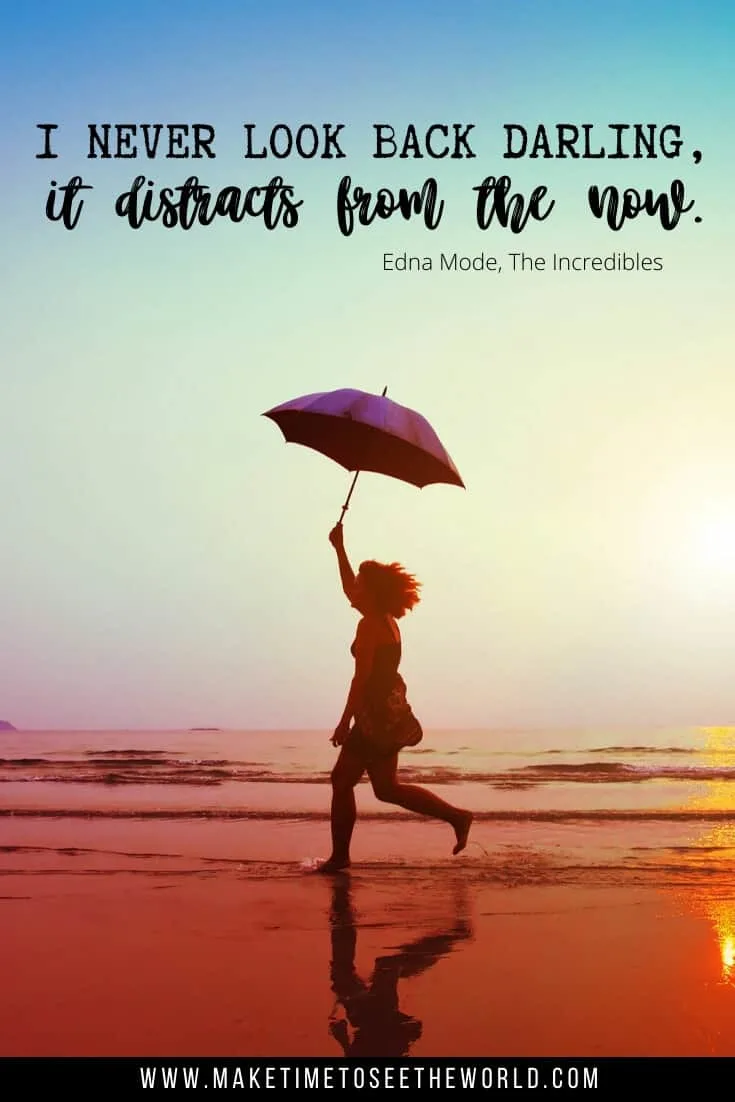 55. "Life's not a spectator sport. If watchin' is all you're gunna do, then you're gunna watch your life go by without ya." – Laverne, The Hunchback of Notre Dame
56. "Together, even the smallest can achieve the greatest goal." – A Bug's Life
57. "I don't want to survive. I want to live." – Captain, Wall-e
58. "There ain't nothing gonna stop me now 'cause I'm almost there." – The Princess and the Frog
59. "I never thought I'd leave behind my childhood dreams but I don't mind; for now I love the world I see, no change of heart, a change in me" – Beauty & The Beast (on Broadway)(🎶)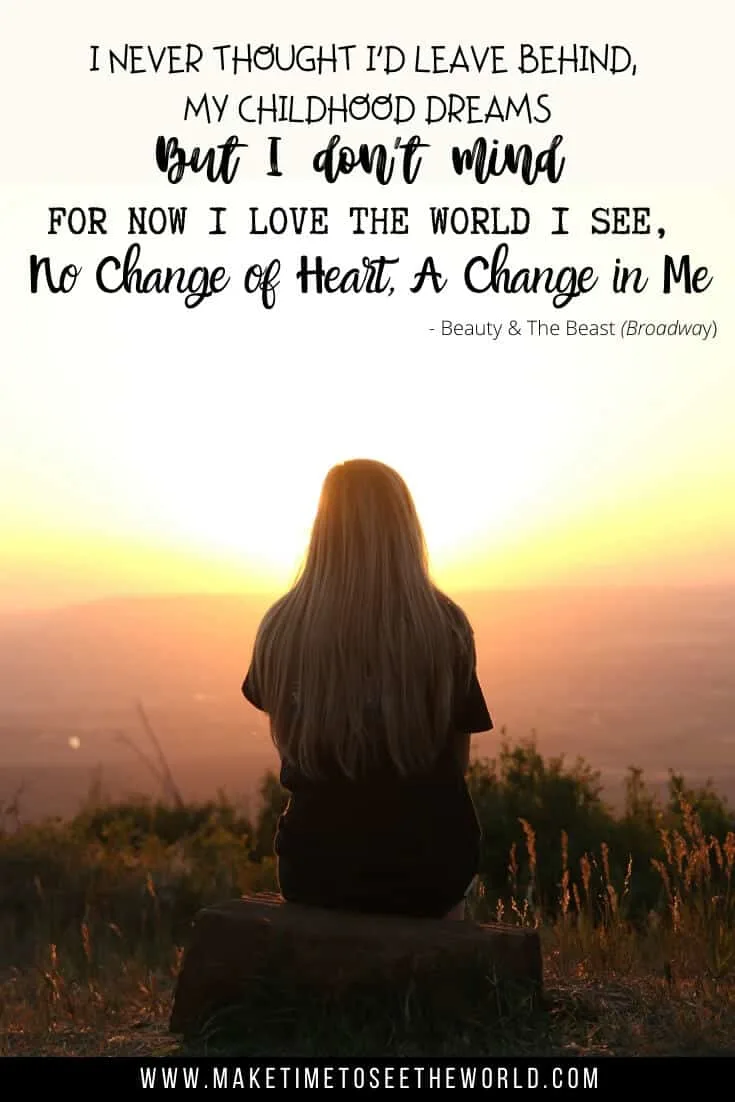 60. "The flower that blooms in adversity is the most rare and beautiful of all" – The Emporer, Mulan
61. "The only thing predictable about life is its unpredictability." – Remy, Ratatouille
Disney Quotes About Happiness
62. "Remember, you're the one who can fill the world with sunshine." – Snow White, Snow White and The Seven Dwarves
(such a beautiful quote from one of the first Disney motion pictures in 1938)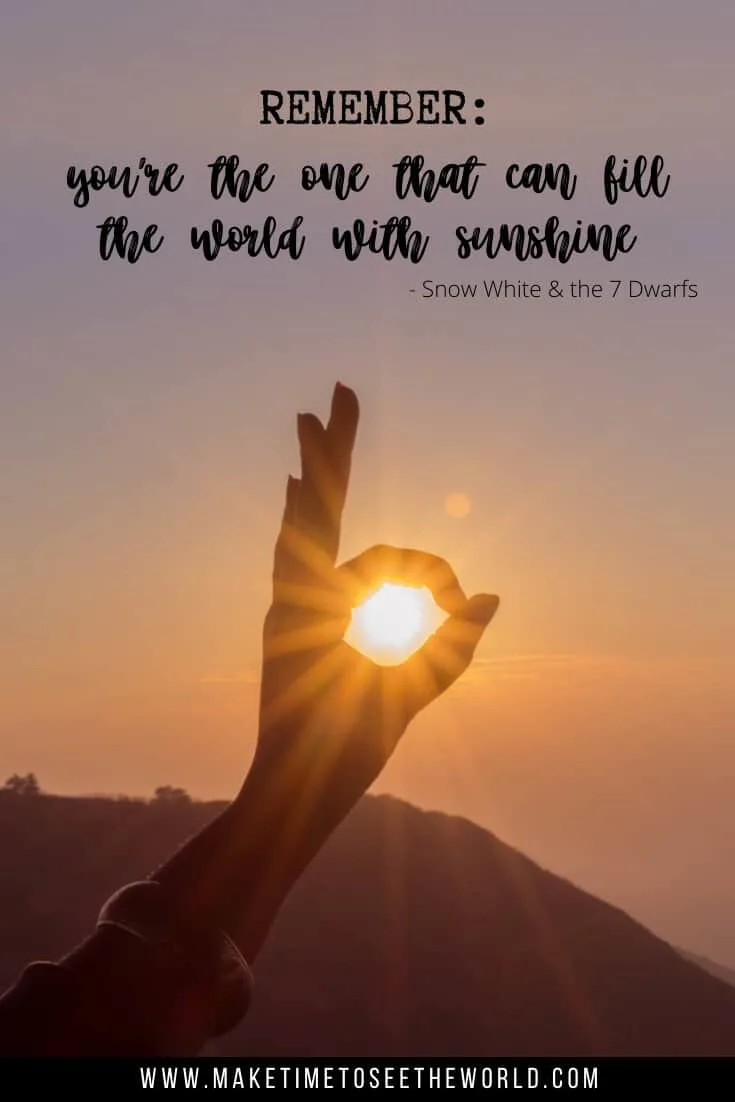 63. "Now, I'm here blinking in the starlight. Now, I'm here suddenly I see. Standing here, it's all so clear. I'm where I'm meant to be." – Tangled (🎶)

64. "Imagination is the only weapon in the war against reality." – The Cheshire Cat, Alice in Wonderland
This is one of my favorite inspirational and magical Disney quotes of all time.

65. "Put your faith in what you most believe in." – Tarzan
66. "Even miracles take a little time." – Fairy Godmother, Cinderella
67. "Like a shooting star, I will go the distance." – Hercules
68. "Happiness is the richest thing we will ever own." – Donald Duck
69. "It'll turn out alright in the end, you'll see." – Mrs. Potts, Beauty and the Beast
70. "The problem is not the problem. The problem is your attitude about the problem." – Jack Sparrow, Pirates of the Caribbean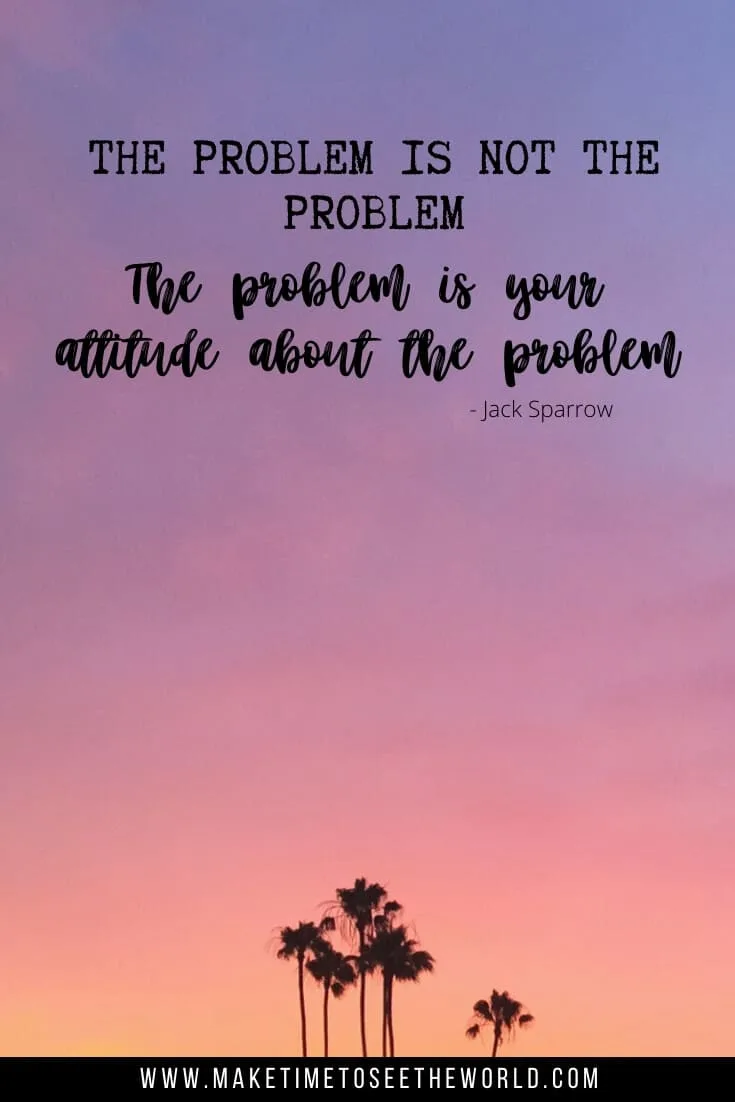 71. "Like so many things, it is not what's outside, but what is inside that counts." – Merchant, Aladdin
72. "If you keep on believing, that dream that you wish, will come true" – Cinderella
Everybody knows by now that dreams come true, you just have to believe… (and do you remeber the Dreams Come True parade at Magic Kingdom?)

73. "A little consideration, a little thought for others, makes all the difference." – Eeyore, Winnie the Pooh
If everyone made this their quote of the day, the world would be a much better place…

74. "You control your destiny – you don't need magic to do it. And there are no magical shortcuts to solving your problems." – Merida, Brave
75. "Think happy thoughts!" – Peter Pan
This is such a cute Disney quote – It's just so simple!

Thought-Provoking Walt Disney Quotes (from the man himself!)
76. "Laughter is timeless, imagination has no age, and dreams are forever." – Walt Disney
77. "People often ask me if I know the secret of success and if I could tell others how to make their dreams come true. My answer is, you do it by working." – Walt Disney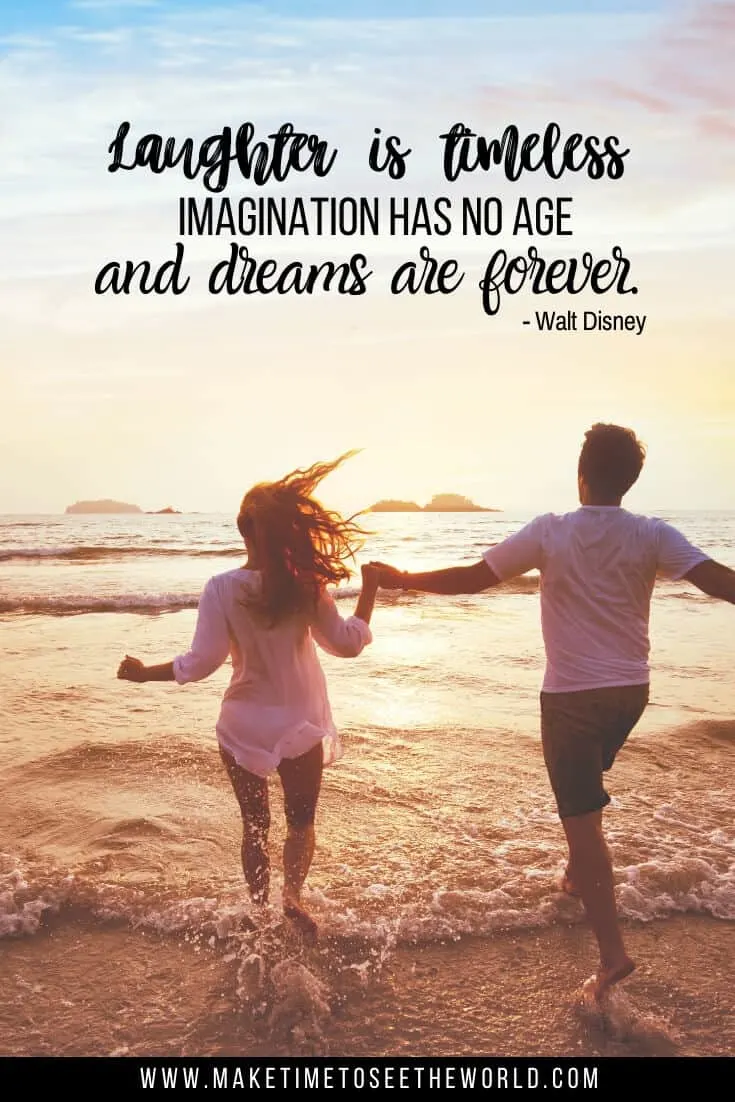 78. "All our dreams can come true, if we have the courage to pursue them." – Walt Disney
(This is one os the most famous Disney quotes from the man himself – and I'm sure you can see why!)

79. "The way to get started is to quit talking and begin doing." – Walt Disney
80. "The more you like yourself, the less you are like anyone else, which makes you unique." – Walt Disney
81. "First, think. Second, believe. Third, dream. And finally, dare." – Walt Disney
82. "We keep moving forward, opening new doors, and doing new things, because we're curious and curiosity keeps leading us down new paths."– Walt Disney
(and Walt certainly emodied this quote. He did keep moving forward opening new doors all throughout his life, and it's still true today that curiosity keep leading us down new and exciting paths)

83. "Why worry? If you've done the very best you can, then worrying won't make it any better." – Walt Disney
One of the most inspiring Walt Disney quotes which encourages us to let go of the things we can't change.
84. "It's kind of fun to do the impossible." – Walt Disney
This was one of his favorite Disney sayings!"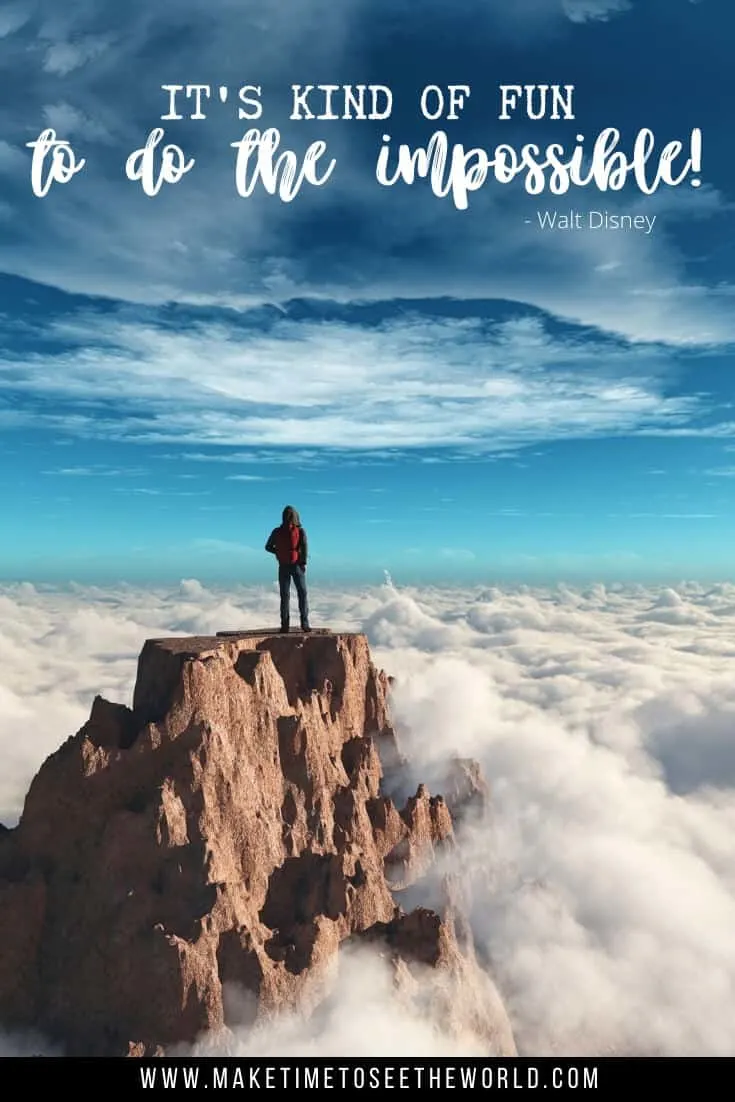 And that's a wrap! 84 of my favorite Disney Quotes about Life, Love, Travel, Adventure & Happiness – and even some inspirational words from Walt Disney himself. I hope they have sparked some magic in your life today and we would love to hear your thoughts in the comments below. Which is your favorite Disney Quote?

And if you know someone who needs a little bit of escapism – or just some new Disney Quotes in their lives – be sure to share this article with them either on Facebook, Twitter or Flipboard. And remember, all of the inspirational travel quote style images in the post are pinnable. Go ahead, grab some for your travel inspiration board – you won't regret it!
And if you liked this Disney quotes list, take a look at the other recent posts, packing tips, travel accessories, travel resources, travel guides, ultimate guides and packing lists in this series:
Hi There! Thanks for reading my travel tips for the 80+ Inspiring Disney Quotes about Life, Love, Travel & Adventure! I just wanted to let you know that this post may contain affiliate links, which means if you purchase something after clicking a link, I may get a small commission – which is at absolutely no cost to you. If you enjoyed this article and are going to be searching for some of the things I mention anyway, I would love it if you could click through from the links above & thank you in advance! Read my full Disclosure here.
And thank you for reading the MakeTimeToSeeTheWorld travel blog.