So it seems like every other day another person quits their job, sells their stuff and sets off to explore the world. Its the norm, right? What today's generation aspires to? It's as if it is the only way to see the world?
Well, not for me. And it doesn't have to be for you either.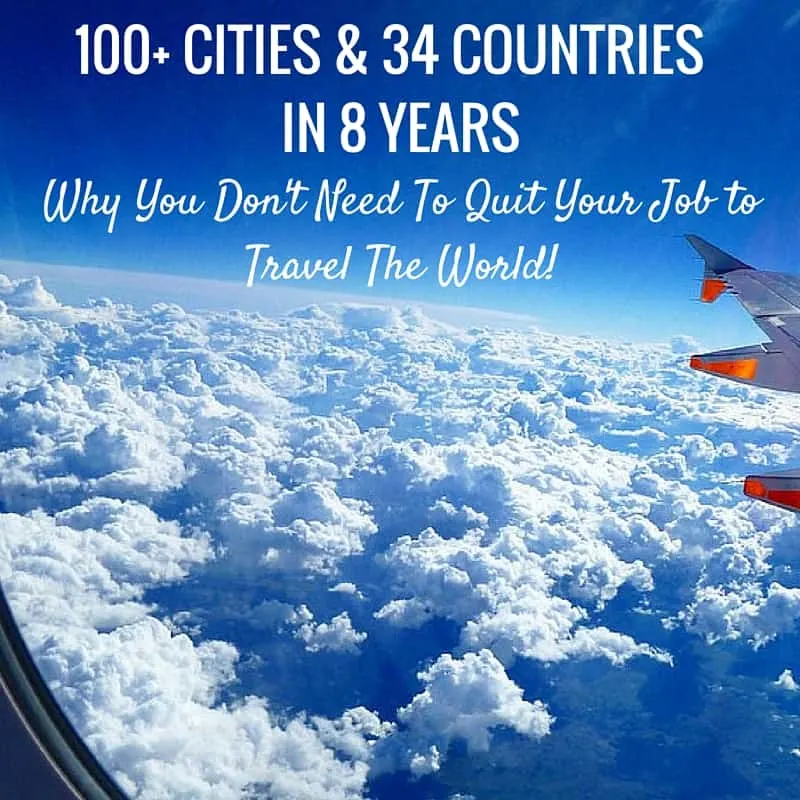 100+ Cities & 34 Countries in 8 Years – Why You Don't Need To Quit Your Job To Travel The World
Growing up I followed the 'traditional' path: after school came college and then university. I started my law degree with every intention of being a barrister. I finished my degree feeling disillusioned with the entire British legal system, and despite bagging a job at a law firm, I had this overwhelming sense there was something more.
There was, and there still is.
Almost by accident I found a 6 month full time contract role in Hospitality Management at Walt Disney World in Florida; following that I went to work in as an Assistant Manager in ski hotel in the French Alps and after being promoted to Hotel Manager I used my job to live and work in 3 different countries across 5 different winter and summer seasons – traveling for up to 6 weeks between hotel roles.
After 4 years of this I decided I no longer wanted to live out of a bag (or two!) and so moved to Australia with the intention of buying a house. I arrived with nothing (I spent my savings in Asia on the way over!) but after finding another job, I worked hard and within a year had enough for a deposit. Once I moved in, I couldn't understand why I hadn't done this sooner! I had longed for a base and now had a home to return to at the end of every day and at the end of every adventure. I still have that full time job and travel between 6-10 weeks a year – and love that I don't have to travel on a shoestring budget!
Since settling in Melbourne I have taken trips throughout Australia, visited the South Island of New Zealand, ticked another SE Asian destination off my list in Bali, been back to the UK and even gotten as far as Morocco in the north of Africa. But this year will see my biggest trip to date: and 11 week and 7 country extravaganza including a 6 week overland safari in Africa. I'll be going to Turkey, Zambia, Zimbabwe, Botswana, Namibia, South Africa, Mauritius and the UK later this year – all whilst still having a full time job (and a mortgage)!
So you see – you don't have to quit your job to travel – and whether you try the seasonal full time work, or find that perfect permanent full time job you never want to leave – please know that you don't have to. You do NOT need to quit your job – or sell all of your stuff – to travel the world! And if anything, the stability and paycheck from your full time job will allow you to pay for travel and experiences that you may struggle to do on a backpacker budget…
…yes there are some amazing people out there who ditch their jobs and travel for years on the equivalent of pennies (Check out my friend Will (aka The Broke Backpacker) who can tell you all about how to be a nomad) – but I'm not one of them! And you don't have to be either!
Here's how it went:
In 2008 I left to UK and went to work for Walt Disney World In Florida. My contract lasted 6 months and although the work was full on with little time off – my visa allowed me 31 days at the end of my contract to travel…
…and so after a quick stop to take in a deserted Venice Beach…
Who doesn't love a seflie over a cliff?! .. Thank You Horseshoe Bend!
Then I moved to the mountains…
..and learned to rock a beanie & ski goggles! (or I like to think so anyway!)
RELATED: Check out the best ski resorts in the USA, Canada & Europe!
In the off season I went around the World: First up – Brazil & Chile
— Before arriving in Australia where I explored Melbourne, Sydney, Byron Bay, Brisbane, Airlie Beach & the Whitsundays..
RELATED: There is so much to see and do in Australia – Check out my list of 100+ Bucket List Australian Experiences!
+ Aussie Travel Resources: Australia Travel Tips, Quotes about Oz, Aussie Slang & a Big Australia Quiz!

..& on the way back to the UK I went to Singapore, Malaysia and Thailand.
Then I heard the mountains calling again and I went back to the European Alps, spending 6 months In Courchevel (France)..
RELATED: Grab your FREE printable pdf ski packing checklist to make sure you have everything you need for your ski trip.
..where I used my tips from the season to ski off a cliff!
I then took on back-to-back seasons, spending summer is Switzerland.. (read more about Zurich and Basel here!)
..and winter in Austria..
Before heading to Dubai to start a 9 week trip trough SE Asia to my new Melbourne home.
I started in Chiang Mai, northern Thailand before crossing in Laos for Luang Prabang, Vang Vieng and Vientiane; then Vietnam starting in Hanoi and Halong Bay, down to Ho Chi Minh via Hue, Hoi An & Nah Trang; moving up to Cambodia for Phnom Penh & Siem Reap before heading back into Thailand for Bangkok, Koh Tao, Koh Phangan, Koh Samui and Phuket..
…Where I kayaked Halong Bay…
..and explored the temples of Angkor..
…and where I (again) managed to find a secluded beach.
All travels to this point were done on a strict budget; But since I acquired a real home and a good paying job, my travel tastes have gone up! I have visited my first infinity pool at the amazing Four Seasons Resort in Bali… (Read: how to spend a travel day like the rich and famous for less than $100!)
..Took a helicopter ride to land on a glacier in Queenstown..
..and discovered tropical Far North Queensland (& another secluded beach!)
I have flown from Queenstown to Treble Cone Ski Resort in a private microlight (I felt like a rockstar!!)
And this year it's only going to get better! I'm going to see Victoria Falls from both the Zimbabwe and Zambian side…
.. will spend 6 weeks on safari..
..before taking a hot air baloon ride over the Cradle of Humankind in Johannesburg…
..and after diving with Great White Sharks in Cape Town I will hopefully see the penguins at South Africa's Boulder's Beach..
And to cap off my trip I will reward myself for sleeping in a tent for 6 weeks by booking myself a week in Mauritius in one of the most luxurious resorts I have ever seen – financed by my full time job which can finance all these amazing experiences. So don't quit your job or sell all of your stuff – live the dream with me and lets show the world the EVERYONE can travel with a full time job!