Prague is probably the most well loved destination in the old Eastern Bloc. A city that once released from its communist shackles embraced capitalism and became a mecca for tourists, its beer and architecture mean it is a must visit stop on any European Tour, and perfect for a weekend break. Join me for a run down of Prague's Highlights – Where to Stay, What to Do & Where to Eat – all which can be visited within 48 hours!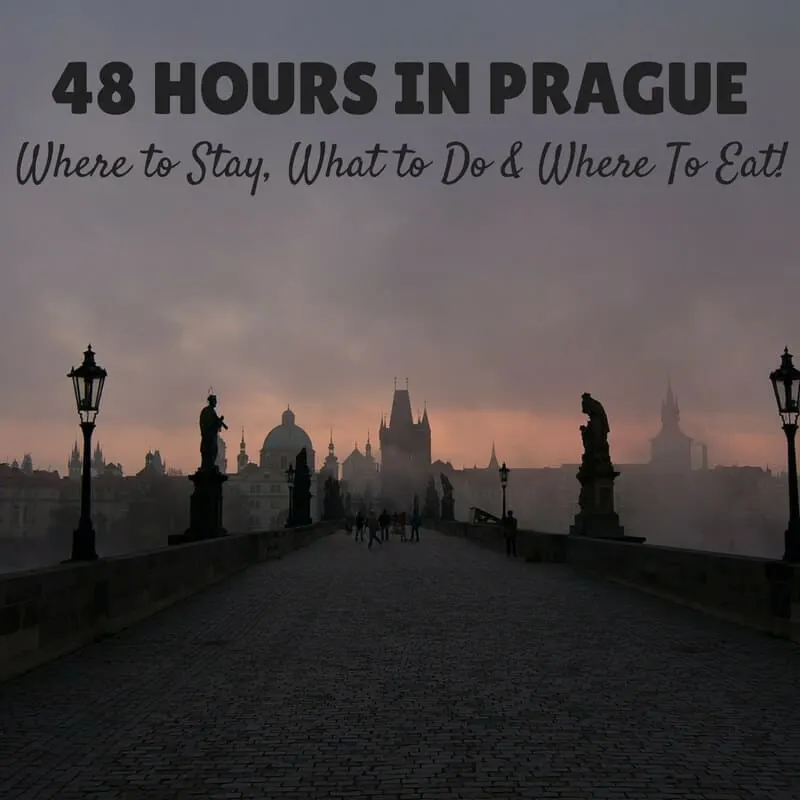 48 Hours in Prague: The Highlights
So you've got 48 hours in Prague and not a clue where to start – then this post is for you! I'm going to share with you my highlight's and 'must-do's' for 48 hours in Prague including where to stay, what to do and where to eat (PLUS the top Prague Photography spots!), which will help you experience as much of the city as possible without having you feeling like you're racing around the town!
RELATED: This is the third stop on my 'Europe By Rail in 25 Days' Tour. Click the link to find out all about it!

Church of Our Lady before Tyn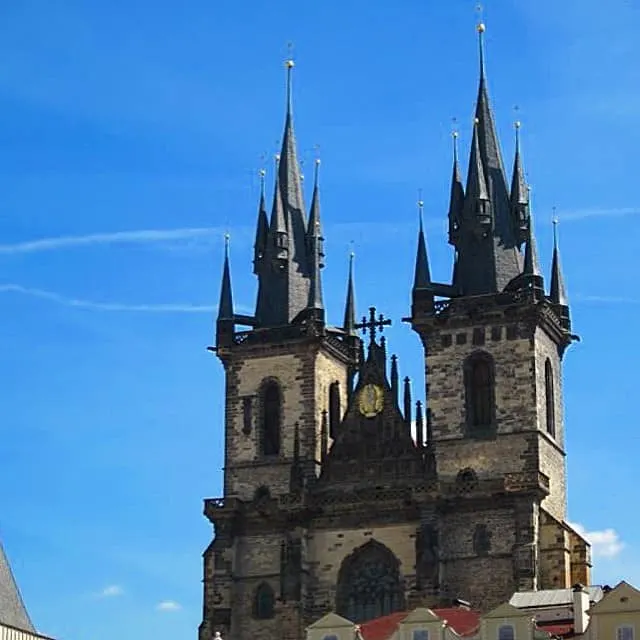 Tied for the top spot of things people associate with Prague is the very impressive Gothic church known colloquially as 'Church of Our Lady Before Tyn' (which translates as The Church of Mother of God Before Tyn ). It has served as the main church in this part of Prague since the 14th Century. Dominating one half of the Old Town Square, the twin spires are each 80m high. This makes it a prominent landmark which can be viewed from almost anywhere in the city. Whatever the weather the time at your visit – sun, rain, hail or storm – the church makes for the perfect subject matter for any photograph!
.
Astronomical Clock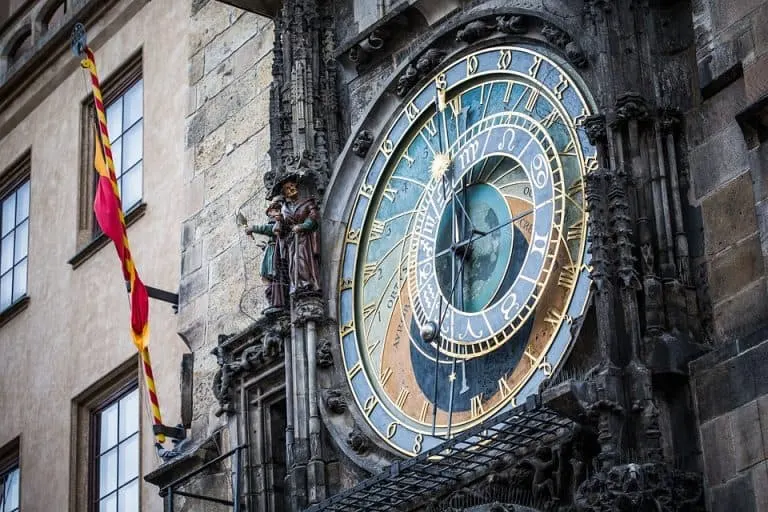 Tied with the Tyn Church, above, the Astronomical Clock (also located in the Old Town Square) is one of Prague's biggest draws. In the Middle Ages was even considered one of the Wonders of the World. Today the clock still commands people's attention every hour as they gather to watch the ancient mechanical marvel display the time via a procession of apostles in the same way that it has done for over 600 years!
*TIP* I would highly recommend starting your day at the Old Town Square where you can view the above two sites. You can also pick up a range of 'Free Walking Tours' which depart from here daily and throughout the day. Have a chat with each of the vendors and find out which ones go up to the Castle – and take one of those (the picture alone of the Charles Bridge is worth it!!) They are called Free Tours as you are not required to book or pay outright, but the tour guides often offer a wealth of information over a few hours and work on a tips-only basis. Please be prepared to part with some cash when the tour is over and they have done a good job! *TIP*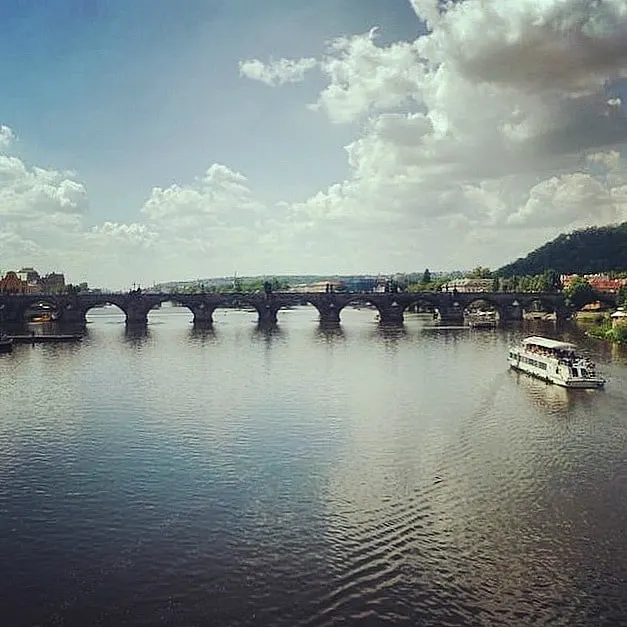 .
Prague Castle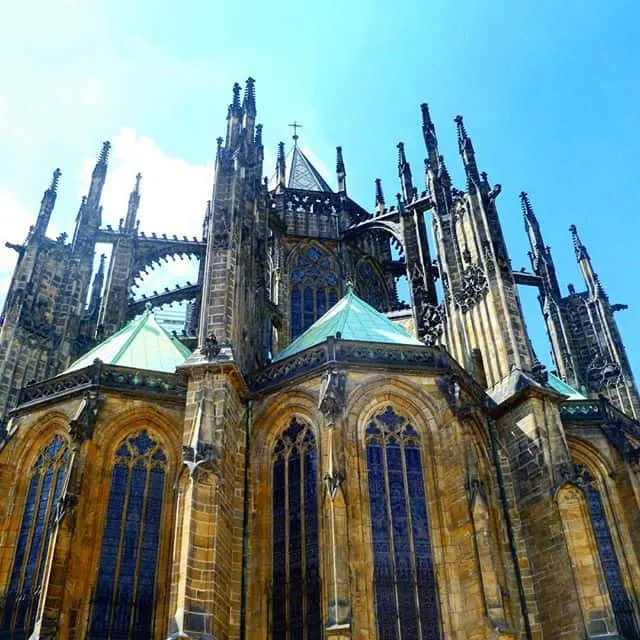 Whether you join a walking tour or not, make your way up to Prague Castle. Believed to have been built in the year 880, it is a UNESCO World Heritage Site and is the largest coherent castle complex in the world covering 70,000 square meters. That alone is a great reason to join a tour as the guide will be handy to direct you to the best bits! The architecture is incredible – and keep you eyes peeled for the gargoyles – they have some of the best I have seen in the world!
.
Charles Bridge
Another standout site to visit when in Prague is the Charles Bridge. A gloriously Gothic 16 archway marvel spanning the Vltava River that was constructed in 1357 and finished at the start of the the 15th Century. It took on a life of its own with the addition of 30 baroque statues in the 17th Century which were erected to celebrate the prominent saints and patron saints of that time. Those you see today are replicas of the originals, most of which have been moved to the National Museum – but that does not take anything away from their beauty.
I love the photo above – but be warned – the early bird really does catch the worm on this one.. Visiting in the bridge during daylight hours will almost certainly result in the crowds and vendors that you can see below!
.
Lennon Wall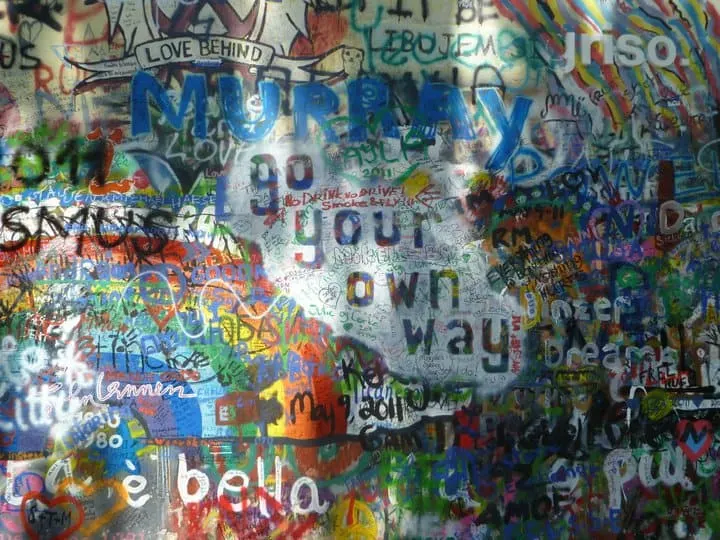 Once a divisive site in Prague (the government in the 1980s were not fans!) the wall is now a celebrated piece of Prague culture. The wall was a site where the disenchanted youth posted their messages of frustration. After John Lennon's death they were complimented with lyrics from the Beatles songs. It is a site that continues to change with each new installation – with new colors bringing a new lease of life.
The wall faced it's biggest challenge in November 2014 when on the anniversary of the Velvet Revolution a group of art students painted the entire wall white leaving only the words 'Wall is Over'. Thankfully the wall has been restored to its colorful and liberated self – and the wording of the mural changed to 'War is Over.' Take the time to search out the wall, its located in the cobbled street at the base of the castle known as Grand Priory Square in Mala Strana – which can be tricky to find without googlemaps – but it is so worth it when you do! Weekend Prague.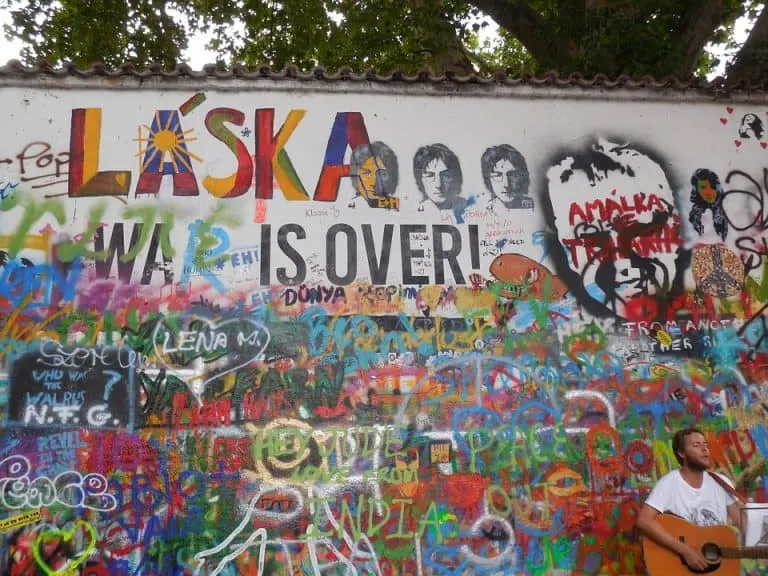 Museum of Communism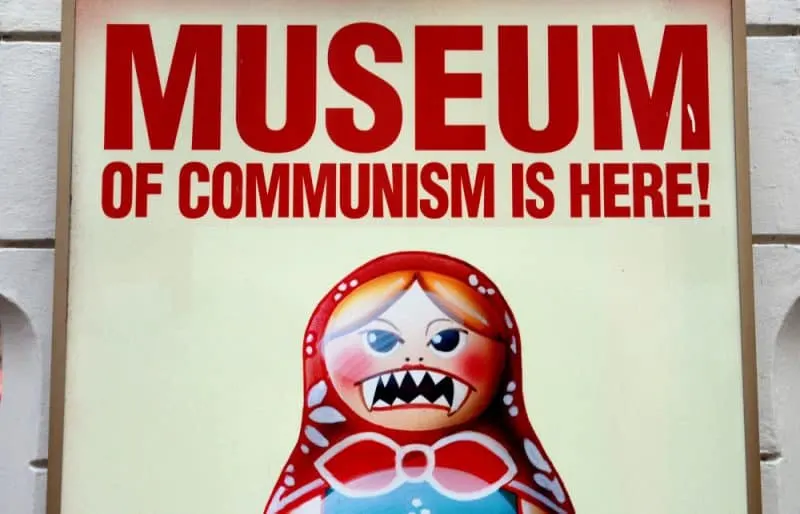 To ensure you get you dose of history on this trip – step into The Communist Museum in Prague. It is the only museum of it's kind in Europe and its theme is "Communism – the dream, the reality and the nightmare." With exhibits about daily life, politics, history, and sport, you are introduced to what life was like under Communist rule. It is most certainly a much more repressed society than visitors from a Western nation would even have experienced.
Drink Beer & Eat Traditional Food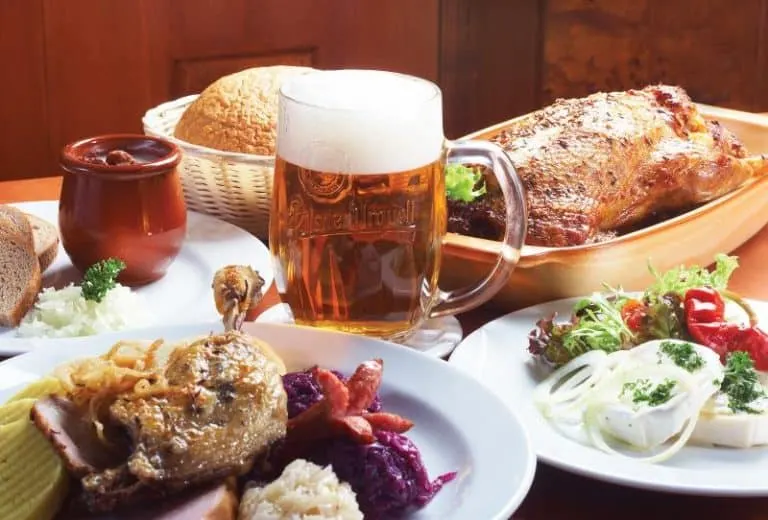 Beer, Goulash, Pork and Dumplings. Need I say more. Obviously, Prague isn't really a destination that ranks highly with vegetarians – but vegetarian options are available! – the meat heavy food is delicious and packed with traditional flavors . It is also perfectly complimented by Prague's various beer offerings. (This was my partner's favorite part of the trip – but he is a chef.. )
For those looking for an extra beer-y experience: for the ladies, there is a Beer Spa (!) and for the men (and lady beer lovers) there is the Beer Museum and the U Medvidku Beer Hall
Wenceslas Square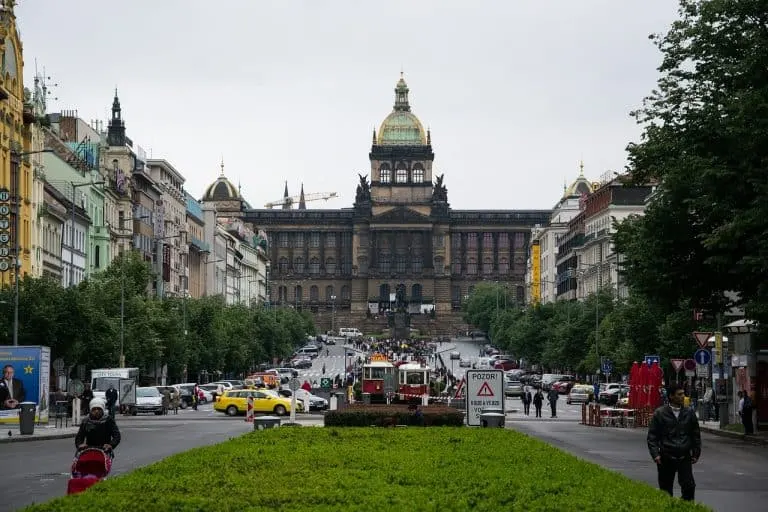 Just a five minute stroll from the Old Town square, and in the heart of the 'new' part of Prague is Wenceslas Square. It is a boulevard flanked either side by hotels, apartment, shops and nightclubs, with the National Museum sitting proudly at the peak. Here is where the majority of the tourist accommodation is located and is very convenient for exploring the rest of town.
.
Josefov & The Old Jewish Cemetery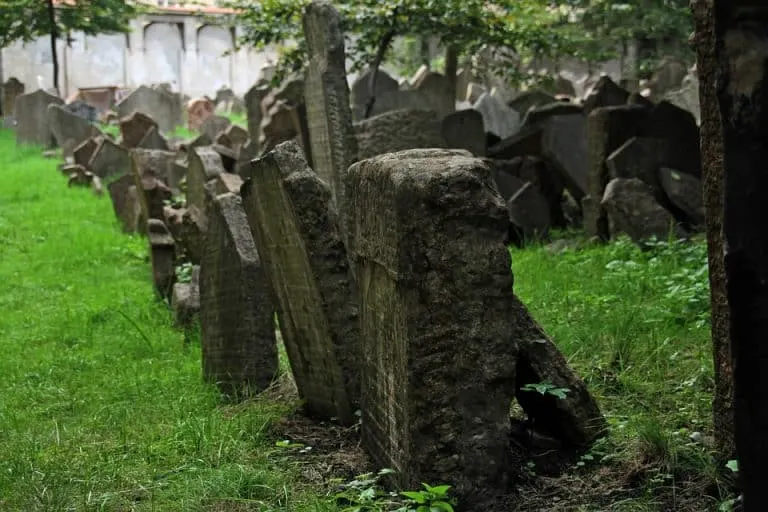 Josefov is a tiny area located entirely within the Old Town, and is the former site of the Jewish ghetto, where thousands of Jews were forced to relocate in the 13th Century. Within this small area there are 6 synagogues and one the oldest surviving Jewish burial grounds in Europe.
If you don't manage to join a walking tour – a tour dedicated to the Josefov area is easily worth a couple hours of your time.
Related: Want to explore more of the country outside Prague's very numerous charms? Then check out this guide to the Czech Republic and expand your horizons!
.
Petrin Hill

I left this one to last as it may be a task to include this within a 48 hour tour – but definitely worth it if you have some extra time! Created as a replica of the Eiffel Tower it stands at 60m tall. This doesn't sound a lot, until you remember that it is perched on top of Petril Hill which stands at 318m (1043 ft) high!! Climb the 299 steps through beautiful landscaped gardens to reach one of the best look-out points over the city for an incredible skyline view.
RELATED: Check out these other Top Prague Attractions in case you have some extra time to play with!
.
Where to stay in
Prague
:
With so many beautiful hotel and apartment options throughout Venice and the surrounding areas, it can be hard to decide which one is right for you. To help you out I've picked my favorite places in each price category. So whatever your budget – there's something here to suit everyone! Scroll though my options for Where to stay and pick your favorite. And if you're traveling on a tight budget, check out Prague's Best Hostels
Prague Luxury Hotel Stays ($200+ per night)

Located in Prague 1, Hotel Kings Court offers 5-star accommodation and a Finnish sauna, a Jacuzzi and an indoor pool. This modern hotel is set in the heart of the city.
Rooms are air-conditioned and feature top-of-the-range amenities such as a pillow menu, luxury toiletries and a mini bar. They all include a flat-screen TV, blackout curtains and a laptop safe.
Like more info? Click to Read Trip Advisor Reviews

Conveniently situated, Aria Hotel Prague offers easy access to Prague's best sightseeing areas. Some of the facilities provided at this luxury 5-star hotel include a rooftop terrace with city views.
Each historic room at Aria Hotel Prague comes with slippers and a mini bar, and the bathrooms offer showers and bathrobes. They all include a DVD player, a CD player and ironing facilities.
Like more info? Click to Read Trip Advisor Reviews

Conveniently located in the centre of the city, this 5-star hotel makes for an ideal base in Prague. A short stroll from Old Town Square, it provides comfortable rooms equipped with tea and coffee making facilities, an in-room closet and a desk.
All rooms are air conditioned, soundproofed and equipped with a telephone and heating. They have an en suite bathroom with bathrobes.
Like more info? Click to Read Trip Advisor Reviews
.
Prague Mid Range Hotel Stays ($100-$200 per night)

Set in the heart of the city, Residence Agnes Prague offers easy access to Prague's main shopping and sightseeing areas. It provides 4-star accommodation with air-conditioned rooms.
Agnes Residence provides spacious rooms equipped with a refrigerator, cable/satellite channels and a mini bar. A hair dryer, a shower and a telephone are also provided.
Like more info? Click to Read Trip Advisor Reviews

Located in the centre of Prague, this hotel features a charming restaurant and a night club. It is situated in the area's popular nightlife district, which is only a few minutes walk from the Charles Bridge.
Furnished to a high standard, the 4-star rooms feature flat-screen TVs, slippers and mini bars. Each includes a private bathroom with a hair dryer and bathrobes.
Like more info? Click to Read Trip Advisor Reviews

Conveniently situated, Appia Residences offers easy access to Prague's popular hot spots. It also provides a 24-hour business centre, a sauna and a laundry service.
All the unique rooms at Appia Residences provide a mini bar, plus all the essentials for a comfortable stay. They all offer an in-room safe, tea and coffee making facilities and a desk.
Like more info? Click to Read Trip Advisor Reviews
.
Prague Budget Hotel Stays (under $100 per night)

Miss Sophie's offers 4-star accommodation in Prague. It is located a short walk from New Town, Wenceslas Square and Charles Square.
The hotel's rooms are modern and offer a kitchenette that is equipped with a refrigerator. All provide a seating area, heating and wireless internet access.
Like more info? Click to Read Trip Advisor Reviews

Strategically located in the middle of the city, this 4-star property makes for an ideal base in Prague. It is close to Old Town Square, eateries and shops.
After a day of exploring the nearby region, guests can unwind in the comfort of their air conditioned apartments. All provide a refrigerator, a mini bar and a kitchenette.
Like more info? Click to Read Trip Advisor Reviews

This luxury 4-star hotel offers a variety of high quality amenities, such as a limousine service. Staff are available 24-hours a day and can book tours and tickets.
Green Garden Hotel offers 60 air conditioned rooms equipped with all the necessities to ensure an enjoyable stay. Each one comes with a flat-screen TV with satellite channels, in addition to a private bathroom.
Like more info? Click to Read Trip Advisor Reviews
Where to Eat in Prague

We have a few recommendations for places to eat below, but if you are a bit of a foodie and are looking for a more in depth guide, check out this full post about where and what to eat and drink in Prague.
Day-to-Day Meals
Bio Zahrada – This beautiful café and organic bakery, has a relaxed, peaceful garden out back. Choose from a counter of delicious, homemade baked goods, or opt for one of the daily luncheon specials (usually something simple but satisfying, like a rice curry or steamed vegetables).
Cukrkávalimonáda – An excellent pit stop while exploring Malá Strana, this warm, inviting cafe and bakery serves freshly made soups, salads, sandwiches, and pasta dishes, making it a convenient stop for lunch. Lunchtime can be overcrowded, so try to book a spot in advance; at other times, you can normally find a seat.
The Tavern – A hopping burger bar on the fringe of Riegrovy Sady park in Vinohrady, the Tavern arguably serves the city's best hamburgers and cheeseburgers. They also do veggie burgers, along with American-style diner food, and pies, cocktails, and craft beers. The opening hours are irregular, so check the website before heading out here. Reservations only by email. There's no phone. And they are only accepted for Thursday, Friday, and Saturday nights.
Spend a little more for a 5* Feed
La Finestra in Cucina – One of Prague's hottest tables, La Finestra is the meaty counterpart to its sister restaurant Aromi. Catering to local gourmands and boldface names, this restaurant lives up to the hype. As at Aromi, waiters display an array of freshly caught fish that comprise the day's specials, but here they also do the same with meat, including dry-aged cuts flown in from Italy. Complimenting this array of protein are fried chickpeas and fresh foccacia to nibble on and expertly crafted, al dente pastas like oxtail agnolotti and spaghetti with sea urchin.
U Modre Kachnicky – This old-fashioned tavern puts on airs, but if you're looking for the perfect Czech venue for a special occasion, it's hard to beat the "Blue Duckling." The menu, filled with succulent duck and game choices, brings things down to earth a notch. There's dining on two levels, but the upper floor's intimacy, with secluded tables in each nook and cranny and soft piano music wafting through the air, is preferable.
Alcron Restaurant – The interior's intimate atmosphere of candles offer seating for a mere 24 guests. An excellent choice of delicate dishes in the form of degustation menus is available, a choice from fish and seafood prepared creatively with care and love by one of the most talented Chefs in the Czech Republic, Roman Paulus.
So there you have it – my top picks and highlights for 48 hours in Prague! Let me know if I have included your favorite spots – and let me know if there are any that I've missed!
Oh, and don't forget, if you liked this post please pin & share – I would really appreciate it ?