48 Hours in Amsterdam: Fun things to do and where to stay. Join me as I run down Amsterdam highlights and the top 10 things to do during your weekend break.
A town most commonly known for its red-light district and legal cannabis, any visit to Amsterdam's beautiful streets and waterways will show it has so much more to offer. With a museum for just about everything and bikes and flowers at every turn, you quickly see beyond the many tacky souvenir shops desperate to reinforce the sex and drug stereotype.
Scroll down for our guide to 48 hours in Amsterdam including the most fun things to do in Amsterdam – to help you plan the perfect weekend break!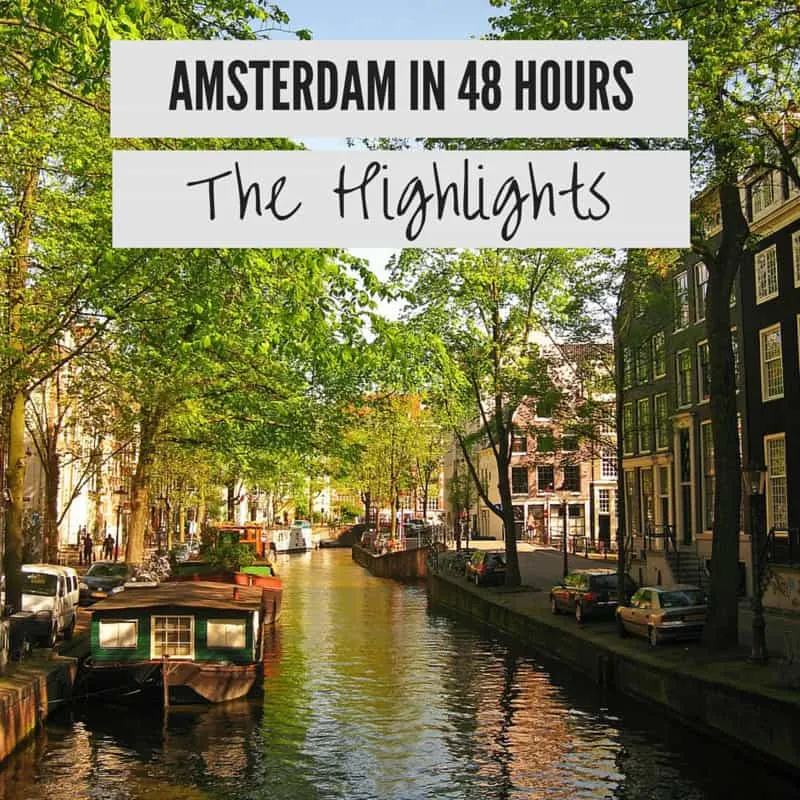 So you've got 48 hours in Amsterdam and not a clue where to start – then this post is for you! I'm going to share with you my highlight's and 'must-do's' for 48 hours in Amsterdam which will help you experience as much of the city as possible without having you feeling like you're racing around the town!
RELATED: This is the first stop on my 'Europe By Rail in 25 Days' Tour. Click the link to find out all about it!

48 Hours in Amsterdam: TOP 10 FUN THINGS TO DO

Dam Square

A great way to start your 48 hours in Amsterdam is in Dam Square. Central to almost everything, and only 750m from the main transport hub, the square is a great place to meet, people watch and plan your day whilst you stare in awe at the impressive and beautiful building of the Royal Palace.
.
Ann Frank Huis

If you only visit one museum whilst in Amsterdam, make sure it is the Ann Frank Huis.
Inside you will witness the story of the young Jewish girl who hid from the Nazis during the second world war.
Parts of the house have been preserved in the state they were when Ann lived there, there are extracts of her diaries and there is information at all points about her life and her struggle, as was mirrored by hundreds of thousands of Jews throughout Europe.
It's heartbreaking, horrifying (both what people went through and the fact that the human condition was responsible for such fear, pain and death) and informative at the same time. It is more than worth the (approx) €10 entry fee. Anyone with even a slight interest in history will appreciate this museum and everything it stands for.
RELATED –
If you really want to immerse yourself in the history, join this Ann Frank Walking Tour with a professional guide who will tell you about the city during WWII, through the eyes of Anne Frank.
Book your spot here.
Cruise on the Canals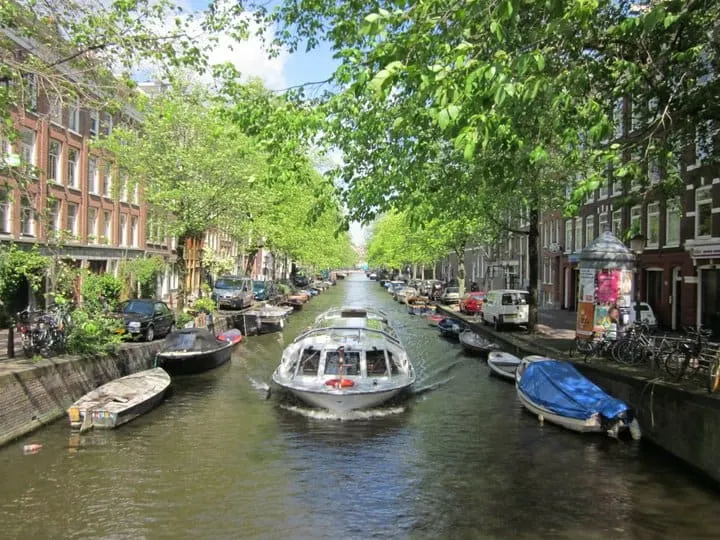 Take a trip on Amsterdam's famous waterways for as little €8 for an hour boat tour. You can book this as a combination tour with other activities or as stand alone tour below.
Get a different perspective on this beautiful city and enjoy the informative commentary offered on many of the cruises.
Museumsplein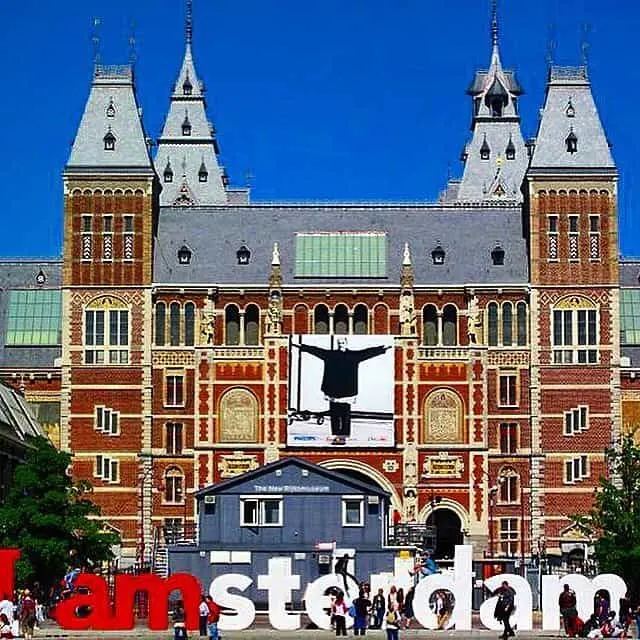 Museumsplein is a public space in Amsterdam and home to 3 well known museums – The Rijksmuseum, Van Gogh Museum, and Stedelijk Museum – and although I love museums, my favorite part about this space is the IAMterdam letters located at the back of the Rijksmuseum.
The area is always buzzing with people and it may take a few goes to go that iconic shot – but it is definitely worth visiting during your 48 hours in Amsterdam!
TIP: When visiting the Van Gogh Museum or the Stedelijk Museum – book early.
Red light district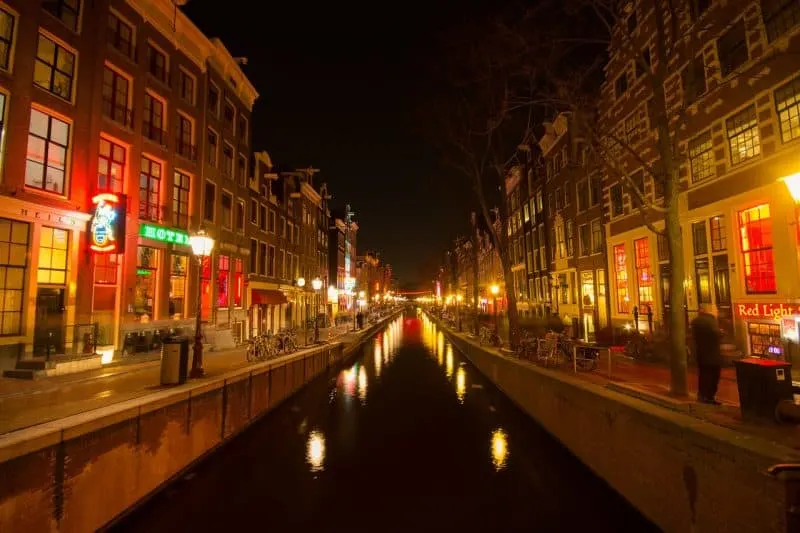 Practically what made Amsterdam famous, a trip to the city is not complete without a stroll around the Red Light District. A collection of alleyways boasting brothels, sex shops and museums, everything you have heard about the red light district is probably true – but you must see for yourselves.
It isn't full of seedy men and groups of lads on stag parties (although there are plenty of these types around) – you'll also see couples and groups of girls wandering around taking a glimpse of a part of society they wouldn't see anywhere else. It really is one of the most fun things to do in Amsterdam!
Related: If you're looking for the salacious read my post on Amsterdam's Best Museums for Sex, Drugs, Beer & Cocktails!
Vondelpark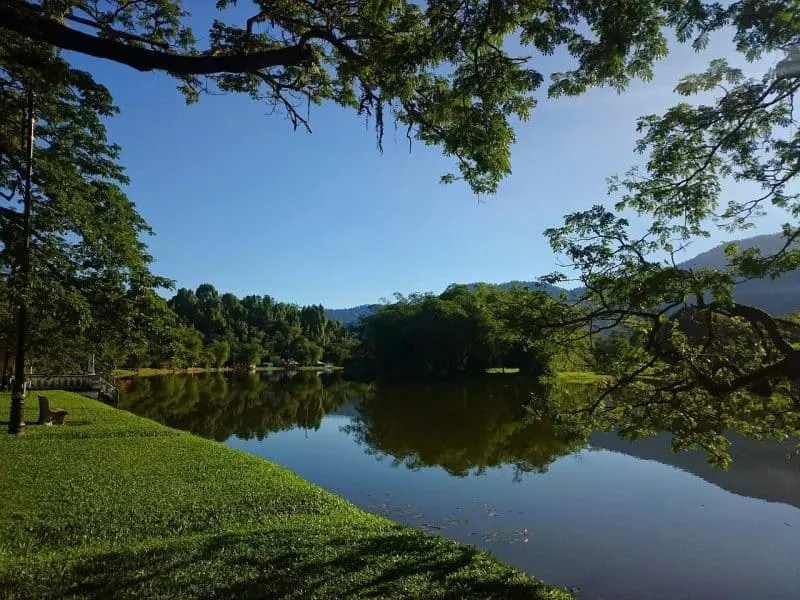 At 47 Hectares, Vondelpark is the largest city park in Amsterdam which welcomes 10 million visitors each year. A favorite of both Amsterdammers and tourists alike, you'll find a whole host of people enjoying the outdoors on any given day.
Pick up a take-away lunch and set yourself down for a couple of hours and just watch the world go by. You'll quickly forget the hubbub of Amsterdam – yet you're only a few minutes away from it all!
RELATED: Vondelpark is totally free to enter. Click for more free things to do in Amsterdam.
.
Jordaan District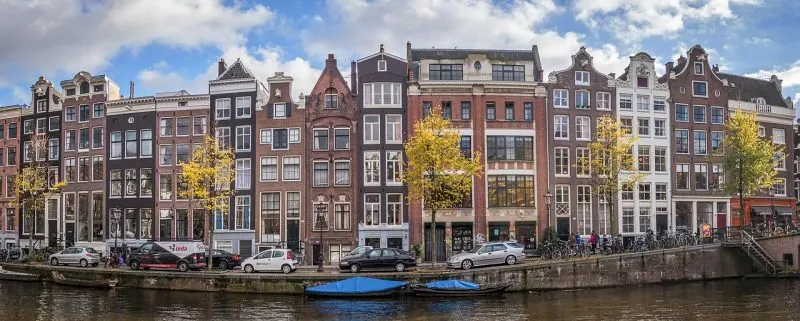 A district originally created to house immigrants and the working class, Jordaan has now become a very hip and artsy neighborhood. With narrow cobbled streets and beautiful buildings, it has become one of the most desirable places to live in Amsterdam – and if you're there on a Saturday – be sure to check out the local markets!
Want to know more about Amsterdam's districts? Check out this guide to Amsterdam's neighbourhoods
.

Visit a windmill (and have a beer!)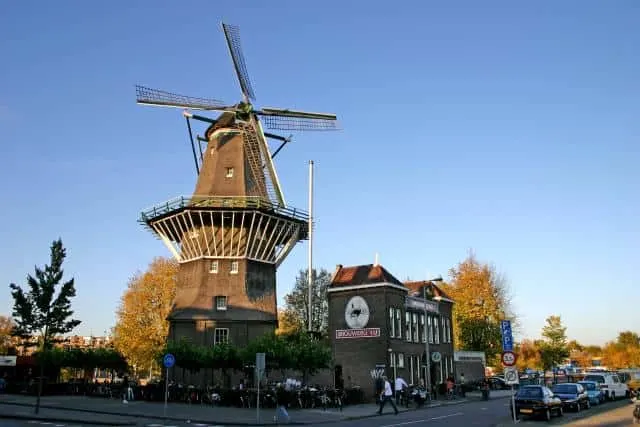 Although in 48 hours, there is no time to head out of the city to see the windmills – it doesn't mean that you still can't visit one! Head to Brouwerij'tij, Amsterdam's most famous brewery (even if Heineken have moved into town!).
The building was originally used a municipal bathhouse, but it had the good fortune of being located right next to Amsterdam's – and the Netherlands – biggest wooden windmill, making it the perfect landmark. So head on over, grab yourself and cold one and be proud to say you've seen a windmill – even if it wasn't surrounded by a field of tulips!
RELATED: IF YOU HAVE SOME SPARE TIME, WHY NOT TAKE A DAY TRIP OUT OF AMSTERDAM AND VISIT LEIDEN? NEVER HEARD OF LEIDEN? READ: 48 HOURS IN LEIDEN: THINGS TO DO, WHERE TO SAT & WHERE TO EAT!
Try the Local Food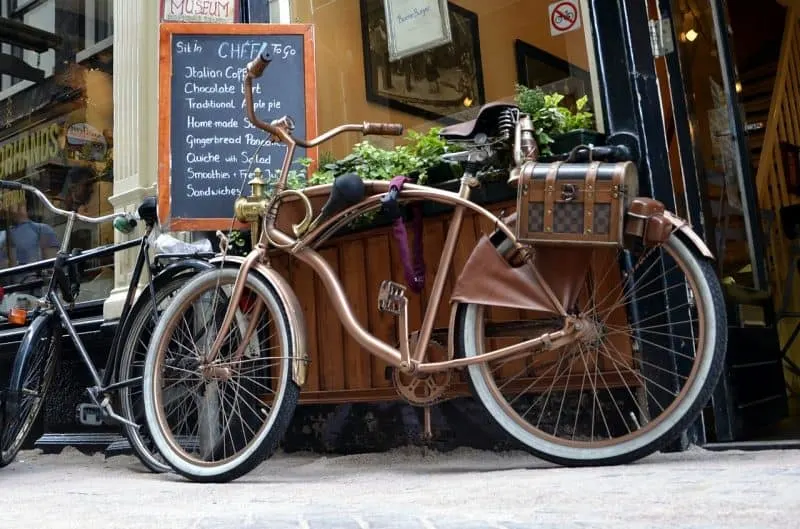 From Pofertjes (small fluffy pancakes make with buckwheat and flour served with powdered sugar and butter) to Appeltaart and Stroopwafels (a chewy syrup waffle which I wanted to include because it sounds cool!) Amsterdam has a range of delights for the foodie in you to try. Check out IAMsterdam's post of the top 15 foods to try and or book a place on an Amsterdam Food Tour and try a range of these local delicacies for yourself!
Science Center NEMO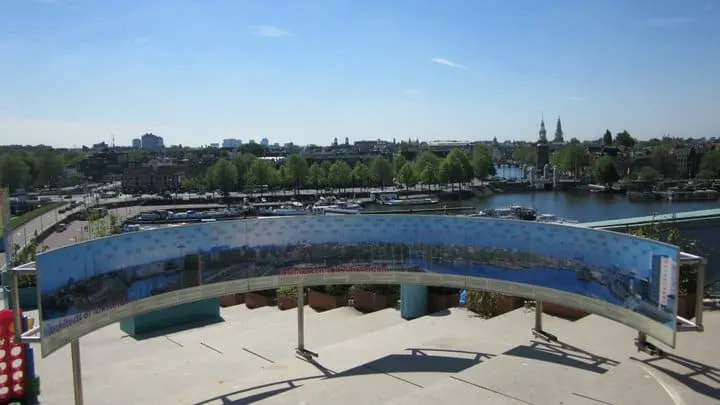 The Science Centre Nemo is a kid friendly interactive museum, just a short walk from Dam Square – and is perfect if you need to entertain the little people for a while.
If (like I was) you are all museum-ed out at this point, skip the exhibits and climb to the top of the very impressive looking building for the ultimate view over Amsterdam city. With a helpful info-graphic you'll be able to spot all the of the places we have visited on this highlight's tour – along with many others and is a great way to sum up your 48 hours in Amsterdam!
.
Day Trips from Amsterdam
If this isn't your first visit to Amsterdam or you have a few extra days to explore, be sure to add in one (or more!) of these fabulous excursions and day trips from Amsterdam! Get out into the villages, explore the countryside – or hop into another country altogether!
Where to Stay in Amsterdam
Ams Suites – Luxury Stay ($200+ per night) -Strategically located in the heart of the city, this 5-star bed & breakfast makes for an ideal base in Amsterdam. It is ideally positioned for those wishing to visit local attractions and is within walking distance of Dam Square, Royal Palace at Dam Square and Theater Bellevue. The surrounding neighborhood is also famous for its shops and boutiques.
Like more info? Click to Read Trip Advisor Reviews


.

CitizenM Amsterdam City- Mid-Range Stay ($100-$200 per night) – CitizenM Amsterdam City provides modern 4-star accommodation in Amsterdam and is great for solo travelers.
CitizenM is close to Amsterdam Zuid, making it easy for guests to discover Amsterdam and its surrounding areas. Amsterdam RAI Exhibition and Convention Centre is a brief walk away.
Like more info? Click to Read Trip Advisor Reviews
.
Motel One – Budget Stay (<$100 per night) – Located less than a 10-minute walk from Amsterdam RAI Railway Station, the hotel offers guests a convenient base when visiting Amsterdam. It is also found only minutes away from Amsterdam RAI Exhibition and Convention Centre.
Motel One Amsterdam serves breakfast each morning, and guests can unwind with a drink in the lounge bar.
Like more info? Click to Read Trip Advisor Reviews
Or if you have specific requirements, click through to Hotel's Combined and narrow down your options to suit your own needs!
EXTRA WAYS TO SAVE MONEY AND GET A GREAT DEAL IN AMSTERDAM

Tour search engine Viator offers affordable organized tours to see different parts of Amsterdam and the Netherlands in General
PLANNING TO GO COUNTRY HOPPING? IT'S SO EASY TO DO!
The train lines in Europe are incredible! Plan your route with RailEurope and book your tickets in advance to get the best deal!
If you prefer to get a little more off the beaten path, driving yourself can be a great option. But Car Hire can be expensive, use the HolidayAuto comparison site to get the best deal from 20+ providers!
So there you have it – my top picks and highlights for 48 hours in Amsterdam! Let me know if I have included your favorite spots – and let me know if there are any that I've missed!
NEXT UP: 48 HOURS IN BERLIN: THE HIGHLIGHTS
Further Reading:
Oh, and don't forget, if you liked this post please pin & share – I would really appreciate it :-)
READY TO EXPLORE MORE OF EUROPE? YOU MIGHT BE INTERESTED IN THESE ARTICLES
Hi There! Thanks for reading my travel guide to 48 Hours in Amsterdam: Fun Things To Do & Where to Stay. I just wanted to let you know that this post contains affiliate links, which means if you purchase something after clicking a link, I may get a small commission – which is at absolutely no cost to you. If you enjoyed this article and are going to be searching for some of the things I mention anyway, I would love it if you could click through from the links above & thank you in advance! Read my full Disclosure here.
Save