So you've decided to go to Iceland and now you need to know what to pack and what to wear. Well, you are in the right place!
The time of year you visit Iceland will definitely have an impact on what to pack for Iceland – but not as much as you may think(!) – as there are more than a few essential items that carry across all seasons.
I decided the easiest way would be to split this perfect Iceland packing list between the very cold season (winter) and the slightly warmer Spring, Summer & Autumn seasons to put together the ultimate guide to What to Pack for Iceland (for every time of year!)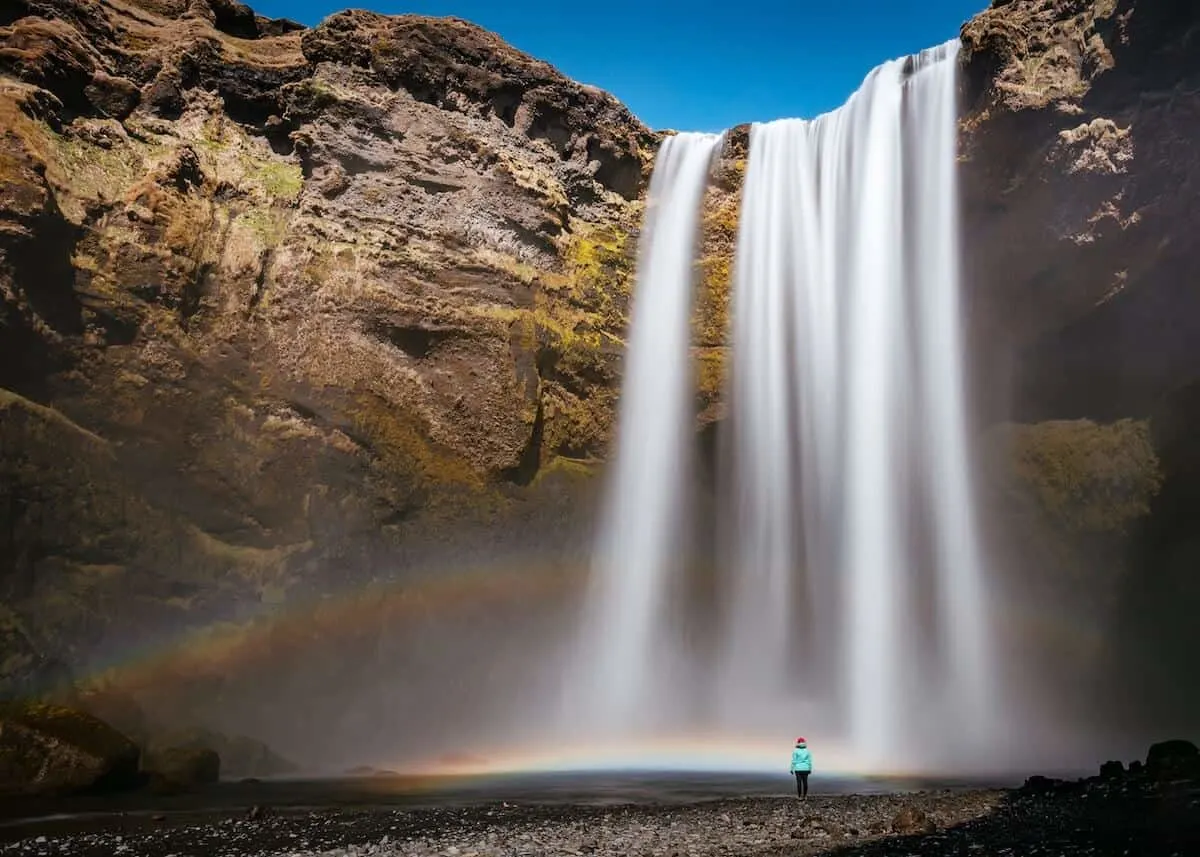 Disclaimer: This very helpful post with the Ultimate Iceland Packing List | What to Pack for Iceland in Winter and Iceland in Summer contains affiliate links, which means that should you click any of the links and make a purchase I may get a small commission at absolutely no cost to you. If you are here to make sure you have everything you need for your trip to Iceland – please consider using the links below. And you can read the legal stuff about it all in my Disclosure.
RELATED –
Torn between visiting in winter or summer? Check out our guide to the
best time to visit Iceland
that comes with a complete month by month breakdown!
What to Pack for Iceland | The Ultimate Iceland Packing List
These are the basics and what to pack for traveling to Iceland at any and all times of the year and should be the first things you add to your Iceland packing checklist:
A HIGH-QUALITY WATERPROOF JACKET
Iceland is cold and wet in every season and if you only pack the top 2 items on this list, you are off to a good start.
Ideally, your rain jacket should be water and windproof as even in summer when the sun shines for up to 23 hours a day the wind can still get up and a rain or snowstorm is never far away.
For this reason, we recommend buying a jacket that has a layered system that includes fleece jackets, warm layer, and wind and waterproof top layer.
I'd also recommend packing a vest for if you are hiking/walking a lot as a start to get warm, it is important to keep your internal organs at a consistent temperature.
These are a selection of the best coats for Iceland:
AND/OR A HEATED JACKET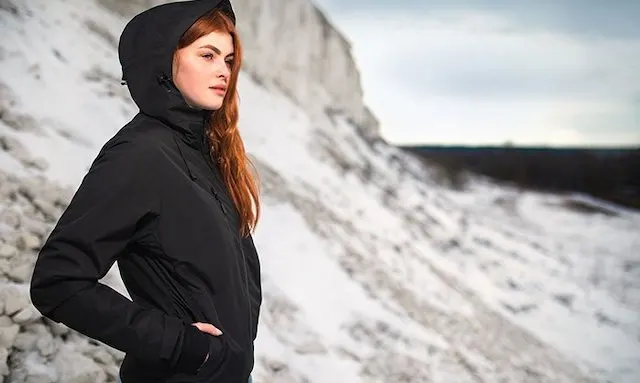 Yes, you read that right, you can now get your hands on a self-heating jacket. Perfect for the outdoorsy types – or those who are perpetually cold (like me!) – all you need to do is plug a portable charger into the in-built USB plug and voila – instant heat via a back panel and two across the chest. Made by Wear Graphene it's the latest and greatest in wearable tech.
WATERPROOF SHOES OR BOOTS
I've said it before and I'll say it again. Iceland is wet. Even if you are just walking a few steps outside the car the ground is likely to be wet and if you don't have a good pair of waterproof hiking boots or snow boots, you're feet are going to be wet too (and nobody wants that).
Also, if you are planning to explore Iceland even a step off the marked hiking trails, you are going to want some sturdy footwear/winter boots and/or waterproof hiking shoes as Iceland is not known for its flat bitumen pathways.
Add a pair of waterproof shoes to your Iceland packing list quick sharp!

FLIP FLOPS
And in complete contrast to the heavy-duty waterproof hiking shoes above, a pair of flip flops or sliders to slip on in your accommodation at night provide welcome relief for your feet. AND if you're heading to the Blue Lagoon (which we think should definitely be on your Iceland itinerary!) we do not recommend going barefoot. Flip flops are a must.
ALL THE LAYERS
Layers of clothing are one of the essential things to pack for Iceland. Long sleeve, short sleeve, vests, leggings (fleece-lined leggings if possible!), jeans, hiking pants and travel pants.
You're gonna want them all. And following on from our three jackets in one theme above, dress in layers. Think of yourself as an onion – except you are one that can be re-wrapped when the weather changes or the temperature drops!

SWIMSUIT & QUICK DRYING TOWEL
When packing for Iceland, you can't forget your swimming cossie!
That geothermically heated water in Iceland means you're going to want to take a dip regardless of what season you visit.
And I'm sure you know that that visiting the Blue Lagoon (or any of the other hot springs or swimming pools!) is one of the main places to visit in Iceland but don't forget to pack your bathing suit and a travel towel – I'm not sure that skinny dipping is acceptable anywhere in Iceland!

.
REUSABLE WATER BOTTLE & THERMOS
The water in Iceland is some of the purest you will ever drink and you will want to avoid buying bottled water there.
The tap water is more than good enough to drink – and so are the streams and rivers! Take a reusable water bottle and keep refilling it as you go.
And pack a thermos too and keep a stay of coffee/tea or hot chocolate in your car for when you're a reader for a warm drink!
.
EUROPEAN TRAVEL ADAPTER
If you plan on plugging anything in and you're not from continental Europe, you're going to need an adapter. Grab one before you go, as they are on the expensive side once you arrive in the country.
CAMERA GEAR
Northern lights or epic scenery, whatever time of year you visit Iceland you are going to want to have a good camera, a tripod, spare memory cards and extra batteries (the cold can rinse through your battery like nobody's business!)
And don't forget a GoPro – if you're planning to snorkel between the plates, you'll want a decent action cam to capture that incredible footage.
RELATED –
Looking for the Northern Lights? Take a peek at our
photography tips for travel in Iceland
for some handy hints. It's a complete guide to Iceland featuring general tips that are just required reading for any trip to Iceland!
GLOVES, WARM HAT & A BUFF
Another set of basic essentials to keep you warm and happy on your Iceland trip.
If you are planning to visit in winter you will want to be sure that your gloves and hat are thick (fleece-lined if possible) and super warm to protect you from the cold, but even in summer, I recommend taking a pair of inner gloves and warmer 'outer' gloves.
I get cold hands all the time and the extra inner layer is great when you need to use your fingertips (maps, cameras, etc) but don't want to expose your whole hands to the cold.

.
SOCKS, SOCKS AND MORE SOCKS (and Underwear!)
With the best will in the world, your socks are still going to get wet. Make sure you have plenty of pairs to rotate through on your trip.
And if you can, buy ski socks or wool socks. They're just a little bit thicker for added warmth but still thin enough to fit in your regular shoes. And packing enough underwear should go without saying!
SMART CLOTHES
You don't have to be quite dressed in your best for your day in Reykjavik, but don't be a slob either!
If you are planning on spending any time in Reykjavik city (which is a pretty fashionable place by all accounts) you'll want some 'smart' going out clothes for your night on the town.
Smart jeans, cute jumpers, warm coat. Or just whatever you are comfortable in. But you get the idea.
RELATED –
Want to head out and explore the Golden Circle, the South Coast, Lake Mývatn or any of other of Iceland's most popular tourist attractions, check out the
best tours in Iceland
(that are totally worth the $$!) and take the stress out of exploring this amazing country.
.
DAY PACK WITH RAIN COVER
A small pack for day to day adventures is a good idea. And even better if it comes with a rain cover, as you never know when the weather in Iceland will turn.
A day bag with a rain cover will keep everything dry and will be invaluable if you are exploring with camera equipment.
.
POWER BANK
If you are going to be out on the ring road, or even just for day trips, if you rely on your mobile for maps or want to charge your camera gear on the go, a portable charger will be a great addition to your kit.

EMERGENCY FIRST AID KIT
I always find it handy to carry a small first aid kit on an adventure. Just in case you get sick unexpectedly or acquire some miscellaneous cuts and cruises that require minor pain relief (you'd be surprised at how many times this happens to me!)
My kit always includes:
paracetamol
ibuprofen
cold and flu medicine
travel-sickness tablets
antihistamine
Imodium
Hydralyte
pocket tissues
band-aids
hand sanitizer
wet wipes
ear plugs
Don't forget to add these to your packing list Iceland.
Iceland Summer Packing List ( for Spring & Autumn too!)
If you are thinking about going to Iceland in Summer (or any other season that isn't winter), these are some things to bring to Iceland.
AN EYE MASK
In the land of the midnight sun – where the sun barely dips below the horizon in any 24 hour period, and a running commentary about Iceland's lack of block out curtains, a sleeping mask is an essential piece of kit for visiting during an Icelandic summer.
But even an eye mask may not be enough. If you are in the country and struggling to shut off at night, wear dark sunglasses in the evening prior to bed to 'trick' your body into thinking it's night time. (I know, you'll be the coolest kid on the block – sarcasm intended – but you don't want to let a few poor nights sleep ruin your experience of this amazing country.)
These are the perfect addition to your Iceland summer packing list. (and you can totally thank me later!)
.
SUN PROTECTION
Summer in Iceland calls for sunscreen and an SPF hat. The sun is strong in Iceland – even when you can't see it. Be sun smart, pack your sun cream and reapply at regular intervals. Especially if you plan on hiking in Iceland during your summer trip.
What to Pack for Iceland in Winter
If you are wondering what to pack for Iceland in winter, these are just a few extra bits that we recommend you add to your packing list.
And at the same time, we answer the question of what to pack for Iceland.
THERMALS
Winter in Iceland is cold. And an extra layer underneath it all can make all the difference on a trip to Iceland in winter. If you have never considered wearing thermal underwear, now is as good a time as any. And if you can find some made with merino wool you'll be sure to stay toasty warm.
.
WATERPROOF OVER PANTS (RAIN PANTS)
Yes. They are a thing. I mentioned these in my Iceland Travel Tips article and am going to reinforce their need here. For the sake of repeating myself (again) – Iceland is wet.
The ground is wet, the rain and snow are wet and in an Icelandic winter, when it's very cold, getting your clothes wet is not good. And before you find yourself exploring on a rainy day!
These waterproof pants are great for throwing on over jeans as you're exploring. They weigh practically nothing and pack down really small so there is no excuse not to take them!
.
HEADLAMP
In winter in Iceland, there can be less than 5 hours of daylight. A head torch is a necessity both for day to day exploring and for when you are out in search of the northern lights.
Just remember to turn it off before attempting to photograph them or the extra light will ruin your pictures!
.
A WARM SCARF
Not just a great accessory for winter photos, a scarf is a great way to keep in an extra bit of heat around the head area when it's super cold outside

.
CRAMPONS
As is to be expected, but Iceland in winter is full of Ice. And regular hiking shoes are not going to cut it on their own.
Add a pair of Crampons to your winter packing list for Iceland and be sure you stay upright for the whole time who are exploring. (Having no crampons may result in slipping and sliding on your butt. Don't say we didn't warn you!)
.
A GOOD BOOK
With the limited daylight hours, you will spend a lot of time indoors if you visit Iceland in winter. Go prepared and take that book that you've been wanting to read forever.
Obviously, the books below are my personal preference – I like guidebooks, crime, and mysteries, but feel free to pick books from whatever genre that takes your fancy.

That's a wrap, folks. I hope you have found this Iceland packing list super helpful, that you now know exactly what to wear in Iceland. It's full of travel gear and packing tips to help you in deciding what to pack for Iceland – whatever time of year you plan to visit! (And feel confident that you now know HOW to pack for Iceland too!)
We hope this has helped with planning your trip and if you liked this post, please share on Facebook, tweet, pin or flip – I'd really appreciate it!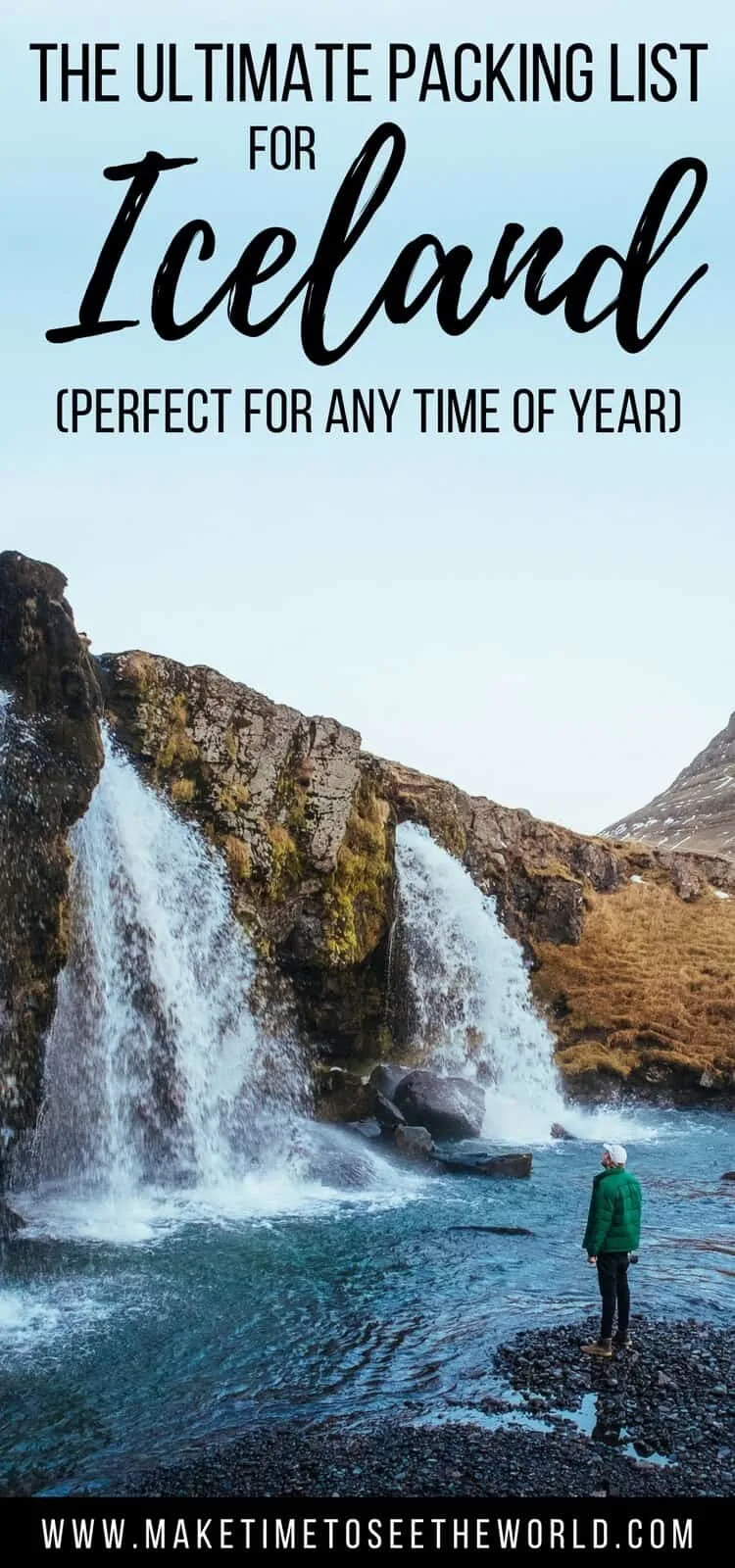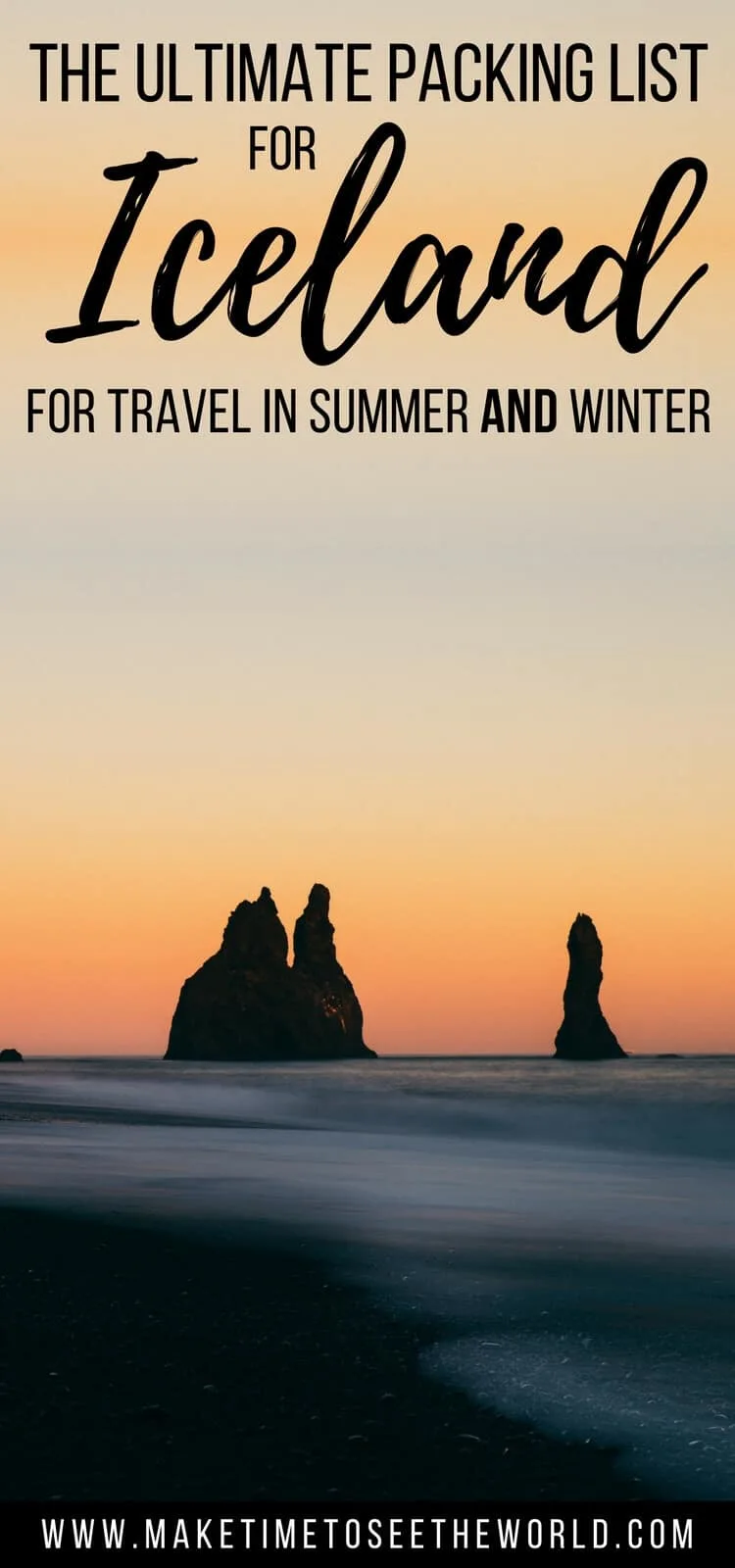 READY FOR MORE EUROPE TRAVEL INSPIRATION? YOU MIGHT BE INTERESTED IN THESE TRAVEL TIPS, TRAVEL HACKS, TRAVEL ARTICLES, TRAVEL DESTINATIONS GUIDES, SOLO TRAVEL GUIDES, TRAVELER RESOURCES AND RELATED POSTS ABOUT OTHER BEAUTIFUL CITIES IN EUROPE TO HELP YOU EXPLORE EUROPE AND TRAVEL THE WORLD:
Hi There! Thanks for reading my travel guide to Ultimate Iceland Packing List | What to Pack for Iceland in the Summer and What to Pack in Iceland in Winter! I just wanted to let you know that this post contains affiliate links, which means if you purchase something after clicking a link, I may get a small commission – which is at absolutely no cost to you. If you enjoyed this article and are going to be searching for some of the things I mention anyway, I would love it if you could click through from the links above & thank you in advance! Read my full Disclosure here.
And Thank you for reading the MakeTimeToSeeTheWorld travel blog posts.