Tokyo, Japan's capital city, is a tourist mecca and was ranked as the 6th most visited city in the world in 2017. Boasting an array of amazing things to see, do and experience in its center and surrounding area, it can be hard to know where to start. But never fear. We've got travel tips, hints and recommendations from a local to help you make the most of this exciting city.
So sit back, scroll down and find out all about the best things to do in Tokyo Japan along with suggestions for where -and what- to eat in Tokyo, where the best Instagram spots are, awesome day trip ideas and handy travel info to help you get around from the moment you touch down at the airport.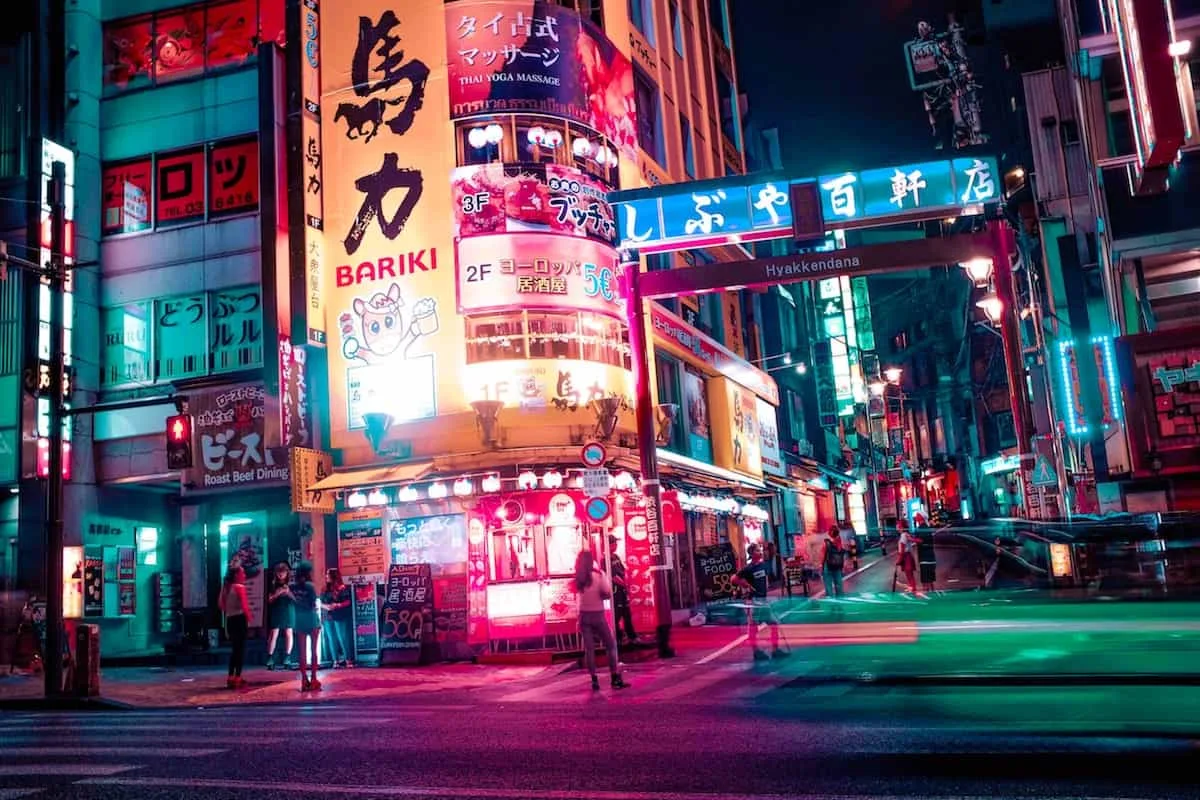 Disclaimer: Almost all posts on this site contain Affiliate links, and this one about the Incredible Things to do in Tokyo Japan and Tokyo Travel Guide is no different. This means that if you click on any of the links in this post (and make a purchase) I may receive a small commission at absolutely no cost to you. Each post is carefully crafted to (hopefully!) answer all your questions and recommendations are made where we believe they will improve your trip and help with your planning. As such we thank you in advance should you decide to click & buy. Read my full Disclosure here.
Co-written with Lena from The Social Travel Experiment
"I have been living in Tokyo for almost 3 years now and had the pleasure of visiting it many times before that. All activities I describe I have experienced myself and thoroughly enjoyed.
If you wanted to do all of these activities I assume you will need more than one or two days in Tokyo (I'd recommend 5!), so if you are on a tight schedule just pick the ones that interest you most, and leave the others for your next visit (I guarantee you will want to come back!)"
.
Incredible Things to do in Tokyo Japan
I have picked out 10 things to do in Tokyo Japan. Some are more famous and touristy than others but I can really recommend all of them. But I would like to give you a warning at this point if you don't like crowds try to do the more busy activities in the mornings and never on weekends.
Take a Picture of the Scramble Crossing in Shibuya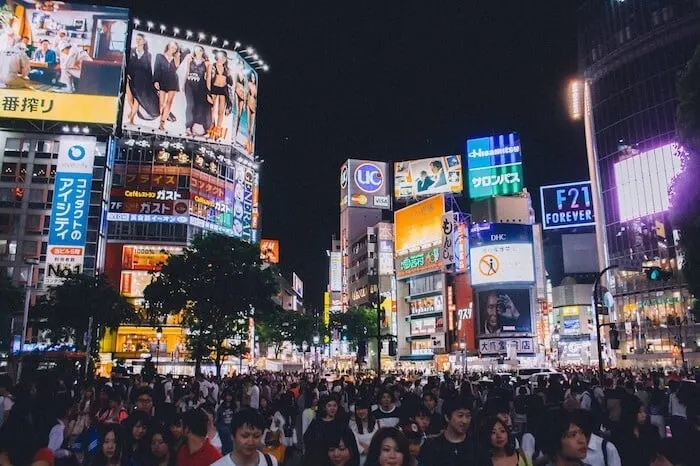 One of the top sights is the Shibuya Crossing (also known as the Shibuya Pedestrian Scramble Crossing!) It gets really busy on weekends and at night, but if you are the one crossing the street you can't quite grasp the sheer number of people crossing in every direction while the pedestrian traffic lights are green (and also after they have turned red).
The best place to really enjoy this spectacle is from the second floor Starbucks above Tsutaya. Here you can view the Scramble Crossing through the floor to ceiling windows while sipping your favorite coffee drink.
RELATED: Want to see more of Japan that just Tokyo? This 10 day itinerary for Japan is a great place to start.
.
People-watch in Yoyogi Park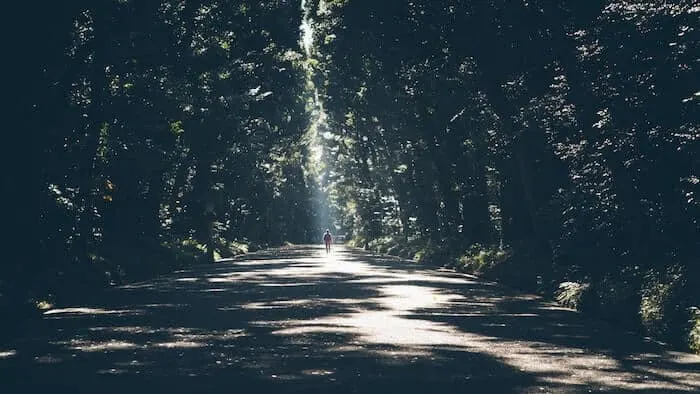 One of the biggest parks in Tokyo, Yoyogi Park is busy with people enjoying their free time, especially on weekends. Here you will see people walking their pets like dogs but also cats and ferrets and birds, and watch people doing group activities like sports or theater and dance practice.
If it is not too cold bring a blanket and just sit down and watch people pass. This is a great way to spend an hour or two between your more hectic sightseeing activities. You can also bring some snacks and drinks from a convenience store to have a little picnic. Just please remember to take all the garbage with you when you leave.
RELATED –
Want to get off the beaten path in Japan? Consider the
region of Tohoku
– it's absolutely gorgeous! (and there are hardly any tourists!)
.
Pray at Meiji Jingu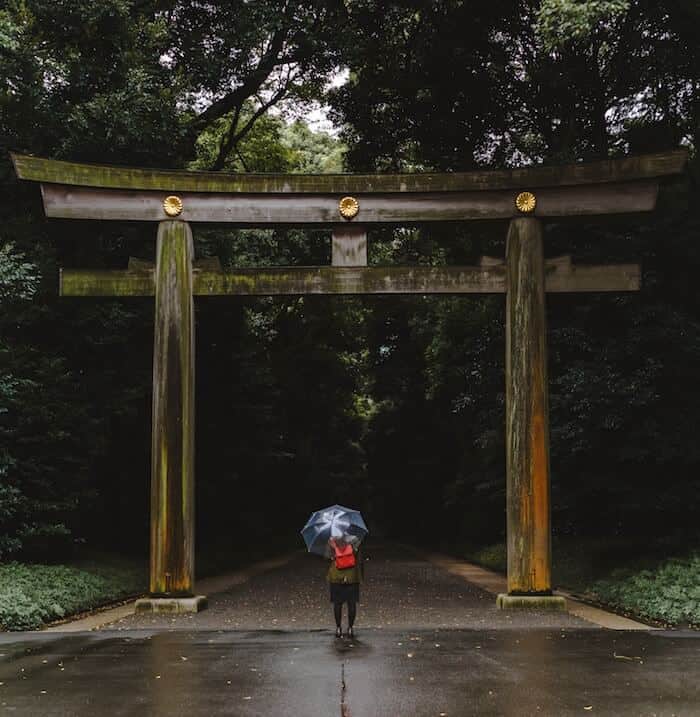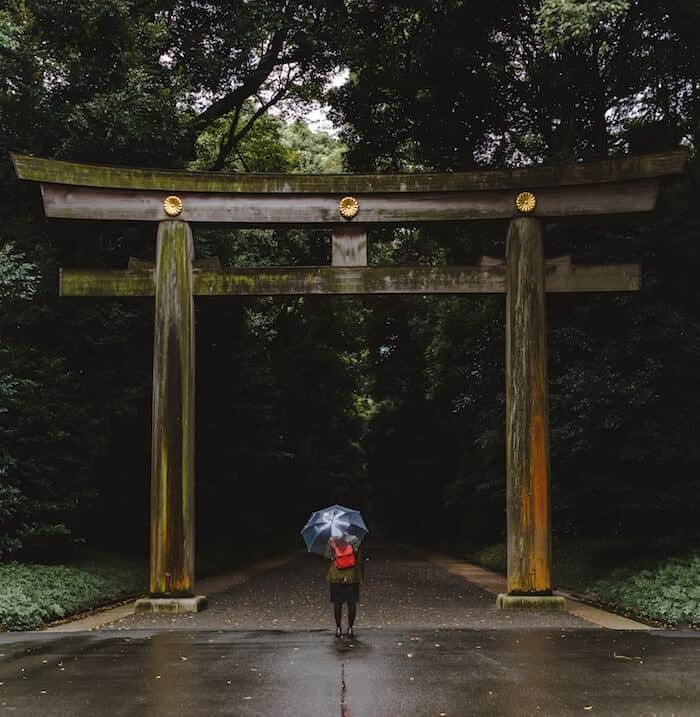 Even if you are not religious it can never hurt to make a wish to one of the many spirits worshiped in Japans religion Shinto. The Meiji Jingu (Meiji Shrine) is the biggest Shinto shrine in Tokyo and visited by many people every day. The walk from the gigantic gate to the shrine itself leads through a forest adjoining Yoyogi Park. When you arrive at the shrine make sure to wash your hands and proceed to make your wish. First, you need to make a small monetary contribution. It is said to be best to throw a 5 or 50-yen coin (the ones with the hole in the middle of the coin).
.
Visit the busy shopping street Ame Yokocho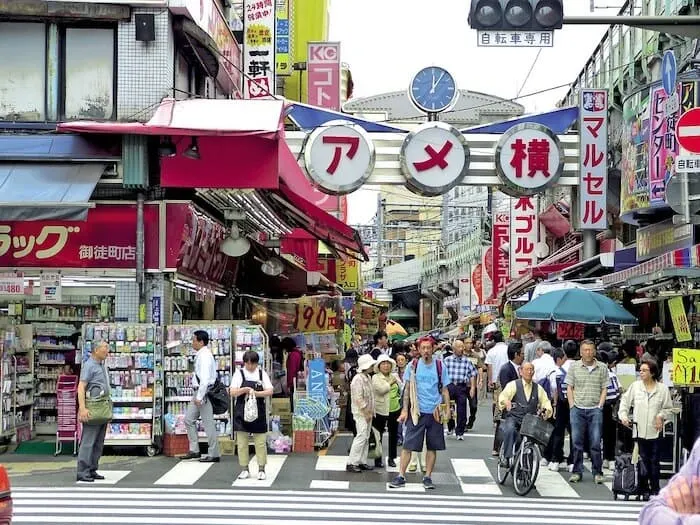 In Japan, everything is clean, beautiful and modern. As a contrast, you should visit Ame Yokocho in Ueno. This busy shopping district has one shop after another with fake products and open stalls with fresh fruit and fish (that's also the reason why it smells quite strongly of fish and reminds me a lot of busy streets and markets in south-east Asia).
At one of the many cramped restaurants and food stalls, you can get different kinds of foods that you can wash down with a cool beer. And if you are here at night you'll watch the building light up in neon lights!
.
Feel small at Tokyo Station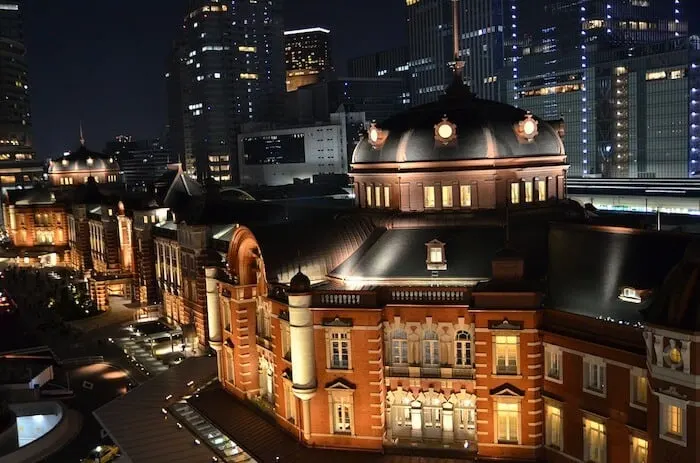 I love walking around the Tokyo Station area at night. The station itself is a beautiful historic brick building that has survived World War II. It contrasts perfectly with all the business skyscrapers surrounding the station. The high rise buildings are especially impressive at night and you feel quite small and insignificant when you look up at the sky (in a good way of course). Another huge train station in Tokyo is Shinjuku station and Tokyo metro and is worth a look when you are traveling on the network.
Feel Like Royalty at the Imperial Palace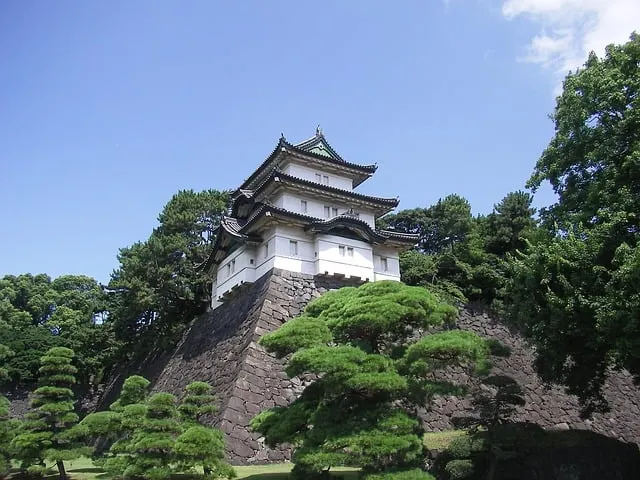 The Tokyo Imperial Palace is the primary residence of the Emperor of Japan. It is a large park-like area located in the Chiyoda ward of Tokyo and contains buildings including the main palace (宮殿, Kyūden), the private residences of the Imperial Family, an archive, museums and administrative offices. In its heyday this was the largest fortress in the world, though little remains of it today apart from the moat and stone walls. Most of the 3.4-sq-km complex is off-limits, as this is the emperor's home, but you can join one of the free tours organised by the Imperial Household Agency to see a small part of the inner compound.
.
See the city from above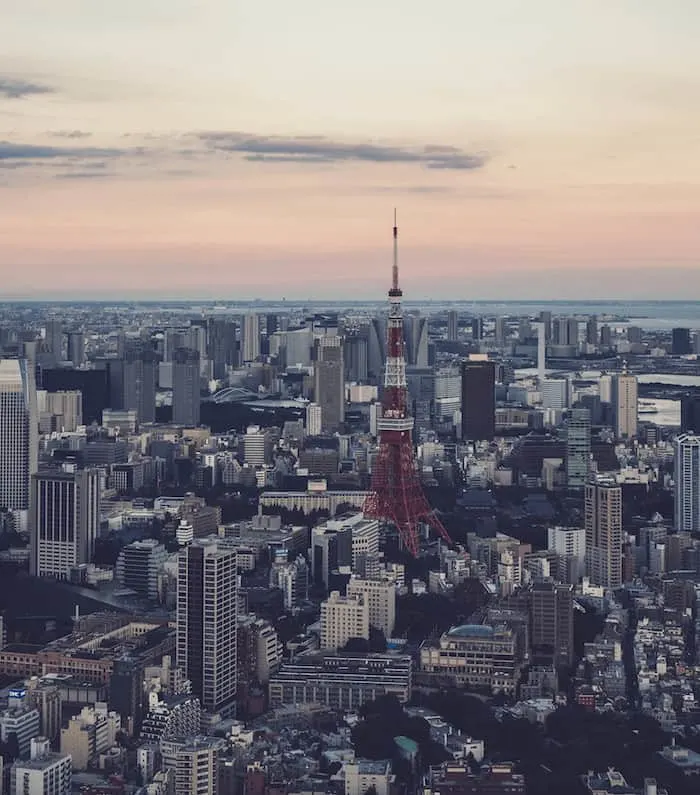 There are multiple options to see the city from the top. The Tokyo Skytree is the tallest building in Tokyo and riding to the top to get to the observation decks is quite expensive. A cheaper alternative is a visit to the Tokyo Tower, that I like much better than the Skytree, but maybe that's just my taste.
If you don't want to spend any money for a nice view from the top, you could also visit the Tokyo Metropolitan Government Building in Shinjuku. From the 52nd floor, you will be quite high up and get an amazing view (although not as nice as the one from Tokyo Tower).
.
Buy electronics in Akihabara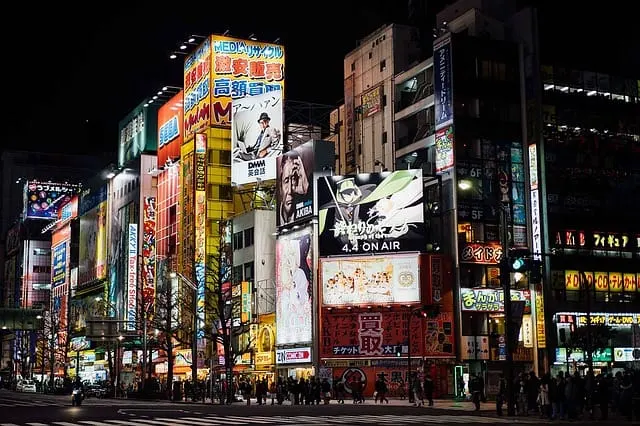 To enjoy the modern Tokyo, it is probably best to visit Akihabara, the crazy part of town where all the geeks, freaks and otakus meet to talk about manga, anime, and electronics. If you are looking for a used camera this is the place to go. Obviously, new electronics can also be found everywhere around this area. You just have to visit one of the multiple high-rise buildings around the station.
.
Visit the tsukiji fish market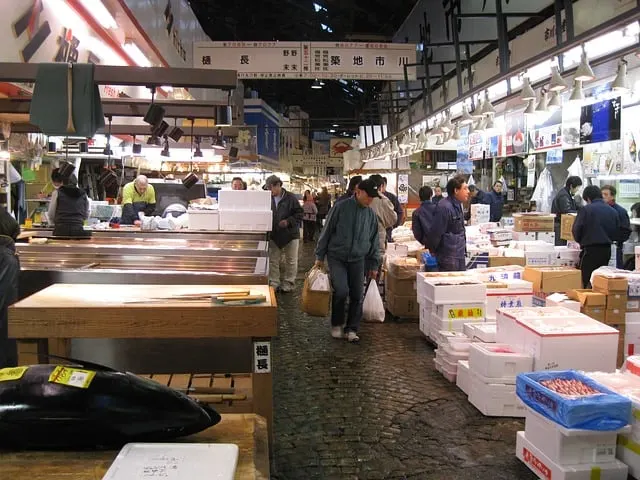 The Tsukji Market is an assault on the senses and a real 'Tokyo' experience. With an array of seafood on sale daily, there is also a spot to view the popular tuna auction. The Tsukiji market is the perfect place to try some sea-fresh fish or sushi!
.
Buy souvenirs in Nakamise Dori in Asakusa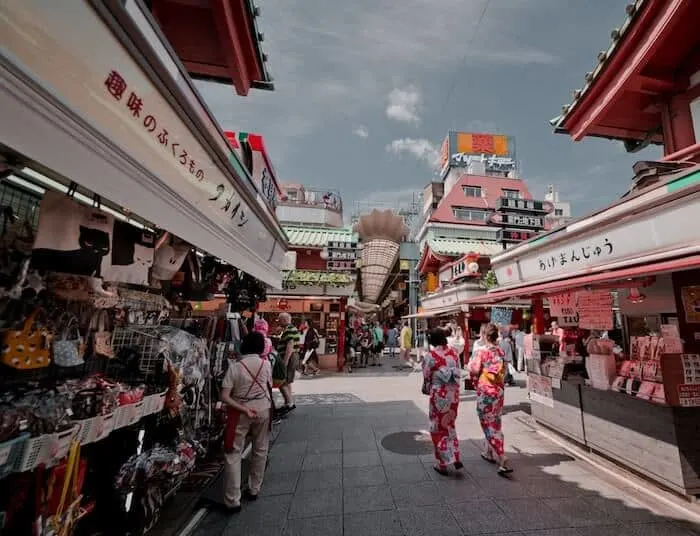 If you are looking for a perfect place to get all your souvenirs and gifts for friends and family then Nakamise Dori in Asakusa, the street leading to Sensoji Temple is exactly the place to visit.
The shops on either side of the pedestrian street feature everything from small key chains and fans over snacks and sweets to samurai swords.
While shopping you can also buy different foods and snacks to eat right then and there. Like everywhere popular in Tokyo it can get really crowded with tourists especially on the weekends so try to visit on weekdays where it will still be very crowded but not as much.
.
What to eat in Tokyo Japan
Now let's talk about a couple of my favorite foods. I picked up two food experiences and two desserts that you shouldn't miss when visiting.
Different options to enjoy Sushi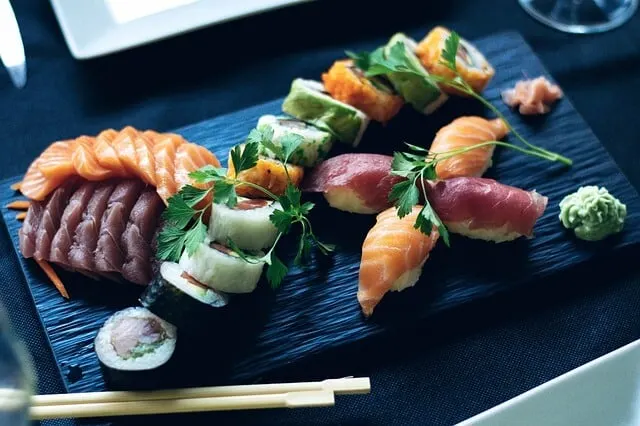 Wanting to eat sushi is one of the many reasons for wanting to visit Japan. And of course, visiting nice old restaurants where you are personally greeted by the sushi master and sit at the counter opposite him while ordering and enjoying one piece of sushi after another is a great experience, but also really expensive.
The alternative is more hip, modern and fast. Visiting one of the modern running sushi chains where you order your sushi from a tablet and your order promptly arrives on small plastic plates delivered by a train.
.
Have a dinner cruise at Tokyo Bay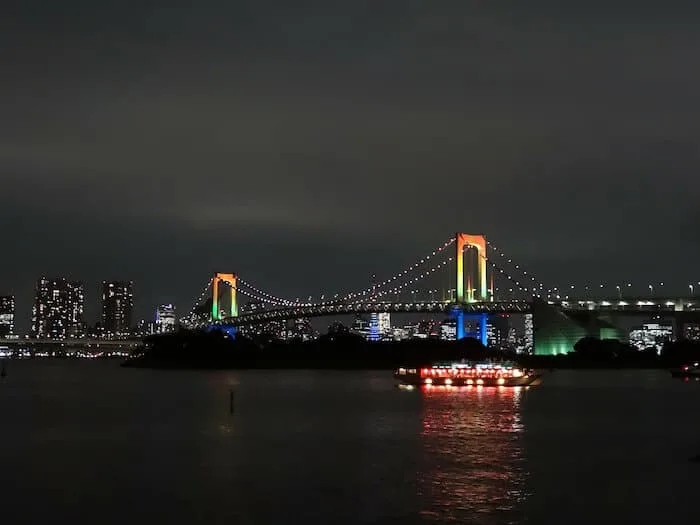 If you have a budget that isn't super tight I recommend you book a nice dinner cruise on Tokyo Bay. There are also some on the rivers in Tokyo like but Tokyo Bay is especially impressive to see from the water. You will have a delicious dinner and free refill on drinks and can later enjoy the night lights from the deck of the ship. You will be able to see Odaiba and its impressive buildings and also the lights illuminating the famous Rainbow Bridge. An incredible and unforgettable experience.
RELATED –
Looking for another iconic Japanese night-time experience? Book your table at one of the many
Tokyo Robot Restaurant Cabaret Shows
. 1 hour of flashing lights, taiko drums, and techno music where glitzy ladies dance with robots, dinosaurs, ninjas and even a giant panda!
.
Eat a Matcha Parfait at Nana's Green Tea
I love eating ice cream and parfaits in Japan. I also love matcha green tea. The best place to get the combination of both in a nice modern Japanese environment is at Nana's Green Tea. You can choose from different versions of tea parfaits and they are all delicious, but a little bit expensive at around 1000 Yen (10$).
You can also enjoy a light lunch with their freshly prepared donburi.
RELATED:
Love food and want to try all things Japanese? Take a
Guided Food tour
and bar hop as you discover succulent grilled meat skewers, sweet cakes and refreshing sake at some secret –
but incredible
– restaurants than not even some locals know about!
.
Eat a Crepe in Harajuku
Takeshita Dori is a fashion street for young people and everything here is Instagramable. Make sure to eat a crepe at one of the many crepe shops along the street. If you have some time on your hands you can also get in line to get some colorful cotton candy to pose with for a picture that might just go viral.
And if you are looking for more iconic traditional Japanese dining experiences make sure you visit an owl café, cat cafes or maid cafes, attend a traditional Tea Ceremony or buy something from Tokyo's infamous vending machines!
.
Extra Tokyo Adventures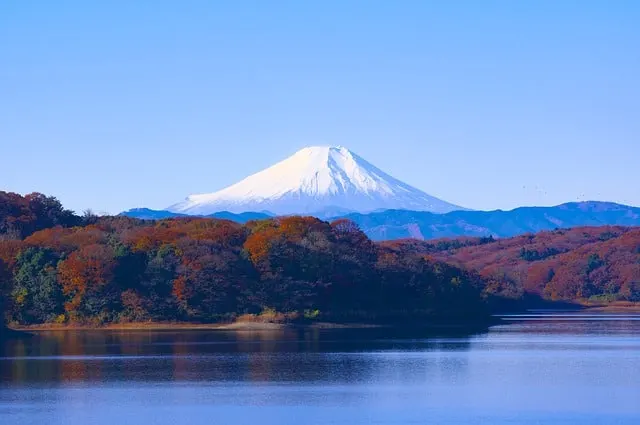 IF YOU HAVE THE LUXURY OF TIME AND CAN'T GET ENOUGH OF TOKYO, TAKE A LOOK AT THESE GREAT DAY TRIPS & TOURS TO EXPLORE THE SURROUNDING AREA:
.
Where to Stay in Tokyo
There are a range of accommodations in Tokyo, with enough Tokyo hotels to keep every style of traveler happy. From the luxurious Keio Plaza Hotel (where you'll likely have more space in you hotel room than at home(!) and is really close to the Shinjuku Gyoen Japanese Garden) to one of the many innovative capsule hotels. The Shinjuku Kuyakusho-mae Capsule Hotel Tokyo is one of the top rated and which may be the smallest space you have ever slept in!
.
Essential Visitor Info for Tokyo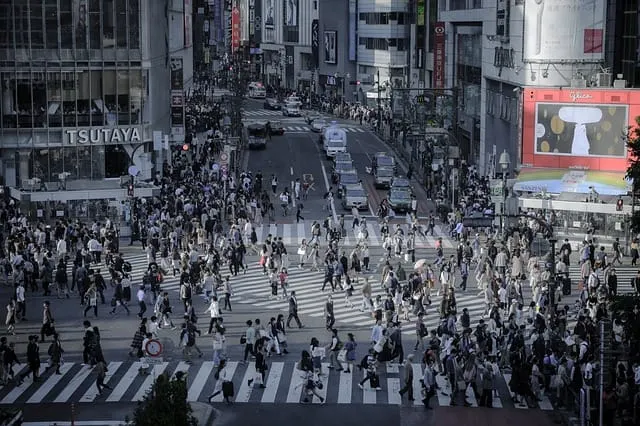 How to Get to Tokyo
Japan has great transport links and Tokyo can be reached by planes, bullet trains, express trains, buses, cars and ferries.
A shared taxi from Narita International Airport will cost around $65USD
There are 4 train line options available from the airport to the train station and range between $13-35USD and are covered by the Japan Rail Pass which can be purchased for 7 day and 14 day periods and are perfect if you plan to explore more of Japan on your visit to Tokyo.
There is a 4000 yen round trip Airport -> Tokyo City -> Airport that is also available if you are traveling within a 2 week period. Ask at the JR Ticket office (in the basement of Narita Airport) about NEX Tokyo Round Trip Ticket to take advantage of the discount return fare.
If arriving into Haneda Airport, the journey into Tokyo can be as short as 25 minutes via an affordable train, monorail or bus trip with prices between $4-10.
How to get around Tokyo Japan
The best way to get around Tokyo is by public transport. You can either use Metro or JR or bus. There are separate day passes for each or you can get a Suica or Pasmo card, charge it and pay as you go.
If you are planning to travel within Japan it might make sense to get a JR Rail Pass for unlimited use of all JR trains (with the exception of the fastest Shinkansen trains).
Whichever pass you go for, the train system is easy to navigate, and as with all major signage, it is displayed in English alongside Japanese. (This makes Tokyo – and Japan – a great place for solo travelers).
WiFi in Japan
Whilst wifi is available in almost every hotel in Tokyo, there are not as many hot spots available whilst you're out exploring. If you absolutely need to have access to the internet whilst traveling around, you can rent a Mobile WiFi Hot Spot which can be picked up and returned to Narita International Airport or Haneda Airport.
When to Visit Tokyo (Climate + High/Low Seasons)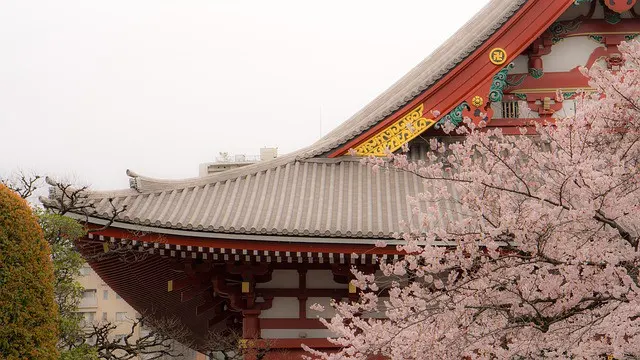 You can visit Tokyo at any time of year because the weather is temperate. The best times to visit Tokyo are the fall (October/November) and spring (March/April/May). Summer (June/July/August) in Tokyo is hot and humid.

In spring (late March to mid April), you have the blossoming of the various flowers, notably Japanese apricot (ume) and the infamous cherry blossoms season (sakura). The weather is usually temperate at this time and the humidity is relatively low.

One time to avoid in spring would be Golden Week (usually around the first week of May although it moves slightly from year to year). Huge numbers of Japanese people travel domestically at this time and you can expect large crowds and high prices for accommodation and transport.

Summer and winter are less attractive with muggy, humid weather dominating the summer months, and cold temperatures combined with snow in the winter.
So there you have it – hopefully we've given you enough travel inspiration to inspire your Tokyo travels – and given you a great list of Things To Do in Tokyo Japan to make sure you get the most from your visit. Don't forget to let me know you're own highlights once you're back!

Oh, and if you enjoyed this Tokyo City Guides please share on Facebook, tweet or pin (I made a few designs!) – I'd really appreciate it! Click the P in the share bar for full size images!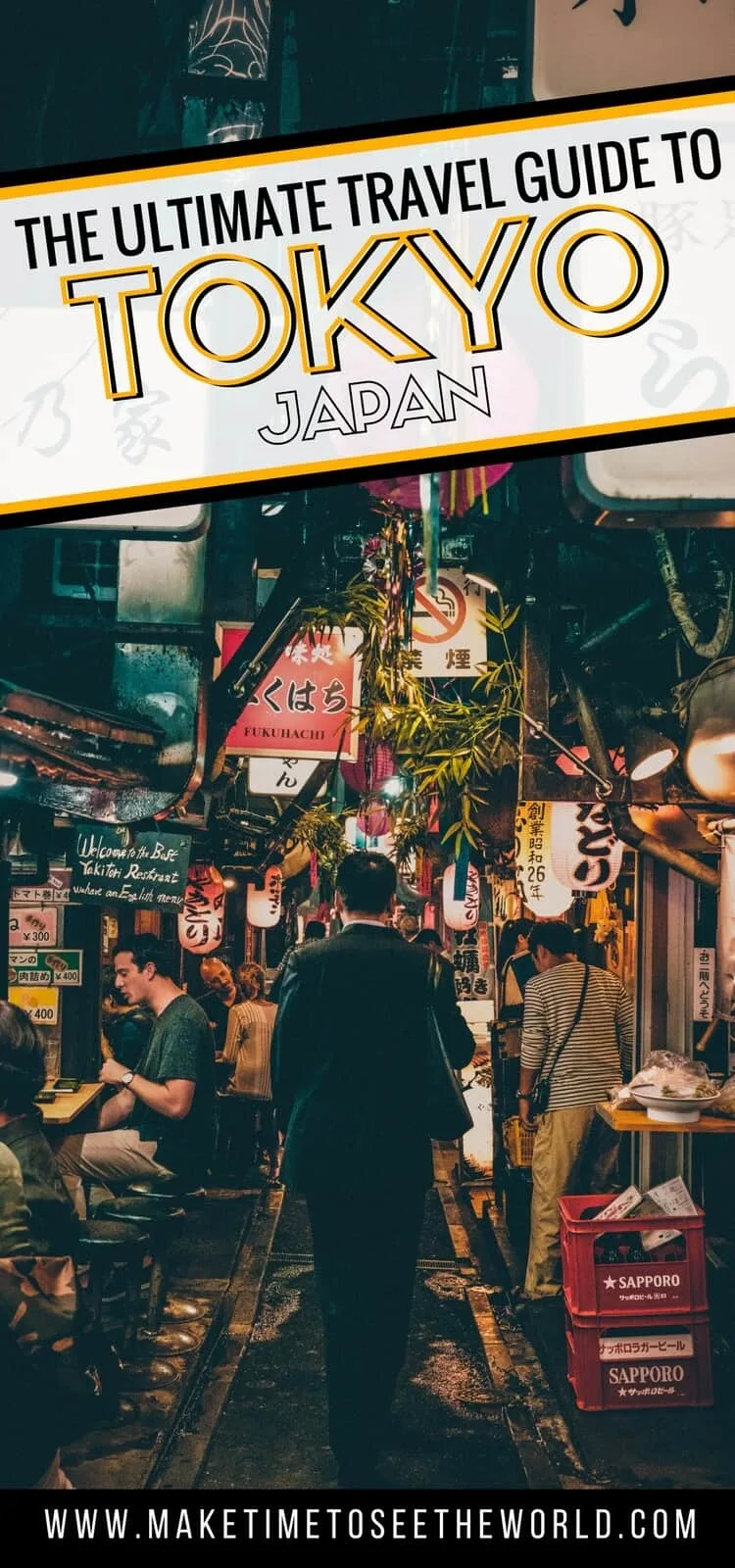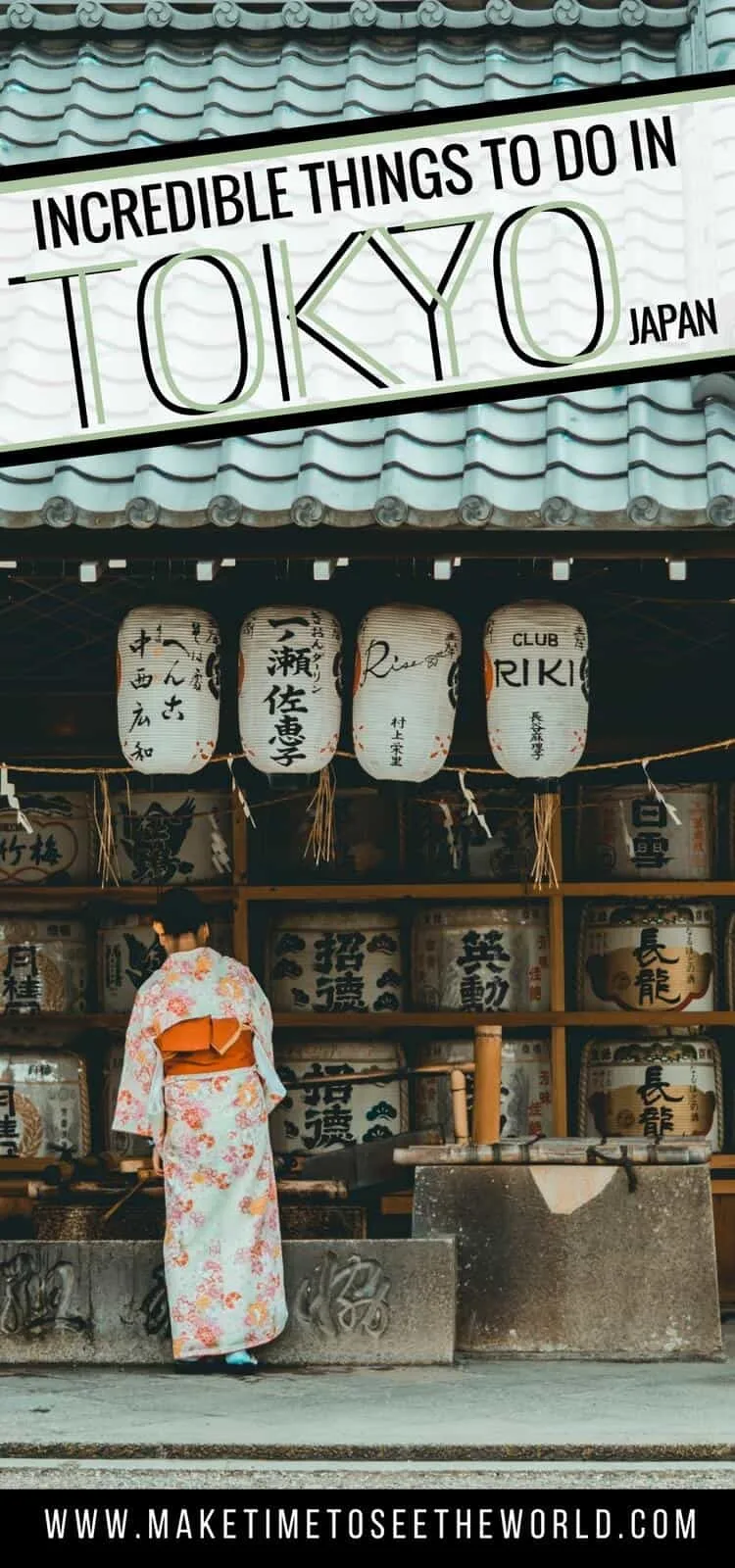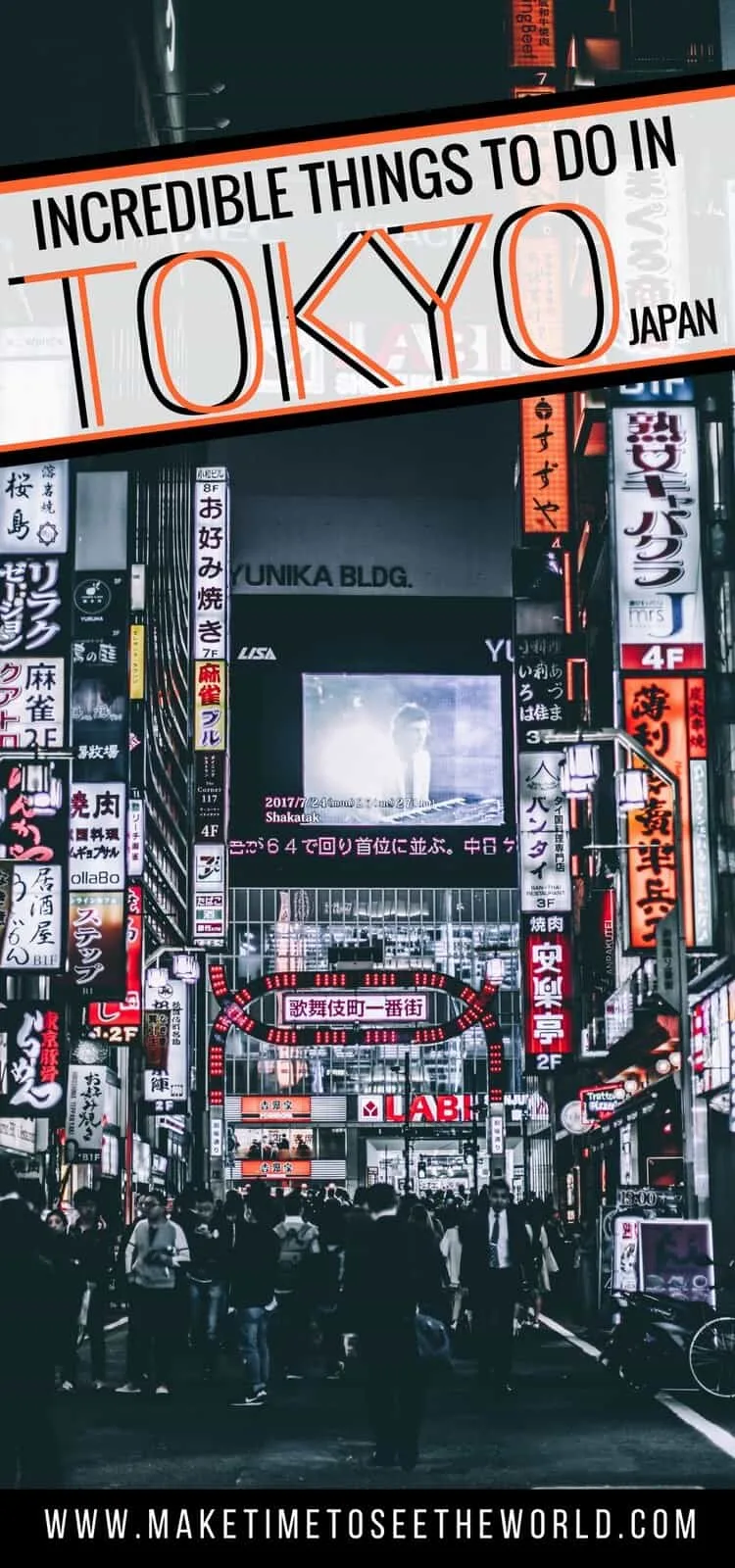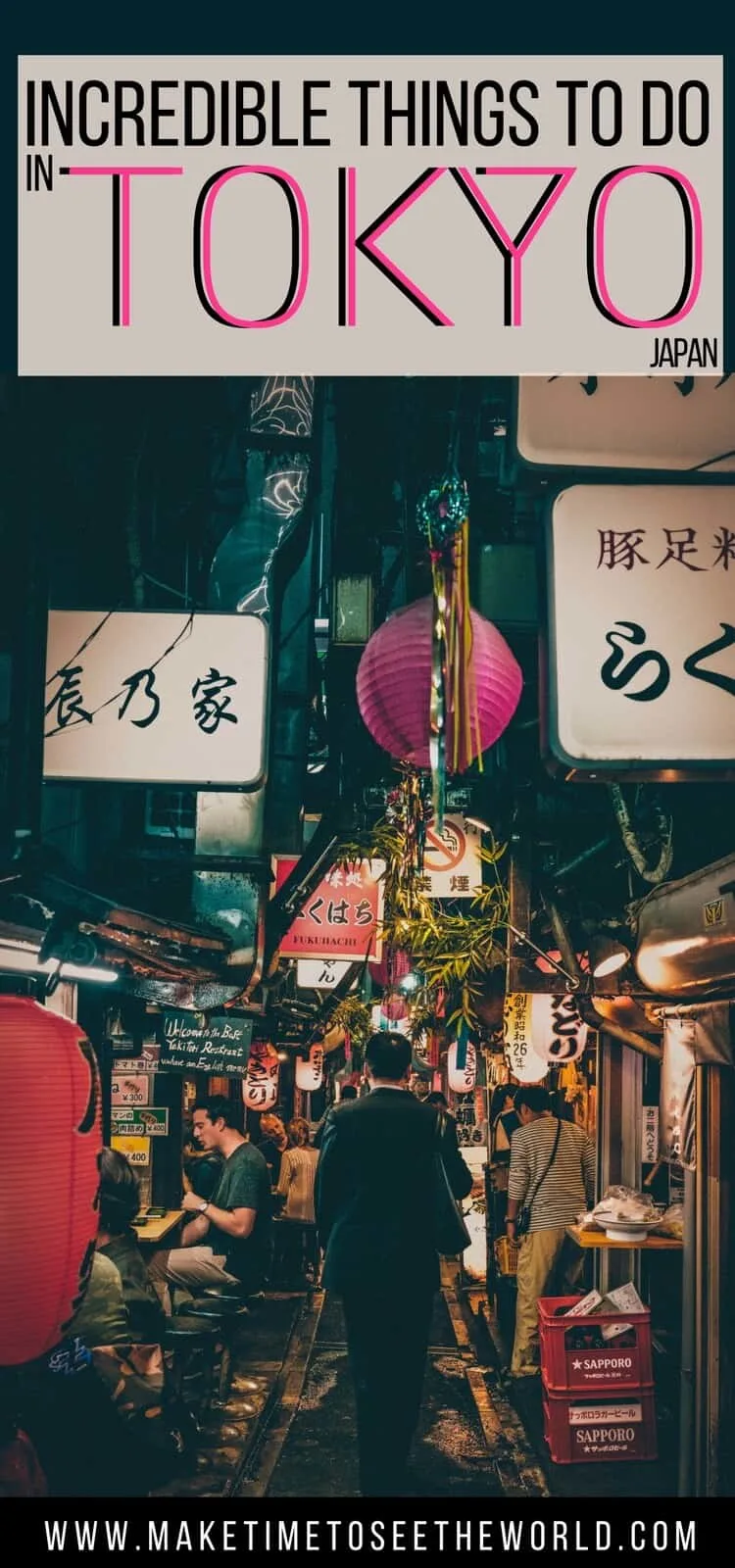 READY TO EXPLORE MORE OF JAPAN (OR BEYOND!)? YOU MIGHT BE INTERESTED IN THESE TRAVEL BLOG ARTICLES:
Hi There! Thanks for reading my travel guide to The Best Things To Do in Tokyo Japan (as written by a local!). I just wanted to let you know that this post contains affiliate links, which means if you purchase something after clicking a link, I may get a small commission – which is at absolutely no cost to you. If you enjoyed this article and are going to be searching for some of the things I mention anyway, I would love it if you could click through from the links above & thank you in advance! Read my full Disclosure here.