Tōhoku is currently one of the least visited regions in Japan, and unfortunately is today known mostly because it was the location of a devastating earthquake which occurred on 11 March 2011. It was one of the biggest earthquakes recorded in the past 100 years and which caused tremors on the surface which lasted for more than 6 minutes. Originally estimated to be an 8.9 magnitude quake, once the data had been analysed it was re-categorised a 9.0-9.1 and was officially the 4th most powerful quake in world in recorded history. Often referred to as the 'Great East Japan earthquake,' the quake and resulting tsunami caused death and devastation on an unprecedented scale outside of war, along with a nuclear disaster at Fukushima Daiichi Nuclear Power Plant which continued to effect the region of Tohoku Japan for years.
Even today there is still a 20km exclusion zone around the ill-fated plant itself, but the wider area is completely safe for visitors.
The region is – thankfully – recovering; rebuilding what was lost, celebrating what survived, and getting tourism numbers back up to pre-2011 levels will go a long way to helping this recovery effort.
The Japan National Tourism Organization recently invited me to experience and photograph the region and I was blown away not only by it's beauty, history, food and various attractions (lakes, temples, mountains, sake brewery, samurai towns, ancient castles & shrines to name a few!) – but also that I didn't see any Western tourists during my stay – and in some places, didn't see ANY other tourists at all!
I'm hoping this post might be able to change that.
Below I have put together a few of my favorite images from the campaign, along with their locations and a few words about what you can expect in each area. I hope they inspire you to include the Tōhoku region on your next trip to Japan.

Disclaimer: I visited Tōhoku on a paid photography assignment for JNTO, and thank them not only for the campaign, but for introducing me to this enchanting region of Japan. I was also not required to post anything here on the site about the trip, but would love to help the region bolster tourism in any way that I can, and hope this article will if nothing else, introduce Tohoku to a new set of visitors and, ultimately, encourage them to visit.
Mount Haguro – Yamagata/Akita Prefectures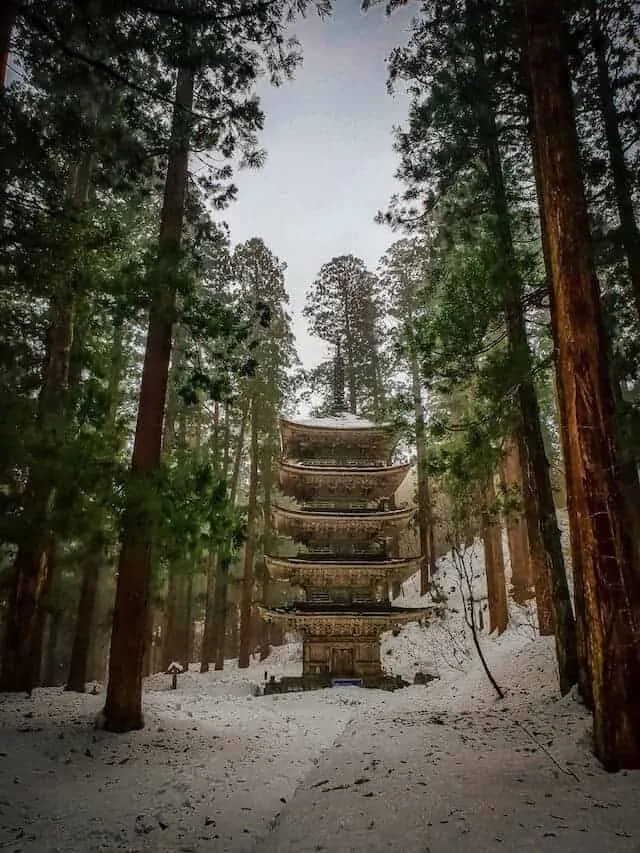 Location: Ancient Province of Dewa comprising parts of modern day Yamagata and Akita Prefectures
Located in the ancient province of Dewa in the city of Tsuruoka, there are 3 mountains and the one pictured here is "Mount Haguro" which is home the famous 5 pillar wooden pagoda located in its forest. The lowest of the three mountains at 414m, it is the only one that can accessed all year round – however if you do intend to visit in winter, crampons are an excellent idea. To reach the pagoda you descend down a few hundred steps, walk through Sanjingōsaiden – a collective of wooden shrines said to represent the spirits of all 3 mountains – and follow the walking trail for about 10-15 minutes.
The Pagoda, built out of natural, un-lacquered wood (and constructed without the use of nails!) during the Heian Period (794-1185); and was re-built in 1372, and at 29m high stands at ease among the surrounding cedar trees. And although I'm sure we can all agree that Japan does not suffer from a lack of Pagodas, this one in particular is particularity beautiful.
At the summit of Mt Hugaro visitors will find this Torii Gate leading to the Ideha Shrine (one 1/3 of Dewa Sanzan Shrines set across Dewa's three mountains). The shrine is dedicated to Ideha no Kami (the god of three mountains of Dewa) and has a 2.1m thick thatched roof. It was listed in the Register of Deities of the Engishiki (the laws of the 10th-century Japan) and the main hall is famous in Japan as a designated national treasure.
RELATED –
Looking for more Japan Inspo? Take a look at out travel guides for
Tokyo
, Osaka
&
Kyoto –
and if you are curious about the $$ side, take a look at these
Japan travel costs
.
.
Matsushima – Miyagi Prefecture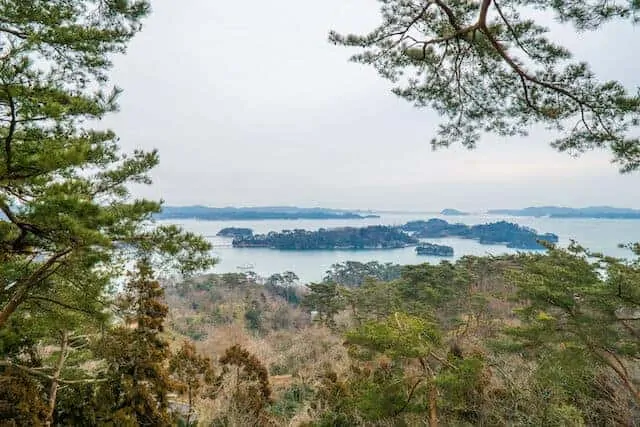 Matsushima is a city on the northeast coast of Japan's Honshu Island. It's known for the hundreds of forested islands that dot Matsushima Bay, along with three important temples that lie a stones-throw from the shore and some of the best oysters, sushi and sashimi in the region!
Zuiganji Temple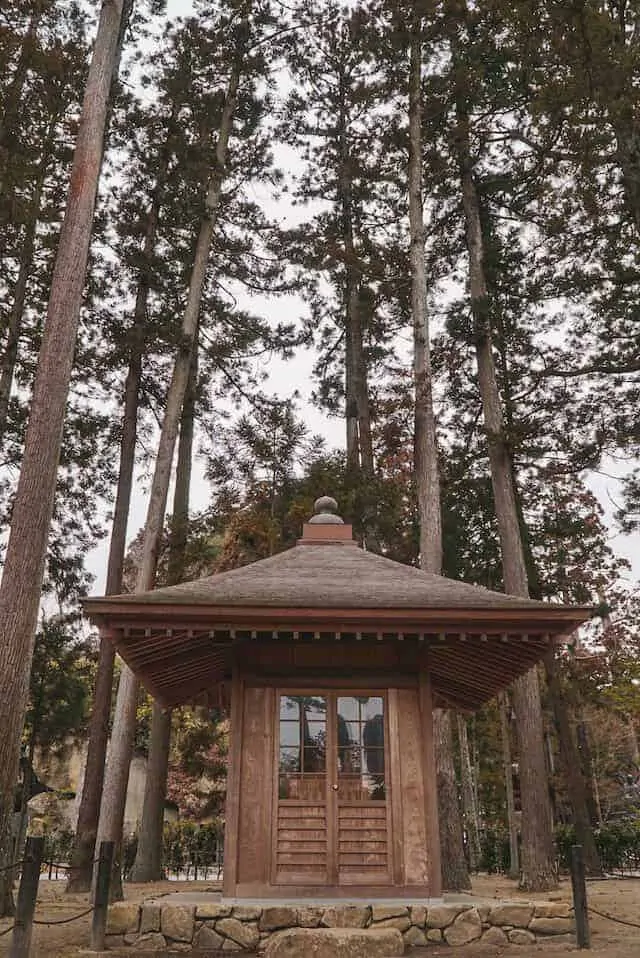 Located just steps from the shore of Matsushima Bay and along a walkway lined with cedar trees, is Zuiganji Temple. It's a designated National Treasure and Important Cultural Property, as well as being one of the most important Zen Buddhist temples in northern Japan. Originally established in 828AD, the temple as it stands today was rebuilt by samurai ruler Date Masamune in 1609 as his family temple.
.
Entsūin Temple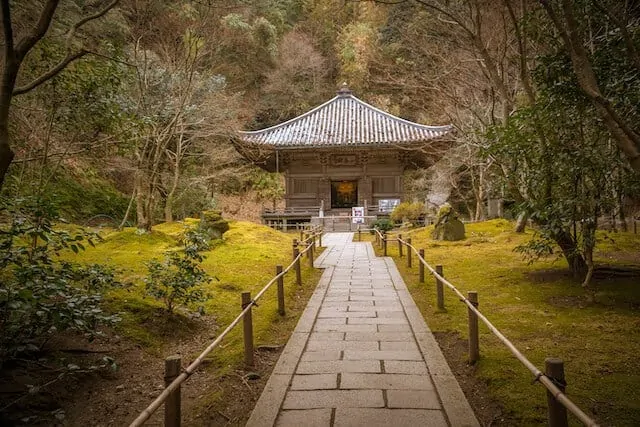 Entsuin Temple's most beautiful features is the mausoleum Sankeiden (which is also an Important National Cultural Property), built by samurai ruler Date Masamune for his grandson who died mysteriously at age 19. It features beautiful moss gardens as well as a rock garden which represents the islands of Matsushima Bay, along with designs and symbols brought back from Europe by a trade mission sent by Date Masamune 400 years ago. In honor of this mission, Entsuin also features a western rose garden – the only one to be found in a Buddhist temple anywhere in the world, making it truly unique.
.
Sushi & Sashimi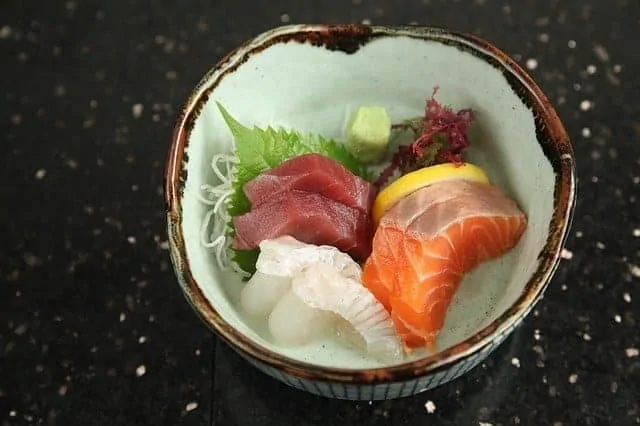 And if you are feeling a little peckish after exploring the temples of Matsushima, be sure to stop at the Matsushima Fish Market where fresh oysters (or oyster burgers!), sashimi, sushi and ramen are the order of the day. Top quality seafood – at bargain prices – and oh so delicious. Shop in the market below and take your seat upstairs in the dining room to wait for your meal to be prepared. It's one of the best cafeterias you're going to visit in Japan!
.
Ski Zao Onsen (Yamagata Prefecture)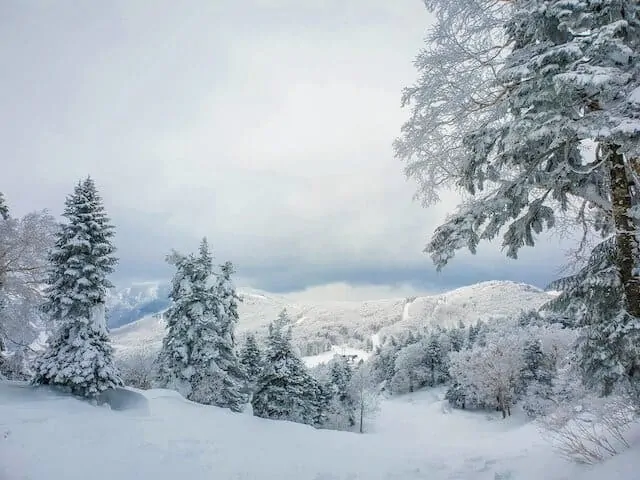 Zao Onsen is a traditional onsen hot spring village and one of the most famous and traditional skiing & snowboarding resorts in Japan. Beginner to Intermediate skiers will enjoy 40km of runs available (Advanced skiers will have the other 10%) by day, and will love the opportunity to ski past the 'Snow Monsters' that the resort is famous for (below).

RELATED: Japan is beautiful in winter, but if you want to see the Sakura (Cherry Blossom) you need to visit Japan in Spring!
View this post on Instagram
Each winter the trees in the Zao Mountain Range are blanketed with thick layers of snow and ice and compounded by freezing winds, create these fascinating forms, dubbed 'snow monsters.' They are typically at their 'best' during mid-late February, although the weather can be unpredictable and during our visit, unusually high temperatures had resulted in rain which had 'washed away' some of the outer layers making them much less impressive than normal.
.
Visit the Zao Onsen Snow Monsters by Night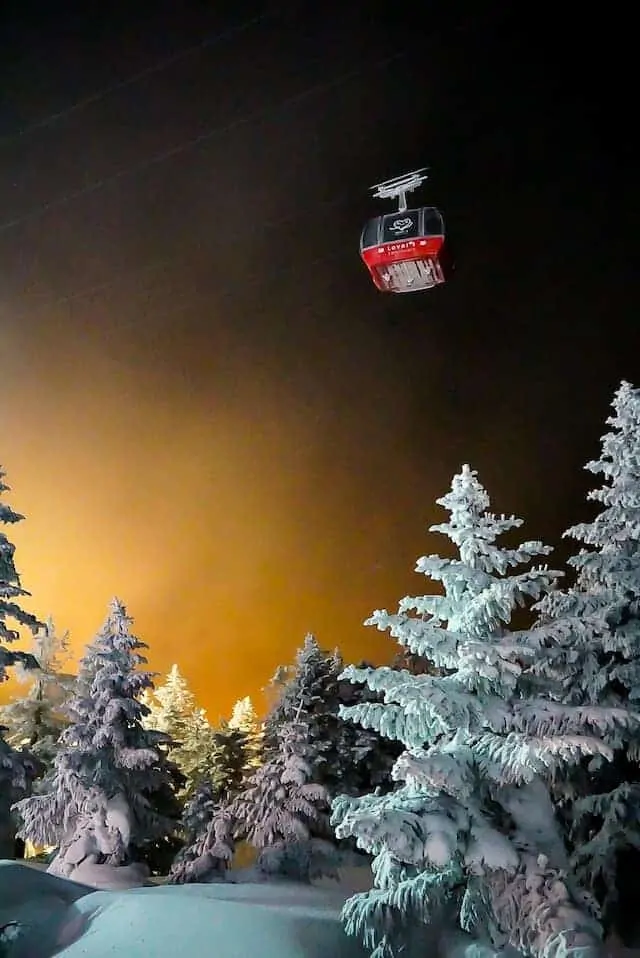 Be sure to make the trip up to the summit at night and see the snow monsters illuminated by bright colourful lights as their shadows cast monster-like shapes in the snow. Visitors can choose to either see them from above by taking the cable car on a round trip from the mid-station at 1331m up to the summit at 1661m…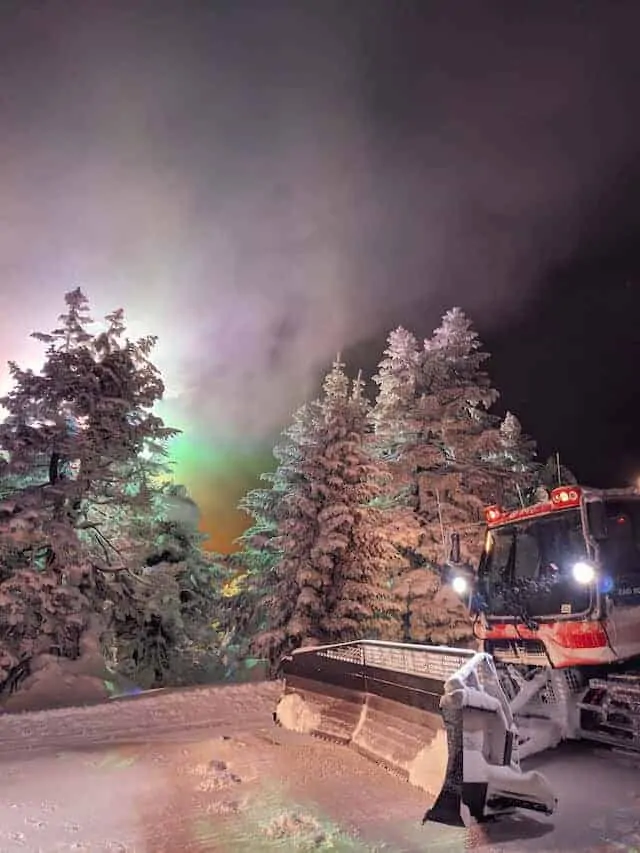 …Or can take the Zao Chuo Rope Way up to 1331m and from there hop in a piste basher and be driven up the piste where guests are able to jump out and stand among the snow monsters – and even though you are only outside for 5 minutes (it's typically -20º or colder!) it's a magical experience and one that I would highly recommend. (As a skier who has always wanted to ride in a piste basher, this was one of my highlights of the whole trip!)
.
Lake Inawashiro (Fukushima Prefecture)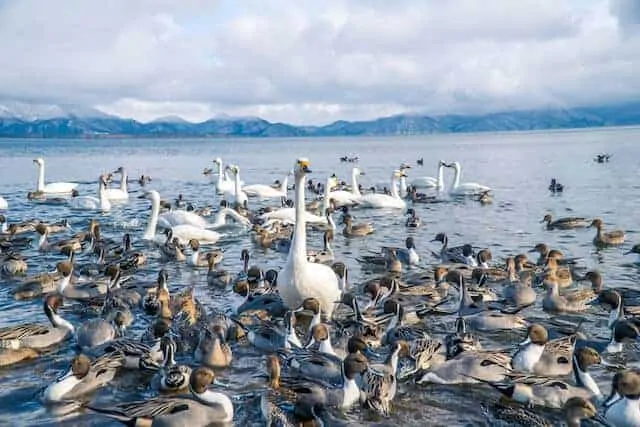 Lake Inawashiro is the 4th largest lake in Japan and is known as the 'Sky Mirror Lake' for it's glass-like demeanor when conditions are still, and for the hundreds of swans (and double the number of ducks!) that call the lake their home. Visitors can take swan shaped boats for tours around the lake where they cruise past the 1,430-meter-high Mt Bandai or wander the walking trails to see the ice formations on the breakers on the far shore.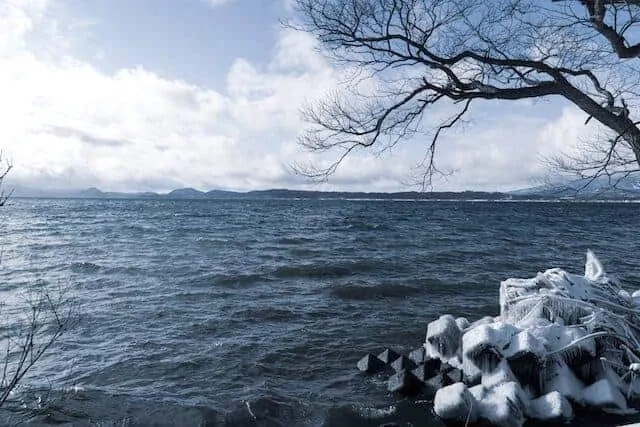 .
Ginzan Onsen (Yamagata Prefecture)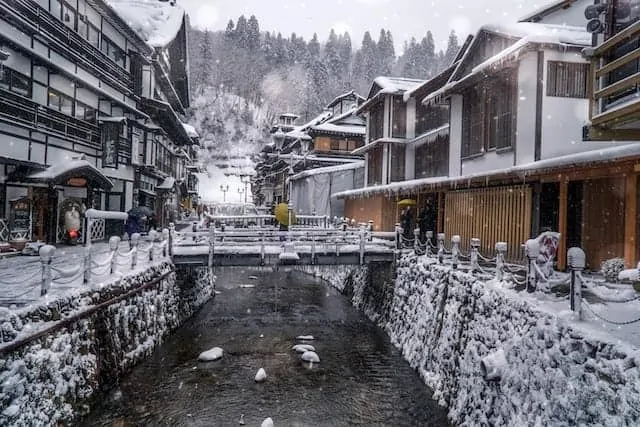 Ginzan Onsen is easily one of the prettiest traditional onsen towns in the whole of Japan, featuring a river punctuated by bridges through the middle and historic ryokans which line each side. It's aesthetic means that the practically all ryokans are booked out each night (pre-booking is essential), and whilst you may find it busy during the day as day trippers take their photos, the crowds die away at night, making it a magical place to stroll around – especially when it is snowing – before heading back to your hotel to relax in the onsens. (All the Ryokans also have a stock of waterproof jackets, snow boots and umbrellas for guest to use, so you don't have to worry about being cold or getting your own shoes wet!)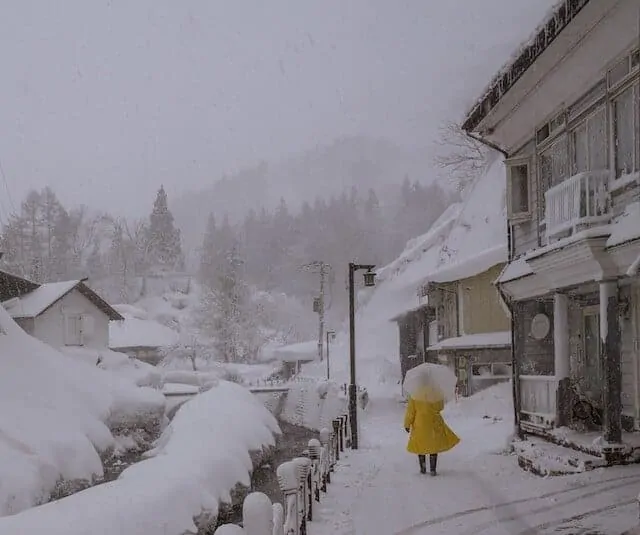 .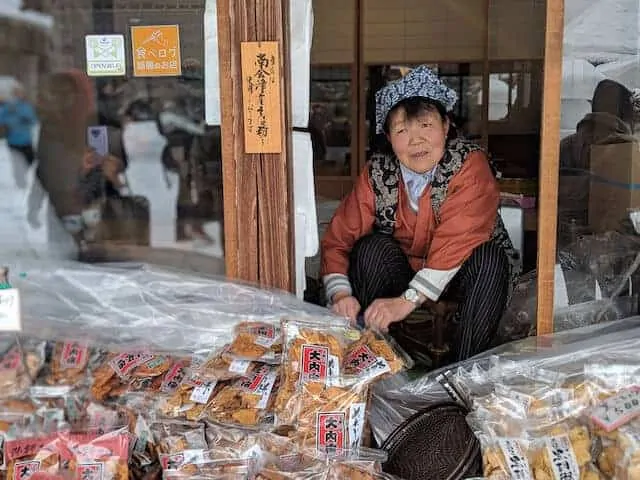 During the Edo period (1603-1867) Ouchi-juku was a post town that served travelers and has been preserved today as one of the most culturally rich towns in Japan. The 300 year old buildings which line each side of a central pathway all have beautiful thatched roofs, and visiting the town is like stepping into a postcard; with traders selling traditional foods, snacks and crafts for visitors to take a memento home with them.
If you were to ask a local when is the best time to visit, they would recommend either the winter festival for it's beautiful blanket of snow, cherry blossom season to see the town blanketed in pretty pink blooms, or the mid-summer festival for it's clean lush greens. Whatever you decide, i'm sure you will be mesmerized by this cute town.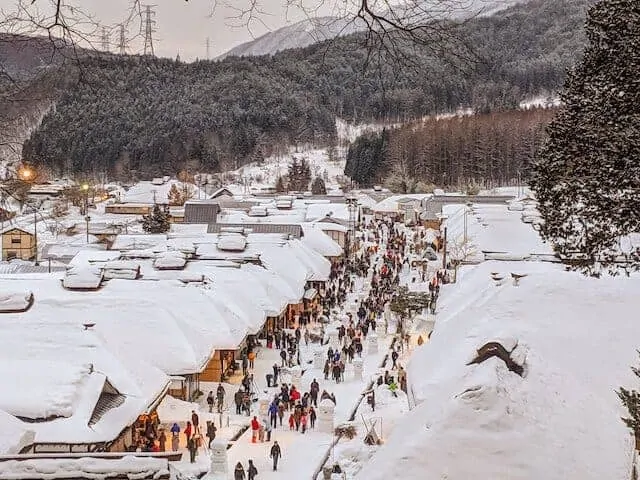 .
Naruko Onsen (Miyagi Prefecture)
Naruko Onsen is a scenic hot spring village surrounded by mountains located in the north of Miyagi Prefecture and is a main manufacturing village of the famous Kokeshi Dolls (simple wooden dolls with no arms or legs that have been crafted for more than 150 years). Visitors will enjoy the natural hot springs, peaceful setting and have the opportunity to join in a Kokeshi workshop and attempt to decorate your own Kokeshi doll – believe me, it is harder than it seems!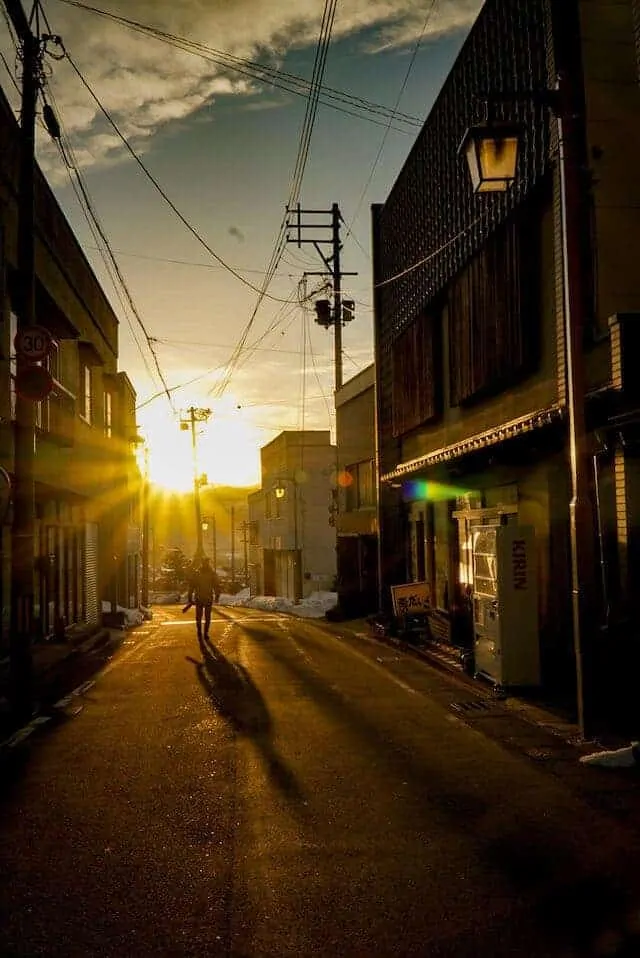 .
Yamagata Prefecture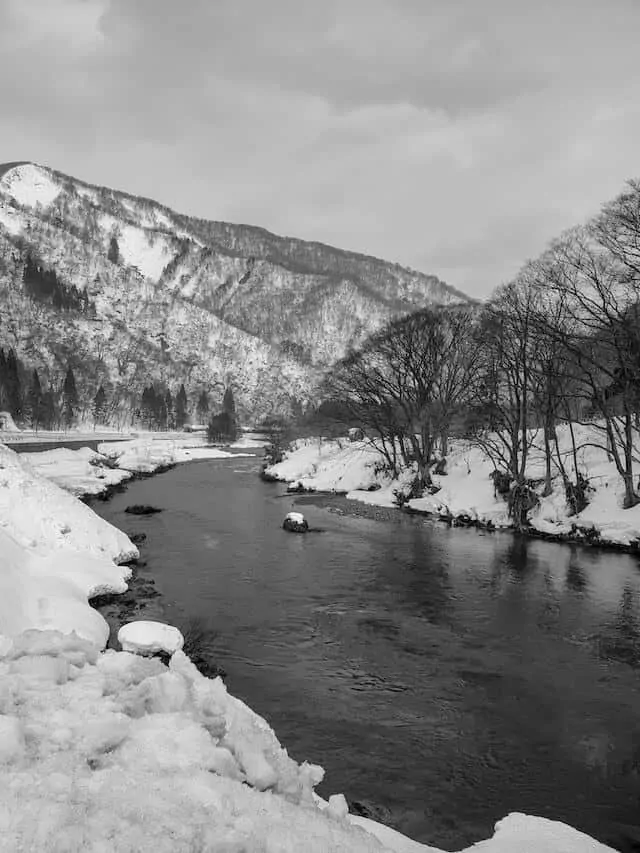 Yamagata is known for mountains, hot springs, temples and sake breweries. It's pretty wherever you look, and the shot above was simply a stop at the side of the road! Yamagata is also famous for it's cherry orchards and considered to be some of the best fruit in Japan. As you can imagine with the snow coverage, our visit was completely out season for the both the beautiful cherry blossoms, and the following fruit, but that is just another reason to visit in Spring/Summer as well as winter!
Mogami River Cruise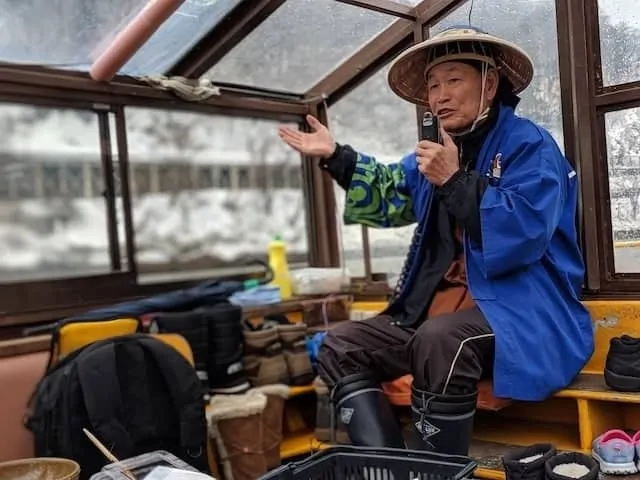 For a real slice of traditional Japanese culture, book a river cruise along the Mogami River where your guide will sing the river songs passed down through the centuries as you admire the landscape floating by.
.
Tsuruga Castle/Aizu-Wakamatsu Castle (Fukushima Prefecture)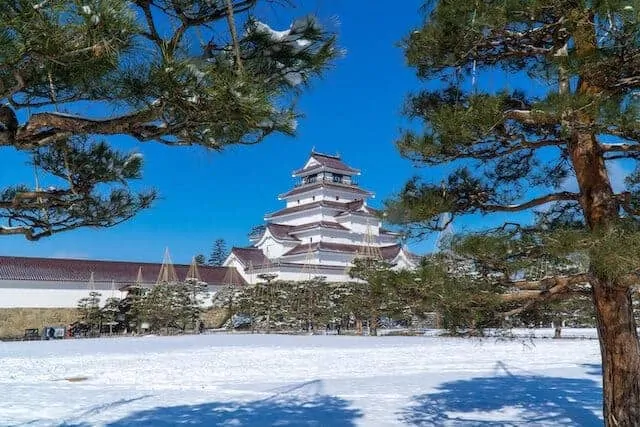 Tsuruga Castle (Tsurugajō) was originally built in 1384 and changed hands many times between the different rulers of the Aizu region. It was destroyed after the Boshin War of 1868 and was one of the last strongholds of samurai loyal to the shogunate at the end of Japan's feudal era. (Whilst you are in the area you can also visit the Aizu Samurai museum to learn more about this fascinating period.)
The castle was rebuilt as a concrete reconstruction in the 1960s; and in renovation works completed in 2011, the color of the roof tiles was reverted from grey to the original red. The castle lies in the grounds of Tsuruga Castle Park which has well tended lawns and cherry trees, which I'm sure would be stunning when in bloom (typically around mid April); and the surrounding moat and stone walls (which previously served defensive purposes) now contribute to the pleasant atmosphere of the park.
.
Toyko Station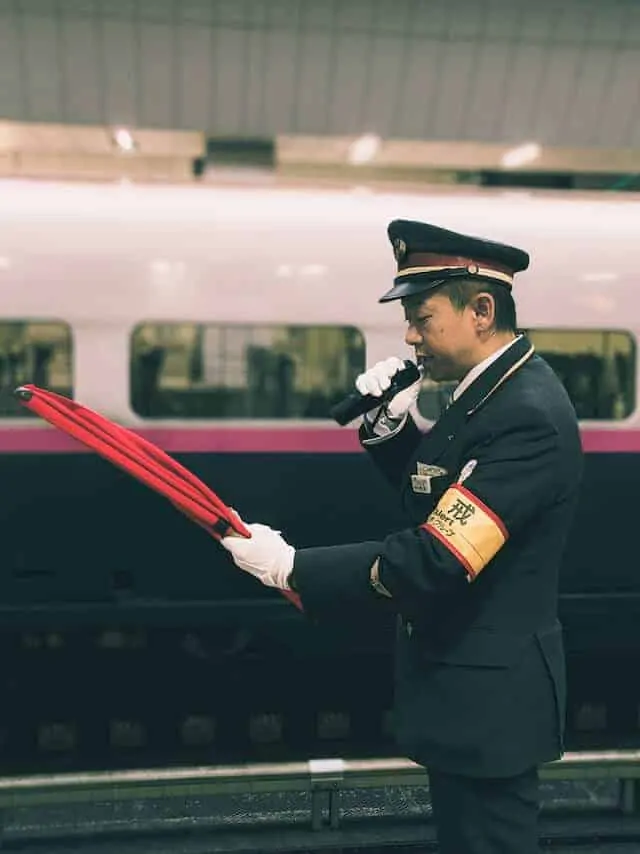 OK, so Tokyo Train Station is clearly not part of the Tohoku region, but it is where you will have to depart from to get there, so that is enough for me to include it in this post. From Tokyo, hop on the bullet train (Shinkansen) for a 1 hour journey up to Miyagi (Sendai) and start exploring this beautiful region.
.
That's a wrap folks. I hope you enjoyed this tiny insight into the beautiful region of Tohoku in Japan and that you will consider adding a few spots to your Japan itinerary on your next visit.
And if you want to spread the world about Tohoku or can think of anyone who needs a little push to get out of their Japan confort zone, please share this post on Twitter, Flipboard, Pinterest or Facebook – I'd really appreciate it!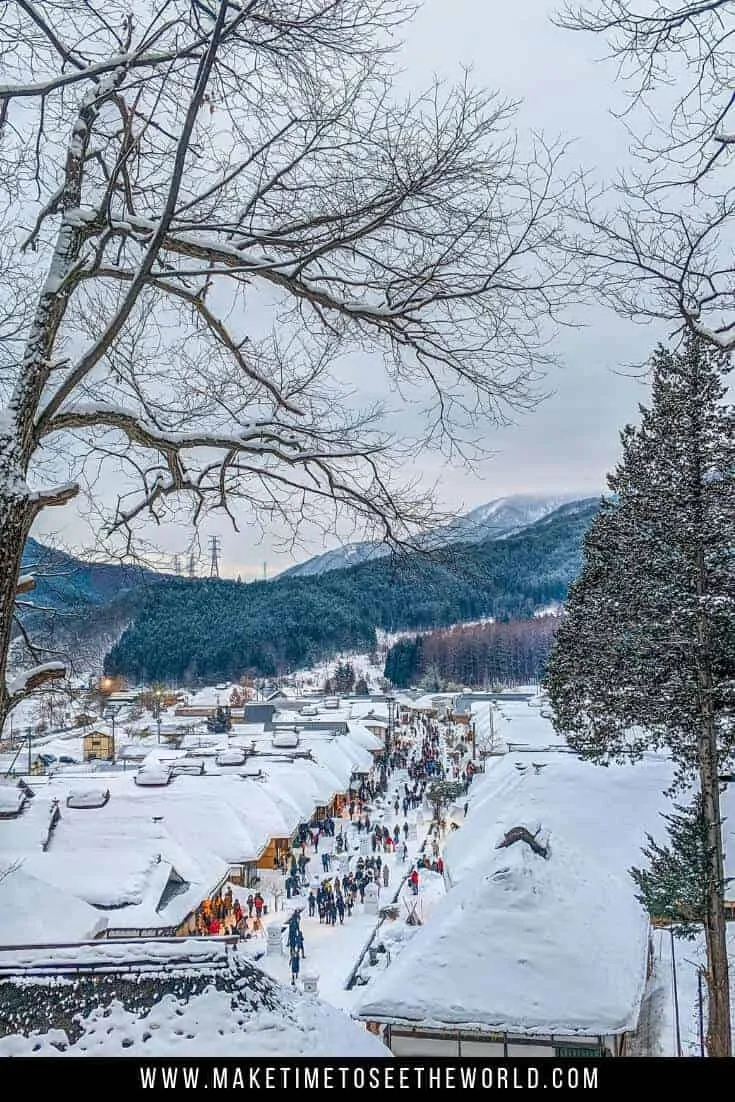 READY TO EXPLORE MORE OF ASIA? YOU MIGHT BE INTERESTED IN THESE TRAVEL GUIDES & RELATED POSTS

Hi There! Thanks for reading our travel guide to 25 Images to Inspire You To Visit Tohoku Japan In Winter. I just wanted to let you know that this post contains affiliate links, which means if you purchase something after clicking a link, I may get a small commission – which is at absolutely no cost to you. If you enjoyed this article and are going to be searching for some of the things I mention anyway, I would love it if you could click through from the links above & thank you in advance! Read my full Disclosure here. Thank you for reading the MakeTimeToSeeTheWorld Travel Blog.