For thousands of years, the tradition of communal bathing in Japan has been considered a healthy and relaxing bonding experience. To briefly explain, an onsen is a hot spring and thanks to Japan's volcanic activity you will find them right across the country, and their accessibility is one of the reasons for such entrenched Onsen Culture throughout Japan. It's the health benefits of the waters mineral content that make onsen so therapeutic and also the reason people bathe nude in them.
Although it might not sound like everyone's cup of tea, for anyone visiting Japan we highly recommend this top Japanese cultural experience.
For the lowdown on everything there is to know about how to onsen in Japan, our guide is your no.1 place to start.
Disclaimer: Kyushu Tourism sponsored my trip to the region, however, all opinions remain my own. Additionally, almost all posts on this site contain Affiliate links, and this one about Japanese Onsen Culture & How to Onsen in Japan is no different. This means that if you click on any of the links in this post (and make a purchase) I may receive a small commission at absolutely no cost to you. Each post is carefully crafted to (hopefully!) answer all your questions and recommendations are made where we believe they will improve your trip and help with your planning. As such we thank you in advance should you decide to click & buy. Read my full Disclosure here.
What is Onsen in Japan: A short history of Japanese Hot Springs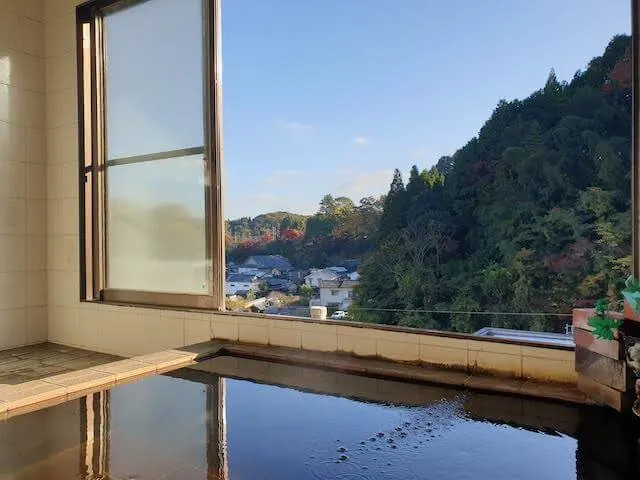 Although it is not known how far back the tradition of onsen dates, one of the earliest references of these hot spring is from as early as the 1st century. Initially an outdoor luxury "health resort" that was once reserved only for nobility, the onsen grew in popularity following the expansion of Japan's railway and later became known as public bathing houses. With over 25,000 hot springs across the country, they are now enjoyed by everyone in Japan and are a particularly popular pastime at the weekends and during holidays such as The Golden Week and New Year.
Originally adorned with statues of animals, which was a tribute to those who it was believed uncovered these hot springs. It is thought that they were discovered by hunters and those pursuing injured animals, seeking to soothe their wounds in the healing waters.
The ritual of bathing in onsen was strengthened further with the arrival of Buddhism in Japan during the 6th century. A ritual, bathing in the waters was considered a way of cleansing the body of your sins, and a way to soothe the body in the healing waters.
Although the number of public bathhouses began to decrease as homes began to get their own baths installed, onsen have subsequently become an increasingly popular tourist attraction in Japan, experienced by thousands of travelers every year; and are enjoyed by locals across the country.
.
Why is Onsen & Onsen Culture so Important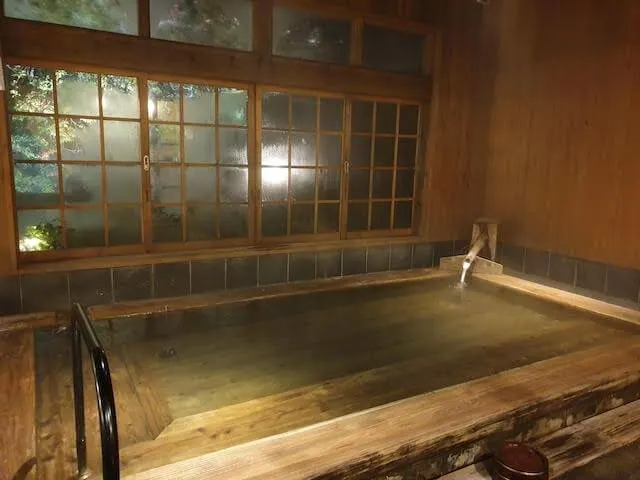 They are a historic Japanese tradition
Enjoyed by Japanese people across history, a dip in an onsen is an opportunity to experience the authentic culture of the country. With many of us wanting to enjoy unique experiences on all our travels, an onsen is surely one of the best historical attractions with countless sights to choose from. It is a relaxing, healthy, bonding experience between participants, and it is believed that a special kind of platonic friendship develops when people do not hide behind their clothes. In Japanese, these relationship is called hadaka no tsukiai.
Their healing properties
The natural hot spring water found in onsen has been highly regarded for its health benefits throughout history. Rich in minerals including sodium chloride and calcium they are thought to help relieve muscular pain, swelling and fatigue. The hot water is also thought to help improve your body's metabolism and cleanse it of unwanted toxins. Not only this the but the relaxing qualities of onsen make them the ideal destination for those looking to relax, helping to support positive mental health.

Located in areas of natural beauty
As we've already mentioned, onsen can be found right across Japan, many of which are located in picturesque, rural areas. Surrounded by beautiful landscapes, From mountain tops to dense forests, onsen are famed for their spectacular views. Which makes it no surprise why they are now quite so popular amongst tourists.
Their relaxation factor
A popular attraction particularly over the weekends we can see why Japanese locals love to enjoy a relaxing dip at an onsen after a busy week. For anyone visiting Japan, you will know there is plenty to see and do from the bustling cities to historic temples. So, why not cap off your trip with a bit of time to relax and rejuvenate your body at a traditional onsen.
.
How to Onsen in Japan: Onsen Rules & Etiquette
Shower before your onsen but not after
The first thing you need to when arriving at an onsen is to shower your entire body thoroughly. This is pretty self-explanatory for hygiene reasons but it's just as important to remember not to shower when leaving an onsen, so not to immediately wash off the mineral-rich waters and their health-boosting benefits.
Stay Hydrated
Drink plenty of water before and after you Onsen.
No swimming costumes
We know it might feel awkward to bathe nude at a public onsen but trust us you will feel more uncomfortable if you are the only person wearing a bathing suit. To ensure onsens are not filled with the grime from our clothes, bathing suits are a big no-no.
Correct use of Towels
You are provided with two towels at an onsen. A large one for drying yourself and a smaller one to use for washing. You can then take this smaller towel with you to cover your private parts as you enter the onsen and then pop it on the side or wear it on your head (but don't drop it in the water).
Never Use Shampoo or Soap Inside the Shared Bath
Again, for hygiene reasons the hot springs are not to be treated as a traditional 'bath' and you do not wash yourself or your hair with external chemicals whilst soaking.

Tie up long hair
Nobody wants hair clogging up the onsen so if you have long hair, make sure you keep it tied up.
No tattoos
In Japan, tattoos are associated with the Japanese mafia (the Yakuza) and are frowned upon. As such, most Onsen have rules forbidding tattoos to discourage the mafia from using the facilities. If you happen to have several, large tattoos (for example on your arms and legs that are visible outside your clothes, it would be the at the discretion of the onsen management as to whether you can bathe. However if your tattoos are small, you may be able to subtly cover them up with a skin colored bandage, or they be barely noticeable and so inconsequential (I personally have 3 tattoos – sorry for the TMI – and I did not have any issues across 20 different Onsen dips during this trip.)
And if you are in a private onsen, or are lucky enough to have a public onsen to yourself, it won't be an issue at all.
No drinking
We have mentioned to rehydrate yourself after bathing in an onsen but drinking alcohol during or after is not a good idea. Combined with the heat you may find it affects your blood pressure which won't leave you feeling too good.
No Photos/Videos (the photos in this post were obtained with permission from the Ryokans and taken whilst the Onsen was empty.
Keep noise to a minimum
A social space, it's fine to chat at an onsen but they are meant to be relaxing so try and keep the noise down.
.
Japanese Onsen FAQ's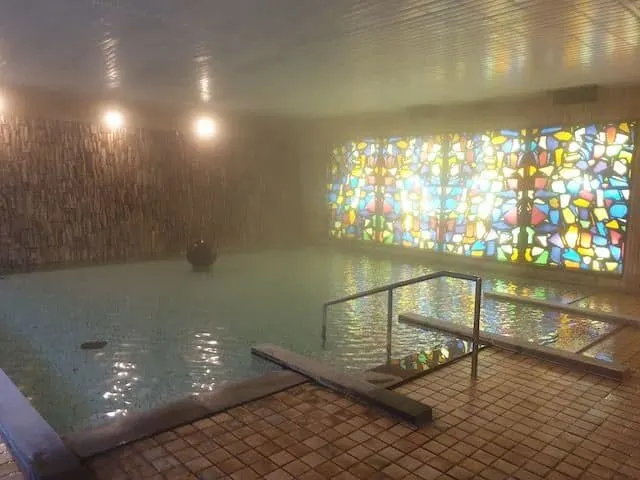 Can I visit with my children?
Older children, no longer in diapers can onsen with their guardians. Men and women bathe separately but it's absolutely fine for your children to join either gender.
How long are Onsen sessions?
You can enjoy multiple dips when visiting an onsen but its recommended that you stay in the water for a max. of 15 minutes and then allow your body to cool before dipping again.
How hot are Onsen?
Temperatures can vary greatly, ranging from 20ºC (68ºF) to 100ºC (211ºF). However, it's a good idea to get into an onsen slowly an allow your body to adjust to the temperature.
Can you visit an Onsen on your period?
For hygiene reasons, it's not recommended that you visit an onsen during your period.
.
Where to Onsen: The Best known Onsen Towns in Japan
With thousands of Onsen scattered across the country, you can typically find at least one Onsen in every town, if not in every Ryokan. There are also plenty of Onsen towns, two of the most famous being
Ginzan Onsen and Zao Onsen (where I visited on my tour around Tohoku) in addition to;
Kusatsu Onsen (set in the mountains this is the ideal onsen if you are heading to Japan on a skiing holiday);
Kinosaki Onsen (named as the best hot spring town" by Lonely Planet because of it's stunning setting);
Hakone Onsen (where you can bathe and enjoy breathtaking views of Mount Fuji just under two hours from Tokyo) &
Dogo Onsen (located on Shikoku island this is the oldest onsen in Japan).
However, if you want to really get to the heart of Onsen Culture, you absolutely must head to Kyushu Island in Southern Japan. The third largest island of Japan's 5 main Islands, it is known as the Onsen Capital of the country. Boasting Onsen towns by the bucketload, each with their own vibe, and a whole heap of other attractions to entertain visitors, whether your an Onsen fanatic or a first timer, Kyushu is definitely the place to dip your toes (and the rest of your body!) in!
A Quick Guide to Kyushu: Onsen Towns, Where To Stay & Things to Do
With over 2000 Onsen scattered across Kyushu Island, it can be tough to know where to start, so we have picked out our top 3 Onsen areas to help you get the best out of the region.
Beppu Onsen
Beppu city in Oita prefecture is home to eight distinct onsen towns, each with public baths, ryokan and restaurants where the onsen waters are used to steam and boil food. There is even a restaurant where you can sit with your feet in the Onsen as your meal is cooked by the steam meters from where you sit.
Other attractions in Beppu Onsen:
Head up to the Yukemuri Observatory to take in the view of the city skyline caped in steam, the white wisps rising between buildings is something to behold.
Visit the Hells of Beppu – Not for bathing, these spectacular hot springs are purely for admiring this amazing natural wonder. The most famous is Beppu Sea Hell, found in the Kannawa district, of the 6 others each spring is different from the next featuring boiling eruptions, mud bubbles and boiling pools of bright blue or deep red water.
Mount Tsurumi – If you fancy viewing Beppu from up above, your best bet is to climb this 1375 meter high mountain. With plenty of panoramic viewing points, visitors can access the mountain via the scenic Beppu Ropeway.
.
Kurokawa Onsen
Famed as one of Japan's most attractive hot spring towns, Kurokawa is set in a picturesque valley, surrounded by forest. Complimented by its traditional wooden buildings, visitors can take is easy here and explore the town with its many onsen, boutiques and cafes.
To make the most of your day here, grab one of the town's Onsen hopping passes which allow you to enter 3 different Onsens over the course of the day. There are maps available at the visitor center showing the location of the different onsen, their capacity, whether they are male/female or mixed and each has photos of the various facilities. The majority of the Onsen in Kurokawa are located in traditional Ryokans, and so visiting also gives you a peek inside a the traditional hotels.
The map also contains a summary of the mineral properties of each Onsen, and recommendations for what type of bodily complaint (if any) it is best suited for. Renowned as a healing onsen town, the high and varied mineral content of each hot spring can help alleviate all manner of ailments.
Our top tips for Kurokawa Onsen:
Give yourself plenty of time in Kurokawa Onsen. Hopping in and out of various Onsen can be hard work with the whole getting undressed, bathing, getting dressed, walking to the next spot & repeat. The town itself, although compact, can be steep in sections, and depending on the Onsen you decide to visit, they may be up to 60 minutes walk away from where you are. And if you really want to get in the Onsen mood – you can rent traditional dress for the afternoon from just behind the visitors center.
Treat Yourself to a night at the gorgeous Miyama Sansou – located just outside Kurokawa Onsen Town on the banks of the river, these beautiful Ryokan villas each have their own private Onsen surrounded by the forest, in additional to stunning public onsens for those who like the bonding aspect of bathing. It's honestly one of the most magical places I have ever stayed.
Get out into nature & wander down to Nabegataki Waterfall, Drive to the Kabutoiwa Lookout for (often cloud covered) views of Mount Aso and walk the banks of the Kikuchi Gorge.
.
Yufuin Onsen
Surrounded by the mountains of Kyushu, this onsen's most prominent vista is that of the twin peaks of Mount Yufu. During your stay, you may delight in Yufuin's many boutique stores, art museums, and cafes along the aptly named 'shopping street'. There are also ryokan scattered throughout the town, many of which open their onsen to walk-in guests during the day (although they are not as numerous as Kurokawa).
The area surrounding the town is quite rural, with the buildings quickly giving way to rice paddies and rivers; with the contrast providing great scope for visitors to experience town and country life in one.
Things to do in Yufuin Onsen
Take a ride on the tourist train for a leisurely lap of the town and surrounds.
Wander around Lake Kinrinko
Be sure to visit Yufuin Train Station. There's a foot bath behind the first platform and an art hall that serves as a meeting area as well as an art gallery; and it is right next to the tourism office, which has a designer library upstairs and touches of nostalgia (such as Classic British cars) available to rent!
.
And that's a wrap! We're pretty sure even the most seasoned travelers have never experienced anything like Onsen bathing, and so we hope this guide has got you fully up to speed with Japanese Onsen Culture.
We've covered what an Onsen is, how you 'Onsen' and right down to where you should Onsen in Japan. And as one of Japan's most popular tourist attractions, we can't think of any better way to experience local culture, take in the scenery and enjoy ultimate relaxation all at the same time. If you have more top onsen tips, we want to hear from you. Let us and our readers know in the comments below.
READY MORE ASIA TRAVEL INSPIRATION? YOU MIGHT BE INTERESTED IN THESE TRAVEL TIPS, TRAVEL ARTICLES, DESTINATION GUIDES AND RELATED POSTS:
Hi There! Thanks for reading our Complete Guide to Onsen Culture in Japan: Why, What, Where & How to Onsen in Japan! I just wanted to let you know that this post contains affiliate links, which means if you purchase something after clicking a link, I may get a small commission – which is at absolutely no cost to you. If you enjoyed this article and are going to be searching for some of the things I mention anyway, I would love it if you could click through from the links above & thank you in advance! Read my full Disclosure here.