Before I get started, for any of you out there who think travel packing cubes are a waste of time, you clearly have never used them. These little cubes come in all shapes and sizes and will turn you into a packing genie in no time, helping you to cram in all your absolute essentials (and a few extras as well!) inside your pack, all set for your big adventure. Whatever your packing requirements we've got the 10 Best Packing Cubes, Packing Cells, Compression Packing Cubes and sets of packing cubes to help you choose, and everything we list can be bought online and delivered tomorrow (in most cases) with Amazon prime!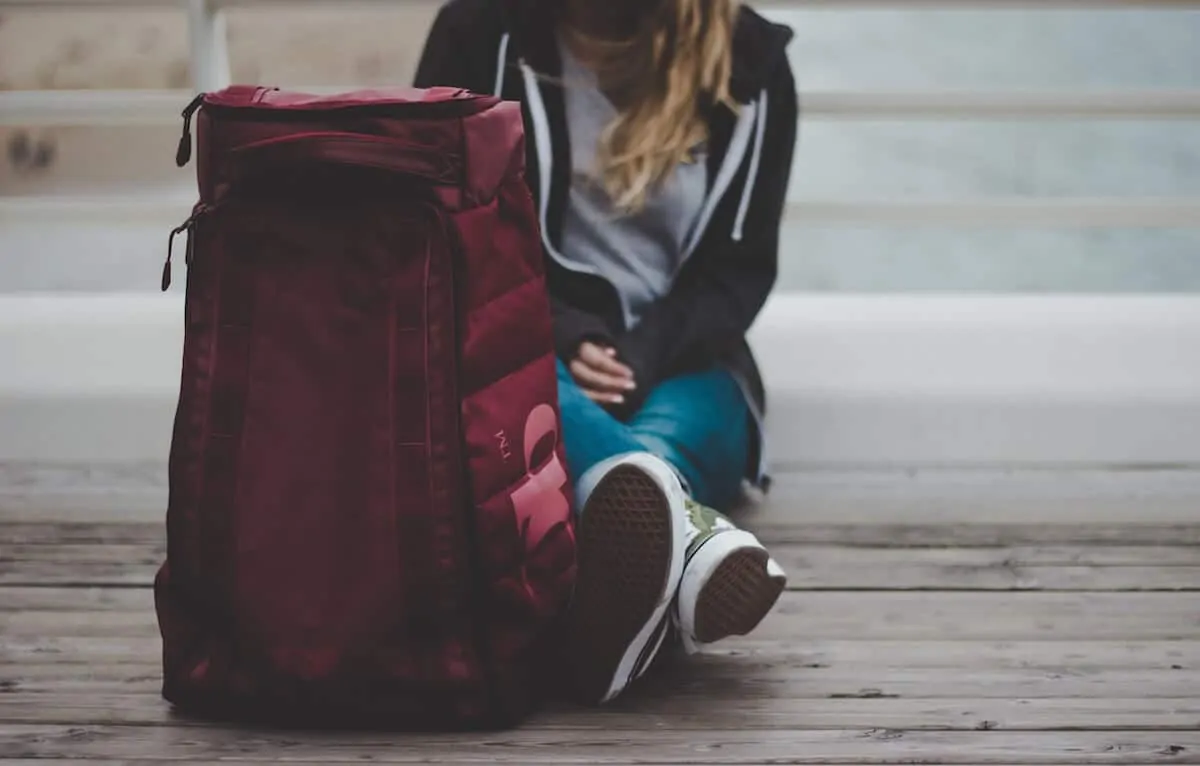 Disclaimer: This very helpful post about the wonders of packing cubes and packing cells contains affiliate links, which means that should you click any of the links and make a purchase I may get a small commission at absolutely no cost to you. If you are thinking about buying packing cubes – which if you are here I presume you are – please consider using the links below. And you can read the legal stuff about it all in my Disclosure.
.

The 10 Best Packing Cubes, Packing Cells & Compression Packing Cubes for Travel in 2023
AmazonBasics Packing Cubes
Available as a 4-piece set in various sizes from small (perfect for socks and underwear), large and medium cubes plus even slimline cube (all of which save space!).
You can't go wrong with these super simple Amazon basics four-piece travel packing cubes.
Featuring handles, a mesh outer-lining to help you identify your items quickly, these packing cubes are one of Amazon's most popular packing essentials, according to reviews, thanks to their durability.
You also won't have to worry about adding pounds to your suitcase as they are super lightweight and at a great price with free p&p – perfect for budget travel.
If you are a novice to the world of packing cubes, this 4-piece packing cube set is a great place to start, and what's even better, if you don't fancy plain old black, and even though it is a value set, you can still choose from a selection of bright colours to help you coordinate with your suitcase.
Check current prices and availability here!
Eagle Creek Pack-It Specter Cube Set
For the leading packing cube available on the market, take a peek at Eagle Creek's ultimate packing cube set.
Ideal for all your clothes from jumpers right down to socks, this 3-pc set of packing cubes are made from a silnylon material that's lightweight, see-through and rip-resistant.
Available in a range of colours and sizes, all of which are weather resistant to help keep your clothes dry and in perfect condition throughout your travelling adventures. And with Eagle Creeks packing cubes quick grab handles you can grab and go in no time.
RELATED –
Packing Cubes are perfect for carry on only trips when you are packing light – find your perfect travel companion (and packing cell holder!) in our guide to
How to Find the Prefect CarryOn Luggage!
.
Eagle Creek pack-it original organizer
It's the original packing cube from Eagle Creek and it's got five-star reviews on Amazon. With 10.5 Litres of space to cram in as many garments as you can.
Rest assured that your clothes will remain well-organized and easy to find in a hurry. In case you need to, this original packing cube from Eagle Creek is also machine washable, ensuring your clothes stay as fresh as a daisy throughout your trip.
Check current prices of this packing cell and availability here!
.
Travelon Packing Cubes Expendable
A packing cube with many unique features, Travelon's expandable packing cube might be a little bulkier than your standard organizer but it does have not one but two inner compartments, one of which has a handy expansion panel.
With a piped outer edging this packing cube keeps its structure, no matter how little space you have in your suitcase and as an added bonus, it comes with exterior pockets, ideal for your flip flops.
It's a packing cube-like no other and to keep all your clothes, safe and sound, it's made from super strong, rip, stain and water-resistant material; it is an affordable price and perfect for adventuring.
.
Osprey Packing Cubes Set Ultralight
Another big brand in the packing cube world, Osprey's set of packing organizers and travel cubes do just what it says on the tin and some of the most ultralight cubes on the market to help you maximize packing for your trip.
In electric lime, you will have no fear of misplacing these packing cubes and their super strong material with an easy grab handle will keep your clothes in the same great condition as when you packed them.
.
9-pcs Travel Organizer Light Packing Cubes
For all of you who are not the lightest of packers, you need to check out this 9-pcs ultimate packing cube set.
It comes with a selection of organizers in varying sizes and you can even separate your clean from your dirty clothes with three handy laundry pouches. It doesn't stop there; this packing cube set gets even better with both a toiletry and waterproof shoe organizer.
Available in either blue or pink, these travel packing cubes are made from a durable tear-resistant material that will stand the test of time every time you travel.
For the seriously organized – grab every sized packing cell for every occasion here.
.
Eagle Creek Pack-It Specter Compression Cube
Back to best-selling brand Eagle Creek (and our top pick!) and this time we are looking at revolutionary Eagle Creek Specter compression cubes.
These extra special pro packing cubes come with Eagle Creek Pack-it Specter tech and don't just keep all your clothes nicely organized, with an added compression zipper with sturdy zipper pull that helps to push excess air out of the bag leaving everything nice and compact in your suitcase to maximise your packing space.
Like all Eagle Creek organizers, these specter compression packing cubes come in a selection of colours and are made from durable silnylon that's lightweight, tear-resistant and able to handle all manner of wears and tears.
It also has a mesh top so to help you quickly identify what is in each compression sack.
It is one of the best sets of packing cubes on the market – Grab this compression packing cell set here.
.
Compression Packing Cubes Set
To get more out of your compression packing cubes, you need to get hold of this 3-pcs organizer set by TRIPPED Travel Gear.
At a fraction of the price of leading brands, these compression packing cubes works just the same and compress your clothing, have double zippers and will help you keep all your stuff organized and in great condition.
This 3-piece set has small, large and medium sizes of bags and they are made from tough nylon fabrics that are water & snag-resistant and perfect for lightweight travel.
Specially designed for carry-on packing you will be able to fit as much as is physically possible in your teeny, tiny carry-on suitcase. Seriously, they are some of the best compression packing cubes on the market.
.
Gonex Compression Packing Cubes
For the ultimate set of compression packing cubes, look no further than Gonex luggage six-piece set.
Including five compression bags from Large to x-small and one slim sized cube, you will have an organizer to suit every different piece of clothing in your wardrobe allowing you to fit more in!
Also, the set comes with a laundry bag, helping you to not only keep on top of your dirty washing but also keep everything separate and your clothes fresh as a daisy.
Made from durable mesh nylon that is also washable, keeps your clothing organized and you will be able to find exactly what you are looking for quickly and easily.
Order your set on Amazon (and consider trying Prime for FREE next day delivery!)
RELATED:
Be sure to add a
dry sack
to your travel kit. They're invaluable!
.
Colleer Multifunctional Travel Toiletry Bag
Finally, for a packing cube that's a little different from most, this multifunctional personal care organizer from Colleer is specially designed for toiletries.
To help keep all your make-up, hair products and wash stuff nice and organized no matter how long you are travelling for, this packing cube will help you do just that with its four different inner compartments to suit every different type of cosmetic product.
With a handy hanger, you can hook this organizer up wherever you are for easy access to all your products when you need them most and with its waterproof, sturdy outer material and high-quality fabric, everything will stay in one piece.
Grab your flatpack toiletries organizer here!
Best Packing Cubes for Travel FAQs (Frequently Asked Questions)
If you are still not convinced that you need to add packing cubes to your must-have travel essentials list, we've put together a list of the most frequently asked questions to help alleviate any concerns or answer any random queries:
Do packing cubes work?
If you mean do they hold clothes and help you organise your bag – then yes. But they are not going to pack themselves – you still have to put the effort in!
Do packing cubes & travel cells really save space?
Regular packing cubes are designed to organize your belongings, rather than save space.
However, having different sized travel packing cubes can help you limit/restrict how much you pack (do you really need 16 dresses for a 1-week vacay?!) and so save space in that way.
Compression packing cubes, on the other hand, do this and save space by cleverly compressing your belongings.
Do packing cubes add weight?
They are generally made of lightweight material and so do weight a few grams each – so technically they do add weight, but it is very small.
Do packing cubes wrinkle clothes?
No more than if you were packing without packing cubes – and even more so if you are a 'folder'. (Hint: use the rolling clothes method to arrive with fewer wrinkles in your clothes!)
What size packing cubes are best (for backpacks, suitcases, carry on, etc)?
There is no right or wrong answer to this as it will all depend on how you organize your clothes, how many items you have to group together and what size backpack, suitcase or bag you are traveling with.
Ultimately it is a good idea to have a few different sizes to give you options to work with as you pack.
What are compression packing cubes?
Compression packing cubes are (IMO) the holy grail of packing cubes.
They do all the same things are regular packing cells but also 'shrink' each cube by using a clever zip system that removes the air from the cube and compresses the contents.
This can be invaluable where you are short on space and need to squeeze a little more in.
Why use packing cubes?
For me, they are a game-changer. They help me organise my suitcase – which is great when I am hopping from city to city or hotel to hotel – as I only have to 'unpack' or access one cube rather than rifling through the whole case.
Also, my compression packing cubes help me save space, which is a godsend when traveling with carry-on only!
Are packing cubes machine washable?
It depends on the brand, but on the whole yes. Just be sure to double-check the label on your own set before throwing them into the washing machine.
Are packing cubes worth it?
Absolutely!
.
Well, if there is one thing you now know all about, it's the best packing cubes, the best packing cells and the best compression packing cubes on the market! and I hope this article has been helpful in finding the perfect packing cube set for you and your adventures.
Let me know how you get on with your packing ventures below and don't forget to send me some fabulous photos of your perfectly organized suitcases, all thanks to your new Beaut packing cubes!
And if you liked this article – or just know one someone who needs a little bit of packing inspiration and organization in their life(!) – please share this post on Flipboard, Twitter or Facebook – we'd really appreciate it!
And if you liked this gear list, take a look at the other packing lists, packing tips & travel gear posts in this series:
Hi There! Thanks for reading my buying guide to The 10 Best Packing Cubes & Packing Cells to Pack Like a Pro! I just wanted to let you know that this post contains affiliate links, which means if you purchase something after clicking a link, I may get a small commission – which is at absolutely no cost to you. If you enjoyed this article and are going to be searching for some of the things I mention anyway, I would love it if you could click through from the links above & thank you in advance! Read my full Disclosure here. Thank you for reading the MakeTimeToSeeTheWorld travel blog posts.