Take the stress out of finding the best dry bag for your next adventure with our handy guide to the top waterproof bags available in 2023!
From simply keeping a few extra items of clothing dry within your rucksack to something that withstands an epic kayaking adventure, getting the best dry bag is an underrated essential for every trip.
As the humble dry bag gains momentum with many avid travellers investing in the top quality kit, you'll want to make sure you get the best dry bag for your individual needs. With options including small pouch style bags for keeping your phone and wallet safe, to duffel bags, backpacks and even laptop bags, you'll be spoilt for choice.
Whether you're venturing overseas on an intrepid sailing voyage through the Greek Isles, going white water rafting in Victoria Falls, or simply looking for something that will withstand the elements on a short day-hike, we've scoured the internet for the most reliable dry bags around. Dried and tested.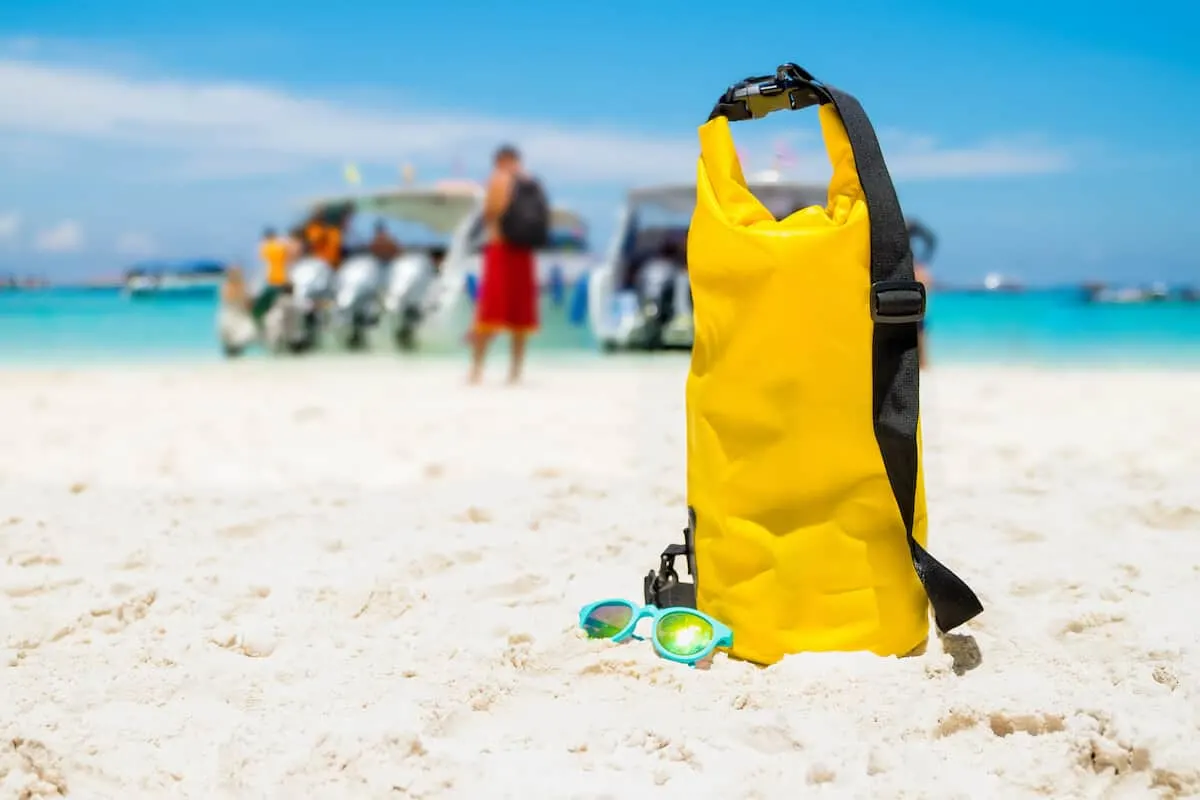 Disclaimer: Almost all posts on this site contain Affiliate links, and this one about the Best Dry Bag for Travel Lovers (Reviews & Comparisons) is no different. This means that if you click on any of the links in this post (and make a purchase) I may receive a small commission at absolutely no cost to you. Each post is carefully crafted to (hopefully!) answer all your questions and recommendations are made where we believe they will improve your trip and help with your planning. As such we thank you in advance should you decide to click & buy. Read my full Disclosure here.
The Best Dry Bags for Travel 2023 [Reviews & Comparisons]
Gul Dry Bag 100 Litre Ruck Sack
Price: $
Top Features: Large capacity, shoulder straps, high-quality material
This Dry Bag by surfing brand Gul, really know a thing or two about water-proofing. Perfect for boating kayaking and paddleboarding, this dry bag is also a great one for the budget-conscious. This super-reliable dry bag is the ideal accompaniment for any adventure on the water. Whether you're off on an all-day excursion and simply want an extra change of clothes, or wanting to store wet clothes on the way home from an adventure, the popular Gul Dry Bag is spacious and is highly rated.

.
Osprey Ultralight DrySack
Price: $-$$
Top Features: Ultralight DrySackmade from 40D Rip stop Nylon, Available in multiple colours
The perfect option if you simply want to keep a section of your luggage super dry, this Osprey UltraLight dry bag comes in varying sizes and works brilliantly as a luggage cube-style separator. With a handy 6l sized sack, you can simply add small cottons and towels in the bottom of your backpack and rest easy in the knowledge it will stay dry for when you need to relax after a day in the elements.
The Osprey Ultralight Dry sack comes in 3l, 6l, 12l, 20l and 30l options.

.
Ariel-gxr Water Pouch Bag 3PCS with Adjustable Waist Strap (UK Only)
Price:
$
Top Features: Keep your essentials close – wallet, phone, passport – dry and safe for up to an hour when submerged.
A great option if you simply want to keep a few bank notes and your phone dry. These handy waterproof dry bag pouches are lightweight and perfect for strapping under clothing or simply popping inside a pocket for added reassurance of extra waterproof protection while you're out and about.
The transparent material even allows you to view and touch your phone screen so you can avoid letting the rain in while you're on the move and watertight layered and velcro sealing design means you can rest assured that your valuables will stay dry inside.

.
The Friendly Swede Slim Rolltop Laptop Backpack
Price: $$$$
Top Features: One of the best looking dry bags on the market & comes with a 3-year warranty

A super-handy everyday drybag, The Friendly Swede Slim Rolltop Laptop Backpack will become your hand-luggage-sized new best friend. Unisex and ultra-stylish, as well as practical, this premium dry pack, acts as a laptop bag as well as a handy piece of luggage or everyday bag.
Ideal for weekend city breaks, walks or simply to carry your laptop to the nearest café, The Friendly Swede bag has got to be one of our favourite waterproof bags for everyday travels.

.
K3 Poseidon Waterproof Dry Bag Outdoor Backpack
Price: $$$
Top Features: Durable 500 Denier Tarpaulin material for Class 6 Waterproof Rating
If you're looking for a backpack dry bag with a little more style, the K3 Poseidon may well be the one for you. The easy to carry rucksack style makes this the perfect bag for those wanting to keep their cool on the slopes or on the dive boat. A Technical Dry Bag, it uses heat welded seams and a top roll-down closure system to guarantee 100% water protection.
Popular with snowboarders, this durable dry bag is also the perfect accompaniment for a day hike and other outdoor adventures if you simply want to keep a few extra pieces out of reach of the elements – a real premium waterproof bag.

RELATED –
If you love to be out on the water, you'll love our
Beginners Guide to Snorkeling
including tips for getting in the water for the first time and how not to look like an idiot!
.
OverBoard 100% Waterproof Pro-Sports Duffel Bag
Price: $$$-$$$$
Top Features: removable padded backpack straps, 4 d-rings for multiple attachment options & inside zipper pockets
Whether you're out on a leisurely lakeside hike with a high risk of rain, or embarking on a high-octane sailing strip, the OverBoard Waterproof Duffel gives you exceptional versatility and is an ideal backpack for long-distance walks, hiking camping trips and surfing breaks. The bag can be used as a backpack or as a holdall style bag, making it perfect for any dedicated, rugged explorer.

.
FE Active 30L Eco Friendly Dry Bag
Price: $$
Top Features: thick marine grade 5mm eco-friendly Vinyl Tarpaulin with padded shoulder straps with mesh lining
The perfect carry-on bag if you want to keep your lightweight luggage dry. This cleverly eco-designed dry bag with comfortable backpack straps is an ideal investment if you are a pro at packing light. With space to carry a few extra t-shirts and some snacks for the road, the roll-top design and mesh pockets make it easy to pack and seal. This one comes highly recommended and with a very palatable price tag too.

.
Watershed Chattooga Duffel Bag
Price: $$$
Top Features: Rugged carrying handles, Completely airtight, Nylon ripstop fabric, which is UV and chemical resistant
Whether you're white water rafting, canoe tripping or simply embarking on a weekend camping or glamping break, this trusty steed of a dry bag will withstand the elements. Multiple compression straps mean this one can pack-up tight and still stay reliably watertight. This well-trusted brand comes with strong reviews.

.
Earth Pak-Torrent Series Waterproof Dry Bag (UK)
Price: $$
Top Features: heavy-duty 500D PVC for high performance, durability, adjustable shoulder strap; comes in 10L, 20L, 30L & 40L & it floats
Perfect for cycling or adventures, this Earth Pak waterproof compact dry bag is one you can trust. With a range of vibrant colours to choose from, the Earth Pak brand is super popular and also offers a 'viewpoint' range with translucent material so you can see your belongings inside at a glance.
Designed for real durability and a roll top, this one also comes with a waterproof phone case, to keep your phone extra safe in all conditions. It's one of the best floating dry bags on the market and is 100% sure to keep your gear dry.

.
SealLine Boundary Waterproof Backpack
Price: $$$$
Top Features: Simple, durable waterproof pack with suspension system designed to lighten the burden, 100% waterproof
Comfortable, supportive and durable, the SeaLine Boundary Waterproof Backpack is designed for real expedition travel. With dedicated waist straps to support the back and lumbar padding, this is a great one for hikers. A premium waterproof dry pack, and available in varying sizes, the Sealine Boundry Waterproof bag boasts a range of uses, making it the perfect accompaniment to any Kayaking, Snowboarding or other outdoors activities.
Robust and able to withstand heavy rain, a larger sized option makes for the ideal camping trip bag, with ample space for carrying your summer weight sleeping bag and kit. It is a premium dry bag.

.
Sea To Summit Ultra Light Dry Bag
Price: $
Top Features: Oval shaped base, D-ring attachment point, super compact & ultra dry & lightweight
Available in a range of sizes (1l -35l) and colours, the Sea To Summit Ultralight dry Sack is made with lightweight, waterproof 30D Ultra-Sil CORDURA brand fabric making it the perfect choice for modular packing to organize your gear inside your backpack like a pro.
With an almost translucent look, visibility of contents is easy, it was an award winner on it's release in 2006 and is still one of the top lightweight dry bags and rolltop dry bags on the market today.
Other features include a non-wicking hypalon roll-top closure, a round base for ease of packing and fully seam-sealed for water resistance. An excellent choice for lightweight backpacking, cycle touring and travel.

.
So whether you're looking for a dry bag for a cycling break, a sailing excursion or simply your next backpacking break – or as back up packing cubes(!), we hope our handy low-down of the best dry bags will help you to choose the perfect option for keeping your valuables safe and dry while you're on the move.
And if you know of anyone who needs a new dry bag to add to their kit – be sure to share this post with them or on social media. It can be shared on Facebook, Twitter, Flipboard or, by grabbing the image below, Pinterest. Thank you in advance – and remember – sharing is caring!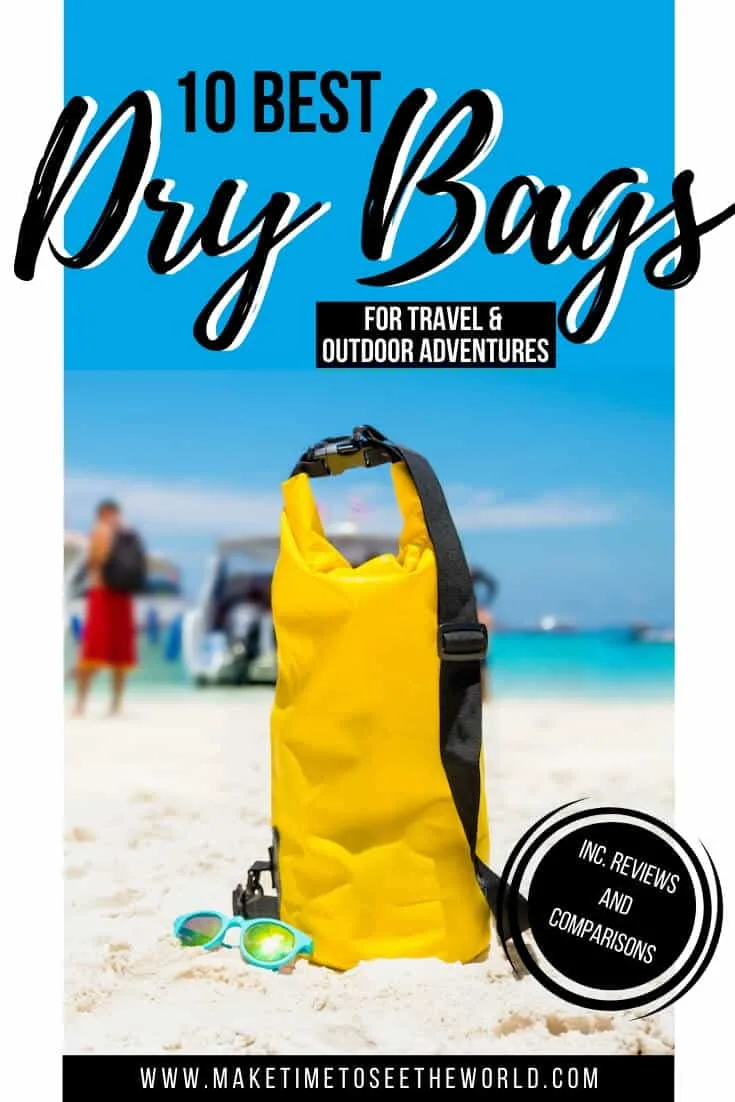 And if you liked this dry bag travel gear list, take a look at the other recent posts, packing tips, travel accessories, travel resources, travel guides, ultimate guides and packing lists in this series:
Hi There! Thanks for reading my buying guide, travel tips and travel gear guide to the 10 Best Dry Bags for Travel – Reviews and Comparisons! I just wanted to let you know that this post contains affiliate links, which means if you purchase something after clicking a link, I may get a small commission – which is at absolutely no cost to you. If you enjoyed this article and are going to be searching for some of the things I mention anyway, I would love it if you could click through from the links above & thank you in advance! Read my full Disclosure here.
And Thank you for reading the MakeTimeToSeeTheWorld travel blog posts.