If you are planning a trip to Greece, I'm sure you may have thought about fitting a bit of Island hopping in whilst you're there. And why not?! Greece really is the perfect country to combine cities, culture and ancient historic sights with beachy vibes and island adventures. But exactly which islands should you visit? Where should you start? and How do you get from one island to the next?
Well this post is about to answer those questions and more to help you plan the perfect vacation in Greece. We'll be working on the basis that you have already planned your mainland adventure and have finished up in Athens (or are simply flying into the Greek capital) and are ready to start your Greek Island hopping adventure.
We'll tell you all about the different island groups, how to navigate between them and the ultimate Greek best island hopping itinerary (which is perfect for first timers btw!) and which guides you around the Cyclades Islands through the Islands of Mykonos Santorini Milos and more!
We've also got suggestions for other island hopping adventures if you have already visited these popular spots, and are ready to explore more beyond the typical tourist trail.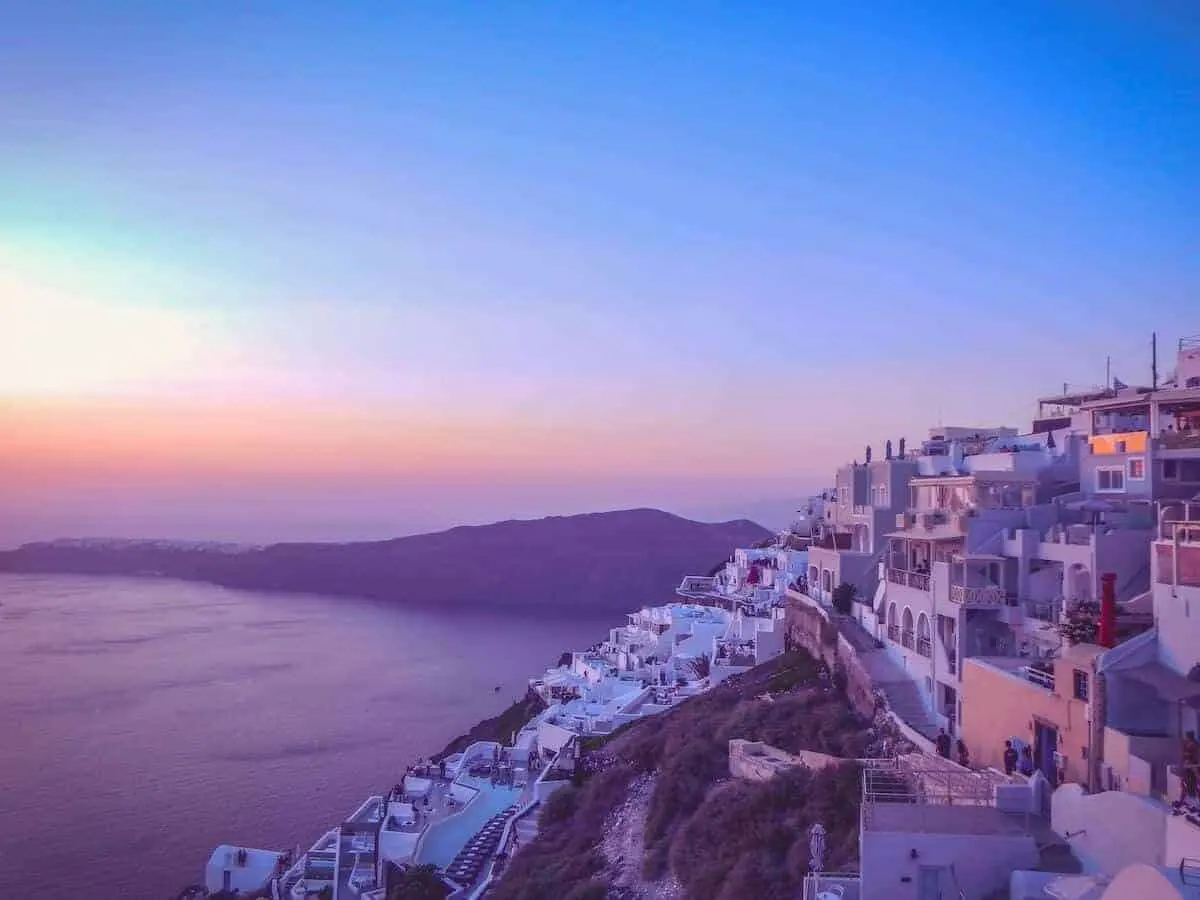 Disclaimer: Almost all posts on this site contain Affiliate links, and this one is no different. This means that if you click on any of the links in this post (and make a purchase) I may receive a small commission at absolutely no cost to you. Each post is carefully crafted to (hopefully!) answer all your questions and recommendations are made where we believe they will improve your trip and help with your planning. As such we thank you in advance should you decide to click & buy. Read my full Disclosure here.
This is a Guest Post by Sandy of Greece Travel Secrets
Athens is Greece's capital and largest city, and boasts 3,400 years of history, mixing amazing landmarks and historical sites with stunning architecture and modern entertainment. It's a great place to explore for a few days before heading out to the equally impressive Greek Islands. (Check our guide to 25 Free Things to do in Athens while you're there!)
There are over 200 inhabited islands in Greece and they sit together in geographical groups in the Mediterranean Sea, with some islands more accessible than others.
It's important to understand these island groups as some are not accessible to others and moving between the groups may be difficult. They are also quite different in many ways so your Greek islandhopping itinerary may be determined by your likes and wants as well as transport options.
The Different Greek Island Groups
The Cyclades: The most popular island group and home to the iconic white sugar cube houses and blue domes. The Islands in the Cyclades are south of Athens and include Santorini, Mykonos and Milos. For first timers island hoppers, this is often their first choice.
The Ionians: located in the far west of Greece near Italy these islands have been inhabited for lengthy periods by the Venetians and hence have a Venetian style in the architecture and even the food. Islands in the Ionian Sea include Corfu, Kefalonia and Zakynthos which is home to the famous Navagio Beach (originally known as Agios Georgios).
The Dodecanese Islands: situated in the far east of the country these islands are close to Turkey and therefore have a decidedly Ottoman influence. Islands such as Rhodes and Kos are located here and it is possible to access the Cyclades and Northern Aegean islands by ferry.
The Saronic Gulf islands: located in the Saronic Gulf these islands are the closest to the mainland and can be accessed on day trips from Athens. Hydra, Poros and Spetses are all popular destinations and very authentic.
The Sporades islands: you will find these islands to the North East of Athens. They are a small group including Skaithos and Skopelos as are very green, covered in forest and very popular with Yachties and Mama Mia fans ( filmed here).
Northern Aegean: these islands are also near Turkey and are north of the Dodecanese. They include Chios and Lesvos.
Crete: an entire island rather than a group Crete is the 2nd largest island in Greece and is like a country in itself. It sits across the bottom of Greece and is the furtherest from the mainland.
How to get around the Greek Islands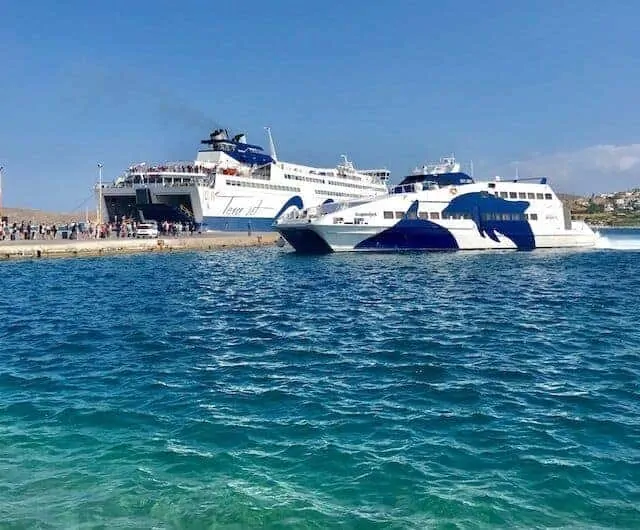 Whilst some people chose to charter private yachts and others try and fly wherever possible the public ferry system is where you get the real experience of island hopping in Greece. The ferries from Athens are frequent, efficient and affordable and the boarding and disembarking procedure on Greek ferries in itself is quite an experience: Organised chaos at its best!
Smaller high speed ferries can get you from one island to the next quickly whilst the larger ferries like Blue Star are similar to cruise ships and offer numerous restaurants, bars and sleeping cabins. These are also your best bet on the windiest days when the seas can be rough, particularly in winter.
To see timetables, ferry schedules and to book your ferries: Ferryhopper are one of the best platforms available. A secret tip; if you cannot find the route you want at the right time for your island hopping tour it is worth looking at using different ferry companies for different legs. Ie. Seajet from the Paros Islands to Ios, change to Supercat to Milos.
The Ultimate Greek Island Hopping Itinerary
If you have never been to Greece before it is likely Santorini and Mykonos are probably high on your bucket list (they are some of the most beautiful places in Greece after all!). The Cyclades are a great place to start your first experience island hopping by ferry for many reasons and can be easily be done with 2-3 days in Athens as well.
This Greek Island hopping itinerary starts after your 2-3 days in Athens and via ferries and boats travels from Paros -> Mykonos -> Naxos -> Santorini -> Milos -> Sifnos -> Athens or Thessaloniki (via flight).
Paros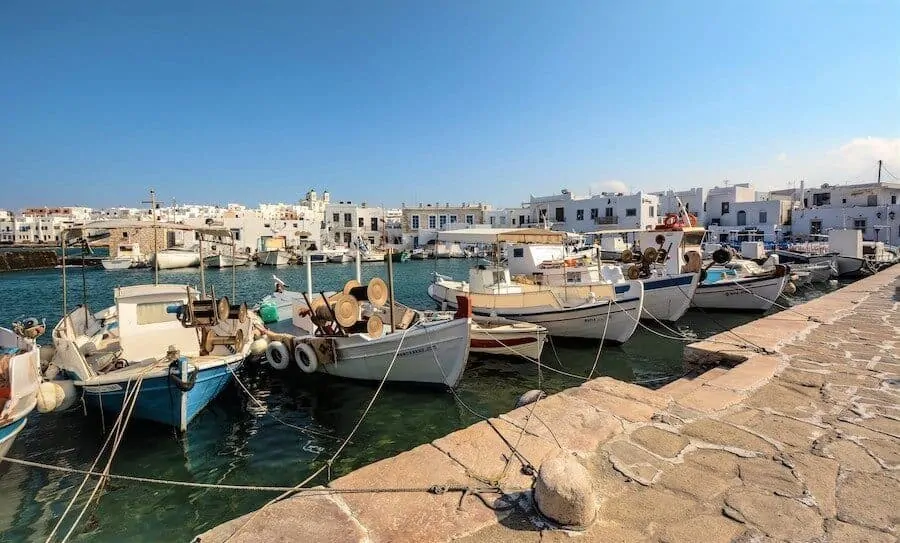 For many people the Cyclades are where the heart of the Greek islands is found and Paros is, in many ways, the perfect Greek island, with something for everyone. It's a great place to start your adventure as it is also the main ferry hub for the Cyclades and often the first port of call from Athens.
Paros is located in the center of the Aegean Sea, and in ancient times, it was known for its historic white marble. Today, the island is one of Greece's most renowned tourist destinations, and it can be reached easily from Athens by ferry from Piraeus in around 3 hours or by plane in only 30 minutes. Our favourite town to stay is the lively fishing port of Naoussa where we return again and again. The Port town of Parikia is also a good choice.
Mykonos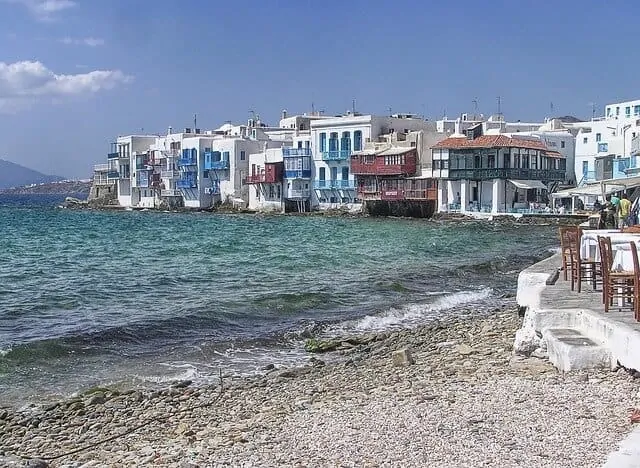 The island of Mykonos is known for its role in Greek history and mythology, and can be a great place for relaxing on the beach and other outdoor activities, as well as visits to landmarks like the Church of Paraportiani and the neighbouring sacred island of Delos (one of the Greek UNESCO World Heritage Sites). It has quite the reputation as the party island and there are some very high end and exclusive beach clubs and bars where you can do some serious celebrity spotting!
You can reach Mykonos by ferry from Paros in just a short 1-hour trip.
Naxos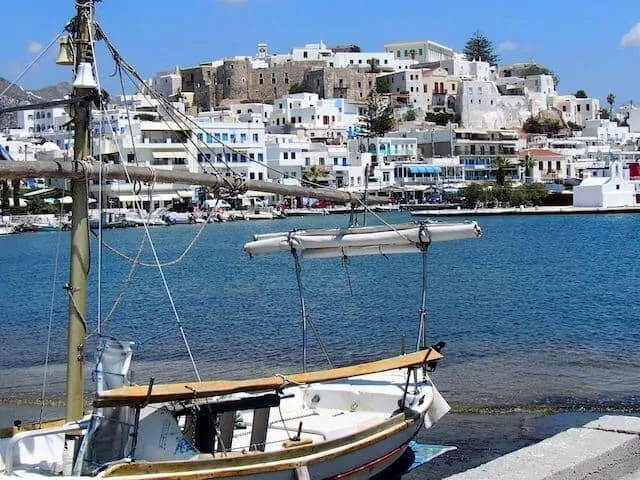 Naxos is the largest of the Cycladic islands, filled with natural beauty, impressive monuments and a truly wealthy history. It is a large island and there is a lot to do including exploring the many beautiful beaches, many of which are calm and protected making it popular with families. It is also known for its cuisine, particularly the famous Naxian potatoes.
Depending on the ferry operator you choose, the trip from Mykonos to Naxos can last up to an hour and 20 minutes. From Paros is only a 30 minute trip and there is also an airport.
Santorini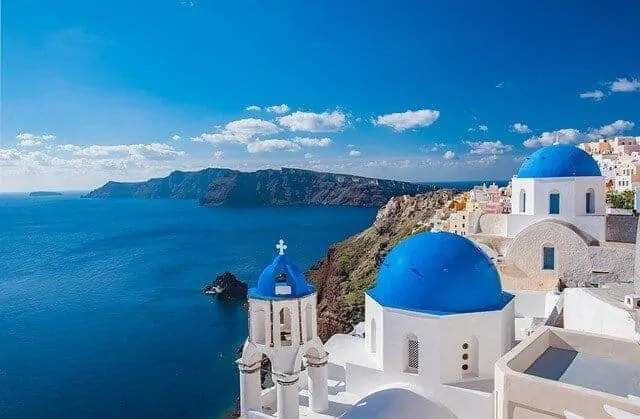 Santorini Island is one of the most magical places in the Aegean Sea, if not the entire world and possibly the jewel in the crown of the islands of the Cyclades.
From the stunning Santorini caldera to the beautiful sunset views in Oia Santorini, there is plenty to see here, especially if you're looking for a romantic getaway. Santorini is very popular year round and can get crowded especially when the cruise ships are in and at sunset, but it is still incredible and somewhere everyone need to see at least once.
The trip from Naxos to Santorini can take 1 and a half to 2 hours via ferry and there is an international airport as well.
Milos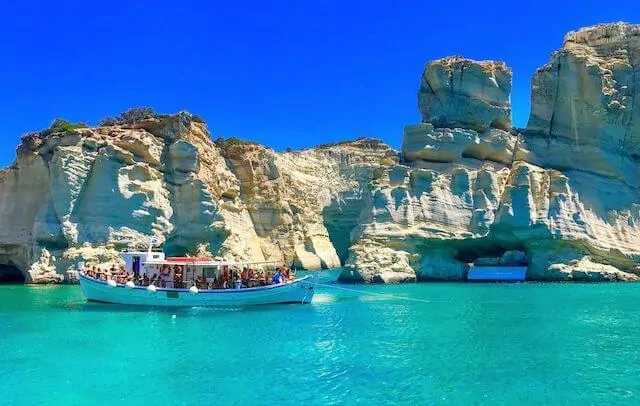 An extraordinary, volcanic island with a colorful landscape and more than 40 stunning beaches, Milos is definitely worth visiting. You will be stunned by the unique lunar landscapes at the white beach of Sarakaniko and be speechless as you sail past the white limestone cliffs of Kleftiko.
Several villages are home to the charming fisherman's huts called Smyrna, some of which are available to rent on Airbnb (and a real hidden gems!) The food is excellent and the locals are friendly, but this is an island rapidly growing in popularity and for good reason.
Daily ferry connections are available in the summer to take you to Milos which can last anything from 2 to 3 hours from Santorini. We love to stay in the fishing village of Pollonia.
Sifnos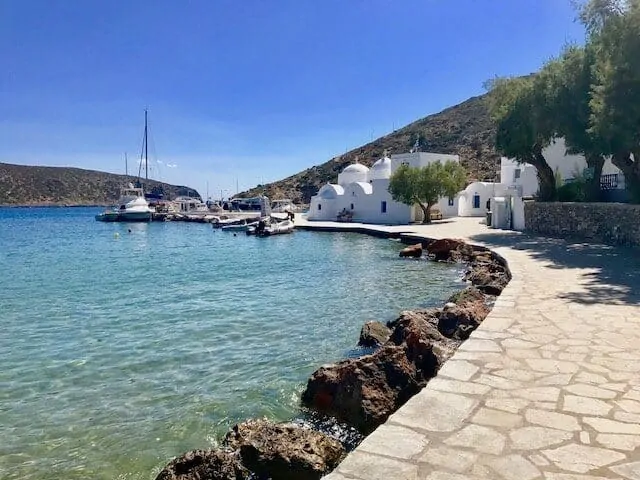 Sifnos boasts an elegant and tranquil ambiance with quaint, whitewashed villages, dovecotes and a breathtaking landscape. It is also known as a famous culinary destination and has retained a high degree of authenticity.
Most people who visit Sifnos return again and again and its easy to see why. Plus, it is one of the most romantic Greek Islands for couples.
The trip to Sifnos from Milos takes less than an hour and sometimes only 30 minutes. We stayed in the Port town of Kamares but were also very impressed by the small village of Vathi.
As your island hopping trip draws to a close, you can easily get back to Athens either via the direct route – a relaxing 6-hour ferry ride – or travel by ferry back to the island of Milos, where you can fly back to Athens. The choice is yours and you really can't go wrong.
Alternate Greek Island Hopping Itineraries
Perhaps you have already visited the Cyclades or are more interested in visiting a different group of islands.
The Saronic islands are the easiest to visit being a short ferry ride from Athens. Many do this as a day trip although Hydra is definitely worth a night or two.
If the Ionians islands appeal then it is possible to visit Lefkada, Kefalonia, Ithaca, and Zakynthos all by ferry. You could fly into Preveza on the mainland and then out again from Zakynthos airport. Alternatively, there are ferries from Patras on the mainland which is a 2-hour drive from Athens.
If visiting the Dodecanese it is popular to fly into Rhodes and then ferry onto Symi, Kos, and Samos before flying out, and there are numerous other islands you can visit along the way. Some of these islands can also be accessed by ferry from the Turkish towns of Cesme, Bodrum, and Kusadasi.
Whichever islands you decide to visit and however long you have to do it in I guarantee you will have a truly magical experience that you will never forget. Considered by many to be the most beautiful, interesting and culturally rich islands in the world island hopping in Greece is an experience that deeply satisfies all the senses and will leave you with incredible memories to last forever.
And that's a wrap folks, we hope this guide to island hopping in the Greek Islands has been both inspiration and informative and that you are excited to discover Greece on your own Greek islandhopping adventure! If you need any more help planning your trip or more information about mainland Greece, head on over to Greece Travel Secrets – it's a mine of information!
And if you like this post, or know someone who had got Greek Island Hopping on their bucket list, please share this guide with them on Facebook, Twitter, Flipboard or Pinterest. Click the P in the sharebar and grab the images below.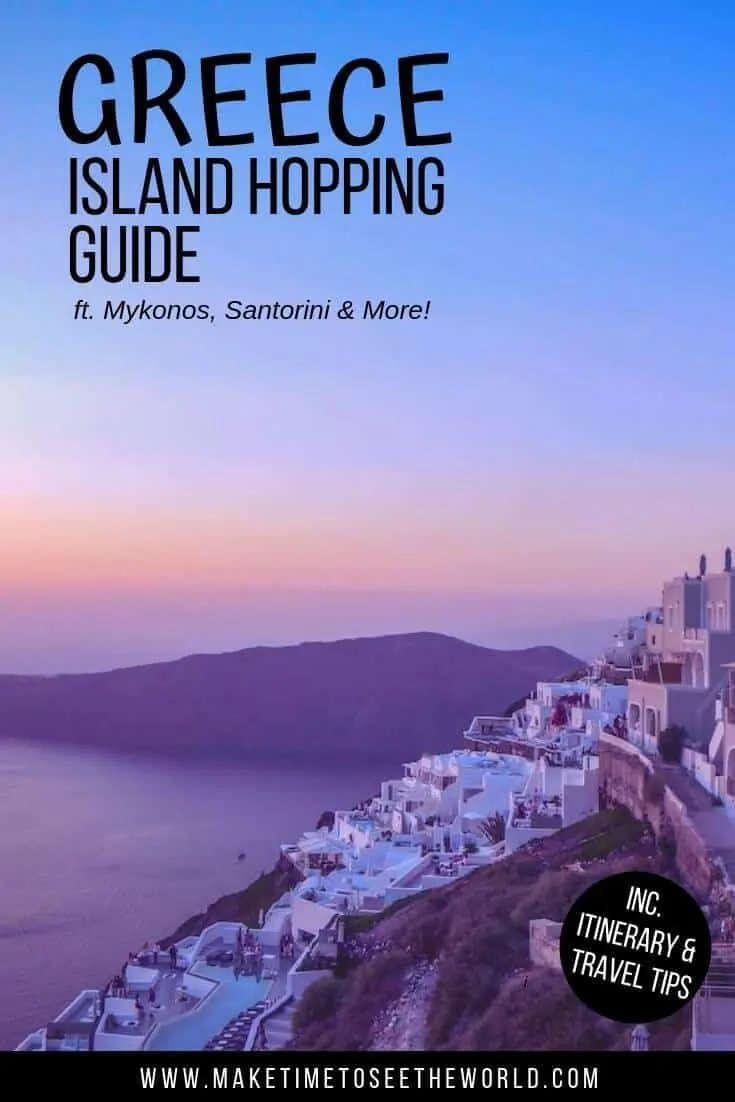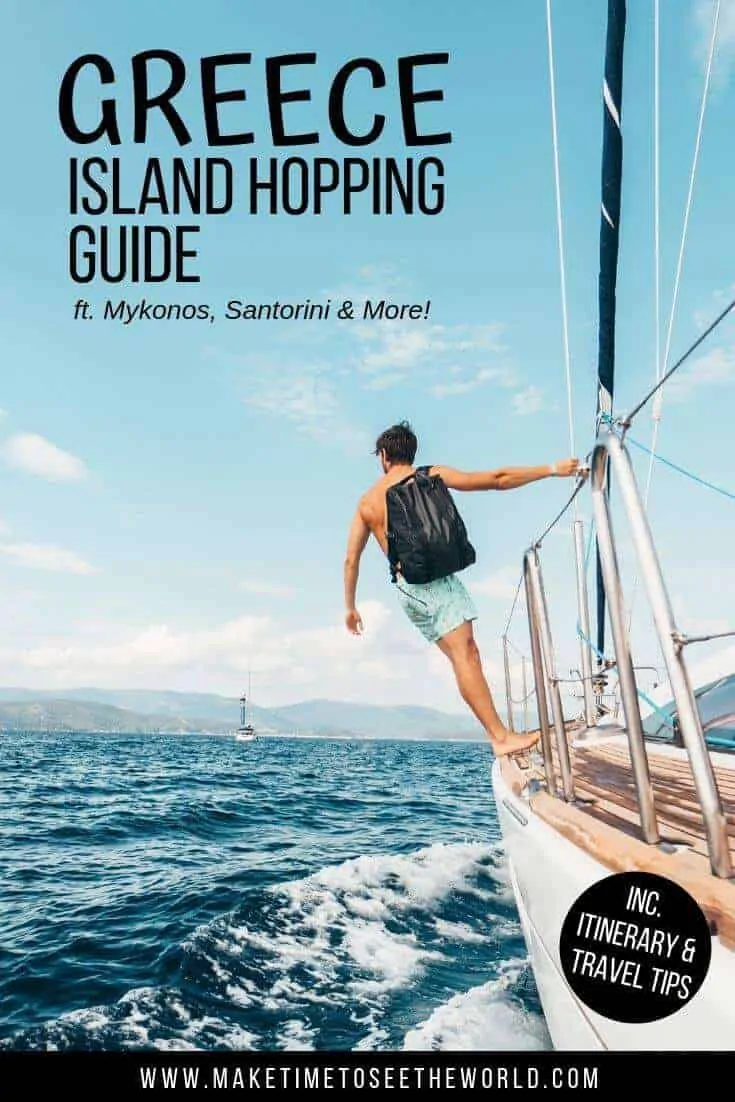 READY MORE TRAVEL INSPIRATION? YOU MIGHT BE INTERESTED IN THESE TRAVEL TIPS, TRAVEL ARTICLES, DESTINATION GUIDES AND RELATED POSTS:
Hi There! Thanks for reading our travel guide about our DIY Greek Island Hopping Itinerary (+ Travel Guide)! I just wanted to let you know that this post contains affiliate links, which means if you purchase something after clicking a link, I may get a small commission – which is at absolutely no cost to you. If you enjoyed this article and are going to be searching for some of the things I mention anyway, I would love it if you could click through from the links above & thank you in advance! Read my full Disclosure here.
And a huge Thank You for reading the MakeTimeToSeeTheWorld travel blog.