Cuba is one of those places where you feel like you have stepped into a time machine. Classic cars, people who hitchhike everywhere and no Starbucks (or any other American brand) to be seen.
Stuck in the 1960's due to the trade embargo, Cuba is a country struggling to get by. Well, the people in Cuba are. However, now that more and more tourists are visiting the country, this creates more jobs and opportunities for the hardworking and friendly Cubans.
While most people visit Havana and the west side of Cuba, the east of Cuba has a lot to offer as well! One of the highlights on this side of the island is Santiago de Cuba, the second city of Cuba and said to be the most colorful, hot and musical city of the island.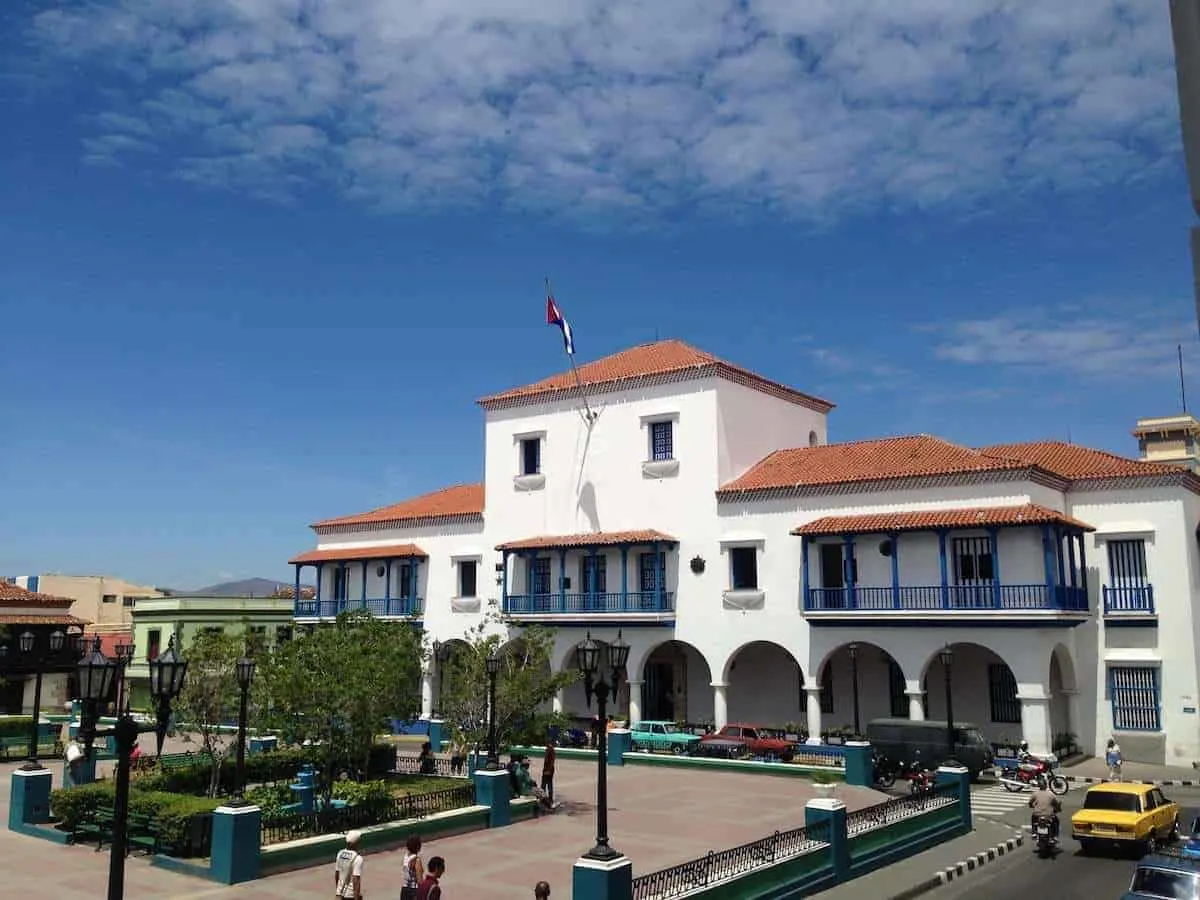 Disclaimer: Almost all posts on this site contain Affiliate links, and this one is no different. This means that if you click on any of the links in this post (and make a purchase) I may receive a small commission at absolutely no cost to you. Each post is carefully crafted to (hopefully!) answer all your questions and recommendations are made where we believe they will improve your trip and help with your planning. As such we thank you in advance should you decide to click & buy. Read my full Disclosure here.
This is a Guest Post by Lotte of Phenomenal Globe
Santiago de Cuba Travel Guide + Essential Info for Visitors
When following this Santiago de Cuba itinerary, you will learn about it's interesting history and important part in the Cuban revolution. Santiago de Cuba was the place where Fidel Castro attacked Cuartel Moncada and where the resistance against the Cuban government first took hold. Because the city celebrated its 500-year existence in 2015 many buildings in the city center have been renovated, giving the city lots of bright and beautiful colors.
I really enjoyed visiting Santiago de Cuba, because there are many thing to see and do, but also because of the friendly people! From the welcoming owner of our Casa Particular to the friendly fisherman who hopped aboard our tour boat while it was sailing around the harbor. And from the horse carriage drivers who tried to convince me to go on a sightseeing tour to the lady selling ice cream, who walked along several hundred meters down the street to help us buy a bottle of water (leaving her other customers waiting).
Santiago de Cuba is a very interesting place to visit and I highly recommend to include this colorful and historically significant city on your Cuba itinerary!
How to get to Santiago de Cuba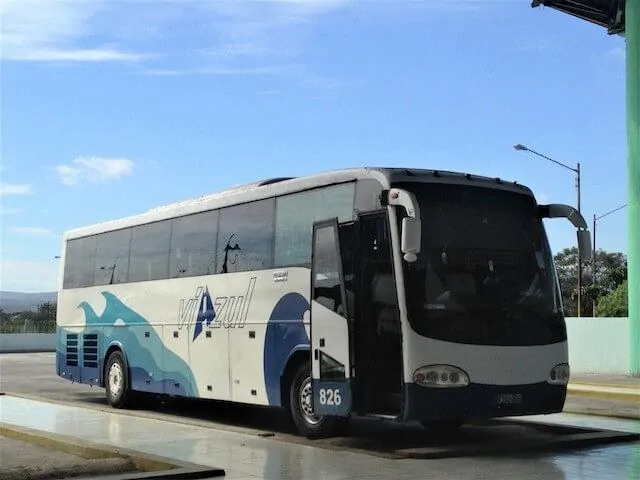 International flights to Santiago de Cuba are very limited, however, there are domestic flights from Havana on a daily basis (by Cubana). Alternatively, you can travel from Havana to Santiago de Cuba by Viazul bus for $51, this is a very loooooong ride though to do in one go (about 15-16 hours). You can make reservations online, which I recommend if you want to be sure of a spot in the bus on a particular day.
How to get around in Santiago de Cuba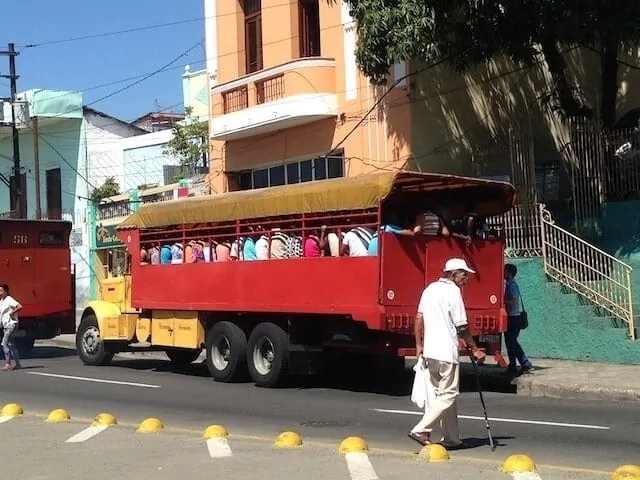 The city center of Santiago de Cuba is pretty compact so you can easily get around on foot.
There is limited public transport available in Santiago de Cuba (buses and collectivos – above), however, there are many horse drawn carriages. These serve as a way to get around for tourists, and more importantly, generate a source of income for the (still struggling) Cubans. Hailing one of these isn't hard as there is generally more supply than demand. You have to negotiate the price, but be kind, life isn't easy in Cuba.
Where to stay in Santiago de Cuba – Casa Particular near Plaza de Martes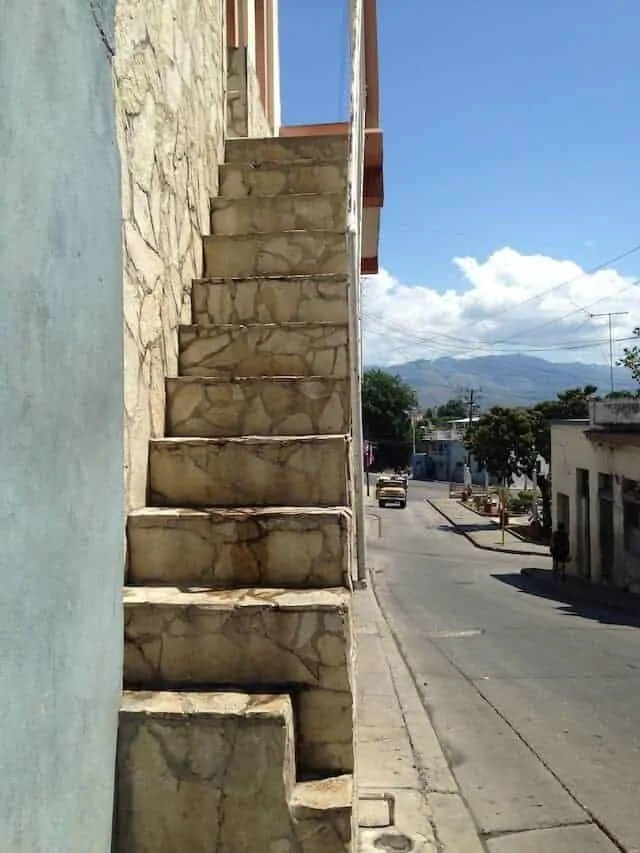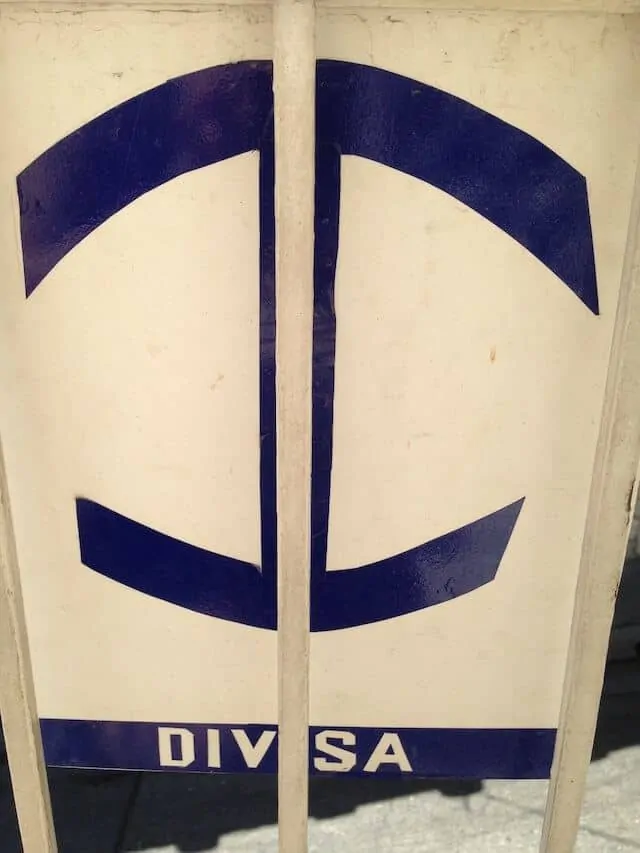 A really nice place to stay is a casa particular near Plaza de Martes, it's on the corner of Heredia and Perez Carbo street. There is a stone staircase leading up and the easily recognizable casa particular sign (above).
The casa is 25CUC per night. You can also have breakfast (3CUC per person) and dinner here (7CUC per person). The hostess is absolutely lovely, the casa is clean and has a roof terrace with a great view over Santiago de Cuba.
I can highly recommend this as a place to stay when you find yourself in Santiago de Cuba. There are also two rooms for 20CUC per night, but these don't offer the beautiful view over the city…
Currency in Cuba
Cuba has two currencies, the Cuban Peso (CUP) and the Cuban Convertible Peso (CUC). Most tourists will be using the CUC for all purchases, hotels, taxis and activities, but there is possibility to pay in equivalent in CUP (or vice-versa). The rate is typically 1 CUC = 25 CUP.
When to Visit Santiago de Cuba (Climate)

Cuba, located in the Caribbean, has a tropical climate, with warm, humid weather (22-27°C) all year round (though colder temperatures have recorded in the mountains).
The busiest times of year to visit is December – May where you can expect dry, sunny days and plenty of blue skies. The wet season begins in June, with an increased risk of hurricanes between August and October (however with the increased interest in visiting the country, Havana is busy all year round.
Wifi in Cuba
Due to Cuba's limited and expensive Wi Fi we recommend taking a Cuba guide with you or have one downloaded before you arrive. Ensure that the guide has well laid out maps if not download maps that you can use offline.
*EXTRA* Read more Cuba Travel Tips here.
.
Top 13 Things to do in Santiago de Cuba
Parque Céspedes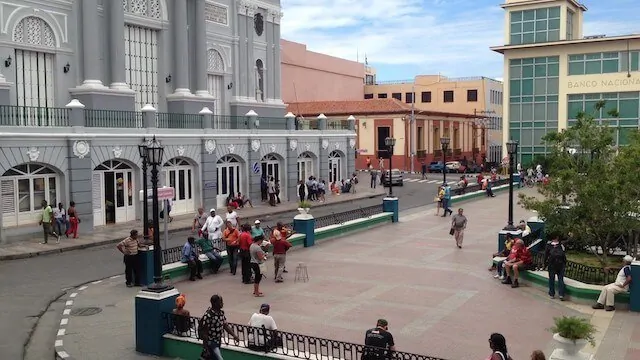 Perhaps the word Parque is a bit confusing, while there are some trees Parque Céspedes (Céspedes Park in English) is actually more of a plaza. Regardless, this is the heart of Santiago de Cuba and the perfect place to start your sightseeing day! There is always something going on at this plaza: life music, people dancing to that music, old ladies gossiping, business people meeting up and so on.
Around Parque Céspedes, you will find several notable buildings, such as Casa Diego Velazquez, Catedral de Nuestra Señora de la Asuncion and the Ayuntamiento.
Casa Diego Velazquez
One of the famous buildings looking out over Parque Céspedes is Casa Diego Velazquez (Diego Velázquez de Cuéllar), which was built in 1522 and is said to be the oldest house still standing in Cuba. The Andalusian style building now houses a museum (Museo de Ambiente Historico Cubano), the entrance fee is 2CUC.
Catedral de Nuestra Señora de la Asuncion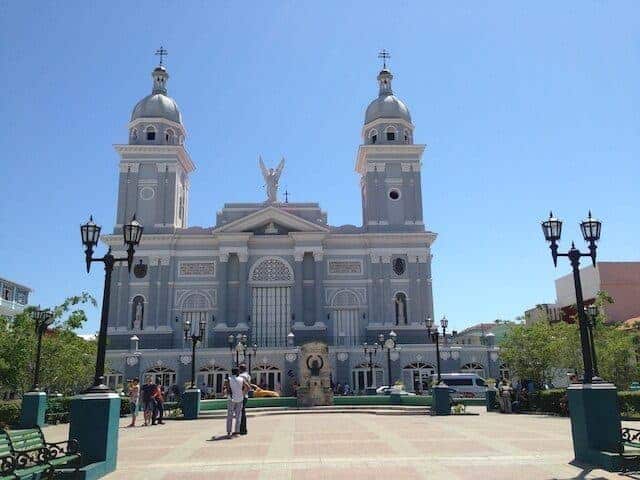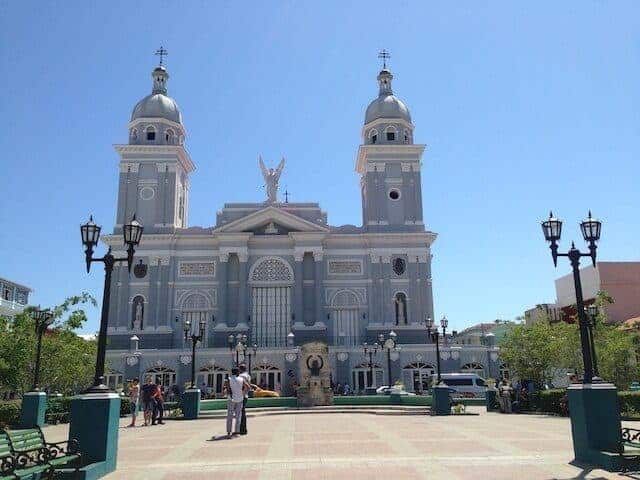 The beautiful and brightly colored Catedral de Nuestra Señora de la Asuncion is also adjacent to Parque Céspedes. The current cathedral was built in 1922, it's the third cathedral on this spot as it has been rebuilt several times, because the previous versions didn't survive the pirate raids and earth quakes.
Ayuntamiento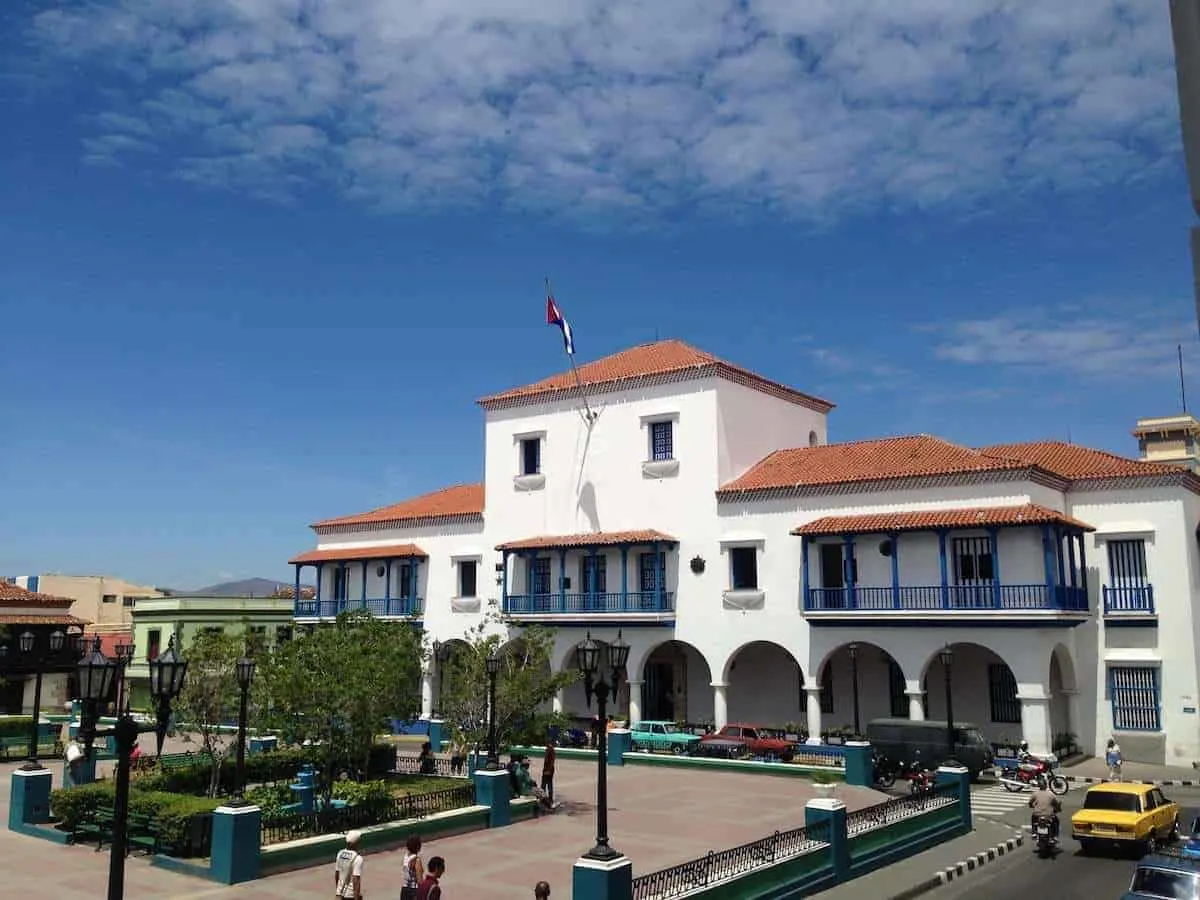 On the other side of the parque is the Ayuntamiento, another imposing building. On January the 2nd in 1959 (the year of the Cuban revolution) Fidel Castro appeared on the balcony of this very building to proclaiming Cuba's new era.
José A Saco street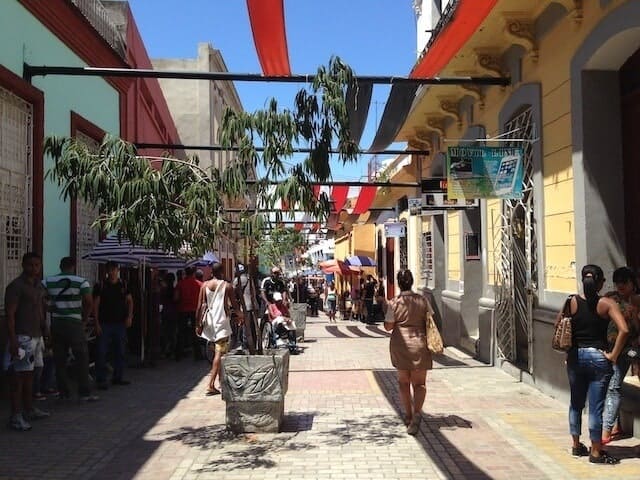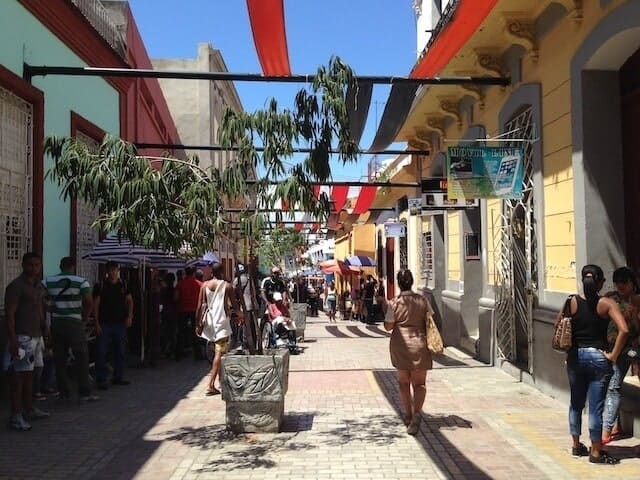 In this colorful pedestrian street you can find markets, lots of little shops and long lines of people waiting for the bank. Or the pharmacy. Or something else they need and have to stand in line for.
José A Saco street is especially colorful because many buildings have been repainted in pretty colors to celebrate Santiago's quin-centennial in 2015 making it one of the most colourful attractions in Santiago de Cuba.
Wander the old streets of Santiago de Cuba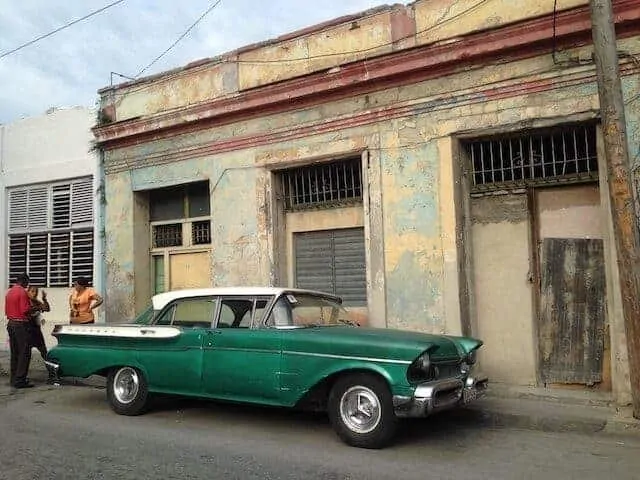 Color and beautiful renovated buildings aside, I highly recommend to explore 'the other side' of Santiago as well. All you have to do is take a right turn on José A Saco and keep on walking. Once you stray one block from the main street you're back in the 'real' Santiago, seemingly abandoned buildings with peeling paint, unpaved streets and a tangle of electricity lines…
Cementerio Santa Ifegenia
The Cementerio de Santa Ifigenia has over 8000 graves and many notable historic figures have been buried here. Famous names include Emilio Bacardi y Moreau (the founder of Bacardi Rum and Cuba's first president), Maria Grajales, the mother of Antonio Maceo (general of the Cuban Army of Independence), and trova guitarist Compay Segundo of the Buena Vista Social Club. The Cementerio Santa Ifegenia is a bit little further away from the city center (around 2.5km on foot).
A boat tour around the harbor of Santiago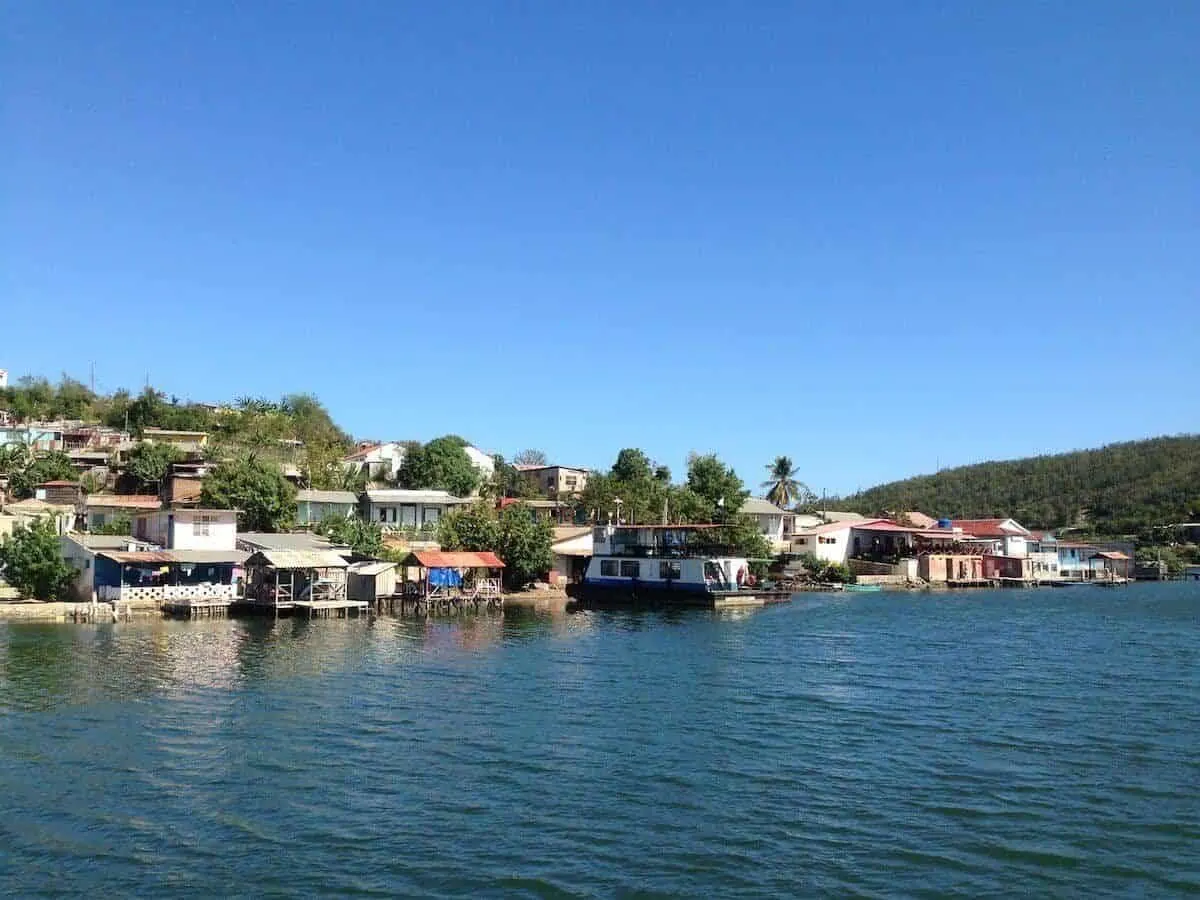 Another excellent thing to do in Santiago de Cuba is taking a boat tour, you can admire the city from a different perspective and visit Cayo Granma (above), a fisherman village on stilts. Also, the Castillo de San Pedro de la Roca del Morro is best viewed from the water.
Note: not all boats are in such good condition, so there is a small likelihood your boat may break down. This actually happened to me and I ended up floating around the harbor for an hour and a half. Though there are worse things in the world than being stuck on a boat in the Caribbean sea with Cuban reggaeton and rum.
Other things to do in Santiago de Cuba
If you have more time, there are many other interesting places to visit in Santiago de Cuba such as:
Casa de la Trova – Be here on Saturday night & dance the night away to live Cuban music
Tropicana – A cabaret club where guests can enjoy lunch or dinner and a show
Cuartel Moncada – The Moncada Barracks were attacked by a group of rebels led by Fidel Castro on 26 July 1953, which is wildely accepted to be the start of the Cuban revolution (de la revolucion)
Fidel Castro House – although there is no public access, the house where Fidel Castrol spent 2 years living whilst he was a student can be seen on Rafael P Salcedo; around the corner to which there are series of carnival murals facing a small park
Castillo de San Pedro de la Roca del Morro (above) – this fortress on the coast of the city is a Unesco World Heritage Site and in 1997 was cited as the best preserved and most complete example of Spanish-American military architecture.
Where to have a drink in Santiago de Cuba
A great place to have a drink is at cafe Rumba, a cute café with a patio that feels miles away from the busy traffic in the frantic streets of Santiago. I strongly recommend trying out the coconut milkshake!
Another nice place is the restaurant of Hotel Casa Granda, overlooking Parque Céspedes and a perfect place to watch the Cuban street life. Often, life music is being played on the plaza and many Cubans actually take the time to listen instead or rushing by, as is the case in so many busy cities elsewhere in the world.
Why you should visit Cuba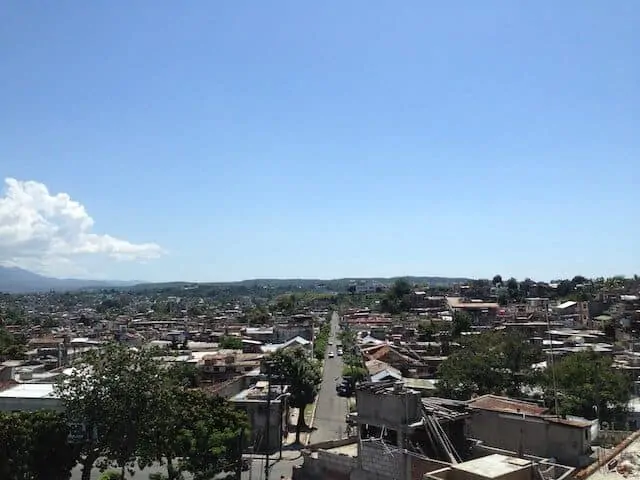 Visiting Cuba will surely make an impression on you. It's a country with a turbulent history and a country with many faces.
Obviously, Cuba is known for its cigars, rum and classic cars and you should try all these things during your Cuba trip. Going for a ride in one of those amazing classic cars is a unique experience, as is having a Bacardi on one of Cuba's beautiful beaches. Speaking of beaches, there are plenty on Cuba, as well as mountains and many interesting cities.
The people are very warm and welcoming, however, when you scratch the surface you will also learn they are struggling. If you take the time to talk to them, they may tell you more about the (sometimes very) difficult situation on Cuba. However, as there is no freedom of speech and press and it's difficult to determine how much people can say and how much they won't (or are not allowed to) say.
Altogether, Cuba is a unique country with many places begging to be explored, particularly in Eastern Cuba. If you happen to travel to Cuba, consider taking some extra clothes and toiletries with you. Basic goods like these can be very hard to get for the Cuban population, and being given a few bottles of shampoo will put a huge smile on the face of your friendly Casa Particular hostess.
.
And that's a wrap folks, I hope our guide has made you add Santiago de Cuba to your 'places to visit in Cuba' list and given you enough visitor information and things to do there to make your visit memorable!
As a place that is yet to make it big on the tourist scene, we would love to update this guide with recommendations from you after your visit, so be sure to drop us a line if you find an amazing Casa Particular or have an incredible night out a local bar – we'd love to hear from you!
And if you like this guide, or know someone heading to Cuba that needs to expand their horizons beyond the capital of Havana, be sure to share this travel guide with them. Use the bar on the left to share via Facebook, Twitter, Flipboard or Pinterest – and thank you in advance!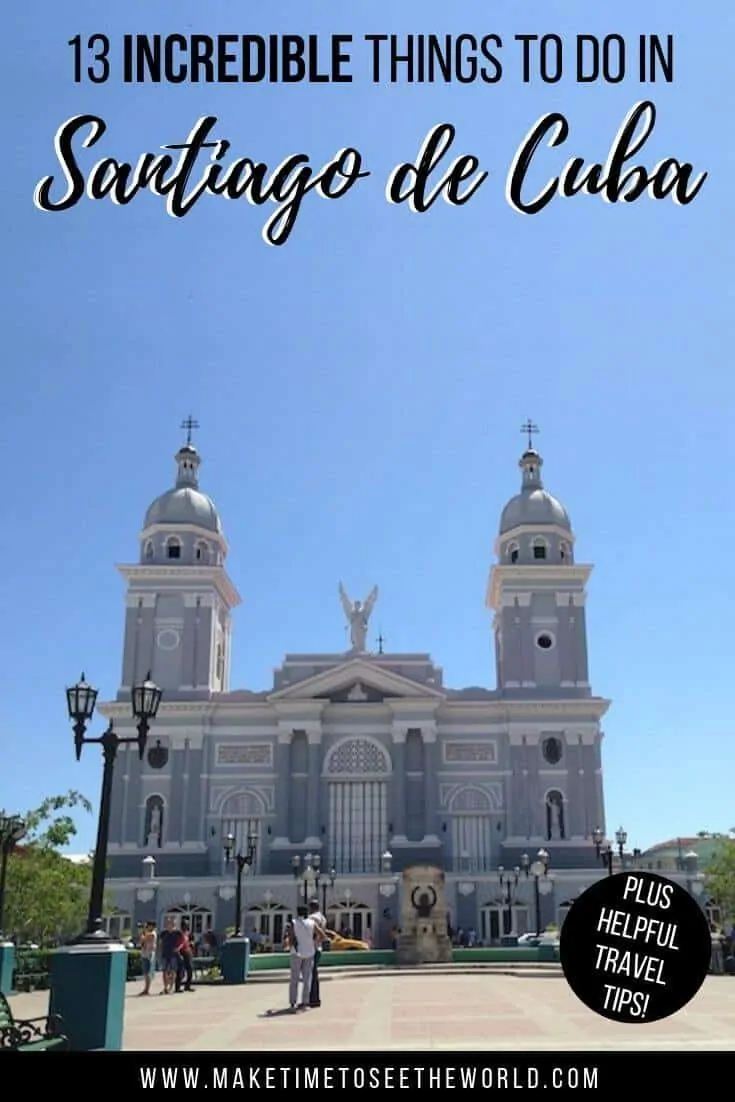 READY TO EXPLORE OTHER DESTINATIONS OF THE USA & MORE? YOU MIGHT BE INTERESTED IN THESE RECENT POSTS, RELATED ARTICLES, TRAVEL DESTINATIONS GUIDES & POPULAR POSTS:
Hi There! Thanks for reading our travel guide and travel tips post about the 13 INCREDIBLE Things to do in Santiago de Cuba (+ Handy Travel Guide.) I just wanted to let you know that this post contains affiliate links, which means if you purchase something after clicking a link, I may get a small commission – which is at absolutely no cost to you. If you enjoyed this article and are going to be searching for some of the things I mention anyway, I would love it if you could click through from the links above & thank you in advance! Read my full Disclosure here.
And a huge Thank You for reading the MakeTimeToSeeTheWorld travel blog.