36 – 48 Hours in Chicago: Things To Do, Where To Stay & Where To Eat! Keep Reading for all of the Windy City's Highlights to make help plan your weekend trip.
Ready for a weekend in Chicago? Of course you are! Who doesn't love to spend time in the Windy City?! Whether you're looking to pack everything into one jam-packed weekend or pick your highlights from Chicago's Top Things To Do, we've got options and ideas to suit every budget and every style of traveler.
From Museums to Planetariums, Gangster tours to Signature Bars, you can build your own itinerary to make sure you get the best from your 36 hours in Chicago or 48 hours in Chicago. And with recommendations for where to stay and what to eat – we'll have your weekend break to Chicago organized before you know it!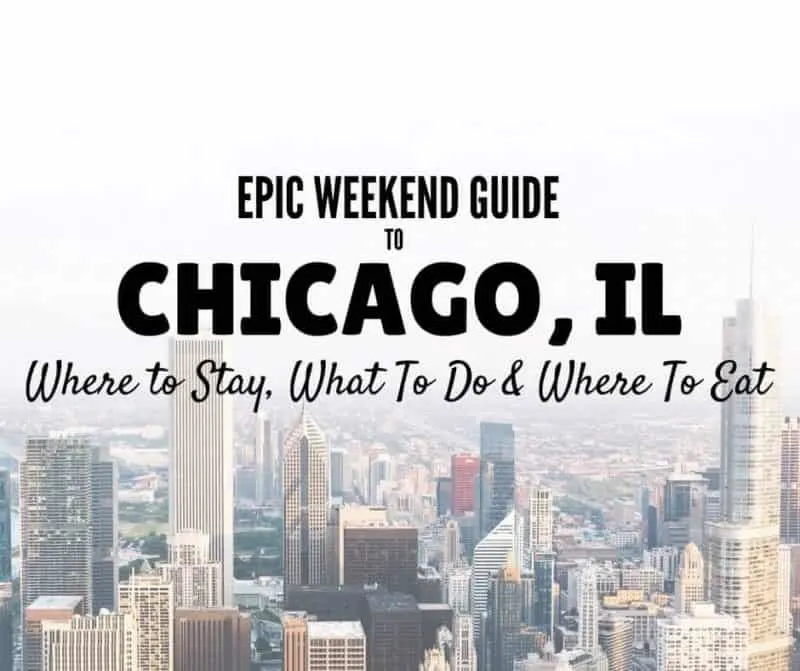 Disclaimer: Almost all posts on this site contain Affiliate links, and this one about an epic 48 Hours in Chicago is no different. This means that if you click on any of the links in this post (and make a purchase) I may receive a small commission at absolutely no cost to you. Each post is carefully crafted to (hopefully!) answer all your questions and recommendations are made where we believe they will improve your trip and help with your planning. As such we thank you in advance should you decide to click & buy. Read my full Disclosure here.
A Guest Post by Alannah McEwan from Itchy Feet Travel
Chicago is the third biggest city in the USA and the fourth biggest in North America so there's lots of tourist attractions to see and do. So what if you only have 48 hours or even 36 hours in Chicago? How can you make the most of those two days?
I'm going to share with you the 10 best things to do in Chicago, suggestions for where to stay and some must try foods to make sure you get the best from your weekend away!
RELATED: Struggling with what to pack? Check out our Ultimate Travel Packing List (with free pdf printable!) to make sure you pack everything you need!

Essential Chicago Travel Tips: What to Know Before You Go
The Best Time To Visit Chicago IL
The best time to visit Chicago is during Spring and Fall if you are looking for mild temperatures and sunshine. The warm weather makes it easier to walk around and explore the city; or from September through the end of October wherein the temperatures are warm and hotel rates are reasonable prices.
How To Get Around Chicago IL

Chicago is too big to navigate using only your own two feet. The best way to get around is via public transportation – specifically the L train (short for 'elevated train'!).
Identified by colors (red, blue, brown, green, orange, purple, pink, and yellow), the L system provides extensive and speedy service to 145 stations around town (including the city's two airports).
If you want to take a trip to the Chicago suburbs, Metra is your most reliable friend. The system's 11 lines extend outward from the Loop, making stops in North, East, and South Chicago before heading on to nearby communities like Evanston, Aurora, Joliet, and University Park.
If you plan to use Metra over the weekend, you can purchase a weekend pass which gives you unlimited travel on weekends.
Also, if you happen to be traveling as a large group, it is better to opt for dedicated transport – such as GOGO Charters – over public transport. This means you'll be able to give your group set departure times (and for those that have done large group travel, know that keeping everyone on schedule can be a nightmare!) and make sure you get efficiently from one attraction to the next.
Where to Stay in Chicago IL
Looking for some great hotel deals in Chicago take a look at Booking.com or HotelsCombined, or take a peek at our recommendations for some great hotels in Chicago, whatever your budget!
Luxury Stay ($250+ per night): Thompson Chicago (Read Trip Advisor Reviews)
Strategically located in the heart of the city, this 4-star hotel makes for an ideal base in Chicago. It is located a brief stroll from John Hancock Center Observatory, Chicago Water Tower and Michigan Avenue.
After a day of sightseeing in the region, guests can unwind in the comfort of their air conditioned rooms. They all offer movies on demand and a mini bar.
Mid-Range Stay ($150-$250 per night): Westin Chicago River North (Read Trip Advisor Reviews)
Conveniently situated, The Westin Chicago River North offers easy access to Chicago's main tourist attractions. It has a spa and wellness center, as well as a kids club, 24-hour room service, and valet parking.
Featuring modern rooms equipped with a mini bar, tea, and coffee-making facilities, and a refrigerator. They also offer a range of entertainment amenities, such as movies on demand.
Budget Stay (<$150 per night) Best Western River North (Read Trip Advisor Reviews)
Offering views of Chicago, Best Western River North Hotel is conveniently situated in Downtown Chicago, close to a popular shopping district, plus boasts a rooftop terrace and an indoor pool.
Attractions near Best Western River North Hotel include Michigan Avenue, the Chicago Theater, and Magnificent Mile. Its central location offers easy access to sightseeing, dining and entertainment.
48/36 Hours in Chicago: Things to do
Architecture River Cruise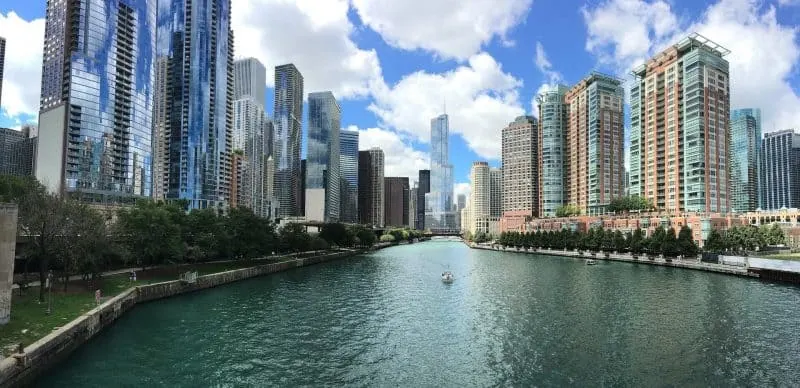 A great way to see the city and learn some history at the same time is by doing a boat tours or river cruise. I did the architecture tour and it lasted 75 minutes.
I got to see a lot of the city during this tour as well as learn about major events that have shaped the city and the different styles and types of architecture that make Chicago what it is today. It is one of the best Things To Do in Chicago.
Chicago Riverwalk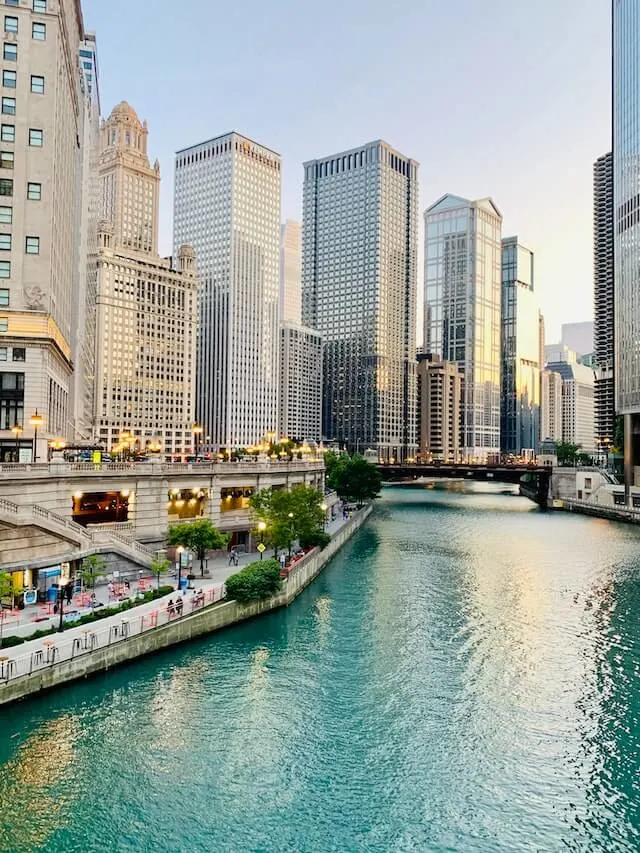 The Chicago Riverwalk is a beautiful waterfront area that runs along the south bank of the Chicago River in the heart of the city. It features a variety of restaurants, bars, and other recreational and entertainment options. Visitors can take a leisurely stroll along the river, stop to enjoy a meal or a drink, or rent a kayak or boat to explore the waterway.
The Chicago Riverwalk is a popular destination for tourists and locals alike, offering a respite from the hustle and bustle of the city and a chance to enjoy the beauty of the river.
Magnificent Mile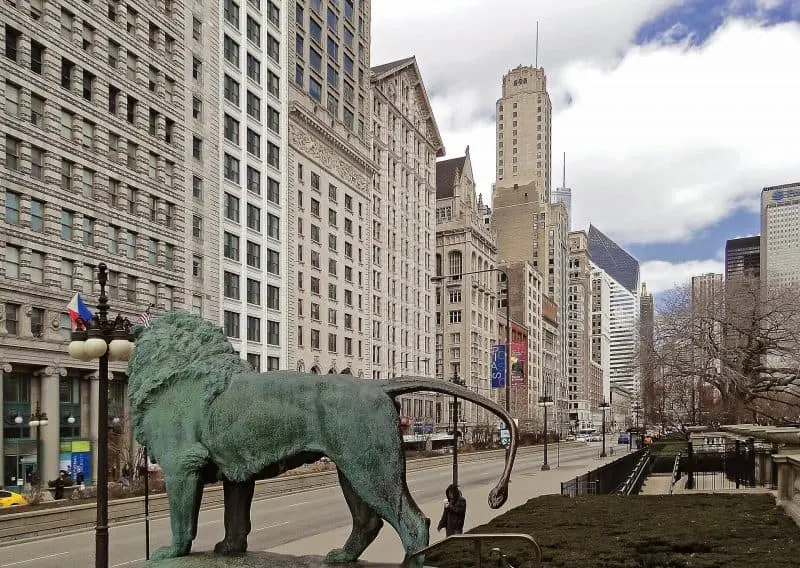 A great and free thing to do in Chicago Illinois is to take a walk down magnificent mile (aka Michigan Avenue). It's one of the best know areas of downtown Chicago.
Michigan Ave/Magnificent Mile mile is 13 blocks that stretches from the Chicago River to Oak Street and is lined with shops, restaurants, and beautiful buildings. Wandering the Magnificent Mile is one of the best things to do in Chicago this weekend.
RELATED –
Want to add more to your Windy City Itinerary? Take a look at our
Top 10 Day Trips from Chicago
& start exploring more of the great state of Illinois!
.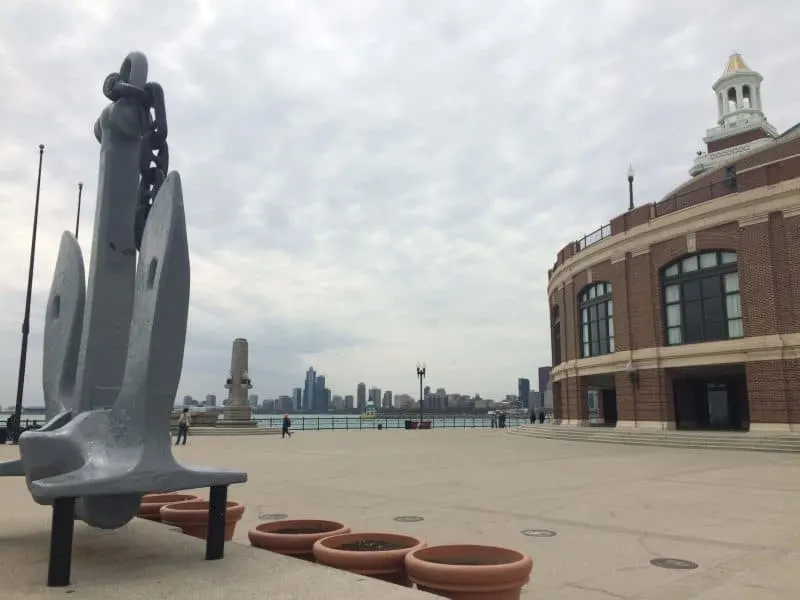 Another great place for a walk in Chicago is Navy Pier. In the summer months it's buzzing with people and energy. Also, during the summer there are fireworks every Wednesday and Saturday evening. The pier was built 100 years ago in 1916 and is now one of the city's most popular tourist's sites.
Millennium Park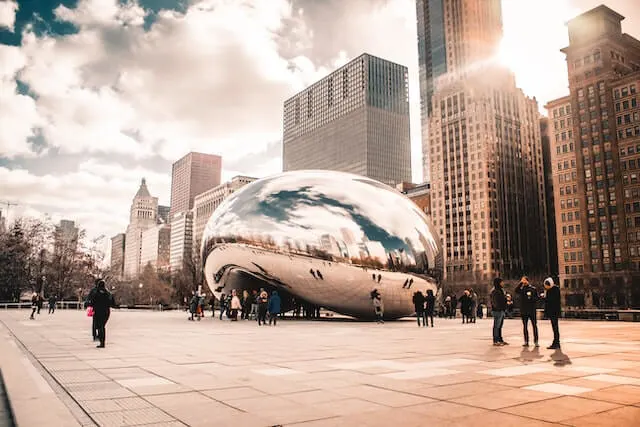 This 24.5-acre park is packed with attractions. While you're there check out Frank Gehry's Pritzker Pavilion and serpentine bridge, sculptor Anish Kapoor's 110-ton Cloud Gate (also know as the bean) and Jaume Plensa's Crown Fountain.
The Lurie Garden has year-round flower displays and monthly garden walks.
Art Institute of Chicago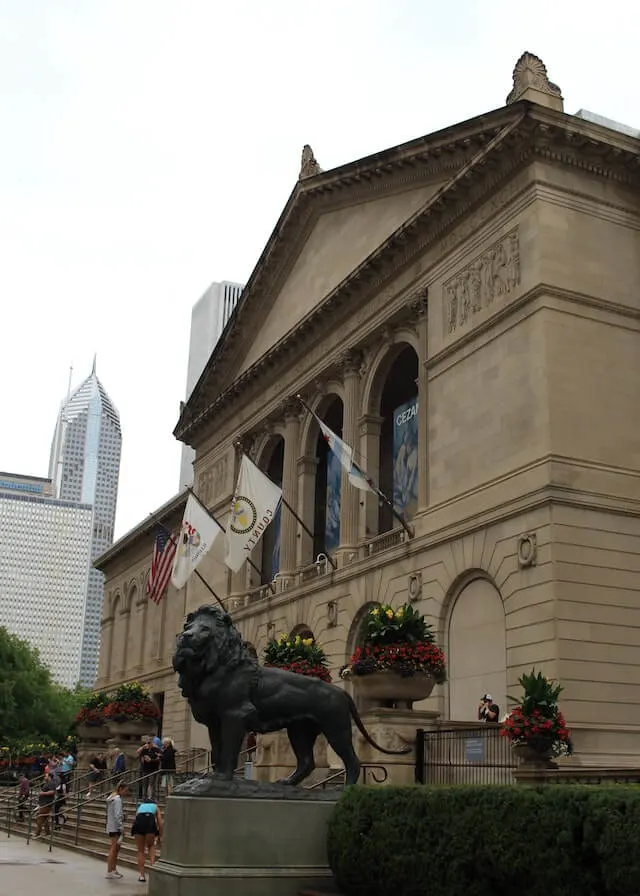 There are many museums in the city, but only one that's been rated by TripAdvisor as the Best Museum in the World. The AIC is the perfect way to enjoy the indoors on a rainy or chilly day.
You could easily spend all day here and still not see everything, so if you're on a time crunch decide which exhibitions interest you the most so that you make the most efficient use of your time. You could even grab a Fast Pass to skip the lines. Personally, I thought the miniature rooms were pretty cool, the amount of details was unbelievable!
*Bonus* Chicago has loads of great museums and festivals to experience throughout the year including:
The Museum of Science and Industry;
Chicago History Museum;
The American Writers Museum;
The Museum of Contemporary Art Chicago; and
The Field Museum of Natural History
(all of the above are open all year round) PLUS
The Chicago International Film Festival which is held in June each year.
Shedd Aquarium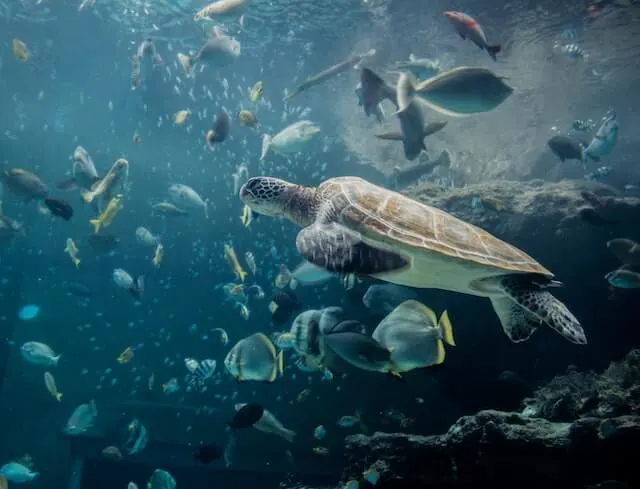 The aquarium is 75-year-old institution. Here you will find piranhas, frogs, snakes, rays, turtles, eels, predator sharks and much more!
Signature Lounge on the 95th Floor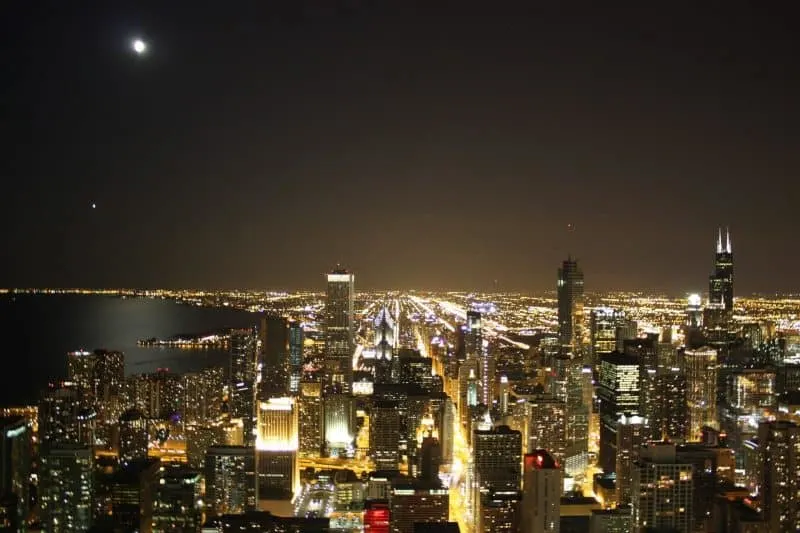 Whether you have 36 hours in Chicago or 48 hours in Chicago, to get an unbeatable view of the city head to the Signature Room. It's on the 95th floor of the John Hancock building. Don't forget to go to the bathroom where you will get the best view! We probably spent just as much time in the bathroom as we did in the lounge!
Indulge Your Inner Foodie in the West Loop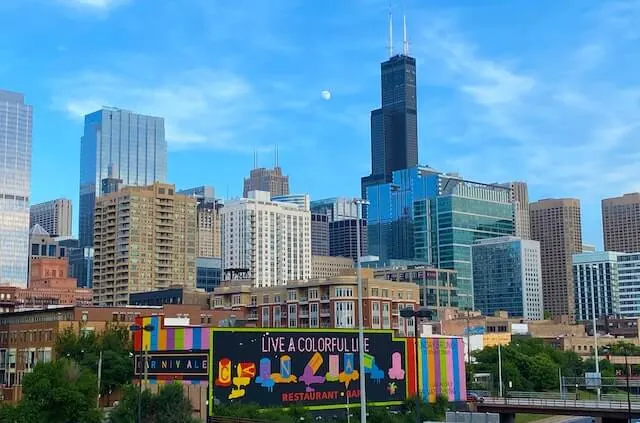 The West Loop is an area of Chicago that is a food lover's paradise, with a diverse array of live music, rooftop bars and dining options to choose from.
From fine dining restaurants featuring world-class cuisine, to casual eateries serving up delicious, affordable fare, the West Loop has something for every taste and budget.
Many of the restaurants in the area source their ingredients locally, and there is a strong emphasis on sustainability and supporting the local food community.
Whether you're in the mood for a fancy dinner out or a quick bite to eat, the West Loop has you covered.
Lincoln Park Zoo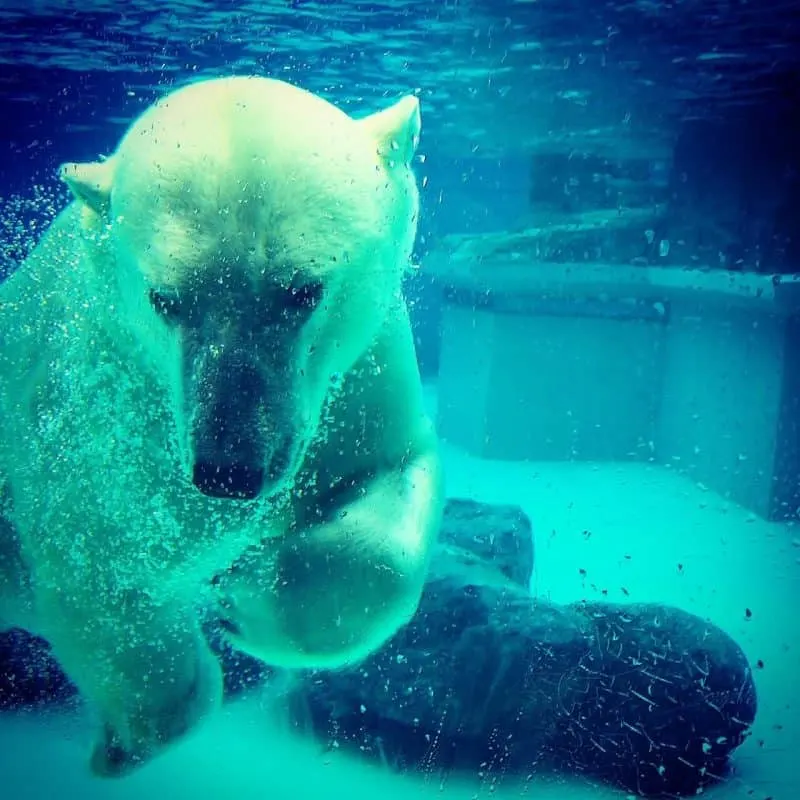 The Lincoln Park Zoo is the oldest zoo in the USA! It is also one of the only free zoos in the country. Here you can see all types of animals from apes to zebras, and overall, the zoo has more than 1,000 animals!
Chicago Mob Tour: Criminals and Gangsters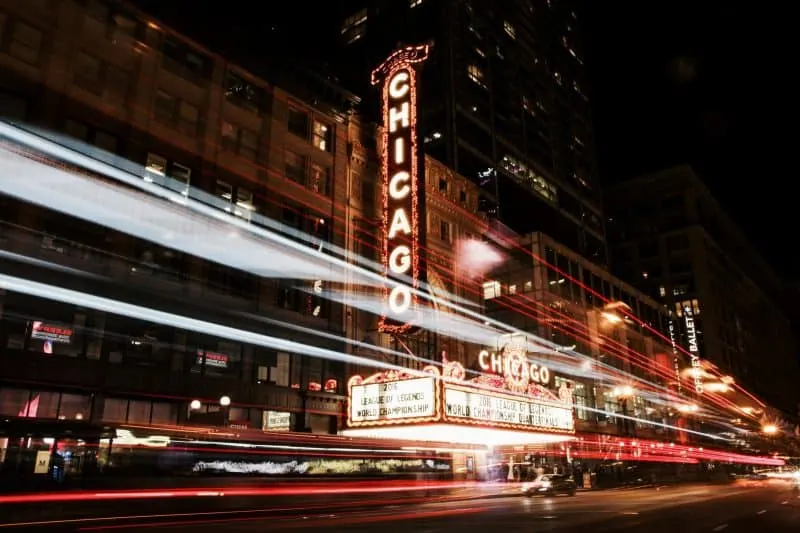 Escape into the criminal past of Chicago. This Mob Tour will take you to River North, Gold Coast, Lincoln Park, Old Town, and Magnificent Mile districts. Chicago is famous for it underworld of gangsters and mobsters and you can learn about all them from a local expert. Hear stories about Scarface, Al Capone, The Untouchables, the Chicago Mob and more!
Enjoy the Outdoors at Maggie Daley Park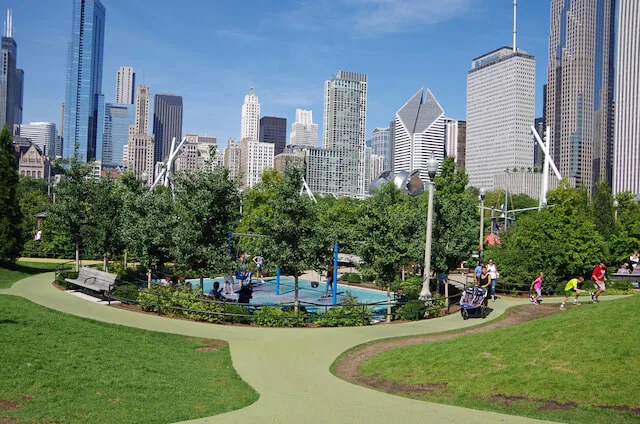 Maggie Daley Park is a popular destination located in the heart of downtown Chicago. It features a range of recreational activities, including a climbing wall, ice skating ribbon, mini golf course, and playground.
The park also has beautiful green spaces, perfect for picnics or a leisurely stroll, and is great if you just want to people watch! With its central location and a wide variety of amenities, Maggie Daley Park is a favorite spot for both tourists and locals alike.
Adler Planetarium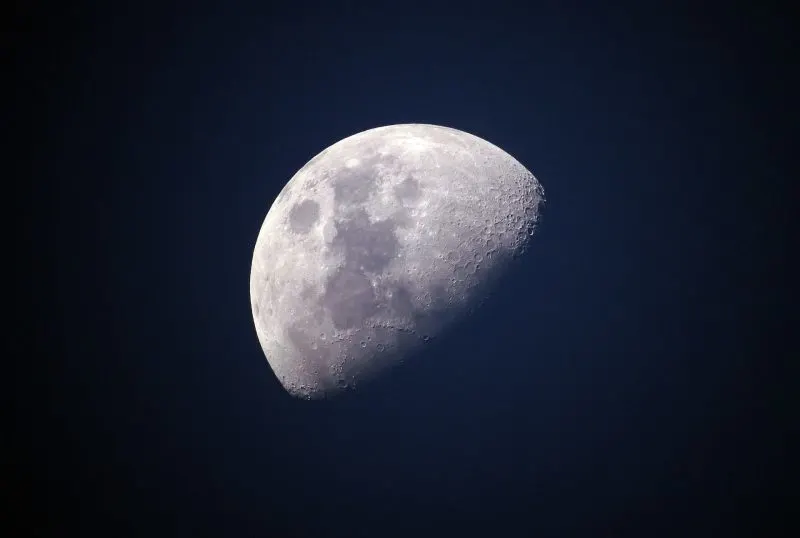 Go on a trip to the moon at the Adler Planetarium. This was the first planetarium in the United States and includes a real research observatory and a space theatre. There really is no need to wonder what to do in Chicago with all these suggestions for the the best things to do in Chicago!
What and Where to Eat and Drink In Chicago
Enjoying your 36 hours in Chicago (or 48 hours in Chicago) is as much about what you do as what you eat. You've just gotta try these three Chicago favorites:
Deep Dish Pizza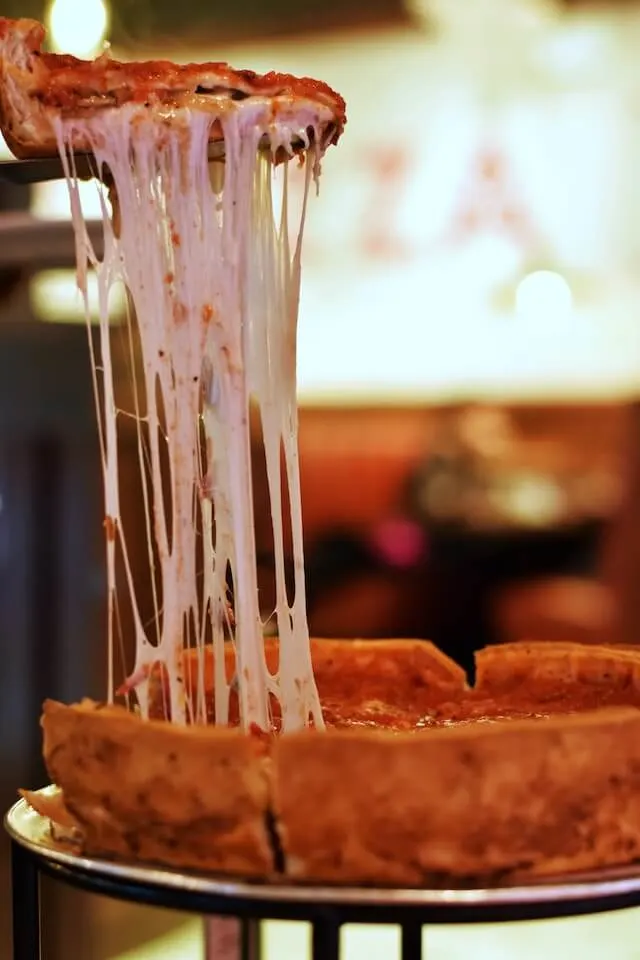 I asked locals and tourists alike about where to get the best deep dish pizza in Chicago. The two names I heard the most was Giordano's and Lou Malnati's. I chose to try Lou's on my trip. I ordered the calamari fritti, buffalo chicken wings, and of course their famous deep dish pizza with sausage and extra cheese.
Everything was tasty and the portions were a good size. The pizza was piled high with toppings and the staff was friendly and attentive. Definitely, a must eat in Chicago! Two thumbs up!
Chicago Style Hot Dog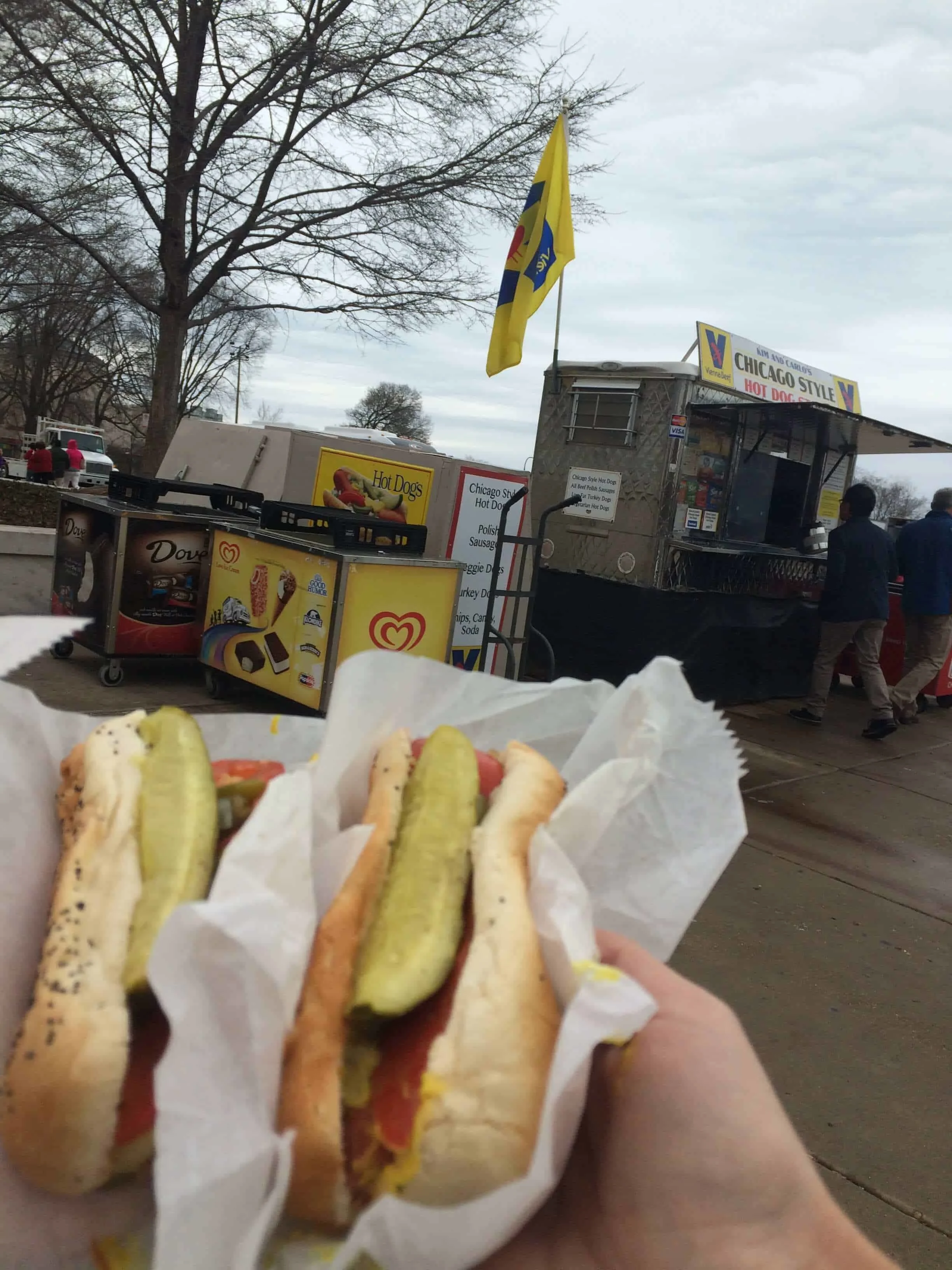 Next on the list of tasty things to do in Chicago is to eat a Chicago style hot dog from any of the cheap eats around the city! I didn't even realize before my trip that Chicago had their own unique style of hot dog. This dog is windy city favorite.
Topped with yellow mustard, green pickle relish, tomato, a slice of dill pickle, sport pepper and celery salt. Most important is what's not on the hot dog … ketchup! The kiosk where I picked up my dog even had a sign that said if you want ketchup you have to dance for it!
Chicago Style Popcorn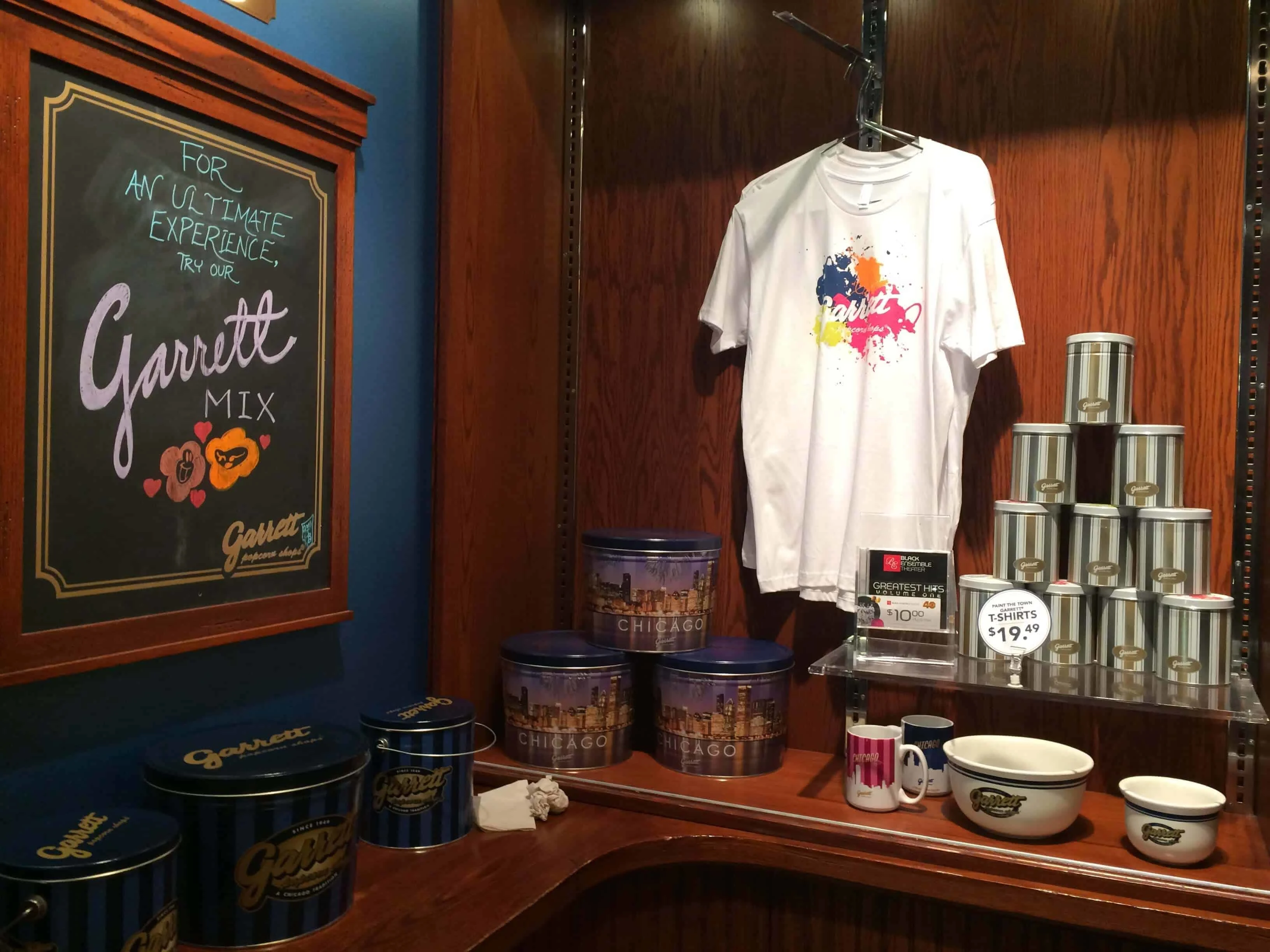 For Chicago style popcorn you've got to try Garretts. There are several locations in the city, I stopped and got a bag at their Navy Pier location. There is a variety of flavors to choose from. I went for the Garrett Mix, a yummy combination of Caramel Crisp and Cheese Corn. Two great flavors in one bag!
*EXTRA* Make some iconic Chicago-style dishes at home with these recipes for Italian Beef Sandwich, Deep Dish Pizza & Chicken Vesuvio!
.
So there you have it a full run-down of the Top Things To Do in Chicago along with suggestions for where to stay and what to eat. I hope you now have loads of ideas for how best to spend your 36 or 48 Hours in the Windy City.
Oh, and if you enjoyed this article, please pin and share – I'd really appreciate it! Click the P in the share bar for full size images!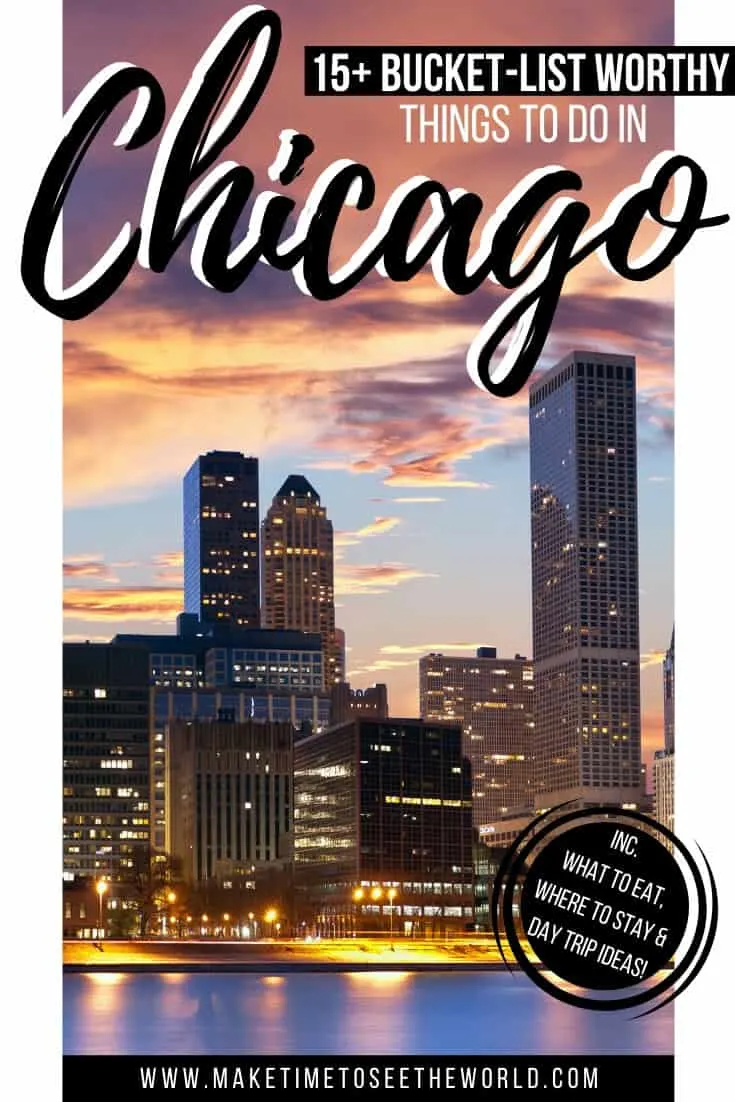 If you'd like a quick summary of this post, take a peek at our web story:
READY FOR MORE USA TRAVEL INSPIRATION? YOU MIGHT BE INTERESTED IN THESE TRAVEL TIPS, TRAVEL ARTICLES, DESTINATION GUIDES, TRAVELER RESOURCES, AND RELATED POSTS ABOUT OTHER AMAZING CITIES IN NORTH AMERICA:
Hi There! Thanks for reading the travel guide to 36 Hours in Chicago/ 48 Hours in Chicago: Things To Do, What to and Where to Stay in Chicago! I just wanted to let you know that this post contains affiliate links, which means if you purchase something after clicking a link, I may get a small commission – which is at absolutely no cost to you. If you enjoyed this article and are going to be searching for some of the things I mention anyway, I would love it if you could click through from the links above & thank you in advance! Read my full Disclosure here.
And Thank you for reading the MakeTimeToSeeTheWorld travel blog.