Arches National Park is 4 miles outside the small town of Moab, Utah. The park has over 2,000 natural stone arches and offers a variety of things to see, do and photograph! In this post we'll share when is the best time to visit, where to stay, and points of interest – including the best arches national park hikes – to get you out and exploring the park. And with walks, hikes and drives ranging from 30 mins to a few hours, they'll be something to suit everybody!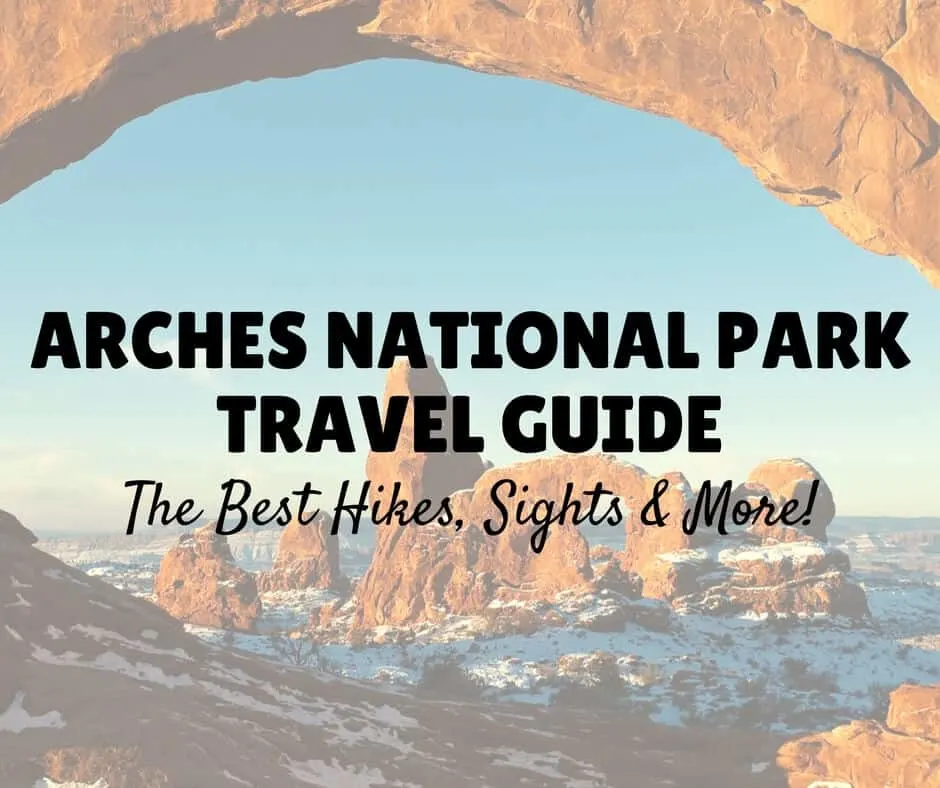 Disclaimer: Almost all posts on this site contain Affiliate links, and this guide to Incredible Things To Do in Arches National Park + Arches National Park Hikes is no different. This means that if you click on any of the links in this post (and make a purchase) I may receive a small commission at absolutely no cost to you. Each post is carefully crafted to (hopefully!) answer all your questions and recommendations are made where we believe they will improve your trip and help with your planning. As such we thank you in advance should you decide to click & buy. Read my full Disclosure here.
Arches National Park Hikes & Points of Interest
A Guest Post by Jamie Joyner of Photo Jeepers
Arches Scenic Drive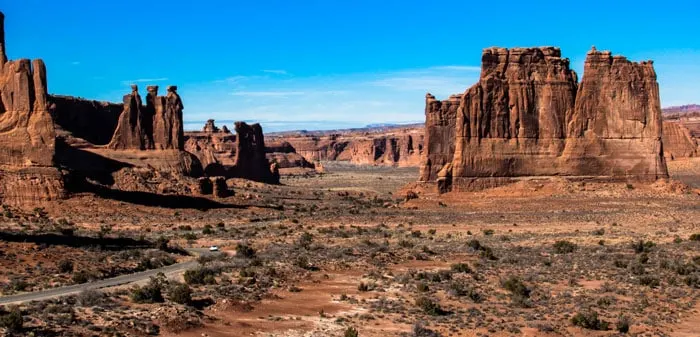 The main scenic drive is a total of 43 miles and includes all spurs. Plan 2 to 3 hours to complete the drive. Add more time if you want to do any long hikes or serious photography. Most arches and landmarks can be seen from the parking lots and pullouts or a short walk.
The most ideal times for Arches National Park photography and hiking are early or late in the day. The rock formations are more vibrant, there are fewer people, and you avoid the hottest part of the day.
.
Balanced Rock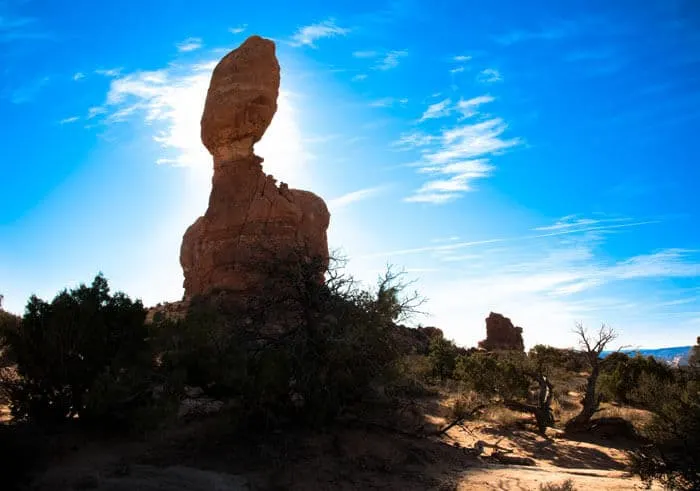 A short, easy roundtrip hike takes you on a 0.3 mile loop up to, and around, Balanced Rock.
.
Delicate Arch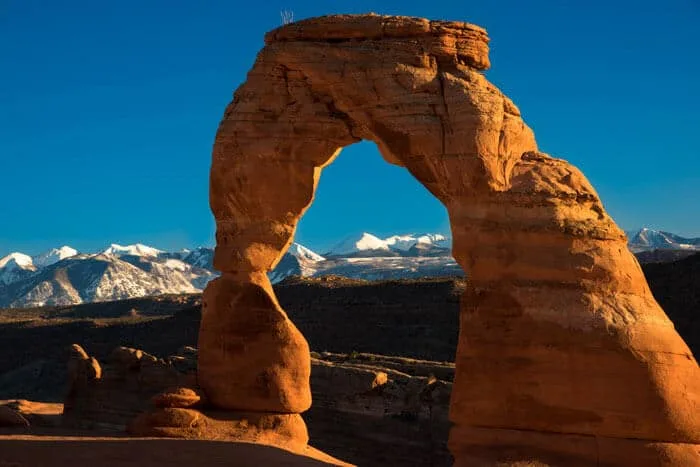 Delicate Arch is always a must-see for most visitors since it is one of the most famous features in the world. This is one of the few landmarks you cannot see from the main road. There are a few ways to see this arch. The Lower Delicate Arch Viewpoint is a 100-yard level path to where you can see the arch from one mile away. The Upper Viewpoint requires walking one half mile and climbing some rock stairs.
The trail to see the arch up close is one of the most popular hikes in Arches National Park with a 3 mile round trip which climbs 480 feet in elevation. Before hiking the Delicate Arch trail, consider the difficulty, the weather and your own fitness level – but it is worth it to see the most famous arch in Arches National Park!
Since Delicate Arch is a popular destination for tourists and photographers, be prepared for hundreds of people and photographers lined up for photos under the arch, or along the bowl waiting to capture photos at sunset.
RELATED: 18 Photos That Will Inspire You To Visit Northern Utah
.
Fiery Furnace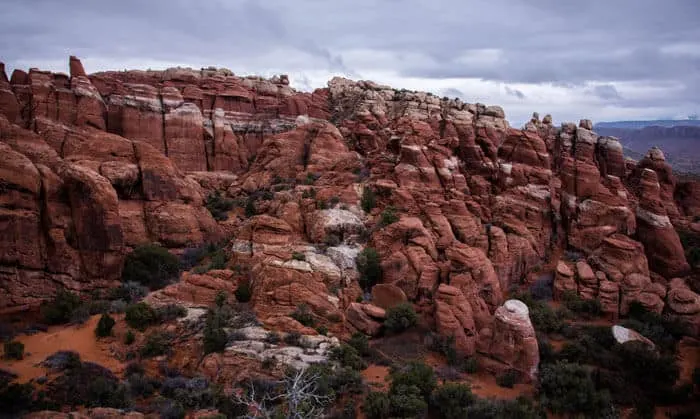 Explore the narrow canyons and maze-like fins in the Fiery Furnace with a 3-hour, ranger-led hike. Advance reservations are necessary. The tour requires climbing over boulders, walking through sand, and navigating trails between rocks and along narrow ledges. If that sounds too adventurous, take the short walk to the viewpoint to see the fins and spires. Fiery Furnace and its iconic red rock fins and is definitely a sight not to be missed in Arches National Park.
Ready for More?
Check out our Complete
List of US National Parks
which includes pics, maps, highlights, history, and even a
free
printable checklist! OR if you're focusing on the West Coast this year, we also have a complete guide to the
West Coast National Parks
which also includes a free printable checklist!
Landscape Arch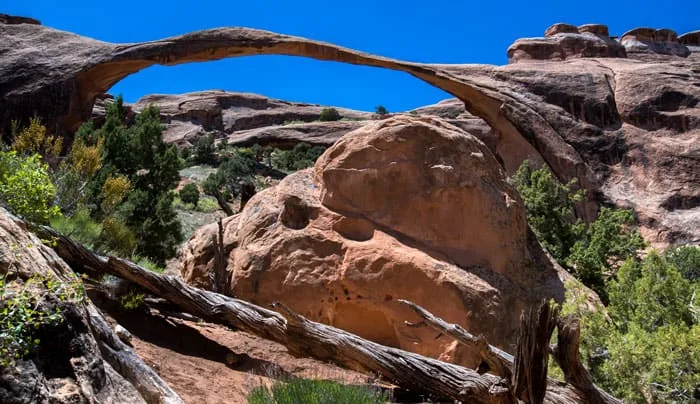 A short 2 mile round trip hike in Arches NP is along the Devils Garden Trail which takes you to Landscape Arch. It is longer than a football field. The thinnest part of the arch is 8 feet thick. Pieces of rock have been falling from the underside which means it may just be a matter of time before this enormous arch collapses.
RELATED: Ready for more National Park Posts? Check out guides to Yellowstone, Yosemite, Zion & Bryce Canyon National Park! Parks
.
Devils Garden Trail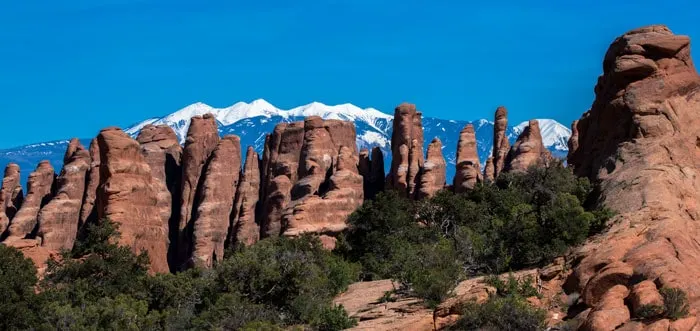 The Devils Garden Loop Trail is 7.2 miles round trip and travels through the largest concentration of significant arches in the world. Most tourists will walk the first 1 mile and take the short spur trails to see Tunnel Arch and Pine Tree Arch before coming to Landscape Arch. After this point the trail includes climbing up narrow slickrock fins with steep drop-offs to see Navajo Arch, Partition Arch, Double O Arch and to take the Broken Arch loop.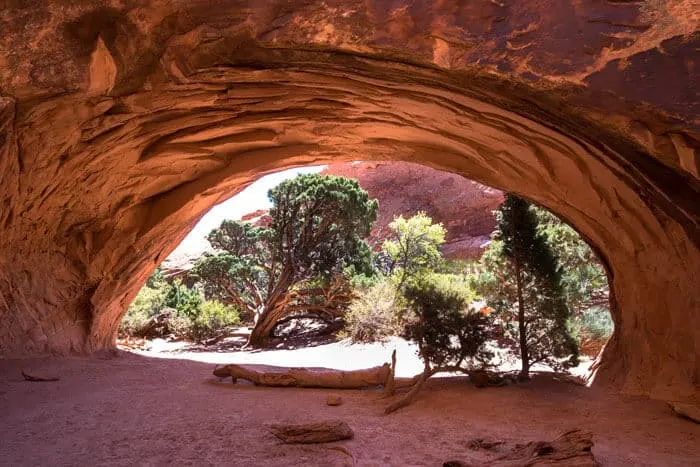 .
The Windows Area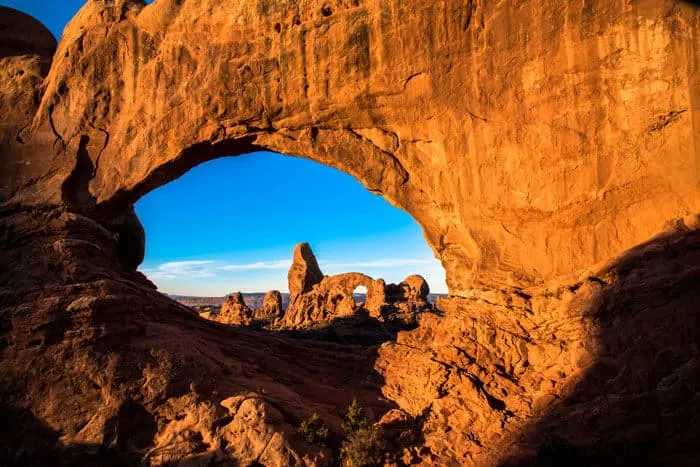 The Windows section is easily accessible and very popular due to the easy trails around each landmark: The North and South Window, Turret Arch and Double Arch.
*Insider tip* Arrive early if you want photos of the arches without people as these are some of the most popular trails in the park!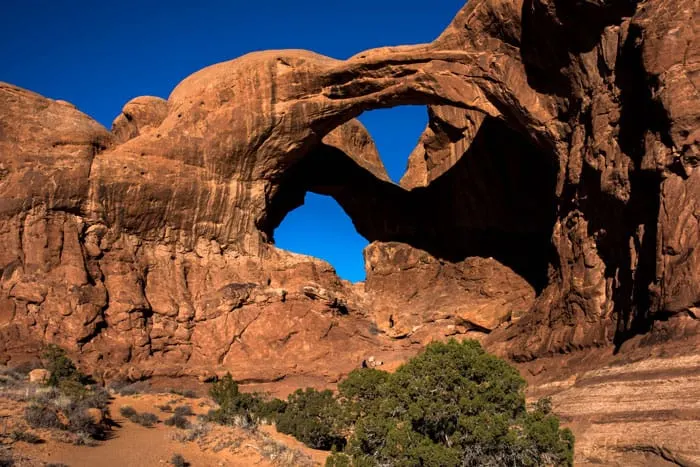 .
Sand Dune Arch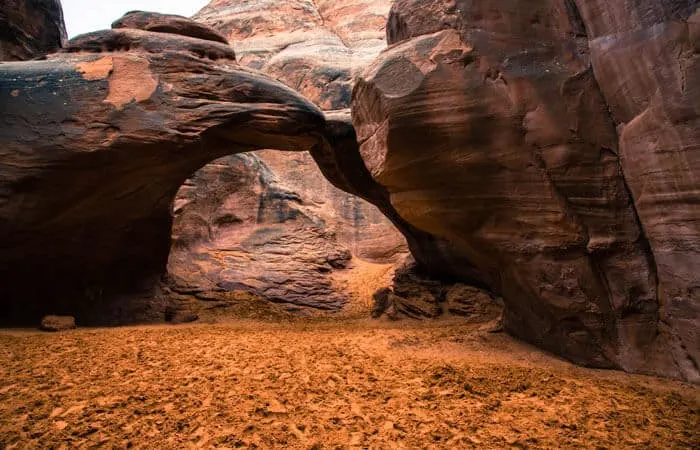 The easy hike between large fins takes you to Sand Dune Arch. At certain times of the day, this is one place in the park that provides shade and cool sand. There are many areas to explore, play and hide, but remember climbing on top of arches is against park policy.
.
Stargazing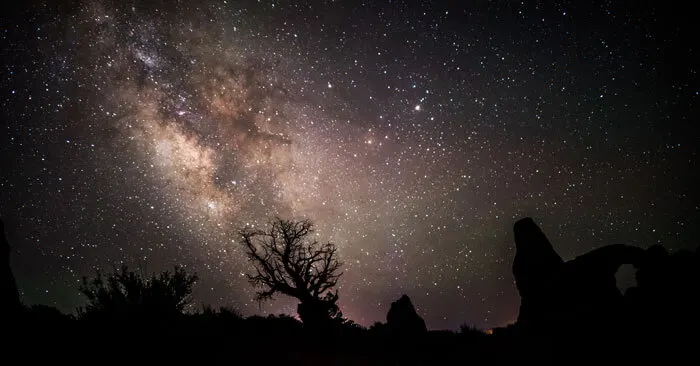 Arches National Park is considered a Dark Sky Park. Be sure to stay in the park after dark and see a sky brimming with stars!
.
When To Visit Arches National Park
Winter is the best season to visit the National Park since visitors flood the park from spring through fall. If you must visit Arches during the summer, please practice patience and courtesy as lines into the park will be long and parking lots and trails will be crowded with people.
Arches National Park is an arid high desert landscape where the nights are cool and the days are warm to hot. The area features extreme elevation gains and temperature changes, sometimes over 40 degrees in a single day. The summer temperatures can average 105 degrees!
Be prepared for the desert and elevation by staying hydrated, wearing layers and protecting yourself from the sun with hats or sunscreen.
.
Where To Stay for Arches National Park
Although Arches National Park has no restaurants or lodges within the grounds, the Devils Garden Campground has 50 sites which are available on a first come first served basis between November and February, and sites can be booked March through October. There are also two group camp sites that can accommodate between 11-55 people.
If you're looking for campgrounds in the surrounding area – DiscoverMoab have a great list, however they note that all campsites DO NOT accept reservations. If you want to guarantee yourself a site – get there early!
If you're not much of camper, there are also lots of hotels and cabins in the Moab area (the town near Arches National Park – here are our top picks for each of our standard price brackets:
Luxury Stay ($300+ per night): Homewood Suites by Hilton
Located in the center of town and within walking distance of restaurants and shops, the rooms here are practically new as this Moab hotel

s

is only a few years old.
Like More Info? Click to Read The latest reviews
Mid-Range Stay ($200+ per night): Red Cliffs Lodge
4* Accommodation in Moab – each cabin is air conditioned and offers a mini fridge and tea and coffee making facilities.
Want to know more? Click to Read Trip Advisor Reviews
Budget Stay ($100+ per night) Inca Inn
Inca Inn Motel Moab has 24 modern rooms that are accompanied by a variety of essential facilities – including a refrigerator – to ensure guests have a comfortable stay.
Like to know more? Click to Read the latest reviews
That's a wrap folks! I hope you enjoyed our Arches National Park Hikes & Travel Guide article and you're all set for your next Arches hiking adventure.
Oh, and if you liked this post, please pin and share – I'd really appreciate it! Click the P in the share bar for full size images!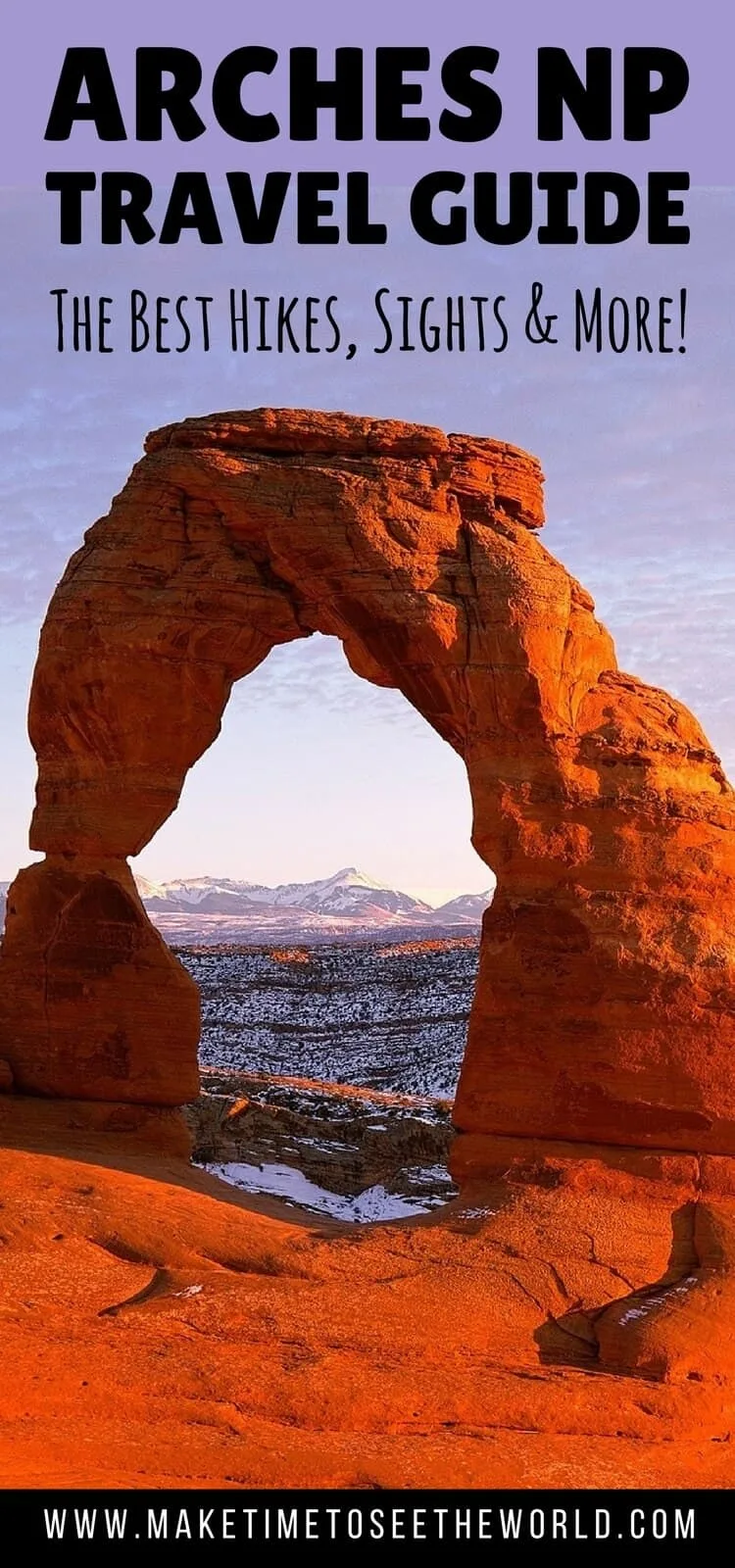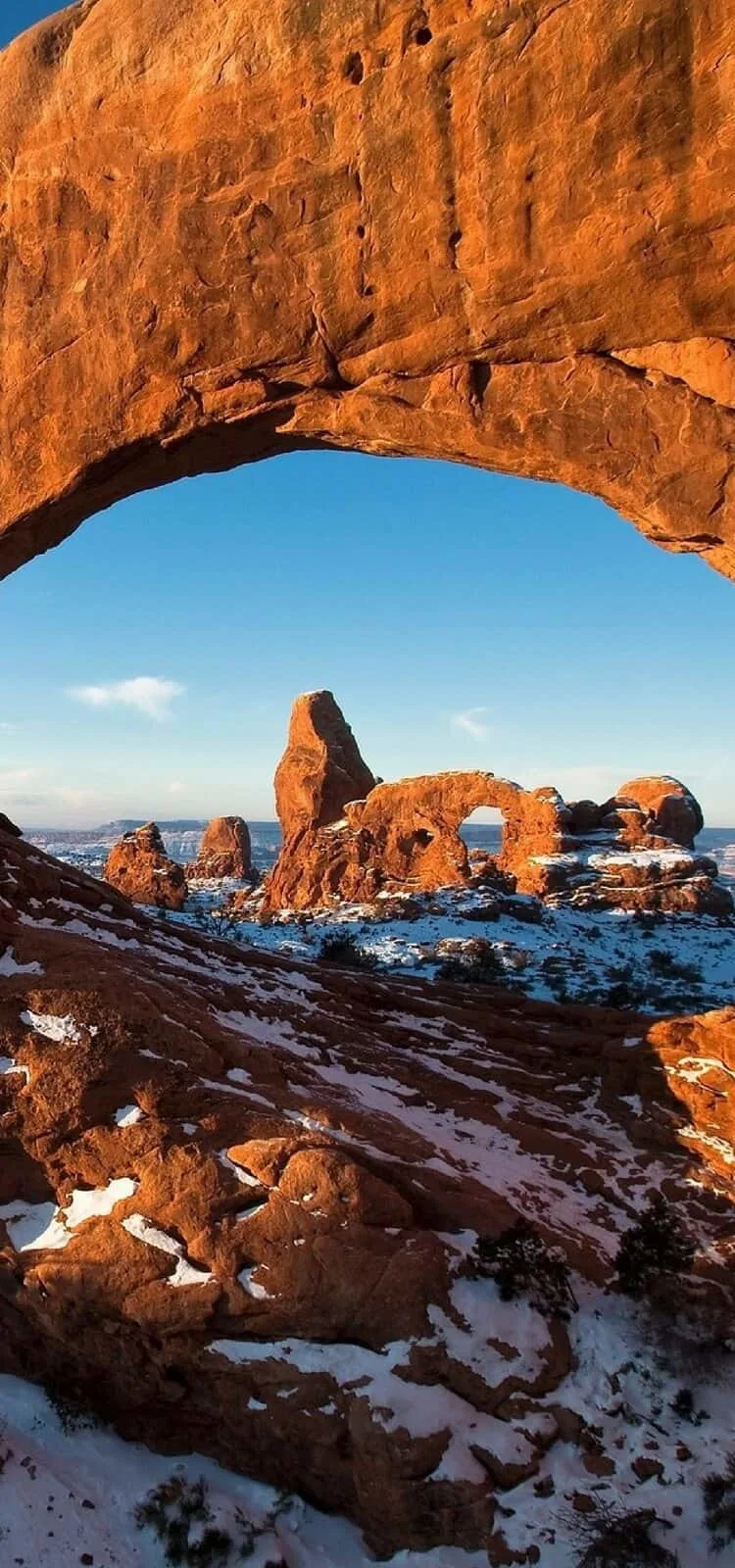 READY MORE TRAVEL INSPIRATION FROM NORTH AMERICA? YOU MIGHT BE INTERESTED IN THESE TRAVEL TIPS, TRAVEL ARTICLES, DESTINATION GUIDES AND RELATED POSTS:

Hi There! Thanks for reading our travel guide to Arches National Park Hikes & Travel Guide article. I just wanted to let you know that this post contains affiliate links, which means if you purchase something after clicking a link, I may get a small commission – which is at absolutely no cost to you. If you enjoyed this article and are going to be searching for some of the things I mention anyway, I would love it if you could click through from the links above & thank you in advance! Read my full Disclosure here.
And a huge Thank You for reading the MakeTimeToSeeTheWorld travel blog.