Can Tho (Vietnamese: Cần Thơ) is the biggest city of the Mekong Delta and is famous for its floating markets, Buddhist pagodas, delicious food, fresh fruits and the natural beauty of the Mekong delta. Only 170km from the bustling and chaotic commercial center of Saigon, a visit to Can Tho will certainly give you that feeling of an off the beaten path adventure in Vietnam.
Read on to find out how to organize your own Mekong Delta Tour featuring information about how to get from Ho Chi Minh to Can Tho plus where you should stay and the Top Things to do in Can Tho when you get there!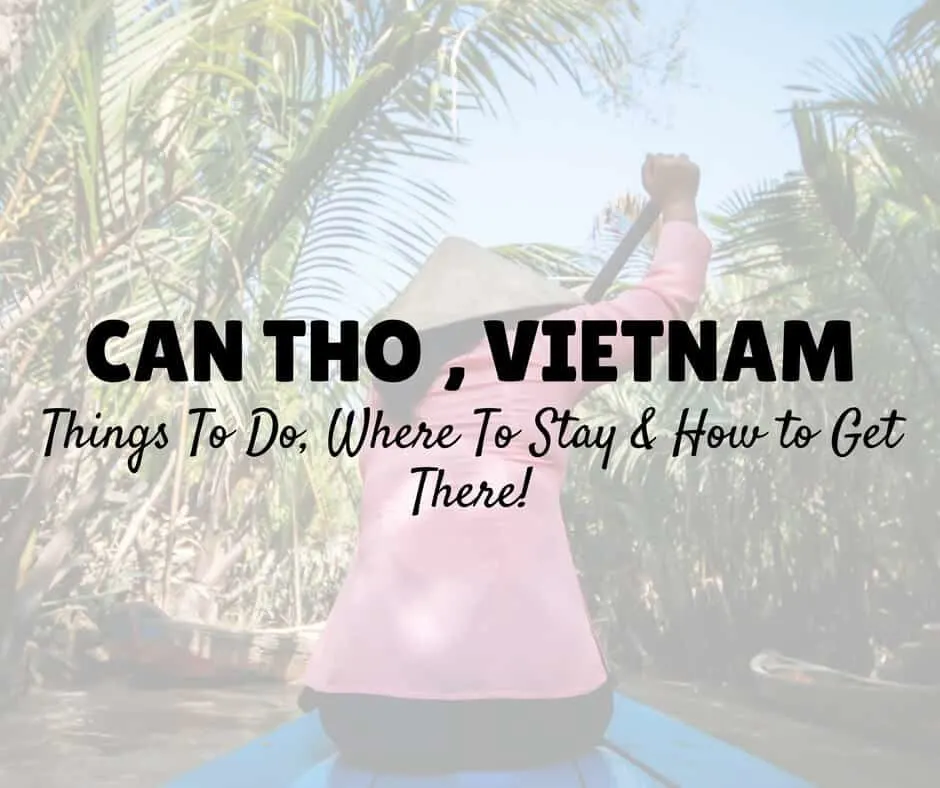 DIY Mekong Delta Tour from Ho Chi Minh to can Tho
– and the top things to do when you get there!
A Guest Post by Melissa from Thrifty Family Travels
A fantastic area to explore the exotic Mekong Delta is from the Vietnamese city of Can Tho. Whilst the city of Can Tho itself is a busy, modern metropolis, a few kilometres out of town you will find the local village life of the Mekong Delta.
Whilst you could easily spend a week slowly exploring the waterways and narrow laneways of the Mekong Delta, you can still see the main attractions in 48 hours.
The best way to experience the area is by staying out of the city and stay at a local homestay right on the Mekong Delta itself.
.
How To Get from Ho Chi Minh City to Can Tho
As Can Tho is a regional hub, there are plenty of buses available to get you from Ho Chi Minh City to Can Tho.
They depart every 1-2 hours from the Western Bus Station (Bến Xe Miền Tây) in Ho Chi Minh City with prices between US$7-13. Often your ticket price includes a bottle of water, sometimes a snack – and on the bigger buses – air-con!
There are three main operators servicing routes from Ho Chi Minh City to Can Tho – "Thanh Buoi", "Phuong Trang" and "Mailinh"
Thanh Buoi provides the fastest service from Ho Chi Minh to Can Tho as the bus only stops for 10 minutes on the way, with the ride taking around 3 hours.
Your ticket price also includes a shuttle bus to take you to your hotel in Central Can Tho on arrival – so make sure you have the address ready!
Alternatively, Phuong Trang (also known as FUTA Bus Lines) has the largest number of services to Can Tho daily, although this journey takes closer to 4 hours due to a 30-minute rest-stop. The cost of this ticket also includes a shuttle bus to your accommodation in Central Can Tho on arrival.
If you would prefer a little more privacy, a private taxi (for 2-3 people plus bags) will set you back between $100-150 one way (depending on how good a negotiator you are!).
And if you're feeling particularly flush, you can hire a private speedboat or jump on a plane! These latter two options are pretty expensive – and not all that good for the environment.
Our advice – do as the locals do and take the bus! (Although the airport does provide opportunities to fly to Danang and Hanoi, if you are planning to explore Vietnam further).
Have a fully immersive experience on your Mekong Delta Tours and stay at The Nguyen Shack.
It provides accommodation in private rustic bungalows with balconies overlooking the Ong Tim River complete with hammocks for the ultimate relaxation.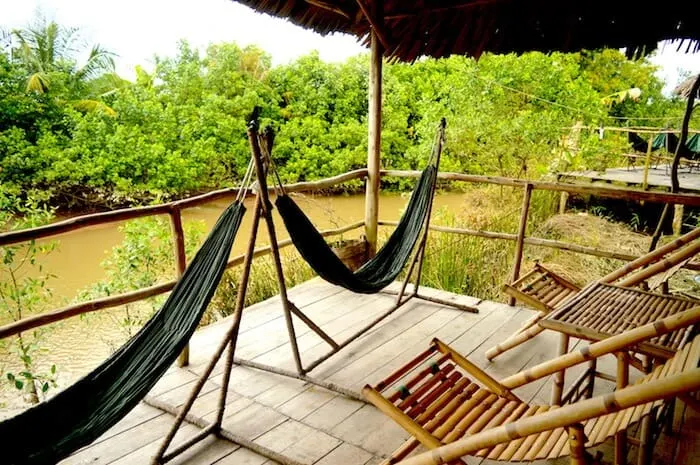 Whilst the rooms appear basic they are full of all the modern necessities like wi-fi, fridge, and fans. Drinking water and variety snacks are provided free of charge
Bungalows start at $49 US per night for 2 adults and 1 child under the age of 10 years. The price includes a delicious breakfast served in the dining area.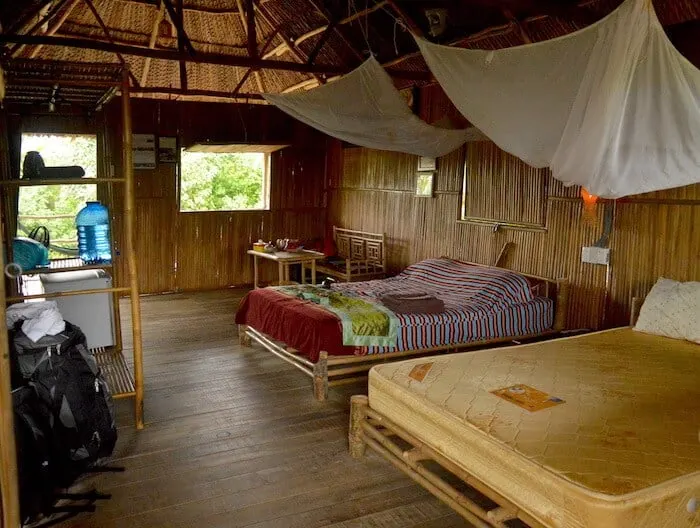 There are not any local places to eat, so you will need to have all your meals at the Nguyen Shack or take a taxi into town. The Nguyen Shack does provide delicious and cheap meals.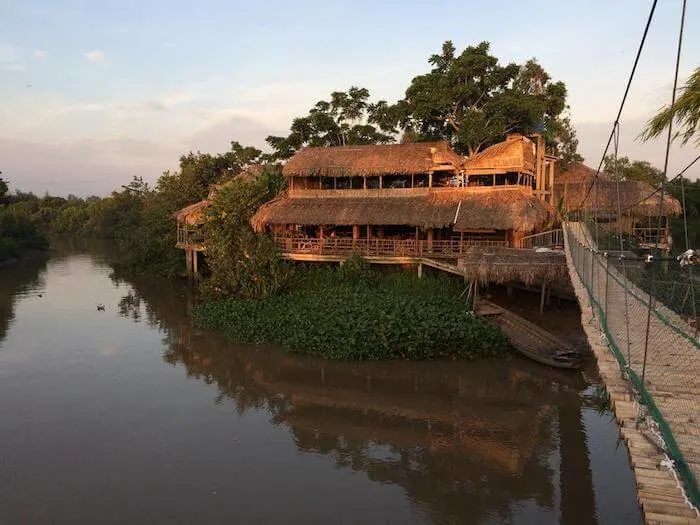 Book Now to get the Best Rates | Compare Prices for Later | Read Trip Advisor Reviews
.
Activities around the Nguyen Shack
It is recommended that you allow some time to chill out and relax on your private bungalow deck. Grab some drinks, sit back and take in the natural beauty of the Mekong Delta.
If you need something more to do, the Nguyen Shack also does offer cooking classes each day from 1-3 pm for the cost of $12 US per person and can also arrange massages in your bungalow.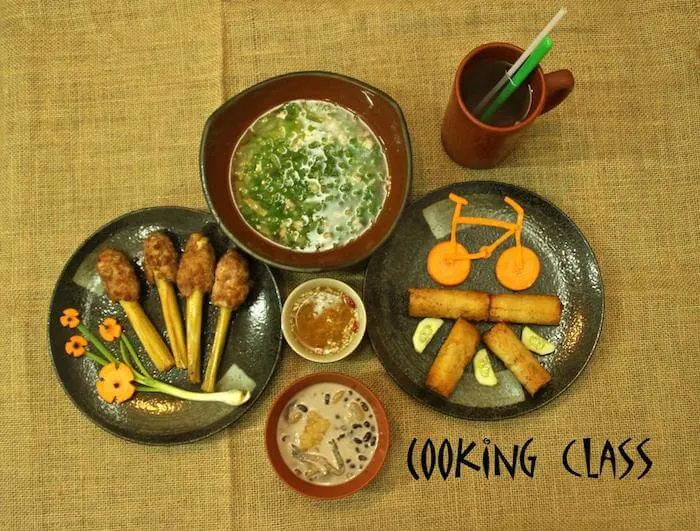 Top Things To Do In Can Tho – Mekong Delta Tour
Can Tho Food Tour
The great thing about staying on the waterways of the Mekong Delta is that the ideal mode of transport to get anywhere is by boat.
So this tour starts with a 90-minute boat ride through the villages along the Mekong Delta. This is a fantastic introduction to the area.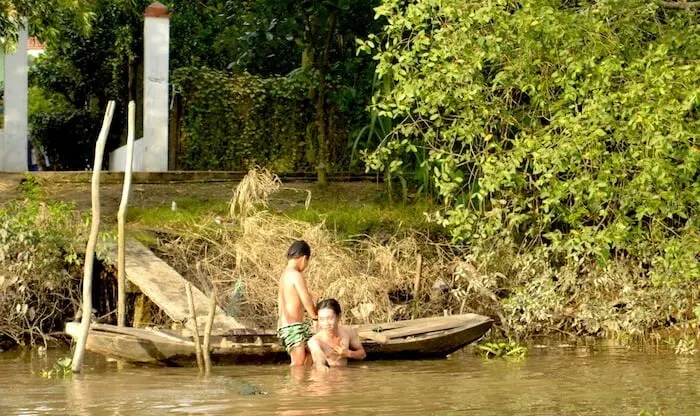 You will see the various shanty type houses built over the water which appears to be falling apart, women cleaning clothes and preparing vegetables on the water edges, men repairing their homes and kids and dogs swimming.
You will pass various boats stacked high with produce from the local farms, as well as people returning home from work or school for the day.
It is certainly an experience getting a glimpse into these people's private lives.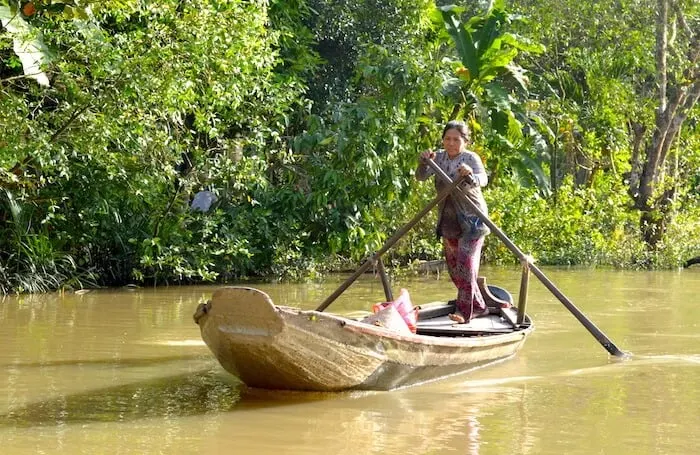 Once you arrive in the city of Can Tho itself you will be shocked at the complete contrast of this modern city compared to the basic village life on the waterways.
The food tour includes various stops around Can Tho at modern restaurants and street stalls. You will get the opportunity to try local cuisines like snake, crocodile, rat, and frog, as well as food like beef stew and pork roll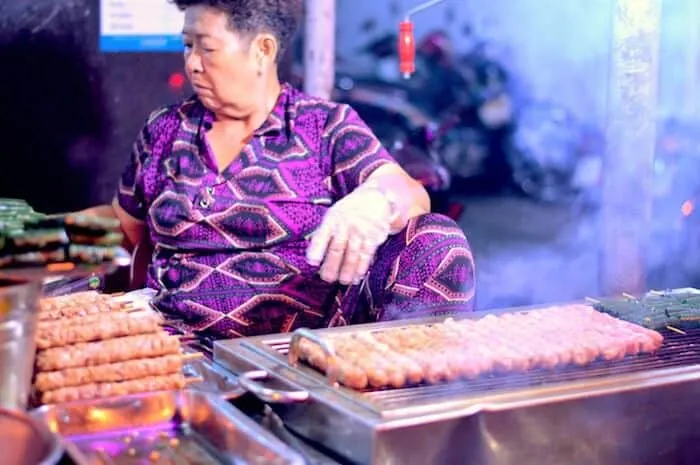 Food tours run daily from 4.30 pm to 9.30 pm and cost $20 US per person.
.
Floating & Land Markets
Most people come to the area of Can Tho to visit the famous Cai Rang floating markets, the biggest floating markets in the Mekong Delta.
Guests of the Nguyen Shack can join a tour that takes you not only to the Cai Rang floating markets but also to the perhaps more interesting Cai Rang land markets.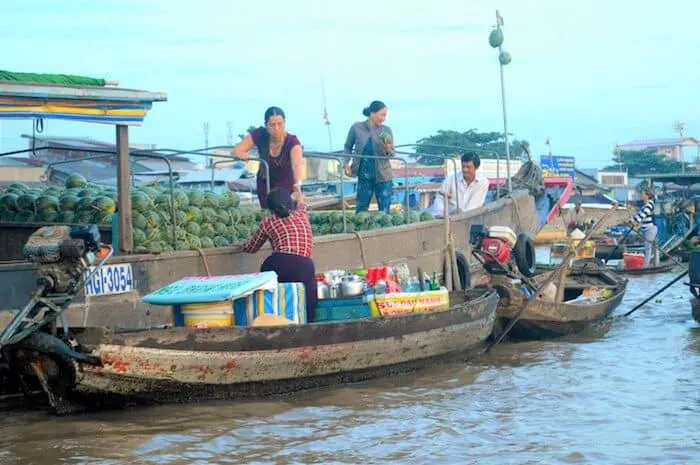 This tour commences before sunrise and guests are transported by boat to the floating markets. The ride to the markets takes around 40 minutes and during that time you get the opportunity to witness the sunrise over the Mekong Delta.
Once you arrive at the floating markets you will see large boats piled high with fruits and vegetables and smaller boats pulled alongside them whilst men and women manually put their purchases into their boats.
You will be amazed at the ladies operating the small boats whizzing by selling coffee and baguettes to locals and tourists. There are even ladies cooking pho right there on their tiny boats, like little mobile cafes.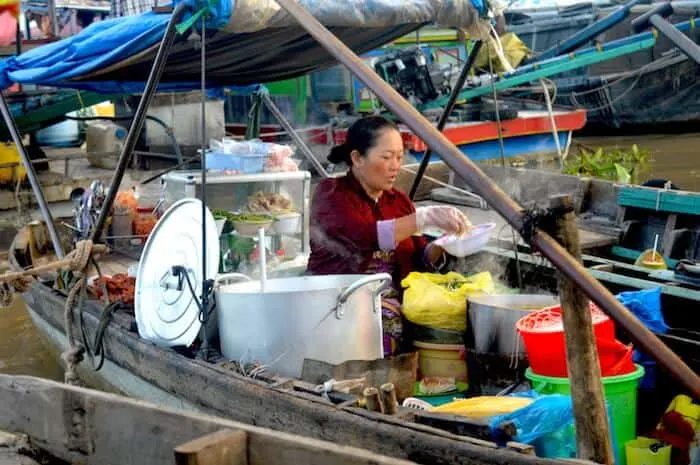 After visiting the floating markets guests are transported to the Cai Rang land markets.
These markets are an eye-opener for westerners and you are likely to see some crazy things like skinned and headless frogs in a large shallow bowl which were actually still jumping!!!
Of course, the markets sell all the usual things you would expect from an Asian market like eggs, fruit, vegetables, clothes, homeware, fish and crabs. Seriously every food imaginable was sold at this market.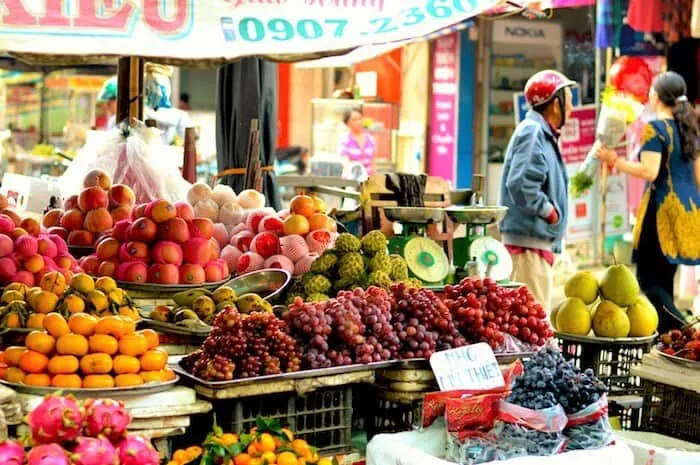 You will have the opportunity to try some local foods like sticky rice cake and Vietnamese donuts.
Tours run daily from 5.30 am to 8 am and cost $10 US per person.
.
Bike Village Tour
Its highly recommended that as well as exploring the Mekong Delta's waterways that you also explore its local laneways. The Nguyen Shack take its guests through the local villages by bicycle.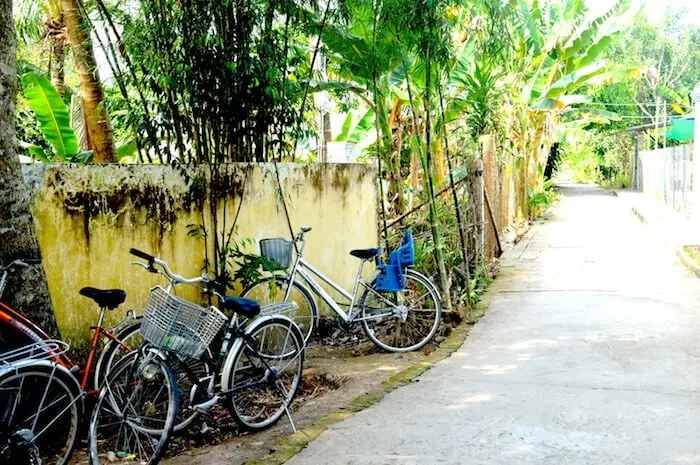 It's a beautiful tour as you pedal through a canopy of large lush trees, with the Mekong Delta waterways on one side and small village houses on the other.
You will be continually greeted by local people calling out "xin chao" (hello in Vietnamese) and local kids putting out their hands for hi 5s.
Along the way, you will make stops and learn about local life at places like the pottery factory, rice wine factory, pagoda, rice distribution centre, Chinese doctor, local primary school and blacksmith.
A favourite by many Nguyen Shack guests is the visit to the pagoda. The pagoda is run by female monks and other local volunteers and is also the home of 6 orphans.
Unfortunately, in Vietnam, it is not socially acceptable that unmarried women have children and so this pressure from society makes young women abandon their babies because of the shame it brings on them and their families. The Nguyen Shack helps these orphans by paying for their school fees and food.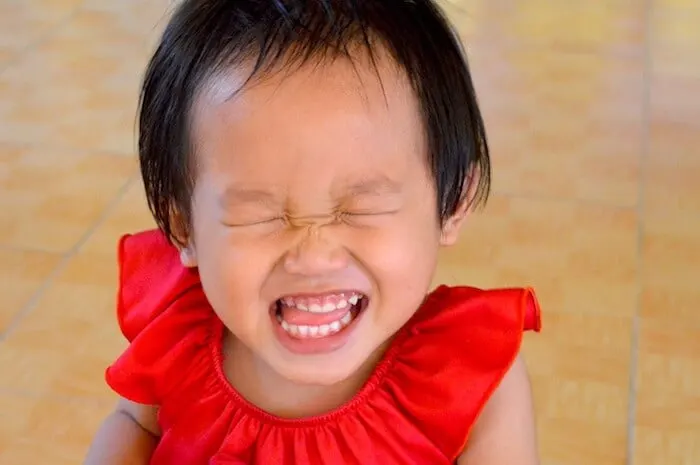 Bicycle tours run daily from 9 am and return around 12 pm. The cost is $8 US per person.
RELATED: Want to know about more hotels that use their profits to help the local community – have a read about Socially Responsible Hotels Across the World.
.
Where to Stay in Can Tho – Mekong Delta Tour
If staying a little bit out of the action isn't something that you think you would like on your Mekong Delta Tours, we have provided our top three recommendations which are more central to Can Tho center, one each in each of our usual accommodation categories: Luxury, Mid-Range and Budget.

Vietnamese Luxury at its best, this resort has beautiful rooms, beautiful grounds, amazing food and massage facilities.
Like more info? Click to Read Trip Advisor Reviews

Anh Dao Mekong Hotel offers 3-star accommodation in Can Tho. The various facilities this modern hotel has to offer include a rooftop terrace, dining options and a an on-site bar.
Like more info? Click to Read Trip Advisor Reviews

Basic and functional, the Spring Hotel is a great budget options in Can Tho where room service and a coffee bar are standard!
Like more info? Click to Read Trip Advisor Reviews
.
So there you have it! We hope we have shown you that a Do-It-Yourself Mekong Delta Tour is entirely possible – and that Can Tho is the perfect spot to get off the beaten path in Vietnam. And with our recommendations of Where to Stay and The Top Things To Do in Can Tho – we're sure you're going to have a great time!
And if you liked this article, don't forget to pin and share – *insider tip* – click the share bar to the right for full-size Pinterest images!
Hi There! Thanks for reading our DIY Mekong Delta Tour from Ho Chi Minh: 48 Hours in Can Tho Guide. I just wanted to let you know that this post contains affiliate links, which help support this site at absolutely no cost to you. If you enjoyed this article and are going to be searching for some of the things I mention anyway, I would love it if you could click through from the links above. These links help me keep this site online and updated – so thank you in advance! Read my full Disclosure here.