Handy travel guide to Yosemite including essential info, where to stay, best time to visit & Top 15 Things to do in Yosemite National Park!
Yosemite is one of the US's most stunning National Parks and is packed with famous landmarks, historical sites, epic hikes and breathtaking views. And if this is going to be your first visit to the park (or your first visit in a few years) it makes total sense that planing your trip might be a little overwhelming. But that's where we come in.
We've put together a complete guide to Yosemite NP including the best time to visit, where to stay, 15 amazing things to do in Yosemite (plus a couple of extra things to do in Yosemite National Park with kids) and even some extra travel tips for good measure. So scroll down and start planning your trip!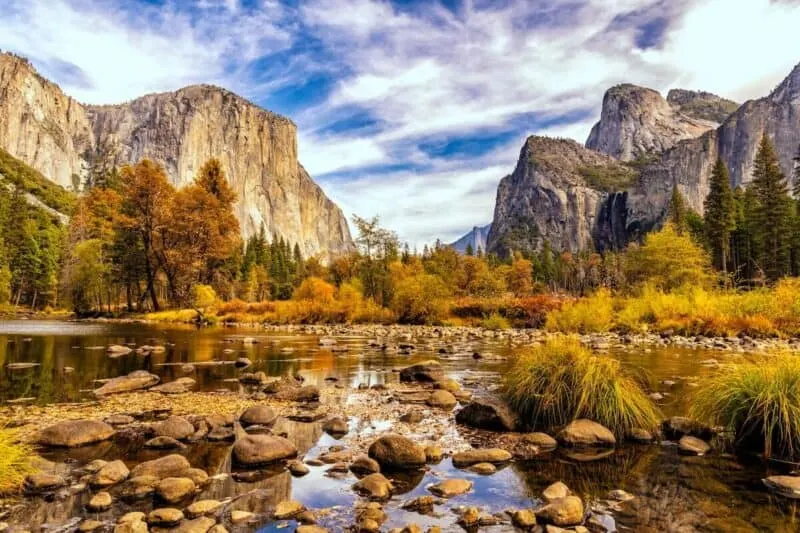 Disclaimer: Almost all posts on this site contain affiliate links, and this one about 15 Amazing Things to do in Yosemite National Park & Handy Yosemite Visitors Guide is no different. This means that if you click on any of the links in this post (and make a purchase) I may receive a small commission at absolutely no cost to you. Each post is carefully crafted to (hopefully!) answer all your questions and recommendations are made where we believe they will improve your trip and help with your planning. As such we thank you in advance should you decide to click & buy. Read my full Disclosure here.
This post was contributed by Geena from Bartender Abroad

Essential Yosemite Visitors Guide: What to Know Before You Go
The Best Time to Visit Yosemite National Park
From Spring to Fall there isn't really a bad time to visit Yosemite. But depending on what you are looking for, one season could be preferred over the other.
Spring in Yosemite is when you'll find lush green grass, fresh blooms and cascading waterfalls roaring with the fresh melt of winter's snow. This is my personal favorite time to visit Yosemite National Park.
Summer is the most popular time to visit the park. Temperatures are high, waterfalls are still flowing, and the snow is long gone opening up even the highest altitude trails to avid hikers. This time of year Yosemite accommodation is hard to come by, the park is at it's busiest, and between 20 May 2022 and 30 September 2022, there is a peak-hours reservation system in place. Check out the FAQs for all the information about obtaining a permit.
TOP TIP: If you're visiting in summer – try these epic day hikes to avoid the crowds!
Fall brings the changing of the leaves. Brilliant colors, temperate weather, and less visitors once the kids head back to school. The biggest downside to visiting in the fall is that the waterfalls will have run dry by this time of year.
Winter is not an ideal month for travel in Yosemite National Park since most roads and hiking trails will be closed. Although there are some activities in Yosemite National Park that are only available in winter such as crosscountry skiing, ice skating at Curry Village or snowshoeing – if those kinds of winter activities float your boat.
Although if you're planning a Christmas vacation, I highly recommend visiting Joshua Tree National Park or Slab City, California instead.
Where to Stay in Yosemite National Park
Yosemite National park has various lodgings both within and surrounding the park. Yosemite Valley Lodge is a majestic yosemite hotel and the most popular accommodation option within the park bounds, closely followed by Rush Creek Lodge & the Wawona Hotel. The best budget-option around in the Yosemite Bug Rustic Mountain Resort located just a 10-minute drive outside the park entrance.
If camping is more your style there are 13 different campgrounds (including North Pines Campground) scattered around Yosemite National Park. Be warned that reservation campsites fill up months if not a year in advance, but 6 campsites have first-come sites available for those who aren't quite as good at planning ahead. Check out the national park website for more detailed info on specific campgrounds and if they look like the perfect place to roast marshmallows by the campfire!
For a happy middle ground, I would consider the canvas "glamping" tents at Curry Village. (Formerly Half-Dome Village)
Lodging in and around Yosemite goes fast. It pays to book accommodation the moment you know your travel dates to avoid having to sleep far outside the park.
Helpful Yosemite National Park Tips
It costs $35 for a 7-day car pass to visit the park (3 day pass during peak season).
Be sure to stock up on food and gas before entering the boundaries of Yosemite. Supplies are limited and snacks are super overpriced inside.
The best food stop inside Yosemite is The Village Grill Deck. But the restaurant at Yosemite Bug Rustic Mountain Resort is vegetarian friendly, has cheap draft brews, and also offers packed lunches for those long trek days.
Always hike with a map. The trails in Yosemite converge constantly. It can be easy to get lost and some routes are 26+ miles long.
Between 300 – 500 black bears are residents of Yosemite. If you see one, don't approach, try and scare them away with loud noises and report all incidents to the park rangers.
15 Incredible Experiences & Things to do in Yosemite National Park
Visit Glacier Point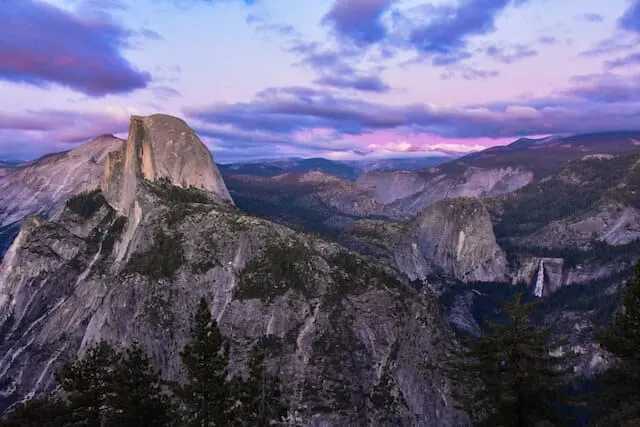 Staring across the rocky chasm directly at the recognizable face of half-dome Yosemite. It's smooth carved granite face carved by millions of years of shifting glaciers. This viewpoint is one of those sights you'll remember forever. Several walking paths guide you along the edge of the precipice so you can stare down at the valley far below.
A discerning eye will be able to see the hikers, small as ants perched atop the curve of the dome. If you can time your visit for sunset you'll be rewarded with a watercolor display of pinks and lavender – the perfect way to end the day after exploring Yosemite.
Take in the Iconic Landscape at Tunnel View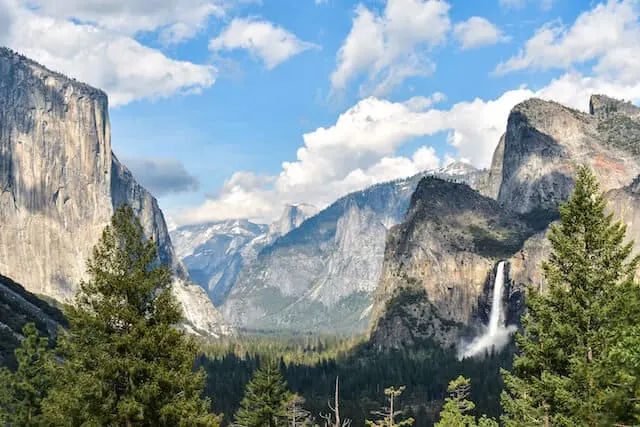 As of the most easily accessible sights within Yosemite National Park it's also one of the most worthy of your time. Tunnel View sits directly off the main drive high up in the rim of the valley facing Bridal Viel Falls and the commanding face of El Capitan. Two very dramatic geologic features that together create one of the most iconic landscapes of Yosemite National Park.
Embark on the Famous Half Dome Trek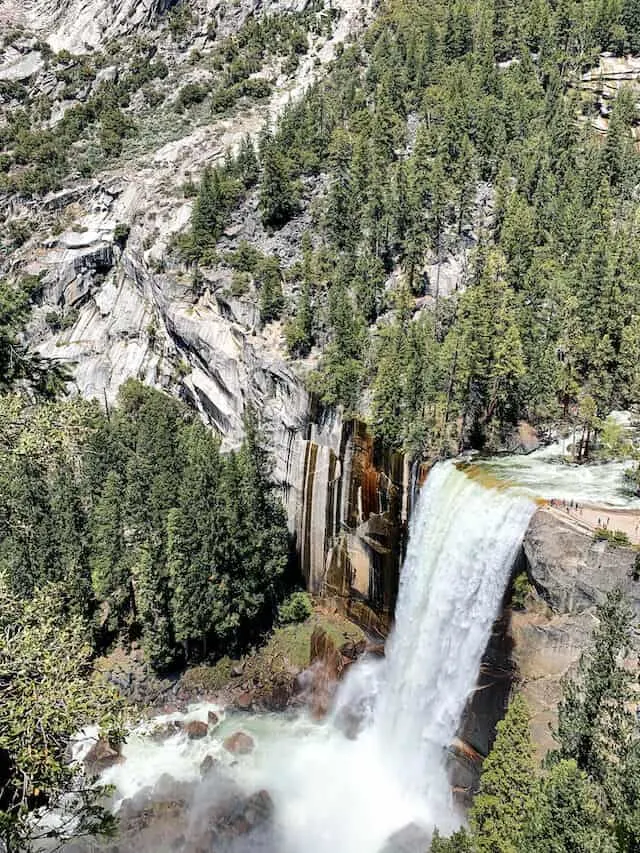 Summiting Half Dome is one of the most difficult endeavors the average hiker can embark on within Yosemite. The looping route takes you across 17 miles of trail and 4,800 feet of elevation gain. For most, the entire loop will take you between 10-14 hours.
It's a strenuous path along the John Muir Trail past Vernal falls that concludes with the best views in Yosemite National Park. You'll sit atop the valley like the king of the world. To fully summit the peak, however, you'll need to apply for the daily lottery and receive a permit to climb the cables to the top. The climbers are limited at 300 per day.
Marvel at El Capitan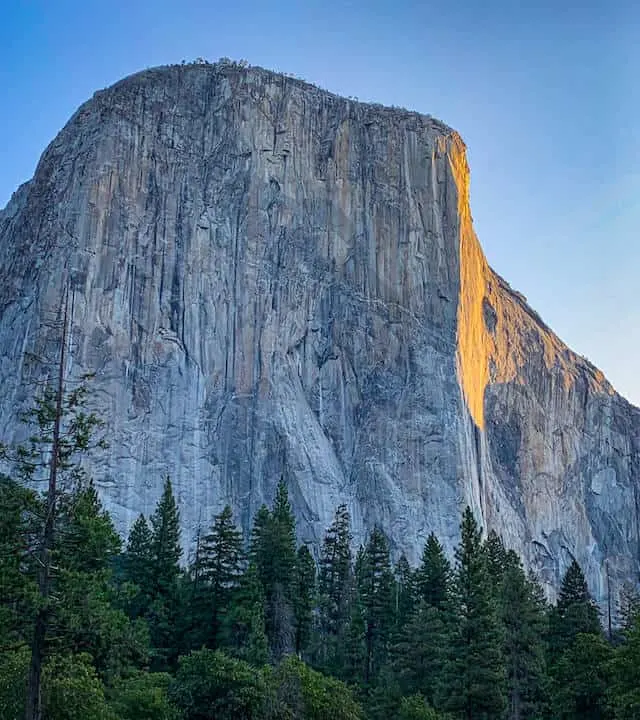 This sheer 3,000-foot slab of granite was recently made Hollywood famous. Avid mountain climbers have long been attempting to scale the face of El Capitan but free soloist Alex Honnold's successful summit blasted the monolith to a whole new level of fame. It's known as one of the most technically challenging climbs in the world and standing at its base watching the brave souls clinging to its ledges is truly captivating.
If you visit during the evening or early morning, you'll likely be joined by some wildlife in the meadow nearby and have a chance to see the flickering lights of those camping while clinging to the side of the cliff.
VISITING CALIFORNIA? EXPLORE MORE OF THE GOLDEN STATE WITH OUR GUIDES:
–
48 Hours in LA
: Things to do, Where to Stay & What to Eat (Plus
LA Travel Tips
)
– Local's Guide to a perfect
3 Day San Francisco Itinerary
+
Free Things to do
+
San Francisco Travel Tips
to Know Before You Go
– First Time in California? Be sure to check out
Auburn
,
Monterey, Sacramento, Santa Barbara, San Diego
&
Anaheim
Visit the Yosemite Museum
Did you know that the Yosemite Museum was the first building constructed (in 1925) as a museum in the whole US national park system, and its educational initiatives served as a model for parks nationwide? Well now you do!
It is a great historical site with displays that interpret the cultural history of Yosemite's native Miwok and Paiute people from 1850 to the present alongside demonstrations of stone tool making, basket-weaving, beadwork, and traditional games.
Hike the Mist Trail to Vernal & Nevada Falls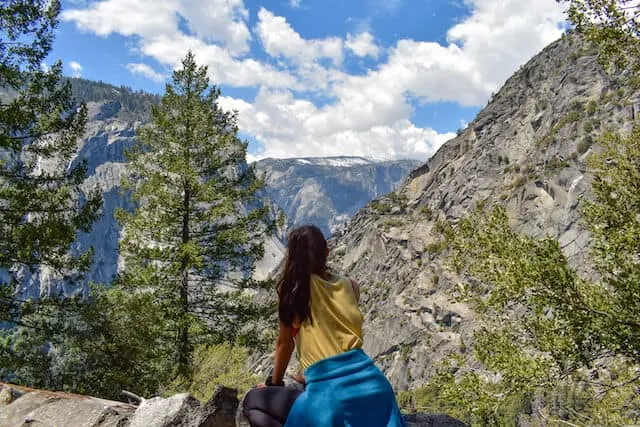 One of the popular hikes in Yosemite national park – that's also family-friendly. The mist trail is a 7-mile round-trip hike through the cooling sprays of Vernal and Nevada falls. Passing over scenic rivers and winding around the rim of the valley you'll be graced with stunning green views and glimpses of Yosemite's commanding white rock faces. This is my favorite hike in the park. Don't forget to bring a poncho because you will get wet.
Hetch Hetchy Valley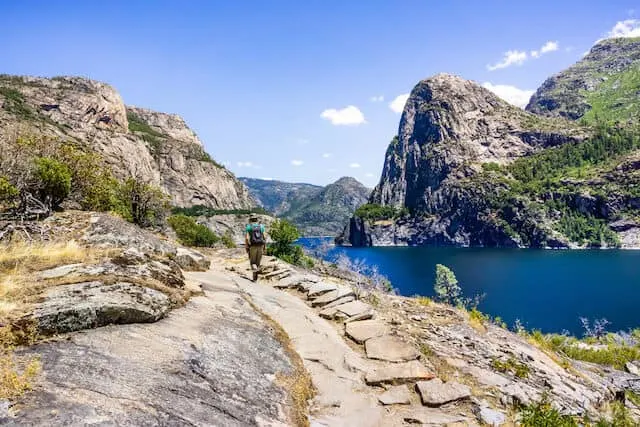 If you really want to get off the beaten path in Yosemite NP, head to the Park's peaceful northwest corner and discover the magnificent Hetch Hetchy Valley. A former glacier-carved valley surrounded by towering cliffs and waterfalls, the valley floor was flooded in 1923 when President Woodrow Wilson permitted San Francisco to build the only dam in a National Park, changing California's rugged Sierra Nevada landscape forever (and is still a source of controversy today).
There's no RV's, or coach load of tourists – you'll even have to get here via another entrance to the Park – and that is why a lot of people call Hetch Hetchy Yosemite's twin.
Watch the Sunset at Taft Point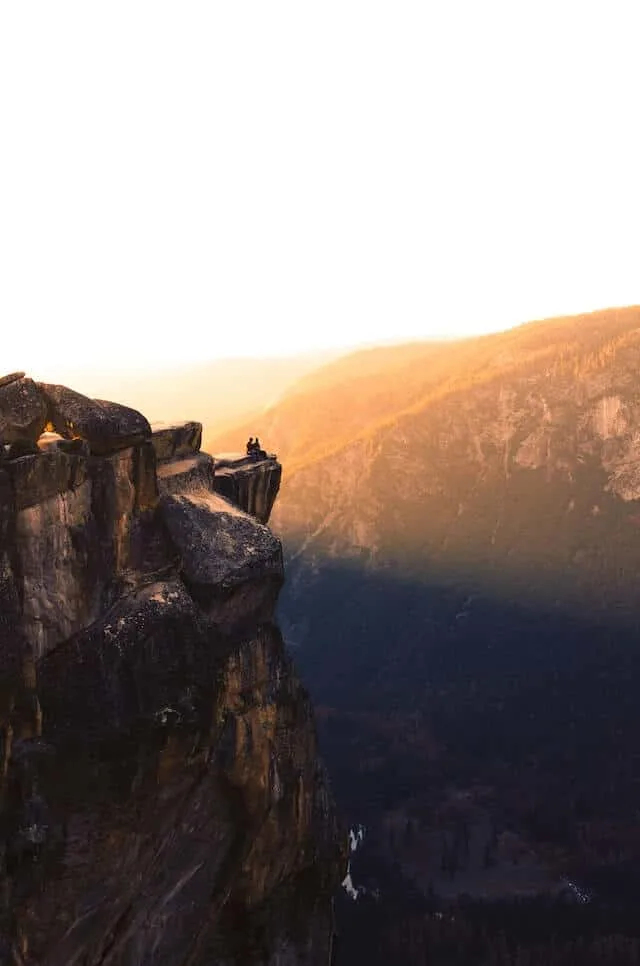 There are several stunning sunset spots in Yosemite National Park. But this is bound to be your favorite. Just a short 2-mile walk from the parking lot Taft Point sits across the valley from El Capitan – the major landmark in Yosemite – so you can watch the sky change and the sun dance across the flat face of the wall.
The Taft Point Hike is one of the most rewarding hikes in Yosemite Park.
Bridalveil Fall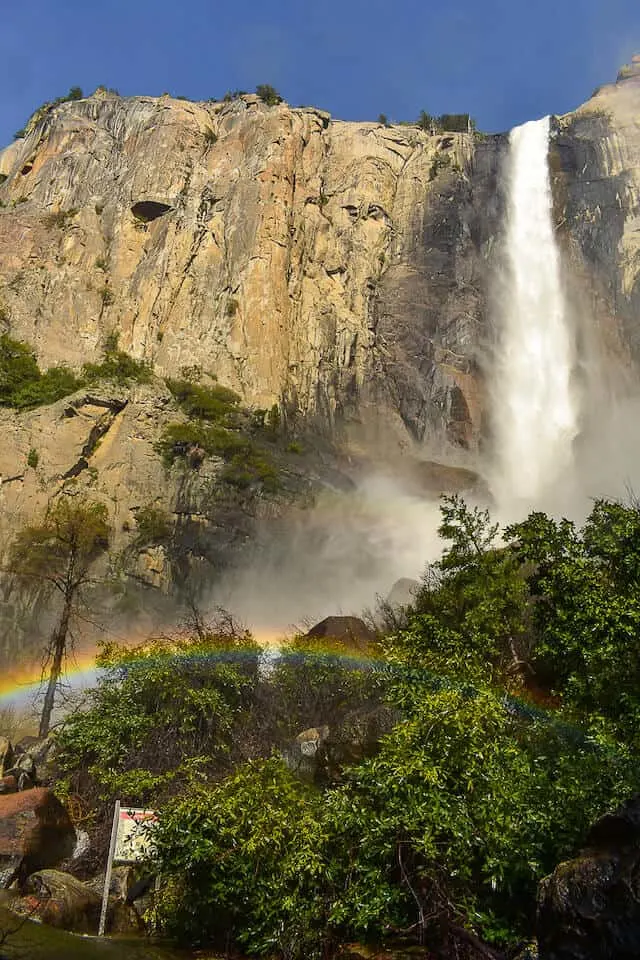 It's famous for the mist that wafts off it when the breezes blow and which, according to the poetic folk who get to name waterfalls, resembles a bridal veil. Standing at the base of the falls during peak runoff can be akin to taking a shower in a tornado – so make sure you have a poncho or a packable rain jacket in your backpack to avoid getting soaked!
See the Mariposa Grove of Giant Sequoias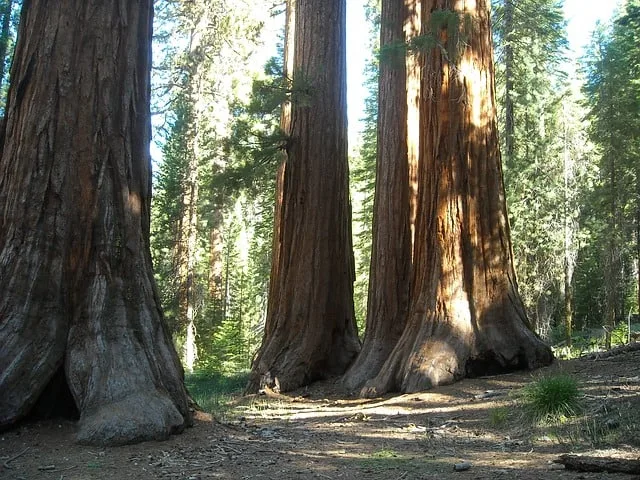 Located in the southern portion of Yosemite, the Mariposa Grove of Giant Sequoias is the largest sequoia grove in Yosemite and is home to over 500 mature giant sequoias. Their size means it is a great activity to do with kids in Yosemite – their faces as they look up in wonder is something you'll never forget.
A free shuttle service is provided service to allow visitors to get here and runs on a round trip from the Mariposa Grove Welcome Plaza (near South Entrance) to the Mariposa Grove. This is the only way to reach the Giant Sequoias as there is no shuttle service between Wawona and the Mariposa Grove.
Try to arrive at the Welcome Plaza before mid-morning to secure one of the 300 or so parking spaces available, as these fill up quickly throughout the March to November season. Due to unpredictable road conditions between November and March, the shuttle does not run at all.
Hike to Upper Yosemite Falls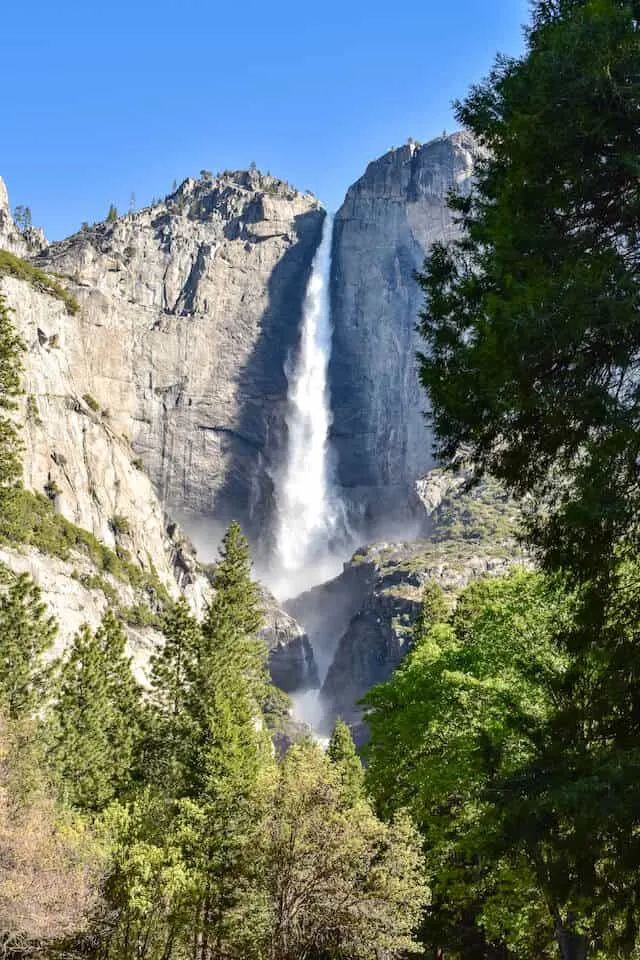 For those looking for a challenge, but not up to the Half Dome hike, Upper Yosemite Falls is the trail for you. It's a modest 7.6-mile round-trip but with 3,000 feet of elevation gain and countless switchbacks, you'll be winded to say the least. It often takes 6-10 hours to complete the loop. The final push of the trail will leave you standing above the valley peering over the edge of the roaring, majestic Yosemite Falls.
Have a Picnic in Front of Lower Yosemite Falls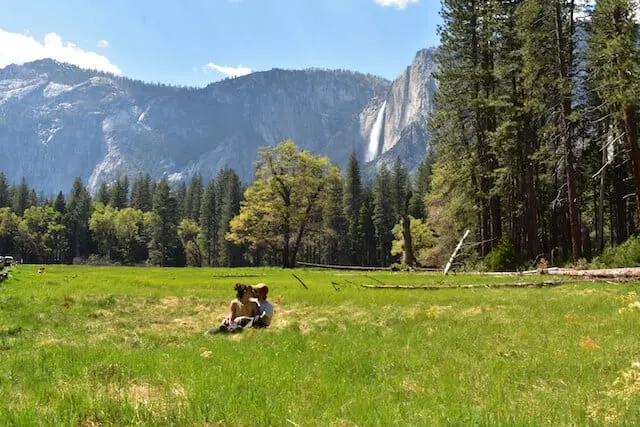 The less adrenaline-pumping activity pertaining to the falls. The picturesque meadows laid out in front of Lower Yosemite falls provide the perfect respite from a day of hiking or rock climbing. And you can't ask for a more breathtaking backdrop for lunch. For a closer look at the lower falls, you can walk the 1-mile loop around the base.
Marvel at the Dramatic Reflections in Mirror Lake
Mirror lake is one of the most underrated attractions in Yosemite National Park. Tucked away from the iconic sights within the valley this peaceful meander through the woods leads to an impossibly placid lake. The surrounding granite peaks casting a remarkable mirage across its surface.
It's a great place for photography enthusiasts to get some practice. The easy hiking trail is also known for wildlife sightings.
RELATED: Photography enthusiasts should definitely Add the Ansel Adams Gallery in Yosemite Village to their list of things to din Yosemite.
Hike The Sentinel Dome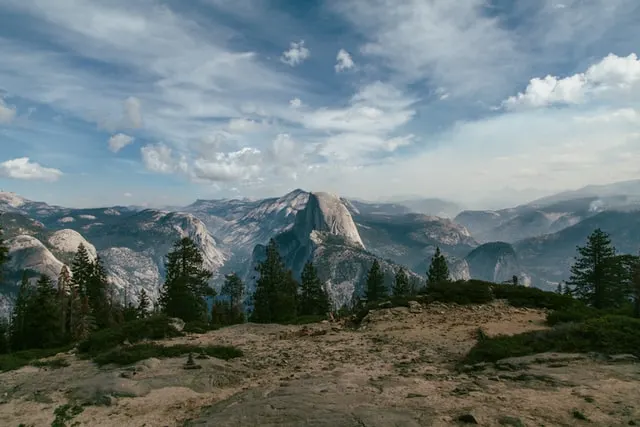 Considered one of the easiest ways to experience views for miles in any direction (it has a difficulty rating of 3/10), the Sentinel Dome hike is a 2.2mile (3.5km) round trip and takes between 1-2 hours.
On the way, you'll see the fallen Jeffrey pine, formerly one of the most famous trees in the world, and once you reach the top you can take your pick of views. From Yosemite Valley to Merced River canyon, El Capitan to Yosemite Falls, and Nevada Fall, Half Dome, and Clouds Rest. My mind says 'wow' just thinking about it!
Take a scenic drive through Tioga Pass to Tuolumne Meadows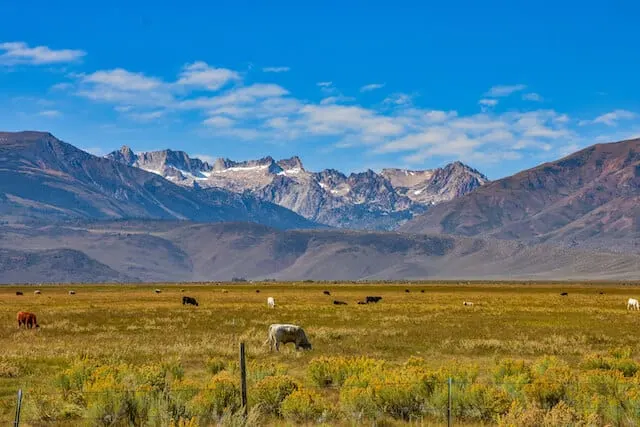 Start your day nice and early you can finish your Yosemite adventure with a scenic high-altitude drive through Tioga Road / Tioga Pass. The winding road guides you through towering forests, impossibly green and wild-flower studded Tuolumne meadow, and the alpine Lake Tenaya framed with granite mountains.
Tioga Pass is only open during the late spring to early fall months when the pass is clear of snow. Opening dates vary due to weather so be sure to check the park website for exact dates.
Extra: 3 Things to do in Yosemite with Kids
While it's true that a lot of the entries of things to do in Yosemite list are suitable for kids, there is one extra thing dedicated to the little ones that we just have to include: The Junior Ranger Program.
The Junior Ranger Program is available for kids of all ages. While it is a free activity, parents do need to purchase the Junior Ranger book for a small fee (US$3.50). Kids then complete the outdoor adventure activities in the book before sharing their book with a park ranger at the visitors center and in turn are given a ranger's badge.
Also, Cooks Meadow Hoop is a great flat hike/walk that is suitable both for smaller kids and strollers. And for a fun activity, why not consider panning for gold? While Gold Panning is not permitted in the park itself, there are several spots within Mariposa County near Yosemite National Park where you can try to strike it rich!
Final Thoughts on 15 AMAZING Things to do in Yosemite
We hope this guide to 15 AMAZING Things to do in Yosemite for First-Timers had been a huge help planning your trip, and if you know of anyone else that needs a little bit of inspiration or assistance in planning their Yosemite National Park adventure, please be sure to share on social media: Facebook, Flipboard, Twitter or grab one of the images from below for Pinterest. And remember – sharing is charing (and we thank you in advance!)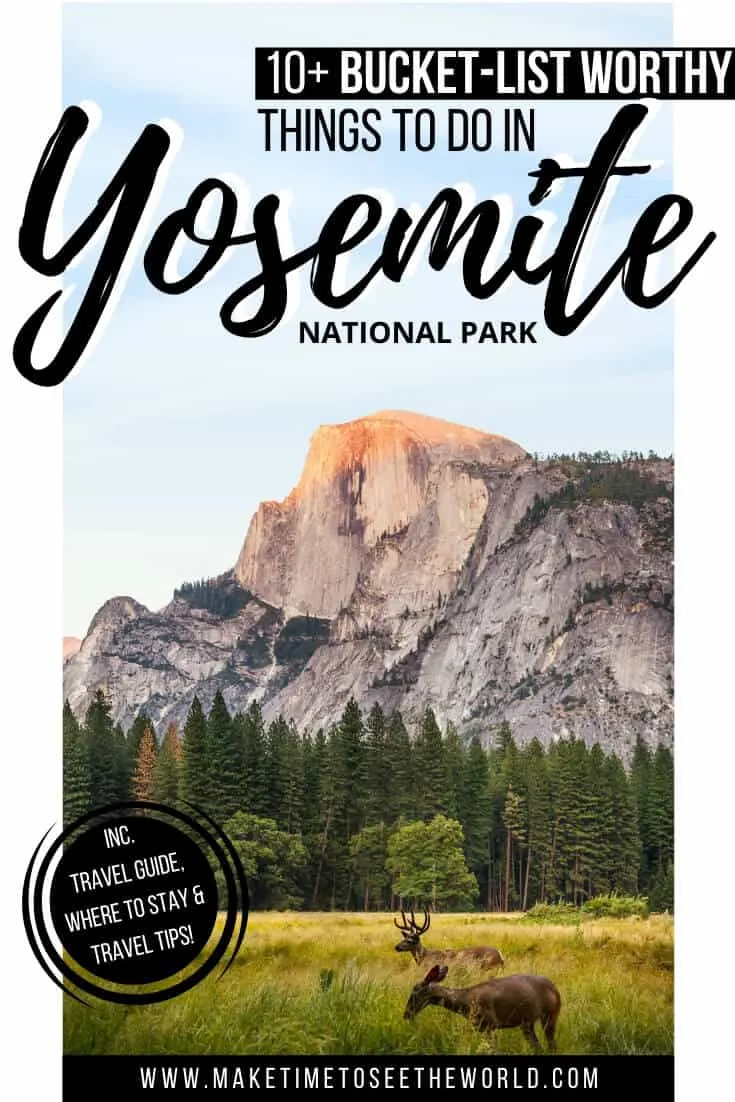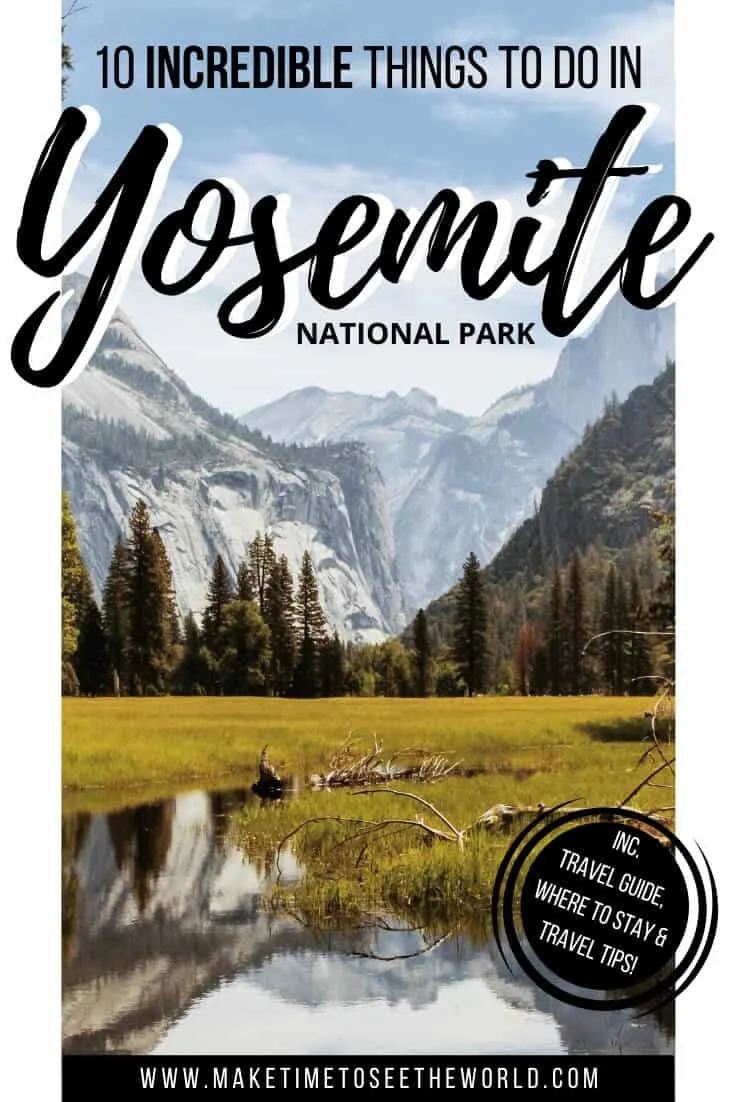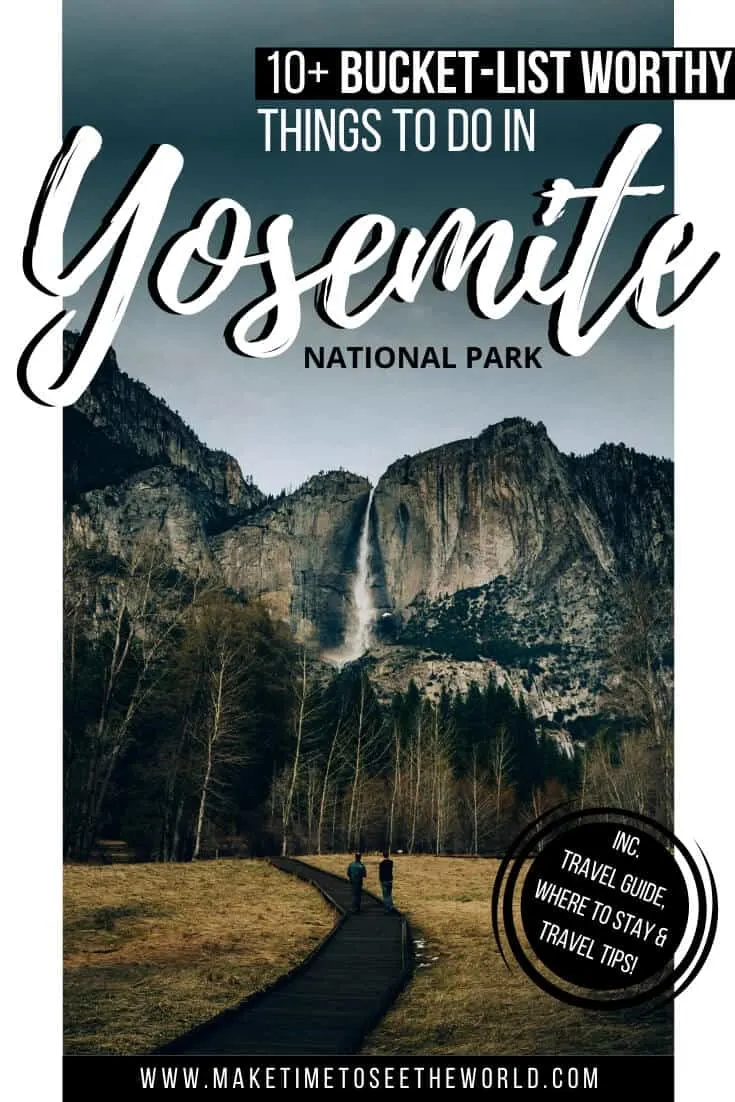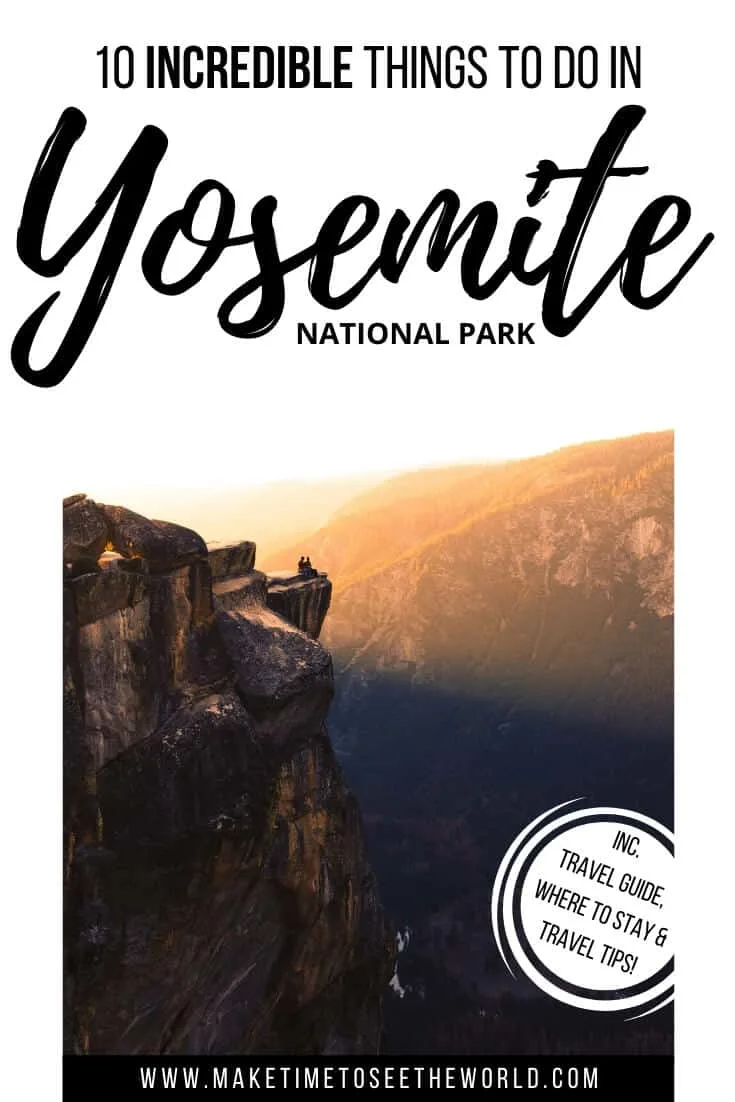 READY MORE USA TRAVEL INSPIRATION? YOU MIGHT BE INTERESTED IN THESE TRAVEL TIPS, TRAVEL ARTICLES, DESTINATION GUIDES, TRAVELER RESOURCES AND RELATED POSTS ABOUT OTHER AMAZING CITIES IN NORTH AMERICA:

Hi There! Thanks for reading our travel guide to 15 Amazing Things to do in Yosemite National Park & Handy Yosemite Guide. I just wanted to let you know that this post contains affiliate links, which means if you purchase something after clicking a link, I may get a small commission – which is at absolutely no cost to you. If you enjoyed this article and are going to be searching for some of the things I mention anyway, I would love it if you could click through from the links above & thank you in advance! Read my full Disclosure here.
And a huge Thank You for reading the MakeTimeToSeeTheWorld travel blog.