Visiting Vegas doesn't HAVE to drain your bank account. Don't believe me? Here are 45+ FREE Things To Do in Las Vegas to prove it!
There is nowhere else in the world quite like Las Vegas and whether you are a seasoned visitor or are wanting to experience this unique desert destination just once, it is well worth the journey.
One thing's for certain during your stay, you won't be short of things to do across the city from top restaurants and all-you-can-eat buffets, to a night on the slot machines or at the blackjack table. You will also definitely want to book yourself tickets to one of the many shows in Vegas and if you are adventurous, take a helicopter ride out of the city to explore the surrounding desert landscape.
Although all of these incredible experiences and activities can quickly add up and you may be wondering what you can do in Vegas with no money? Or are just looking to try and save some cash on an otherwise expensive vacation? Well never fear, there are actually LOADS of free things to do in Las Vegas Nevada and this list has more than 45 of them!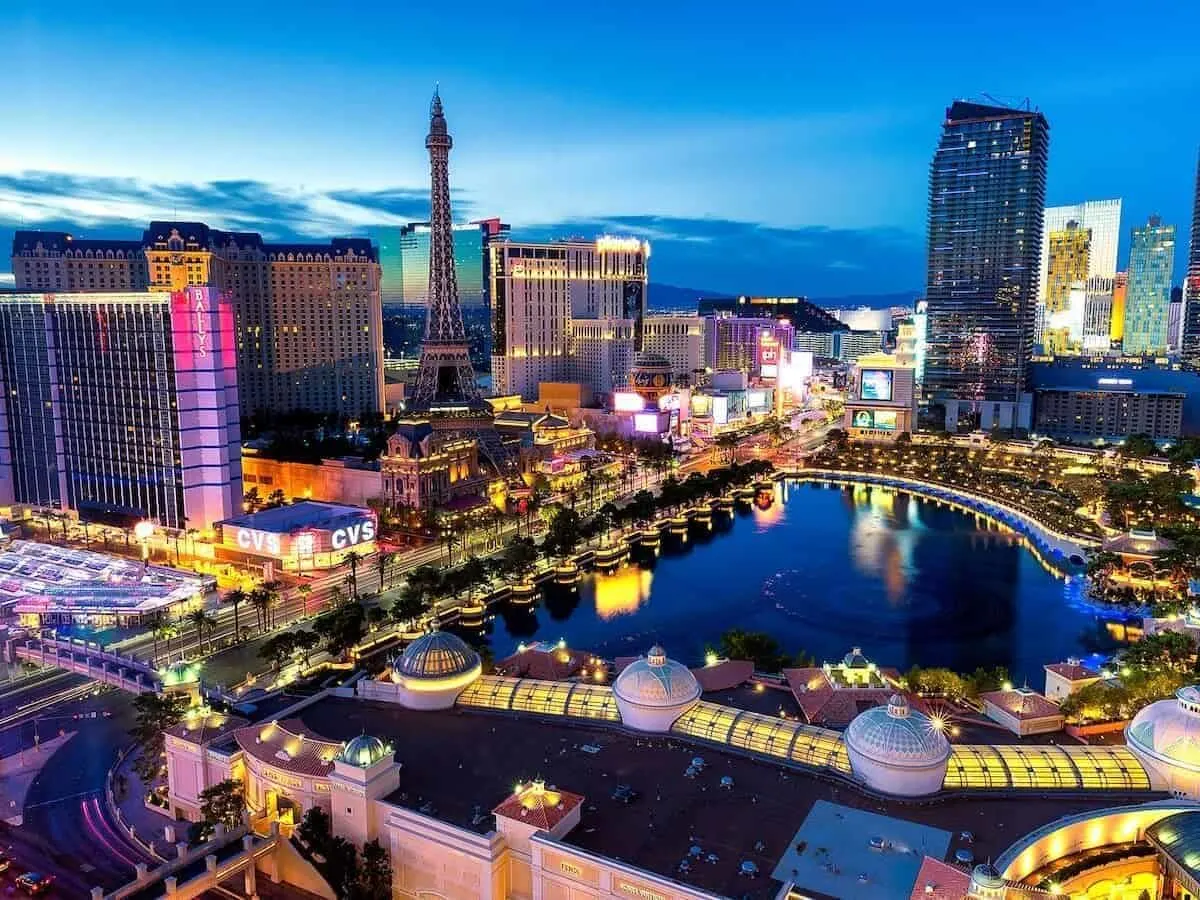 Disclaimer: Almost all posts on this site contain Affiliate links, and this one about the top FREE things to do in Las Vegas is no different. This means that if you click on any of the links in this post (and make a purchase) I may receive a small commission at absolutely no cost to you. Each post is carefully crafted to (hopefully!) answer all your questions and recommendations are made where we believe they will improve your trip and help with your planning. As such we thank you in advance should you decide to click & buy. Read my full Disclosure here.
Iconic & Unusual FREE Things To Do in Las Vegas
What do you think of when you are sat dreaming about your Las Vegas Adventure? The Welcome to Las Vegas sign? The Beam of light lighting up the night sky from Luxor Hotel and Casino? Or maybe just a gold nugget worth a cool 3 million dollars?! Either way, these and other iconic destinations and attractions won't cost you a dime to see while you are in Sin City!
Welcome To Fabulous Las Vegas Sign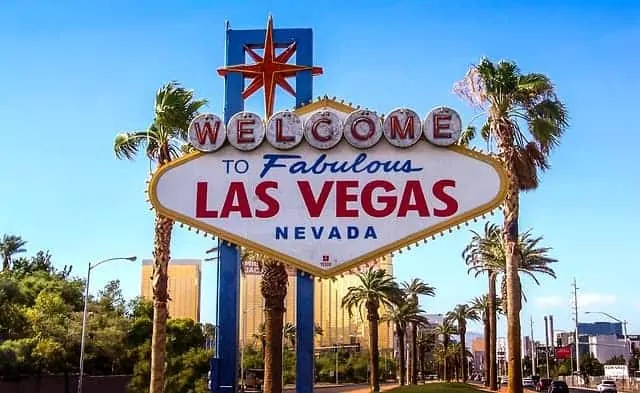 The famous sign that sits just south of 'The Strip' on Las Vegas Boulevard, welcoming visitors to this fabulous city is the best place to head to if you want the perfect selfie just to prove you were really partying in Vegas! Just be aware, it can be popular any time of the day and night – so be prepared to queue for your shot!

The Las Vegas Strip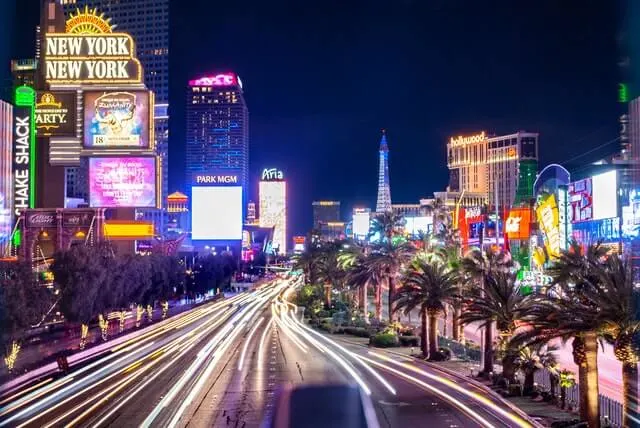 If you want to make sure you don't miss a thing and have the energy for it, you could walk the entirety of the Las Vegas Strip! (also known as Las Vegas Blvd)
It's 4 miles long and is home to all of the city's major hotels and sites – but don't forget you are in the desert so be sure to plan ahead and take a bottle of water or two. And we recommend hopping from casino to casino to explore their stunning interiors while taking advantage of their air conditioning (and sometimes, free wifi!).
Also, as you're walking, keep checking the sidewalks beneath you as you may be walking along sections of the 'Walk of Stars' – similar to the Walk of Fame in Hollywood – these stars are dedicated to those who helped make Vegas the town it is today.
See a 61 pound (27.6kg!) nugget of gold worth over $5 million dollars!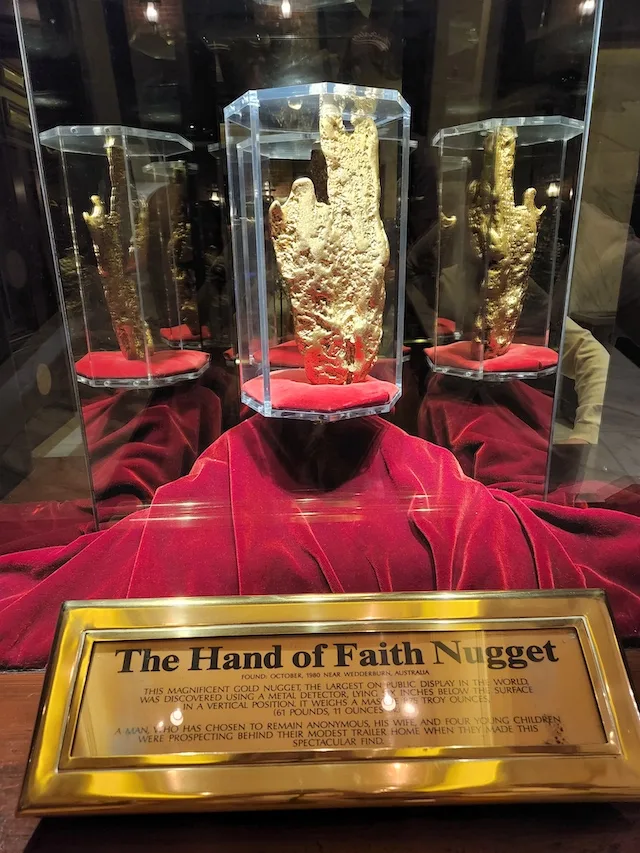 The 'Hand of Faith' is the biggest golden nugget in existence was discovered in 1980 near the Golden Triangle in Australia (more specifically, Kingower, Victoria) and is on display near the lobby at Golden Nugget Las Vegas.
If you're struggling to find it: stand at the front doors of the lobby, with the reception on your left. Head down the corridor to your right (opposite reception, if you get to the pool area/ shark tank you've gone too far) and then take the first left. The Hand of Faith should be recessed into the wall in front of you.
Get Your Chocolate On at Hershey's Chocolate World and M&M's World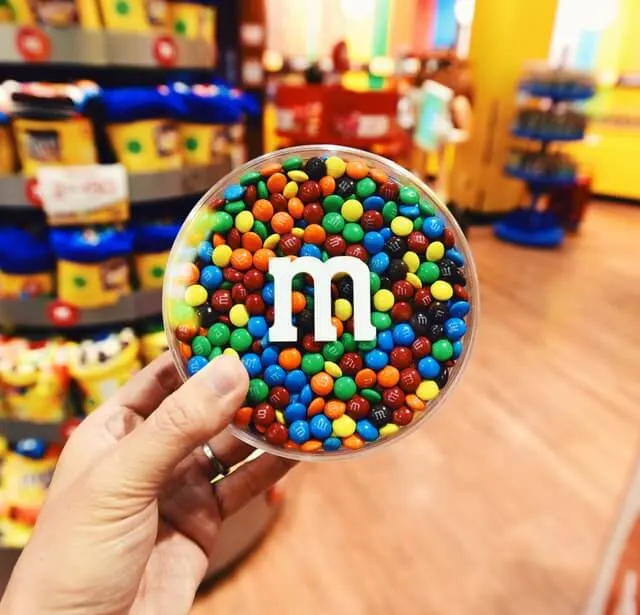 If your currency of choice is chocolate, you'll be in heaven at these two huge chocolate superstores. Every possible piece of memorabilia is available at M&Ms world (I know because my Aunt has a Peanut M&M Golf Club topper from here!) – which is on the strip; or you can tour the chocolate factory at Hershey's in New YorkNew York. Best of all, there are usually free samples on offer at both too!
*EXTRA* For another great theme store, a couple of doors down from M&M's World you'll find the largest Coke bottle in the world outside the CocaCola Store and endless branded memorabilia and clothing inside.
See The City Center Fine Art Collection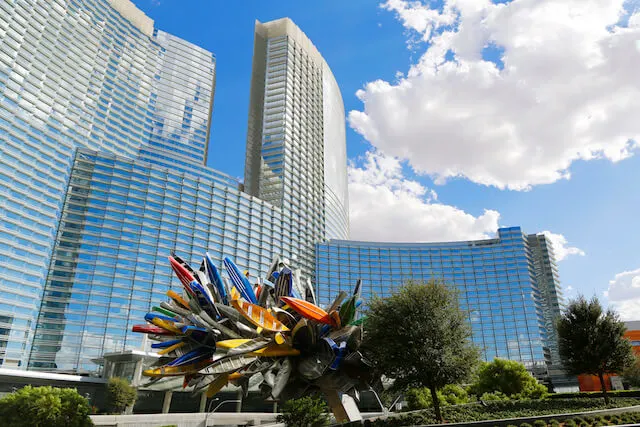 This permanent art collection has been integrated into public spaces throughout ARIA Resort and Casino, The Shops at Crystals, Vdara Hotel & Spa, and Veer Towers. There are several different self-guided walking tours available to help you find all the pieces included in the collection, as well as a few other interesting artworks nearby.
Go Vintage at the Shelby Heritage Center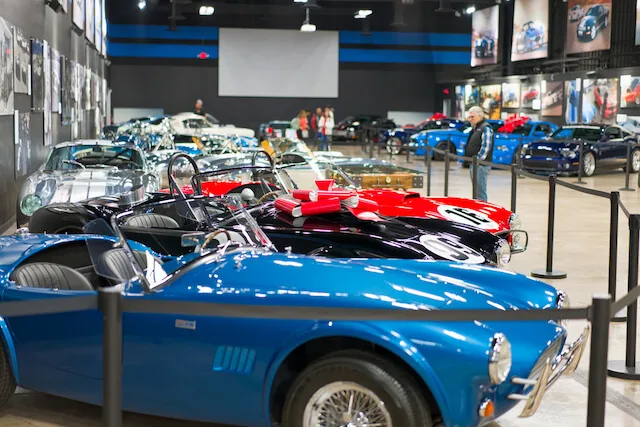 Showcasing a range of classic cars including Mustangs and Cobras, tours of the facility are free and do not require reservations. You may even get to see some cars being restored in the workshop while you are there.
Wander The LINQ Promenade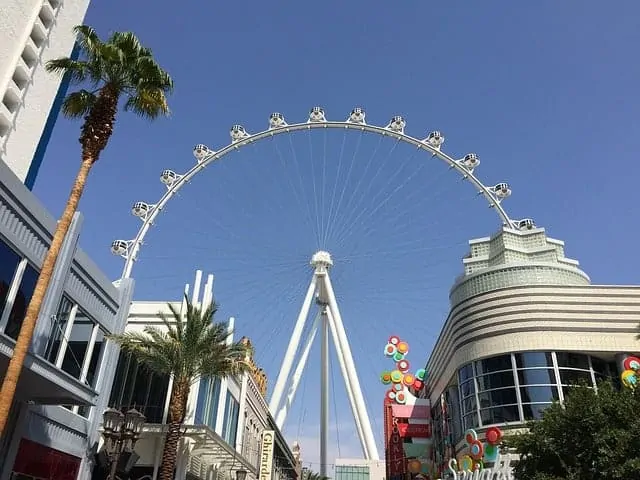 Located between Flamingo and the Linq Hotel & Casino, and open 24 hours a day you can find dozens of restaurants, graffiti artists at work, shops, sweets, a zip line that flies people overhead as you walk through and even a replica of the London Eye Ferris Wheel! (a paid attraction)
Think like a pinball wizard at the Pinball Hall of Fame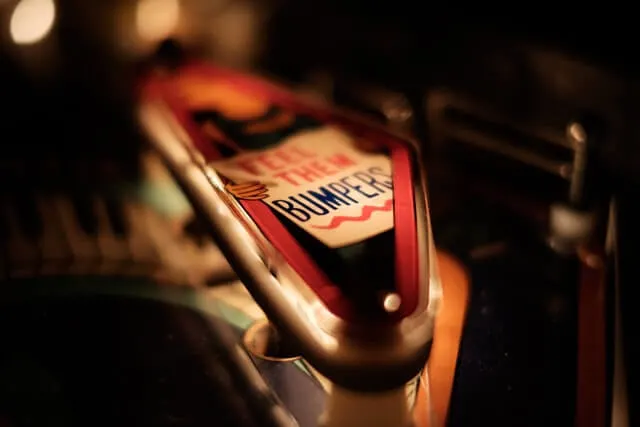 A standalone dedicated museum with pinball machines and nothing but pinball machines for 25,000 square feet. Mind blowing! Located in a purpose-built building next to the 'Welcome to Las Vegas' sign, entry is free and the machines are all set to 0.25c 0r 0.50c per play.
Take a free gaming/gambling lesson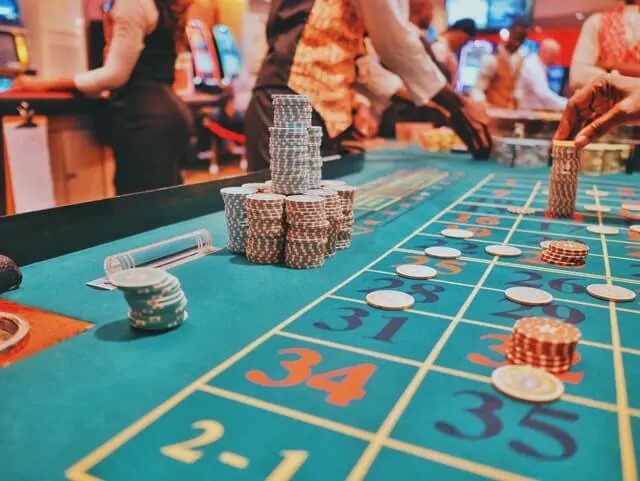 Whether you need a refresher course or are a complete beginner, quite a few of the casinos offer free gambling lessons across various different games (poker, blackjack, roulette or craps). Find one to fit your busy vacation schedule here.
Road-Trip the Pioneer Trail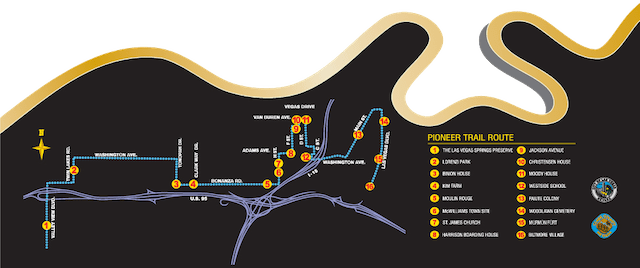 This self-guided driving tour of 16 historic sites around Las Vegas will help you discover some of the city's often overlooked history.
Starting at Springs Preserve in historic Westside, it snakes east through various sites including the McWilliams Town Site, Moody House and Mormon Fort until it reaches the edge of the Downtown District.
The Pioneer Trail celebrates the lives, cultures, and history of the many people that helped build the city.
Touch a Piece of the Blarney Stone For Good Luck
On display at The D Casino and Hotel in downtown Las Vegas, those looking for a bit of luck in sin city can touch a piece of the real Blarney stone all the way from Ireland.
Now, we all know that the Irish tradition is to kiss the Blarney Stone, however, with all the foot traffic in Las Vegas, we'd not really recommend it. And whatever you do, it's probably best to sanitize your hands after!
See Where Pawn Stars is Filmed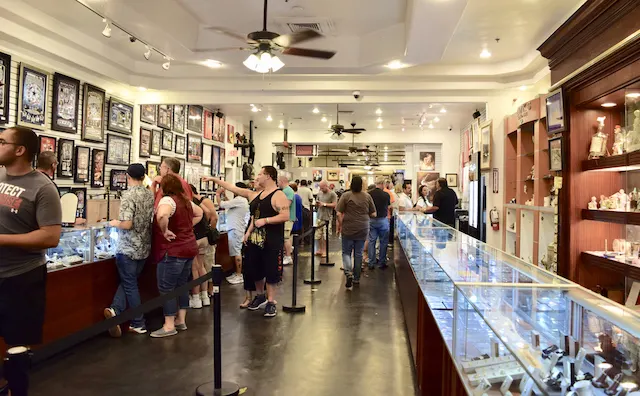 One of the biggest exports from Las Vegas, Pawn Stars is the TV show that has introduced us to some iconic characters over the years and given us an insight into the goings-on of a Pawn Shop in a city where everyone wants to make money out of (seemingly) nothing.
You may have to queue to get into the Gold and Silver Pawn Shop and you may not see anyone you recognise from the telly, but browsing the interesting items for sale in a real-life featured on TV store adds a certain something to your Las Vegas experience.
Have Your Say at CBS Television City
Inside the MGM Grand, you'll find CBS Television City. A place where you can watch an unaired pilot of a show that CBS have yet to decide the future on! Take part in focus groups and research, praise the shows or complain all you want. You never know, you could be part of the start of the next big thing!
See a Bit of the Berlin Wall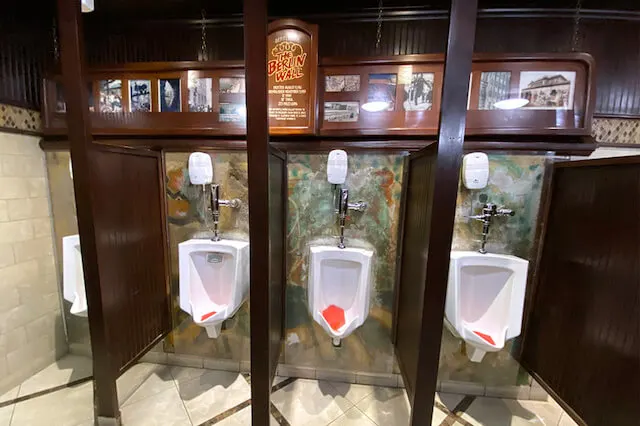 Another of the great 'roadside attractions' in sin city, you can actually see a bit of the real Berlin Wall. But to find it, you'll have to head to a very unlikely spot in downtown Las Vegas – the men's bathroom, and specifically, behind the urinals, at Main Street Station Casino, Brewery, & Hotel.
Ride the Free Tram on The Strip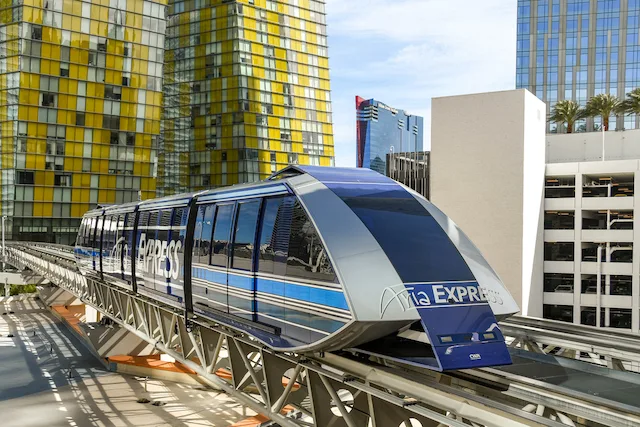 If walking The Strip is zapping your energy (and we wouldn't be surprised if you're wandering around in the Las Vegas heat!) – hop on the free tram to cover a little bit of the distance. There are three routes on offer traveling between Mandalay Bay and Excalibur, The Bellagio and Aria, and between Treasure Island and The Mirage. You just need to hop on., no tickets required.
*Expert Tip* Don't confuse the free tram with the Las Vegas Monorail, which runs between the MGM Grand and The Sahara on the East side of the strip. Rides on the Monorail start at $5 for a single journey or $13 for a day pass.
The Arts Factory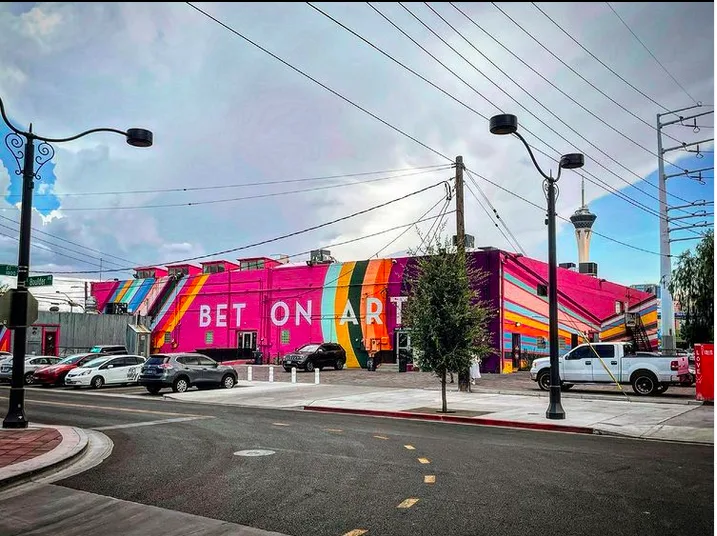 At the center of the Las Vegas Arts Districts, you'll find exhibitions and art galleries representing over 30 artists, offering a safe space to nurture the city's creative minds.
There's also the funky 18Bin bar & restaurant, a Gallery 2 Go art vending machine and even a yoga studio in case you want an hour of zen away from the frenetic energy of sin city.
Must-See Hotels in Las Vegas (Which you can visit for Free)
With 30 Las Vegas hotels on the strip and quite a few more just off (making up more than 150,000 hotel rooms!), you are certainly not short of accommodation options on the Las Vegas Strip (officially, Las Vegas Blvd Las Vegas!) and many of these hotels and casinos are well worth a visit for their mesmerizing amenities and unique features.
I mean, there is no such thing as a 'standard' Las Vegas Casino – and exploring a few of them and their quirks – without spending a cent! – is one of the best free activities in Las Vegas.
The Bellagio Hotel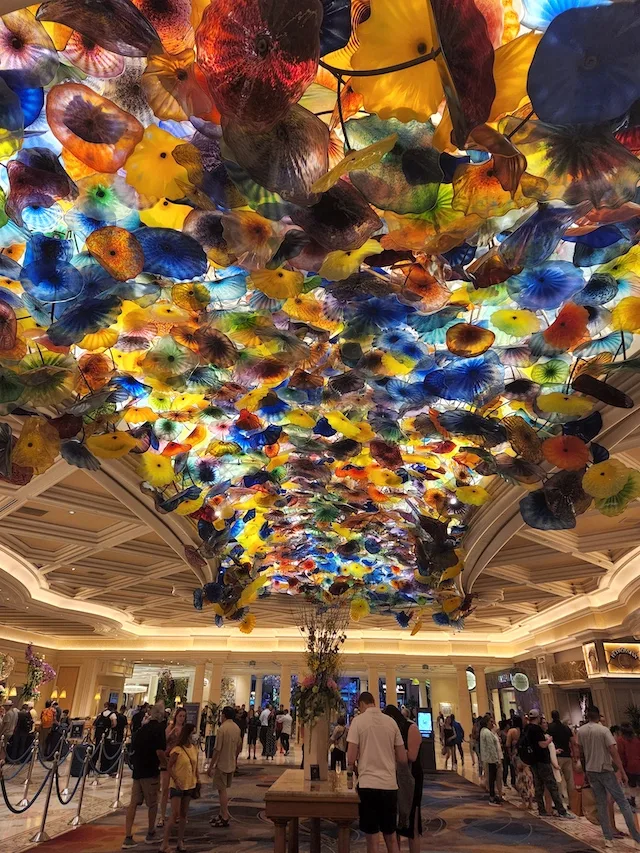 Above the 18-foot Bellagio lobby ceiling is a coffer filled with the most extraordinary glass sculpture: a chandelier by sculptor Dale Chihuly called Fiori di Como. The piece is made of 2,000 hand-blown glass blossoms and looks like it was just made for the gram!
Also, chocolate lovers are in for a treat, with the worlds largest Chocolate Fountain located on the promenade of the Spa Tower. This floor-to-ceiling sculpture designed by Jean-Phillipe (of the Patisserie next door) circulates more than 2,100 pounds of melted milk, dark and white chocolate through 500 ft of pipes 24 hours a day. The luxurious smell alone makes it worth a visit!
St Mark's Square at The Venetian Resort Las Vegas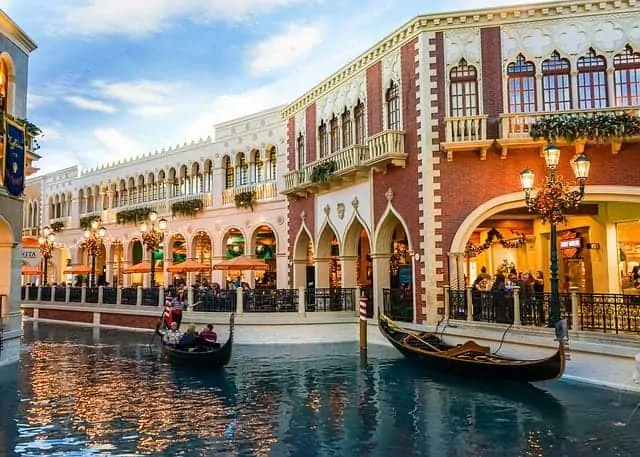 Experience Venice in style with typical Venetian canals and the iconic Renaissance Palazzo. You can even hop in a Gondola to complete the experience (although these are a paid attraction in Las Vegas, as they are in Venice Italy!).
Circus Circus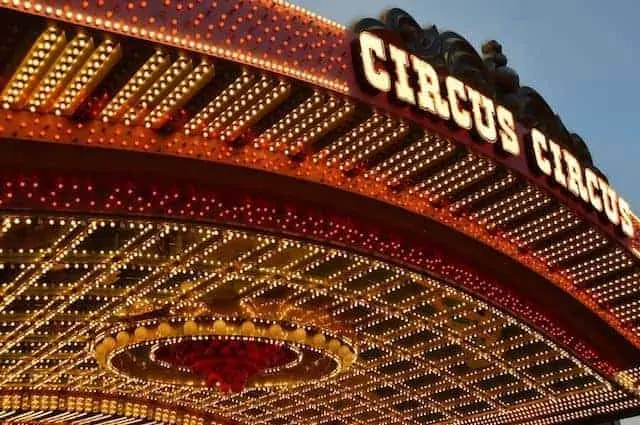 When you can't get tickets to Cirque du Soleil, the next best thing is to channel your inner child and head to the big top circus where plenty of circus acts and circus performances take place daily.
Shows at the Midway happen every hour Saturday and Sunday starting at 12:30 pm, Mondays starting at 1:30 pm, and Tuesday–Friday starting at 3:30 pm and feature clowns, jugglers, aerialists, and more.
New York New York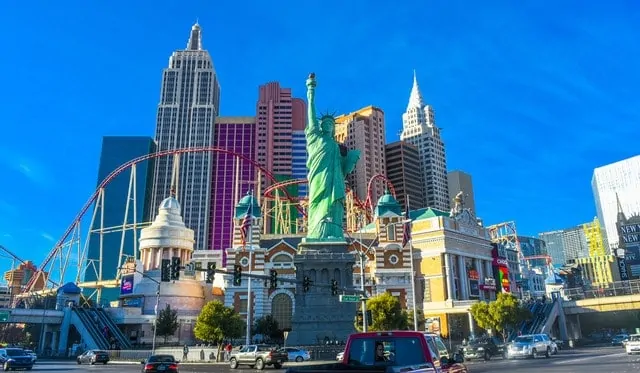 For your chance to see the Statue of Liberty and the New York skyline, New YorkNew York stands proudly at the South end of the trip, opposite the iconic Lions of the MGM Grand and the Castle Walls of Excalibur.
You can even ride the rollercoaster around the outside (although this is a paid attraction)

Golden Gate Casino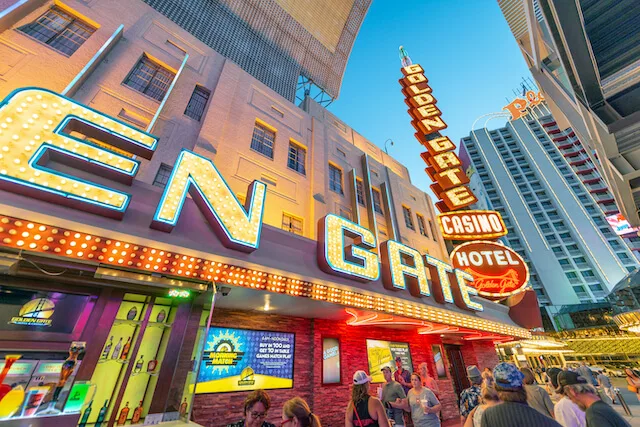 Step into a slice of history as you enter the Golden Gate Casino in downtown Las Vegas – the oldest operating casino in Las Vegas which burst onto the scene all the way back in 1906! (When rooms were just $1 a night!)
In the hotel lobby, you'll find several historical artifacts that include 115-year-old gaming ledgers, an authentic model of the first telephone in Vegas (the hotel was actually issued the first telephone number in Las Vegas, and was, simply, 1) plus a few Prohibition-era whiskey bottles discovered in the walls during construction.
This hotel has seen a lot over the years with claims to fame also including the sale of over 25 million (oversize) glasses of Shrimp Cocktail (still sold at the low price of $1.99 today!), is the home of Las Vegas' biggest roulette bet and the famous 'rocking' sign standing proudly outside.
MGM Grand Las Vegas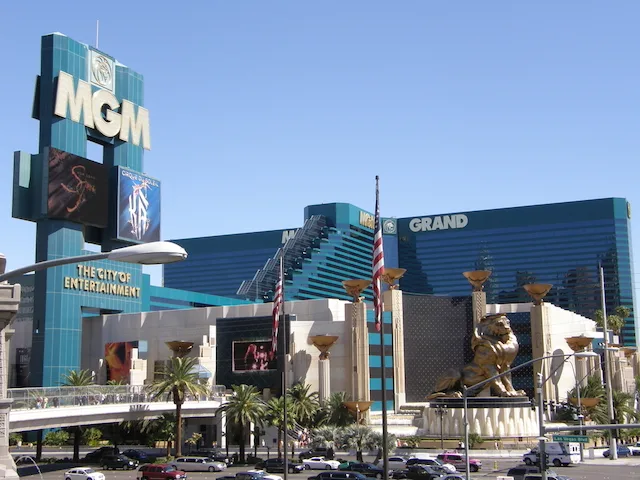 This monster of a hotel is one of the most iconic on the strip, you would be crazy to visit Las Vegas and not step inside.
Watched over by the MGM trademark (giant) gold lion, Leo, at the entrance (it used to be that you walked through the mouth of a golden lion to enter the casino, but was removed after Chinese gamblers refused to enter as it was believed to be unlucky!) this hotel has 6,852 rooms – making it the largest hotel in the United States.
However, its size and grandeur are not the reason that the MGM Grand makes the list of the best free things to do in Las Vegas – but rather the fact that there is Free Wi-Fi throughout the hotel for everyone, not just hotel guests, and this stretches not only throughout the vast hotel but also into and throughout The Venetian and The Palazzo (all are owned by MGM & Blackstone Group).
Paris Casino Las Vegas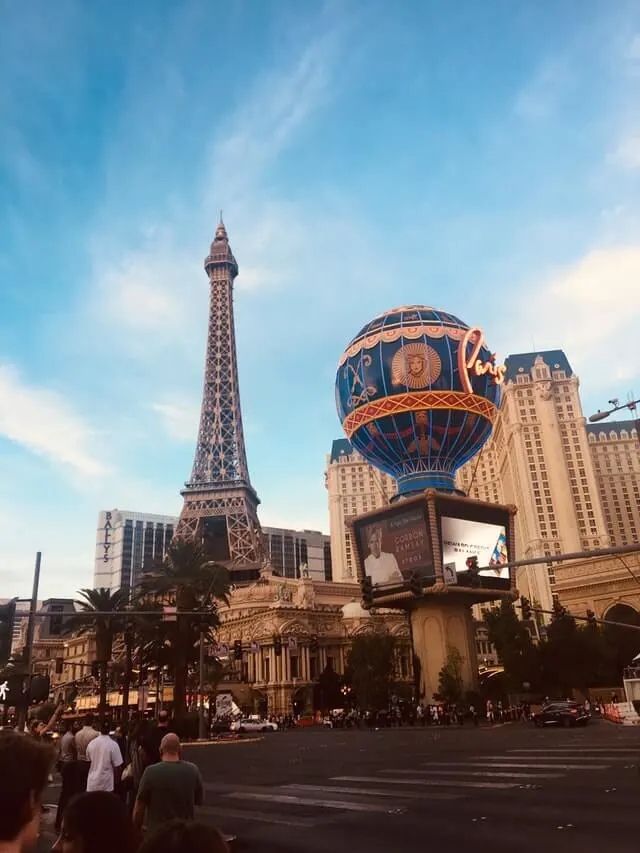 Transport yourself to Europe and visit the hotel's iconic replica of the Eiffel Tower.
And just like the twinkling lights of the Eiffel Tower in Paris, The 541-foot tall replica at the Paris casino hosts a colorful show of twinkling lights every 30 minutes between dusk and midnight.
*Expert Tip* The timing of the twinkling unofficially coordinates with the Bellagio fountain shows across the street, so be sure to look around if watching the fountains or vice-versa.
See The Lake of Dreams at Wynn Las Vegas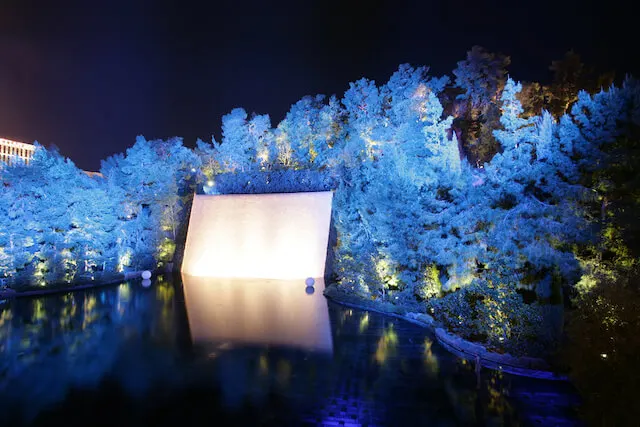 With a 40-foot waterfall spilling off of an artificial mountain covered in pine trees which is lit up by 4,000 lights set to music after dark complete with holographics, singing frogs, and dancing flowers. It's magic!
Enjoy the Mystic Falls Park at Sam's Town
Just a couple of miles east of the Las Vegas strip, Sam's Town is a casino with a wild west mountain theme and is home to the Mystic Falls – a huge waterfall beneath the towering atrium., where there is a laser and light show every other hour between 2 pm and 10 pm.
Visit The Miracle Mile Shops at Planet Hollywood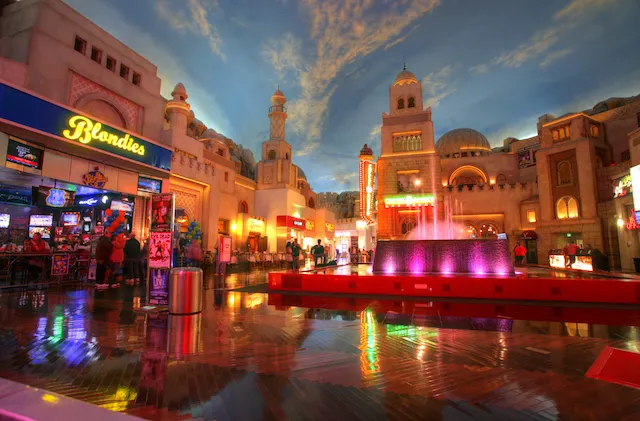 The Miracle Mile shops wrap around Planet Hollywood and while it could quickly become an expensive excursion if you start shopping, always remember that they cost nothing to browse!
But one of the most interesting things about the Miracle Mile is that shoppers have to avoid an indoor rainstorm every hour (Monday to Thursday between 10am and 11pm) and every half an hour Friday to Sunday (10am-11pm).
Watch out for thunder, lightning, fog and pouring rain – and try to stay dry!
Live Entertainment & Free Shows in Las Vegas
You don't have to break the bank if you want some live entertainment in Vegas and you are sure to discover some free shows around every corner.
"Streetmospher" at the Grand Canal Shoppes at The Venetian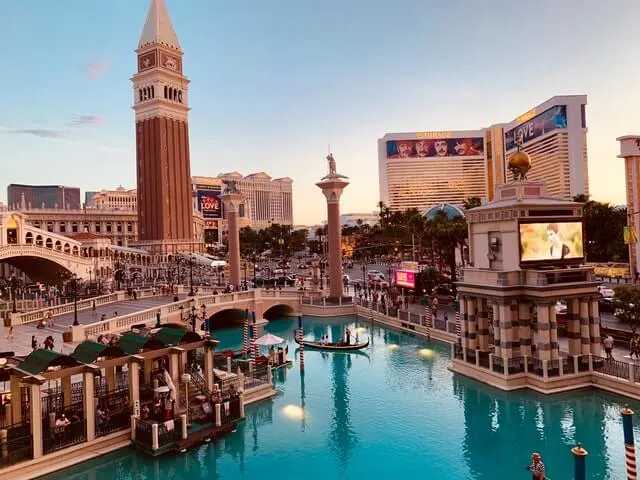 Featuring costumed street performers, stilt walkers, dancers, and classically trained opera singers(!) take a stroll around this Venice-themed hotel to see living statues, jugglers and even the odd opera singer.
*Expert Tip* Don't miss the Waterfall Atrium while you are there – located where the main Venetian hotel tower connects with the Palazzo tower this two-story waterfall, where you can see the the word "LOVE" spelled in 12-foot-tall ruby red steel letters.
Concerts (& The Light Show) at Fremont Street Experience
Catch the Viva Vision light show at the historic Fremont Street Experience in Downtown Las Vegas. It's the largest digital display in the world and runs on the hour from 6pm through to 2am each night.
If we're honest the absolute best place to watch the show is lying flat on your back on the floor in the middle of the pedestrian mall. No neck pain, wide view of the video screens.. grab your mates and lie down – you won't regret it!
The Fremont Street Experience is also a great place to catch some live music with 3 stages offering rotating acts of different musical styles each and every day, not to mention big-name concerts throughout summer. Check out the schedule for what's on during your visit.
*EXTRA* Be sure to say hi to Vegas Vic – the waving cowboy neon mascot of Fremont Street – while you're there; and if you want to see his famous neon girlfriend Vegas Vickie, she now resides in the lobby of her namesake bar in Circa.
Fall of Atlantis at Caesars Palace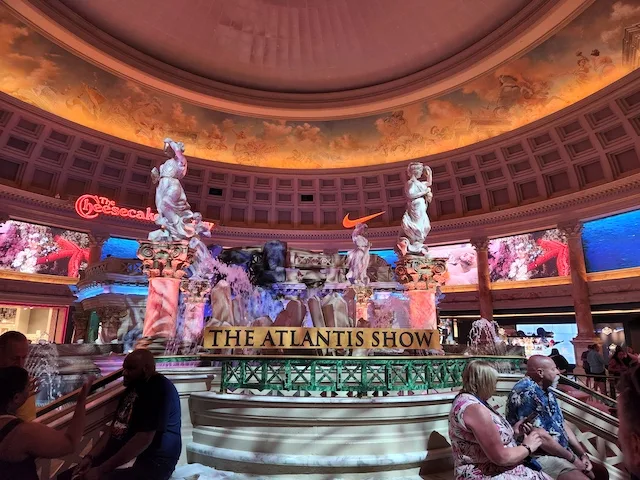 Taking place every hour, watch the battle of Atlantis surrounded by the hotel's spectacular saltwater aquarium. It's dated and tacky (IMO) but an icon of Las Vegas nonetheless – and getting to it means you walk through the Forum shops at Caesars Palace.
With designer icons like Gucci and Luis Vuitton you could easily spend a fortune – but remember – looking is free! And if you are looking for designer gear, be sure to head to the outlets (Las Vegas North Premium Outlets, Las Vegas South Premium Outlets, the A|X Premium Outlets and sometimes there are bargains at the Fashion Show Mall)
Fountains at the Bellagio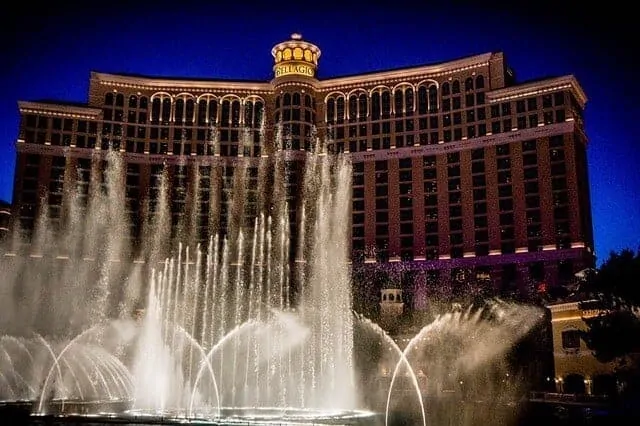 You haven't experienced Vegas until you've seen the spectacular Bellagio fountain display, set to music and taking place every 15 minutes on Sundays (between 7pm and midnight) and every 30 minutes Monday to Friday (between 3pm and 8pm). Grab a spot at the side of the lake or at the terrace at Planet Hollywood across the road for an elevated view.
The fountains of Bellagio are simply stunning and one of the best free things to do in Las Vegas.
Volcano at The Mirage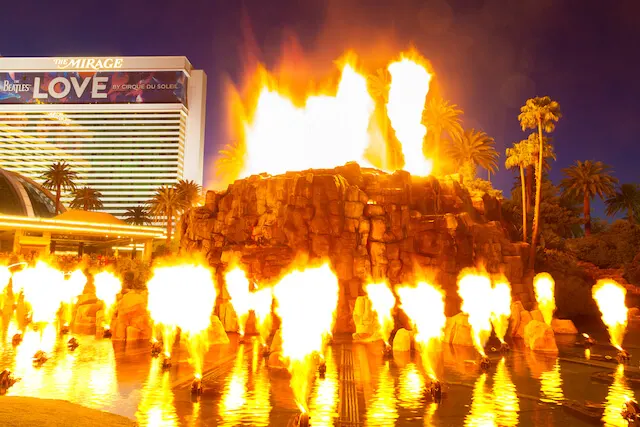 The Mirages volcano erupts 60ft into the air every evening – although not for much longer following the Mirage's sale to Hard Rock International, who have advised it will be removed after 30 years of lighting up the Strip (but recently said not until the end of 2023 or mid-2024!)
Be sure to try and see it before it's gone for good and while you're there, take a wander inside the hotel and see the atrium in the Mirage – the leafy green space under the botanical-esque glass domes roof is simply beautiful. Be quick before they are both gone!
Big Elvis or the Dueling Pianos at Harrah's Las Vegas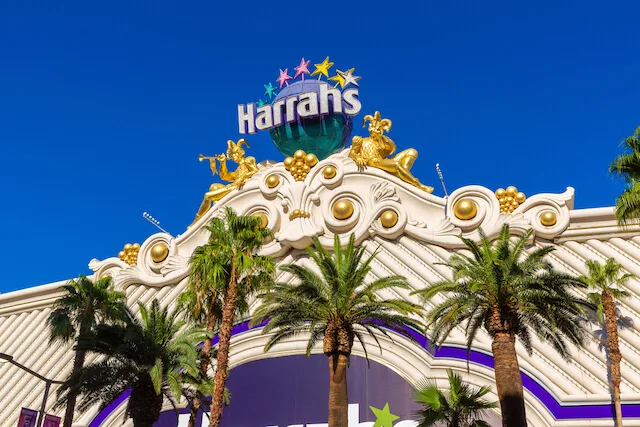 Pete "Big Elvis" Vallee is a Las Vegas institution and his spot-on renditions have been wowing crowds for years. With several shows on Monday, Wednesday and Friday (2 pm, 3.30 pm and 5 pm) make sure you get there half an hour early to get a seat!
And while dueling pianos may not be a traditional 'show', visitors can enjoy pianists battling it out on the pianos, each one striving to play well known songs better than the other (often with a lot of audience singing and dancing!) with the audience choosing a winner by applause, and requesting songs on dollar notes! It's a whole heap of fun!
(There are also dueling piano bars at Bar at Times Square in New York New York and Don't Tell Mama at Fremont Street.)
Swarovski Starburst Drop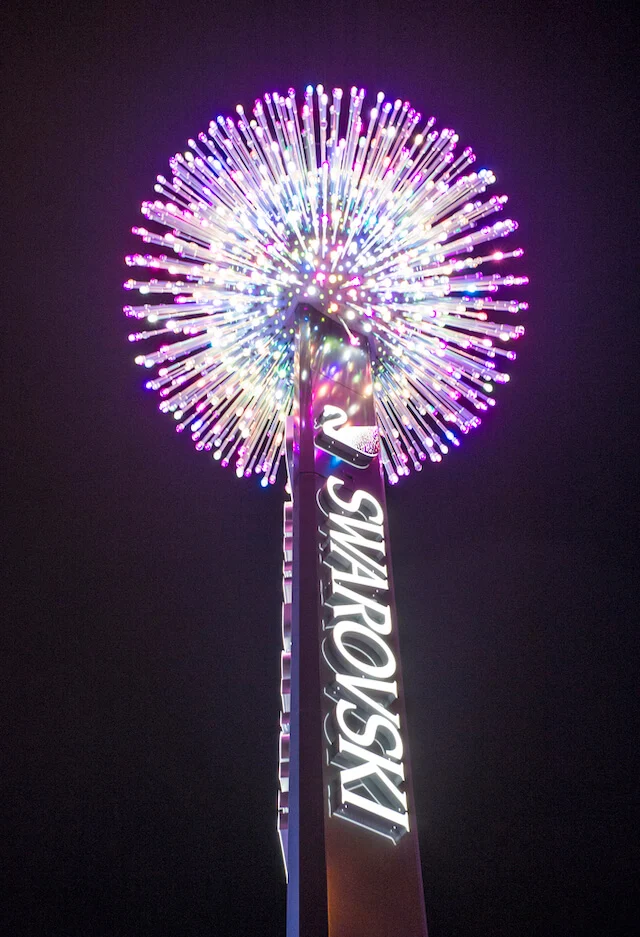 You can pretend it's New Year's Eve every day of the year (and twice each night!) at Bally's Las Vegas, at the intersection of the Las Vegas Strip and Flamingo Road.
At 9pm and Midnight each night the 4,000-pound ball of 900 Swarovski crystals and 1,800 LED lights makes its 3-minute descent to synchronized lights and music.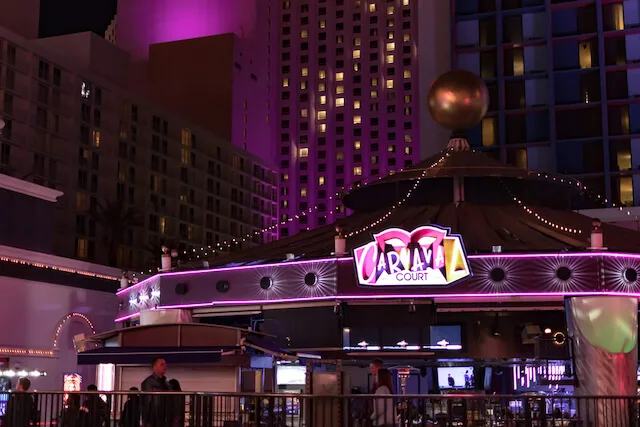 At this outdoor nightclub you'll find DJ's, dancing, flare bartenders, live music, and all the party action into the early hours of the morning.
Go Wild with these Free Things to do in Las Vegas
Just because you are visiting the bright lights of Vegas, it doesn't mean you can't get back to nature.
The Bellagio Conservatory and Botanical Gardens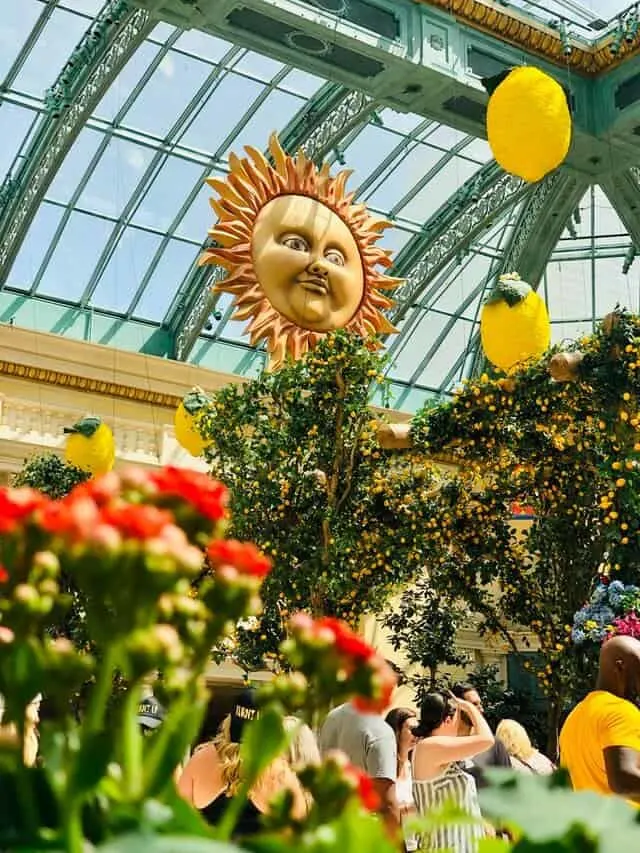 It's no surprise that one of the most luxurious Vegas hotel's located on the strip has its very own indoor garden display. Located in The Bellagio's conservatory, the displays change seasonally, featuring a botanical cactus garden, swathes of spring tulips and enormous Christmas trees.
The Flamingo Wildlife Habitat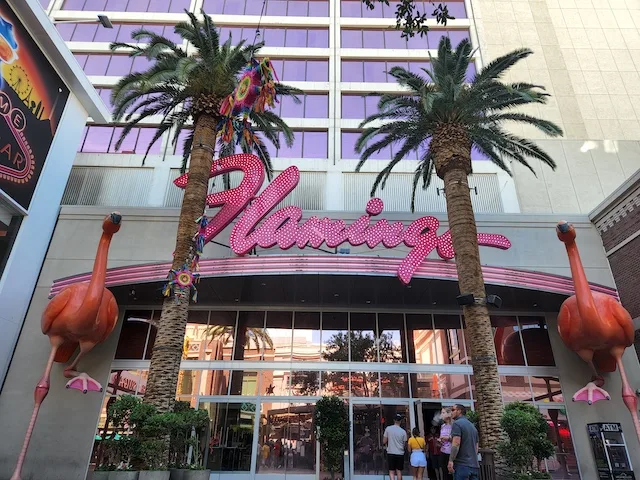 Located at the Flamingo Hotel, see these beautiful birds, along with koi carp, turtles and swans can be found in a secluded lush habitat tucked away on the Las Vegas Strip.
The Desert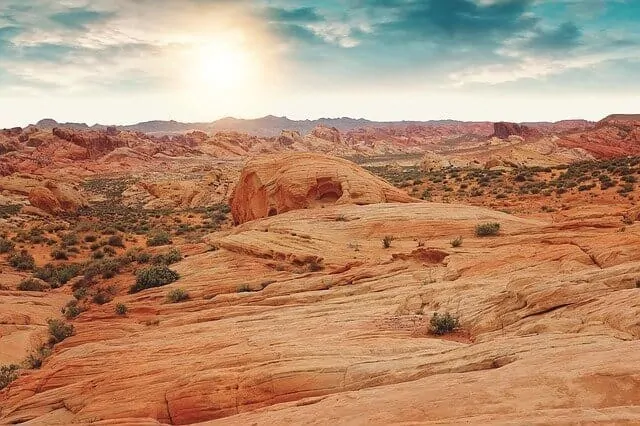 If you need a break from the bright lights of Vegas, don't be afraid to explore the beautiful and dramatic surrounding desert landscape at Red Rock Canyon or even as far as the Hoover Dam.
Shark Reef at Mandalay Bay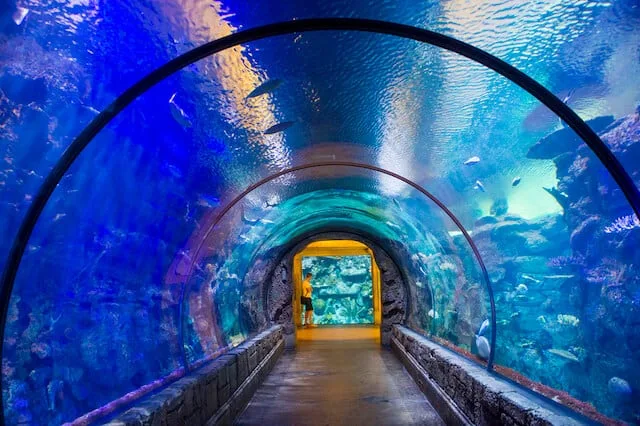 Spend some time under the sea where you could catch a glimpse of sharks, turtles, crocodiles and piranhas as you walk through the aquarium's underwater tunnels, home to over 2000 sea creatures.
Saltwater Aquarium at The Mirage
Just behind the front desk and measuring 53 feet long, 8 feet from top to bottom and 6 feet from front to back, this huge aquarium is home to approximately 450 fish from 85 different species from around the world.
Visit the Seven Magic Mountains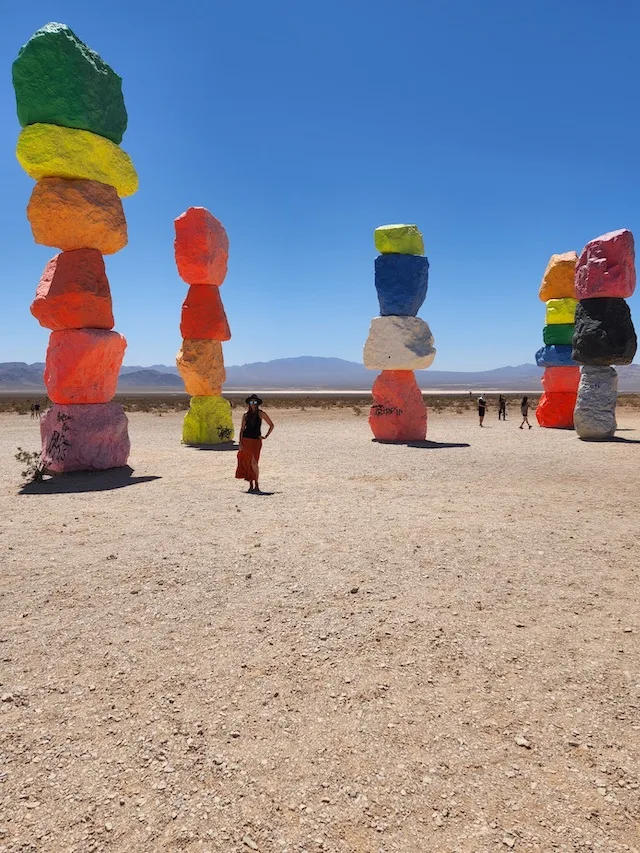 This free, public art installation located 10 miles outside Las Vegas center was originally commissioned for 2 years, was extended for 3 years until the end of 2021, and has now been extended indefinitely.
It's stunning how they just appear off the highway in the vastness of the desert, however, during my last visit (in May 2022) there was quite a bit of graffiti on the lower rocks, so hopefully, that gets cleaned up soon. It's such a shame people have no respect for the artist and feel compelled to scrawl their names on it.
See the Fire Spitting Praying Mantis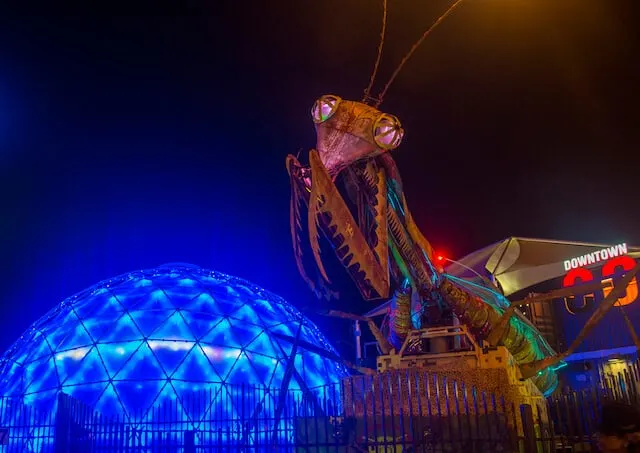 When the sun goes down at the Downtown Container Park, that's when the giant Praying Mantis which adorns the entrance comes to life. Wander the outdoor shopping plaza as the 40-foot-long motorized insect shoots fireballs from its antennae, often in sync to the music.
Celeb spotting for die-hard fans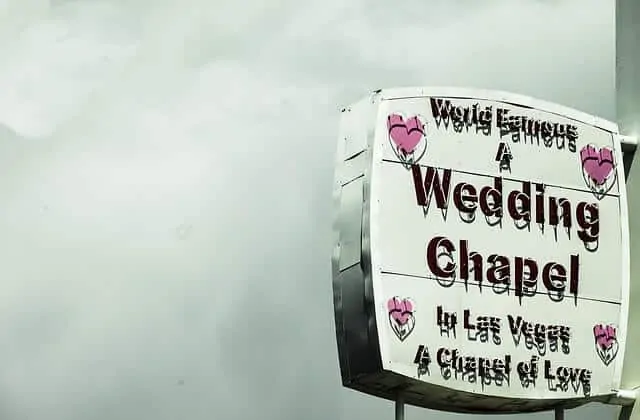 Whether you are hoping to mingle with some A-list celebs during your Las Vegas trip or you plan to visit the site of a famous celeb wedding, Vegas is a hot spot for celeb sighting's and you won't be disappointed.
Celebrity Hangouts
To be honest, you could bump into a celebrity just about anywhere in Vegas but rumor has it they are obsessed with Wet Republic Pool Parties at the MGM Grand, The Venetian's TAO Nightclub and Gordan Ramsay's Steak restaurant at the Paris.
Wedding Chapels
It's no secret that many a celeb has tied the knot at a Las Vegas wedding chapel, some of which include the Chapel L'Amour inside A Little White Wedding Chapel where Joe Jonas and GOT star Sophie Turner recently said "I do" and the Graceland Wedding Chapel where Jon Bon Jovi & Dorothea Hurley who are still married today, tied the knot back 1989!
Michael Jackson
For all the Michael Jackson fans out there, you will want to head over to the Mandalay Bay hotel to see the original statue that was created for his 1995 "HIStory" album cover. If you fancy a spot of window shopping, you could also head to the prestigious Regis Galerie, home to a huge variety of rare collectibles in the Venetian where Michael Jackson was once filmed enjoying a shopping spree.
Formerly Free Things to do in Las Vegas (that don't exist anymore!)
Sirens of Treasure Island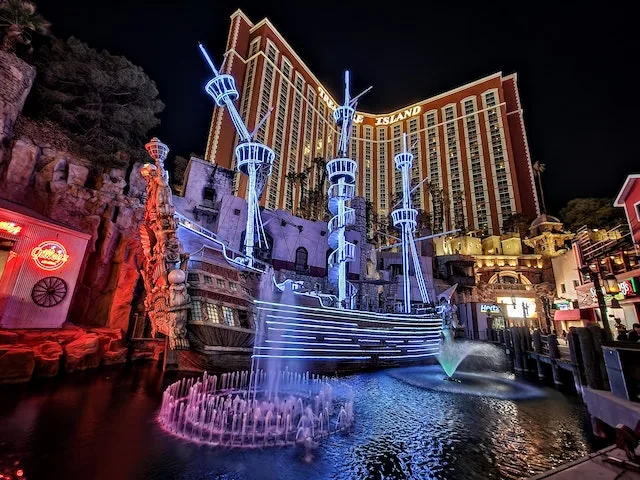 'Sirens' was a nightly show taking place outside Treasure Island featuring sultry sirens, pirates, and the Blackbeard himself! Unfortunately, this Las Vegas icon was closed down during 2021 and never reopened.
The pirate ship is still there though and looks very cool when lit up at night.
Feast your eyes $1 Million Dollars in Cash.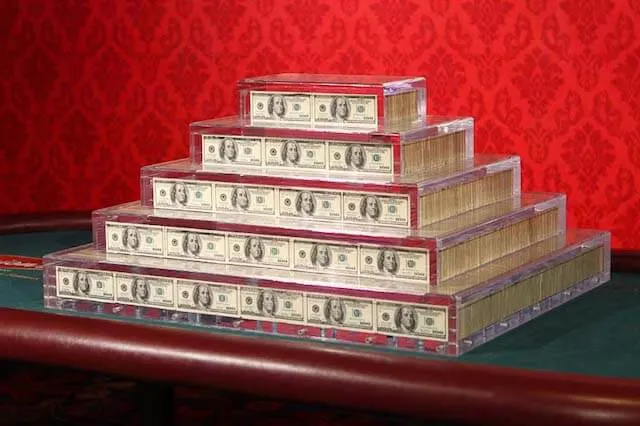 Las Vegas has long been about the gambling and many a man and woman have dreamed of winning the jackpot here and changing their fortunes.
Now I'm not saying anyone should let go of that dream, but if wanted to see what $1,000,000 dollars in cash actually looks like, Binion's Gambling Hall & Hotel used to display a cool million bucks in a tamper-proof plexiglass pyramid.
Unfortunately, this unique roadside attraction was removed during the shutdown and there is no word on if it will ever return. (Staff at the casino said it was gone for good, although no official statement has been made)
Find the myVEGAS 'Lucky Numbers' Bingo Balls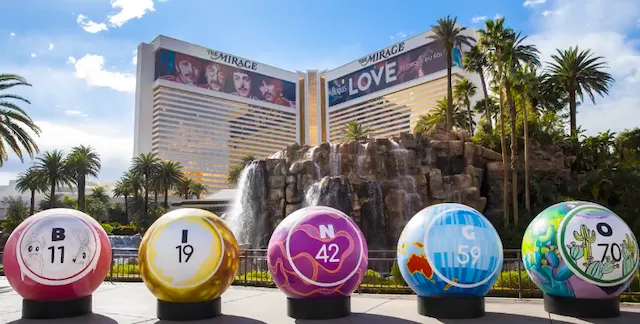 Landing on the Strip for a brief period in 2021, these 200-pound colorful Bingo balls were commissioned by Playstudios = the creator of the myVEGAS Bingo app – to celebrate and advertise the launch of the app.
They were created by 5 local Las Vegas artists and were on display at several MGM properties, although during my visit in May 2022, I couldn't find any of them, and staff in the casinos didn't seem to know what I was talking about!
Who knew there were so many great things to do in Las Vegas NV that are totally free? We hope this Las Vegas travel guide has given you some inspiration for saving money on your upcoming trip and if you discover anything that you think should be added to our guide that doesn't involve getting your wallet out, tell us in the comments below.
And if you liked this guide, be sure to check out our other Free Things to do Guides for London, Paris, New York City, Washington DC, Edinburgh, Athens and other major (expensive) cities and share this guide with folks who you know are headed to Las Vegas! Click the symbols in the sharebar to share via Facebook, Twitter, Flipboard and Pinterest.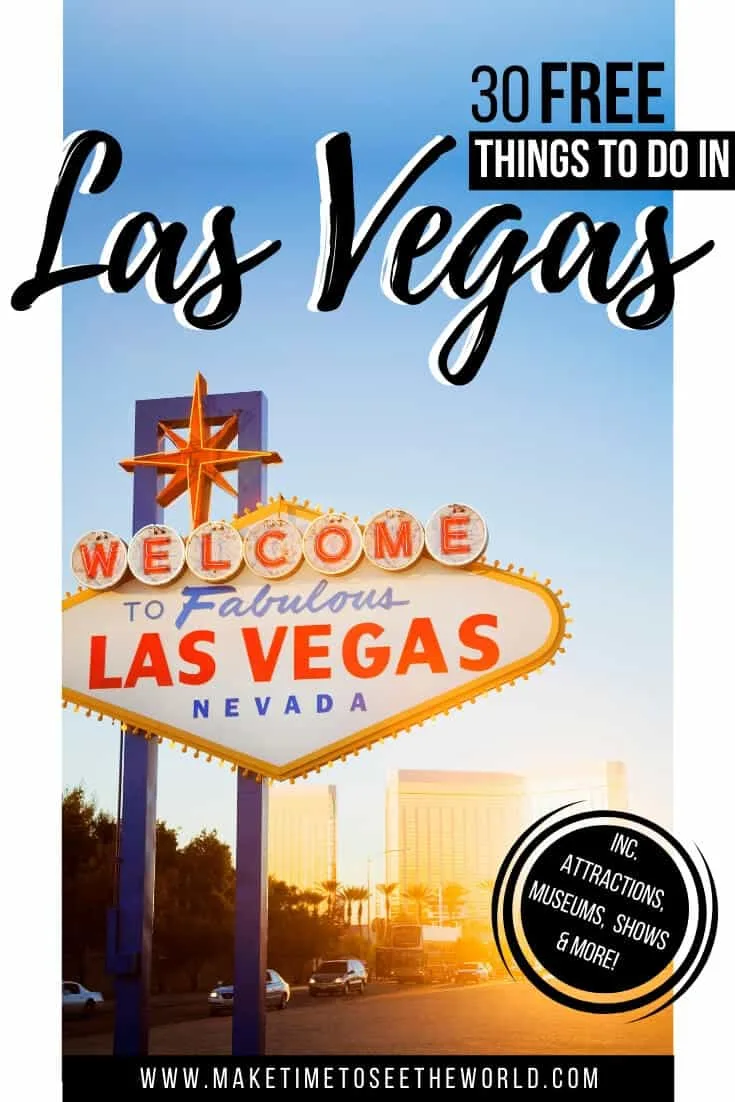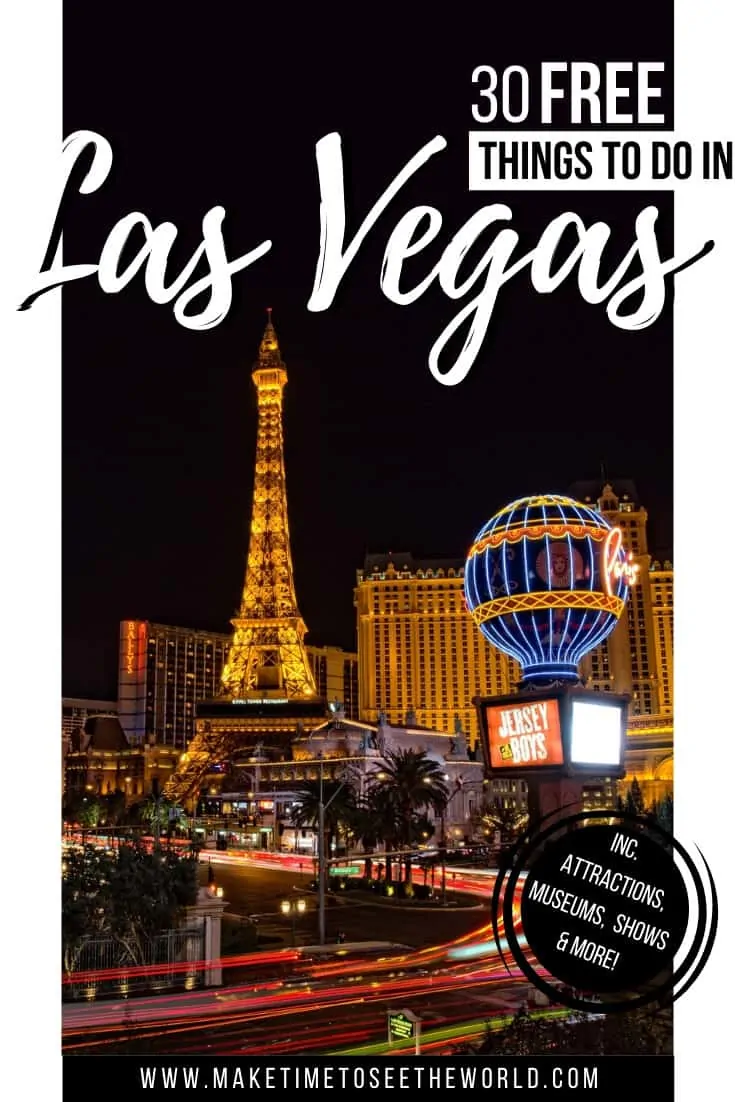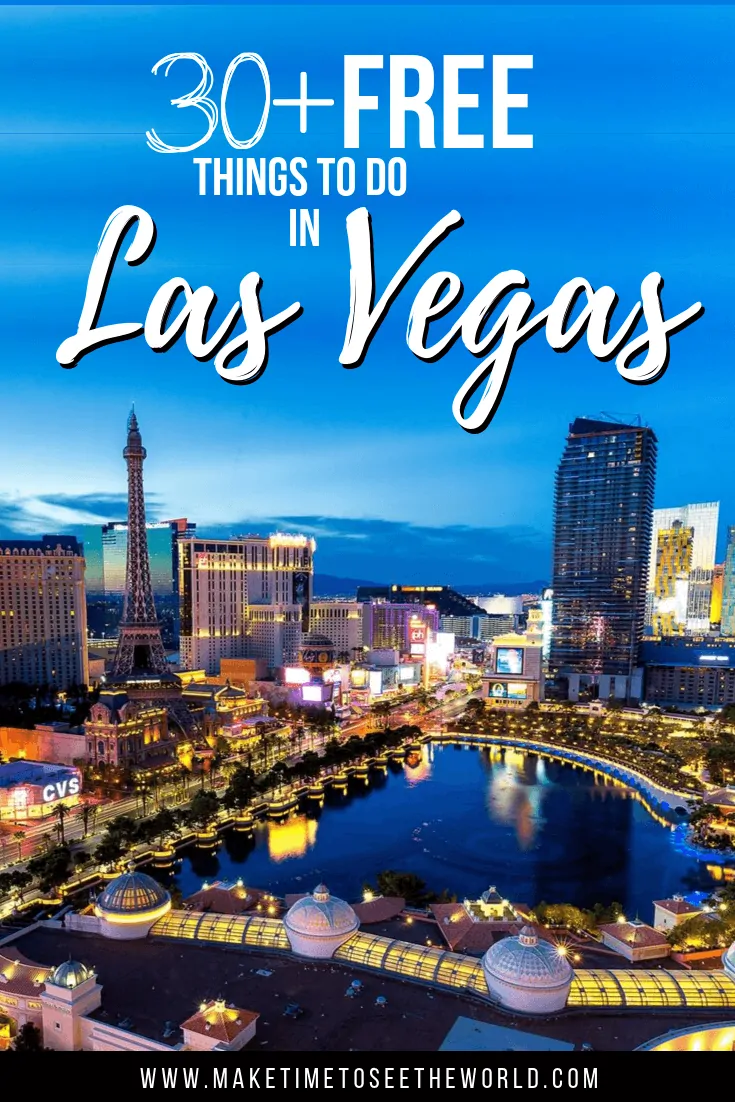 READY FOR MORE USA TRAVEL INSPIRATION? YOU MIGHT BE INTERESTED IN THESE TRAVEL TIPS, TRAVEL ARTICLES, DESTINATION GUIDES, TRAVELER RESOURCES AND RELATED POSTS ABOUT OTHER AMAZING CITIES IN NORTH AMERICA:
Hi There! Thanks for reading 45+ FREE Things To Do In Las Vegas. I just wanted to let you know that this post contains affiliate links, which means if you purchase something after clicking a link, I may get a small commission – which is at absolutely no cost to you. If you enjoyed this article and are going to be searching for some of the things I mention anyway, I would love it if you could click through from the links above & thank you in advance! Read my full Disclosure here.
And a huge Thank You for reading the MakeTimeToSeeTheWorld travel blog.