With 50+ Amazing Things to do in Bali, it can be hard to know where to start – so we've also named the best places to visit in Bali and their top attractions to help you plan your trip!

Probably the most well-known Island in all of Indonesia, Bali has been welcoming tourists in the millions for many years now. A lush island paradise, it is famous for it's beaches, picturesque rice terraces, is a favorite with surfers, the home of hundreds of yoga retreats/wellness retreats and day spas, and offers some of the top restaurants in the whole of the country!
Add in that it was one of the locations for the hit movie, Eat Pray Love, it's no wonder it's a tourist hot spot. However for the first time visitor – it may be quite hard to comprehend just how big an Island it is. To help you out, we have put together this guide to the Best Places to Visit in Bali including activities and attractions to visit in each spot; which when you add them all together becomes an EPIC post about ALL of the Best Things to do in Bali!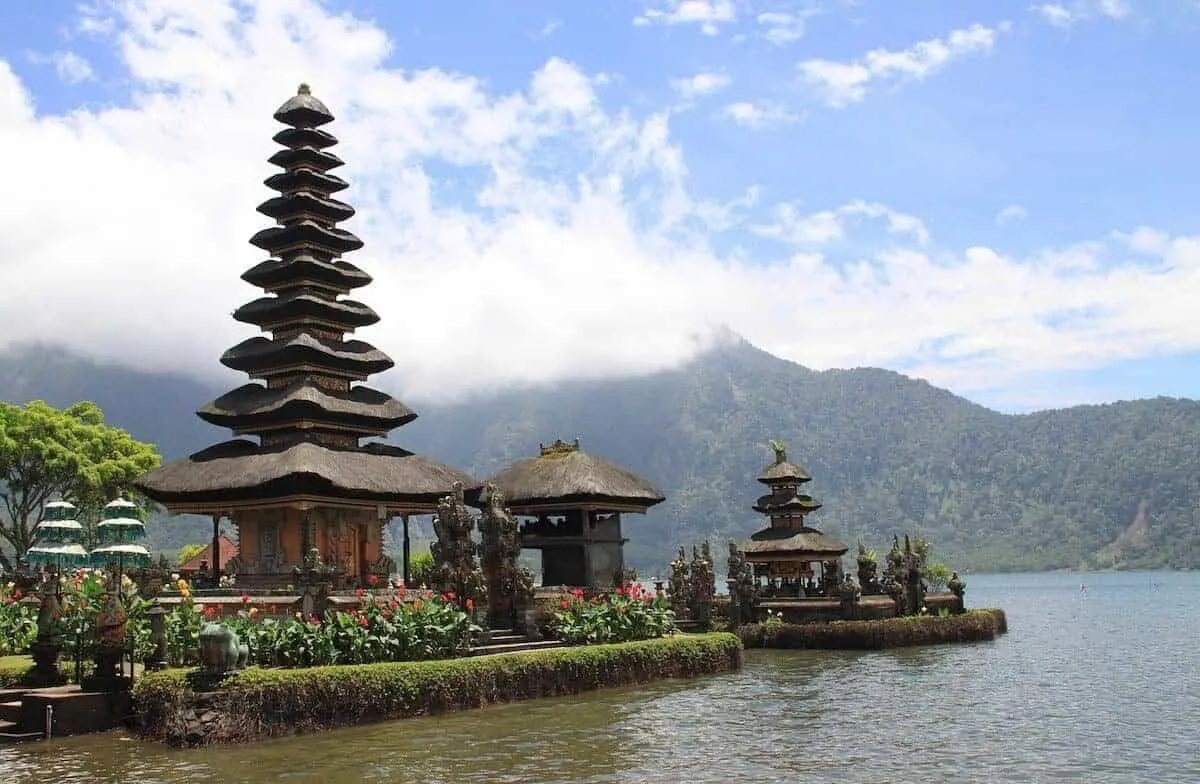 Disclaimer: Almost all posts on this site contain Affiliate links, and this one about the 50+ Best Things to do in Bali is no different. This means that if you click on any of the links in this post (and make a purchase) I may receive a small commission at absolutely no cost to you. Each post is carefully crafted to (hopefully!) answer all your questions and recommendations are made where we believe they will improve your trip and help with your planning. As such we thank you in advance should you decide to click & buy. Read my full Disclosure here.
Top Things to do in Seminyak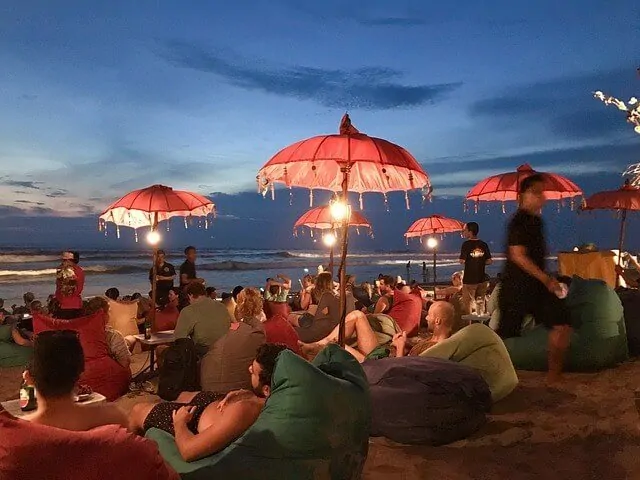 Seminyak is Bali's hip and upmarket tourist centre, packed to the brim with cool cafe's, great shopping and with the likes of Ku de Ta and Mama San you've got some of the best Bali restaurants in Bali just waiting to welcome you with open arms. Oh, and did I mention there is a superhero training facility?! Take a peek here at the Best Places To Stay in Seminyak and start planning your trip!
Fun Things to do in Seminyak
Seminyak Beach – day or night, this beach just has a touch of magic about it. (Some even say it is the best beach in Indonesia for cocktails and catching the sun setting!)
Live like a gypsy for the day at La Laguna
Use Seminyak as a base to visit Legian Beach and Kuta Beach (because a different beach everyday keeps the doctor away, apparently!) or make your way much further North to the incredible Tanah Lot temple complex. Considered one of the most culturally significant Hindu temples on the Island. For tourists, it is the most visited/photographed due to its impressive location on a crumbling rock-face jutting out into the ocean. And to really do the tourist thing – make sure you are here for sunset!
Waterbom Bali in Kuta – it's the number 1 waterpark in Asia!
Get your wine fix @ Vin + Seminyak – fine wine from around the world curated in a beautiful bamboo enclave.
Potato Head Club – one of the hottest beach clubs on the planet. Come for the day, come for drinks, come for dinner – but whatever you do, make sure you visit this iconic spot at least once when you are in Bali.
Rent your own private Villa @ Equilibria Seminyak (each with their own private pools, outdoor bathtub, on-demand butler and included day pass to super cool beach club, Finns!) for as little as $250 a night! It's one of the best hidden gem Bali Hotels.
Shop your heart out. Jalan Raya Seminyak (the main street) is practically wall to wall interior design stores (plus upmarket cafes and local restaurants); whilst Jl Kayu Aya is awash with trendy clothes shops; (not forgetting the some incredible Bali restaurants dotted in-between.) The biggest problem you will have is how much space you have in your luggage! (and stomach!)
Eat your bodyweight in photogenic Smoothie Bowls / Acai Bowls
Top Things to do in Ubud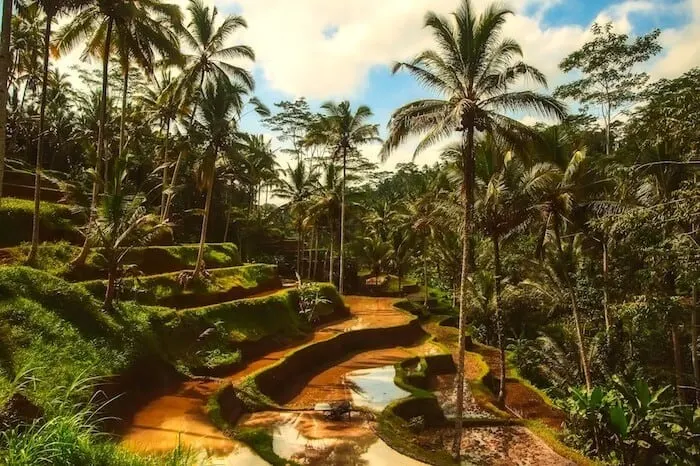 Located in the highlands of Bali Indonesia, Ubud is surrounded by the rainforest and revered for its insta-worthy Tegallalang rice terraces. It is here you'll find yoga studios, day spas, art, some of the best culture museums in Bali, Hindu temples and hidden waterfalls. Ubud is one of the main places of interest in Bali and is well worth spending a few days exploring.
Things to do in Ubud Bali

Ubud Monkey Forest (Sacred Monkey Forest Sanctuary) – you can't come to Ubud and not visit the monkeys forest Ubud! Just beware of valuable and shiny things, the cheeky monkeys can be handsy.
Visit the home of the (former) King of Ubud at Puri Agung Peliatan (Peliatan Royal Palace aka. Ubud Palace)
Shop at Ubud Market (

Pasar Seni Ubud

) – pick up local crafts and arts from surrounding villages at these local markets or head to the nearby Sukawati Art Market.
Chase Waterfalls – around the Ubud region there are a number of spectacular waterfalls hidden within the rainforest, including Tegenungan Waterfall
Join a Yoga Retreat – 6 days of Namaste and Spa Treatments in Ubud's highlands at a pure zen hideaway. Bliss.
Get a dose of culture and the Ubud art scene at one of the many art museums in the area. Notable ones to include on your trip are ARMA (Agung Rai Museum of Art), Blanco Renaissance Museum, Ubud Art Market and Neka Art Museum.
Swing over the jungle at the Bali Swing.
Visit the Elephant Cave (Goa Gajah).
Wander through the stunning Tegalalang rice terraces (the rice paddies are one of the premier tourist attractions in Bali and are totally not to be missed).
Visit the Pura Tirta Empul (Water Temple / Water Palace) – it's a great photography location too!
Need to get a day at the laptop in? Ubud has some of the best co-working spaces in Bali.
Book a day tour to hike Mount Batur for sunrise for amazing views over the countryside and Lake Batur below (there are plenty of recommended fullday tours available online and as one of the top Bali tours it's best to book in advance)
Get a taste of traditional Balinese Cuisine and learn to cook it at a Balinese Cooking Class.
Top Things to do in Canggu
View this post on Instagram
Get cafe happy in the food lovers paradise of Canggu. More spread out than the neighboring Seminyak, Legian and Kuta regions, visitors to Canggu will almost definitely need some form of transport – and preferably (if you are feeling confident) a scooter to avoid what can be crippling traffic.
Things to do in Canggu
Hit the surf. Canggu beach & Echo Beach are bonafide surfers paradises' (and Balis best surf spots) and with a variety of breaks that attract folks with varying skill levels; from beginner (there are several surf schools here) through to more advanced riders. Its one of the best places to surf in Bali.
Cafe hop. If you need to stock up on Insta-friendly foodie photos, you'll be spoilt for choice in Canggu. And if you always wanted to have a floating breakfast or lunch, there are plenty of picture-perfect spots on offer.
Have a drink at Old Mans (considered the bar in Canggu)
Fitness and self-care is big here. You can find CrossFit, dance, boxing, gyms and plenty of yoga joints here.
Get a Balinese massage – or opt for a full spa day.
Frolic in the rice terraces. Although Canggu is no Ubud and the rice terraces are more flat than tiered, rice fields can be seen practically wherever you go in Bali.
Things to do in Nusa Lembongan
Nusa Lembongan is the smaller island located next to Nusa Penida and is celebrated for its surf, snorkeling and manta rays. It is also the site of the underwater museum – giving everything you could need for some interesting underwater photography!
Things to do in Nusa Lembongan
Snorkel with Giant Manta Rays (offered by almost every tour agency on the island)
Relax at Dream Beach – a gorgeous stretch of white sand with great access to food and drinks from a nearby hotel.
Be at Jungut Batu Beach for sunset – it's the main beach on the island and you can be sure to see the sky on fire here most nights.
Get sprayed at Devils Tear – this natural cove takes quite a pounding, throwing water high into the air as the tide comes in.
Top Things to do in Nusa Dua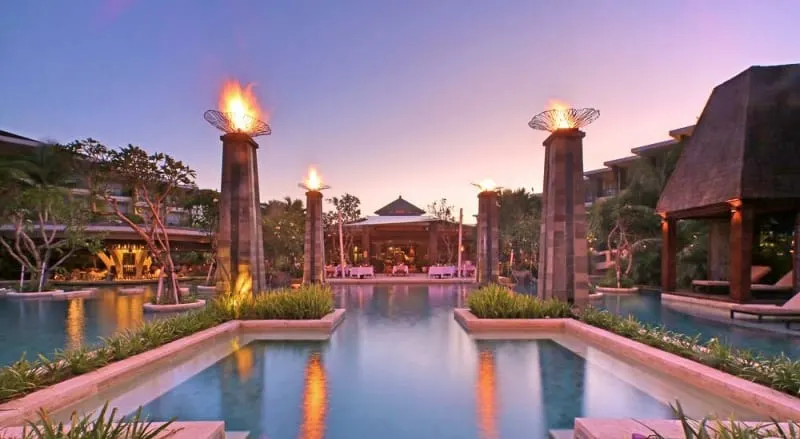 If you want to live the high life in Bali, Nusa Dua is the place to be. The gorgeous beach here is home to several luxury resort hotel chains such as the Sofitel, Westin and the Grand Hyatt – and at prices a low as $100-$150 a night, you can experience paradise at a bargain price! It's definitely one of the best places to see in Indonesia!
Fun Things to do in Nusa Dua
Things to do on Nusa Penida
Nusa Penida is the large island (200km sq) located of Bali's South West coast, and whilst tourist infrastructure is nowhere near as advanced as on the mainland, it is progressing rapidly. Perfect for beach hopping, it's one of the best islands in Indonesia and one of the best day trips from Bali, however, visitors must be aware that prices are inevitably more expensive here as even the most basic supplies are brought over by boat.
Fun Things to do in Nusa Penida:
Go Snorkelling or Scuba Diving
Pasih Uug (Broken Beach)
Diamond Beach – beautiful and relatively unknown beach on the East of Nusa Penida Island which is next to two much more famous attractions –

Atuh Beach is to the left and Thousand Island Viewpoint is to the right.

Kelingking Beach (also known as T-Rex Beach)
Angel's Billabong – Natural Pool framed by rugged cliffs
Top Things to do in Munduk
View this post on Instagram
Located in the highlands in the North of Bali, surrounded by jungle and hiding more waterfalls than you could shake a stick it. This is Ubud before it became Ubud. Remote, peaceful, and amazingly beautiful.
Fun Things to do in Munduk:
Chase waterfalls (there are several, and all are beautiful and usually the most tourist free waterfall in Bali! – Our favorites include Banyu Wana Amertha Waterfall, Aling-Aling Waterfall and Sekumpul Waterfalls)
Visit Ulun Danu Beratan Temple on Tamblingan Lake. Probably the third most famous temple in Bali after Tanah Lot and Uluwatu.
Drink Coffee fresh from the local coffee plantations. Due to it's cooler climate, Munduk is a great place to grow vegetables and you'll find plantation after plantation growing those sweet brown (coffee) beans that feed our caffeine addictions!
Take that Instagram shot at the Golf Club Gates – or that Instagram shot (above) at the infinity pool at Munduk Moding Plantation.
Take in ALL of the viewpoints around Twin Lakes (if you are not photo-ed out at this point!)
Take a day trip out to Menjangan island, located 5 miles to the North West of Bali.
Explore Lovina: Known for it's black sand beaches, coral reefs and dolphins, the peacful area of Northern Bali can feel like it's a million miles away from the very busy southern part of the island.
Top Things to do in Sanur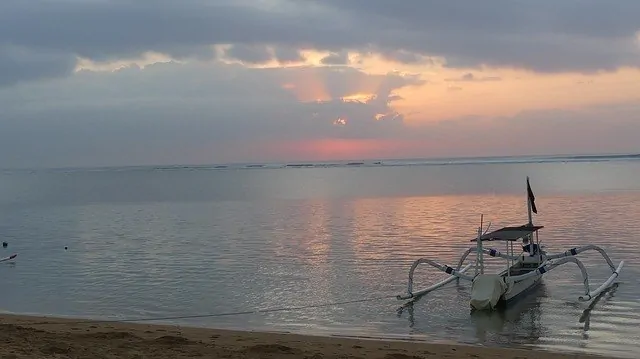 Located on the opposite coast to Kuta/Seminyak/Canggu, Sanur is a sleepy seaside town in East Bali with a long clean stretch of beach, lots of restaurants and bar but often without the crowds of more the popular spots. Sanur is also the jumping point to get out to the islands such as Nusa Penida and Nusa Lembongan, but also for the longer journeys out to the Gili Islands (Gili Trawangan, Gili Meno, Gili Air etc).
Fun Things to do in Sanur
Watch the sunrise before a day relaxing at Sanur Beach
Take a walk along the picturesque Sanur Boardwalk
Go shopping at Pasar Sindhu Night Market
Hop onboard a sunset dinner cruise
Take a day trip out to the Nusa Islands (Nusa Lembongan, Nusa Penida or Nusa Ceningan)
Top Things to do in Uluwatu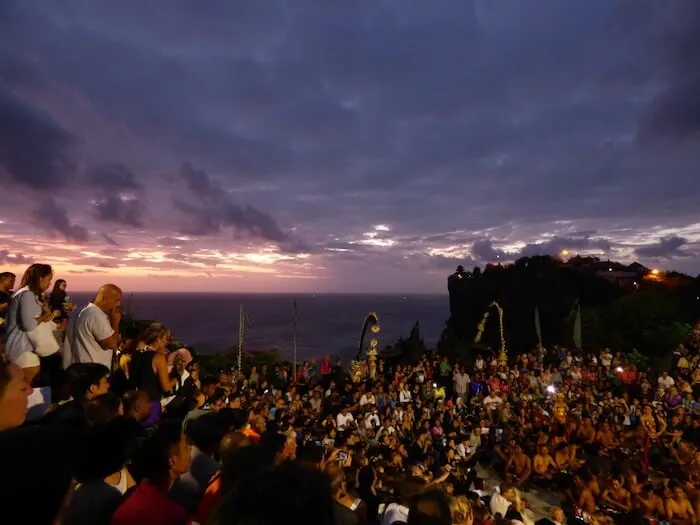 Uluwatu is located at the south western tip of Bali and is home to the Pura Luhur Uluwatu Temple where the famous 'Kecak' fire dance is performed nightly. Crowds flock to the cliffside temple daily and stay for the performance that starts just before sunset every night. The area is also a favorite with surfers and has one of the best nightlife spots in Bali which says goodbye to the weekend in style every Sunday night.
Fun Things to do in Uluwatu
Uluwatu Temple & the Kecak Performance – it easily one of the most interesting places in Bali and overall, this cultural performance is one of Indonesia's top sights.
Surf (it's one of the main Uluwatu attractions – whether your a do-er or a watcher! Although the swell is famously big here and at nearby Padang Padang beach, so it's not really a great spot for a surf lesson if you are a beginner!)
Head to the bars over looking Uluwatu beach for the perfect sunset shots. Find your spot at the balcony at SingleFin (a must-visit place in Bali) and sip cocktails on a Sunday night and celebrate the week that was as the sun goes down and tunes are turned up.
If staying in and around Uluwatu, be sure to use your stay as a springboard to explore the nearby Nyang Nyang Beach, Balangan Beach and Jimbaran Beach areas. These beautiful stretches of white sand are home to some of the best beachside seafood restaurants, excellent sunset spots and quite a few exclusive hotels(!) For a day in the lap of luxury (on a backpacker budget), be sure to book yourself in for a Day Pass at Sundara.
.
And that's a wrap folks. We hope our guide to the best places to visit in Bali has helped you narrow down which areas of the Island you want to stay in; and our guide to 50+ Things to do in Bali will keep you busy for the entire time you are there!
And if you liked this guide, or know of someone who is headed to Bali who is in need of a little travel inspiration, please share this guide with them via Facebook, Twitter, Flipboard, or use the P button in the sharebar on the left to pin the image below. And remember, sharing is caring! Happy Travels!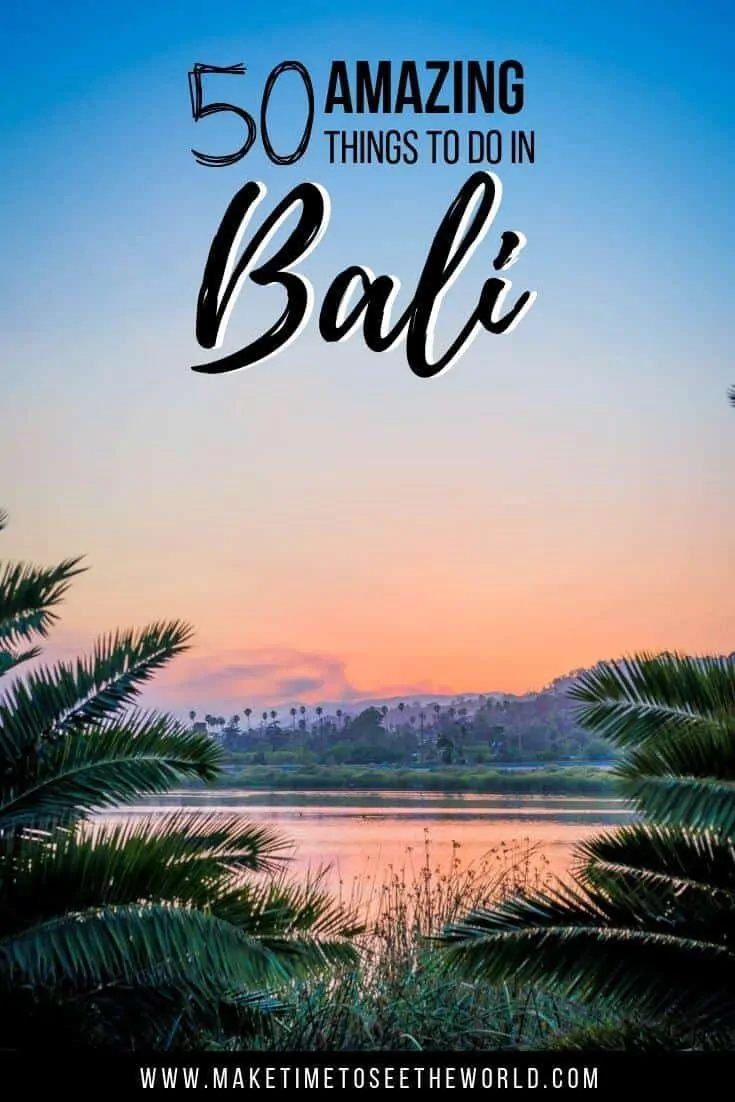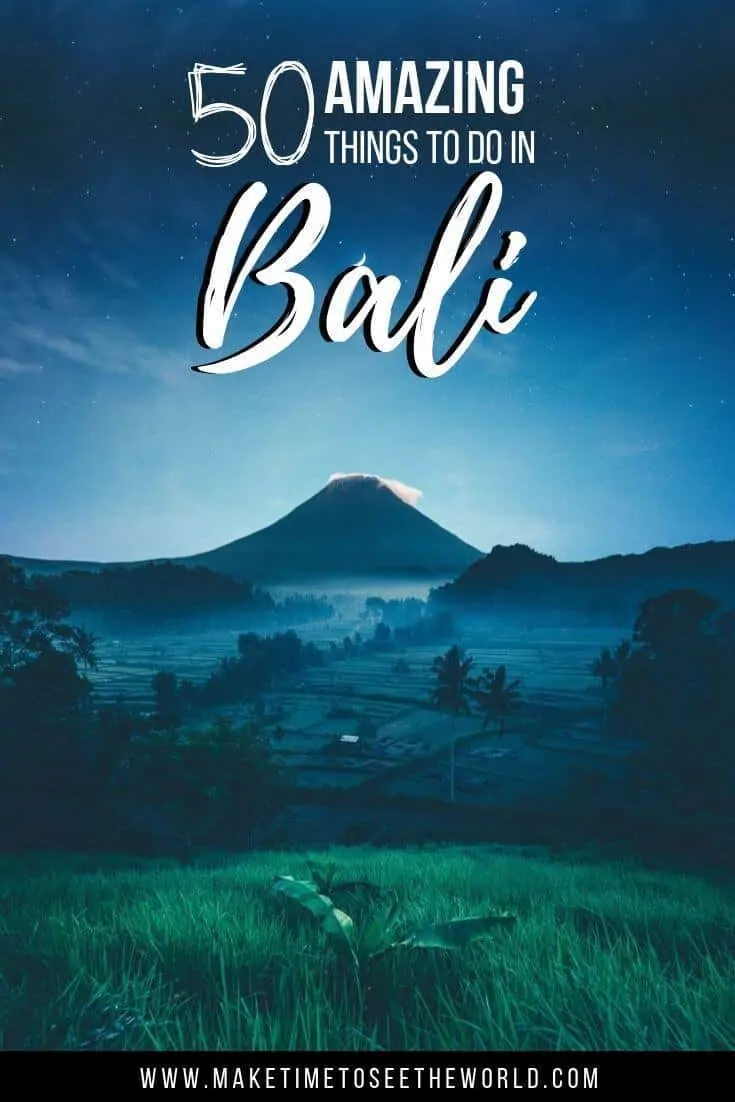 READY MORE ASIA TRAVEL INSPIRATION? YOU MIGHT BE INTERESTED IN THESE TRAVEL TIPS, TRAVEL ARTICLES, DESTINATION GUIDES AND RELATED POSTS:
Hi There! Thanks for reading my post about The INCREDIBLE Places to visit in Bali (+ ALL The Things to do there)I just wanted to let you know that this post contains affiliate links, which means if you purchase something after clicking a link, I may get a small commission – which is at absolutely no cost to you. If you enjoyed this article and are going to be searching for some of the things I mention anyway, I would love it if you could click through from the links above & thank you in advance! Read my full Disclosure here.