Looking for the best travel backpack for women? We've got 12 female-specific 38-60L packs for short & long-term travel to help you find your perfect travel bag.
If you are planning on hitting the road for an extended period of time, exploring far off corners of the globe and having incredible travel adventures, you're going to have to pack a few things, and so we've put together this list of the best travel backpacks for women to help you find your perfect travel companion. And if you scroll to the bottom, we've even put together a handy guide and our top tips to help YOU select the perfect backpack.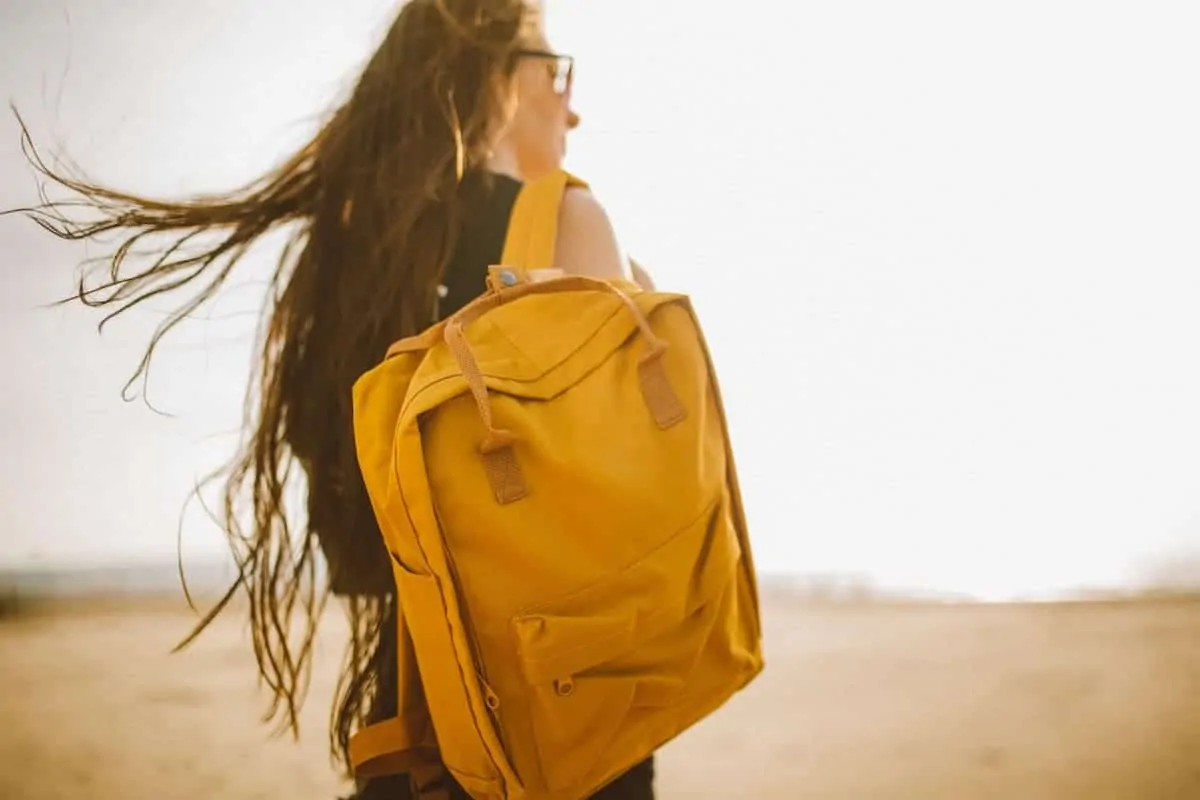 Disclaimer: Almost all posts on this site contain affiliate links, and this Guide to the Best Travel Backpacks for Women is no different. This means that if you click on any of the links in this post (and make a purchase) I may receive a small commission at absolutely no cost to you. Each post is carefully crafted to (hopefully!) answer all your questions and recommendations are made where we believe they will improve your trip and help with your planning. As such we thank you in advance should you decide to click & buy. Read my full Disclosure here.
The Best Travel Backpack for Women (40-50L)
Backpack
Deuter Transit 40
Osprey Farpoint 40 (S/M)
Eagle Creek Women's
Global Companion 40
Osprey Kyte 46/44
Price
$$
$$
$
$$$
Capacity
40L / 16kg
38L / 15kg
40L
46L (S/M)
44L (XS/S)
Dimensions
(inches)
24 x 14 x 9
20 x 14 x 8
13.75 x 21.5 x 8
28 x 14 x 14
Suitable for
Torso Size
15-19 inch
15-19 inch
16-21 inch
16-20 inch (S/M)
13-17 inch (XS/S)
Features
Ripstop, Water-resistent,
Carry-On Approved
Stowaway Backpanel,
Harness & Hipbelt +
Laptop Pocket
In Built Zipper Lock
Extra Tough Zippers
Raincover Included
Hydration Sack

Quick Tips for Packing Light
Womens backpacks in the 40-50L range are perfect for short trips (few days to a few weeks) or for trips where multiple flights on budget airlines are required (as most packs up to 40L fit in the overhead bins when not overpacked!).
Make sure you plan a capsule wardrobe, limit the number of pairs of shoes you take and decant toiletries into travel sized containers to help maximise your space.
Deuter Transit 40
The Deuter Transit 40l backpack is the perfect carry-on and was designed specifically to fit in the overhead compartment.
It features a U-shape zip allowing you easy access to all your stuff, along with a bottom compartment for storing sleeping bags and shoes etc and internally it includes a laptop compartments (that can fit a macbook pro or other 13 inch laptop), organizer, side pockets and small front stash pocket for documents.

It has a breathable air mesh padded shoulder harness and luggage stabilizing straps for extra comfort, which can be zipped away behind a cover for a more streamlined look, along with a removable padded shoulder strap.
Designed for women, the flexible X-Frame is fully adjustable and the ergonomically shaped hip fins are for perfect load transfer and even weight distribution.
The Deuter Transit 40 is also made from a strong material (600d Polytex), which delivers a lightweight, high-performance durability and the PU coating offers excellent water resistance and abrasion resistance. Check prices below.

.
Osprey Farpoint 40 (S/M)
Osprey's Farpoint range is a champion among travelers and is our top pick in the 40-50L category – for good reason. Available in a selection of sizes from 38 right the way to 80 (which is absolutely huge!)
The S/M 40 is actually a 38L capacity bag and (IMHO)is the best travel backpack for women as it can be used as carry on backpack on most airlines and has a real emphasis on comfort when carrying it.
It includes a LightWire frame suspension which transfers the load from harness to hipbelt and a mesh backpanel which improves ventilation. The entire strap system can also be zipped away to create a streamlined and sleek silhouette (because who says you can't look good with a backpack on your back!)
Internally there is a laptop sleeve, and one large compartment to help you utilize all the space, and outside there is a slash-proof pocket and loops to attach extra gear.
It's also covered by Osprey's All Mighty Guarantee so you know that this bag can keep up with you on whatever adventure you want to on.

. .
Tortuga Setout 35L (USA Only)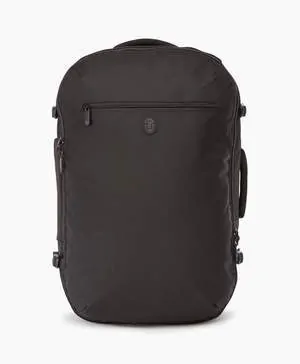 With a suspension system designed for women's bodies, a suitcase style opening and dedicated laptop compartment, the Tortuga Setout Backpack packs a compact but powerful punch. With a 35L capacity, it is the smallest of our recommended backpacks for women but is perfect for those who prefer short city breaks and weekends away – and being on the smaller size, you can be sure that it meets even the most stringent of airline carry on regulations too.
It also has a removed padded hip belt, padded shoulder straps, a dedicated water bottle pocket and lockable zippers, you'll be planning those incredible weekend getaways (minus the baggage fees) in no time!

Eagle Creek Women's Global Travel Companion 40
Designed for a woman's frame, this ergonomically shaped backpack is front loading and has a multi-compartmental design with plenty of pockets for organisation – perfect if you are a bit OCD (like me!), along with padded moisture wicking shoulder straps and hip belt for optimum comfort.
The Eagle Creek Women's Global Travel Companion is the perfect carry on size and made from water-repellent, lightweight material and also has a bottom shoe compartment that can be used to separate your shoes from clothing. Extra features that are super handy include a lock loop at the top which allows you to lock the zips to the bag for extra security and the built in padded laptop sleeve can be accessed from the main compartment or from a top access point.

.
Osprey Kyte 46/44
The Osprey Kyte is a chameleon among womens travel backpacks. Part top loader, part side loader, it's not a fully front loading backpack, but it offers a enough access points to earn a place on this list. With a multitude of pockets, loops, bungee cords and a reservoir sleeve, it can easily be used for hiking alongside long term travel.
Both the 44 and 46 liter capacity models are built for women and perfect for female travelers and have an adjustable harness and effective weight distribution which make it one of the most comfortable backpacks to wear over long periods of time.

.
The Best Travel Backpacks for Females (50-60L)
Backpack
Mountain Warehouse Voyager 50 Wheelie
Osprey Fairview 55
Deuter Transit 50
Vango Freedom II 60
Price
$
$$$
$$$
$
Capacity
50L
55L
50L
60L + 20L
Dimensions
(inches)
30 x 13.5 x 9
26 x 13 x 12
25 x 13 x 10
25 x 15 x 11
Suitable for
Torso Size
17-23 inch
16-20 inch
15.5-22 inch
16-22 inch
Features
Wheeled Backpack
Hybrid
Detachable Day Pack
Internal Laptop Sleeve
Detachable Day Pack

Reinforced Base
Lightweight,
Durable Construction

Mountain Warehouse Voyager 50 Wheelie
If you are not quite ready to give up the wheels in favour of a backpack, the Mountain Warehouse Voyage 50 Wheeled Backpack is the perfect hybrid and convertible backpack to help you make the transition.
It is full of handy pockets and compartments for organization, a narrow design which is best-suited to a woman's frame along with compression straps to reduce the bulk of the pack and aid balance.
The harness system can also be strapped away behind a pocket on the back, and the robust wheels make it easy to roll and maneuver when you don't want to carry it. It's the perfect compromise.

.
Osprey Fairview 55
The Osprey Womens Fairview 55 is one of the top womens backpacks that combine durability, lightweight backpack frame and a generous 55L capacity which is perfect for every medium-long term trip.
The main compartment is 42L with the detachable packable daypack offering a further 13L which can be worn as above (strapped to the main compartment) or hung of the loops on the shoulder straps to sit on the wearers front.
The removable daypack can also be used as the 'personal item' on some airlines. The designed-for-women backpack straps, harness and padded waist belt can be stowed behind a panel at the back creating a smaller silhouette when checking/storing the bag; and the padded 15inch laptop sleeve is secure inside the compartment.

.
Deuter Transit 50
Slightly bigger than the Deuter Transit 40L (above) this 50L model also comes with a detachable daypack which is carryon sized – perfect for splitting the load across packs when checking the main bag.
As with the model above It has a breathable air mesh padded shoulder harness and luggage stabilizing straps for extra comfort, which can be zipped away behind a cover for a more streamlined look, along with a removable padded shoulder strap.
Designed for women, the flexible X-Frame is fully adjustable and the ergonomically shaped hip fins are for perfect load transfer and even weight distribution.

.
Vango Freedom II 60 + 20
This is actually my current backpack – although I don't use the add on 20 any more (I took it on my first RTW trip and figured out quickly I had waaay too much stuff with me).
This version is an upgrade on my own and now has an ultra-light yet strong fabric composition along with the as standard quick adjust (QA) frame, padded hip belt and stowaway compartment for the air-mesh straps & harness when checking or storing the bag.
The bag is one full compartment (so packing cubes are a must for the super organized among you – check out our favorites here); the interlocking heavy duty zips are a great security feature, and can put up with the most zealous over-packers (formerly me, again)!

.
The Best Top Loader/Hiking Backpacks for Women
Whilst we don't recommend top-loader backpacks for long term travellers, they are perfect for hikers as they have a narrower width making them more aerodynamic, and often have straps, loops and fixings that are perfect for carrying camping equipment such as a sleeping bag, camping map, hiking pole etc.
Backpack
Kelty Redwing 40
Osprey Aura AG 50 (S)
North Face Terra 50 (S/M)
Mountain House Deva 60 (S)
Price
$$
$$$
$$
$$$$
Capacity
40L
47L
51L
60L
Dimensions
(inches)
23 x 14 x 12
30 x 17 x 7
17.7 x 8.7 x 9.4
11.8 x 26.8 x 16.9
Suitable for
Torso Size
14.5-18.5 inch
16-19 inch
16-19 inch
16-18 inch
Features
Hydration Sleeve
Removable Hip belt
Integrated Flap Jacket
Hydration Sleeve
7+ Pockets
Sleeping Bag compartment
Access

Wishbone Frame
Lumbar Tune Insert
Kelty Redwing 40
The Kelty Womens Redwing 40l backpack is the perfect size for quick day hikes and getaways, whether on the trail or in the air. Hybrid-loading U-zipper design works as both a top loader and front loader, allowing easy access to all your gear. An additional stash pocket on the front of the pack makes it easy to tuck away a jacket or hoodie, and inside there's organization pockets for maps, electronics, pens, and other travel essentials.
The hydration sleeve is a dual-use pocket that can carry a laptop without worries and LightBeam single aluminum stay and Dynamic AirFlow back panel keep your load stable and comfortable, while custom shoulder straps and hip belt are built to fit a woman's body. This bag is particularly good for petite women.

.
Osprey Aura AG 50
The Osprey Aura AG 50 is the best-fitting, most ventilated and comfortable women's-specific pack ever made for traditional hiking or trekking trips lasting a weekend or more. The innovative AntiGravity suspension system makes it feel like you're carrying less weight and female friendly frame wraps around your body for a snug and supportive fit.
With travel backpack features such as easy to use stretch mesh side pockets, Stow-on-the-Go trekking pole attachment, and FlapJacket for lidless use, the Aura AG 50 is a great hiking backpacks for travel.

.
North Face Womens Terra 50
The North Face Terra 50-liter pack has a user-friendly design that's slimmer, lighter and built for for managing large loads comfortably during multi-day backcountry excursions, with 7+ well-placed pockets for access to trail essentials, this bakpack fits plenty without being too bulky. It also boasts and anatomically correct hip belt to correctly spread the pack's weight and has a vertical mesh channel on the back panel for improved ventilation.

.
Gregory Mountain House Womens Deva 60
The Gregory Mountain House Womens Deva 60 hiking backpack is in a league of it's own with a dazzling array of features and an award winning history, but comes with a price tag.
The Women's A3 suspension features adjustable, pivoting shoulder straps and hip-belt panels, contouring the female body with custom curves and a feminine-inspired wishbone frame; the removable lumbar tune insert lets you hone the curvature of the lower back panel for customized support for your body shape and Pre-curved QuickSwap suspension components provide 3 harness options and 5 hipbelt sizes, offering 15 different fit combinations for precise comfort in every torso length – and that's just the comfort tech!
Other features include a detachable dackpack, in built rain cover which stows in it's own compartment and U-zip panel design allows easy access to the body of the pack for convenient loading and gear access on the trail. It's the ultimate in bells and whistles and a great investment for a hiking, trekking or backpacking trips.

.
Alternatives to Traditional Backpack Styles
If you think a backpack may just not be your thing, there are a few duffel bags on the market that may just suit your needs. I personally used a 65L duffel on my second overland safari in Africa as the large compartment was great for stacking packing cubes with different outfits and styles of clothes. This made switching out clothes into my daypack really easy.

How To Choose The Right Backpack for Females: Things to consider:
When selecting the best backpack for females there are a few things you should consider including size (do you want a small backpack, medium backpack or large backpack; features (is it water resistant, is it specific for women, is it good for plus size ladies?); and is it at the right price point for your budget. We cover these questions and more below:
Opening Style
Top loader, front opening, drawstring top, side zip (or a combination of each) – there are plenty of options when it comes to opening style for a travel backpack. However for convenience and practicality, we are firm believers that the best travel backpacks for women are the ones that open at the front, and preferably with a zip the whole way round – essentially the same way you would open a traditional suitcase.
This allows you better access to the whole of the space you have and help you organise your stuff better – and reduced the amount of time you will spend searching for a top/skirt that you know you packed but may have been relegated to the bottom of a top loading case!
Capacity
If you have traveled with a traditional suitcase on wheels your whole life, you may be forgiven for thinking that bigger is better. But when you are selecting a backpack, the bigger the bag, the more you can put in and the heavier it will be. And when you're carrying that on your back over several weeks or months, it's going get tiresome quickly. Not to mention being less than ideal for your posture!
As such, when recommending the best travel backpacks for women we would advise that you stick with a 40-50L pack if you want to travel light – or are taking mostly shorter trips, or 50-60L to have a decent amount of space for a round the world adventure without becoming too big. (Note: If you're on the tall side (>5'8/172cm), you could increase that again up to around 65L for a big trip, but we think it would be better to stick at 60L for comfort)
Bag Shape + Torso Size
The shape of your pack will have a huge impact on how comfortable it is to carry, and how well it distributes the weight. Ideally your backpack should have a square or rectangular shape, the frame should be no wider than the width of your back, with the back-plate adjustable to suit your own height.
Travel Backpacks also have a torso measurement to help you find one that will have the most comfortable fit. Most women's torsos will be between 14-18 inches, however you can follow these super easy instructions to work out your torso length. And if you are still unsure, a few packs have an adjustable torso to help cover those longer and shorter torso lengths.
.
Durability
If you are spending money on a backpack, you want to be sure it is going to last for as many adventures as you plan to take. Buying a backpack is definitely an investment, and spending a little extra to make sure the material used in it's construction is top quality, rip-proof, water proof (and preferably life proof!) will make sure your investment is a good one. Another thing to be aware of is to make sure the pack has good zips that are not going to pop the first time you challenge them (hello souvenirs).
Strap Style
Men and Women's bodies are different (I know, pretty obvious, right?!) but did you know that there are backpack's with straps that have been specifically designed with a woman's build/frame in mind. A lot of brands have gone to great lengths to make sure their backpacks for women are comfortable, with padded straps cut to a female shape, and padded hip belts which help evenly distribute the weight across your hips and less across your shoulders. This places the weight closer to your center of gravity and so makes it easier to carry.
All the bags we have tried and listed above have these women-friendly features to keep your comfort as a top priority. We'd hate to think of you setting off around the world with an uncomfortable backpack or worse – one of those basic shoulder bags!
Colour
Whilst pastel colors might be pretty, they will show dirt and marks very easily (and quickly). Save yourself the bother of carrying a dirty-looking pack and opt for one in a darker colour.
Extra Travel Backpack Features
Side pockets, zippered pockets, rain cover, compression straps, detachable day pack, waterproof (although most packs these days are) expander pockets or other packing organizing systems, laptop and tablet sleeve, zip away shoulder straps, sternum strap, toiletry bag, organizer panel, color options, hydration packs, laptop bags and moisture wicking straps – the list of potential additional features can get lengthy and when listed on most bags are to give a sense of it having all the bells and whistles. Just be careful these extra features are not detracting from the main style & fit.
For example, side pockets may be helpful for storing smaller bits that you would like easy access to – but be sure to buy enough bag locks to keep those sections secure if you will be checking your bag into the hold of a plane or under a bus/coach, or simply walking around a city.
.
The Main Thing When Choosing a Travel Backpack For Females Is…
To try it on first! Everyone is different, and there is no one size fits all approach, and whilst incorporating the above features will certainly help, you may have to compromise on a particular feature or extra to get find the perfect pack. And this is where ordering online can help too (as long as you are able to return the unwanted bag(s)).
Once you have selected a couple from our list below which take your fancy, order them all and try them all on in the comfort of your own home. You can even load them up with clothes to get a 'real life' feel of how the bag fits and moves on your body before you make the final decision. (Just be sure to keep all the tags on, and not cause any damage to the pack as you are giving it a test run!) – but this is a great way to check if your classic backpack is comfortable to wear, and how accessible things are via the front compartment or suitcase opening compartment etc!
.
And that's a warp folks. I hope you have picked out your new travel companion from our selection of the best travel backpack for women – and are planning your next epic adventure! (Psst. if you need a little inspiration – check out our list of the best group tours on the planet or get inspired with 50+ EPIC Travel Goals!)
And if you like this post – or know a girlfriend who is in need of a decent women-specific backpack, please tweet, pin, flip or share on Facebook – I'd really appreciate it!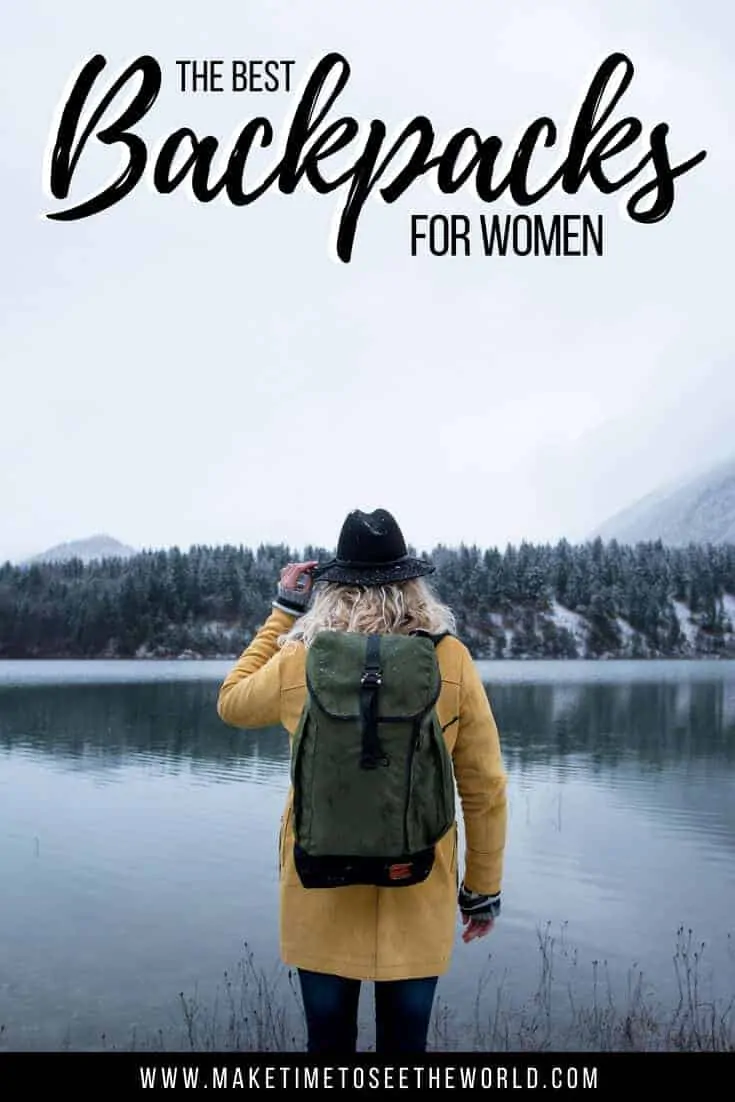 READY MORE TRAVEL INSPIRATION? YOU MIGHT BE INTERESTED IN THESE RECENT POSTS, TRAVEL ARTICLES, DESTINATION GUIDES, TRAVELER RESOURCES, TRAVEL GEAR GUIDES AND RELATED POSTS ABOUT OTHER AMAZING PLACES AROUND THE WORLD:
Hi There! Thanks for reading my travel tips and travel gear guide to Picking The Best Travel Backpack for Women (Tested by a Woman)! I just wanted to let you know that this post contains affiliate links, which means if you purchase something after clicking a link, I may get a small commission – which is at absolutely no cost to you. If you enjoyed this article and are going to be searching for some of the things I mention anyway, I would love it if you could click through from the links above & thank you in advance! Read my full Disclosure here.
And Thank you for reading the MakeTimeToSeeTheWorld travel blog posts.