If you are one of those folk who like to know exactly what you are booking (or have already booked!) – particularly when it comes to cruise liners – then this post is for you. Scroll down for a full Regal Princess Virtual Tour – which is also a Royal Princess Virtual Tour (as the two ships are identical) with full details about Staterooms, Dining Options, Things to Do on Board and other facilities you may not automatically thought of yourself! Enjoy & Happy Cruising!
RELATED: 75+ Incredible Virtual Tours to help you explore the world from your living room!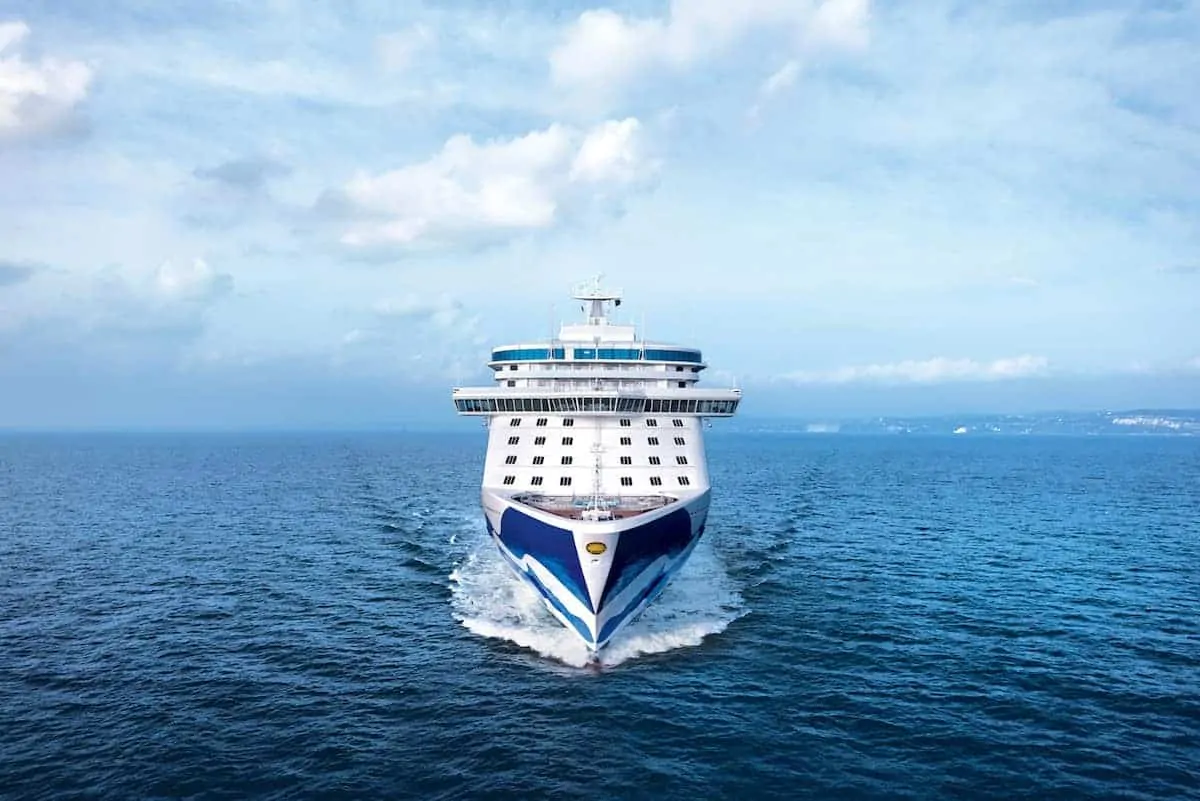 Disclaimer: I was hosted as a guest of Princess Cruises on board the Regal Princess Baltic Cruise, however all opinions, as always, remain my own. Read my Full Review of the Baltic Cruise Here and my Disclosure Policy Here.
Deck Plan for the Regal Princess

The Regal Princess, built in 2014 and sister ship to the Royal Princess, is the 11th largest ocean liner in the world with a guest capacity of 3,600.
Over 19 decks there are:
1438 balcony cabins (across Suite, Mini-Suite, Deluxe Balcony, Accessible and Standard Balcony Class)
342 Interior Cabins
14 Restaurants/Eateries (9 included, 5 supplementary – full details below)
24 hour room service and Ultimate Balcony Dining Experiences
9 Bars
3 Swimming Pools, 6 Hot Tubs, A Gym, Jogging Track and Sports Deck
Spa, Casino and Art Gallery
Find your stateroom and explore the decks in more detail here.
.
Royal & Regal Princess Staterooms & Cabins
Each cabin contains a range of amenities as standard including a fridge, hairdryer, premium bathroom amenities, private bathroom, 24 hour room service, electronic safe and flat screen TV.
All are designed with passenger comfort in mind and a re decorated with neutral colours, bathrooms have square sinks and surrounds allowing for more storage space, TVs have on-demand programing and electrical sockets have been spaced farther apart to accommodate multiple plugs and now offer a 220-volt socket to assist those traveling with technology.
For those aware of the environmental impact cruising has they will be please to hear that several energy-saving features have been built into the staterooms, including a card reader that activates the room's lighting, plus low-energy LED lighting fixtures.
Interior Cabin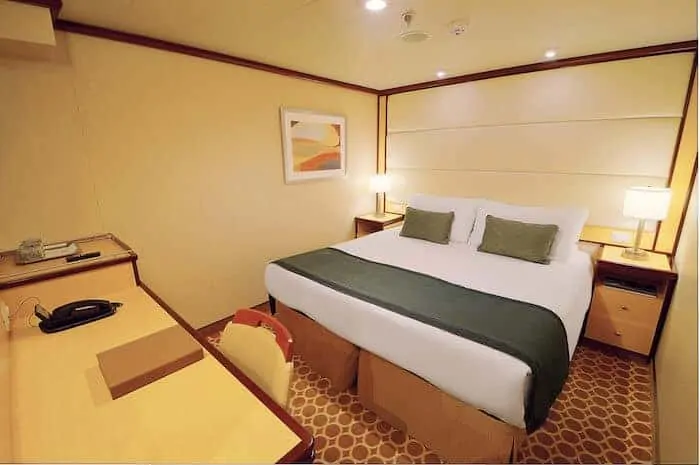 Interior Cabins are the most affordable accommodation option on board the Regal Princess and can be configured as a queen or twin. Including the standard features listed above, the Interior cabins offer a great place to rest your head if you are on a busy cruise or are not bothered about having balcony access.
Balcony Cabin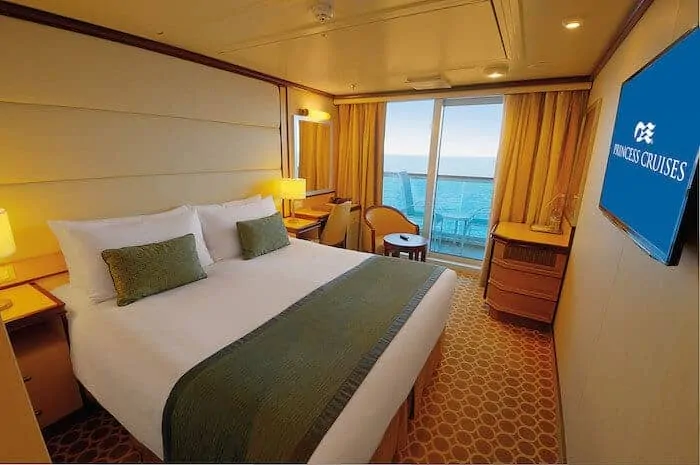 Between 214 and 22 sq ft (inc balcony) the impressive balcony cabins on the Regal Princess include all the amenities listed above along with a generous sized private balcony with two chairs and a table.
Deluxe Balcony Cabins are also available which are slightly larger at 233 to 279 sq. ft and include a seating area with sofa bed.
Mini Suite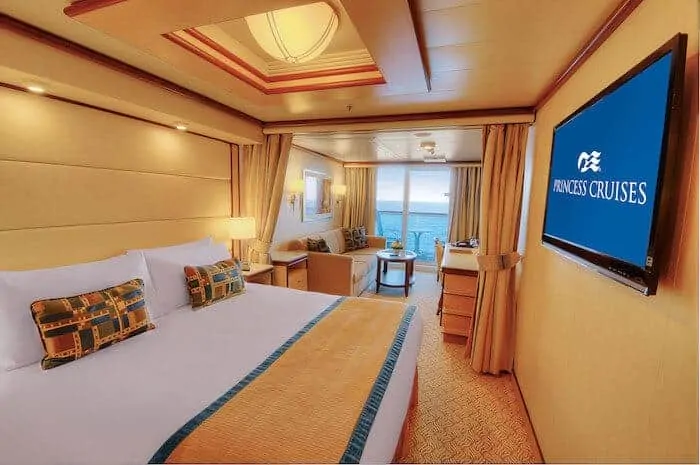 For families and groups needing a little more space, a luxurious mini suite is a fantastic option. Approximately 323 sq. ft with large balcony, two flat screen TVs and a mattress topper and superior pillows, guests will love the space and complimentary glass of champagne on embarkation day.
Suite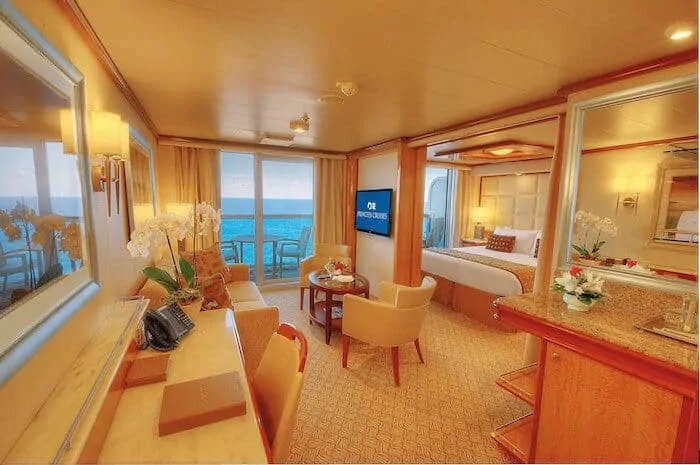 Suites are above industry size (approx 460 to 932 sq. ft inc balcony) with 2 sets of floor to ceiling sliding glass doors leading to spacious balcony including 2 loungers, 4 chairs, table and ottoman. Inside there this a bedroom with bedding including a luxury mattress topper and pillows, bathroom with shower and bathtub and separate sitting area with sofa bed.
Included in the price of your Suite is complimentary laundry and cleaning services; free daily bottled water; two flat screen TVs, complimentary dinner in a specialty restaurant on embarkation day and priority disembarkation at tender ports (where the ship can dock on land and guests are able to walk off the ship).
Wheelchair Accessible Stateroom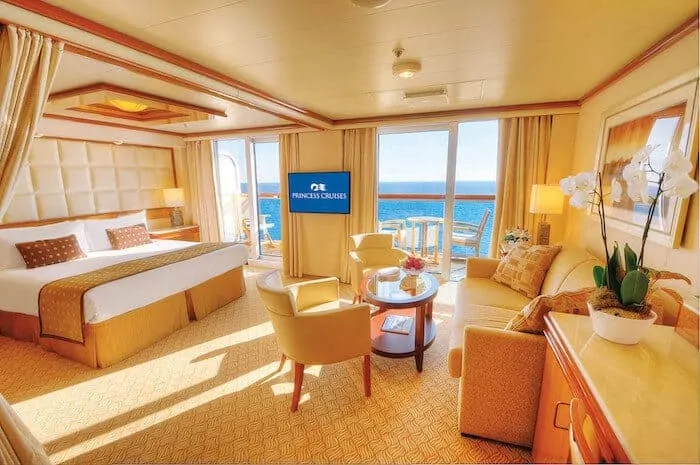 Accessible staterooms are all equipped with wheelchair-turning space, a roll-in shower equipped with grab bars and a fold-down bench seat, and an easy access closet and accessible writing desk (in addition to the standard amenities listed above.)
.
Royal & Regal Princess Dining Options & Restaurant Guide
The Horizon Court Buffet & Bistro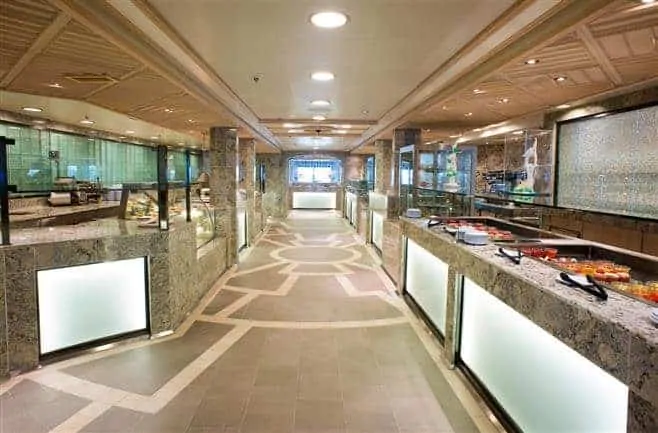 Included in your cruise fare
Breakfast: 5am – 11.30am – Lunch: 11:30am – 3:30 pm – Dinner: 5.30pm and 11pm.
Offering a casual space that covers a huge area on Deck 16 (Lido) the Horizon Court Buffet and Bistro serves up delicious and varied food from the early hours until late into the night. It is bar far the most popular casual dining experience on the ship, but with large seating areas on both sides of the ship there is always plenty of space.
For breakfast service, tea, coffee and orange juice are brought round by he waitstaff, and at lunch and dinner the juice is changed to American Lemonade (which is flat in contrast to UK lemonade – I wasn't aware there was a difference until my cruise!).
Breakfast runs between 5am and 11.30am and selections include pastries, bagels, muesli and cereals, alongside the traditional components of a fry up (eggs, bacon, beans, tomatoes, hard boiled eggs, toast etc) and there is even an omelet station where you creations are whipped up to order within minutes. For those with slightly more exotic tastes there are Asian-style breakfast options such a rice and noodle based stir-frys and curries.
For lunch and dinner there is every type of cuisine imaginable including Asian cuisine, Mediterranean dishes, Salad Station, Mexican fare, Japanese Hibachi Grill, Rotisserie station and a pasta corner. In addition to this there are different specialties served each day featuring a Fondue Station (free and favorite with guests) and an option to dine from the on-board crab shack ($29USD surcharge)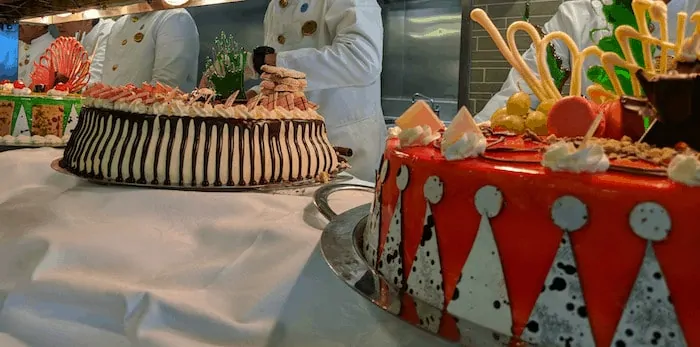 One of the major draws of the Horizon Buffet & Bistro – and one that cannot be missed – is the Pastry Shop. Serving freshly made cakes, deserts, cookies and delectable sweet treats each and every day, it's a haven for sugar lovers and a great way to round off any meal.
.
Room Service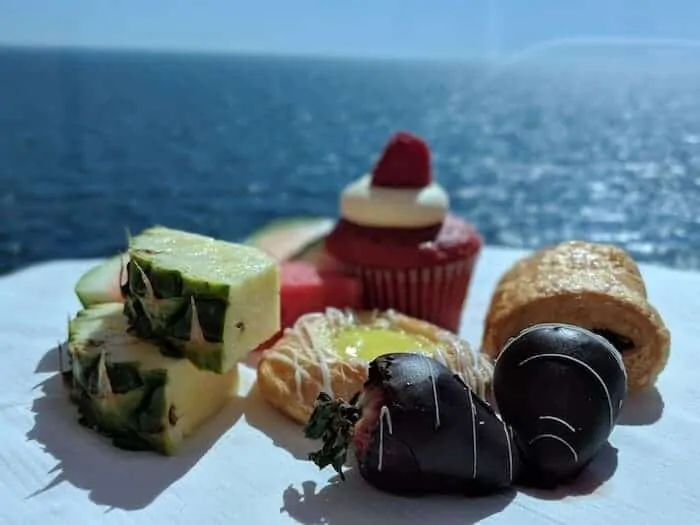 Room Service Breakfast can be delivered to your stateroom free of charge each day except on the day of disembarkation. Orders can be made via the Regal Princess website up until 11.30pm the night before or via a form in your room to be handed to your cabin steward.
There is premium balcony dining option available (supplementary) throughout each cruise, offering a hosted cocktail party, fresh flowers, champagne and a deluxe four-course meal featuring delicate sweet lobster tail or juicy steak among many available delicacies. Order before departure or chat to the service staff on board to arrange.
.
Standard Dining Rooms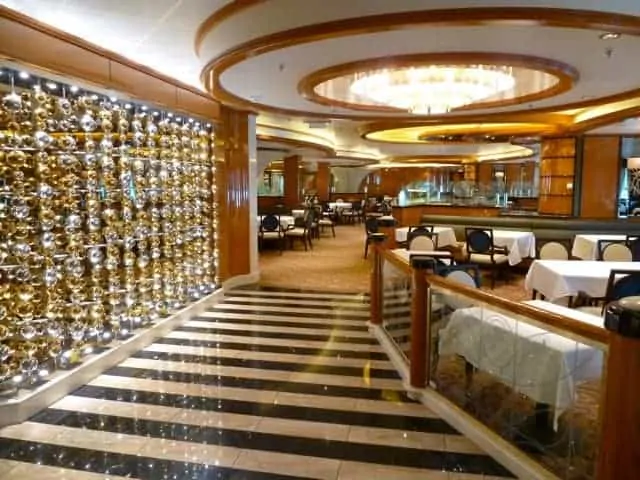 Allegra, Concerto & Symphony meals are included in your cruise fare. Drinks served in the restaurants are supplementary.
If you are looking for a dining option that is a little more formal, there are 3 standard dining room to choose from: Allegro (Deck 6), Concerto (Deck 6) & Symphony (Deck 5).
Allegro offers a la carte dining 7 days a week with fixed dining options where guests are seated for dinner at the same table at either 5.45pm or 8.15pm.
Concerto & Symphony are a la carte dining options which allow passengers to eat anytime between 5.30pm and 10pm and whom can be seated with other their group, or join a larger table to dine with other guests.
A la carte breakfast and lunch in all three establishments are served between 7am and 9.30am, although we suggest making reservations if you are a large group.
The menu is the same across the three dining rooms each day and for lunch and dinner generally offer a soup or salad starter, pasta course (which can be ordered as an entree or main), and a variety of main courses including at least one vegetarian and one fish option each meal plus a specialty dish from the 'Crafted by Curtis Stone' range and a selection of deserts and cheese.
The menu is different each day, with a selection of Princess Specials which remain unchanged presented on the left side of the menu and the current day's menu displayed on the right.
.
Alfredos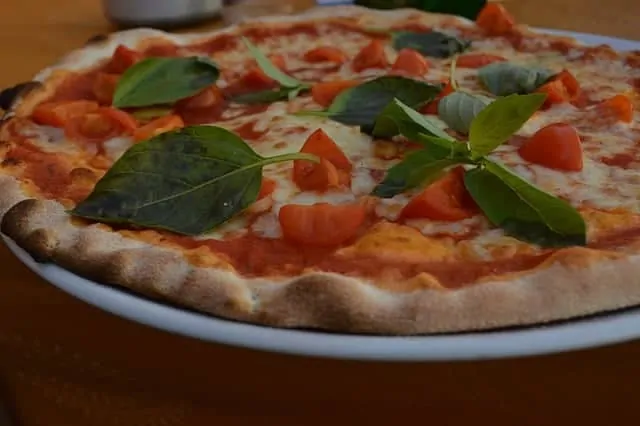 Meals included in your cruise fare. Drinks are supplementary.
Open 11am-11pm each Day
Alfredo's is one of the Specialty Casual Dining options on board. Located on Deck 6 overlooking the Atrium, guests are delighted by hand tossed pizzas made fresh each day alongside antipasti, soup and salads and a delicious calzone.
.
International Cafe
Pastries, Pies, Panini's, Sandwiches and Cookies included in your cruise far. Specialty tea and coffee supplementary.
Open 24 hours
If you are looking for a light meal, tasty snack or cup of Joe at anytime throughout the day, the International Cafe on Deck 5 in the Atrium is the place to go.
.
Ocean Terrace Seafood Bar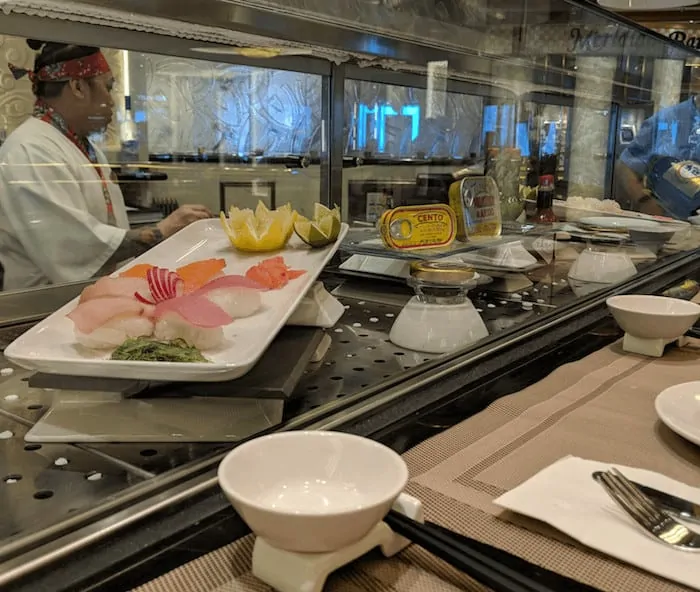 A la Carte Pricing per selection + free salads/edamame with the purchase of a drink
Open 4pm -11pm
Located on Deck 7 and overlooking the Piazza, guests can enjoy tapas portions of sushi, ceviche and caviar. There is a large variety of smoked and cured fish available (which can be paired with premium vodkas) alongside Sushi, sashimi, nigiri, poke and a selection of spicy oyster shooters.
.
Princess Live! Cafe
Quick Bites are included in your cruise fare, coffee and aperitif/digestif are supplementary.
Open all day on Sea Days and from 4pm until late on Port Days.
Adjacent to Regal Princess' unique television studio on Deck 6, the café serves up barista-style coffee and tea selections (supplementary), accompanied by daily changing quick-bite food selections. And after 5pm, the bar also offers up a selection of aperitifs and digestifs.
.
Wheelhouse Bar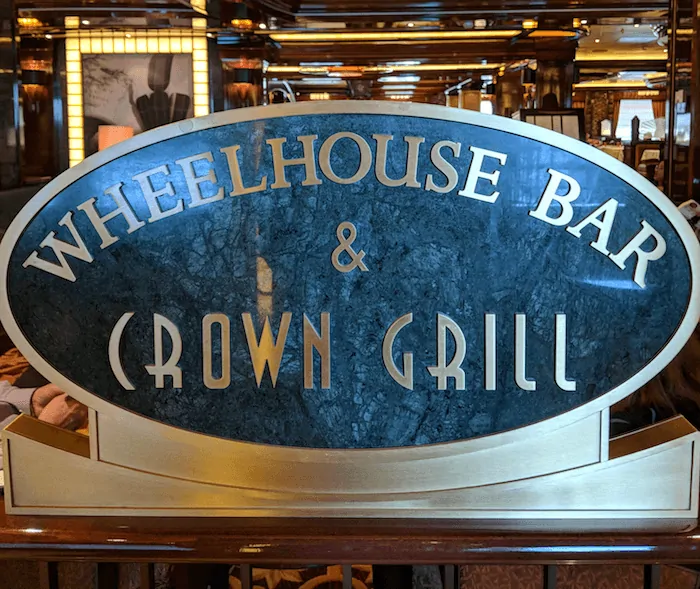 Pub Lunch is included in your cruise fare. Drinks are supplementary.
Check your Princess Patter for opening times as they are subject to change.
A traditional UK style pub lunch has been a crowd favorite since it's introduction and where diners can enjoy British classics such as fish and chips, bangers and mash (combination of pork sausage and mashed potatoes smothered in rich gravy) or a ploughman's lunch (a cold dish featuring bread, cheese, a pickle, various fruits and vegetables and butter) alongside a variety of UK ales and beers which are served on tap.
.
Gelato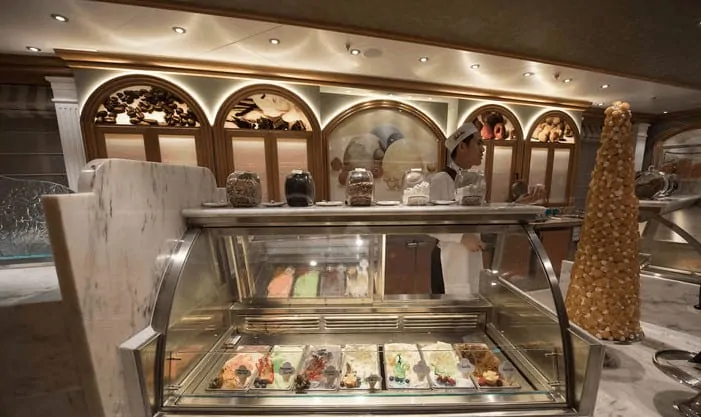 Supplementary fee.
Open 11am – 11pm.
If you are in the mood for something cold and sweet, Gelato on Deck 5 right next to the atrium offers delicious Italian-style ice cream creations – including designer sundaes, creamy fruit smoothies, and frosty shakes, plus sweet crepes and homemade waffle ice cream cones. There are over 10 flavors of ice-cream to choose from along with over 20 sauces and toppings.
.
Trident Grill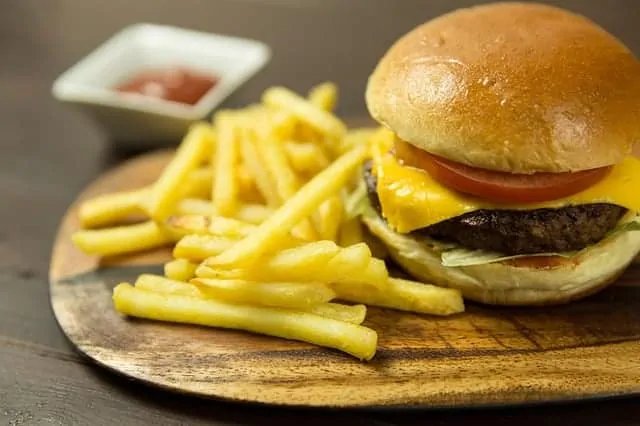 Food included in your cruise fare
Open 11am – 11pm
Located on Deck 16 the Trident Grill serves up Burgers, Hot Dogs and Sandwiches poolside throughout the day and transforms into an American-style smokehouse from 6pm with Texas style BBQ, Pulled Pork and Spare Ribs under the stars.
.
Prego Pizzeria
Food included in your cruise fare
Open 11am – 11pm
Located opposite the Trident Grill on Deck 16, Prego is the perfect place to grab a slice of Pizza while you lounge poolside, or whist watching a movie on the big screen. Offerings include pepperoni, margherita or cheese alongside daily specials.
.
Swirls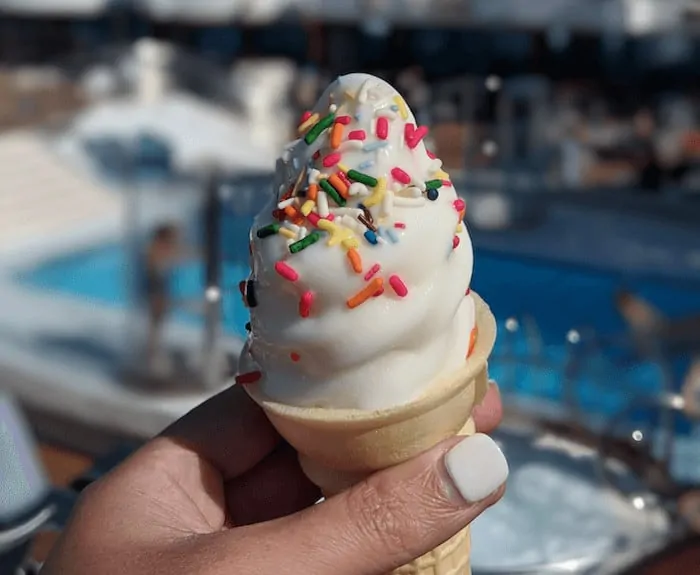 Included in your cruise fare
Open 11am – 11pm
Poolside are made for soft serve ice cream and Swirls is there to service your needs. Choose between chocolate or vanilla (or mix the two together!) and add colorful sprinkles for the perfect summery snack. (Located on Deck 16 adjacent to the Skywalk)
.
Outrigger Bar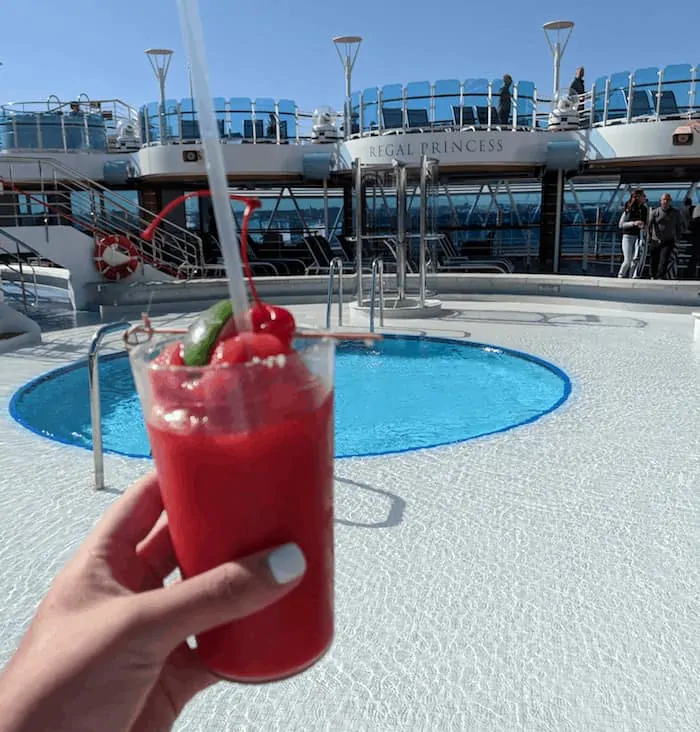 Meals and Snack included in your cruise fare. Drinks and Cocktails supplementary
Open 11am – late
A Margarita Bar with 12 specialty cocktails, which doubles as a Mexican shack shack offering made to order burritos, crispy pork flautas, barbecued pork fajitas and fresh tortilla chips with guacamole and Mexican salsa. It is one of the quietest places on the ship and the perfect place to grab a south of the border spicy snack!
.
Sabatinis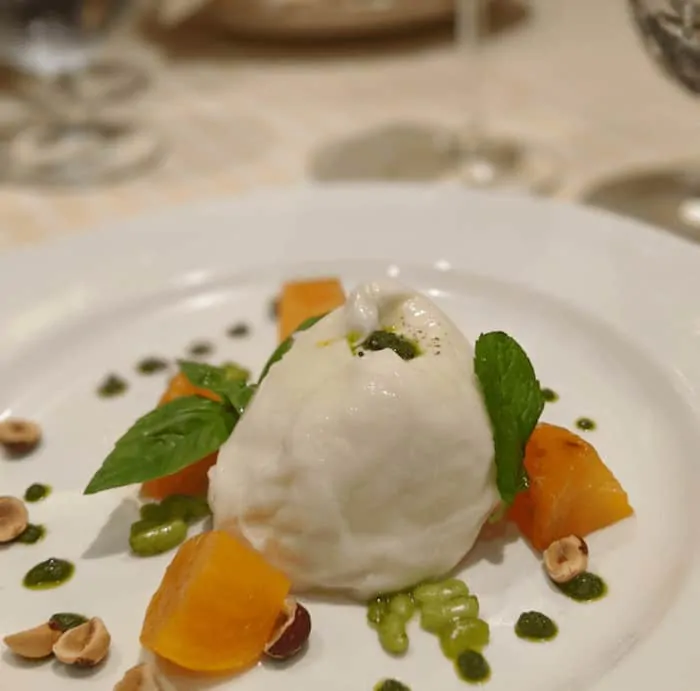 $25USD per person + drinks additional
Open for dinner nightly between 5.30 – 9.30pm
Sabatini's is the Specialty Tuscan Inspired Restaurant on Board the Regal Princess (and other Princess ships). Offering diners an appetizer of soup and/or salad, a specialty pasta dish created the style of your choosing with several sauce options, and a selection of meat and seafood options for the main course and deserts to die for, it is one of the most popular paid dining options on the ship.
When dining here to sure to try the Burrata (a fresh Italian buffalo milk cheese made from mozzarella and cream: the outer shell is solid mozzarella, while the inside contains stracciatella and cream, giving it an unusual, soft texture which is absolutely delicious!) and for desert be sure to order one of the Norman Love created Chocolate Journey's that are available on board. We recommend the Rocher – a desert of praline mousse, ice cream, cake all housed in a mini fishbowl. It's a stunner!
EXTRA – You can get a little taste of Sabatini's each night in Vines Wine Bar where they do a free plate of Tapas from the restaurant when you purchase a glass of wine after 5.30pm
.
Crown Grill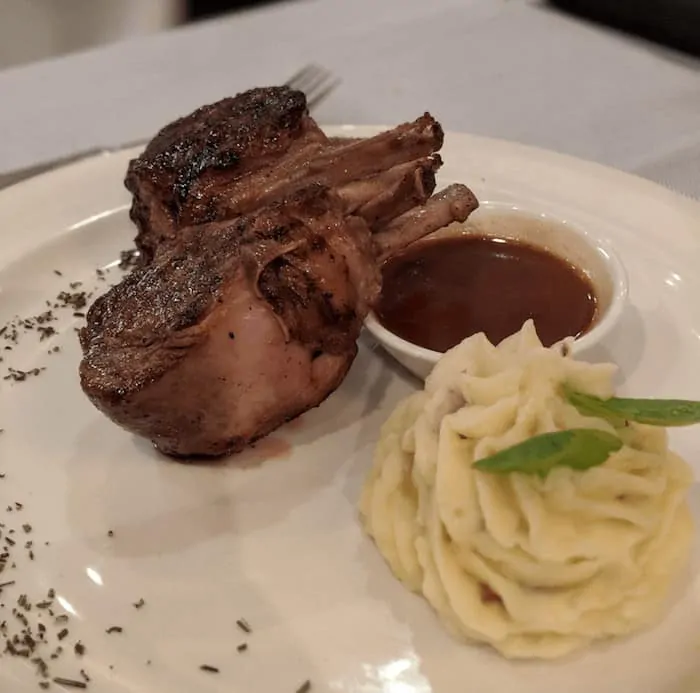 $29USD per person + drinks additional
Open 5.30pm – 9.30pm
Named among the Best Steakhouse's At Sea by USA Today, the Crown Grill is a true chophouse, serving beef, veal, lamb and pork chops, as well as a variety of steaks and premium seafood options. Sides are served family-style, and appetizers are excellent.
Servers take the time to explain each of the different cuts of meat available before ordering it to be cooked to your liking in the open kitchen located at the center of the restaurant, and are served with the diners choice of specialty salt including Hawaiian Black, Smoked Applewood and Himalayan Mountain Pink.
.
Winemakers Dinner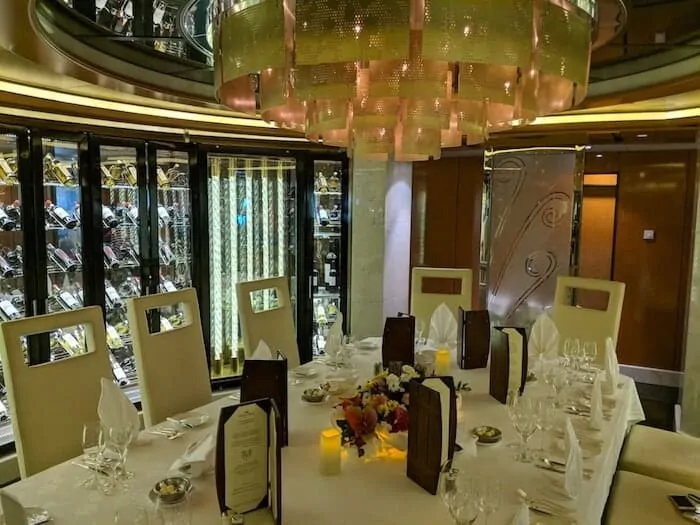 $40 per person (inc. wines)
2 tables available nightly in Concerto & Symphony Dining Rooms.
Diners are seated in a semi-private specialty booth surrounded by wine displays where they are taken through a 5 course menu (chef's prelude, appetizer, soup, entree and dessert) complete with paired wines. This experience is one not to be missed and can seat up to 12 diners in each of the two dining rooms. If you can't quite round up 12 willing participants to dine as a group, you are also able to place your name down with the wait staff from which tables are created from other interested passengers on board.
.
Royal Inspired Afternoon Tea
Afternoon Tea is available each day and served on Deck 5 in a lounge setting in the Atrium. features a selection of teas, freshly prepared finger sandwiches, cookies and cakes. Cost is $10 per person, or $20pp to include Champagne.
.
Chefs Table Lumiere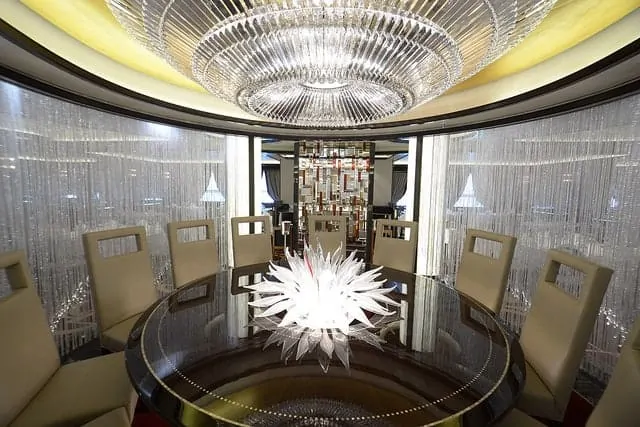 Held in the Allegro dining room on Deck 6. With extremely limited availability it allows guests to dine a a glass table surrounded by a curtain of light as they enjoy several exclusive dishes and paired wines. (Cover charge is $115 USD per person).
Entertainment & Things To Do On Board The Regal Princess + Royal Princess
The Best Wi-Fi at Sea
If you have cruised before, you may be aware that ship based wi-fi often leaves a lot to be desired, but this is not a concern aboard the Regal Princess cruise line. In November 2017 she debuted exclusive and innovative Ocean Medallion technology which allows guests to have a truly personalized and stress free holiday experience.
The medallion is tailored to each guests likes, dislikes and preferences and can even go as far as opening your stateroom door for you as you approach!
A consequence to having this technology on board means that the Wi-Fi system has been totally upgraded offering a mostly seamless web surfing experience. The Royal Princess and Regal Princess also offers free wi-fi for all passengers to use Facebook messenger and Whatsapp. Guests can also purchase additional wi-fi for social network use only, or full scale access for unlimited browsing.
Another fantastic feature – and one that appeals to a much younger audience and makes use of the improved Wi-Fi, is the Princess@Sea Messenger App. Free to download you can plan your cruise through the app, from excursions to room service, see the daily entertainment schedule and dining room menu selections and all for free via the Princess Wifi network. This App is a great move to reducing paper on board as the app would wipe out the need for the daily Princess Patter which is printed and given to each Stateroom everyday.
.
Swimming Pools, Hot Tubs & Jacuzzis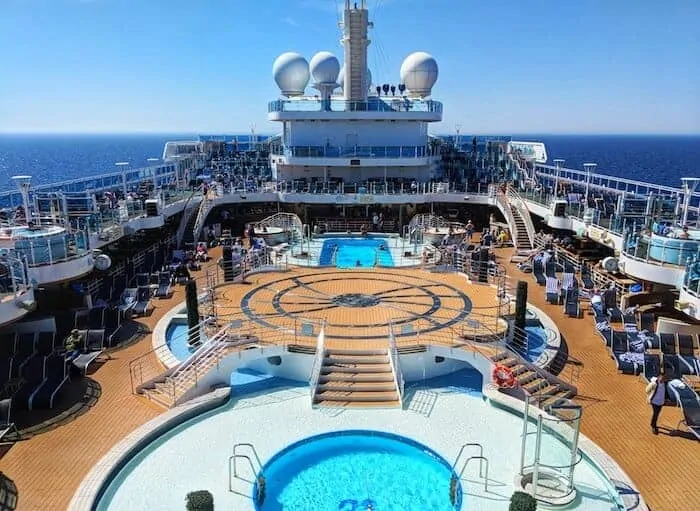 With 4 swimming pools, 8 hot tubs/jacuzzis and hundreds of sunbeds located on the sun-drenched decks of 16 & 17, there is plenty of space to relax, swim and soak. The swimming pools and hot tubs are heated on cold-weather cruises and are a great place to cool off on tropical climate cruises so be sure to hop into a jacuzzi for sail away on at least one night of your cruise.
.
Watch Movies Under The Stars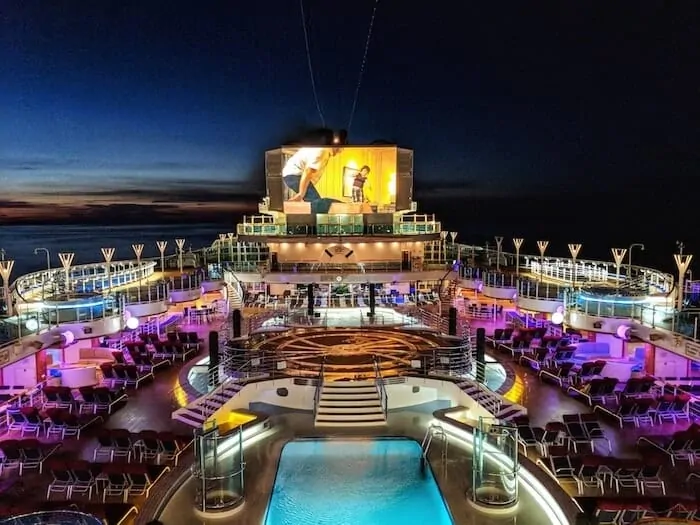 Up on Deck 16 (Lido) you'll find a giant movie screen (it's a 1/3 bigger than the ones on the other Princess ships) and ample seating around the pools and hot tubs located at the center. Through the day there are discovery slideshows about upcoming destinations followed by a screening of various feature-length music concerts in the afternoon and blockbuster movies at night. And you don't have to worry about being cold on deck as at night each of the sunbeds is equipped with a blanket with hot popcorn available for the masses.
.
Gym
If you feel like you have over-indulged with all the amazing food and drink on board, or simply want to keep up with your day-to-day workout routine, the Gym has all the usual machines – treadmill, cross trainer, rowing machines and assisted weights along with a free weights room and yoga space. Regular gym goers will not be disappointed.
.
Princess Sports Central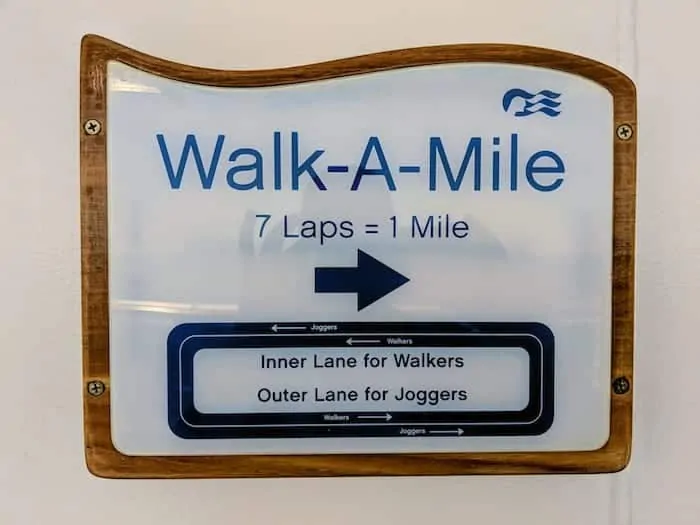 The Regal Princess and Royal Princess have two dedicated sports decks on 18 & 19 which include a two lane Walking/Running Track, Lawn Court which can be used as a putting green or for boche ball; a driving range, central court which can be used for basketball, tennis, volleyball and badminton along with a laser shooting range and portable baseball cage. As these are all out on the open decks, it's a great way to burn some calories whist on-board while still enjoying that fresh sea air.
.
The SeaWalk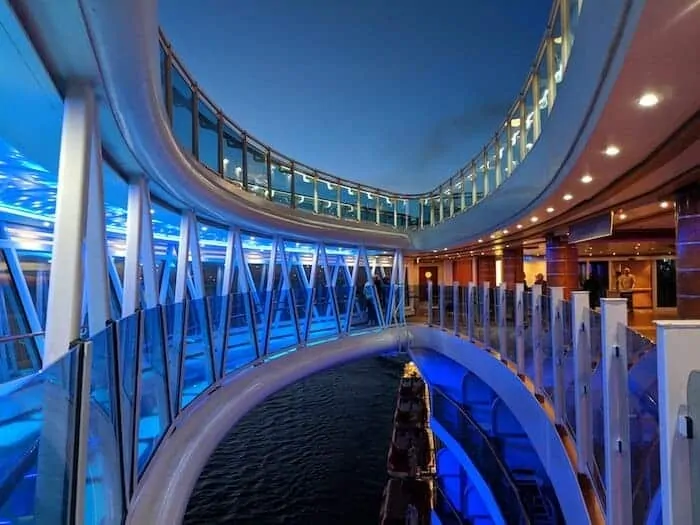 The SeaWalk is one of the Regal Princess' most amazing features. Located on Deck 16, the curved walkway extends 8.5m away from the deck and allows guests to walk over a series of see-through glass panel which hovers 40m above the ocean. You can watch the water rush by beneath your feet and is the perfect place for photographs when it is lit up at night.
.
Watercolour Fantasy Show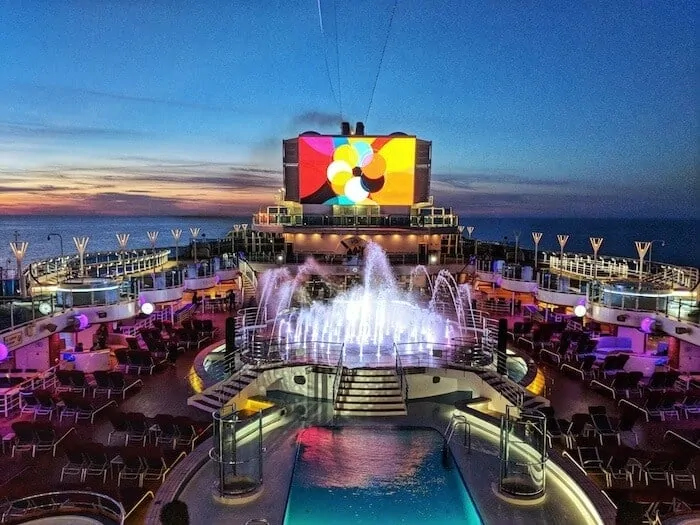 Located between the swimming pools and in front of the movie screen of Deck 16, this outdoor water show brings the deck to life with music and lights as the fountains shoot water 30 feet into the air. Check your Princess Patter on board for the nights the show is on.
.
The Spa & Enclave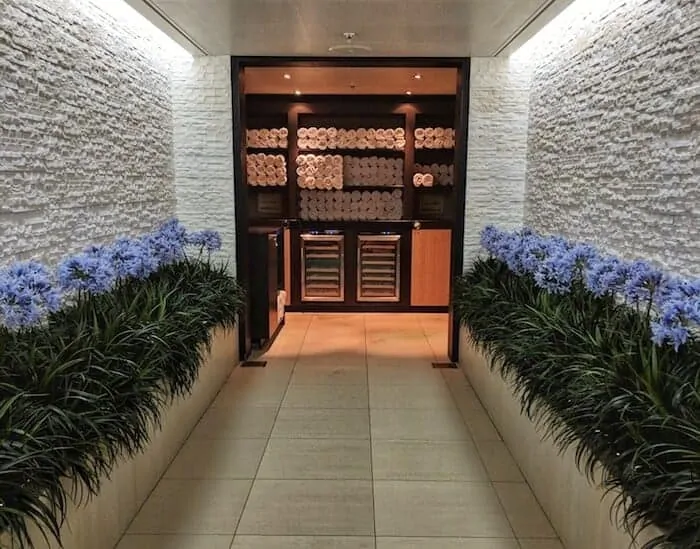 Who doesn't like a good massage or spa treatment? The Lotus Spa can soothe all of your aches and pains and along with offering various different traditional spa treatments such as facials, manicures and pedicures. The Enclave is a private retreat within the spa area itself and is perfect for pampering yourself for a couple of hours.
With thermal pools, thermal beds, waterbeds, sauna, steam room and Turkish hammam. Grab one of the luxurious gowns from the dressing room and let yourself forget everything else for a couple of hours.
.
Princess Theater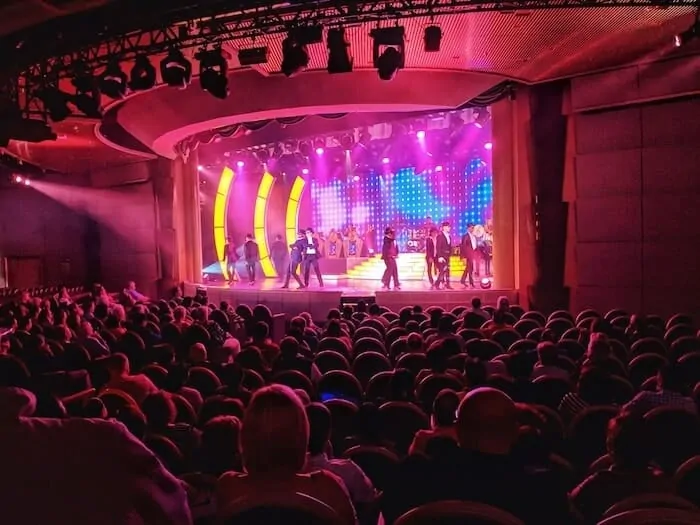 The On-Board Theater is a sight to behold. With a capacity of 1000 guests and real working stage, the full production 30 minutes shows are all singing, dancing crowd pleasers. Shows not to be missed include Fiera, featuring a range of sing-a-long pop songs; Sweet Soul Music blasting out an upbeat tribute to Rhythm & Blues and Bravo – a pop opera.
The theater hosts a show or a musical act almost every night of the week, and some nights has a two shows – one at 8pm and one at 10pm, meaning you can dine at your leisure and still not miss out.
*The Shows are current at the Summer 2018 season, but are subject to change depending on cast.
.
The Retreat & The Sanctuary (adults only)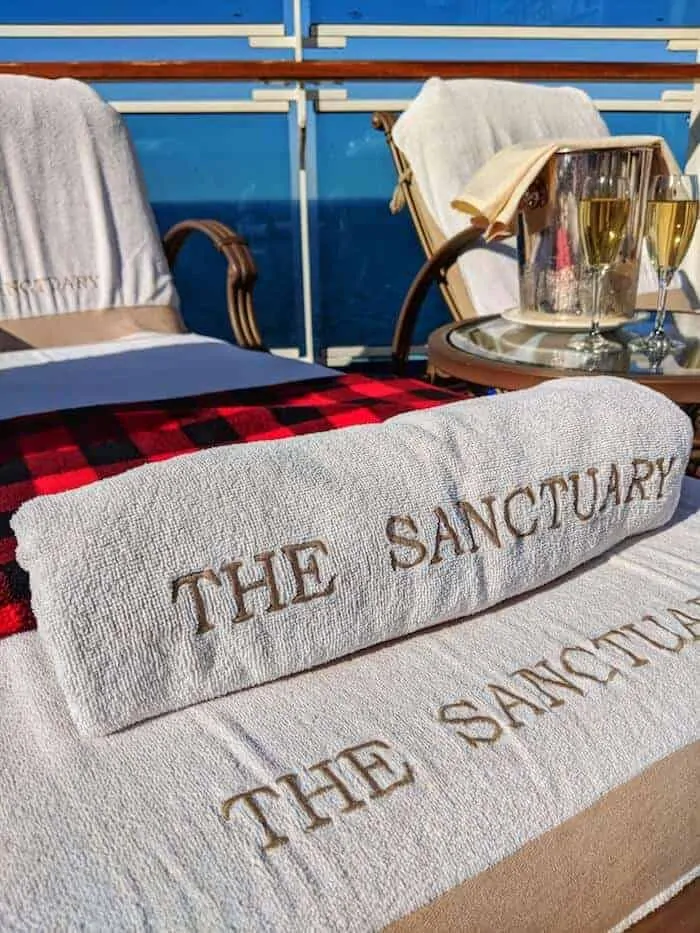 The Retreat is the adult's only section at the front on the ship located on Deck 16. They have sunbeds, cabanas (which can be rented for half a day and include a picnic), 2 jacuzzis and it's own bar. And yes, you can order your cocktails from the hot tub, just in case you were wondering!
The Sanctuary is an extra private area which is covered from the elements making it a little tropical paradise. You can rent a cabana with sofa style seating along with a bottle of champagne and super soft towels or arrange to be pampered in the spa cabanas where therapists are on hand for a couples massage or to run a romantic bath overlooking the ocean.
.
Hang Out in the Atrium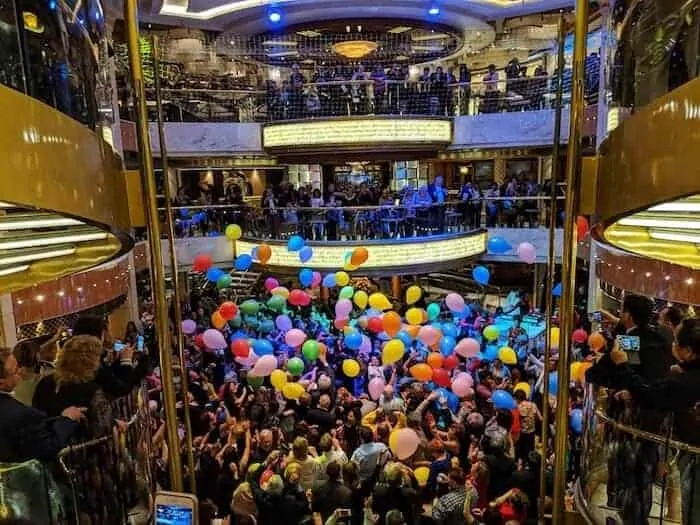 The Atrium is the heart of the ship. Located over 3 levels (5, 6 & 7) and surrounded by several bars, cafes, shops, restaurants and the Gelato bar. Here you'll find dance classes, live entertainment, zumba, yoga, meet ups and more. Grab a seat and enjoy the atmosphere of the ship throughout the day and night and head there for the Champagne fountain and Balloon Drop parties which are held on different nights of the cruise.
.
Discovery at Sea
In partnership with Discovery and Animal Planet, the Discovery at Sea Program helps bring destinations to life board on board and with dedicated excursions in port. From stargazing on deck to animal encounters and immersive port exploration with regional residents. Explore more on these exclusive Princess excursions. Check with staff on board for what is available on your cruise.
.
Dance up a Storm at Club 6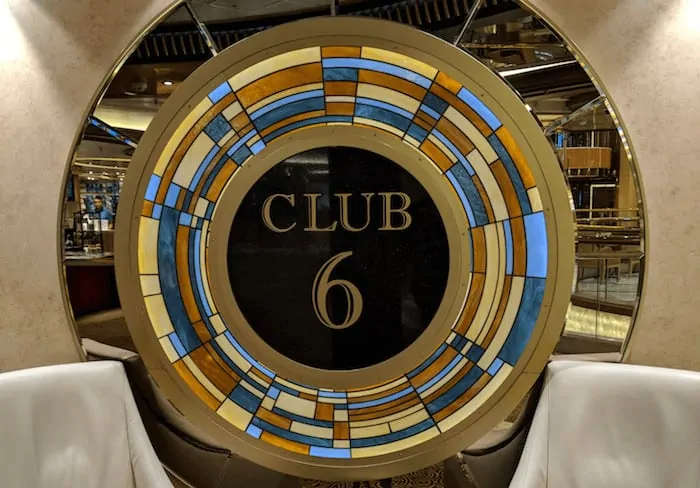 Dance the night away in the on-board nightclub, open from 11pm until late, the DJ plays crowd favorites and requests to keep you grooving away into the early hours.
.
Catch a Sunset At Sea
Sunsets are better at Sea. It's just a fact! Whether you choose to enjoy it from your stateroom balcony or from any of the open decks, you won't be disappointed.
.
Princess Live!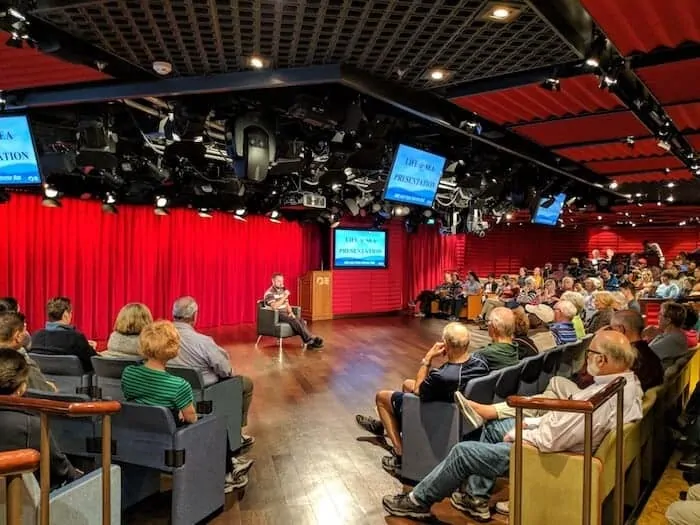 This mid-ship theater is the filming location for the on-board TV show which features daily snippets from the Entertainment Director, panel discussions with members of the crew and various highlights and events that have happened on the ship and is also the place to become the star of your own show with nightly karaoke.
.
Activities Coordinated by the Entertainment Staff
From trivia, to dance classes, wine tasting to art auctions, the entertainment staff on board are there to make sure there is something to keep you busy for almost every hour of the day. Some activities are at an additional charge such as Bingo or Russian Doll Painting, but daily zumba, dance classes and live entertainment in the on-board bars is always free of charge – you just turn up and enjoy.
.
Laundry, Gamesroom, Library & Smoking Facilities
Often overlooked on lists of facilities on board, regular cruise goers are usually up to date the basics. Laundry can be done on board via self-service machines and cost $3 per load. Cabin stewards are also able to arrange for your laundry to be done for you for a fee. Other on board facilities include a games room with board and card games, a library for quiet reading, and smoking facilities in designated areas throughout the ship including the Aft on Deck 17 and inside on Deck 6 in Churchill's Cigar Lounge.
. .
And that's a wrap folks! I hope this post has given you a run down of everything to expect on board the Regal Princess. But if you have any of your own tips to share, please don't hesitate to add them to the comments below!

Oh, and if you liked this article – or have already been on board the Regal (or Royal) Princess, please tweet, flip, pin or share with your cruise loving friends on Facebook and encourage them to come aboard! I'd really appreciate it!
.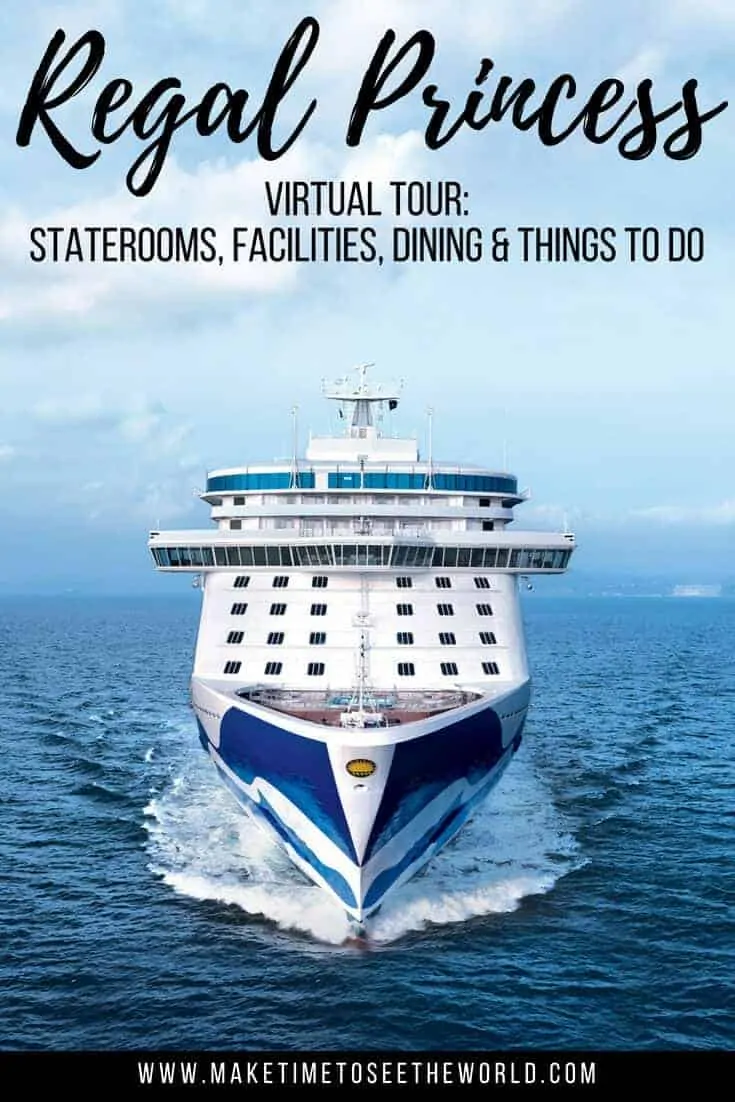 READY MORE TRAVEL INSPIRATION? YOU MIGHT BE INTERESTED IN THESE ARTICLES:
Hi There! Thanks for reading my ultimate guide to the Regal Princess Virtual Tour. I just wanted to let you know that this travel guide contains affiliate links, which means if you purchase something after clicking a link, I may get a small commission – which is at absolutely no cost to you. If you enjoyed this article and are going to be searching for some of the things I mention anyway, I would love it if you could click through from the links above & thank you in advance! Read my full Disclosure here. And thank you for reading the MakeTimeToSeeTheWorld Travel Blog.