If you have been considering a Baltic Sea Cruise through Scandinavia and Russia, look no further than the Princess Baltic Cruise aboard the beautiful Regal Princess.
Offering a range of activities, multiple swimming pools and hot tubs along with incredible dining on-board and an amazing selection of ports of call, all of which combine together to produce a perfect Regal Princess itinerary. It is easily one of the best Scandinavian cruises on the market with a great mix of port days and sea days to help you explore 7 countries in 11 days – will a little bit of relaxation thrown in for good measure! Not convinced yet, read our full Princess Cruises Review below and start planning your Baltic Sea adventure.
Disclaimer: I was hosted as a guest of Princess Cruises on board the Regal Princess Baltic Cruise, however all opinions, as always, remain my own. Read my Full Disclosure Policy Here.
All about the Regal Princess
Quick Facts
The Regal Princess Cruise Ship was Christened by the original Love Boat Cast (who have recently been given a Walk of Fame Star on Hollywood Boulevard in their honor).
She has a maximum capacity of 3,560 passengers and 1500 crew.
She is 330m (1,083 ft) long and it takes 15-20 minutes to walk from one end to the other.
She has 19 decks and is 66m (217 ft) high, and 47m wide (155ft).
She has a total of 1,780 staterooms: 1,438 have a balcony (36 suites, 314 mini-suites, 358 deluxe balcony & 730 balcony cabins) + 342 inside cabins.
Fun Facts
The on-board kitchens use 272kg of butter each and every day!
There are over 4,000 pieces of art on board available for purchase with art auctions held a couple of times a week.
The ships cellars hold 18,000 bottles of wine.
250,000 eggs are used each week.
400kg of supplies are loaded onto the ship every 10 days with 7700kg of fresh fruits and vegetables consumed on each cruise.
There is over 4000km of electrical cable on board (enough to travel between LA & NYC!)
Her anchor weighs 14 tonnes!
Your Daily Princess Patter – the ship's newsletter – is left in the pocket outside your stateroom each night and is a guide to the next days activities, excursions, dining times and showtimes; It also spotlights some of the crew members on board to help you get to know a little more about the folks who are making magic on deck and making your cruise as special as it can be.
.
Entertainment & Things To Do On Board
The Best Wi-Fi at Sea
If you have cruised before, you may be aware that ship based wi-fi often leaves a lot to be desired, but this is not a concern aboard the Regal Princess cruise line. In November 2017 she debuted exclusive and innovative Ocean Medallion technology which allows guests to have a truly personalized and stress free holiday experience. The medallion is tailored to each guests likes, dislikes and preferences and can even go as far as opening your stateroom door for you as you approach!
A consequence to having this technology on board means that the Wi-Fi system has been totally upgraded offering a mostly seamless web surfing experience. The Princess Baltic Cruise also offers free wi-fi for all passengers to use Facebook messenger and Whatsapp. Guests can also purchase additional wi-fi for social network use only, or full scale access for unlimited browsing.
.
Swimming Pools, Hot Tubs & Jacuzzis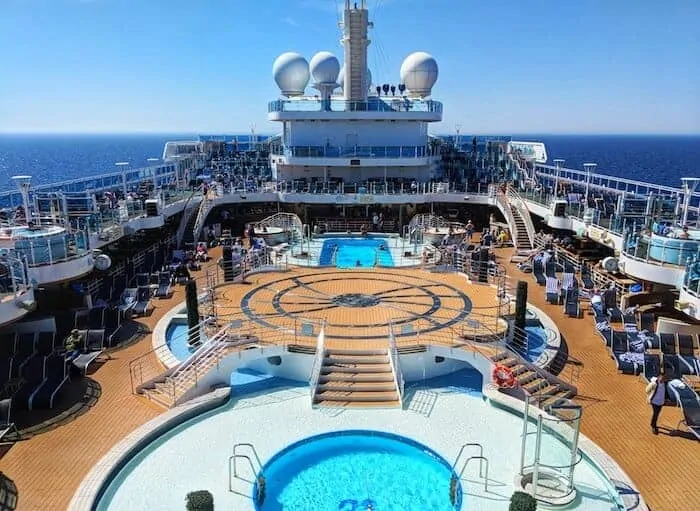 With 4 swimming pools, 6 hot tubs/jacuzzis and hundreds of sunbeds located on the sun-drenched decks of 16 & 17, there is plenty of space to relax, swim and soak. But bear in mind, this is a Princess Baltic Cruise to Scandinavia and Russia and temperatures on deck can be a little bit, well, Baltic (mostly because of the wind which cannot be controlled). The swimming pools and hot tubs are heated though so be sure to hop into a jacuzzi for sail away on at least one night of your cruise.
.
Movies Under The Stars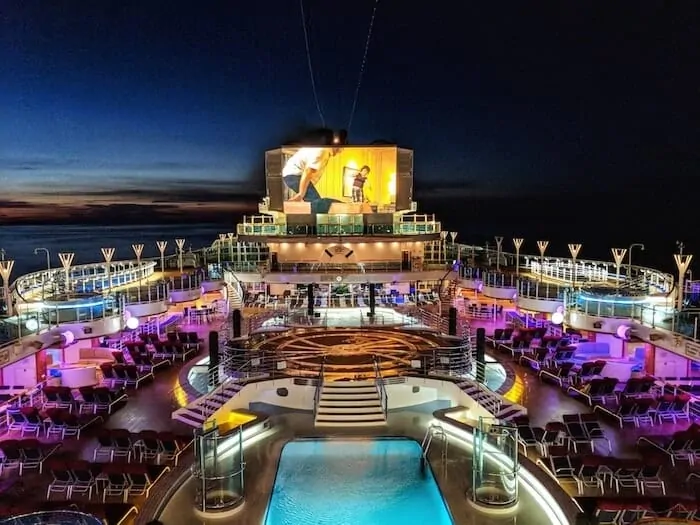 Up on Deck 16 (Lido) you'll find a giant movie screen and ample seating around the pools and hot tubs located at the center. Through the day there are discovery slideshows about upcoming destinations followed by a screening of various feature length music concerts in the afternoon and blockbuster movies at night. And you don't have to worry about being cold on deck as at night each of the sunbeds is equipped with a blanket with hot popcorn available for the masses.
.
Gym
If you feel like you have over-indulged with all the amazing food and drink on board, or simply want to keep up with your day-to-day workout routine, the Gym has all the usual machines – treadmill, cross trainer, rowing machines and assisted weights along with a free weights room and yoga space. Regular gym goers will not be disappointed.
.
Princess Sports Central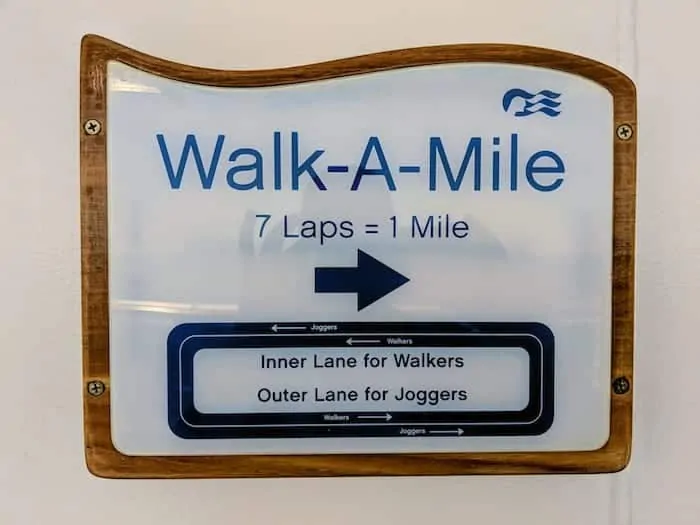 The Regal Princess has two dedicated sports decks on 18 & 19 which include a two lane Walking/Running Track, Lawn Court which can be used as a putting green or for boche ball; a driving range, central court which can be used for basketball, tennis, volleyball and badminton along with a laser shooting range and portable baseball cage. As these are all out on the open decks, it's a great way to burn some calories whist on-board while still enjoying that fresh sea air.
.
The SeaWalk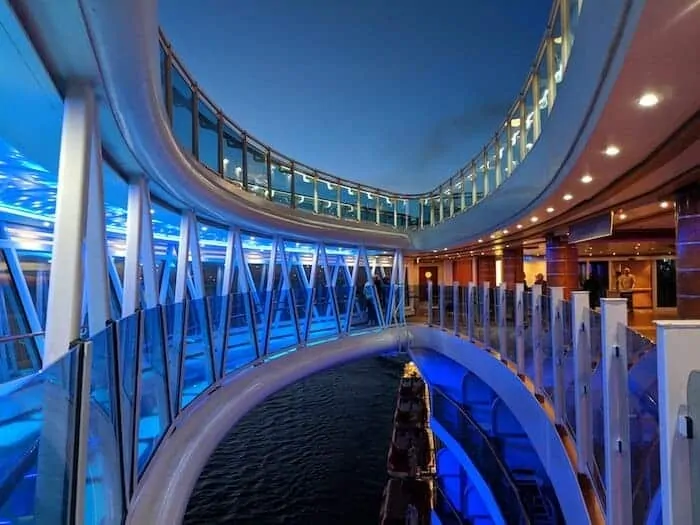 The SeaWalk is one of the Regal Princess' most amazing features. Located on Deck 16, the curved walkway extends 8.5m away from the deck and allows guests to walk over a series of see-through glass panel which hovers 40m above the ocean. You can watch the water rush by beneath your feet and is the perfect place for photographs when it is lit up at night.
.
Watercolour Fantasy Show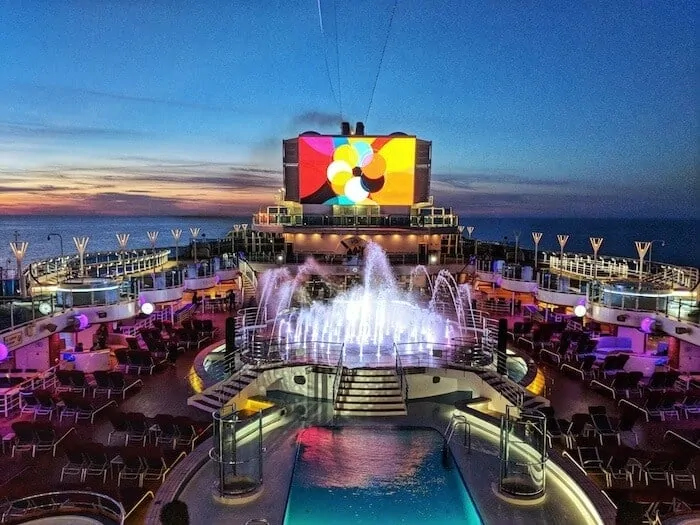 Located between the swimming pools and in front of the movie screen of Deck 16, this outdoor water show brings the deck to life with music and lights as the fountains shoot water 30 feet into the air. Check your Princess Patter on board for the nights the show is on.
.
The Spa & Enclave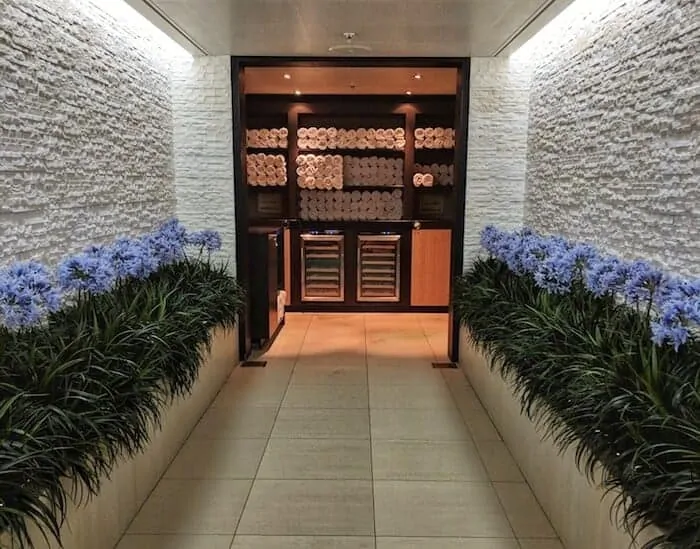 Who doesn't like a good massage or spa treatment? The Lotus Spa can soothe all of your aches and pains and along with offering various different traditional spa treatments such as facials, manicures and pedicures. The Enclave is a private retreat within the spa area itself and is perfect for pampering yourself for a couple of hours. With thermal pools, thermal beds, waterbeds, sauna, steam room and Turkish hammam. Grab one of the luxurious gowns from the dressing room and let yourself forget everything else for a couple of hours.
.
Princess Theater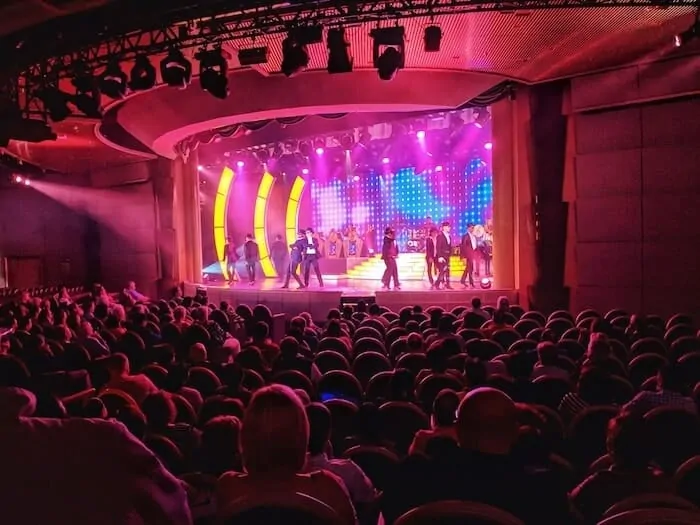 The On-Board Theater is a sight to behold. With a capacity of 1000 guests and real working stage, the full production 30 minutes shows are all singing, dancing crowd pleasers. Shows not to be missed include Fiera, featuring a range of sing-a-long pop songs; Sweet Soul Music blasting out an upbeat tribute to Rhythm & Blues and Bravo – a pop opera.
The theater hosts a show or a musical act almost every night of the week, and some nights has a two shows – one at 7pm and one at 10pm, meaning you can dine at your leisure and still not miss out.
*The Shows are current at the Summer 2018 season, but are subject to change depending on cast.
.
The Retreat & The Sanctuary (adults only)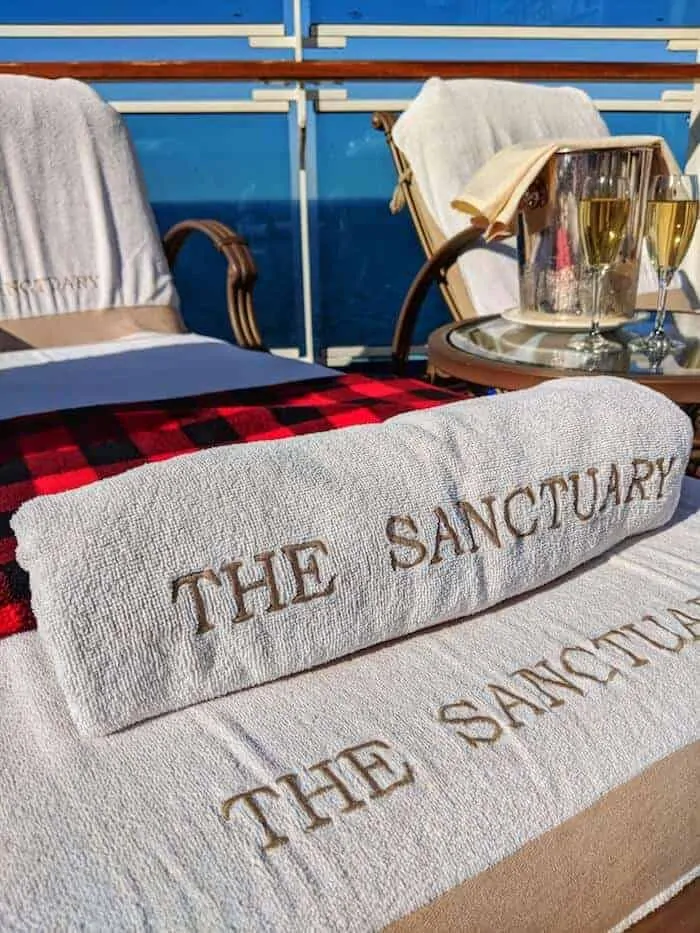 The Retreat is the adult's only section at the back on the ship located on Deck 16. They have sunbeds, cabanas (which can be rented for half a day and include a picnic), 2 jacuzzis and it's own bar. And yes, you can order your cocktails from the hot tub, just in case you were wondering!
The Sanctuary is an extra private area which is covered from the elements making it a little tropical paradise. You can rent a cabana with sofa style seating along with a bottle of champagne and super soft towels or arrange to be pampered in the spa cabanas where therapists are on hand for a couples massage or to run a romantic bath overlooking the ocean.
.
Hang Out in the Atrium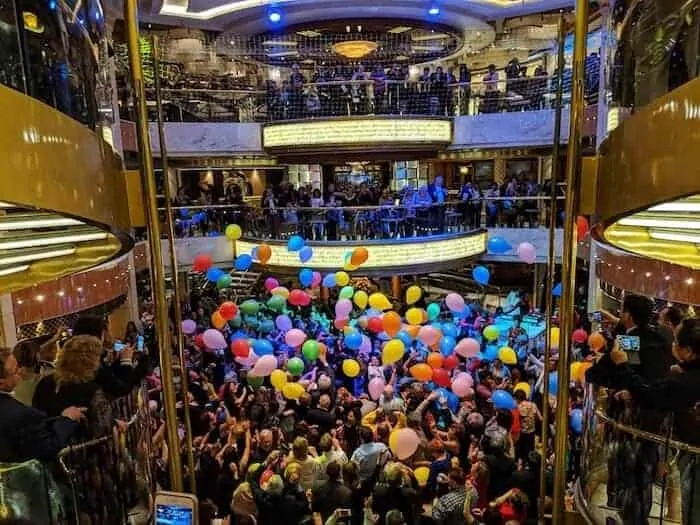 The Atrium is the heart of the ship. Located over 3 levels (5, 6 & 7) and surrounded by several bars, cafes, shops, restaurants and the Gelato bar. Here you'll find dance classes, live entertainment, meet ups and more. Grab a seat and enjoy the atmosphere of the ship throughout the day and night and head there for the Champagne fountain and Balloon Drop parties which are held on different nights of the cruise.
.
Dance up a Storm at Club 6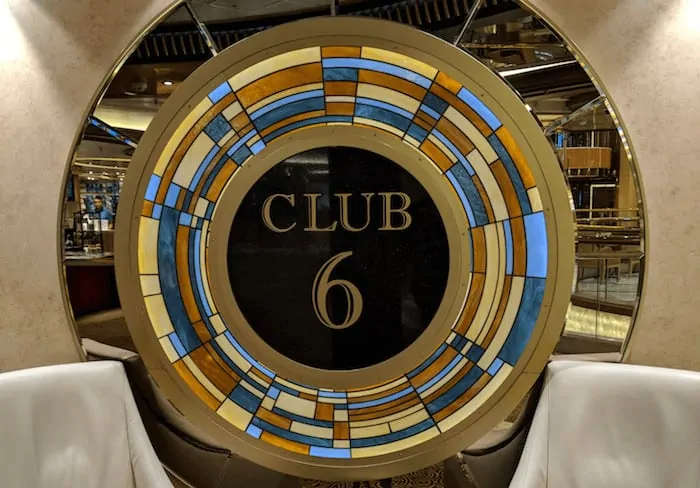 Dance the night away in the on-board nightclub, open from 11pm until late, the DJ plays crowd favorites and requests to keep you grooving away into the early hours.
.
Catch a Sunset At Sea
Sunsets are better at Sea. It's just a fact! Whether you choose to enjoy it from your stateroom balcony or from any of the open decks, you won't be disappointed. Just bear in mind that this Princess Baltic cruise only sails throughout Spring and Summer and being geographically located towards the top of the Northern Hemisphere meaning that the sun rises really early and sets really late (as in after 9-10pm late!)
.
Princess Live!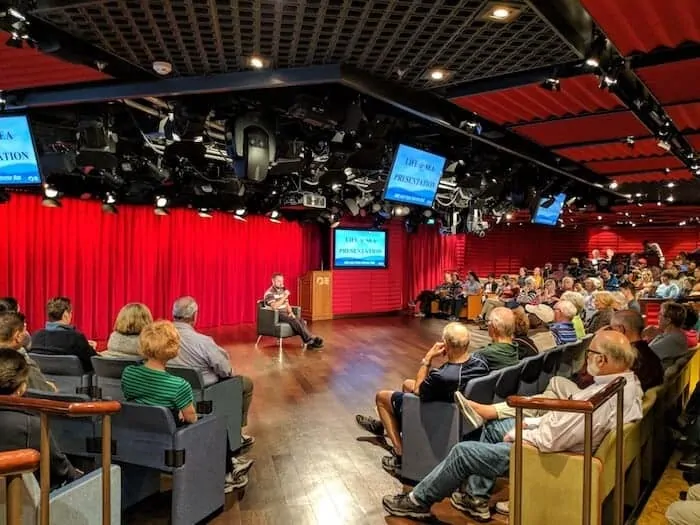 This mid-ship theater is the filming location for the on-board TV show which features daily snippets from the Entertainment Director, panel discussions with members of the crew and various highlights and events that have happened on the ship and is also the place to become the star of your own show with nightly karaoke.
.
Activities Coordinated by the Entertainment Staff
From trivia, to dance classes, wine tasting to art auctions, the entertainment staff on board are there to make sure there is something to keep you busy for almost every hour of the day. Some activities are at an additional charge such as Bingo or Russian Doll Painting, but daily zumba, dance classes and live entertainment in the on-board bars is always free of charge – you just turn up and enjoy.
.
Dining On Board The Regal Princess Baltic Cruise
Casual Dining (included in your cruise fare)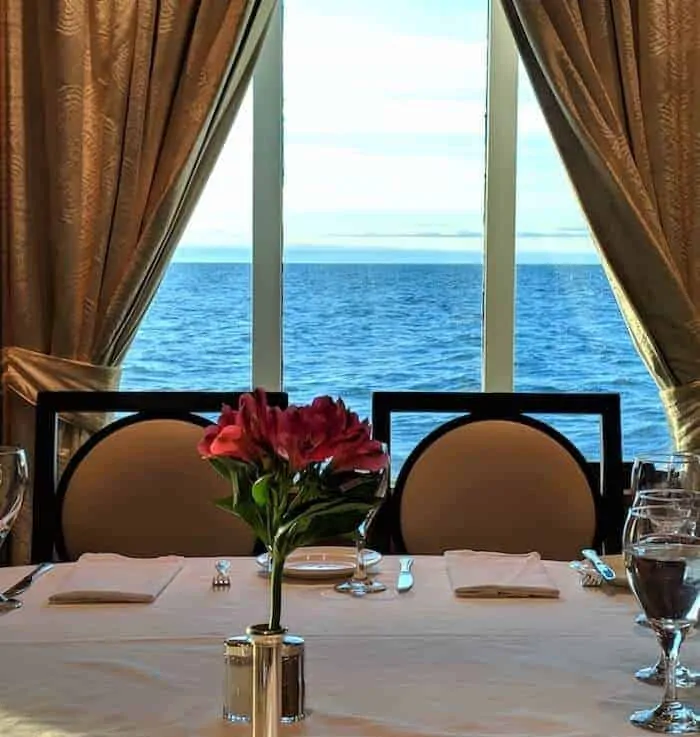 You'll be spoilt for choice when it comes to dining options on board the Regal Princess Baltic Cruise with multiple eateries included in the price of your cruise. On Deck 16 is the huge Horizon Court Buffet, Bistro and Pastry Shop which is open for breakfast lunch and dinner each day.
For a more formal dining experience, the Regal Princess' 3 main dining rooms – Symphony, Allegro and Concerto – offer sit-down 3 course meals with menu options changing daily. Guest can choose to eat with only their group or join a table with other diners for fixed or anytime dining.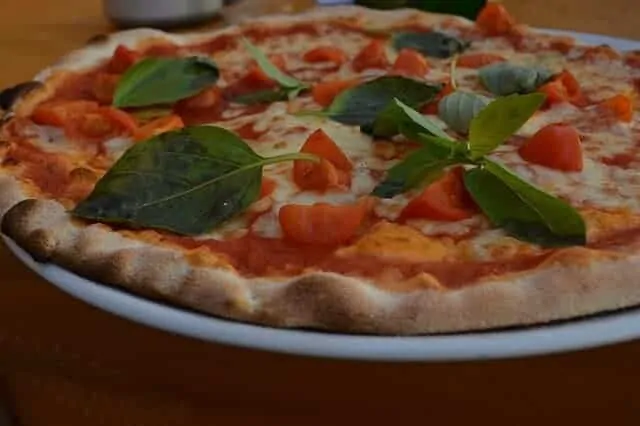 There are also 4 additional restaurants & cafes on Decks 5,6 &7 which are included in your cruise fare. The restaurants are Alfredo's, an Italian Pizzeria which is open daily for dinner and the Wheelhouse Bar which is decked out like a traditional British pub – complete with beer and ales on tap – and serves a pub lunch on certain days of the week. (Check your Princess Patter on board for full opening hours).
And if you are only after a quick bite to eat, the International Cafe (Deck 5 just off the Atrium and is open 24 hours) and the Princess Live! Cafe and perfect to place to pick up a snack or sweet treat.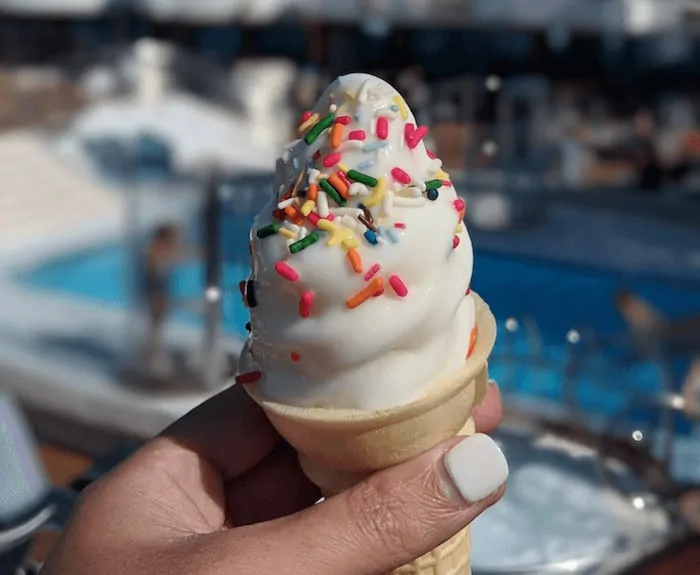 For those that want to grab a quick bite to eat around the pool, the Trident Grill serves up made to order burgers and hot dogs, Prego Pizzeria dishes up pizza by the slice and at the front of the ship, The Outrigger Bar is the place to grab your Mexican fix.
And if you have a sweet tooth, Swirls (also poolside) is a great spot to grab a soft serve ice-cream as you soak in the sun and watch a movie on the big screen.
.
Sushi & Ice-Cream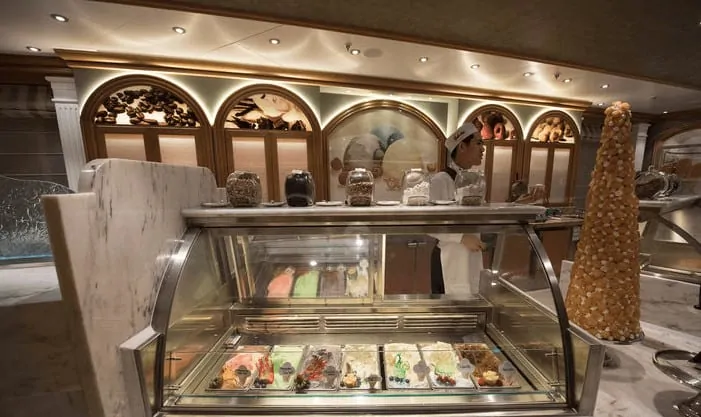 If you're in the mood for some Sushi head to the Ocean Terrace located on Deck 7 above the Atrium & if you've got a craving for ice-cream, Gelato (Deck 5 next to the Atrium) allows you to create your own ice-cream stack with multiple different flavors, toppings and sauces to choose from. Selections from the Sushi Bar & Gelato are charged to your stateroom and paid for at the end of the cruise.
.
Specialty Dining (supplementary)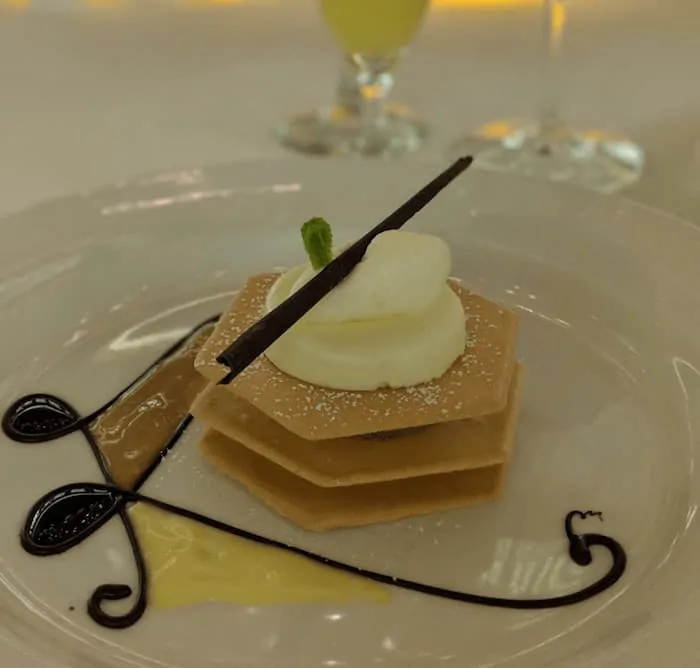 For an extra touch of exclusive dining on board, there are several themed restaurants and dining experiences to choose from. There is Sabatinis – a Tuscan Inspired Italian restaurant; The Crown Grill – a full chophouse with an amazing selection of steaks and seafood; The Winemakers Dinner – where 5 courses are paired with complimentary wines and Chef's Table Lumiere where diners eat at a glass table surrounded by a curtain of light.
.
Drinks on Board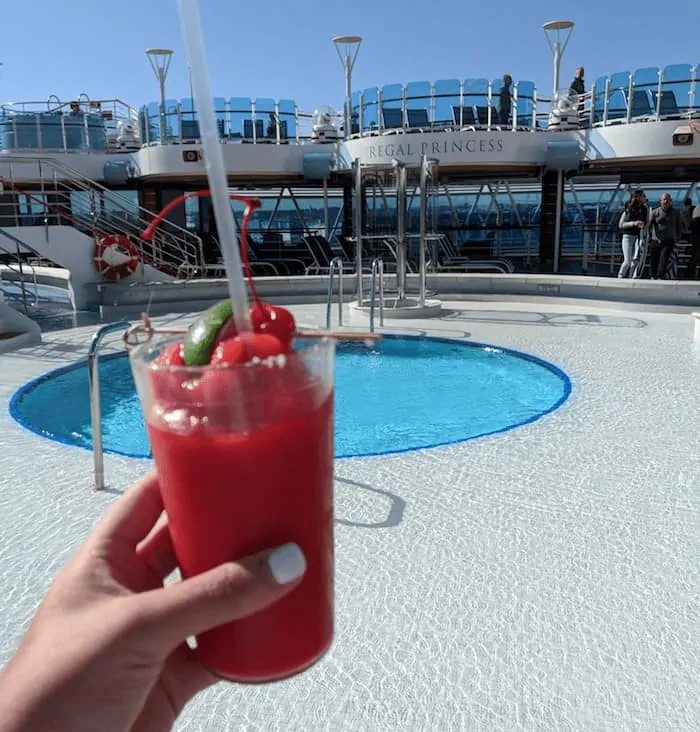 Bubbles, Beer, Cocktails and more, the choice is yours! You can order practically any sort of beverage on board at one of the x different bars. In addition to traditional bar offerings you can order a craft been in the Wheelhouse Bar; one of 75 different Martinis in Crooners; wines from around the world at Vines; a Bellini at Bellini's; or have a choice of 12 Margaritas in The Outrigger Bar.
You can drink in a different venue each night of your cruise, and you are never more than a few minutes walk from a bar.
With the exception of Tea, non-specialty Coffee and Orange Juice at breakfast, and Lemonade, Iced-Tea and Water at lunch and dinner, all other drinks on board are not included in your cruise price.
.
Plan the Perfect Sea Day(s)
On the Regal Princess Baltic Sea Cruise there are a couple of Sea Days included in your itinerary. These days are the perfect time to really explore the ship and enjoy all the great things to do on board. And if you are feeling a little bit overwhelmed after reading through the list of things to do on the Regal Princess, we've put together a sample itinerary that will keep you entertained, pampered and relaxed on board.
7-8am: Order a room service breakfast and start your day watching the waves from your balcony
9am: Join the Ultimate Ship Tour – a 2-3 hour behind the scenes tour of the ship where you get to walk through parts of the ship that are only usually seen by cast and crew and ends with champagne and a chat with the captain on the bridge. You see the galleys, theater, medical center, laundry rooms, engine room, take a peek at the anchor and get to speak to some of the heads of department and crew that keep the ship running.
12-1pm: Lunch in the Horizon Court Bistro & Buffet or one of the casual dining rooms (Concerto, Allegro or Symphony).
1pm: Get some fresh air with a couple of laps of the jogging track – 8 laps = 1 mile!
2pm: Book yourself a Massage or Facial at the Lotus Spa and then spend an hour or so relaxing in The Enclave.
4pm: Watch a concert on the Movies Under The Stars screen on Deck 16 as you soak in the afternoon sun
5pm: Hop in a Jacuzzi with a cocktail or soft-serve ice-cream from Swirls
7pm: Book a table at one of the specialty restaurants for dinner. (The Crown Grill or Winemakers Dinner were my favorites!)
9pm: Head back up to Deck 16 for the Watercolour Fantasy Show and take some photos of the SeaWalk when it is lit up at night, or catch on the Baltic Sea's glorious sunsets.
10pm: Grab a seat in the Princess Theater for one of the incredible shows on-board.
10.30pm: Dance the night away! Join the nightly party in the Atrium and move onto Club 6 at midnight!
.
Ports of call on the Regal Princess Baltic Cruise
You can embark and disembark the cruise at several stops, with the majority of passengers joining in Copenhagen, St Petersburg or Warnemunde (Germany). We joined the cruise in Germany and have noted the port stops from there onward below. For each will will share key facts such as the location of the port and how easy it is to explore independently or whether you should opt for a shore excursion and how long you have in each port to help you plan your own Baltic Sea cruise adventure. It really is one of the best Scandinavian Cruises on the market.
Tallinn, Estonia
Approximate Docking Time: 8am
Approximate All Aboard & Sail Away: 4.30pm & 5pm
This beautiful Baltic town is perfect for exploring on foot, with the port a 20-30 minute walk from the town center. The town is split over two levels, with the upper level host to the beautiful Alexander Nevsky Cathedral, beautiful architecture and a gorgeous panoramic viewing spot over the old town below.
Wander the pretty streets and grab a coffee in the picturesque main square; or learn a little about Baltic history when step into the towns Soviet past at the KGB Museum in the Viru Hotel – where the walls were made half with microphones and half with concrete!
And if you are wanting to get off the typical tourist trail, head to the creatives district – Telliskivi Loomelinnak – where you'll find funky cafes, pop up Scandic designer shops and street art galore.
Extra: If you have a few days in Tallinn, be sure to check out the other things to do in Tallinn and look into grabbing the Tallinn Card for deals and discounts around the city.
.
St Petersburg, Russia
Approx. Docking Time: 7am
Approx. All Aboard & Sail Away: 5.30pm & 6pm

You have 2 full days to explore St Petersburg, and due to the complicated nature of obtaining a Russian Visa, we highly recommend booking one of the Shore Excursions offer by Princess as these include a special visa to cover your visit. Being on a designated tour provided by Princess also means the ship cannot leave without you!
To get as much from your visit consider joining the 2 day Ultimate Tour of St Petersburg which escorted by a Russian guide includes all the Best Things To Do in Saint Petersburg including the Hermitage Museum (one of the largest and oldest museums in the world), Peter & Paul Fortress, Yusupov Palace (where Rasputin was murdered), a performance of Swan Lake by the Russian Ballet, Peterhof Palace and Gardens, The Church of the Saviour on Spilled Blood and St Issac's Cathedral along with 2 traditional Russian style lunches – which both come with a shot of Vodka!
.
Helsinki, Finland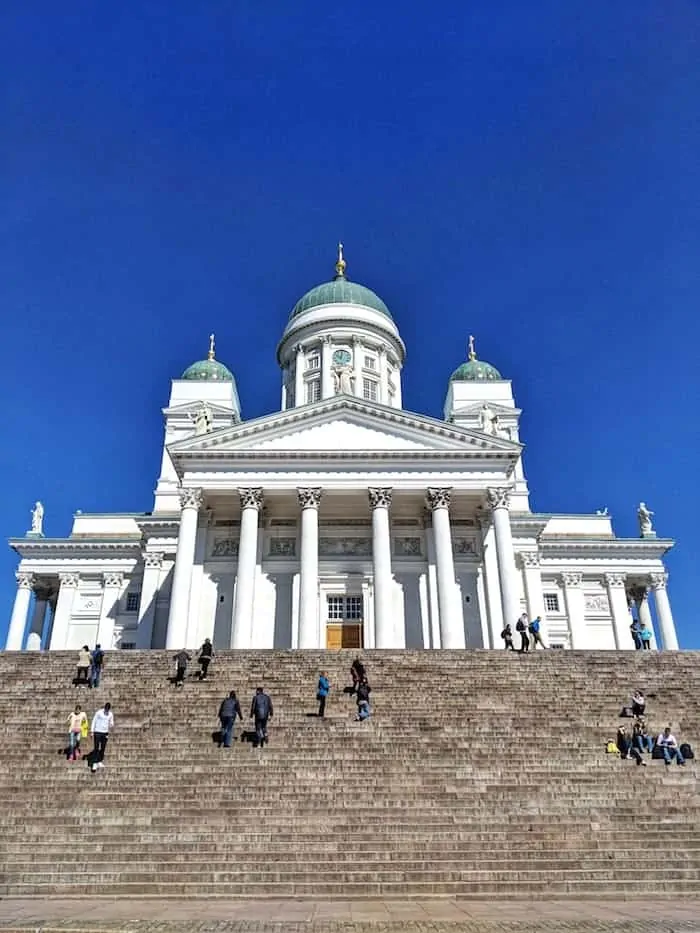 Approx. Docking Time: 8.30am
Approx. All Aboard & Sail Away: 3.30pm & 4pm
Even though you only have a short amount of time in Helsinki, it is enough to wander round and see some of the main sights and cover some of the top things to do in Helsinki. We took a boat cruise which docked at the waterfront craft market, visited Helsinki Cathedral & Senate Square, the stunning Sibelius Monument and the captivating Rock Church before taking a short stroll through the city and admiring the beautiful architecture and eclectic mix of old and contemporary designs. The port is located approximately 20 minutes from the center and the ship provide 6 Euro transfers for those who want to explore independently.
.
Stockholm, Sweden
Approx. Docking Time: 8.30am
Approx. All Aboard & Sail Away: 6pm & 7pm

Super Cool Stockholm is one of the best cruise ports on this Scandinavia itinerary – and the ship docks in the heart of the city. A short transfer may be required dependent on dock position but from there it is extremely walkable with gardens, the castle, beautiful underground stations and the old town a stones throw from each other, and the Abba Museum is just a short uber ride away.
And Don't forget to stop for Fika (the Swedish term for coffee and cake) while you are wandering – which if you are in Stockholm in winter will have to be a daily occurrence to keep warm!

.
Copenhagen, Denmark
Approx. Docking Time: 9am
Approx. All Aboard & Sail Away: 4.30pm & 6pm

Copenhagen is an absolutely fantastic cruise port and one of my favorite stops on the Princess Baltic Cruise Itinerary. The ship docks approximately 15-20 minute drive to the city but we were able to join a bike tour (on electric bikes) immediately after disembarking the ship. We cycled to the Little Mermaid Statue, St Albans Church, The Palace, Colourful Nyhavn, Trivoli Gardens and Rosenborg Gardens before returning back to the ship – and were very grateful for the electric assistance on the ride back!
.
Oslo, Norway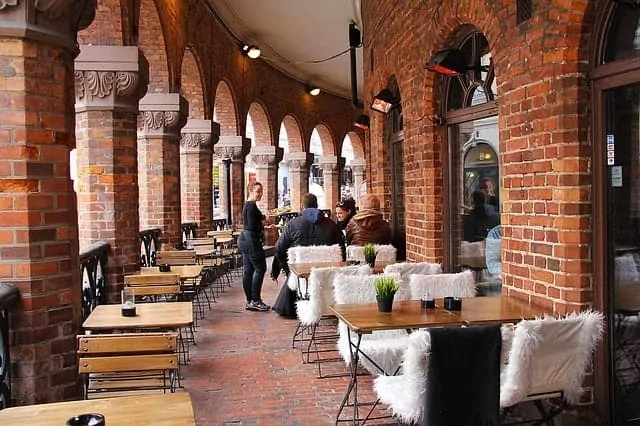 Approx. Docking Time: 10am
Approx. All Aboard & Sail Away: 9pm & 10pm

Our final port of call on the Princess Baltic Cruise and offering passengers a whole 12 hours to explore, Oslo…. Depending on where the ship docks the town center is a short 15-20 minute walk away or the ship arrange for a short coach transfer to the main ferry terminal which is in turn 5 minutes walk to the center.
Oslo is a great city to wander around for a couple of hours and for those history buffs the Viking Museum is a great place to spend a few hours, but we highly recommend joining a tour and getting to some of Oslo's attractions outside the city such as the Vigland Sculpture Park, iconic Holmenkollen ski jump or even out to the Fjords.
STILL NOT CONVINCED? HERE ARE MY TOP REASONS WHY YOU SHOULD HOP ON-BOARD A PRINCESS BALTIC CRUISE:
– Incredible On-Board Facilities & Inclusions to help you Come Back New
– Excellent Food & Dining Options
– The Best Baltic Cruise Itinerary with a great mix of destinations and sea days
– Allows for more time on shore than any other cruise line

And that's a wrap folks! I hope this post has given you a run down of everything to expect on your Regal Princess Baltic Cruise with Princess Cruises – or if you were only thinking about joining this incredible cruise around Scandinavia and Russia, that we have convinced you to go ahead and book! It's an incredible cruise and I'm sure you'll enjoy it every bit as much as I did!

Oh, and if you liked this article – or have already been on this Princess Baltic Cruise, please tweet, flip, pin or share with your cruise loving friends on Facebook and encourage them to come aboard! I'd really appreciate it!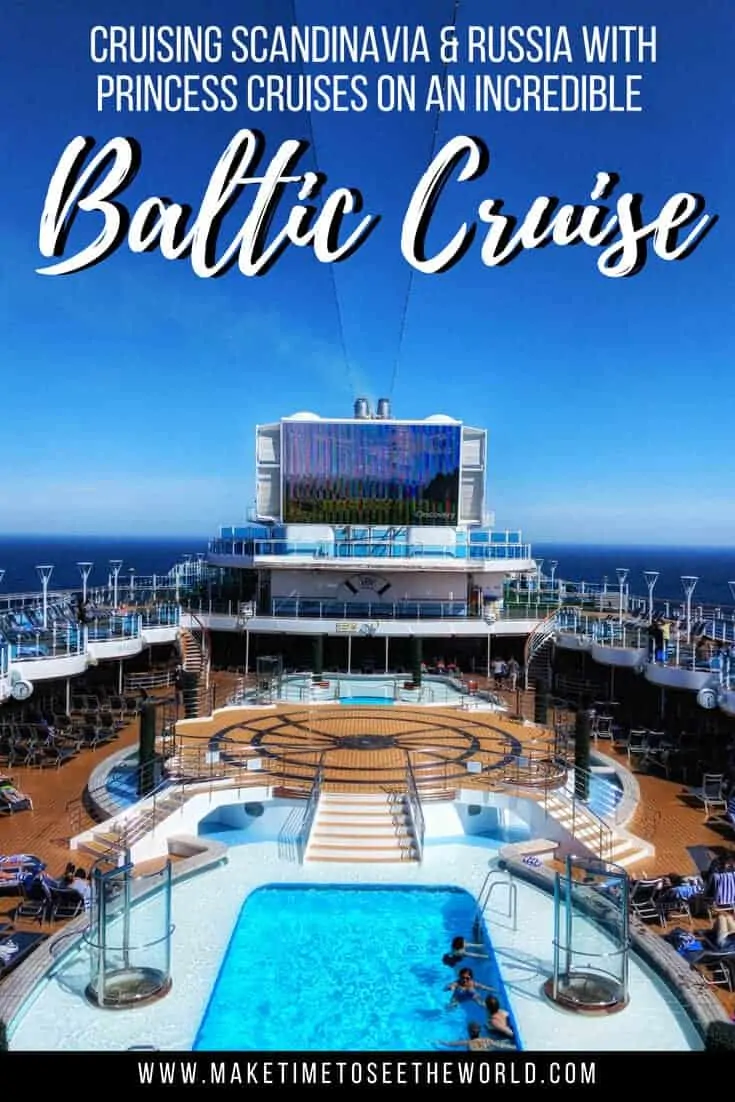 READY MORE TRAVEL INSPIRATION? YOU MIGHT BE INTERESTED IN THESE ARTICLES:
Hi There! Thanks for reading my ultimate guide to Princess Baltic Cruise: An Amazing 10 Day Cruise Through Scandinavia & Russia. I just wanted to let you know that this travel guide contains affiliate links, which means if you purchase something after clicking a link, I may get a small commission – which is at absolutely no cost to you. If you enjoyed this article and are going to be searching for some of the things I mention anyway, I would love it if you could click through from the links above & thank you in advance! Read my full Disclosure here.
And thank you for reading the MakeTimeToSeeTheWorld Travel Blog.