Let me say straight away: You are NOT going to be hungry.
As with any traditional land based holiday resort which offers a selection of restaurants, cafes, bars and ice-cream shops, the Regal Princess, one of the biggest ships in the Princess cruises fleet, is no different.
A complete floating resort there is a theater, spa, night-club, gym, cinema and practically enough swimming pools and hot tubs that you could bathe in a different one every day of your cruise(!) – you can read more about all of that in my Scandinavia & Russia Baltic Cruise Guide but in this post I'm going to give you a run down of all the amazing different restaurants and eateries on board to help you plan your gastronomic adventure.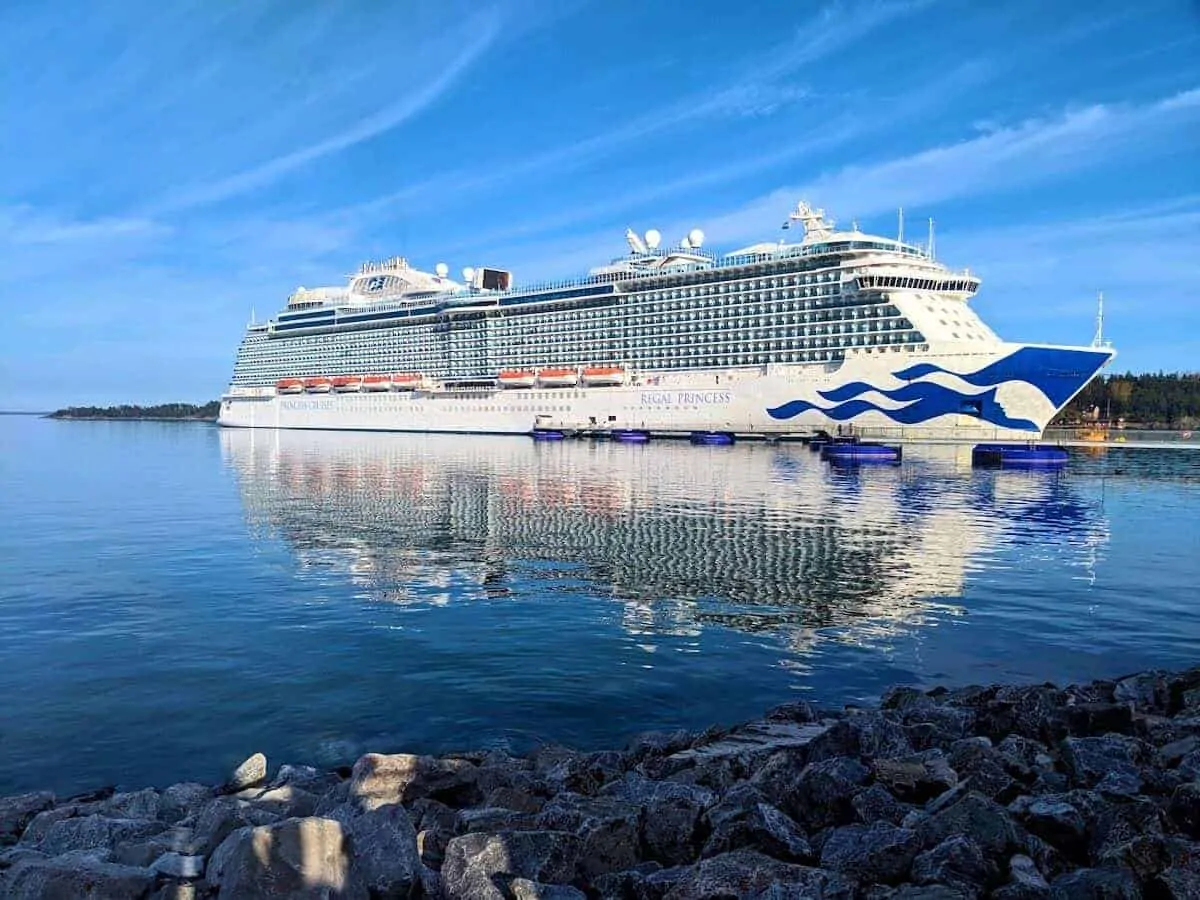 Disclaimer: I was hosted as a guest of Princess Cruises on board the Regal Princess Scandinavia and Russia Cruise, however all opinions (and weight gained on-board) remain my own. Read my Full Disclosure Policy Here.
The Horizon Court Buffet & Bistro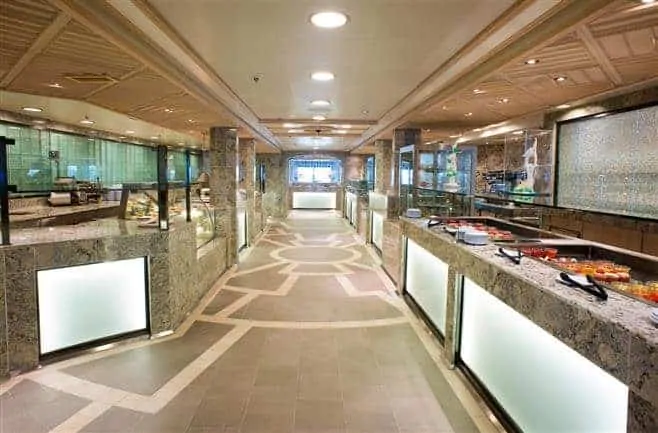 Included in your cruise fare
Breakfast: 5am – 11.30am – Lunch: 11:30am – 3:30 pm – Dinner: 5.30pm and 11pm.
Offering a casual space that covers a huge area on Deck 16 (Lido) the Horizon Court Buffet and Bistro serves up delicious and varied food from the early hours until late into the night. It is bar far the most popular casual dining experience on the ship, but with large seating areas on both sides of the ship there is always plenty of space.
For breakfast service, tea, coffee and orange juice are brought round by the waitstaff, and at lunch and dinner the juice is changed to American Lemonade (which is flat in contrast to UK lemonade – I wasn't aware there was a difference until my cruise!).
Breakfast runs between 5am and 11.30am and selections include pastries, bagels, muesli and cereals, alongside the traditional components of a fry up (eggs, bacon, beans, tomatoes, hard boiled eggs, toast etc) and there is even an omelet station where you creations are whipped up to order within minutes. For those with slightly more exotic tastes there are Asian-style breakfast options such a rice and noodle based stir-frys and curries.
For lunch and dinner there is every type of cuisine imaginable including Asian cuisine, Mediterranean dishes, Salad Station, Mexican fare, Japanese Hibachi Grill, Rotisserie station and a pasta corner. In addition to this there are different specialties served each day featuring a Fondue Station (a favorite with guests which is FREE) and an option to dine from the on-board crab shack (Which has a $29USD surcharge)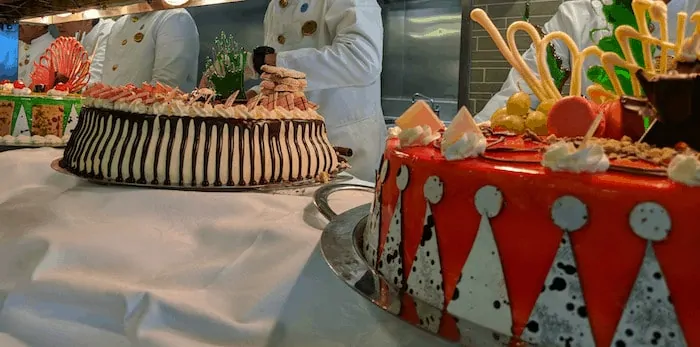 One of the major draws of the Horizon Buffet & Bistro is the Pastry Shop. Serving freshly made cakes, deserts, cookies and delectable sweet treats each and every day, it's a haven for sugar lovers and a great way to round off any meal.
RELATED –
Cruising isn't just for the 'older generation' anymore! Take a look at how the
cruise industry is changing
and why millennials are at the front of the cruise queue!
.
Room Service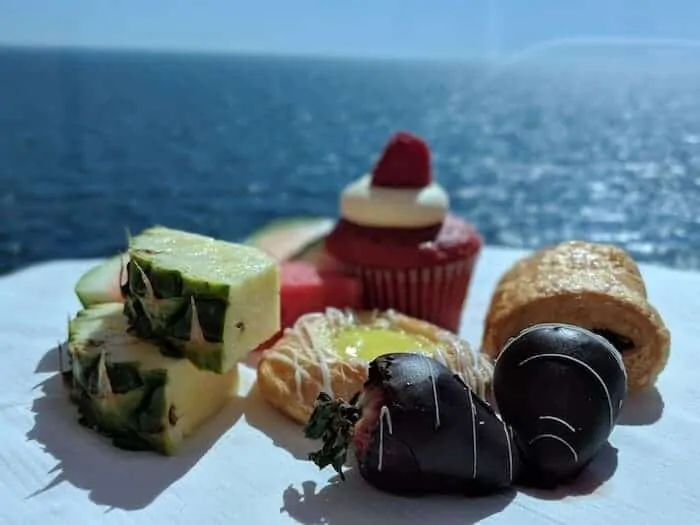 Room Service Breakfast can be delivered to your stateroom free of charge each day except on the day of disembarkation. Orders can be made via the Regal Princess website up until 11.30pm the night before or via a form in your room to be handed to your cabin steward.
There is a premium balcony dining option available (supplementary) throughout each cruise, offering a hosted cocktail party, fresh flowers, champagne and a deluxe four-course meal featuring delicate sweet lobster tail or juicy steak among many available delicacies. Order before departure or chat to the service staff on board to arrange.
.
Standard Dining Rooms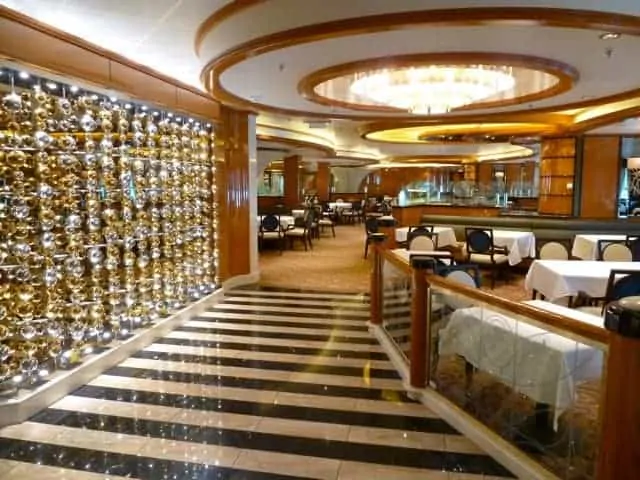 Allegra, Concerto & Symphony meals are included in your cruise fare. Drinks served in the restaurants are supplementary.
If you are looking for a dining option that is a little more formal, there are 3 standard dining room to choose from: Allegro (Deck 6), Concerto (Deck 6) & Symphony (Deck 5).
Allegro offers a la carte dining 7 days a week with fixed dining options where guests are seated for dinner at the same table at either 5.45pm or 8.15pm.
Concerto & Symphony are a la carte dining options which allow passengers to eat anytime between 5.30pm and 10pm and whom can be seated with other their group, or join a larger table to dine with other guests.
A la carte breakfast and lunch in all three establishments are served between 7am and 9.30am, although we suggest making reservations if you are a large group.
The menu is the same across the three dining rooms each day and for lunch and dinner generally offer a soup or salad starter, pasta course (which can be ordered as an entree or main), and a variety of main courses including at least one vegetarian and one fish option each meal plus a specialty dish from the 'Crafted by Curtis Stone' range and a selection of deserts and cheese.
The menu is different each day, with a selection of Princess Specials which remain unchanged presented on the left side of the menu and the current day's menu displayed on the right.
.
Alfredos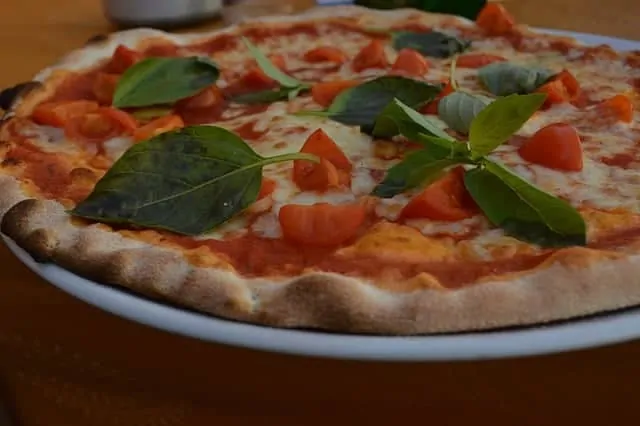 Meals included in your cruise fare. Drinks are supplementary.
Open 11am-11pm each Day
Alfredo's is one of the Specialty Casual Dining options on board. Located on Deck 6 overlooking the Atrium, guests are delighted by hand tossed pizzas made fresh each day alongside antipasti, soup and salads and a delicious calzone. Smart casual dress required.
.
International Cafe
Pastries, Pies, Panini's, Sandwiches and Cookies included in your cruise far. Specialty tea and coffee supplementary.
Open 24 hours
If you are looking for a light meal, tasty snack or cup of Joe at anytime throughout the day, the International Cafe on Deck 5 is the place to go.
.
Ocean Terrace Seafood Bar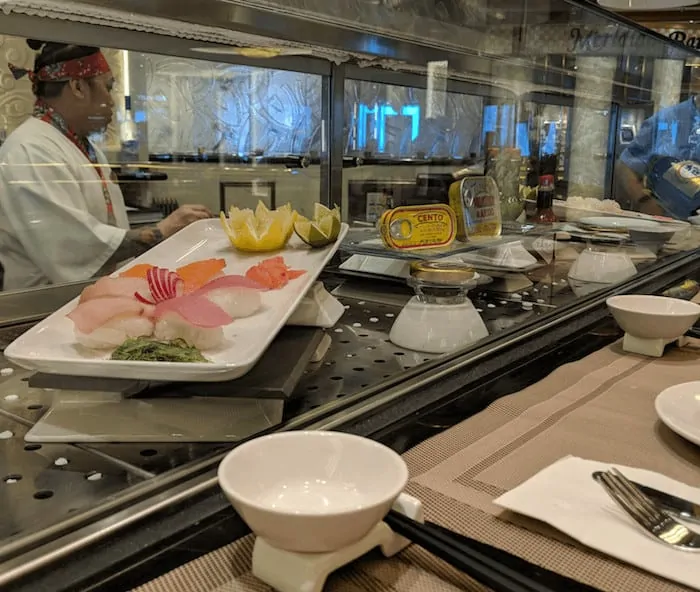 A la Carte Pricing per selection + free salads/edamame with the purchase of a drink
Open 4pm -11pm
Located on Deck 7 and overlooking the Piazza, guests can enjoy tapas portions of sushi, ceviche and caviar. There is a large variety of smoked and cured fish available (which can be paired with premium vodkas) alongside Sushi, sashimi, nigiri, poke and a selection of spicy oyster shooters.
.
Princess Live! Cafe
Quick Bites are included in your cruise fare, coffee and aperitif/digestif are supplementary.
Open all day on Sea Days and from 4pm until late on Port Days.
Adjacent to Regal Princess' unique television studio on Deck 6, the café serves up barista-style coffee and tea selections (supplementary), accompanied by daily changing quick-bite food selections. And after 5pm, the bar also offers up a selection of aperitifs and digestifs.
.
Wheelhouse Bar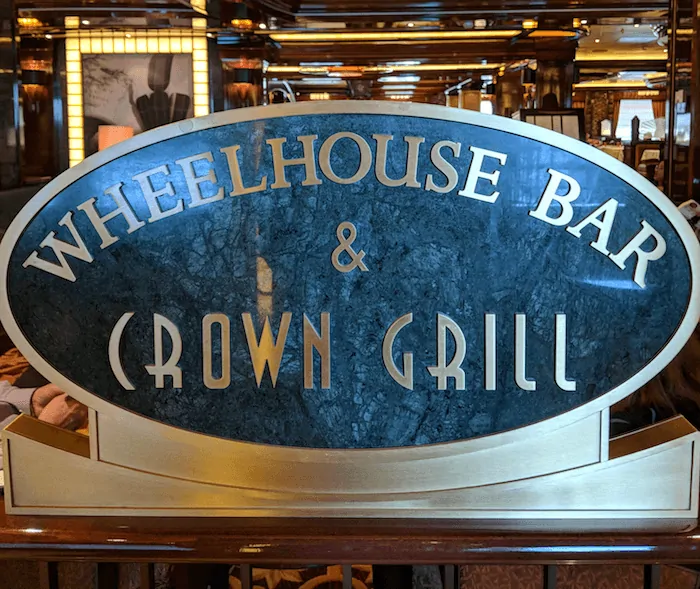 Pub Lunch is included in your cruise fare. Drinks are supplementary.
Check your Princess Patter for opening times as they are subject to change.
A traditional UK style pub lunch has been a crowd favorite since it's introduction and where diners can enjoy British classics such as fish and chips, bangers and mash (combination of pork sausage and mashed potatoes smothered in rich gravy) or a ploughman's lunch (a cold dish featuring bread, cheese, a pickle, various fruits and vegetables and butter) alongside a variety of UK ales and beers which are served on tap. Smart casual during the day, Smart attire at night.
. .
Gelato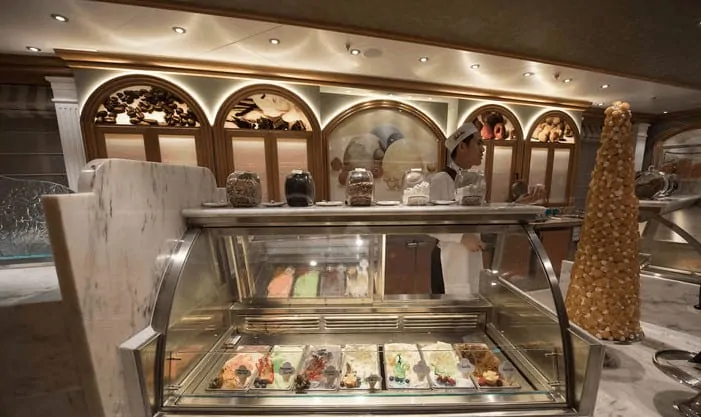 Supplementary fee.
Open 11am – 11pm.
If you are in the mood for something cold and sweet, Gelato on Deck 5 right next to the atrium offers delicious Italian-style ice cream creations – including designer sundaes, creamy fruit smoothies, and frosty shakes, plus sweet crepes and homemade waffle ice cream cones. There are over 10 flavors of ice-cream to choose from along with over 20 sauces and toppings.
.
Trident Grill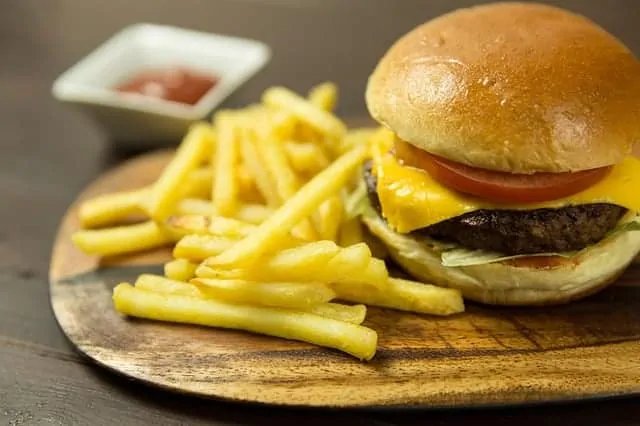 Food included in your cruise fare
Open 11am – 11pm
Located on Deck 16 the Trident Grill serves up Burgers, Hot Dogs and Sandwiches poolside throughout the day and transforms into an American-style smokehouse from 6pm with Texas style BBQ, Pulled Pork and Spare Ribs under the stars. Smart casual attire required.
.
Prego Pizzeria
Food included in your cruise fare
Open 11am – 11pm
Located opposite the Trident Grill on Deck 16, Prego is the perfect place to grab a slice of Pizza while you lounge poolside, or whist watching a movie on the big screen. Offerings include pepperoni, margherita or cheese alongside daily specials.
.
Swirls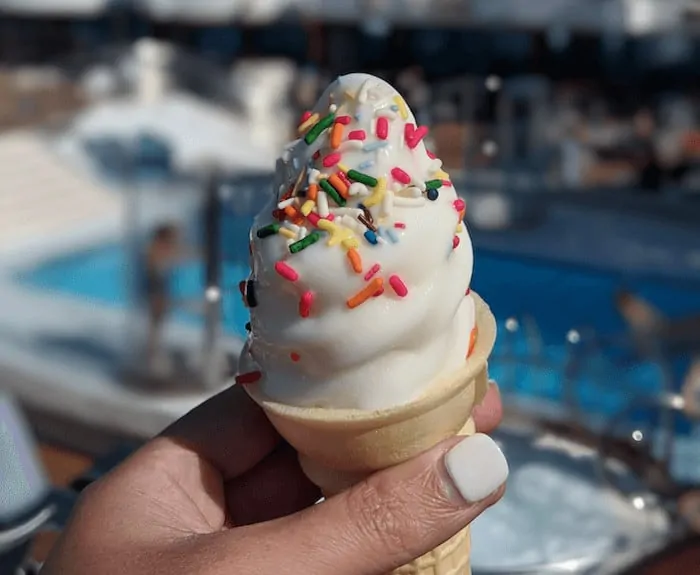 Included in your cruise fare
Open 11am – 11pm
Poolside are made for soft serve ice cream and Swirls is there to service your needs. Choose between chocolate or vanilla (or mix the two together!) and add colorful sprinkles for the perfect summery snack. (Located on Deck 16 adjacent to the Skywalk)
.
Outrigger Bar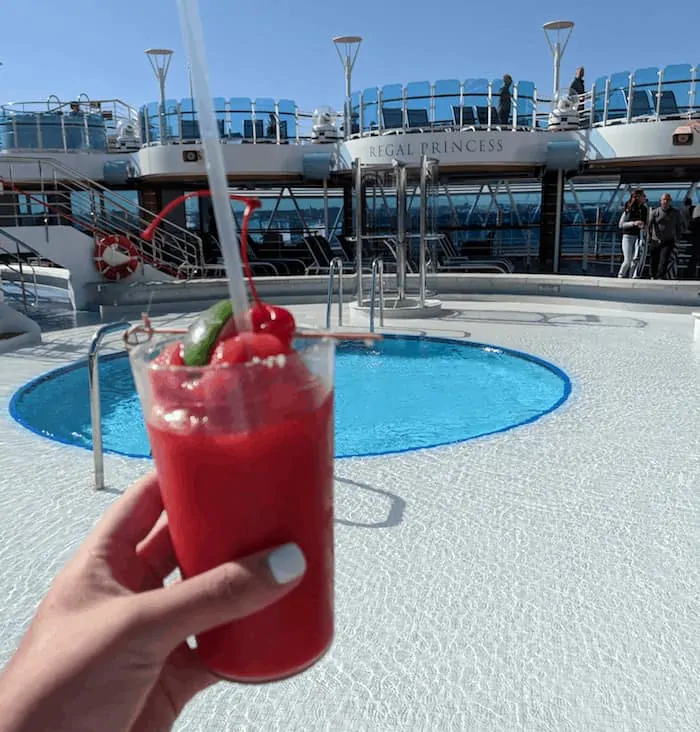 Meals and Snack included in your cruise fare. Drinks and Cocktails supplementary
Open 11am – late
A Margarita Bar with 12 specialty cocktails, which doubles as a Mexican shack shack offering made to order burritos, crispy pork flautas, barbecued pork fajitas and fresh tortilla chips with guacamole and Mexican salsa. It is one of the quietest places on the ship and the perfect place to grab a south of the border spicy snack!
.
Sabatinis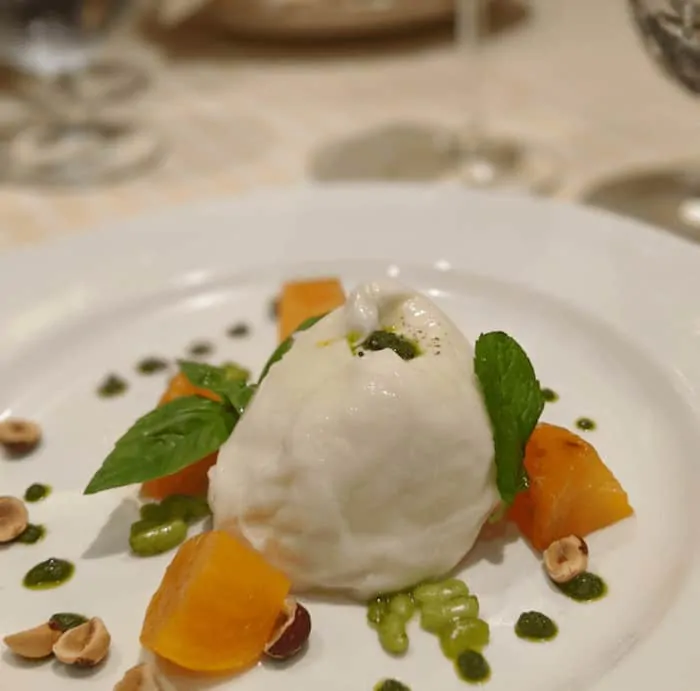 $25USD per person + drinks additional
Open for dinner nightly between 5.30 – 9.30pm
Sabatini's is the Specialty Tuscan Inspired Restaurant on Board the Regal Princess (and other Princess ships). Offering diners an appetizer of soup and/or salad, a specialty pasta dish created the style of your choosing with several sauce options, and a selection of meat and seafood options for the main course and deserts to die for, it is one of the most popular paid dining options on the ship.
When dining here to sure to try the Burrata (a fresh Italian buffalo milk cheese made from mozzarella and cream: the outer shell is solid mozzarella, while the inside contains stracciatella and cream, giving it an unusual, soft texture which is absolutely delicious!) and for desert be sure to order one of the Norman Love created Chocolate Journey's that are available on board. We recommend the Rocher – a desert of praline mousse, ice cream, cake all housed in a mini fishbowl. It's a stunner!
RELATED – You can get a little taste of Sabatini's each night in Vines Wine Bar where they do a free plate of Tapas from the restaurant when you purchase a glass of wine after 5.30pm
.
Crown Grill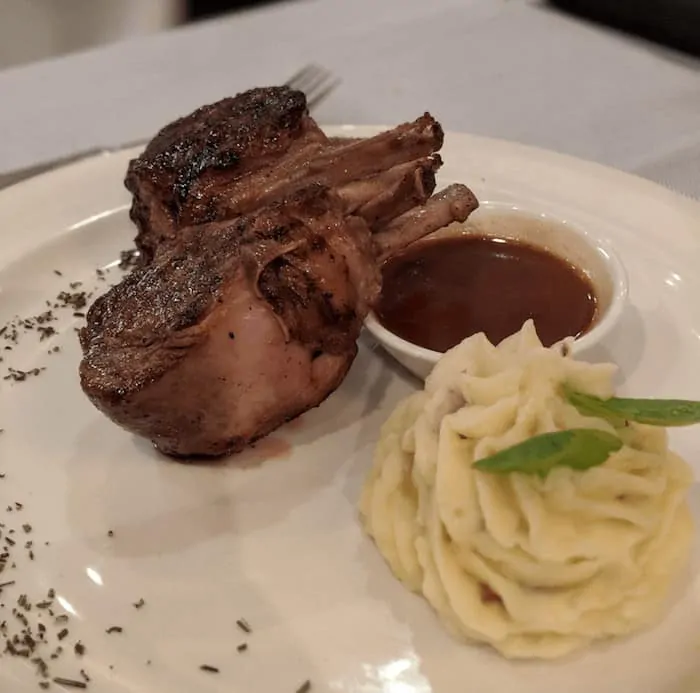 $29USD per person + drinks additional
Open 5.30pm – 9.30pm
Named among the Best Steakhouse's At Sea by USA Today, the Crown Grill is a true chophouse, serving beef, veal, lamb and pork chops, as well as a variety of steaks and premium seafood options. Sides are served family-style, and appetizers are excellent.
Servers take the time to explain each of the different cuts of meat available before ordering it to be cooked to your liking in the open kitchen located at the center of the restaurant, and are served with the diners choice of specialty salt including Hawaiian Black, Smoked Applewood and Himalayan Mountain Pink.
.
Winemakers Dinner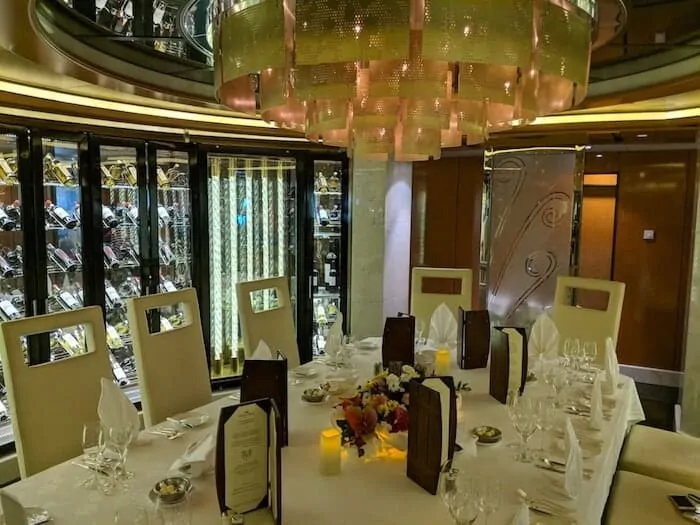 $40 per person (inc. wines)
2 tables available nightly in Concerto & Symphony Dining Rooms.
Diners are seated in a semi-private specialty booth surrounded by wine displays where they are taken through a 5 course menu (chef's prelude, appetizer, soup, entree and dessert) complete with paired wines. This experience is one not to be missed and can seat up to 12 diners in each of the two dining rooms. If you can't quite round up 12 willing participants to dine as a group, you are also able to place your name down with the wait staff from which tables are created from other interested passengers on board.
.
And if all of these dining options are not enough for you, there is also a daily Royal inspired afternoon tea in the Atrium on Deck 5, or a super specialty dining experience called the Chef's Table Lumiere held in the Allegro dining room on Deck 6. With extremely limited availability it allows guests to dine a a glass table surrounded by a curtain of light as they enjoy several exclusive dishes and paired wines. (Cover charge is $115 USD per person).
.
Phew! Are you feeling full yet?! I know am! And I hope that our ultimate guide to on-board dining on the Regal Princess has got you excited for your cruise – or has convinced you to go ahead and book your own maiden voyage.
And if you have already experienced all the wonderful dining on board the Regal Princess, please let me know if you have any recommendations or favorite dishes and I will add them to this post for everyone to see!
Oh, and if you liked this article, please tweet, flip, pin or share with your cruise loving friends on Facebook. I'd really appreciate it!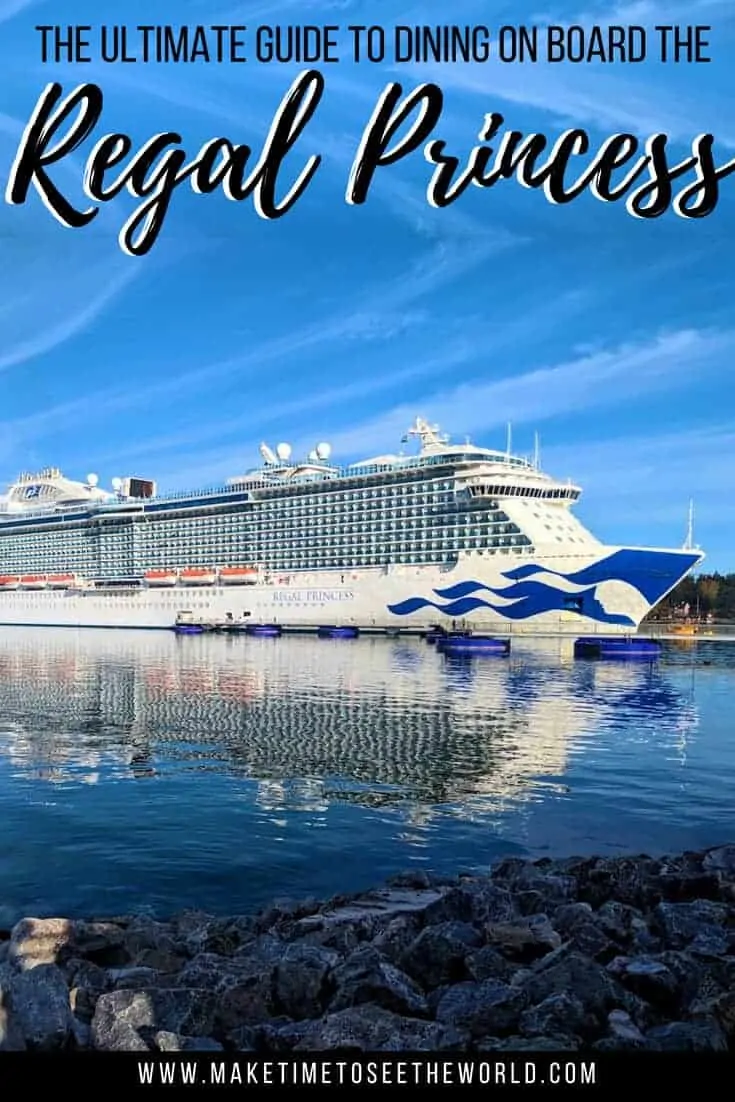 READY MORE TRAVEL INSPIRATION? YOU MIGHT BE INTERESTED IN THESE ARTICLES:
Hi There! Thanks for reading my ultimate guide to Regal Princess: A Complete Guide to On-Board Dining. I just wanted to let you know that this travel guide contains affiliate links, which means if you purchase something after clicking a link, I may get a small commission – which is at absolutely no cost to you. If you enjoyed this article and are going to be searching for some of the things I mention anyway, I would love it if you could click through from the links above & thank you in advance! Read my full Disclosure here. And thank you for reading the MakeTimeToSeeTheWorld Travel Blog.