Planning a trip to Africa? This post is for you! We've listed the Best Places To Visit In Africa to help plan your trip. With safari hot spots, traditional tribes, incredible landscapes, epic road trips, stunning waterfalls, amazing hikes & beautiful beaches (just to name a few!). It's the Ultimate Africa Bucket List!
If you've always wanted to step foot onto the African continent then this post is for you – but with over 54 countries to choose from, it can be hard to know where you should start.
To help you plan your first (or second, or third!) trip to what is my favorite continent we've put together this fabulous list of the Best Places To Visit In Africa (which includes what to see in Africa, the best cities in Africa, the best countries in Africa, cool places to go in Africa, Africa vacation spots and so much more!)
We've got the typical safari hotspots alongside quite a few less visited and off the beaten path countries & destinations to showcase the best of what Africa has to offer.
Think wild animals, millennia-old cultures & tribes, incredible landscapes, impressive waterfalls, epic road trips, beautiful beaches and you've got a small taste of the fabulous destinations that we've rounded up in this post! Think of it as your Ultimate Africa Bucket List!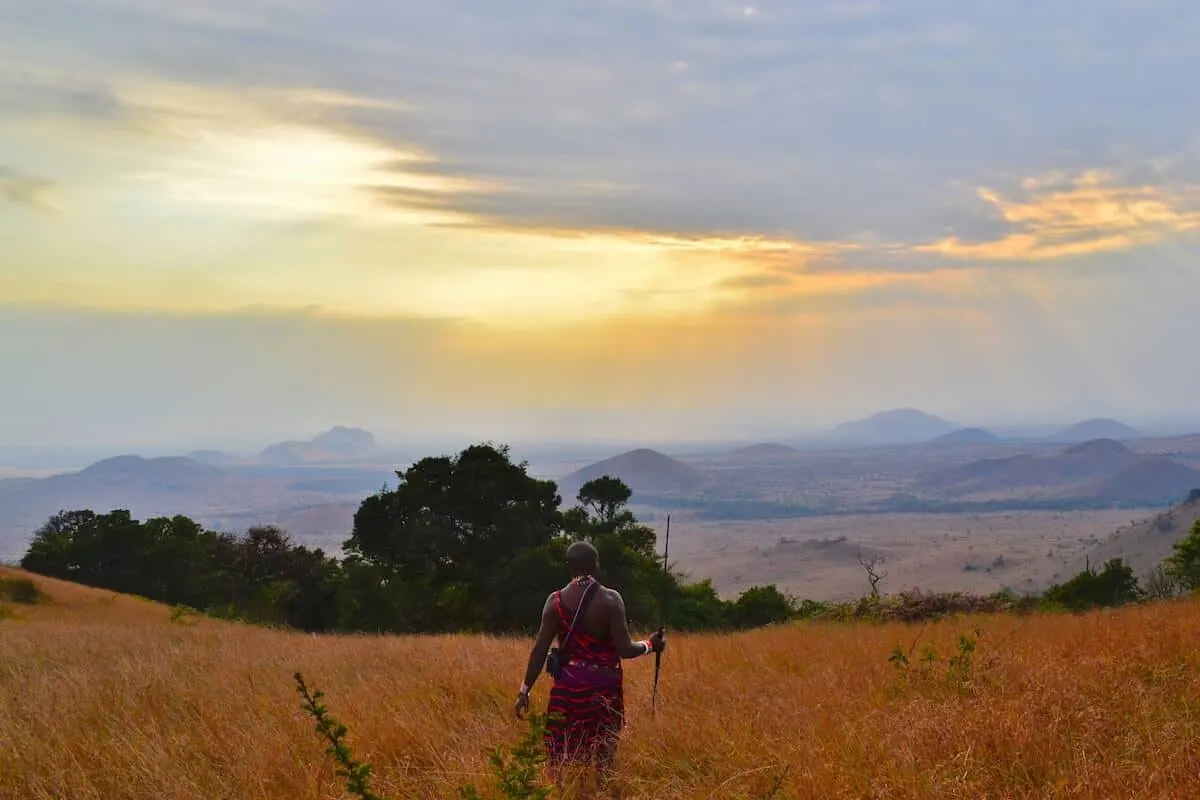 Disclaimer: Almost all posts on this site contain Affiliate links, and this one about the Best Places to Visit in Africa is no different. This means that if you click on any of the links in this post (and make a purchase) I may receive a small commission at absolutely no cost to you. Each post is carefully crafted to (hopefully!) answer all your questions and recommendations are made where we believe they will improve your trip and help with your planning. As such we thank you in advance should you decide to click & buy. Read my full Disclosure here.

The Best Places to Visit in East Africa
Malawi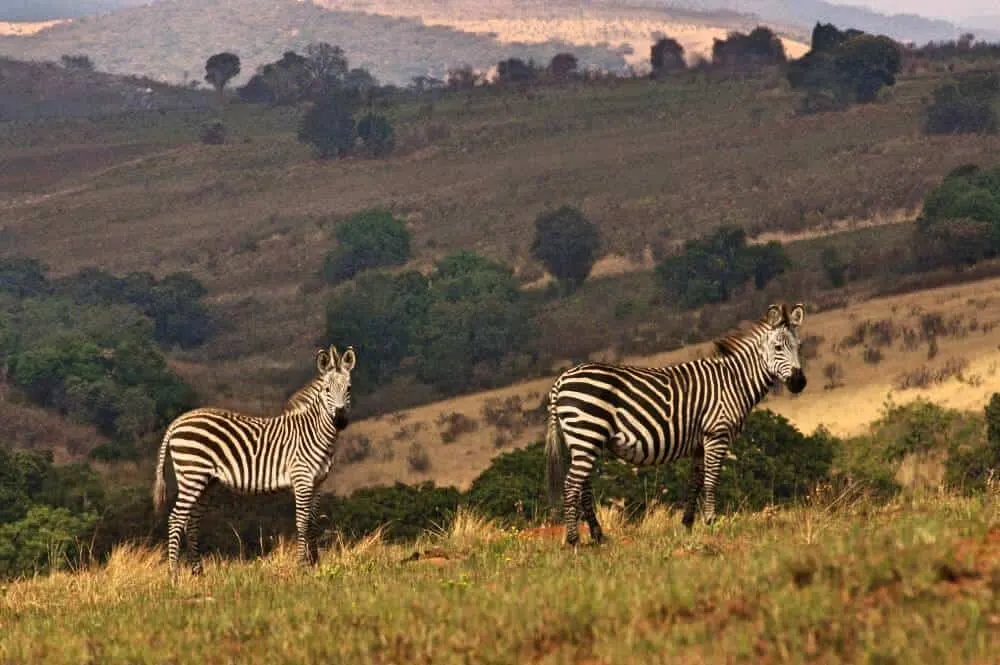 Contributed by Rachel of Rachels Ruminations
Location: East Africa
Malawi is a beautiful small country in southeastern Africa and a great destination if you want some off-the-beaten-path variety when you travel.
Two small wildlife parks in the south – Liwonde and Majete – are relatively accessible and should satisfy your safari fantasies. At Liwonde, you can take a boat safari for a unique experience. At Majete, the "Big Five" animals have been reintroduced so successfully that whole elephant herds have had to be moved to another park, Nkhotakota, further north.
My favorite wildlife park, though, is in the far north: Nyika. There you'll see zebras and a range of antelope and bird species among gorgeous rolling hills that resemble the Scottish Highlands. While you're in the north, stop by the charming town of Livingstonia to get a taste of Malawi's English colonial history.
Lake Malawi, lined with white-sand beaches, is Malawi's other major attraction. The third largest lake in Africa, its deep, clear water is safe for swimming. Go snorkeling to see the colorful mouth-breeding cichlids that live nowhere else, or enjoy a range of other watersports.
A poor country, Malawi is relatively unknown to Western tourism, and has huge potential. Infrastructure can be substandard, but the beauty of its landscapes and its interesting cultures more than make up for that.
Djibouti
Contributed by Lisa from The Hot Flashpacker
Location: East Africa
Djibouti is one of the smallest countries in Africa but it's packed with things to do by land and by sea. Most trips start in the capital of Djibouti City, an interesting place to check out the markets and eat international foods such as Yemeni oven baked fish and bread.
A must-do activity is a two-day jeep trip to the Mars-like terrain of Lake Abbe and overnight stay in the nomad encampment. You will see an oasis, nomadic villages, and wildlife on the way. Before returning to the city you can float in Lake Assal, a stunning lake that is saltier than the Dead Sea and the second lowest place on earth.
By sea, there are excellent scuba and snorkel opportunities in the Gulf of Tadjoura. In the winter, whale sharks can be seen by snorkel and scuba expedition. There are a few liveaboards for scuba diving and Djibouti is home to one of only two places in the world where it's possible to dive between tectonic plates.
The best time to visit is from November-February as summer can be incredibly hot and humid.
.
Mozambique
Contributed by Kristin from Be My Travel Muse
Location: East Africa
Mozambique is one of the most amazing off-the-beaten-path countries I've visited. With very little info online to go on when I initially went, I was a bit scared to go it alone, but I found a country with gorgeous coastline, friendly people, and amazing food.
Head to Tofo for surfing, swimming with Manta Rays and Whale Sharks, amazing SCUBA diving, and some amazing beach bungalows right on the sand. Just up the coast a bit more, visit Vilanculos with amazing sand bars that appear during the day creating a layered look of baby blue water and white sands- It's simply stunning, and it's not a tourist favorite by any means, so it's still raw, gorgeous, and somewhat untouched by tourism.
Discover the Best Tours to Mozambique here.
.
Madagascar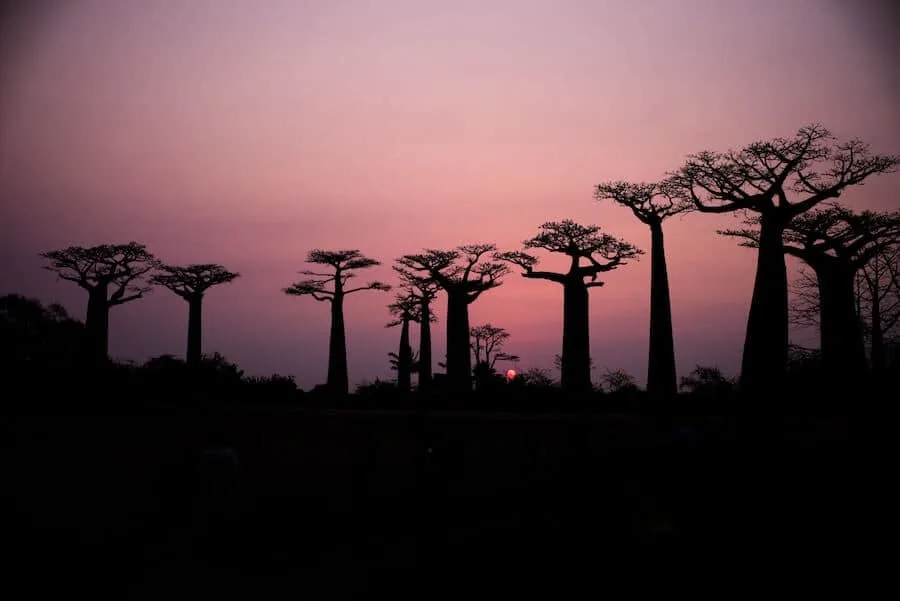 Contributed by Margherita from The Crowded Planet
Location: East Africa
One of our first trips to Africa was to Madagascar, a country with some of the best nature reserves and adventure we've ever experienced. However, traveling Madagascar independently is not for the faint hearted, especially if it's your first time in Africa!
We spent 5 weeks in the country traveling mostly around the south and western parts of the island, covering locations like Baobab Avenue, Ranomafana and Isalo National Parks and the spectacular Tsingy.
One of the reasons why traveling Madagascar was quite exhausting is the lack of infrastructure – roads are in terrible condition and public transport is almost non-existent save for taxi brousse, shared minibuses mostly used by locals.
The upside is pristine nature, unique flora and fauna and no tourists save for a few daredevils – so I can only recommend visiting Madagascar as one of the Africa must see places, but make sure you pack some patience if you plan to tour the country independently using local transport!
.
Tanzania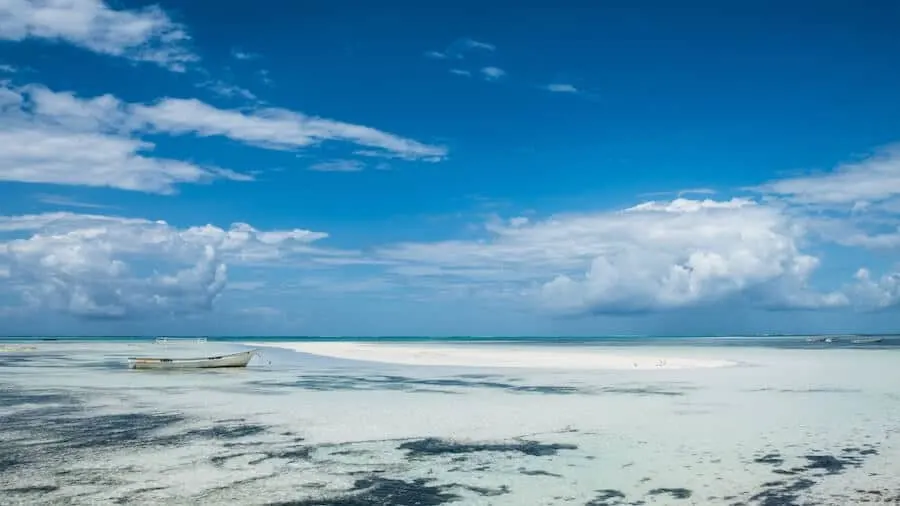 Contributed by Me (Vicki @ MakeTimeToSeeTheWorld)
Location: East Africa
Tanzania is one of the most beautiful places to visit in Africa and was at the top of my Africa Bucket List because of all the wonderful experiences on offer there.
From climbing Mount Kilimanjaro in Northern Tanzania – the highest mountain in Africa, to the incredible white sand beaches of the Zanzibar archipelago or the amazing African plains of the Serengeti National Park where a million wildebeest migrate annually – you can even take a hot air balloon ride above the park!
There is also the Ngorongoro Crater Conservation area, famous for it's Big 5, access to Lake Victoria – one of Africa's Great Lakes, and some amazing African towns and cities that are packed with culture and give you a taste of African life including Arusha and Stone Town Zanzibar. It's simply one of the best countries to visit in Africa and one loved visiting.
.
Northern Kenya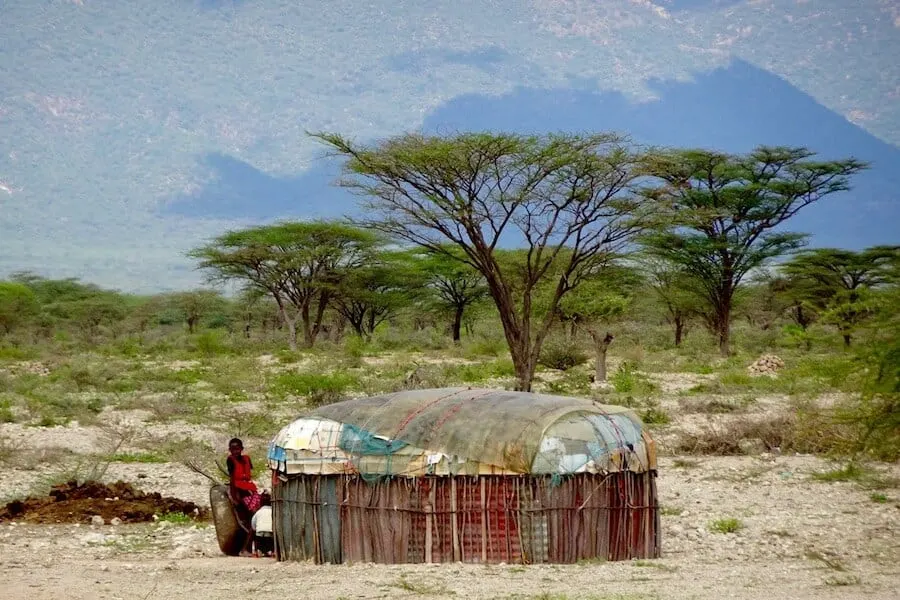 Contributed by Patrick from German Backpacker
Location: East Africa
While most touristic destinations in Kenya are based in the southern part (such as the beautiful Masai Mara & Masai Mara National Reserve, Diani Beach, Lake Nakuru National Park and Amboseli National Park), the northern part of the country is a rather untouched and wild place. It's very sparsely populated and infrastructure is rudimentary but offers some of the most stunning landscape I've ever seen making it one of Africa best places to visit.
Take the town Nanyuki as your base and head up north into the Samburu National Reserve, home to the wild and remote Samburu tribe. You can hike to the top of holy Mount Ololokwe, offering breathtaking views on the vast and dry landscape of Kenya. Another destination worth visiting in the northern part of the country is Lamu Island, close to the border of Somalia but easily reached by plane.
The busy streets of Lamu Town – one of the oldest towns of the world – make you travel back in time. The southern tip of the island is almost deserted besides some remote resorts (such as lovely Kizingo), where you'll have the beautiful beach all for yourself for miles and miles. Not many tourists make it up to the northern part of Kenya – but those who do get rewarded with a unique experience. Take a look at the Best Tours in Kenya to help make your safari dreams a reality.
.
Zambia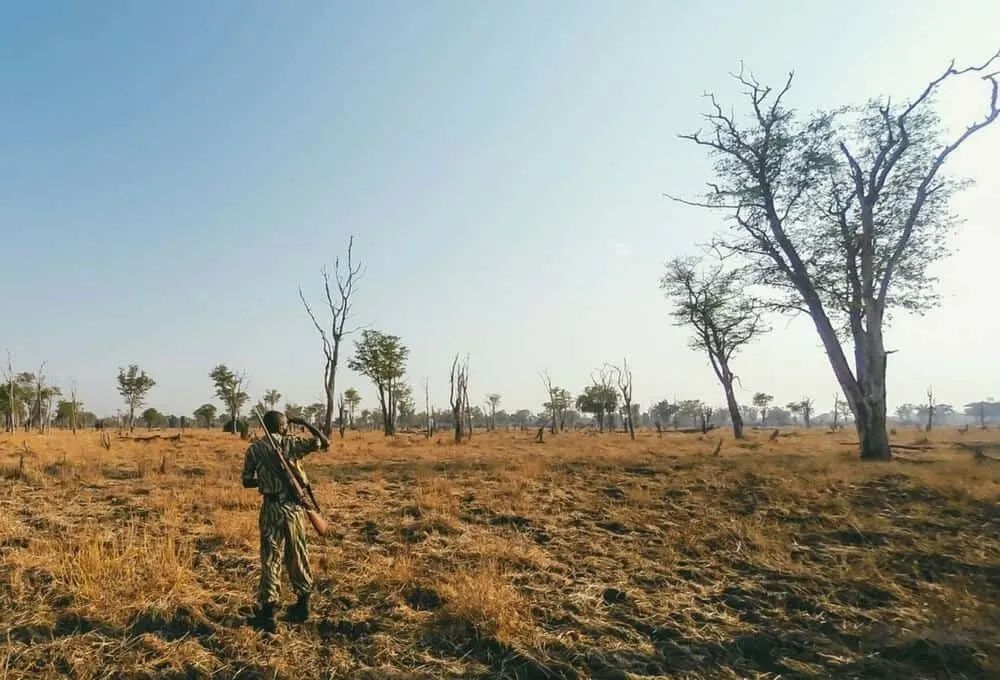 Contributed by Mark & Miranda from The Common Wanderer
Location: South Luangwa National Park, Zambia – East Africa
Going on safari is super cool. What's decidedly uncool is having to deal with the armies of jeeps and hordes of tourists in the big parks that sometimes make it feel more like a theme park with little care for the wildlife you're there to see.
But there's a place off the beaten tourist track, without the camo-crowds, where you can still see Africa like Attenborough. That place – South Luangwa National Park, Zambia. It's one of the best places to travel in Africa.
Choose between dawn and dusk game drives, where you'll witness an epic African sunrise/sunset and an abundance of wildlife unmatched in most African national parks. Expect to see many leopards (the park is famous for its leopard population), along with every kind of game, lions, elephants, the rare Thornicroft giraffe, hippos, vervet monkeys, crocodiles, and cape buffaloes.
South Luangwa River and National Park is one of the only places in Africa which allow real 'walking through the wild savannah where lions and leopards roam in the morning light' style African safaris! This is a once in a lifetime kind of experience. South Luangwa is also affordable – game drives and walking safaris start at around $40 USD pp.
.
Uganda
Contributed Jennifer (aka Dr. J) from Sidewalk Safari
Location: East Africa
Uganda was not the first destination that came to mind when we were looking for a once-in-a-lifetime place to visit in Africa. However, the more research we did, the more we became convinced that Uganda is a safe but off-the-beaten path destination for a safari in East Africa. The trip turned out to be truly magical.
Uganda is best known for amazing primates and you can track both chimpanzees, in Kalinzu Central Forest Reserve and mountain gorillas in the Bwindi Impenetrable Forest, coming face to face with humanity's closest relatives. Over a thousand species of birds call Uganda home and it's the safest place to reliably spot the formidable shoe-billed stork.
We encountered lush fields of tropical fruits at every turn and sampled the freshest and juiciest pineapples and mangoes we've ever tasted. Of course, if the Big 5 is your thing, you can see more traditional African wildlife in Uganda too. In fact, we had Queen Elizabeth NP and Lake Mburo National Park in Uganda practically to ourselves.
Did I mention that Uganda also boasts the happiest people in Africa? What are you waiting for? Plan your Uganda Safari and the chance to see Gorillas in the wild here.

.
Ethiopia
Contributed by Steph from Big World Small Pockets
Location: East Africa
Having not met anyone who had visited Ethiopia before I was a little nervous when I jumped on a plane there from Kenya, alone, as the last destination of my Africa trip in 2017.
Would I meet anyone that could speak English? Would I be safe traveling as a solo female? Would I have a good time? In short, would Ethiopia be a disastrous end to my, so-far, incredible trip?
Well I needn't have worried because instead of being a bad ending to my 5 month trip through Southern and Eastern Africa, Ethiopia instead turned out to be THE highlight!
Yes for those not in the know, Ethiopia is one of Africa's great hidden gems, a hugely off the beaten track destination filled with the most breathtaking landscape, the most incredible ancient history, the most unique culture, the most delicious food and the most welcoming people! That's what makes it one of the top places to visit in Africa.
There's so much to see and do here, from hiking to the top of active volcanoes in the Danakil Depression to discovering the ancient rock churches of Lalibela, to visiting the Blue Nile Waterfalls of Bahar Dar to visiting the indigenous tribes of the Omo Valley, that you easily could (and should!) spend a few months traveling in this dazzling diverse country. It's one of Africas top destinations and is certain one of the best places to visit in Africa.
The Best Places to Travel in North Africa
Morocco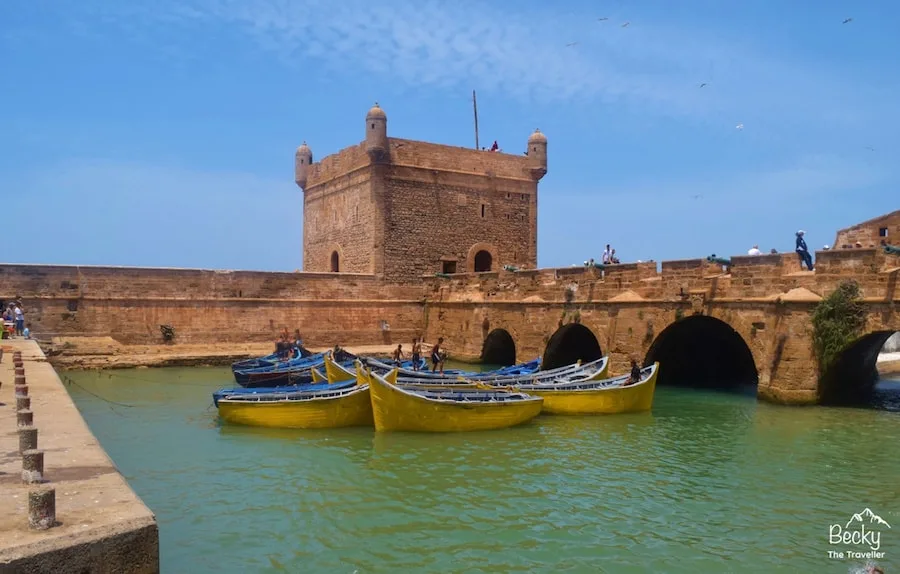 Contributed by Becky the Traveller
Location: North East Africa
Morocco is a vibrant and beautiful country to visit. Each city has its own character and a certain Moroccan charm.
Even the chaotic Red City of Marrakesh, which seems to create a love/hate feeling for some people who visit. You'll fall in love with the lively medina of Jemaa el fna, with its bright stalls and fresh orange juice stands. But the constant haggling can get a little weary. That being said it gives Marrakesh character, is a place I'd want to visit again and one of the best cities to visit in Africa.
Over on the west coast, there's the windy city of Essaouira, famous for being one of the Games of Thrones filming locations. There's plenty to explore in the city from getting lost walking around the old walls of the city. Or visiting the daily fresh fish market in the harbour. And for the adventurous, there are lots of wind-related watersports to try out!
Away from the Moroccan cities, you can spend a day or even a few days trekking in the Atlas Mountains, which includes the highest mountain in North Africa, Mount Toubkal.
Morocco really does have something for everyone, is the gateway to the Sahara Desert (if you don't believe me have a read of this post!) and it makes a wonderful short or long break.
.
Egypt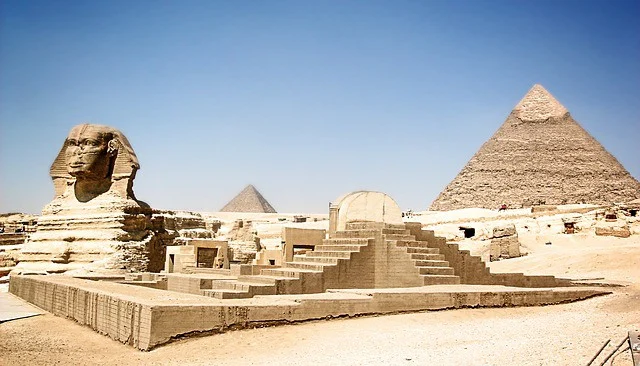 Contributed by Me (Vicki @ MakeTimeToSeeTheWorld)
Location: North West Africa
What could be better the visiting a country where ancient kings walked and the layers of history that have shaped the modern world surround you in such a way that you can imagine what it was like all those years ago.
Visitors can gaze at the magnificent Pyramids at Giza, look in wonder at the Sphynx, float in the saltiness of the Red Sea, walk in the Valley of the Kings and pick up some bargains the Khan al-Khalili market in Cairo, not to mention cruising the Nile River in a Felucca or visiting the decidedly European-esque Alexandria (where wealthy Europeans used to vacation!).
Egypt has so much to offer but has seen a decline in tourism in recent years – but no Africa bucket list would be complete without visiting it and it remains one the best travel destinations in Africa. If you are wondering what to see in Africa, look no further than Egypt.
Start planning your Egyptian Adventures Here – there really is so much to do!

.
The Best Countries to Visit in Central Africa
Rwanda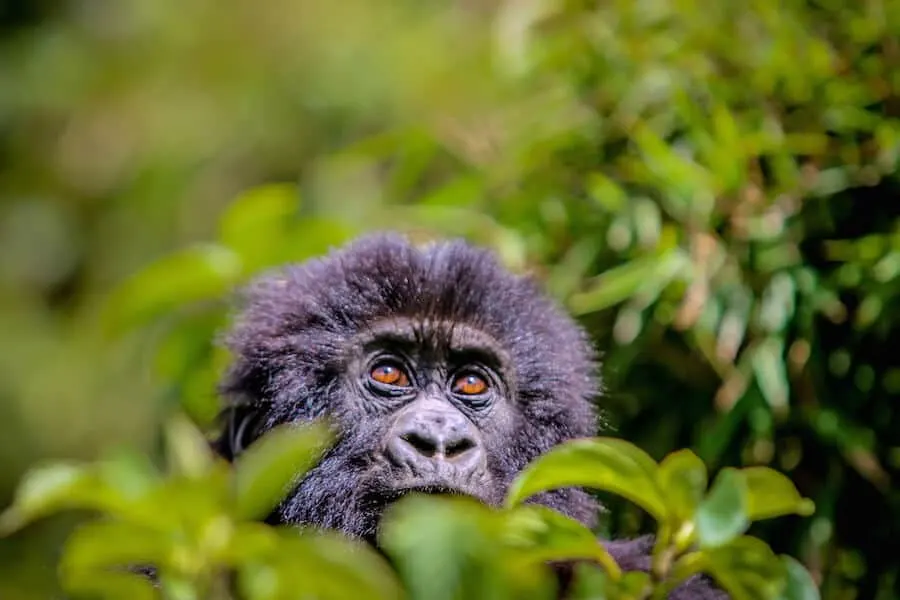 Contributed by Bret Love & Mary Gabbett of Green Global Travel
Location: Central Africa
Rwanda has undergone a radical transformation since its devastating 1994 genocide, with increased political stabilization, dramatic infrastructure improvements and impressive economic growth fueled by a burgeoning ecotourism industry.
At its heart are the Virunga Mountains, whose majestic summits tower from 10,049 to 14,787 feet: It's easy to see why the country is called "the land of a thousand hills." and why its one of the most popular Africa vacation spots.
Most people visit to see the critically endangered Mountain Gorillas, of which around 900 remain in the wild (half of which are in Rwanda's Volcanoes National Park). But these dynamic landscapes, which stretch from Lake Kivu in the south to Uganda's Lake Edward in the north, rank among the most beautiful we've ever seen, offering plenty of other adventures for active travelers and nature lovers alike.
We recommend trekking to see the endangered Golden Monkeys in the Virungas, visiting Iby'Iwacu Cultural Village (which provides alternative revenue streams for former poachers), and exploring Nyungwe Forest National Park (where you can see Chimpanzees and four monkey species in the wild).
To learn more about Rwanda's troubled past, visit the Kigali Genocide Memorial, and wind down your trip relaxing on the gorgeous shores of Lake Kivu. IMO, Rwanda is easily one of the best places to vacation in Africa!

.
Democratic Republic of Congo (DRC/Zaire)
Contributed by Helen from Helen in Wonderlust
Location: Central Africa
Despite being the second largest country on the African continent and once a favourite destination of wealthy Europeans, the Democratic Republic of the Congo (DRC) has long been forgotten by many. Years of war and turmoil, exploitation and rebel activity have left this stunning, but volatile country off the travel radar, however things are slowly starting to change.
The DRC is one of the final frontiers for many an Africa enthusiast, myself included and although it is still considered a relatively dangerous destination, it is an in amazing place for an intrepid traveler if the proper precautions are taken.
Visiting earlier this year, I was astounded by the beauty of this untamed and incredible place, ruled by the earth, the jungle and the sky, rather than people.
The DRC is home to Virunga National Park, part of the Virunga Mountain range. Here you'll find Mount Nyiragongo, an active volcano and one of Africa's best hiking destinations. The Nyiragongo volcano trek is challenging, but once you reach the top you are rewarded with epic views of the crater and you sleep on the rim as the lava bubbles and glows beneath you.
The Virungas are also home to the rare mountain gorillas (there are less than 800 mountain gorillas left in the wild) and there are few travel experiences that top looking one of these beautiful creatures right in the eye.
The DRC is magical, beautiful, vibrant and edgy – Go. Before everyone else does.
..
The Best Places to Visit in West Africa
The Gambia
Contributed by Kathryn from Travel With Kat
Location: West Africa
The Gambia may be the smallest country in mainland Africa but for me, it's up with the big boys when it comes to reasons to visit. It is nicknamed the smiling coast of Africa for good reason – it's one of the friendliest places I've ever been to.
It relies heavily on its tourism industry and in recent years' it's not had it easy. First, the Ebola crisis saw visitor numbers plummet, despite there never being a single case of Ebola in the country. The political crisis, when the outgoing president refused to leave office, was the last thing the country needed, not to mention a global shutdown. The Gambia, however, remains one of the safest countries in Africa to visit.
While there are many tribal languages, the official language is English, so you won't have any communication problems. The weather is in the lower 30s throughout the year making it a perfect winter sun destination. Plus, the wide sandy beaches are never overcrowded, there's a vibrant and colourful local culture and fabulous wildlife to enjoy including over 540 species of birds, baboons, vervet monkeys and crocodiles to name but a few. It's clear to see why it's one of the best travel destinations Africa.
.
Senegal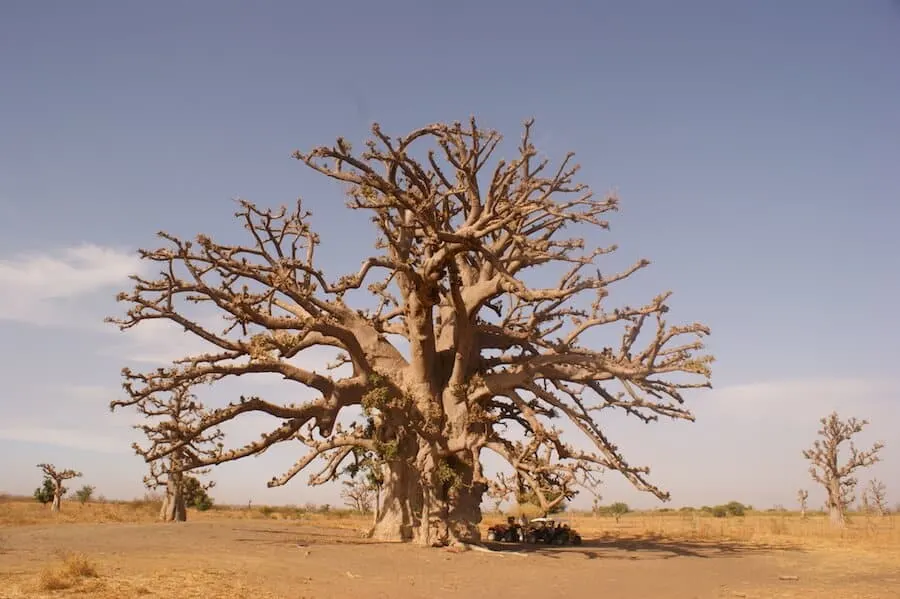 Contributed by Wendy from World Wide Wendy
Location: West Africa
In 1997 I traveled for the first time to Africa and left my heart over there. Many years later we were looking for a short trip and ended up in Senegal, which I thought was "Africa for beginners". I was so wrong. I never felt more in Africa then the moment we were on the beach in Mbour waiting for the arrival of the fishermen.
Besides visiting Mbour, Senegal has many nice things to offer. We went sea fishing (you need a strong stomach as the sea is very rough) and went on a guided tour with a buggy. The guide showed us around and it felt like we were the only tourists in Senegal.
Everyone knows Senegal because the Rally Paris-Dakar ended here in former days. The Lac Rose, the finish line of the race is a stunning pink lake. The salt concentration is extremely high so you can float on the water.
If you like luxury hotels and excellent food, I can highly recommend Le Lamantin Beach in Saly. Saly (where most hotels are located) is about a two hours drive from Dakar. An airport is currently being built in Saly, but it's the African way: no idea when it will be done. Senegal is malaria territory, but in the dry season there are no mosquitoes to detect.
If you are looking for a sunny destination in winter that also offers some nice things to do, I can highly recommend Senegal.
.
Ghana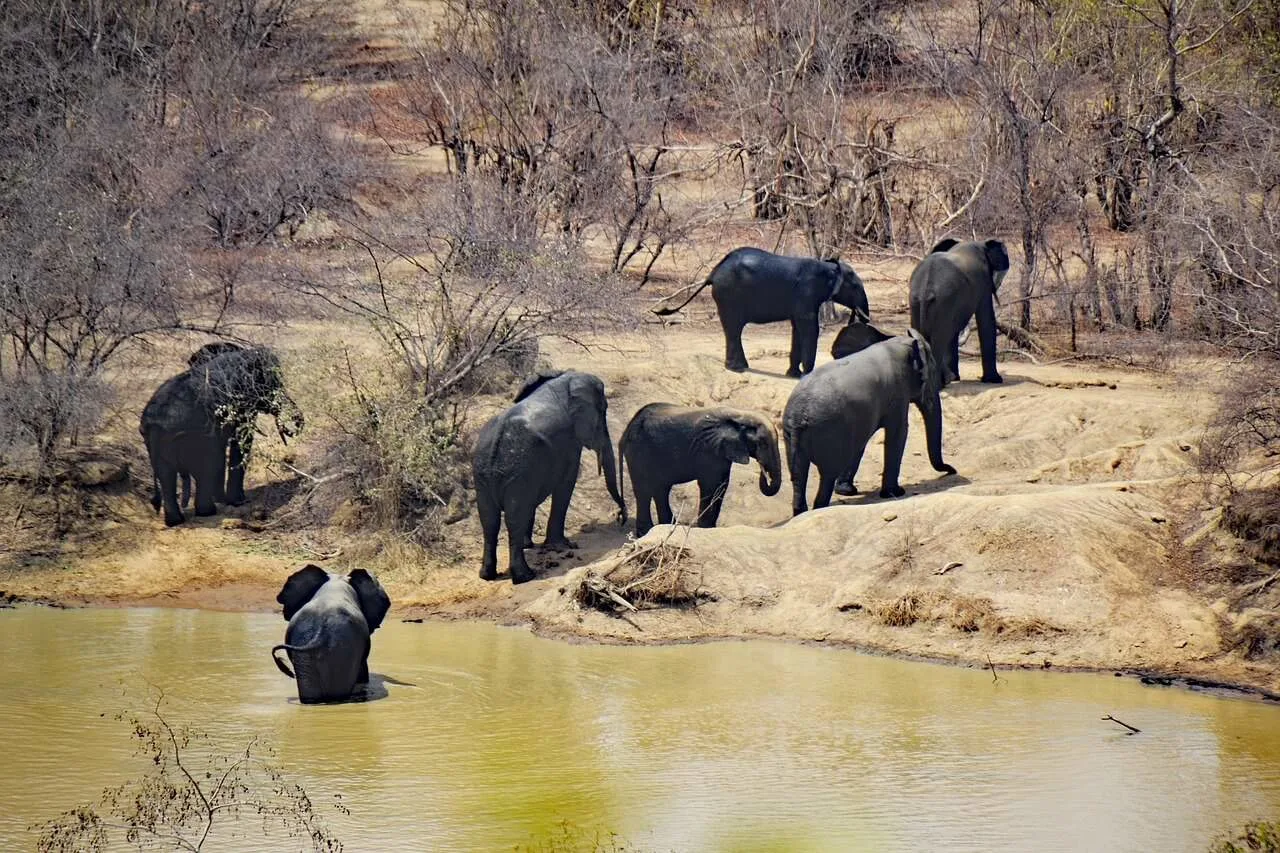 Contributed by Leanne Scott from The Globetrotter GP
Location: West Africa
Ghana is certainly not the most trodden tourist path and yet to me, it's baffling why this is. It's a great combination of rainforest, wildlife, bustling African markets, beaches and culture. Compared to many African countries (especially in the west) it is fairly safe for solo adventerous travelers and whilst there are many languages spoken in Ghana, English is the most widely used.
Ghana is joyfully chaotic, friendly, colourful and diverse. You will notice not only the scenery but the buildings change as you travel north – the people change from Christian to Muslim and the landscape changes from rainforest to savanna. Ghana is also a comparatively compact country so is easy to travel around when you are limited for time.
Highlights would include: Mole National Park which is set on a cliff overlooking a watering hole and is famous for it's elephants. You can get up close and personal with them on a walking safari but watch out for the naughty monkeys; There are also Various eco resorts and turtle conservation projects along the coast where you can sleep in mud huts by night and hammocks strung between two palm trees by day. There is also Kakum National Park where if you have a head for heights you can brave the impressive jungle canopy walk.

Larabanga village is home to the oldest and surely the most unique mosque in Ghana; In Nkoranza you can stay at the Hand in Hand Ophanage for special needs children and support a great cause and then take a trip to see the 'sacred monkeys' in the wild nearby. And at Cape Coast there is a lovely coastal town where you can take a history lesson about African slavery at Cape Coast Castle. Sobering but very informative!
Join any of these amazing tours and start your journey through one of Africa's most intoxicating countries.

.
The Best Places To Visit in Southern Africa
Lesotho
Contributed by Kimmie from Adventures & Sunsets
Location: Southern Africa
Lesotho is one of the most naturally stunning and underrated countries I have visited. Bordered on all sides by South Africa, Lesotho is a tiny 'Kingdom in the Clouds' with a lot to see.
Much of the country is above 3,000m elevation, and the mountainous views are hard to beat. It is bordered on the east by the dramatic Drakensberg mountain range, which is home to some of the most famous hikes in the world and also the second tallest waterfall in the world.
One of the most interesting ways to enter Lesotho is by the Sani Pass, a winding mountain dirt road that eventually leads to Lesotho and the highest pub in Africa. The people and culture are beautiful, and you can learn a lot about how many live in mud huts made out of cow dung or herd sheep high up in the mountains for 6 months per year.
.
Caprivi Strip & Northern Namibia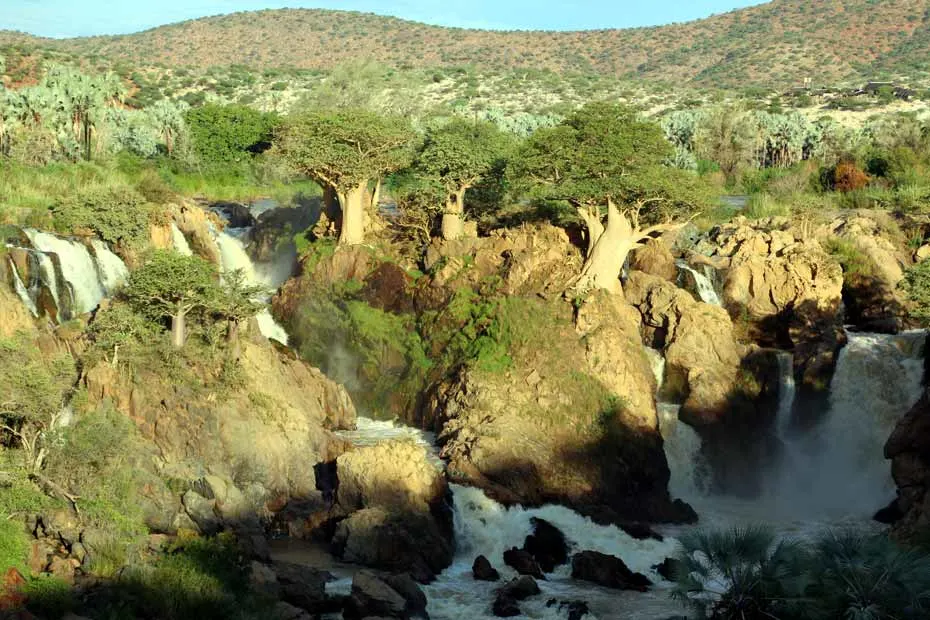 Contributed by Alya & Campbell from Stingy Nomads
Location: Southern Africas
Namibia is an amazing country to travel it has a great diversity of landscapes and incredible wild life. Most tourists limit their trip by visiting red-sand dunes of the Namib desert, Sossusvlei, Fish River Canyon and Etosha National Park but there is so much to discover here.
Northern Namibia is quite different from the rest of the country: wetlands instead of desert, giant baobab trees instead of quiver trees, hippos and crocodiles instead of meerkats and cheetahs. You won't get a complete picture of Namibia without visiting Caprivi Strip and Kavango region.
The highlights of Northern Namibia include Epupa Falls, a huge waterfall with impressive baobab trees on the edge; the Okavango River, the forth longest river in Africa, with hundreds of hippos chilling in there; Mahango Game Reserve, small National park with many animals including leopards and lions on the border with Botswana.
Some of the top things to do in Northern Namibia include taking a mokoro boat ride on the Okavango inland delta to spot hippos and crocodiles; Camping at Ngepi campsite at the Okavango river where you can watch hippos and otters while having breakfast on the deck, enjoy a jungle shower or cool down swimming in the cage-pool in the river.
You can also visit Ovahimba Living museum to learn more about the beautiful and friendly natives and their traditional way of living or search out the biggest baobab tree in Namibia or find a giant termite mound.
It's a bold call – but for me, Namibia is the best African country to visit.
READ MORE ABOUT NAMIBIA:
.
Zimbabwe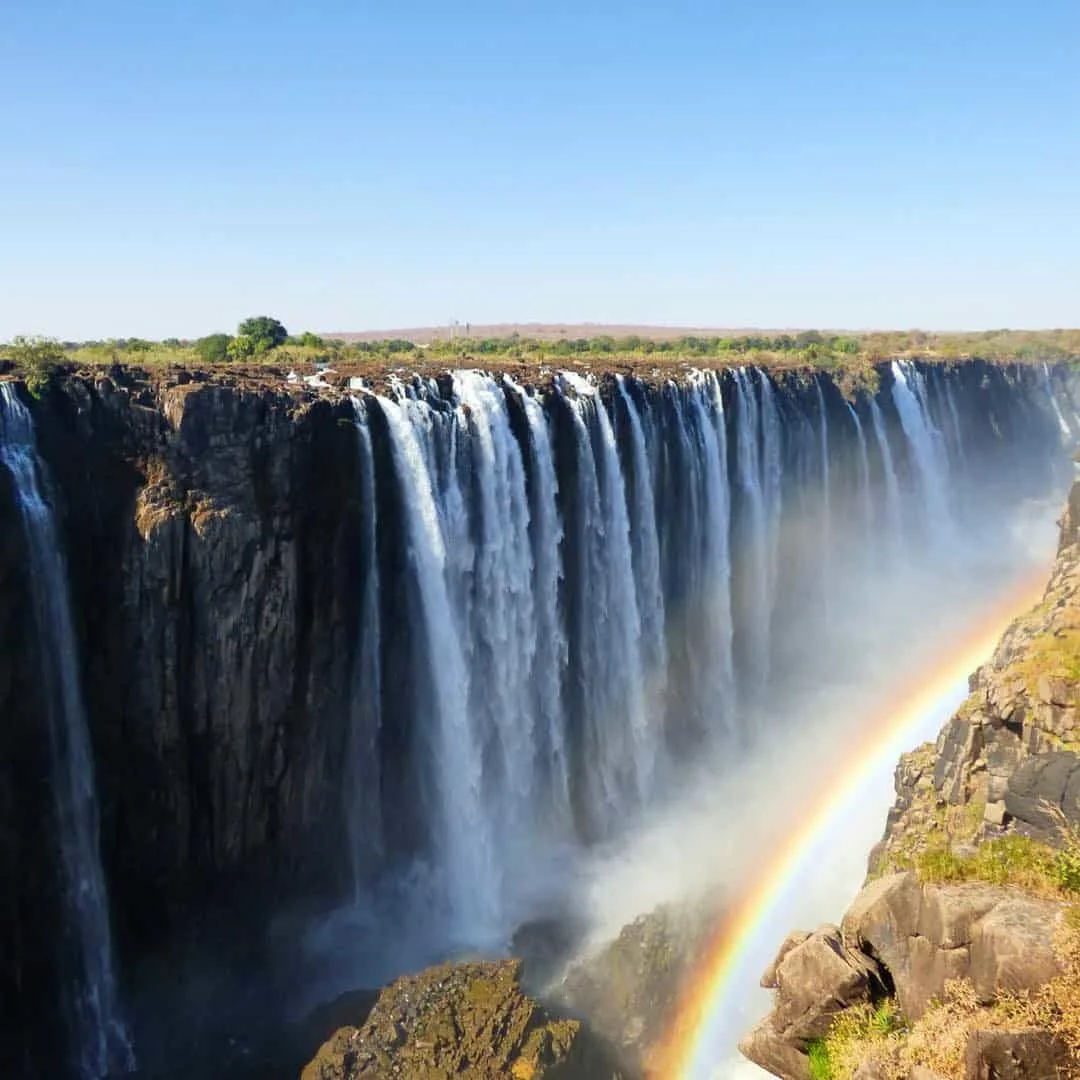 Contributed by Me (Vicki @ MakeTimeToSeeTheWorld)
Location: Southern Africa
Zimbabwe was at the top of my personal Africa Bucket list and is easily one of the best places to travel in Africa (which I can confidently say following the recent regime change).
Most visitors base their travels in the country around Victoria Falls town because of range of activities which center around the Mosi-Ao-Tunya (the locals name for Victoria Falls and translates as 'the smoke that thunders') which include bungee jumping, whitewater rafting on the lower Zambezi River, microlight flights, river cruises and so much more.
It also has an enviable position with its proximity to the Zambia and Botswana Borders and so is one of the best vacation spots Africa for those considering an overland safari.
There are also more incredible National Parks scattered across the country with Hwange, Lake Kariba and Matobo being the most famous. There are also a few of museums dotted around the country and the incredible Balancing Rocks just outside the capital city, Harare.
Zimbabwe operates on USD currency, and Victoria Falls is quite westernized making it one of the cool places to visit in Africa the and perfect 'Africa for beginners' spot. (and for me, the best place to visit in Africa).
READ MORE ABOUT ZIMBABWE:
.
eSwatini (formerly Swaziland)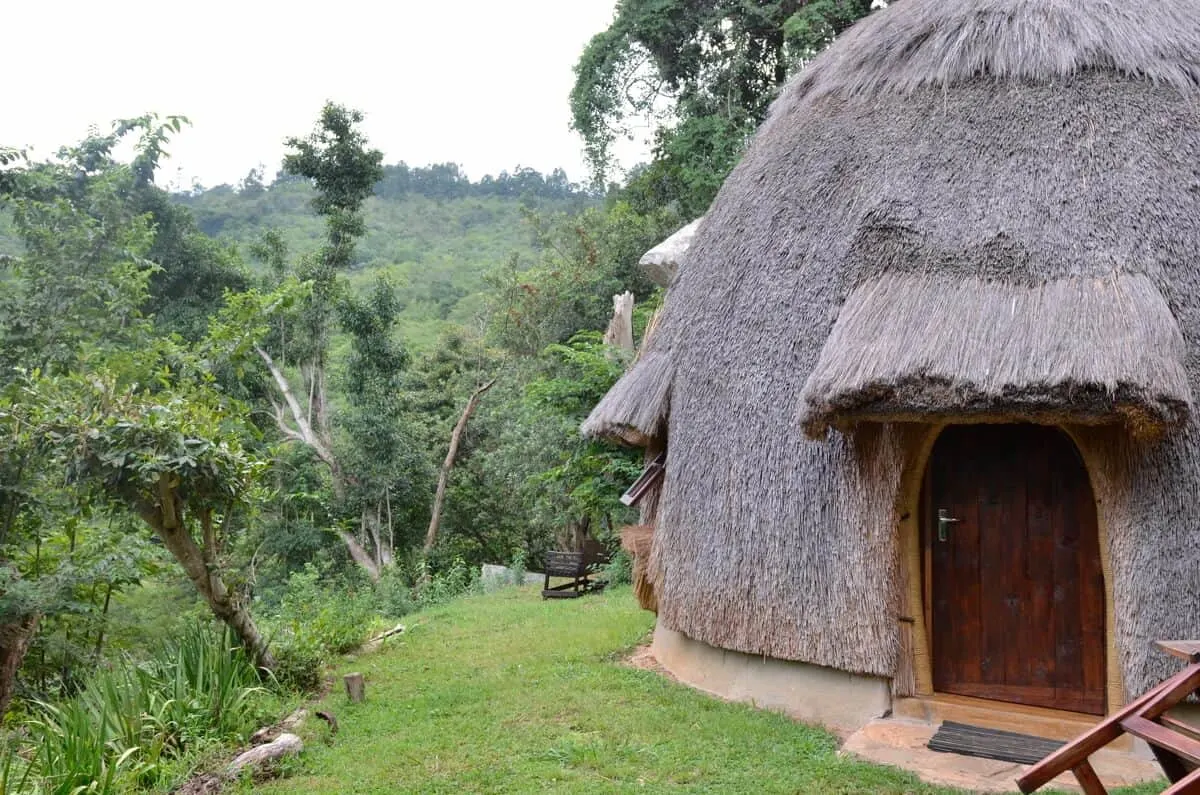 Contributed by Clemens & Anne from Travellers Archive
Location: Southern Africa
Not many westerners travel to the comparatively small country of eSwatini (formerly the Kingdom of Swaziland which was renamed 'The Kingdom of eSwatini' in April 2018) and is the second smallest state on the African continent.
The length of the state border is just 535 kilometers, of which 105 kilometers are shared with Mozambique and 430 kilometers with South Africa. But the country has a lot to offer such as: Piggs Peak, a small town in a beautiful region of the country.
Then there is the Ezulwini Valley with many tourist attractions, from a golf course to a casino. And there is Manzini, another place that is worth a trip that lies right in the center of the country, and on the way there are also wonderful waterfalls. In the west of the country is the Highveld highlands with a height of 1,300 meters that turns west into the South African Drakensberg (see below).
The highest elevation within Swaziland is the 1,862 meter high Emlembe. You can also do safaris in Swaziland now eSwatini. However, safari tour operators are rare. If you happen to find one, expect a well-composed mix of wildlife and landscape with great flora and black rhinos.
.
Botswana
Contributed by Me (Vicki @ MakeTimeToSeeTheWorld)
Location: Southern Africa
Botswana is one of the top destinations in Africa due in part to the variety of incredible natural wonders that are located in the country.
From the amazing Okavango Delta, where you can bush camp in the wilderness surrounded by elephants and hippos. (If you have limited time, arranging to join a tour into the region prior to your arrival will be the best); there are further wildlife spotting opportunities at Chobe National Park and the Kgalagadi Transfrontier Park and whilst the expansive Kalahari is a year-round destination, if you time your visit between December & April you may get to witness the Zebra migration.
There is also the amazing vanishing Lake Ngami; Kudu Island, located in the middle of the Makgadikgadi Pan (salt pans) which are second only in size to the salt pans of Bolivia in South America and the Moremi Wildlife Reserve which offer game drives with wonderful wildlife spotting opportunities.
Whilst Botswana is one of the more well known destinations on the continent, it remains one of the best places to visit in Africa and one that should definitely be on your Africa Bucket List! Find your perfect Botswana Safaris and Tours here! Stop wondering where is the best place to vaction in Africa – it's Botswana! (I know I know, I am biased and have many favourites – but you will understand why once you have visited yourself!)
South Africa
You can't have a post about the best places to visit in Africa and not include South Africa. Whilst it is a lot more Westernized than the rest of the destinations on this list – and thought of by some as not the 'real' Africa – it is still an incredible country with lots of amazing things to do and one that deserves it's place on this list.
From the well sampled wine region of Stellebosch, beautiful Cape Town South Africa where you can hike Table Mountain, or meet the penguins at Boulders Beach, visit one of the most well-known National Park in Africa in Kruger National Park and one of the greatest driving routes of all time in the Garden Route.
But there are still a few destinations in South Africa that don't quite get as much attention as others – so we thought we'd highlight 3 of these below to help you get more off the beaten path in South Africa! Better still, all are good places to see in Africa.
Drakensburg Mountains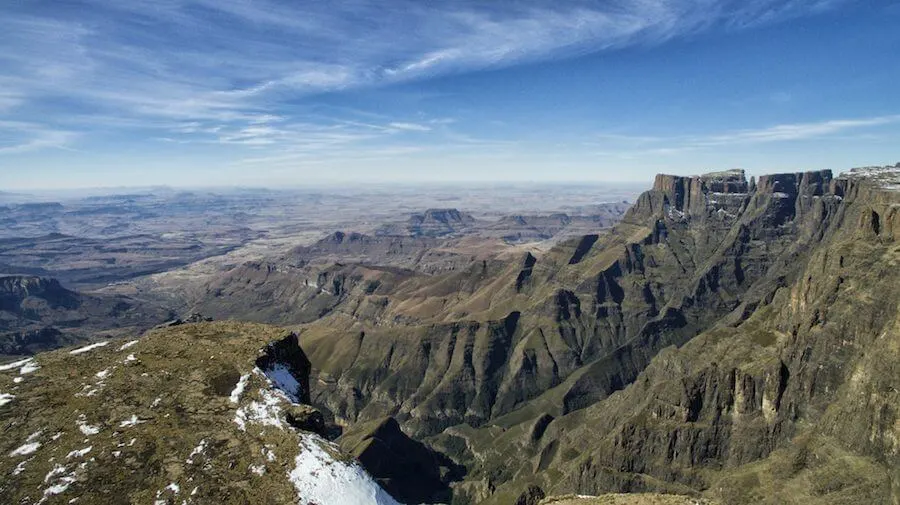 Contributed by Natasha & Cameron from The World Pursuit
The Drakensberg Mountains are one of South Africas underrated destinations that is often overlooked but should not be any longer. The dramatic, weathered, and even dangerous mountains are surely a sight to see and hike around.
The Drakensberg Mountain Range primarily refers to the Northeaster section of the Drakensberg escarpment. The mountain range formed over 200 million years ago. Today they are used as a place of both relaxation and adventure. We loved basing ourselves in the small town of Clarens in the Free State. From here we could easily venture into neighboring Lesotho (see above), hike Sentinel Peak, and take in the views from the Golden Gate Highlands National Park.
It's hard to pick the most beautiful place to see as you are literally surrounded by stunning nature here. Heck, you can even find old Bushmen paintings if you are lucky! However, our favorite and most impressive sight in all of South Africa would have to be the Drakensberg Amphitheater. Which is quite possible one of the most amazing cliff faces on earth – don't worry, you don't have to hike it as this natural phenomenon can easily be enjoyed from afar!
.
Durban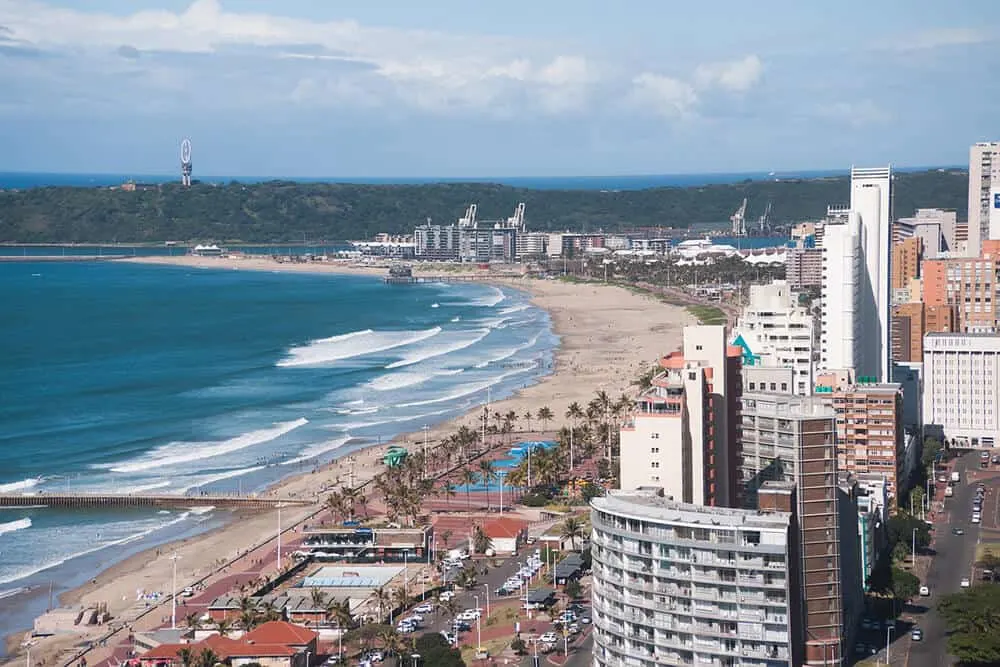 Contributed by James from World Wide Shopping Guide
Most trips to South Africa include stops in Cape Town, Johannesburg, Kruger, and a few places along The Garden Route. Durban, South Africa's third largest city, rarely makes the list, and this is a very good reason to visit. The comparative lack of tourism means Durban has a much more authentic feel than other South African cities, giving you a chance to experience a bit of the real South Africa. Making it one of the best places in Africa to visit.
But aside from a lack of other tourists, there are plenty of great reasons to visit one of the best cities in Africa like year-round warm weather, long, sandy beaches, and its incredibly friendly people. There's also the food, which has been heavily influenced by its large Indian population and has a very different feel to the food in other parts of the country.
One of the most famous dishes, and a must-try while you're in South Africa, is Bunny Chow – a bread loaf that's hollowed out and filled with curry. If you want to try Bunny Chow in South Africa, this is definitely the place to do so.
It's only a matter of time before Durban is officially 'discovered' and it becomes the next must-visit destination but, if you visit in 2023, you can get there before all that happens.
St Lucia
Contributed by Cristal from Tofu Traveler
For a little place, St Lucia can easily fill a holiday with sun, nature and wildlife. Imagine that small beach town your family went to every year for summer holidays that hasn't been discovered yet by the masses. But instead of just a pretty beach, you have one of the largest safari parks in the country and the best place for scuba diving and snorkeling.
Hluhluwe Umfolozi Game Reserve is right on your doorstep and is your chance to see the Big 5 on a safari drive and the best place in the country to find the endangered rhino. The nearby Isimangaliso Wetland Park is a UNESCO World Heritage Site
s
and has over twelve unique conservation areas ranging from coastal forests to marine reserves.
Located in the heart of the park is the St Lucia Estuary, a huge freshwater wetland packed with crocodiles, hippos, and birds. At night time you might be able to spot some hippos coming out of the estuary looking for some yummy grass as a late night munch.

Seychelles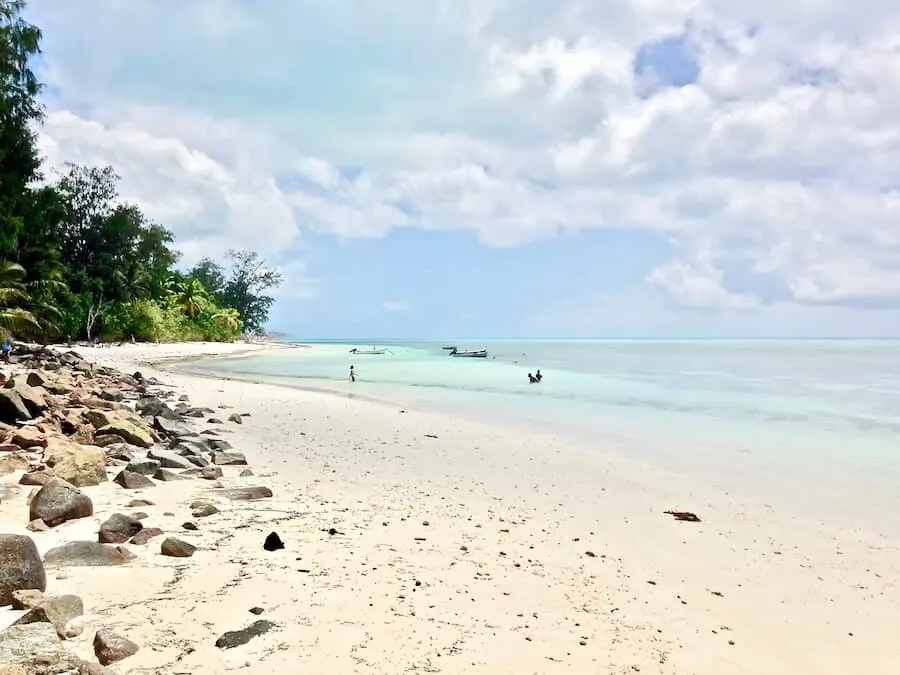 Contributed by Tom from TravelTomTom
Location: East Africa
If you are looking for the best beaches in Africa then Seychelles should definitely top your list. It is not the most standard destination as it is a little off the beaten track. This stunning archipelago lies in the middle of the Indian Ocean 1,500km from the mainland of East Africa. Unfortunately many travelers think the Seychelles is a place for the rich and famous only and out of reach for the normal traveler, but even here you can travel on a budget.
There are affordable guesthouses and local food and transportation is not too expensive either. Who thinks Seychelles is a boring beach destination is wrong! In the mountainous inlands you can find amazing bush hikes with waterfalls and jungle treks. There are also a dozen coastal walks that connect those gorgeous bays. Of course you have to make sure to go to Le Digue the most famous boulder beach of the Seychelles with the crystal clear water that is shown on almost every postcard from this country.
.
Notes on Travel in Africa
Purchase travel insurance for the full duration of your trip to any of the African Countries (or for any other trip you take!)
Consult your doctor/physician about the necessary vaccinations for travel to Africa. Yellow Fever is mandatory for re-entering practically all Western Countries, but there are others that you will need to have (or have boosted) dependent on your chosen destination. You can also take this opportunity to discuss the risk of Malaria and if they recommend you take prophylaxis medications.
Take a peek at our Safari Packing List – all the essentials for your trip from game viewing drives to overland adventures, including what to wear!
Don't forget your camera – if planning any safari activities I would highly recommend the Panasonic Lumix Fz70 (read the full review here) – and I can guarantee you'll be glad you have the x60 optical zoom!
Go with an open mind, open heart and embrace every second of your trip.


So there you have it – hopefully this Africa travel guide and travel tips has given you a great list of Places to Visit in Africa to help with planning your trip and to make sure you get the most from your visit.
Don't forget to let me know you're own highlights once you're back! Or if I have missed your favorite travel destination in this incredible continent, let me know in the comments below.

Oh, and if you liked this post about where to go in Africa please share on Facebook, tweet or pin – I'd really appreciate it! Click the P in the share bar for full size images (and to find a few hidden pins, I got a bit excited with this one!)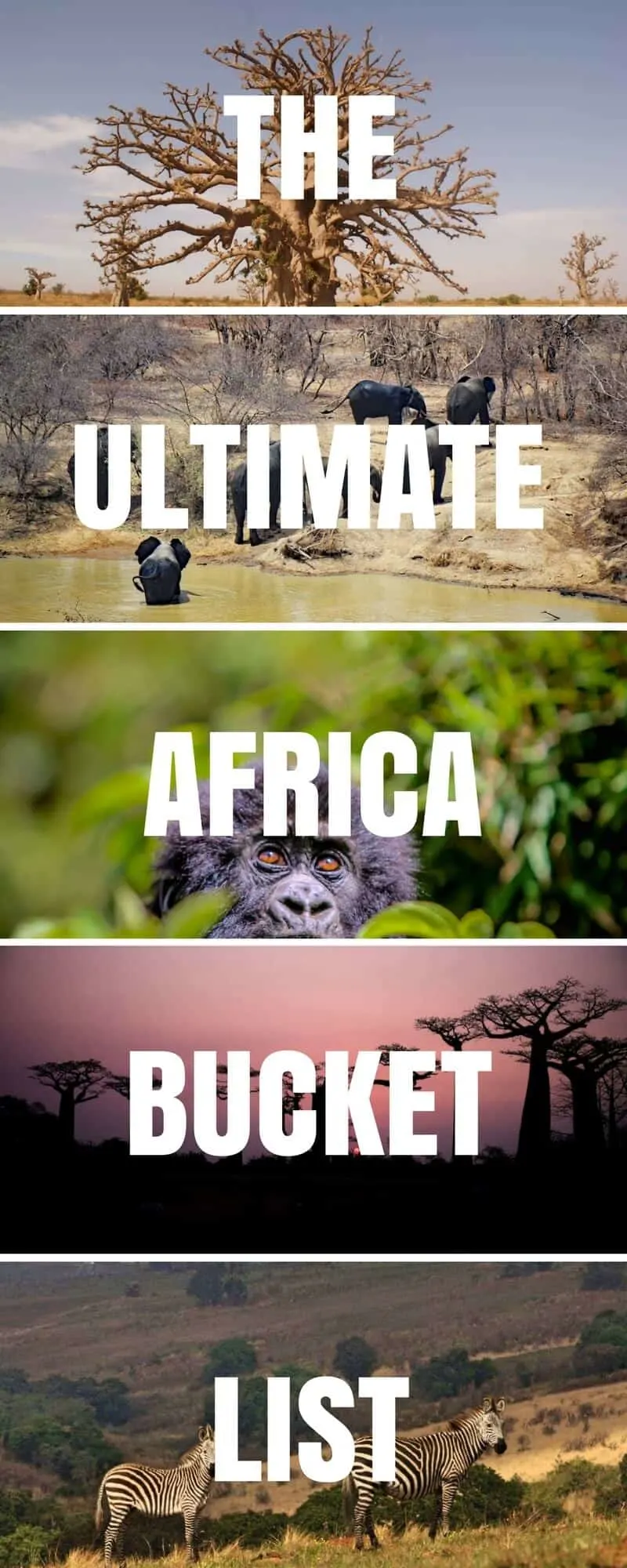 READY TO EXPLORE MORE OF AFRICA? YOU MIGHT BE INTERESTED IN THESE ARTICLES
Hi There! Thanks for reading our travel guide to the Best Places to Visit in Africa! I just wanted to let you know that this post contains affiliate links, which means if you purchase something after clicking a link, I may get a small commission – which is at absolutely no cost to you. If you enjoyed this article and are going to be searching for some of the things I mention anyway, I would love it if you could click through from the links above & thank you in advance! Read my full Disclosure here.