I'm going to put it out there. I think an African Safari is one of the top 5 things to do on an adventure traveler's bucket list. And it has certainly been at the top of mine for as long as I can remember.
Daydreaming about luxury lodges with balcony's overlooking game reserves; private game drives at sunset where sundowners are served as the wildlife walks by and guaranteed sightings of 'the big 5' (thats the Buffalo, Rhino, Lion, Leopard & Elephant if you weren't sure) I always thought I would have to wait until I was earning mega-bucks before my dream would become a reality. Then I found another way. Overlanding. It's the ever growing, 'get involved & get dusty, live on a converted truck, camp under the stars and cook your own meals' budget African safari that is allowing more and more people the opportunity to visit this incredible continent.
Let me tell you all about it as I travel through 5 Countries in 6 Weeks. It's Safari Time Baby!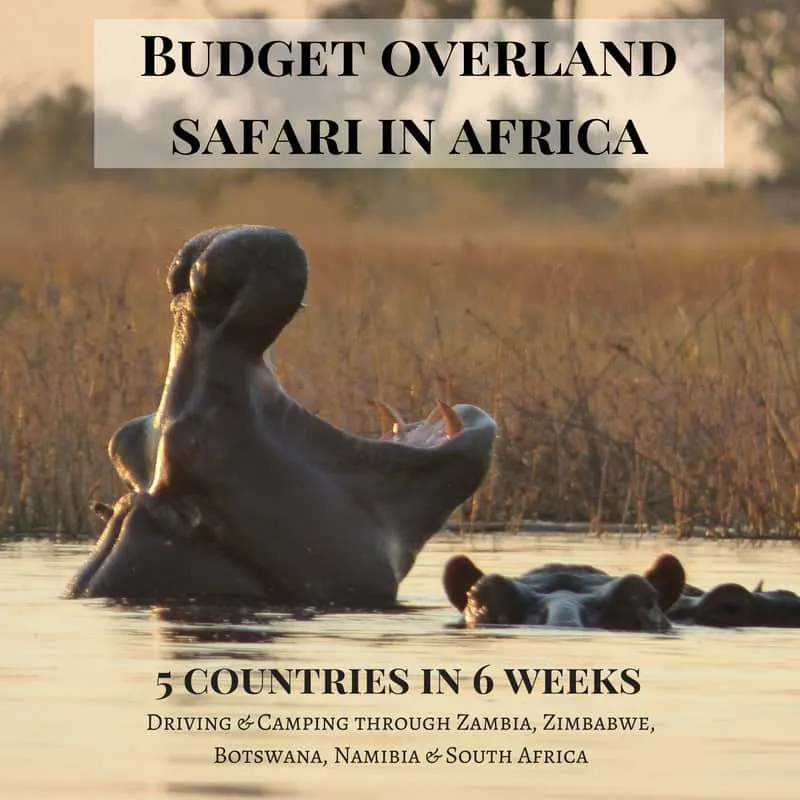 the best Overland Budget African Safari
the overland companies
There are several companies that offer Overland adventures, with the majority following the same routes. The difference between them boils down to cost and – in some cases – level of comfort. We booked with Absolute Africa. They hit all the major spots in Southern Africa and offered exceptional value for money (read: they were the cheapest!). Along with a fantastic African guide and driver(s), well equipped truck and quality camp gear (tents and sleeping mats provided) the company has years of experience in Africa. After moving their head office from London to Arusha (Tanzania), they can proudly say they all 'all African'. If you are looking to experience the real Africa I cannot recommend them highly enough.
(NOTE: I am not in any way affiliated with Absolute Africa, I was (and still am) thoroughly impressed with the company and cannot wait to see more of Africa with them)
The Cost of an Overland Budget African Safari
For our 31 day tour we paid less than £1000GBP/$1650AUD/$1250USD plus a $650USD local payment (per person). This covered life on the truck: breakfasts, dinners, camp equipment, jeep safaris and some park fees along with a driver and a guide. Some activities listed below were included, others were an additional cost and we bought lunch everyday. We also added additional days to the beginning and end of the tour to make up the 6 weeks. Nothing short of a Bargain!
Life on the Truck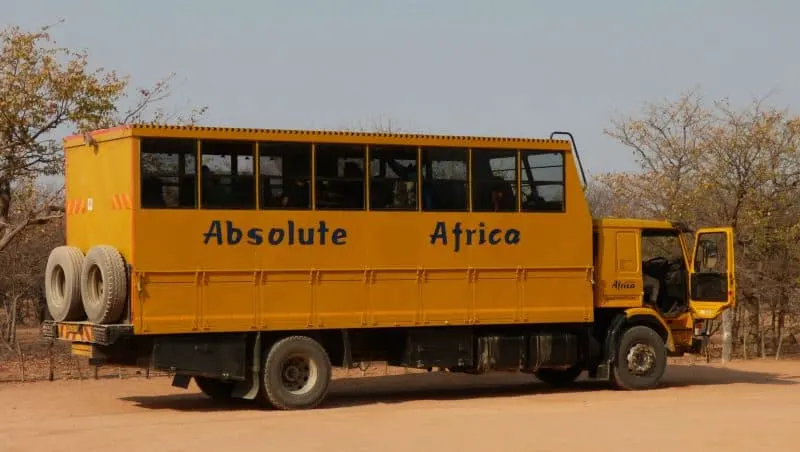 This is one of the 'Absolute Africa' big yellow trucks – the lower lockable compartments store the bags, the food, cooking equipment, tents and roll mats. The group of travelers sit on a raised platform above the lockers in 'coach-style' seating. Thee driver and guide sit in the cabin. All members of the group are split into equal teams – dependent on the number on board – who take turns to cook, do dishes, clean the truck and make sure the truck is secure and locked each time we exit. Each group has 1 day off in every 5, and everyone is responsible for putting up and taking down their own tent.
The cooks are each day responsible for shopping (with the group kitty money – kept by the guide) and preparing the evening meal, with breakfast stuffs (toast, cereal, eggs, fruit etc) purchased for the truck and prepared individually each morning. Lunch is the only meal you are required to purchase yourself each day. There is a fridge/freezer on board the truck and this stores the group and individual food – and can get extremely full if buying for a three day stretch!
If the above sounds a bit too much like 'roughing it' – other companies offer options to suit your budget which include an on-board chef and/or staff to put up/take down the tents for you, some of which are also fully catered. If this sounds more like what you are looking for check out Intrepid, Nomad, G Adventures – and for those who need a child friendly route – Dragoman. (Tour Radar offer all these Safari tours and more. If you're ready to book, scroll to the bottom and claim your 5% discount. Valid on any tour – not just Safari's!)
The Budget African Safari Route
Days 1 – 6 : Zimbabwe & Zambia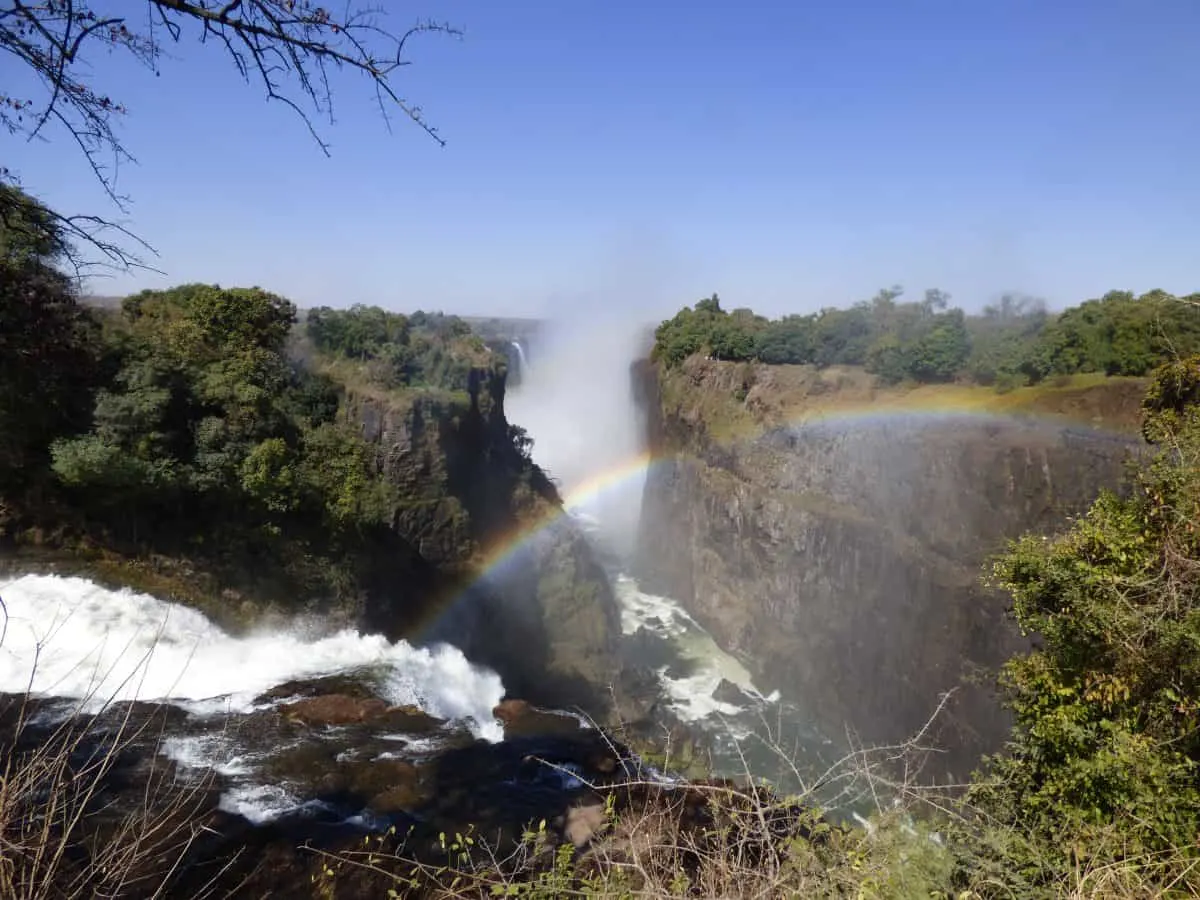 Highlights
Victoria Falls National Park
White Water Rafting the mighty Zambezi
Canyon Swing
Bungee Jumping
Microlight or Helicopter rides over Victoria Falls
and so much more!
Can't wait for the details? Read all about these activities in Top Things to do in Victoria Falls! And Once you've worked up an appetite you'll want to make sure you know Where are the Best Places to Eat In Victoria Falls
Days: 7 – 12 : Botswana
Highlights
Game Viewing in Chobe National Park
Okavango Delta Mokoro Safari
Scenic Flight over the Delta
Days 13 – 26 : Namibia
Highlights
Cheetah Sanctuary
Hoba Meteorite
Etosha National Park – Want a sneak peek inside the park? Click to see my Photo Tour of Etosha
Visit Himba Tribe
Fish River Canyon
Sossuvlei (Dune 45) & Deadvlei
Swakopmund

Sandoarding
Quad Biking
Horseriding
Skydiving
If you're needing Inspiration to visit Namibia here's 10 Reasons to Visit Namibia in 15 Beautiful Photographs!
Days 27 – 42: South Africa
Highlights
Can't wait for the details? Read all about our epic Road Trip along the Garden Route from Cape Town to Johannesburg which covers all of the activities listed for South Africa + Includes the Best Time To Visit SA
Ready to book your own Africa Adventure? Tour Radar have a full range of tours in Africa & Beyond – Click this link to get 5% off!
Do you want to know more?
So there you have it. The ultimate overland budget African safari route and just a taster of the activities on offer in each country. If I have piqued your interest, you're in luck! Over the next few weeks I will be posting detailed articles about each and every aspect of the Africa tours and activities including cost breakdowns and budgeting tips.
Fell like you need to stay in the loop? Hit subscribe, Follow us on Facebook or Pin this article and check back next week for the next installment!
psst.. click the Pinterest button in the sidebar for sexy full size Pinterest images!
And if you liked this guide to the best overland budget African safari, take a look at the other packing tips & travel gear and travel inspiration posts in this series:
Hi There! Thanks for reading our post about the The Best Budget African Safari! I just wanted to let you know that this post contains affiliate links, which means if you purchase something after clicking a link, I may get a small commission – which is at absolutely no cost to you. If you enjoyed this article and are going to be searching for some of the things I mention anyway, I would love it if you could click through from the links above & thank you in advance! Read my full Disclosure here.
Save
Save
Save
Save
Save
Save
Save
Save
Save
Save