If you're reading this post then I am super excited because you're either (a) in Victoria Falls or (b) planning a trip to Victoria Falls. Both of which are cause for some serious excitement because Victoria Falls is one of my favorite spots in Africa – and it has an amazing selection of restaurants when you consider the relatively small size of the town! Read on for the Top Restaurants in Victoria Falls!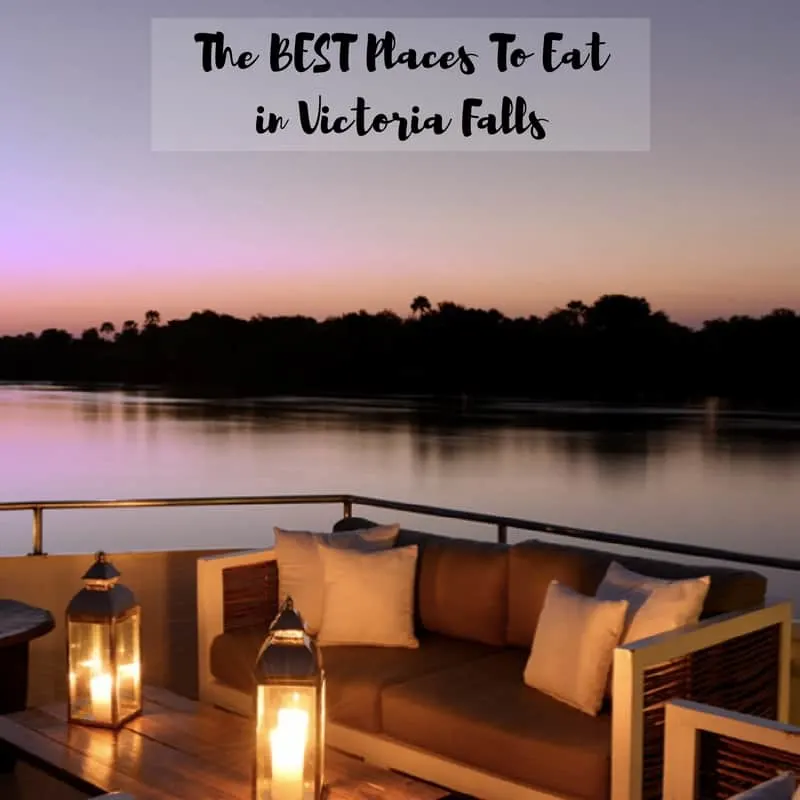 The Best Places to eat in Victoria Falls
Heading to Africa you may have thought dining options were limited – but that is not the case in Victoria Falls. Whether you're a meat lover, fussy eater or vegetarian, let me show you around the best places for a bite to eat in the heart of Africa.
.
Conveniently located in the center of town, at the intersection just before the railway line, Shearwater Cafe brings a sophisticated vibe that you would expect of a cafe in any cosmopolitan city. With Burgers, Wraps, Salads, Pasta's & Pizzas, you'll be spolit for choice for western style meals, with reasonably priced cocktails, wines and beers. Serving breakfast & coffee from 8am til late and offering free wifi, it's large outside terrace is a great place for a meal at any time of the day.
.
2. Mama Africa
A long established town favorite (located just behind the main shopping strip opposite the train line) – I had heard all about Mama Africa years before I was able to visit! Specializing in traditional dishes from all over Africa, you'll find hearty stews, hotpots and game meats served with an accompaniment of live African music each night. There is no rush at Mama Africa, meals are prepared from scratch and enjoyed slowly – and this may be your first introduction to 'Africa Time'. And I couldn't think of a better introduction!
p.s. for the meat-eaters out there, the Kudu hotpot is amazing!
.
The Lookout Cafe is a little walk out of the center of town and sits 120m above the Batoka Gorge, with a view of Victoria Falls Bridge. Boasting one of the best views of the mighty Zambezi – and the starting point for all Wild Horizons activities – it serves coffee, drinks and snacks throughout the day until sunset. If you're planning on taking part in an adrenaline activity – a stiff drink might be just what you need – either before or after!
Want to know more about the activities on offer? Head on over to my post all about the Incredible Things To Do in Victoria Falls
For something a little different, look no further than the Zambezi Explorer – one of my favorite activities in Victoria Falls. Whereas we opted for a sunset cruise with cocktails and hors d' oeuvres as part of my Top 9 Adventure Activities in Victoria Falls – don't think your options are limited to just that. The Zambezi Explorer offers delectable dining options throughout the day from breakfast through to dinner and any meal on the water is guaranteed to be a highlight of your stay.
.
This photo of The Rainforest Cafe is courtesy of TripAdvisor
The Rainforest Cafe's sister venue is Shearwater Cafe, and is the only restaurant located inside Victoria Falls National Park. Offering the same menu as as at Shearwater Cafe (minus the pizza) it offers great food at reasonable prices in a beautiful surrounding. Just watch out for the baboons – they can be the epitome of the phrase 'cheeky monkeys'!
.

This photo of Lola's Tapas and Carnivore Restaurant is courtesy of TripAdvisor
Located smack bang in the center of Victoria Falls town, Lola's Tapas and Carnivore offers a mix of Mediterranean and African cuisines. With meals ranging from light bites to huge main meals – Carnivore's biggest draw is it's wide selection of game meats. From Crocodile to Eland and a lot in between, those wanting to get a real 'taste of Africa' are in heaven here. My tip – don't google the animal you're about to eat. They are all just so beautiful that you might change your mind!
Note: Vegetarians have a couple of options here; but the restaurant is not suitable for vegans (although we did try!)
.
And on the Zambian Side

Even if you are only in Zambia for a day – this is the only place I would recommend.
Related: click the link to find out the process for crossing the border from Zimbabwe to Zambia. The Best Place To Sat To Visit Victoria Falls – Zimbabwe or Zambia? (Hint – its at the bottom of the post!)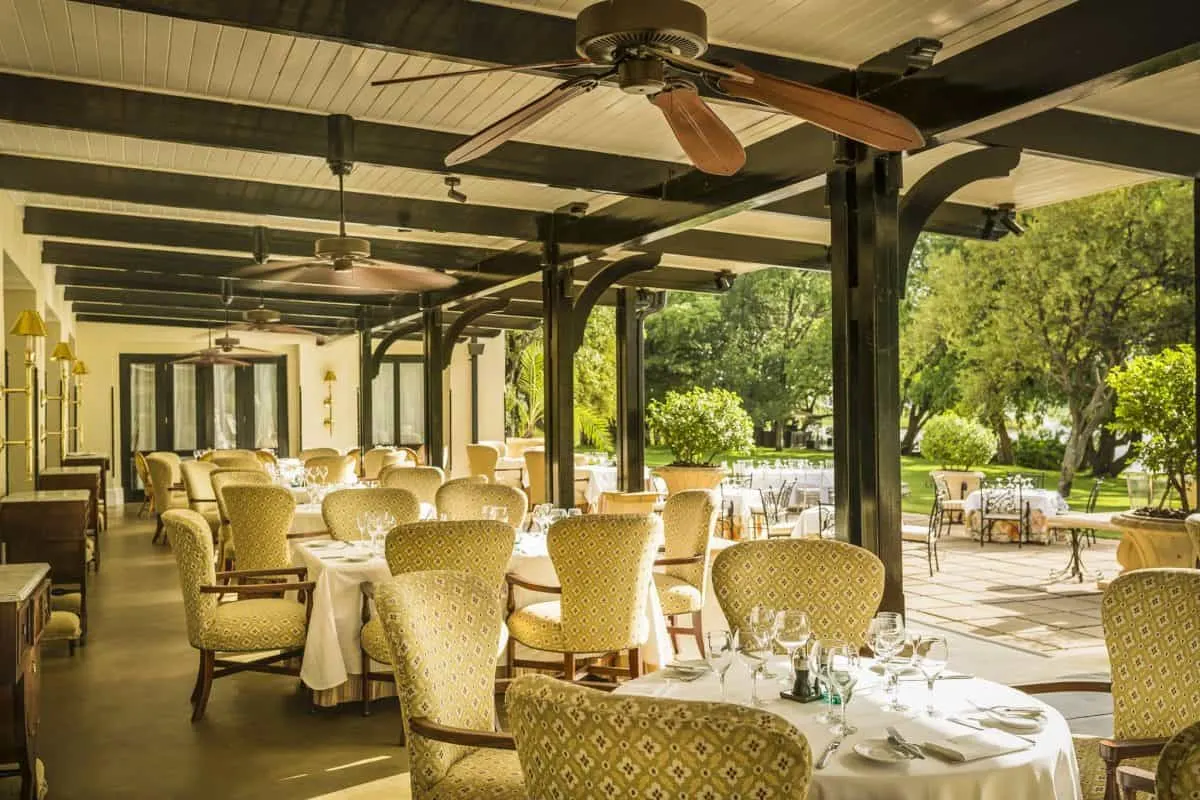 Image (c) http://royal-livingstone.anantara.com/
Easily one of the Top Restaurants in Victoria Falls and the ultimate in African luxury. The Royal Livingstone is simply magnificent. Beautiful lodge, decadent dining room – and best of all – it is open to the public for lunch without reservations! When crossing the border, it's the first hotel you come to when walking along the road towards Livingstone town. It offers a perfectly crafted 5* menu, befitting of its 5* surroundings. Head here for a touch of class in the heart of Africa. Slightly more expensive than the other options recommended (But nothing compared to western 5* prices), it is totally worth it.
.
Hopefully you enjoyed my run down of the best places to eat in Victoria Falls. Lucky for you they also happen to be some of the Top Restaurants in Victoria Falls! I hope there is something here to tickle your taste buds. And if you like it, don't forget to pin it for later!
Save
Save
Save
Save