Packing for an overland safari – or any safari for that matter – can be stressful. If you're anything like me, you always pack too much. But after my recent stint in Africa, I think now is as good a time as any for me to learn from my mistakes! I'm sharing my ultimate overland safari packing list with you to make packing a breeze and help you make sure you have everything you need.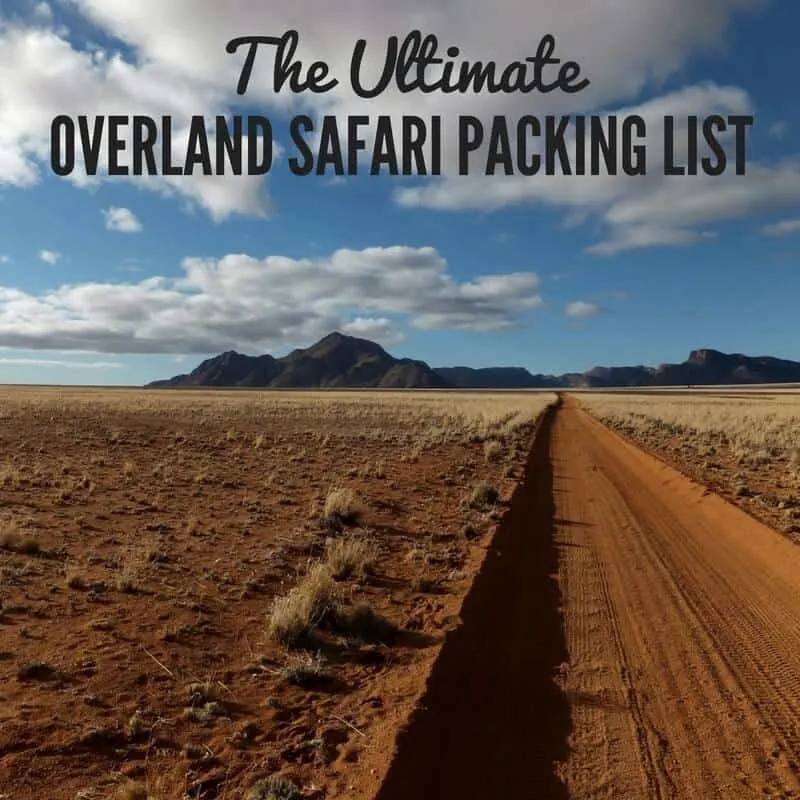 The Ultimate Safari Packing List – from short trips to overland Adventures

Packing for a safari can be stressful and overwhelming. Trust me , I know. I spent hours on google trying to work out what to take, what tech I needed, what camera was best – and the one I agonized over the most – what to wear?! I know, a safari is not a fashion show but I read so much conflicting advice about colors that I my head was literally spinning. I've put together this guide to cover all the essentials so you can cut the research and get straight to the packing. Tech, Gear, Clothing, Photography Equipment and Accessories – I've got you covered! Keep reading for the ultimate safari packing list. And the ultimate Africa packing list in general!
RELATED: Want to know where this all started? Click to read about my safari route in The Ultimate Budget Overland Southern African Safari
.
Camera Equipment
My Picks: Panasonic Lumix DMC-FZ70; GoPro Hero8, Sony RX100, Joby Gorillapod for smartphone, slr & GoPro, Memory Card & Waterproof selfie stick
A DSLR/Bridge Camera with a minimum 60x zoom (or as much as you can afford!) Don't overstretch yourself here. Buy what you are comfortable with, a bridge is the perfect choice if you don't have time to learn how to use a full DSLR and/or don't want to carry multiple lenses. Read My full review of the Panasonic Lumix FZ70 here.
.
Technology
My picks: Samsung S21, macbook air 13″, kindle, portable powerbank, universal adapter, 1TB portable hard drive
RELATED: Want to know more about those adventure activities? Click here for the Top 9 Adventure Activities in Victoria Falls!
.
Accessories
My Picks: Padded Cross-body Day Bag, Dry Bag, Memory Foam Neck Pillow, Flat Toiletries Bag, 20l Backpack
Padded Cross Body Day Bag – I like to have easy access to my camera equipment and so a padded bag is perfect. (Read about the best cross body bags for travel here)
Sunglasses
Wide Brim Hat/Baseball Cap
Buff
Scarf/Wrap – can also be used as a window shade!
TRLT Neck Pillow – makes sleeping on the truck (or any mode of transport!) a helluva lot more comfortable, and packs down to practically nothing!
Sunscreen min SPF 30+ (Malaria meds make you particularly prone to sunburn)
Dry Bag (for keeping the tech dry on various adventures – shark diving/mokoro safari)
Flat Toiletries Bag – it's amazing how much space this saves!
20L Backpack – perfect for taking essential stuff into your tent each night without having to unload your big pack, or as a more robust day bag if you're a backpack fan.
.
Gear
My Picks: 50L Backpack, 2x Cable Locks, Packing Cubes (with Laundry Bag), Head torch, Scrubba wash Bag
50L SoftCase Backpack (women) or 70L Softcase Backpack (men) – I'm not being sexist here, these are simply the optimum size backpacks my partner and myself have found, and what is comfortable to carry for the majority of travelers.
2x Cable Locks (TSA Approved) – I chose cable locks over traditional steel-looped combination locks as on Africa's bumpy roads they absorb the impact and do not break.
Packing Cubes (where have these been all my life?!) Particularly helpful when overlanding as you can compartment outfits/layers and grab out only what you need to take to the tent. Grab a set right now!
Personal Toiletries – deodorant, moisturizer, shampoo/conditioner/dry shampoo, razor etc. (check out our guide to the best solid toiletries for travel and cut down on single use plastic!)
Anti-Malaria Medication (better to be safe than sorry – and often required by the insurance companies.)
Mosquito Repellent Spray (with 50% Deet) – best used around the campfire at twilight
– for those on an overland safari
Sleeping Bag rated between 0-5 deg C (seasonal dependent – but remember, it's easier to unzip a sleeping back to cool down then wish you had another layer (or a better sleeping bag) to heat up!)
Full Size Pillow – can be purchased in South Africa & Nairobi – but almost nowhere in between. This pillow will make camping sooo much more comfortable.
Scrubba Wash Bag – washing machines are scarce in Africa and this awesome gadget makes hand washing easy! (Hand wash powder can be found easily in African supermarkets)
Headtorch – get a good/bright one. It will be your only source of light at night when camping.
Travel First Aid Kit – inc. paracetamol, Imodium/diarrhea medication, antihistamines, pain relief, band-aids etc
Wet Wipes & Antibacterial Gel (think of wet wipes like a shower in a pack, for when hot water is scarce and you can't face another cold shower)

Clothesline & Pegs – some trucks will have washing lines, but it can't be guaranteed.
Multiplug with USB ports (Powercube or Strip) – you'll be everyone's best friend on the truck!
Travel Pack Tissues and/or Toilet Roll – start collecting half used rolls of toilet paper in the weeks before you go, it's going to come in super handy when the truck stops and you have to go in the bush!
.
Clothing – what to pack for an African safari
My Picks: 1x Elephant/Hareem Pants, Active/Hiking Pants, Leggins, Pac-a-Mac Waterproof Jacket, Bonds Sports Bra & Womens Fleece
2x Lightweight Pants
1x Pair of Jeans
3x Shorts
4x Tank Top/T-Shirt
2x Long sleeve Top
1x Thermal Fleece
1x Waterproof Jacket (a pac-a-mac is perfect)
Sleepwear
7x Sets of Underwear
3x Pairs of Socks
Swimwear
2x Nice/Dressy Tops/T-Shirts
Just for the Ladies (Or the men if you're that way inclined):
1x Long Skirt
3x Leggins
2-3x Sports Bras (did I mention the bumpy African roads?! Ouchie!)
Shoes
Closed Toe Walking Shoes
Flip Flops/Thongs (both for on the truck & shower blocks)
Trainers/Plimsolls you don't mind getting wet (for activities)
.
What Colors Should You Wear On Safari?
So here's the thing. It all depends on what type of safari you are doing.
what to wear on an Open-Sided Safari Vehicle
If you're in an open-sided safari vehicle it's best to wear neutral tones (and what you would consider more traditional safari clothes). Think greens, browns, beige and black. You want to blend in (with the truck). The animals are used to seeing the silhouette of the safari vehicles and as long as your not wearing florescent/bright colors you will be fine.
.
what to wear on a Walking safari
If you're on a walking safari (in the Okovango Delta for example) you want to follow the above with regards to neutral tones. It is also highly recommended that you wear full length pants, closed toe shoes and a hat at a minimum. The long pants/shoes protect your legs and feet from any of the vegetation or smaller animals/bugs that might be in your path. And the hat -(and this one should be obvious) – because the sun is strong.
One big no-no for a walking safari is wearing white or any bright colours. These, particularly the white, reflects the sun and you'll 'shine out like a beacon on the bay plain' so to speak. And in doing so you'll announce your presence to the animals – which on a walking safari is not what you want to do! (FYI – It's much more likely you'll scare them off then them attack you, but neither of which are good!)
.
what to wear on an Overland safari Truck
If you're in the Overland Truck it does not matter one bit what you wear. The trucks are huge – and can be any colour under the sun. (Ours was bright yellow!) If you're in Southern Africa they will also have slide down glass windows and in East Africa they have canvas sides that are rolled up/down when on game drives to give you a better view/photograph opportunities. Although it doesn't matter I would still stick with neutral tones – so you're packing with a consistent theme.
.
"…But I've read Black attracts the mosquito's/bugs"
I read this too. But I didn't find that what I wore had any affect on the mosquito's. Neither did anyone else on our tour. Taking anti-malarial's, using a bug spray with deet, and covering up at dusk and dawn meant that I hardly saw any mosquito's – and I am normally their favorite meal. **This is my personal experience and that of our group – unfortunately if you are really tasty, those mossies might just find you***
.
Things You Can Buy In Africa
Shampoo & Conditioner (relatively cheap in South Africa but the price creeps up the further north you go)
Sunscreen – it can be found in Chemists rather than supermarkets and is super expensive, but it is there. Better to take your own though!
Moisturizer
Hand Wash Laundry Powder
Clothes Pegs
Full Size Pillow (Nairobi & South Africa only)
Cheap blankets – can be found at roadside markets and in Southern Africa a clothing store called PEP.
1 Liter Water Bottle (for decanting from your 5L bottle)
Coffee/Travel Mug – perfect for grabbing a cup of joe on the go on those chilly mornings.
.
Well that turned into a monster of a post – but I hope our packing list for an African safari has answered any queries you had about packing for an overland safari in Africa. And if I haven't – let me know in the comments and I'll get back to you as soon as possible!
As usual, pins below so you can keep this post for future reference – and I got a little pin crazy on this one… click the pin icon on the right and see just how many I made!
READY TO EXPLORE MORE OF AFRICA? THESE TRAVEL RESOURCES, GEAR GUIDES, PACKING LISTS AND DESTINATION GUIDES YOU MIGHT BE INTERESTED IN THESE ARTICLES
Hi There! Thanks for reading our packing list for Africa and Ultimate Safari Packing List! I just wanted to let you know that this post contains affiliate links, which means if you purchase something after clicking a link, I may get a small commission – which is at absolutely no cost to you. If you enjoyed this article and are going to be searching for some of the things I mention anyway, I would love it if you could click through from the links above & thank you in advance! Read my full Disclosure here.
Save
Save
Save
Save
Save