I LOVE them. They are everything anyone could want in a pair of headphones and since they arrived on my doorstep I think they have pretty much become apart of my person. Now that may sound dramatic, and I try to be objective with my review posts – but I just had to get that out of my system before we start. And hopefully after reading my review of the Sennheiser PXC 550 Wireless Headphones you'll be convinced that you need a pair in your life too! And so without further ado…

Sennheiser PXC 550 – The Best Wireless Headphones for Travel
Sennheiser very kindly provided me with a pair of the Sennheiser PXC 550 Wireless Headphones to review, but as always, all opinions are my own.
What's in the Box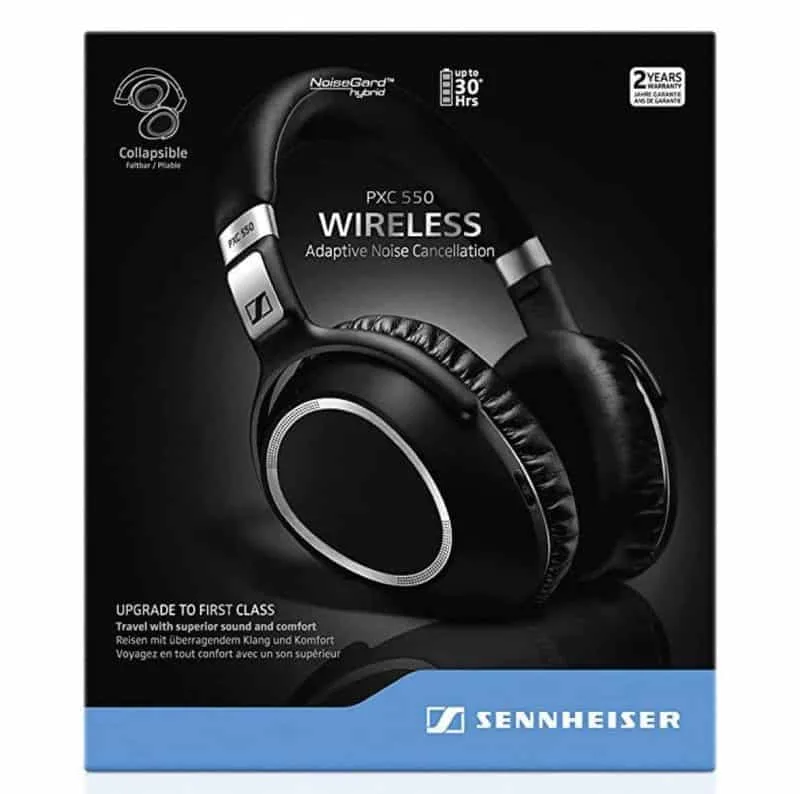 Foldable Headphones with Wireless & Bluetooth Capabilities
Carry Case
Charging Cable (USB to Headphone)
Cable with Remote – for where wireless is not possible such as planes (headphone to standard 3.5mm headphone jack)
IFE (in Flight Entertainment) Adapter – for those older aircraft that still use a two pronged adapter
3.5mm -> 6.5mm Audio Jack Adapter
Click here for the full tech specs.
.
Why Are the Sennheiser PXC 550 the Best Wireless Headphones for Travel?
Wireless & Bluetooth Enabled with Built-In Controls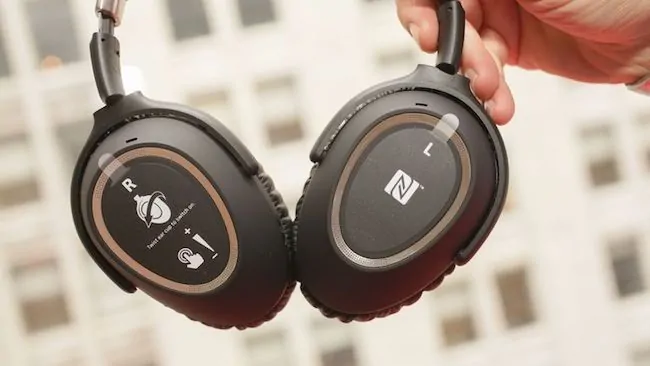 No more wires, or trying to find your phone in your bag to change the track. It's every travelers dream. Once you have used the built-in Bluetooth capabilities to pair your headphones to your phone (or other Bluetooth enabled device that you listen to music from) you can stop, start, change track and adjust the volume by using simple gestures on the right ear cup.
Tap to stop/start, slide up to increase the volume (or down to turn down the sound), and swipe forward to skip to the next track (or back to replay a song.)
Even if your phone is locked and in the bottom of your case, as long as the Bluetooth on the phone is active, each time you turn the headphones on (which happens when you fold out the headphones click them into place) you'll hear the message that the headphones are connected to your device and you are good to go.
.
Noise Cancelling
You may be able to pick which airline (or bus, or train) you travel with/on, but you can never control who is on that journey with you. And when you are not at the pointy end of the plane (which for me, is always – hello cattle class!) the noise cancelling capabilities of the Sennheiser PXC 550 can really make you feel like you are in a First Class bubble.
Crying babies are no match for it's powers and when you're on a 16+ hour flight sat near to a child that is just not having a good day, these headphones are worth their weight in gold.
The marketing tagline for the Sennheiser PXC550 Wireless Headphones is "upgrade to first class" – and they really live up to their own hype!

.
Incredible Battery Life
And when I say Incredible, I mean incredible. These headphone can run for over 30 hours on a single 3 hour charge. That's enough to cover the longest of travel days – included those unplanned but not entirely unexpected delays that come with traveling (Or that extra long layover that you though was a good idea because it saved you $100!).
They power on when unfolded and the ear cups are clicked into place, and automatically turn off when you fold them down to store them – so there is no risk of you forgetting to turn them off and accidentally draining the battery either.
RELATED: I have added the Sennhesier PXC 550 Wireless Headphones to my Essential Carry-On Packing List – click here to see what else is on it! And check out my epic road trip playlist for music suggestions.
.
Superior Sound Quality
The marketing materials say that is like having your own Audio Lounge – and whilst I was skeptical at such a lofty claim, they really are the real deal. The in-built NoiseGuard technology acts in tandem with your surroundings – if the outside is loud, the headphones work harder to block it out. This leads to a smooth and comfortable listening experience.
There are also 4 different effect modes – movie, club, speech and director etc – available depending on the type of sound you're hearing and it is easy to switch between them.
.
Portable & Comfortable
Traditionally, over ear headphones have been quite bulky, and whilst the Sennheiser PXC 550 will never be the size of in-ear buds (obviously) their snap and fold feature means that although they will take up space in your bag, it's not going to be too cumbersome.
Their lightweight design also means they're not going to push you over that pesky 7kg carry on limit that most airlines have now imposed.
And as for comfort, there are no concerns there. The padded cups – designed after researching a whole heap of ear sizes and shapes (yes, you read that right) are designed to be the perfect fit for the majority of purchasers and combined with the padded headband means that you can comfortably wear the headphones for hours on end and is ideal for travelers.
.
Built in Microphone
The built in microphone combined with the noise-canceling features on the PXC 550 Wireless makes calling anyone from anywhere in the world a breeze. Either using your regular network at home or when avoiding roaming charges by using Skype or Whatsapp, once connected to your phone or laptop via Bluetooth you're good to go.
The NoiseGuard technology identifies and filters out all ambient noise resulting in unrivaled speech quality no matter what crazy environment you are in – and also strips out the background noise from the person you are calling too.
The result is like you are practically in the same, quiet room, having a regular conversation, which can only ever be a good thing. (But it might make it difficult to fake 'connection' issues.. you know, those noises you make when you just want to get off the line..!)
.
Are the Sennheiser PXC 550 Wireless Headphones Worth The Price Tag?
I'm not going to lie to you, all these incredible features do not come cheap – retailing at around $230 USD, £150 GBP & $370 AUD (In April 2019) – BUT I am 110% convinced that they are worth the investment. (I did start the review with "I LOVE them" for a reason!) Style, comfort, sound quality, Bluetooth connectivity and battery life are all at the top of the line and are perfect for travel – even if it's just your daily commute to work!
The Sennheiser PXC 550 Wireless Headphones are a premium audio product to be reckoned with, and you won't be disappointed if you decide to add these to your travel kit. Click the image above to grab your pair now!
Have you experienced the Sennheiser PXC 550? Would you like a pair? Let me know your thoughts in the comments. And if you liked this post, don't forget to tweet, share or pin it for later!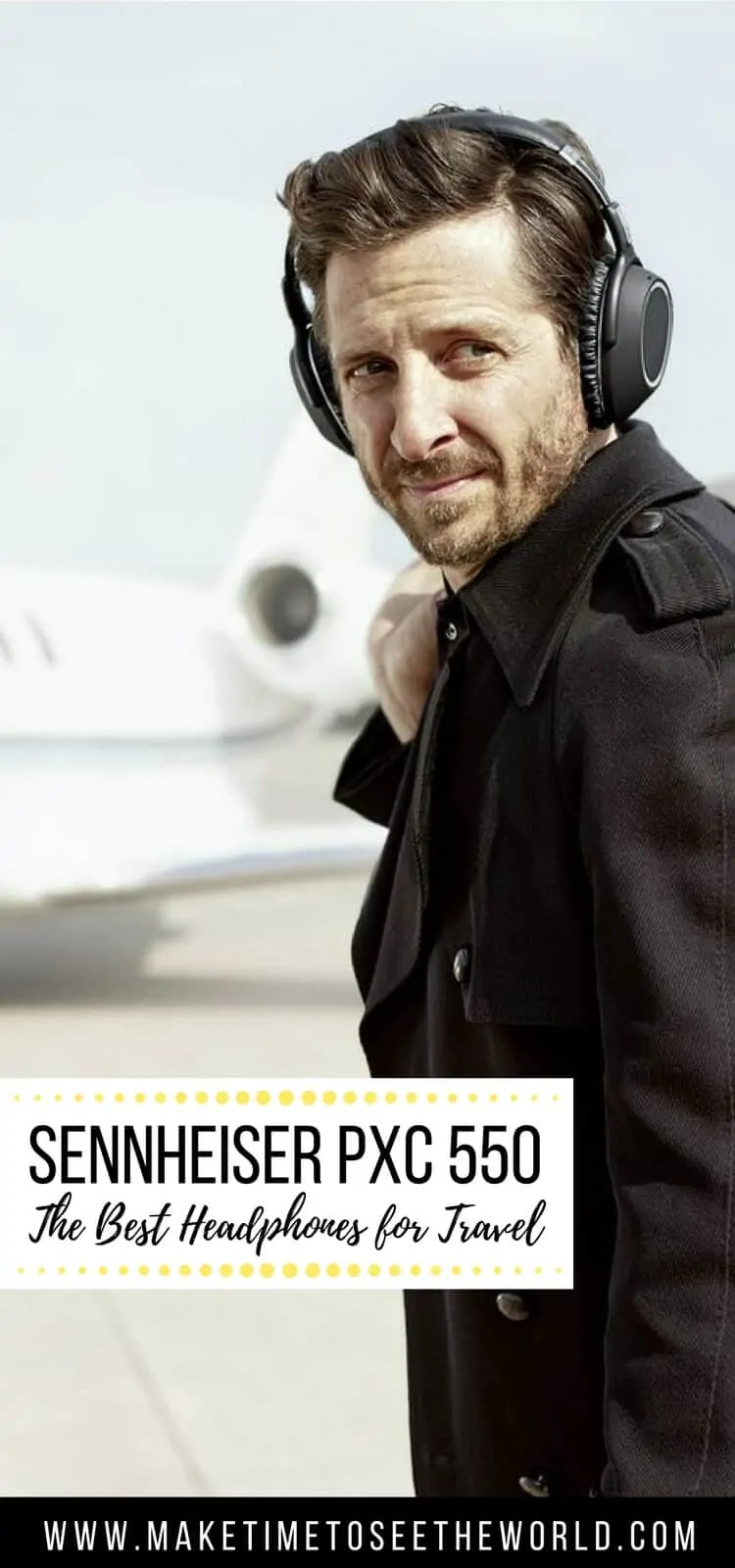 Hi There! Thanks for reading my review of the Sennheiser PXC 550 – The Best Wireless Headphones for Travel . I just wanted to let you know that this post contains affiliate links, which means if you purchase something after clicking a link, I may get a small commission – which is at absolutely no cost to you. If you enjoyed this article and are going to be searching for some of the things I mention anyway, I would love it if you could click through from the links above & thank you in advance! Read my full Disclosure here.