[REVIEW] Sri Lanka is becoming one of the top places to visit in South East Asia. A newer kid on the mass tourism block, it's 'still rugged around the edges' vibe is enough to satisfy seasoned travelers looking for off the beaten path adventures, and newer travelers wanting to dip their toes into travel in Asia – and the Trails Asia Sri Lanka Safari offers an incredible introduction to the country.
Designed with Active Travelers in mind, guests are taken on a 12 day highlights tour visiting bustling cities, wildlife-packed national parks, beautiful beaches and includes climbing Adam's Peak (Sri Pada) to watch the sun rise from above the clouds. If small group tours with an ethical company ticks with 3/4 star accommodations and a whole heap of included activities ticks all of your boxes, keep reading for more details of the incredible Trails Asia Sri Lanka Safari.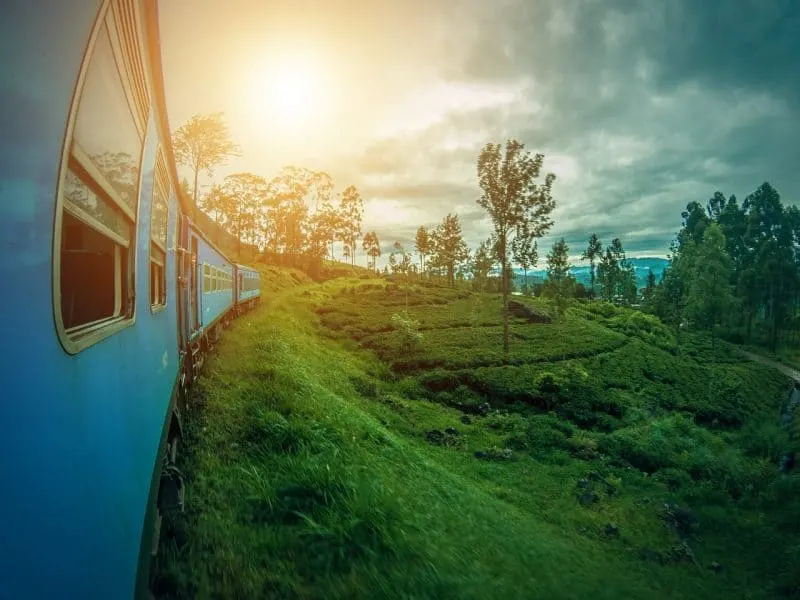 Trails Asia Sri Lanka Safari
I was a guest on the Trails Asia Sri Lanka Safari, however, as always, all opinions are my own. Trails Asia reserve the right to change accommodation/activities dependent on the needs of the tour/group. Please refer to your individual itinerary following purchase for specifics.
Who Are Trails Asia?
Trails Asia are a company dedicated to crafting ethical tours designed for travelers, by travelers. Operating with a maximum of 16 people per tour, the groups are small enough to really get to know fellow passengers, with the tour itinerary offering enough opportunities for free time for solo travelers to have your own space. Tour routes include well known country highlights and off the beaten path locations and experiences to help guests get a real feel for a country and include both the services of a local guide and Trails Asia representative to make sure the tour runs smoothly and any questions or concerns can be dealt with promptly. Tours also include the visas you need for entering Sri Lanka.
One major feature of the Trails Asia tours are that they have a passion for wildlife tours and a huge focus on making sure any and all animal encounters are ethical. There will be no riding elephants or petting tigers here, but they do include multiple options for wildlife adventures – in the wild. And if you have already seen an elephant (or any other wild animal) in the wild, you'll know just how special such an experience is.
RELATED: If you are looking for Small Group Tours in countries other than Sri Lanka check out our guide to the Best Tours on every Continent.
Where Do You Go on the Trails Asia Sri Lanka Safari?
Colombo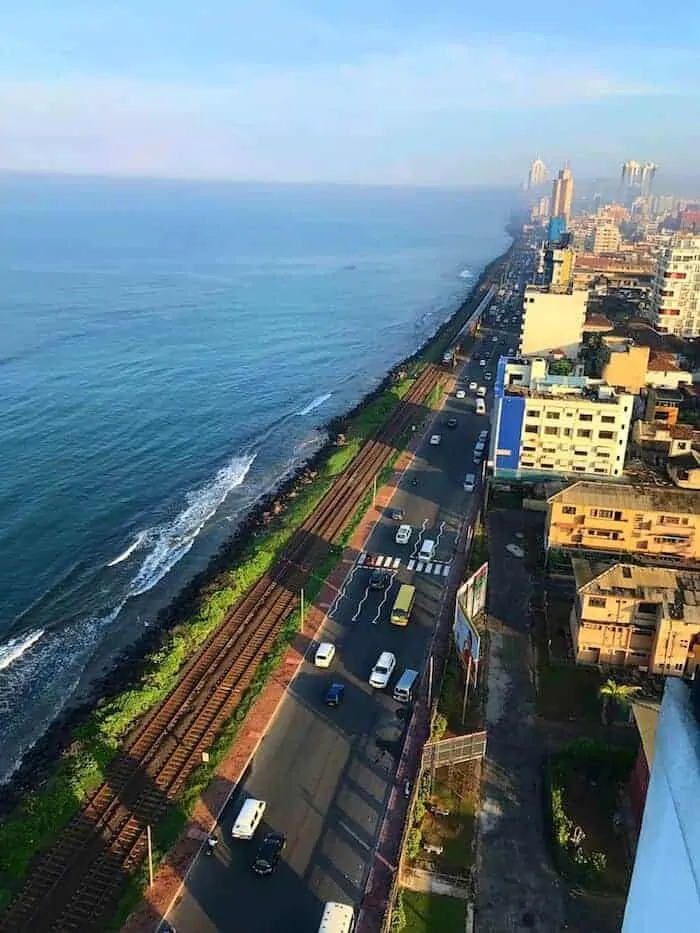 Enter the countries capital, and gateway to Sri Lanka, on Day 1 where you can explore the city at your leisure following your (included) transfer from the airport to the hotel. Get to know your fellow passengers over dinner and cocktails in the very impressive Ozo Hotel.
.
Unawatuna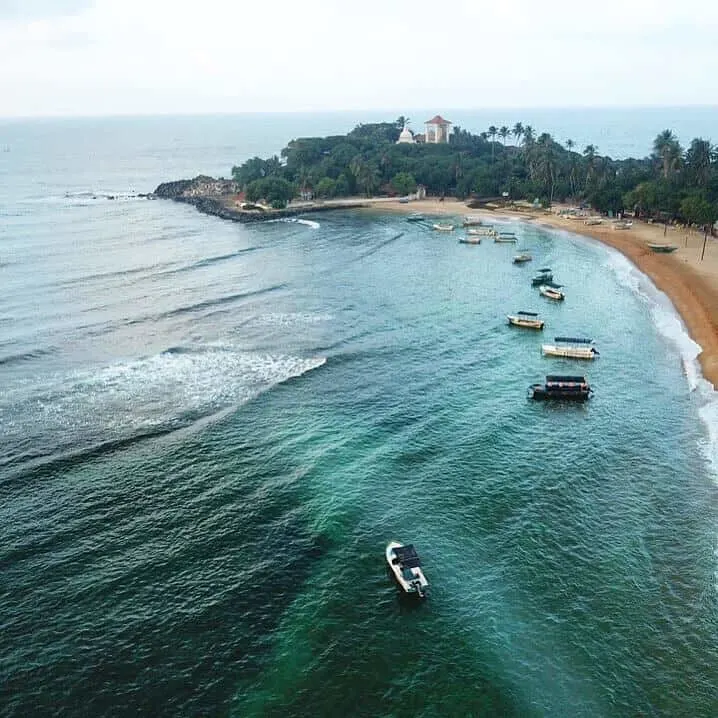 After taking the local train from Colombo to Galle, the air conditioned bus will take you down to Unawatuna. Spend the rest of the day lounging on the beach (it's one of the best beaches in Sri Lanka) – or grab a tuk tuk and head around the bay to Jungle Beach, where there is the first opportunity for a mini hike either up to the Japanese Peace Pagoda which offers fantastic views of Galle Fort (covered knees and shoulders required) or down (and back up) from Jungle Beach below.
.
Galle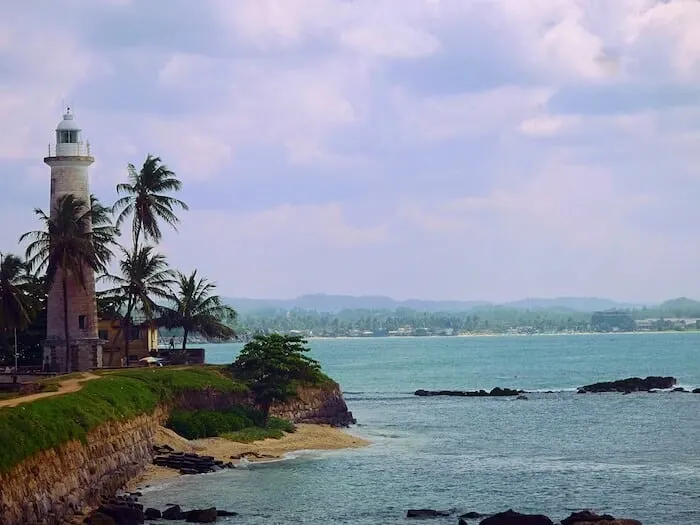 Explore the old Dutch Fort by foot, marveling at the colonial architecture and exploring the narrow alleyways packed to the brim with cool cafes and kitchy shops before visiting traditional fruit, vegetable and fish markets in preparation for a cooking demonstration, followed by lunch, at the home of a local chef. Whilst in Galle Fort don't forget to make a stop at the Embark Store – the proceeds from which go to improving the wellbeing of street dogs through its rescue, rehoming and education initiatives whilst managing population and preventing rabies through island-wide sterilization and vaccination campaigns. Once you see how many dogs are on the streets in Sri Lanka you will understand what great work this company do.
.
Mirissa
One of Sri Lanka's most beautiful beach towns in the southern provinces and an absolute highlight on your Sri Lanka Safari. Spend a morning on a boat trips spotting dolphins in the wild before an afternoon relaxing and sipping cocktails by the pool sipping cocktails or taking a dip in the ocean – and don't miss the opportunity to dine on the beach under the stars!
There is also an option to go Whale Watching from Mirissa, however guests are urged to research the ethicalness of viewing Blue Whales in the wild before going on such an excursion. Speak to your Trails Asia rep for more information.

*Hot Foodie Tip* Head out onto the main street and seek out the Roti Shop. Located a little way back from the beach on a small alley, the food is delicious (and extremely inexpensive!)
.
Tangalle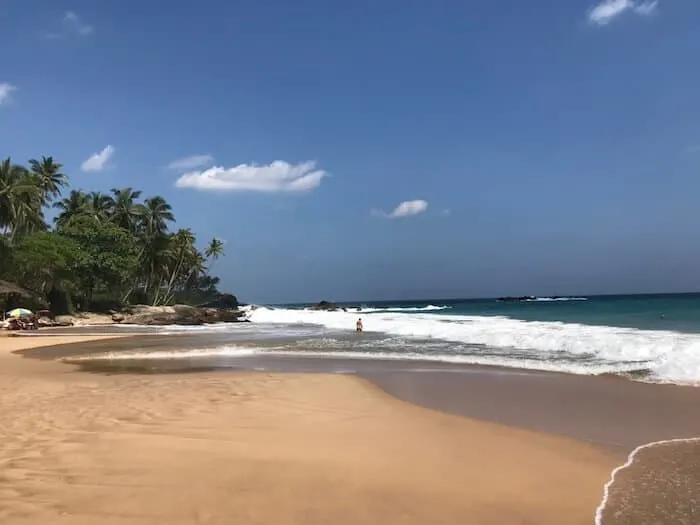 Where the rain forest meets the Indian Ocean, your accommodation in Tangalle is a rustic cabin where you'll fall asleep to the sound of the waves. Whilst the beach is beautiful, the rip here is very very strong and so we recommend making use of the incredible pool in the resort if you are wanting to take a dip to cool off from the Sri Lankan heat. Enjoy a lovely dinner in resort in the evening before heading out in the hope of seeing the Turtles hatching and making their way to the ocean. An incredible event to witness, you are completely at the will of nature, and no sightings are guaranteed – but you will spend a couple of hours waiting and crossing you fingers!
*Note to the wine lovers* Sri Lanka is not known for it's wine, and generally what is on offer is not that great. If staying at the Palm Paradise Cabanas they have imported Chilean Wine for around $36 a bottle. If you're going to spend money on wine at any point of the tour – this is the place to do so (and NOT at the Safari park up next!)
.
Udawalawe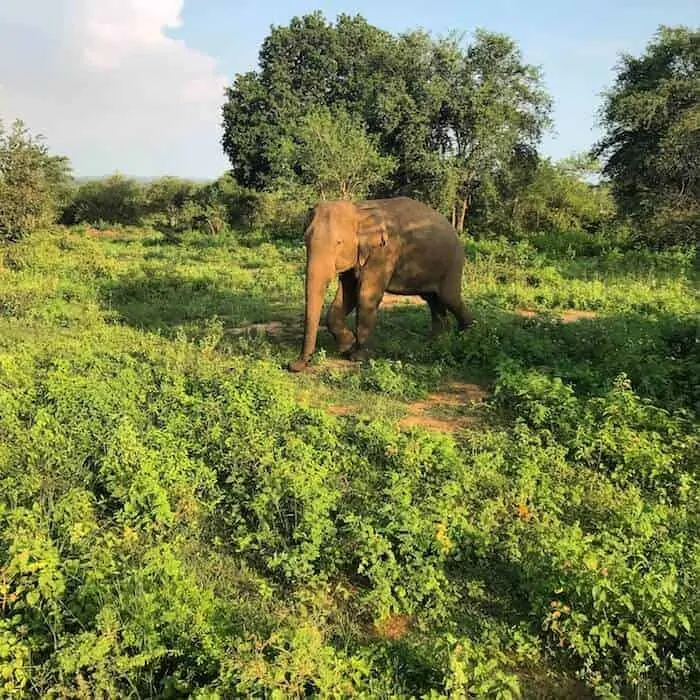 One of the best days on tour by far. On your visit to Uda walawe you'll glamp in style on a tented safari camping at the Big Game Camps and dine under a million stars after you've jumped into one of the nicest safari jeeps I have ever sat in for your 3 hour game drive and wildlife safari in Uda walawe National Park Sri Lanka (home to the largest Asian elephant population in Sri Lanka.) You'll have the opportunity to see some of Sri Lankas wildlife including elephants, deer, buffalo, crocodile and monkeys alongside hundreds of bird species on your private tours.
The Big Game Camp park is situated outside the campground area, and is now surrounded by electric fences so there is no danger of the elephants coming to visit! tents are fantastic and with each having an en-suite, it'll be unlike anywhere you have camped before. Dine on local dishes prepared loving on site by the light of a campfire. Beer and drinks are available at a minimal extra cost, but be wary of the red wine which is charged at around $40.. for a bottle of wine you could get for less than $4 in Australia. Udawalawe safari.
READ MORE: Seeing Elephants Safari is one of our Top 15 Wildlife Holidays & Ethical Animal Experiences!

.
Delhousie
A tiny town in Sri Lanka's Hill Country is the setting of one huge task – and what I hope will be a huge accomplishment. Delhousie is the town located at the base of Adam's Peak (Sri Paadhaya), a peak that is 2,243 meters above sea level and sits at the end of a 7km climb that includes 5500+ steps. The best time to climb (to avoid the searing heat) is through the night – setting off between 2-2.30am with the aim of reaching the top to witness the sunrise. During season (December – May) the trail is lit by streetlights, packed with tea shops for regular refreshment stops and has heavy foot traffic for the thousands of pilgrims that take on the climb each year. Out of season, the trail is dark (take a headtorch), there are only a couple of tea shops open located at various points up the mountain, and the temple at the top (Temple of the Sacred Footprint – it's called Adams peak as it is believed to be the first place Adam stepped after being expelled from Eden)
– unfortunately I did not make it to the top (getting about 5km up before my legs were screaming for me to stop, but I'm not too disappointed as I tried and a 10km round trip in the dark and mostly on my own is nothing to be ashamed of!)
.
Kandy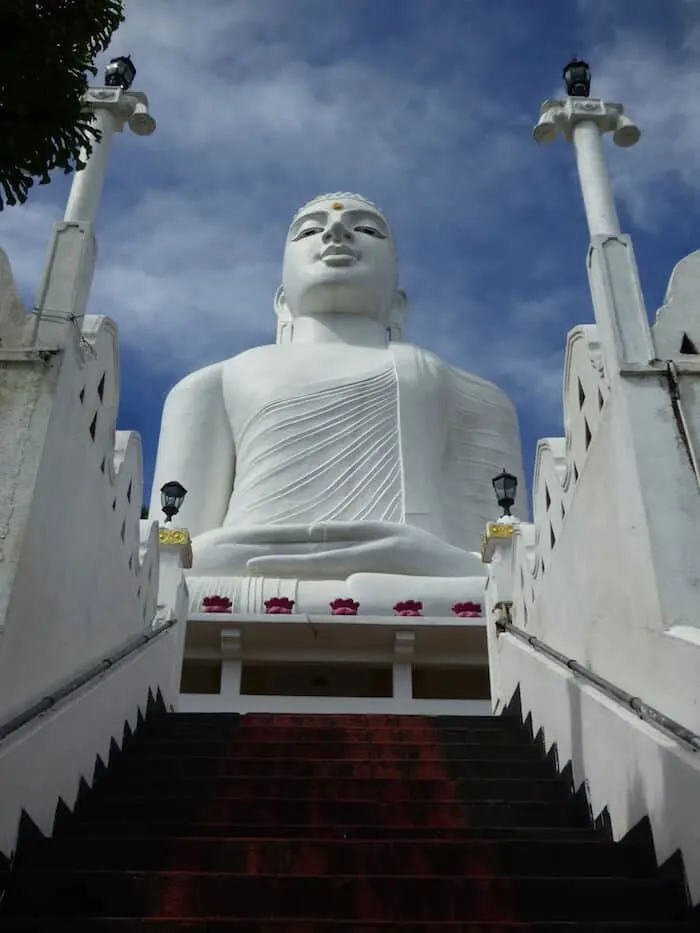 On the transfer between Delhousie and Kandy you'll stop off for a spot of white water rafting on the Kelani River. It's just 7 rapids and they're not graded very high on he rapid scale, but it is a lot of fun, and as you probably would imagine, you do get wet!
On arrival in Kandy, one of Sri Lanka's most popular towns in the central province and firm favorite with travelers, you'll visit the Temple of the Tooth Relic (Sri Dalada Maligawa) – one of the most important religious sights in Sri Lanka, see a cultural show on the night of arrival and have the opportunity to go hiking in the Knuckles Mountain Range or spend the day exploring the town the following day.
<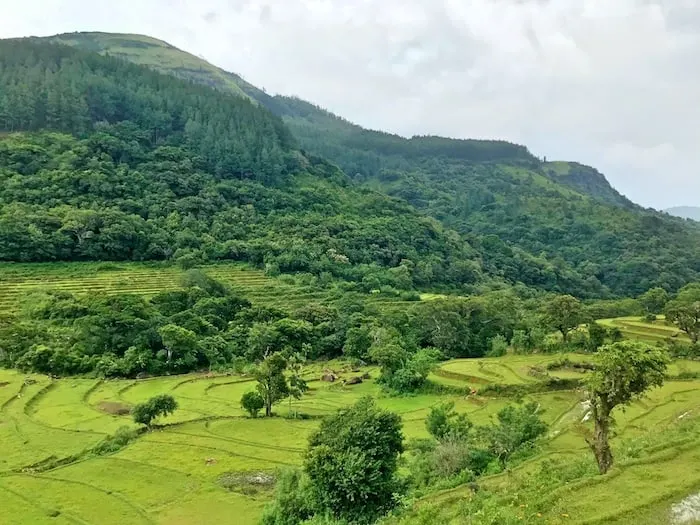 The 'hike' in the Knuckles Mountain Range (located around 3 hours south of Kandy) is more of a 'nice walk' than a hike (especially after Adam's Peak!) but in the interest of sharing knowledge, the trail is full of leeches. You are provided with leech socks from the folks at Sir John's Bungalow (where you have lunch after the hike) and your guide will have a salt spray to spray at the leeches to remove them when they get onto your shoes/socks. It can be confronting, and you are more then welcome to freak out a little the first few times you notice on is on your shoe/sock (I know I did!). But be safe in the knowledge that the socks are there to protect you and even if one does 'attach' itself to you, it's not going to kill you. (Leech therapy is actually recommended by Ayurveda practitioners but that's a different story!).
The scenery on the hike is beautiful, there is a waterfall in the middle of the trail with the clearest water I have ever seen where you can take a dip, and it really is a beautiful part of Sri Lanka. Wear bathers under long leggings and you'll be absolutely fine! Although you might want to take a pair of trainers you don't want to bring home with you depending on how freaked out you get.. #justsaying!
RELATED: Want More? Check out these 50 Incredible Things to Do in Sri Lanka
.
Negombo
After taking the famous Blue Train across the 9 arches in the Sri Lankan countryside, you'll finish up your Sri Lanka Safari in the sleepy fishing town of Negombo. Enjoy some last minute shopping or a spa session before your final dinner with the group – which if you eat at Lord's will have huge portions and also the best Mojito in Sri Lanka, as well an an art gallery of local artists' work that is is available for purchase should you want a decorative reminder of your trip on the walls at home!
RELATED: Ready to see more? Why not consider visiting Ella in Sri Lanka's north.
What Does the Sri Lanka Safari Tour Package Include?
12 Nights in 3 or 4 Star Accommodation (more details below)
Visas
11 Breakfasts, 3 Lunches & 4 Dinners (including a couple of dinners under the stars!)
Airport Transfers at the start and end of the tour
Entrance to the Elephant Sanctuary – which is supported by the BornFree Foundation
Wildlife Jeep Safari in Udawalawe National Park
Rustic Cooking Class in the home of a local chef in Galle
Visit to a Tea Factory in Sri Lanka's Hill Country
Dolphin Watching
Entrance to the Turtle Hatchery
White Water Rafting
An air-conditioned bus + 2 train journeys throughout the country.
Services of a Local Guide and representative of Trails Asia.
Where Do You Stay on the Sri Lanka Safari?
Accommodation on an organized tour can sometimes be a concern – especially for someone like me who is a control freak(!). But there is no need to worry about the standard of hotels on the Trails Asia Sri Lanka Safari which include 3 or 4 star beachfront hotels, cabins in the jungle with incredible swimming pools (above), an opportunity to Glamp just outside the National Park and city hotels that offer style, comfort and relaxation after a busy day exploring.
Tips for Your Sri Lanka Safari
All About The Money
Money talks and in Sri Lanka there are a couple of ways to pay. For the most part, cash is king, although the majority of hotel chains and some larger restaurants will accept payment by credit/debit card. This is not unlike other countries in South East Asia, however one major thing to note is that physical cash exchange is not commonplace at all. Some hotels offers this service, but not all, and it is not like walking down the street in Thailand, Vietnam , Indonesia etc where currency exchanges are in every second booth. If you are arriving with cash to convert, do so in the airport – you'll take a hit on the rate, but at least you'll have local currency. The other – and more popular option – is to withdraw cash from ATMs (ideally from a travel currency card rather than a debit card, because nobody wants those fees!) and ATMs are in *practically* every town that you visit.
Take Sunscreen
It's hot, and nobody wants to be sunburnt. Take a high SPF Factor sunscreen and be sure to apply regularly to keep the suns rays at bay.
Take Insect Repellent
The bugs and the mosquitos are at an another level in Sri Lanka. I recommend taking a 'tropical' rated bug spray, although the inclusion of deet is up to your own preference (I tend to stay away at the risk of damaging my equipment) but you know your own health and reaction to bites and would urge you to use whatever provided you with the highest level of protection. Be particularly vigilant with the application around dusk and dawn where the little blighters are more active.
Also note, that you are able to purchase citronella based products from the supermarkets in Sri Lanka, which can be used as a back up.
How do you Book The Trails Asia Sri Lanka Safari?
So are you ready to book this incredible tour? Securing you place on the Trails Asia Sri Lanka Safari is super easy – just head on over to their website to book online (but be quick 2018 dates are selling fast!). For just a small deposit you can guarantee your place on one of the best Sri Lanka Wildlife Safaris on the market today. And if you have any questions that I haven't covered in this travel guide, just let me know in the comments and I will answer anything I can.
And that's a wrap folks. I hope I've equipped you with all you need to know about the Trails Asia Sri Lanka Safari and that you're excited to book your wildlife holiday. And don't forget to tweet, pin and share of Facebook if you liked this post – or know someone that has always wanted to go to Sri Lanka! Full sized pins, as always, available by clicking the P in the sharebar.
READY MORE TRAVEL TIPS & INSPIRATION? YOU MIGHT BE INTERESTED IN THESE ARTICLES:
Hi There! Thanks for reading our travel guide to a Perfect Sri Lanka Safari with Trails Asia! I just wanted to let you know that this post contains affiliate links, which means if you purchase something after clicking a link, I may get a small commission – which is at absolutely no cost to you. If you enjoyed this article and are going to be searching for some of the things I mention anyway, I would love it if you could click through from the links above & thank you in advance! Read my full Disclosure here. Thank you for reading the MakeTimeToSeeTheWorld Travel Blog.