Sri Lanka is home to some of the most stunning beaches in the world (plus lots of culture, history, wildlife and adventures for good measure too!) Of course, when you think of an Island nation, beaches are to be expected, but even after several visits to this magical island, they still manage to take my breath away. And I'm sure they will for you too.
So whether you are planning your own trip to Sri Lanka (check out our 2-3 Week Sri Lanka Itinerary if you are!) – or are just trying to decide if this slice of paradise is for you – our tour of the best beaches in Sri Lanka is sure to have you getting excited about the possibilities!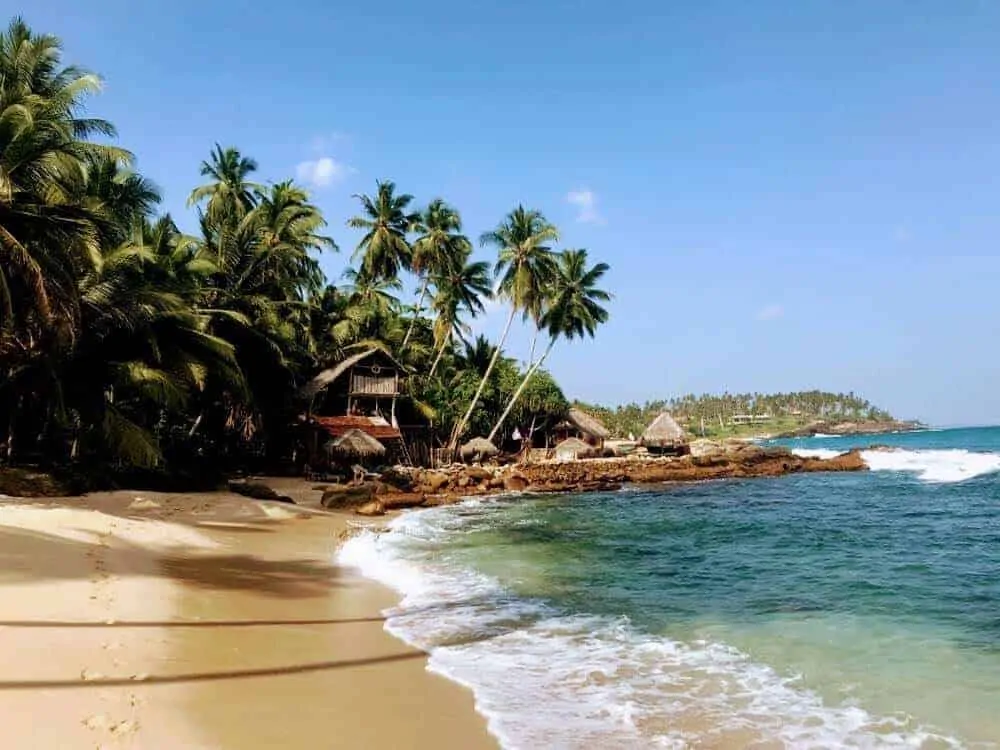 Disclaimer: Almost all posts on this site contain Affiliate links, and this one is no different. This means that if you click on any of the links in this post (and make a purchase) I may receive a small commission at absolutely no cost to you. Each post is carefully crafted to (hopefully!) answer all your questions and recommendations are made where we believe they will improve your trip and help with your planning. As such we thank you in advance should you decide to click & buy. Read my full Disclosure here.
This is a Guest Post by Jimmy and Tah from DivertLiving
Where to find the Best Beaches in Sri Lanka

As you can see, the majority of Sri Lanka's best beaches are located on the South West coast of the island, but heading East to Aragum Bay or North to Trincomalee and Pigeon Island will not leave you disappointed!
The Best Time To Visit Sri Lanka for it's beaches:
Sri Lanka has two different monsoon seasons, which impacts the best time to visit the different sandy beaches on the island.
For beaches located in the South Coast or West Coast, go between December and March; for the East coast, go from April/May to September. The temperature remains fairly consistent throughout the year due to its proximity to the equator.
15+ Best Beaches in Sri Lanka
Wijaya Beach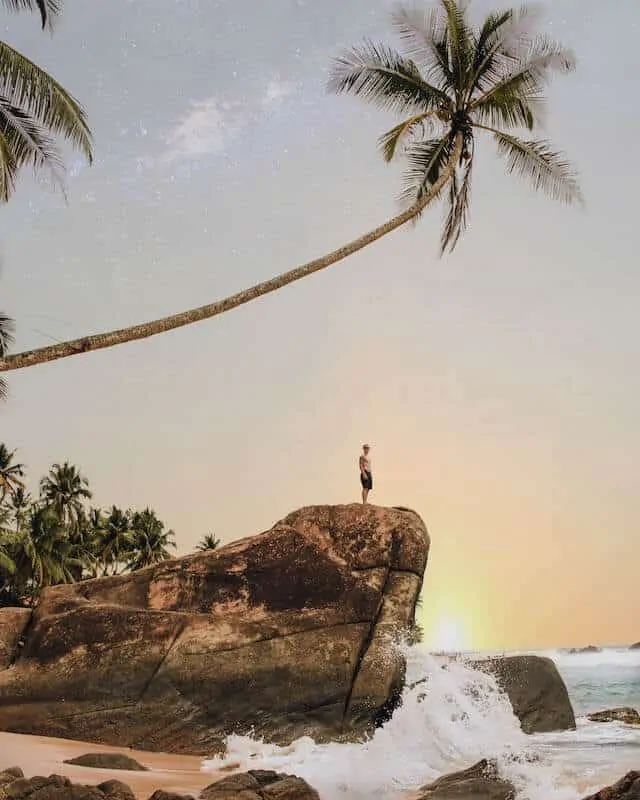 One of the best beaches in Sri Lanka – which makes it practically everyone's favorite is Wijaya Beach. The white sands and palm trees make it a great place to spend a few days, and as it's just outside the tourist hub of Unawatuna, there are plenty of bars and restaurants around to keep you fed and watered.
Wijaya beach is also super clean and if you are lucky, you'll encounter the cute sea turtles that float by popping their heads out from the sea as you take a dip on the beautiful coral reef which forms a natural swimming pool.
There are a lot of resorts to choose from in nearby Unawatuna (see below) – pick the one that's best for your budget and enjoy beach hopping around the area for a few days.
Mirissa Beach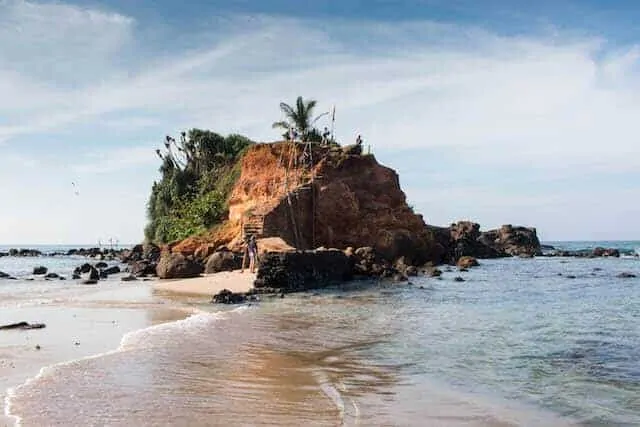 If you talk about a dreamy beach in Sri Lanka, then Mirissa beach will top the list. This is a tropical paradise that you cannot afford to miss as you explore the island.
Mirissa beach is a secluded spread of area that is crescent-shaped with lots of things to do beyond just hanging out on the sand like grabbing a bite to eat at the Roti Shop (yummy food and bargain prices) or going on one of the many boat trips on offer to try and see blue whales or dolphins. Although we highly recommend researching who runs your tour – some whale watching companies are less than ethical.
And our final top tips for Mirissa Beach is to watch the sunset over the ocean before dining under the stars at one of the beachfront restaurants, or get up early and capture some of the best sunrises in South East Asia.
---
Where to stay in Mirissa
Luxury: Paradise Beach Club (from $125 p/n) – large rooms, swimming pool, onsite spa and is a true beach hotel with no more than 10 steps from the pool to the ocean! I stayed here on my Sri Lanka Safari, it is one of the best resorts in Sri Lanka and highly recommend it.
Mid-Range: Ubuntu Beach Villas (from $90 p/n) – pool over looking the beach, sophisticated rooms (with a bath!) and the perfect sunset spot.
Budget: Glamour Mirissa (from $35 p/n) – this guesthouse is located in a quite area just off the beach and catering to a maximum of 18 guests you'll feel like you're in your own little slice of heaven.
---
Secret Beach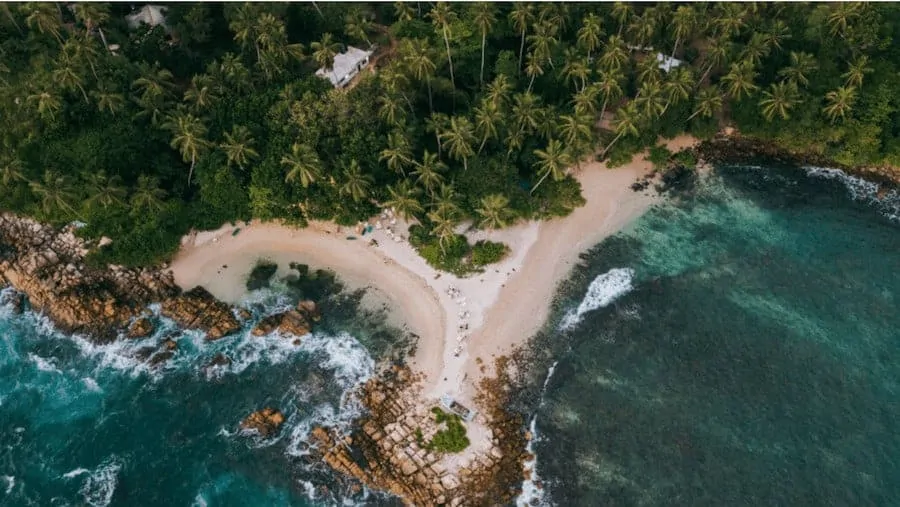 Located in Mirissa, Secret Beach used to be one of the best kept secrets in Sri Lanka – but not anymore! Secret beach, Mirissa is a small, secluded and stunning beach where the sunsets are are incredible. You will find a lot of coconut selling vendors, be sure to grab yourself a king coconut and sip as you sit enjoying the beach (make sure you have your reusable straw!)
There is a good bar called the Secret Beach bar (imaginative, I know!) which you can reach by tuk-tuk and is worth visiting when you go to Secret Beach.
Dickwella Beach + Hiriketiya Beach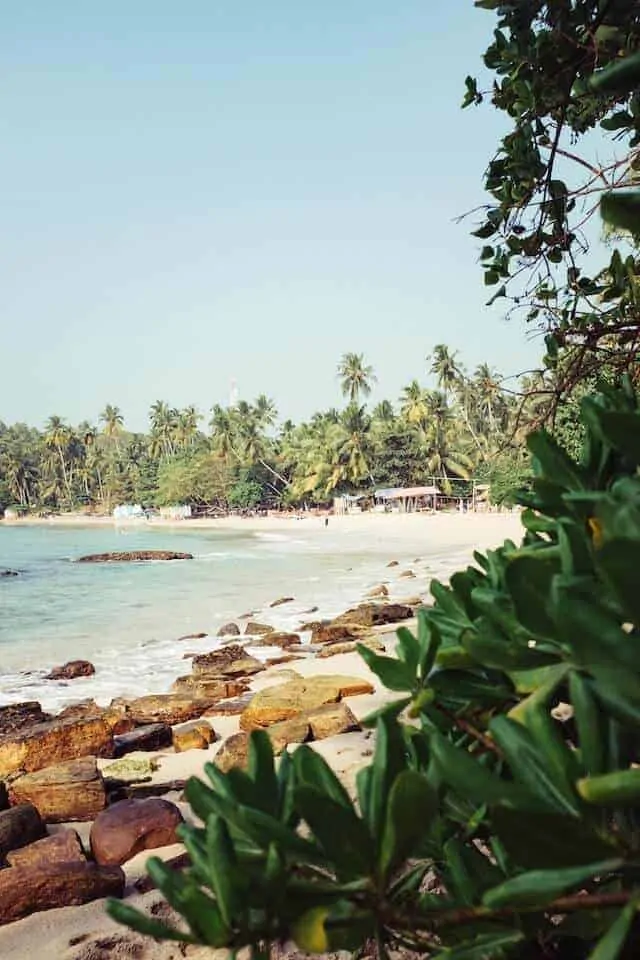 A beautiful beach that sits just around the bay from the outer end of Dickwella Beach (a beautiful Sri Lankan beach in it's own right) is Hiriketiya Beach.
It is also known as Hiriketiya Bay and is a haven for the surfers as it is blessed with high tides and waves for everyone – from beginners through to experts. A true 2-for-1 for those who want a beach to chill and a beach to surf. Hiriketiya Bay for the surf, Dickwella Beach for the relaxation.
Trincomalee Beach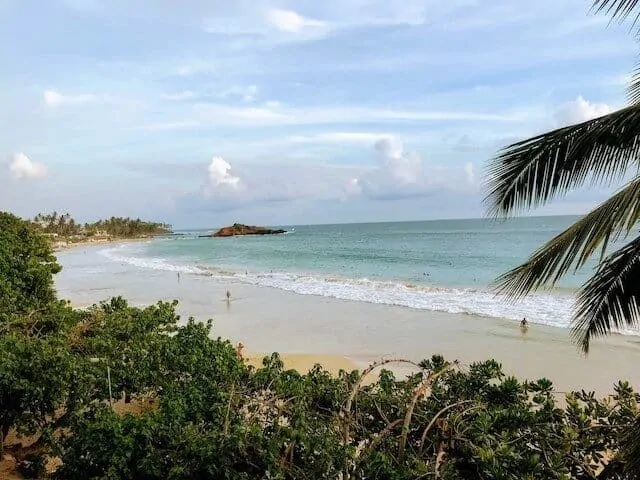 This beach is located in a small town called Trincomalee and from where it got its name. Trincomalee beach is on the north east coast of Sri Lanka. Witness the white sands as you approach closer to the beach.
Compared to the southern coast of Sri Lanka, the eastern coast is calm and quiet and the blue water is to die for. If you are someone who prefers to stay in the most relaxed place, then choose Trincomalee beach. Heading over there, we would recommend staying for a minimum of 2-3 days (to make the journey worth it!) and explore the surrounding area.
Negombo Beach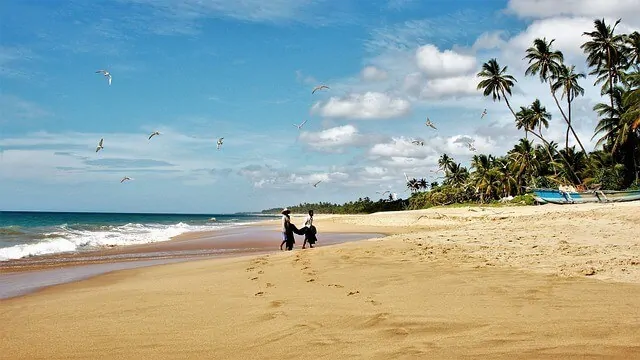 Negombo Beach is a little more 'industrial' as Negombo has traditionally been a fishing village and still supports a lot of the industry (as can be seen from the two men bringing in the nets above, the fishing boats in the background – and all the seagulls circling!). But this doesn't mean that this isn't one of the most beautiful beaches in Sri Lanka – and the perfect place to start off your Sri Lanka trip.
Located just north of Bandaranaike International Airport, it's a great town to relax and recuperate after your flight. The beaches are practically empty with golden sands lined with palm trees for miles.
Unawatuna Beach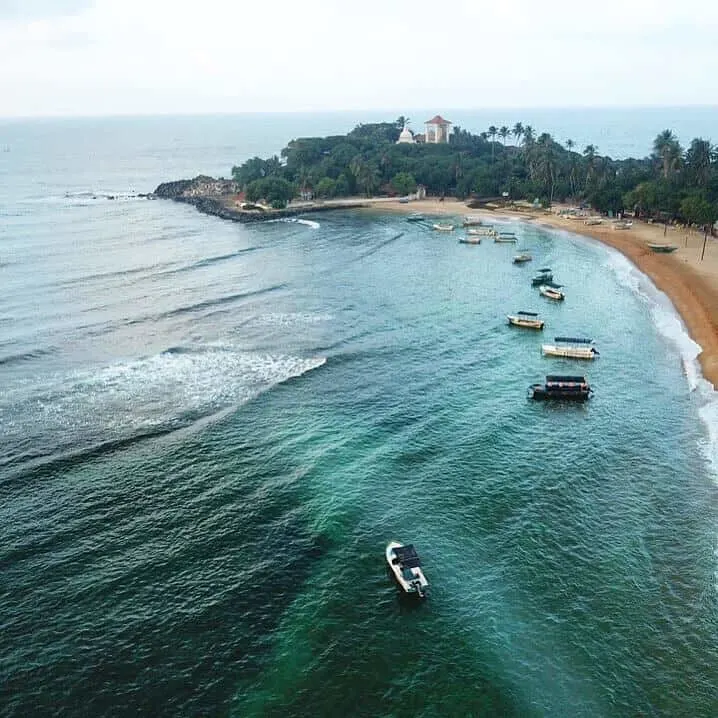 When talking about the popular tourist areas in Sri Lanka, the popular beach town of Unawatuna will surely be on the list. The premier beach destination has a beautiful banana shape with turquoise water and golden sands. The green coconut trees near the sides of the beach are super- stunning to just stare at as a whole!
If your keep your eye on the right side of the beach, you will see rocks and stairs. Climb up the small hill to see a big Buddha statue and a pagoda. Enjoy the view of the beach from a little distance and height. There will be a lot of tourists and locals as this place is on the top of the tourist list and being family-friendly, is a great spot to include on your family holidays.
---
Where to Stay in Unawatuna
Luxury: Rock Fort Hotel & Spa (from $45 p/n) – 5* luxury hotel with deck overlooking the ocean, on-site spa and 5 mins to the main beach.
Mid-Range: Tartaruga Hotel (from $36 p/n) – 4* beach resort with incredible cocktails and private swimming pool.
Budget: Happy Coconut (from $17 p/n) – Lush tropical surrounds, 400m from the beach and a bargain price.
---
Jungle Beach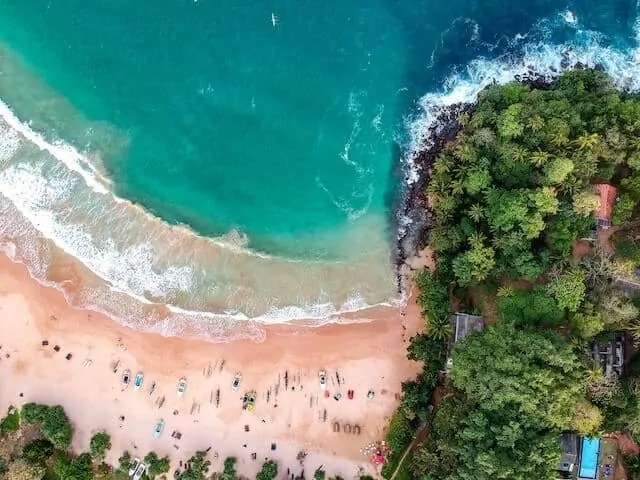 Just around the corner from the popular area of Unawatuna is Jungle Beach. It's a favorite with the locals (especially on Sundays!) and offers the opportunity for a hike up to the Japanese Peace Pagoda for those that want a little more than beach action for the day (just be sure to pack clothing that covers your knees and shoulders).
If we're being honest, it's not easily accessible, requiring visitors to climb down around 100 'steps' to get down to the shore – which will need to be ascended to get out. So not great for anyone unsteady on their feet or who struggles with steep ascents/descents. But is worth a visit if you're able bodied and in the area.
Koggala Beach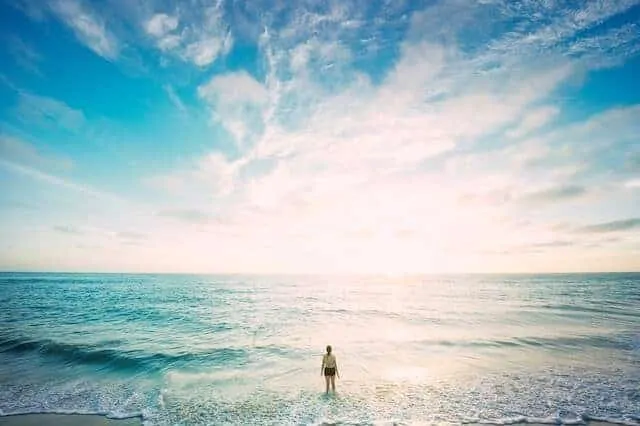 Koggala beach is on the south coast of Sri Lanka. This beach is situated in a place where there are rich jungle vegetation and beautiful golden sand. If you want to try something adventurous, you can surf at Koggala beach.
Try out the seafood delicacies prepared by locals in this region. You will definitely remember its taste forever. Walk along the beach, get some coconut water to drink or buy a cocktail to enjoy Koggala beach at its best.
Bentota Beach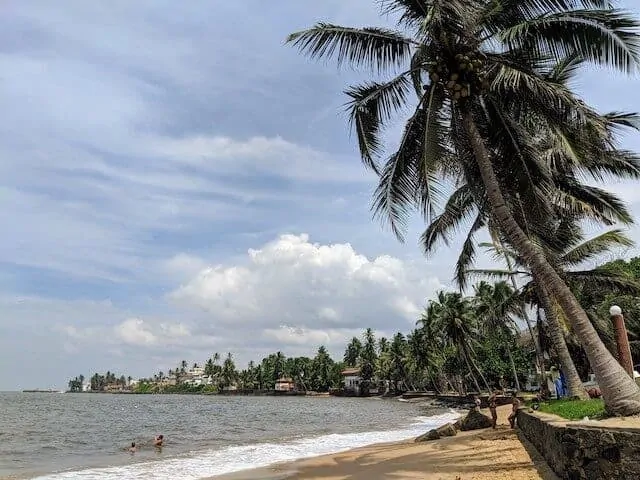 Bentota Beach (also known as Ventura Beach) is located around 65km south of the capital of Colombo. Although it is currently the latest seaside town to be slated for tourism development, at the moment it is relatively sleepy, no beach bars or restaurants – it is a haven for calm and serenity.
And if you want to step up the relaxation – I highly recommend checking yourself into an Ayurveda retreat. Ayurveda is an ancient system of medicine with roots in the Indian subcontinent which uses a range of treatments, including panchakarma, yoga, massage, acupuncture and herbal medicine, to encourage health and wellbeing: and there are multiple Ayurveda resorts in the Bentota area!
RELATED –
Get summer ready in seconds for your beach holiday with our complete
Beach Packing List
!
Arugam Bay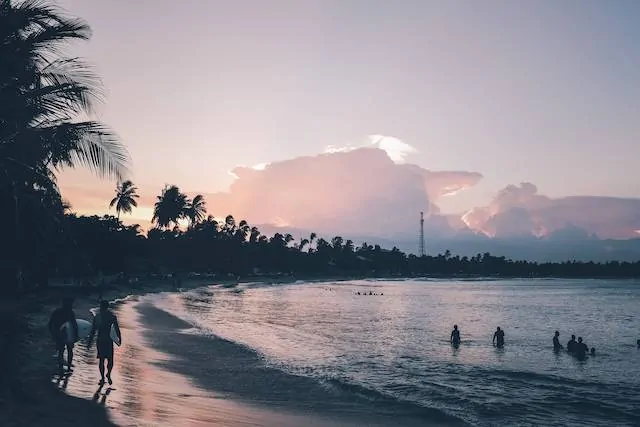 Located on the east coast of Sri Lanka, Arugam Bay is a jewel of this island country and a great spot to enjoy the Indian Ocean. Due to it's location, Aragum Bay is often a lot less crowded than the West Coast beaches, particularly in the off season/monsoon season when the area has been historically pretty quiet.
However, as one of the surfing hot spots in Sri Lanka, more and more surfers are making their way to Aragum Bay in the off season (December / November to April) for cheaper hotels, emptier beaches and some pretty epic (if unpredictable) swells.
For those laid back days, when you just want to lounge on one of the most beautiful beaches in Sri Lanka as you connect with nature and nothing more, head to the calm waters of Arugam Bay.
Pigeon Island Beach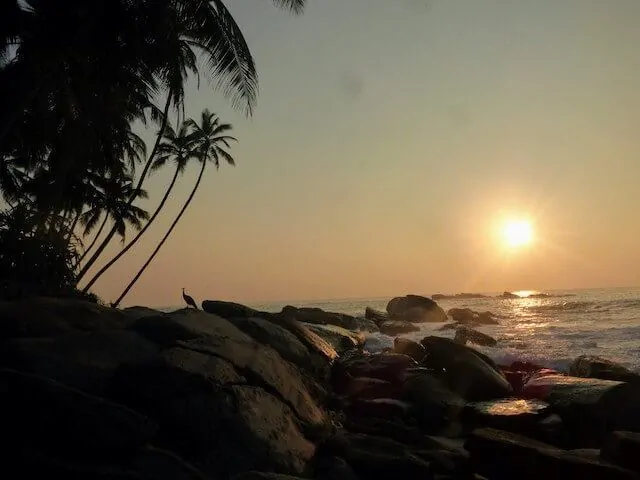 Pigeon Island (so called for the rock pigeon which has made the island its home) is an island just off the mainland, and forms the center of one of the two marine national parks in Sri Lanka.
The Pigeon Island Marine Sanctuary offers beautiful white sand beaches, incredible clear waters and boasts some of the best snorkeling in South East Asia; and back on the mainland there is the stunning Nilaveli beach – for those that make it out this far east, it is a fantastic 2 for 1!
Hikkaduwa Beach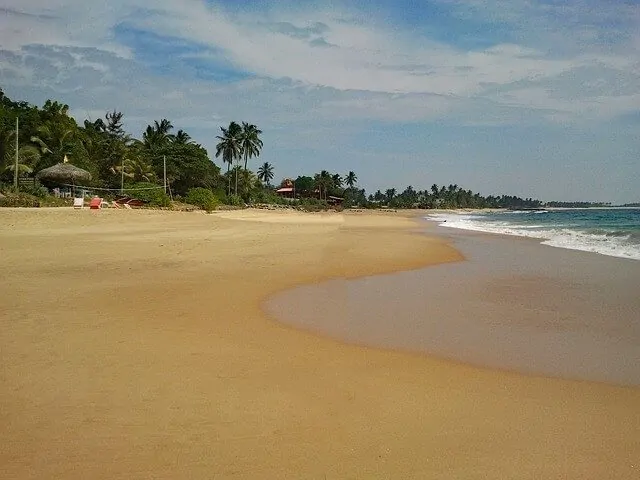 Hikkaduwa beach was discovered in the 1960s and since then it has been attracting a lot of tourists (and sea turtles!) If you are looking for some fun water sports, Hikkaduwa Beach is the perfect place.
You can go snorkeling, body surfing, swimming, boating, scuba diving, and other underwater activities from this beach. Don't forget to admire the various coral formations at the coral sanctuary whilst you are there too and keep an eye out for the various colorful tropical fish! It's like swimming in an aquarium!
Tangalle Beach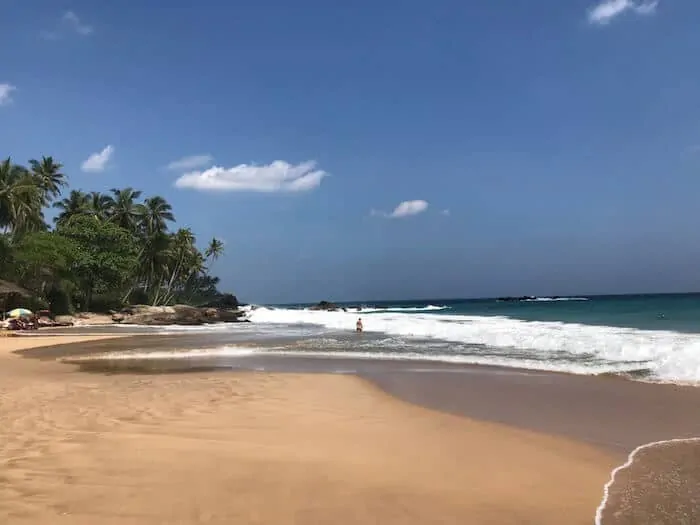 Looking out for a quiet and romantic vacation? Then Tangalle beach is your place. A spread of white sands gives you the perfect tropical vibes for a relaxing break. The beaches stretch in both north and south directions and has some of the most epic sunsets at Sri Lanka.
Unfortunately, swimming may not be on the list here due to it's high tides and strong currents, but that does tend to make sure the beach is quite empty a lot of the time! There are cafes along the beach for drinks and snacks and it's a great time to get back to nature.
And if you want a little more nature – be sure to head across to Yala National Park from here and see elephants in the wild (it's just one of the many natural wonders you can see in Sri Lanka!)
And that's a wrap! We hope you have enjoyed our guide to the BEST Sri Lanka beaches and are already starting to plan your trip to this amazing island – or if you are already here enjoying your tropical escape – that you are using our guide to decide which beachy paradise to hit up next!
And if you like this post, or know someone who could use a little help in planning their trip – or just needs a little inspiration to get out and see the world – please share on whatever social network is your vice – Facebook, Twitter, Flipboard, Pinterest, just hit the share bar on your left for all the options and Thank You! in advance :)
READY MORE TRAVEL INSPIRATION? YOU MIGHT BE INTERESTED IN THESE TRAVEL TIPS, TRAVEL ARTICLES, DESTINATION GUIDES AND RELATED POSTS:
Hi There! Thanks for reading my Sri Lanka travel guide packed full of travel tips and in this post the Best Beaches in Sri Lanka (inc. map & photos!) I just wanted to let you know that this travel guide to Sri Lanka contains affiliate links, which means if you purchase something after clicking a link, I may get a small commission – which is at absolutely no cost to you. If you enjoyed this article and are going to be searching for some of the things I mention anyway, I would love it if you could click through from the links above & thank you in advance! Read my full Disclosure here.
And thank you for reading the MakeTimeToSeeTheWorld Travel Blog.