Take one look at the city of Marrakech and it's easy to see why so many of us have a longing to visit this exotic realm. Poetically referred to as 'The Daughter of the Desert', this is a travel destination to awaken all your senses, from the vibrant colours of the buildings to the fragrances that fill the air throughout the renowned Marrakech souks. There are so many things to do in Marrakech that it can be hard to know where to start! Marrakech offers tourists sun, culture, amazing food and much more, which makes it no surprise that this city is at the top of so many people's 'must-visit' travel destinations list.
So what's the catch? This is an amazing city to visit, right? It most certainly is, the only problem is, Marrakech has so much to offer us that if it's your first time visiting this magical city, you may not know quite where to start! Hence the purpose of this guide. We have taken on the stress and strain when it comes to choosing what to do and see during your trip to Marrakech, enabling you to enjoy every moment and make memories to last a lifetime. And we have even included an FAQ section at the bottom packed with travel tips to arm you with all the essential information for visitors and to help answer any questions you might have about visiting this amazing city!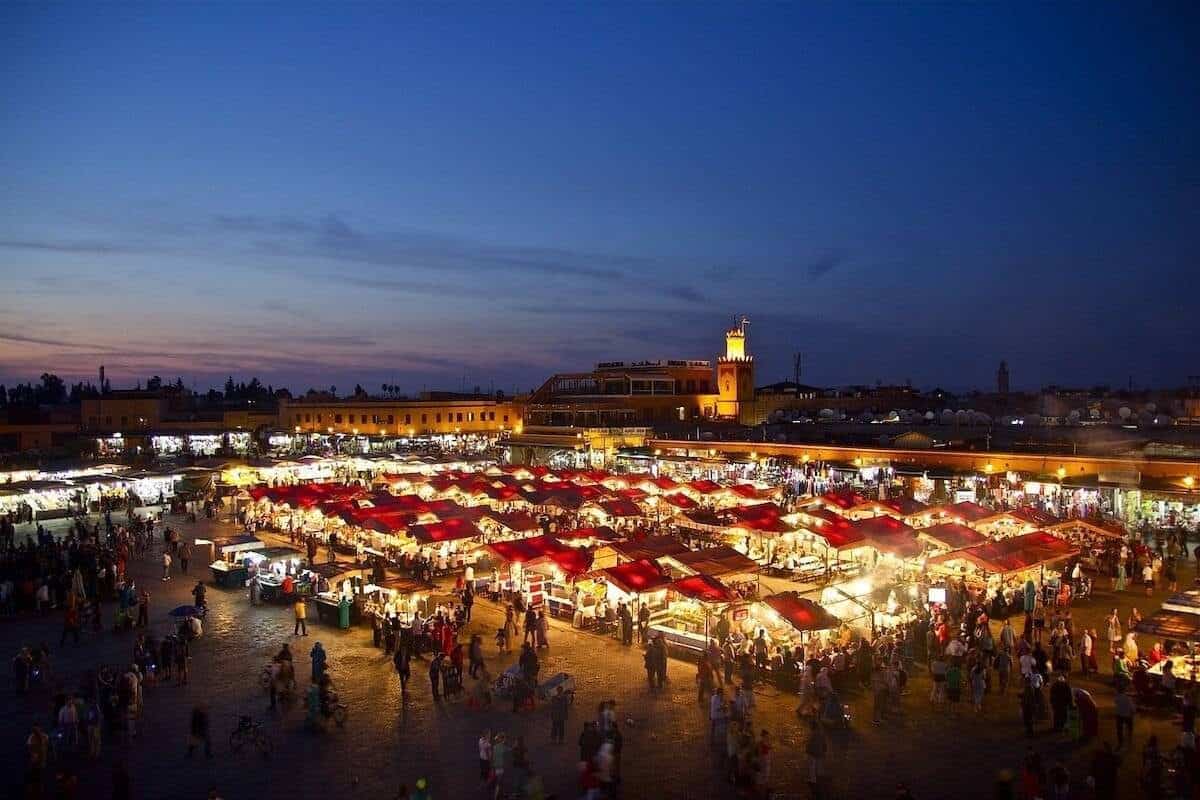 Disclaimer: Almost all posts on this site contain Affiliate links, and this one is no different. This means that if you click on any of the links in this post (and make a purchase) I may receive a small commission at absolutely no cost to you. Each post is carefully crafted to (hopefully!) answer all your questions and recommendations are made where we believe they will improve your trip and help with your planning. As such we thank you in advance should you decide to click & buy. Read my full Disclosure here.
19 INCREDIBLE Things to do in Marrakech
Go shopping at the Souks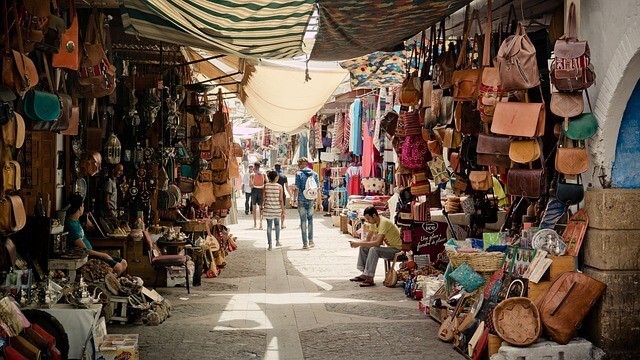 No matter how many markets you have visited around the world, you will have never experienced one quite like a souk. Selling everything you can think of from pottery to spices, the vast array of goods available makes exploring these traditional souks exhilarating and if you find something you love, get ready to haggle for the best bargain.
RELATED –
It is easy to see why Marrakech is one of the
best places to visit in Morocco
– click the link to find out where the other 16 places on the list are!
.
Delve into the history of Marrakech
Once you start reading about Marrakech's past you will immediately want to know more and the best place to experience this unique city is to visit one of its many museums. Along with the Museum of Marrakech, you may also want to visit one of the city's smaller museums to learn about its trading past, the communities who have lived here and the city's brilliant architecture. Enjoy a 3 hour guided tour of the red city with a private guide and get a personal introduction to this fascinating city and it's history.
.
Tuck into a Tagine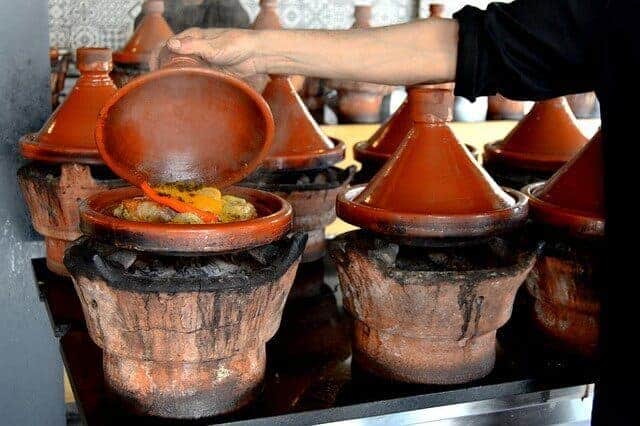 There is no denying it, Moroccan food is simply spectacular. Cooked in earthenware pots, you are guaranteed to see tajine's featured on every menu of almost every restaurant you visit in Marrakech. This slow-cooked dish can include almost any ingredient but will feature vegetables mixed with fruit and sometimes meat, water and plenty of spices. Yum!
For the foodies among you, why not join a tasting tour around the Medina followed by dinner in the UNESCO listed Jma El Fna Square where you may get to try some freshly sqeezed orange juice or see a local delicacy such as a sheeps head(!) – and if you want to get a bit more hands on, a Tagine Cooking Class with a local will have you whipping up (and eating!) this iconic dish in no time!
.
Walk around the city Ramparts
Dating from as early as the 12th century, the magnificent walls that surround Marrakech's Medina are 2 metres thick, 9 metres high and over 20km in length. Originally built to protect the inhabitants of the city, today, a walk around parts of the wall or a tour is highly recommended to admire this magnificent structure.
.
Sip on some mint tea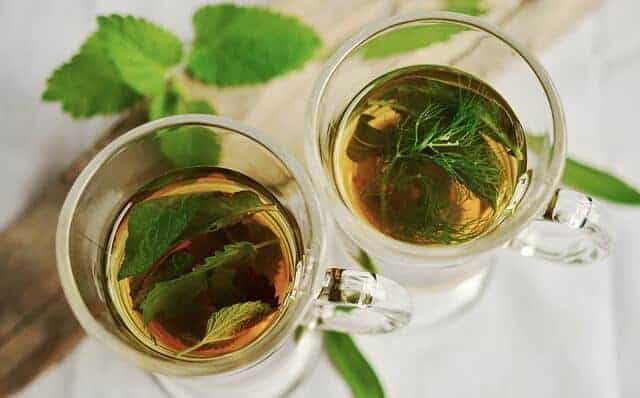 Considered the go-to drink and an important part of the hospitality in Marrakech, a pot of mint tea combines black tea leaves, fresh mint and sugar for that added sweetness. A classic part of dining culture in the city and very refreshing too, you are likely to be offered some wherever to stop for a bite to eat or drink.
.
Take a Day Trip Out to the Desert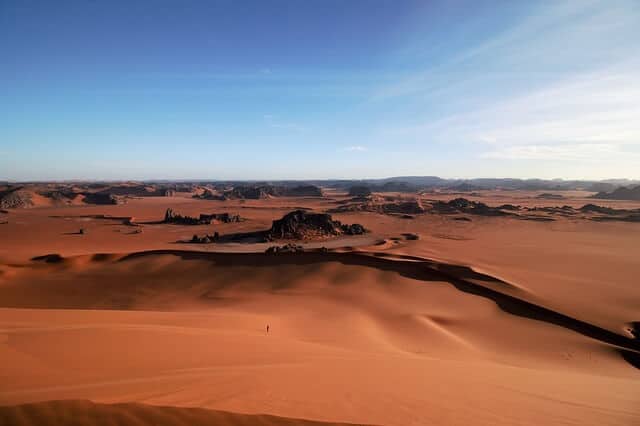 No trip to Morocco would be complete without getting out among the sand dunes. Whether you go out for a half-day desert tour, or combine it with an off road buggy adventure or a sunset camel ride, there's just something special about being out in the desert.
RELATED –
There are
17 fabulous day trips and tours from Marrakech
including the Atlas Mountains, Essouria, Ouzoud Waterfall, a Berber Village, Hot Air Balloon Rides or Ouarzazate and Ait Ben Haddou – use our guide to find the perfect addition to your city break!
.
Admire the Mosques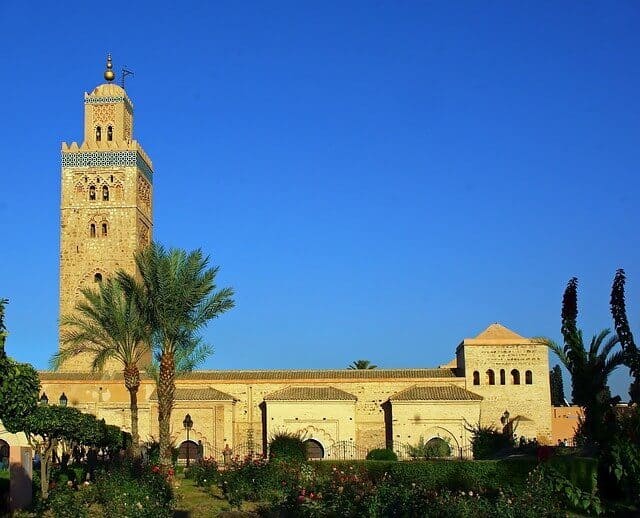 You will hear the call to prayer in the city every day and you will likely spot many of the hundreds of Mosques as you explore the streets. One of the most magnificent is the Koutoubia Mosque in the heart of the Medina and the largest in the city. Dating from as early as the 12th century, non-Muslim visitors are not permitted access inside these places of worship but you can admire their beauty from the outside.
.
Experience a Hammam ritual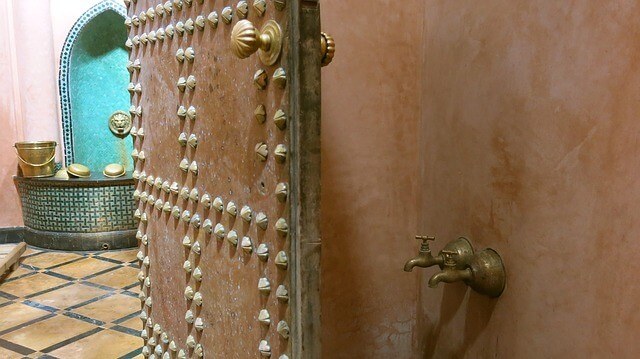 A ritual in Marrakech, if you have the opportunity to experience a hammam it will leave you feeling refreshed and invigorated. Centuries-old, you are likely to come across the public bathhouses across the city but numerous spas also offer the ritual, where you will enjoy soaking in a pool or steam room, followed by a cleanse and massage. Book your Hammam experience in advance and be prepared for a spa experience you'll never forget.
.
Relax in a paradise garden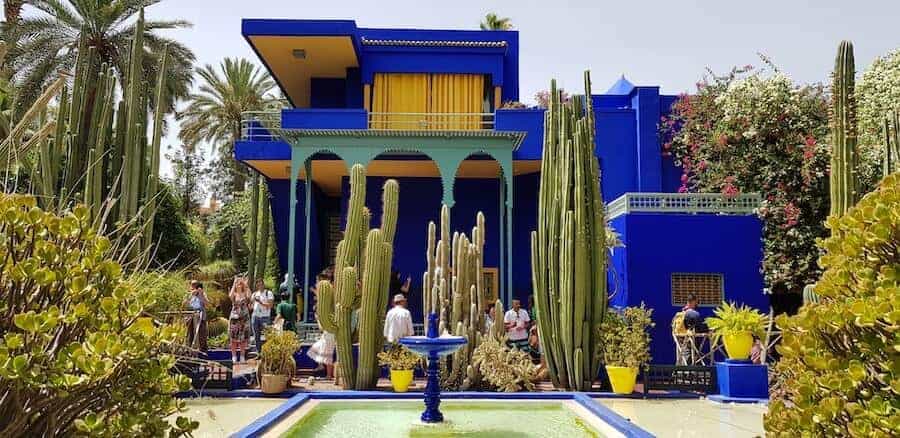 Step inside one of the many gardens of Marrakech and you will find it hard to believe that you are still in the centre of a bustling city. Symbols of paradise, these gardens are often walled and water is a primary feature. One of the most iconic gardens to visit in the city is the Majorelle Gardens and the former home of Yves Saint Laurent, pictured above (grab your Jardins Marjorelle ticket here) and another would be the impressive Agdal Gardens located in the grounds of the Royal Palace. Book your Agdal entrance ticket and transfer here.
.
Head out at dusk to Jemaa el fna Square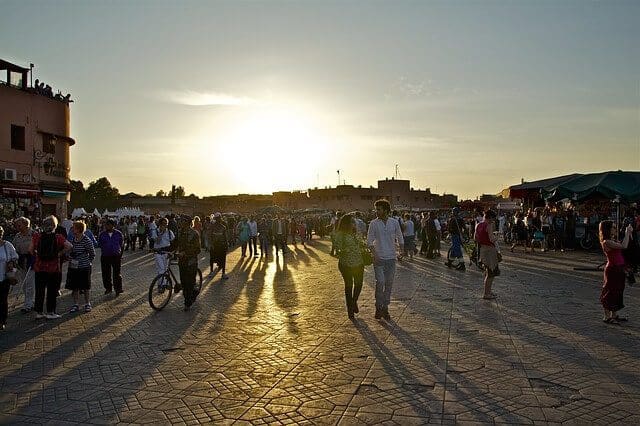 The central square of Marrakech's medina quarter, the lively atmosphere of Jemmaa el-Fnaa remains both popular with locals and tourists. Dusk is the best time to visit when the area comes to life with people, entertainers and amazing food stalls.
NOTE: There is a darker side to Jemaa elfnaa and it is likely you will see caged monkeys, unethical snake charmers and men walking round with falcons and birds of prey encouraging you to have a photo taken with one on your shoulder. Please avoid these 'attractions' – the only way we can stop unethical animal encounters is to stop the flow of money to the perpetrators. If you are interested in ethical wild animal encounters, we have a post all about the best wildlife holidays. Click through and see what incredible creatures you can see in their natural habitats.
.
Explore the Medina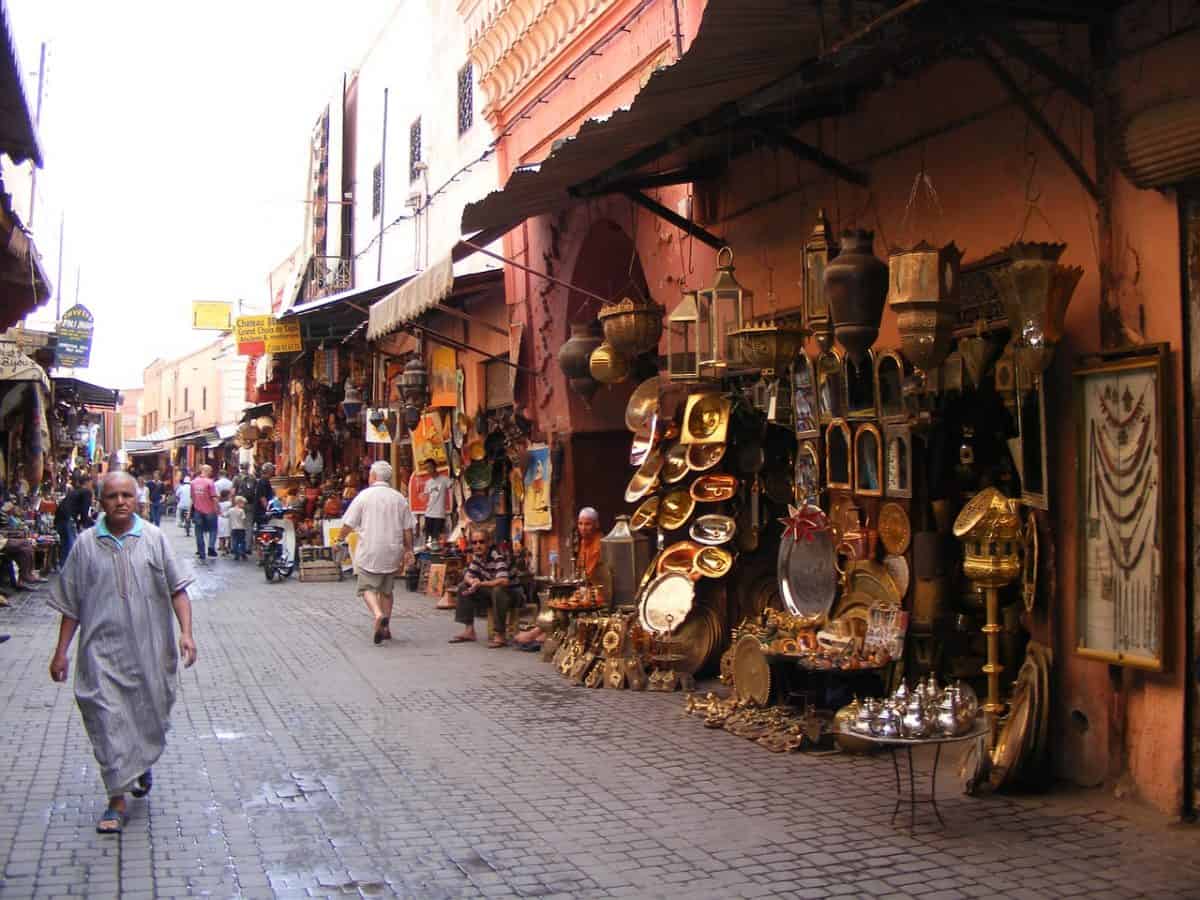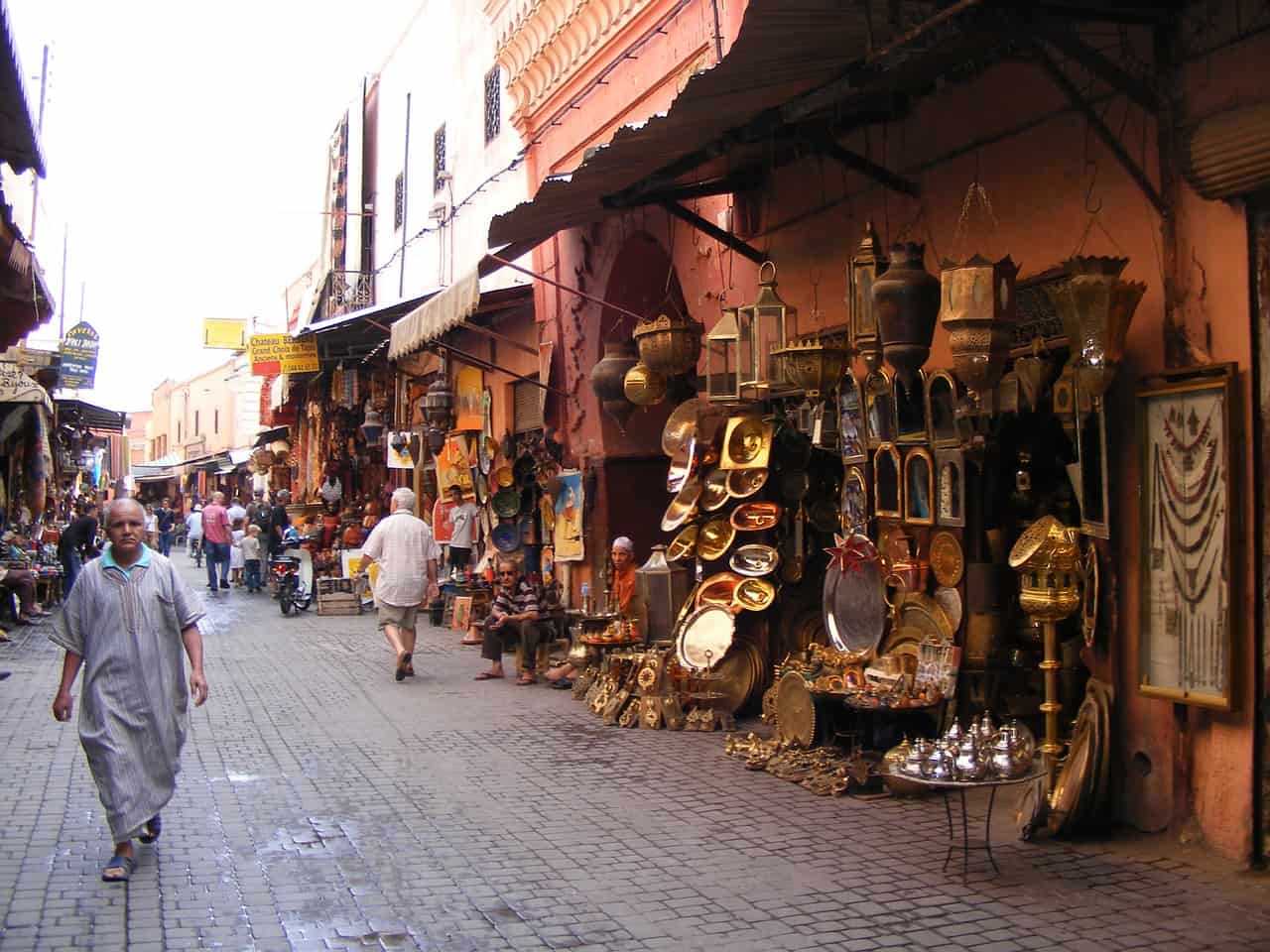 This walled area of the city is the oldest and most historic parts to explore during your trip to Marrakech. It's easy to get lost in the winding streets but the area is bustling and alive with an array of sights and smells. Browse the markets and soak up the vibrant atmosphere.
– Travel Scam Alert – Whilst wandering the medina, you will undoubtedly be asked if you need help with directions or to be taken somewhere. In almost all cases, these men will say they just want to help and do not require payment. However, once you have accepted their offer of 'help' you will be led in circles through the chaotic winding streets, be forced to stop in their friends shops and encouraged to buy whatever they are selling. As you wise up to this and attempt to leave your helper, there will be a sob story and a request for money, and it will be hard to get away without paying. Avoid putting yourself in this situation by politely declining any offers to 'help'.
.
Enjoy the Menara Gardens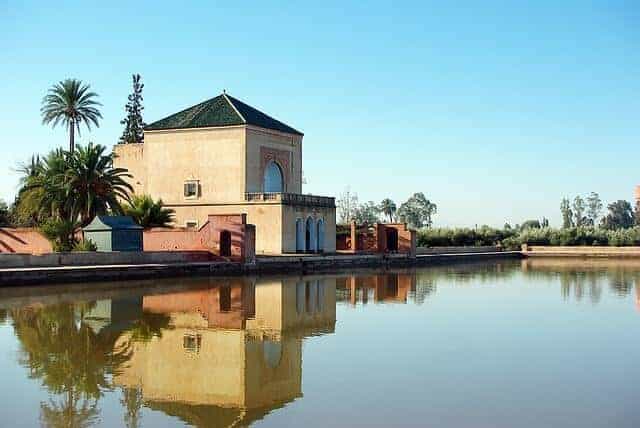 If you are not 'gardened' out after the Marjorelle Gardens or Agdal Gardens, the Menara Pavillion is a great spot for a quick visit and makes for a great photo opportunity. Located to the West of Marrakech and with views of the Atlas Mountains, these gardens are a UNESCO World Heritage site and are open daily from 8am – 5pm, and entrance is free. The view pictured above is the star of the show however, so if you are not inspired, it may be best to skip it and focus on the other two gardens.
.
Explore Bahia Palace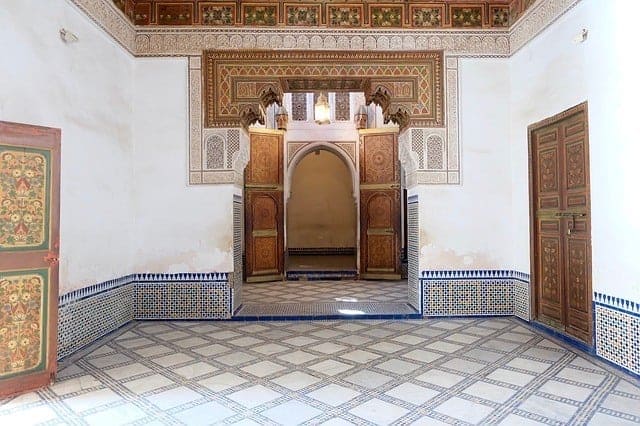 The stunning Bahia Palace is set in 8,000 m² gardens, with several rooms which open onto beautiful courtyards. It was built in the late 19th century and intended to be the greatest palace of its time and was built to reflect Moroccan style and influence. As such the name 'Bahia' means "brilliance."
Today it is a vacant building (when the last occupant died, his wives and the sultan removed all the furniture and artwork) but it remains as stunning as when it was a residence and is consistently one of the most popular tourist attractions in Morocco. It is open between 9am-5pm daily (although times may vary on Friday) and entry costs 10DH.
.
Visit the Saadian Tombs
For the history lovers among you, the Saadian Tombs are a must visit when in Marrakech.
The Saadian dynasty sultan Ahmad al-Mansur built lavish mausoleums with imported Italian marble and gold, zellige tilework, and intricatly carved woodwork which were abandoned for centuries, and only rediscovered in 1917 via aerial photography. Today it has been beutifully renovated and is a easily one of the most popular historical sites and things to see in Marrakech.
The Saadian Tombs are open daily between 9am – 4.45pm and have a 10DH entrance fee; and are located next to the Koutoubia Mosque just outside the medina on Rue de la Kasbah.
.
Stay in a Riad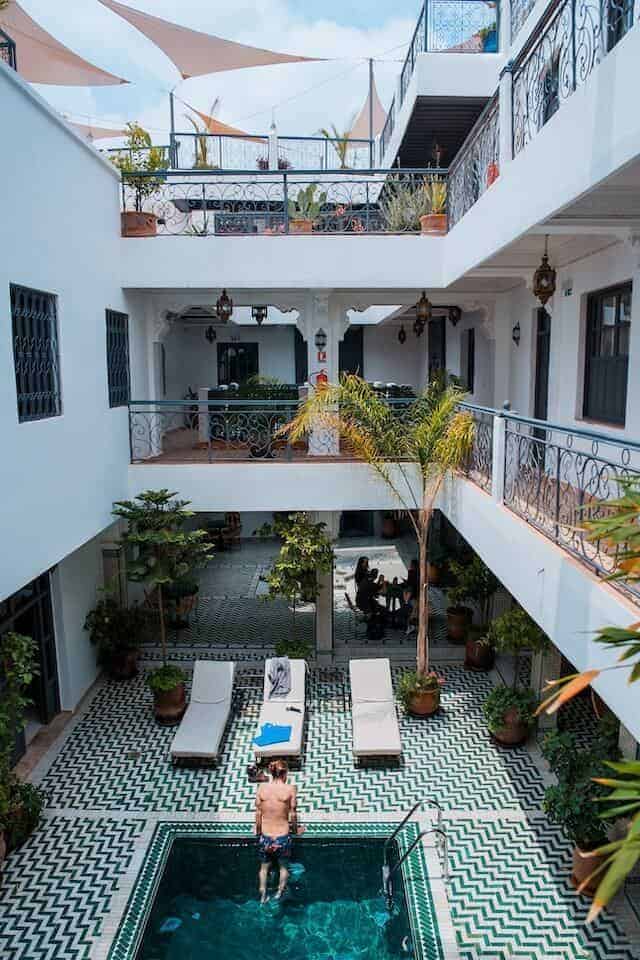 A unique type of guesthouse in Marrakech Morocco, a stay at a Riad is the number one way to experience this authentic city. Located in the medina and originally built for multi-generational families, find the right Riad to stay in and you can look forward to a life of luxury with rooftop gardens, plunge pools and the most spectacular views. Book the exact Riad pictured above here or click here to be inspired by more beautiful hotels in Marrakech (both in the Medina and outside!).

.
Ben Youssef Madrasa
The Ben Youssef Madrasa was the largest Islamic college in Morocco during its height in the 14th Century and today is an important Islamic historical site. A beautiful example of Moroccan architecture, the college was once home to over 900 students who lived in 130 dorms arranged around the central courtyard.
NOTE: The Ben Youssef Madrasa is currently closed for renovation and is expected to reopen in late 2019. However very much still deserves to be listed in our guide to the top things to do in Marrakech.
.
Visit El Badi Palace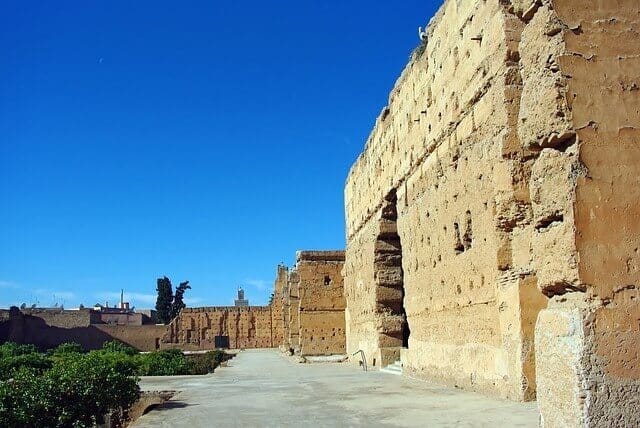 Palaces are commonplace across Marrakech, many of which are essentially Riads. However, if it's a historical landmark you are after, we recommend a visit to El Badi Palace. Dating from the 16th century it was originally built for sultans and features exquisite carvings and paintings by skilled craftsmen.
.
Watch the sunset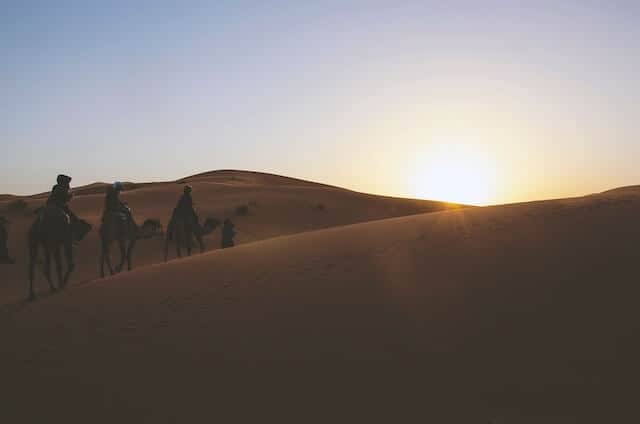 Known as the red city, for its vibrant buildings, it is without a doubt that Marrakech is best experienced at sunset. Wherever you are, whether it be overlooking the Medina at a rooftop café, in a paradise garden, out in the desert or admiring the architectural beauty of a Mosque, it will be easy to lose yourself in this unique moment.
.
Don't Visit the Tanneries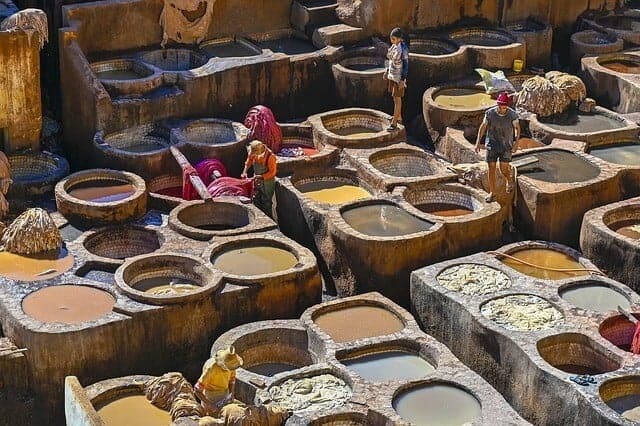 No list of things to do in Marrakech would be complete without a mention of the Tanneries. However, it is more often than not somthing that visitors are told to avoid due to the fact it is at the centre of one of the most long running & established scams in Morocco.
– Tannery Scam Alert – It starts with a 'helpful' man in the Medina telling you not to walk down a particular laneway, as there is nothing there. He will direct you another way to something more interesting. As you are heading in the given direction, another many will direct you to something even more interesting – and so on until you end up at the (pretty foul smelling) tanneries where the demands for money will start or you will be passed onto a 'free tannery tour' guide – who is anything but free. Victims have reported being forced to pay for the guide or heavily pressured into buying products from the leather shop the tour ends in.
For this reason, we would recommend pre-arranging a local guide if you really want to visit, but for the majority of visitors, the stress caused through the various scams is enough to put it on the 'avoid in Marrakech' list.
Visiting Marrakech for the first time? Here are some FAQs (and their answers!)
Visiting Morocco: Safety, The Best Time To Visit + How Long To Say
Is Marrakech safe? Is Morocco safe?
The political climate in recent years alongside terror concerns and heightened tensions on a global scale, mean that (unfortunately) sentiments around 'Is Morocco safe' have become the most searched question on the web when it comes to considering travel in the country. But it should not be a concern as for the most part, it is a very safe place. Visitors should of course take the same precautions as you would visiting any country in the world, watch out for pick-pockets (present in any major European city) and be prepared for a little 'hassle' from the hustle and bustle of a city where people are just trying to make a living. Be prepared to haggle in the bazaars, and do a quick goggle search for any current scams in Marrakech being reported.
Is Marrakech Safe for Solo Female Travelers?
On the whole, yes. But as above, solo women should take the same precautions they would in any city. In addition we would recommend not walking alone at night, getting drunk around/with people you don't know or trust implicitly; and regularly check in with friends and family.
When is the best time to visit Marrakech?


The best times to visit Marrakech are from March to May and between September and November. These months are the shoulder seasons which are known for their desirable weather (with average daytime temps in the 20s-30s (ºC) or 70s – 90s ºF) and affordable hotel rates. Also remember to keep Ramadan and Eid in mind when planning your trip. These are major Muslim holidays within the year and will affect businesses and attractions in the city throughout the holy month.

How long should you stay in Marrakech?
It all depends on your needs and interests – but we would recommend 3 or 4 days to enjoy the city, with a couple more days added on if you plan on taking any of our recommended day trips from Marrakech.
Day to Day Morocco Travel Tips
What language is spoken in Marrakech/Morocco?
Moroccans speak a mixture of Arabic, Berber, English, and French. And whilst you will be fine with English in most of the larger cities, you may need a translator if you are intending to explore some more rural parts of the country.
– Basic Arabic
Hello: Marhaba
Yes: na'am
No: la
OK: hasanan
Thank You: shokran
What should you wear in Marrakech/Morocco?
Morocco is a Muslim country and as such ladies need to dress appropriately (covered knees, shoulders and cleavage at a minimum) – and ladies even when you do, don't expect not to get a whole heap of attention; it's just the way it is. Try and ignore it, keep walking and don't make eye contact. Unfortunately it is just a way a lot of men pass the time.
Can you drink the water in Marrakech/Morocco?
No, we do not recommend drinking the tap water in Morocco, but if you must, please use a filtration device/steripen to sterilise the water to avoid getting sick. The alternative (and relatively easier) option is to purchase bottled water during your stay.
Can you drink alcohol in Marrakech?
Whilst Morocco is by no way a dry country, drinking alcohol is prohibited in the Muslim religion. But it is available, you just need to know where to look. The Carrefour supermarket has a license to sell alcohol, as do many hotels, resorts and restaurants outside of the Medina. However, be aware that it is not cheap.
Money Matters: Currency & Credit Cards in Marrakech
What is the currency in Marrakech/Morocco?
Morocco uses the Moroccan

Dirham (MAD) and it is a closed currency. This just means that you can only get local currency in the country – whether via an ATM withdrawal or currency exchange. You will also need to convert any leftover cash back before leaving the country (and at usually less than favorable rates) so try and get out only what you need.

Credit Cards, ATMs or Currency Exchange?
Cash is king in Morocco and whilst most larger hotels, riads and tour companies do accept credit card payments – restaurants, shops, cabs, etc will not and is best to have correct change and/or small notes where possible. ATMs are available at the airport and in the medina, however if you are wanting to exchange money, we recommend doing so on arrival at the airport to ensure you have local currency to hand straight away.
We hope that our guide has inspired you to get your trip to the magical city that is Marrakech Morocco booked and in your diary! We also love hearing from our readers, so be sure to comment below and tell us your favorite things to do in Marrakech.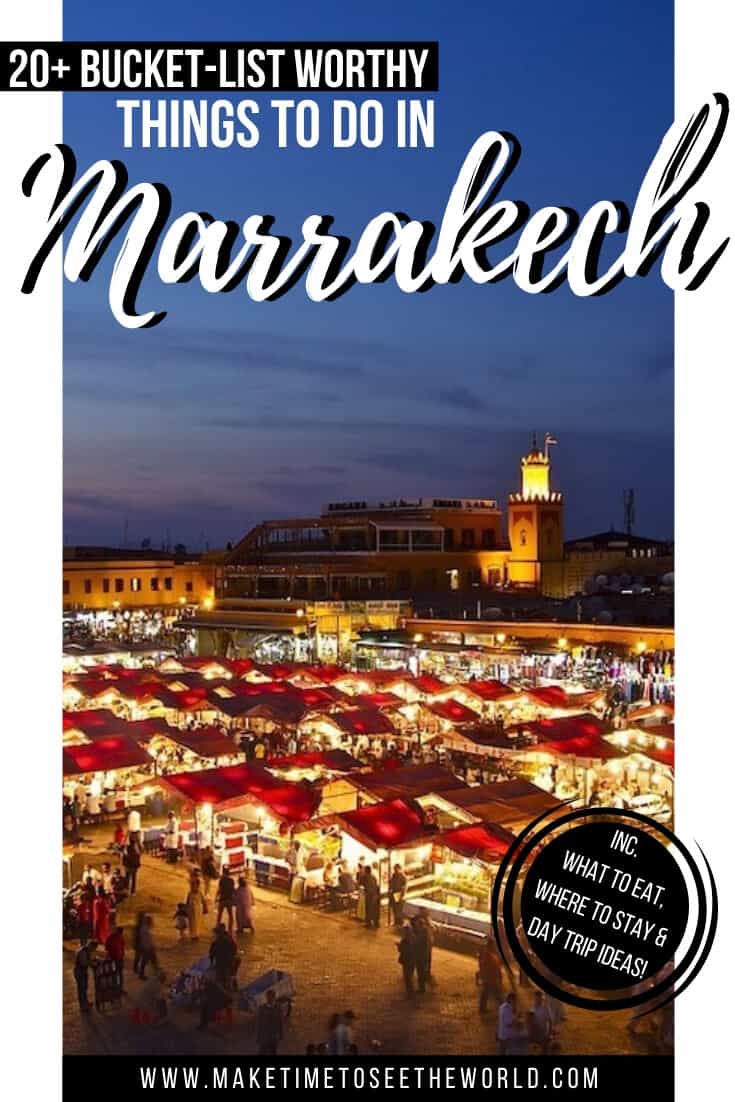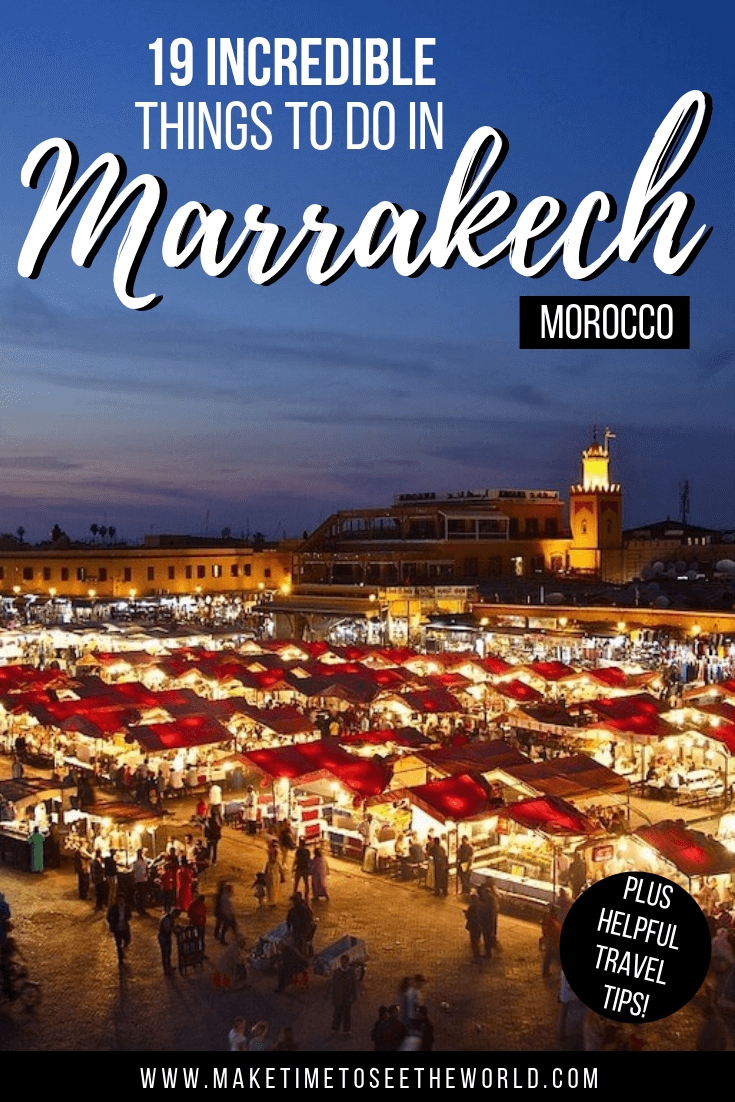 READY MORE TRAVEL INSPIRATION? YOU MIGHT BE INTERESTED IN THESE TRAVEL TIPS, TRAVEL ARTICLES, DESTINATION GUIDES AND RELATED POSTS:
Hi There! Thanks for reading our travel guide about 19 INCREDIBLE Things to do in Marrakech (+ Travel Tips & FAQs)! I just wanted to let you know that this post contains affiliate links, which means if you purchase something after clicking a link, I may get a small commission – which is at absolutely no cost to you. If you enjoyed this article and are going to be searching for some of the things I mention anyway, I would love it if you could click through from the links above & thank you in advance! Read my full Disclosure here.
And a huge Thank You for reading the MakeTimeToSeeTheWorld travel blog.