If you are ready for an adventure or to just take a few days chilling and recharging your batteries, Morocco is one of those destinations that has it all!
From trekking in the wild Moroccan desert, surfing at beautiful beaches and hiking the Atlas Mountains surrounded by stunning landscapes, not to mention markets, spas and all the food!
And all this in the same country and in a few days – what more could you want in a destination? Also, you can travel to Morocco at any time of the year. So, think about that when it's all rainy and grey where you live!
Curious? Here are 15 of the Best Places to visit in Morocco PLUS some super helpful Morocco travel tips to get you prepared for your visit!
And if that's not enough, we've got 17 INCREDIBLE day trips from Marrakech to help you explore more!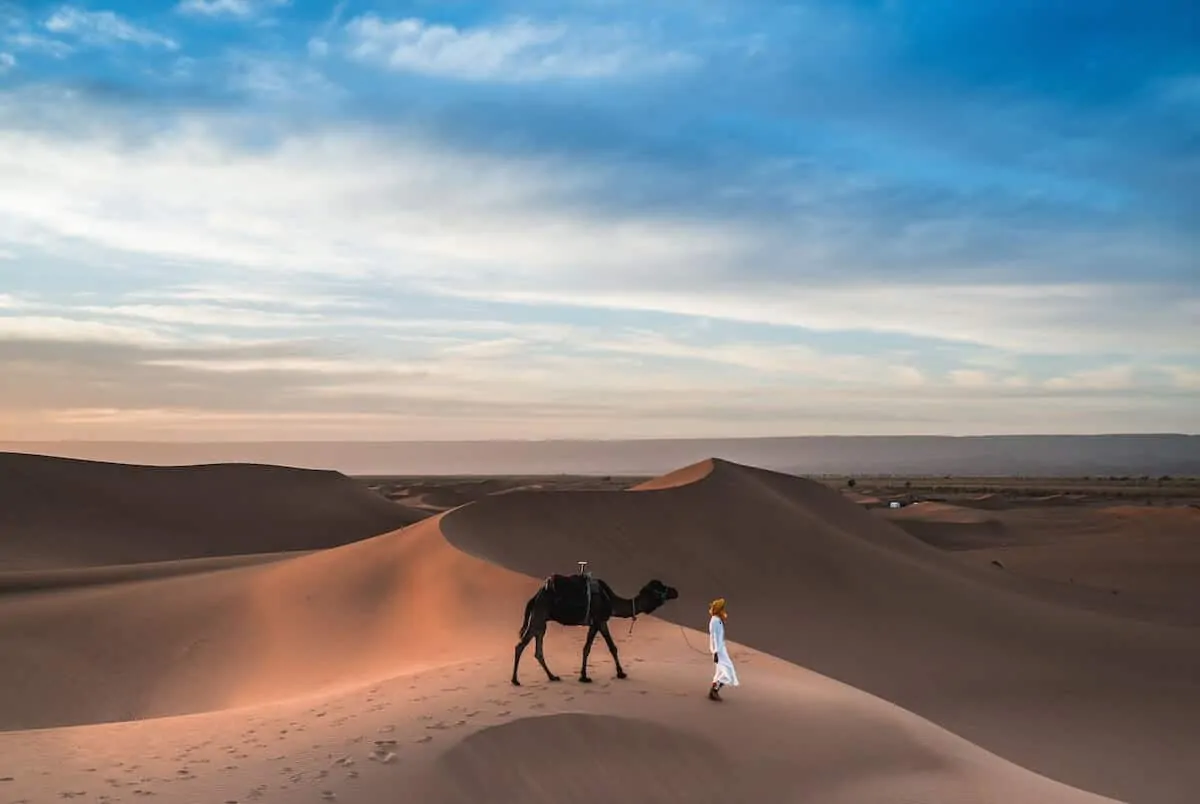 Disclaimer: Almost all posts on this site contain Affiliate links, and this one is no different. This means that if you click on any of the links in this post (and make a purchase) I may receive a small commission at absolutely no cost to you. Each post is carefully crafted to (hopefully!) answer all your questions and recommendations are made where we believe they will improve your trip and help with your planning. As such we thank you in advance should you decide to click & buy. Read my full Disclosure here.
This is a Guest Post by Safa of Moroccan Zest
The Top Things to Do & Best Places to Visit in Morocco
Go Trekking in the Moroccan Desert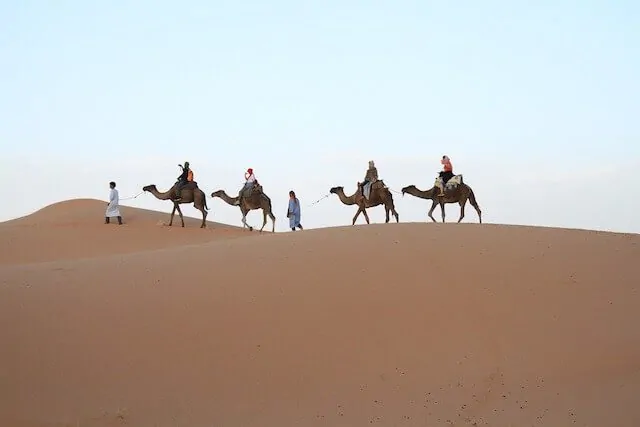 Imagine getting lost in the middle of the desert, crossing gigantic dunes by camel or a 4×4 car, and spending romantic nights by the fire under the stars. Perfect to recharge your batteries, right?
If you travel to Morocco, make sure you visit one of its spectacular desert spots, Including the Moroccan Sahara Desert, oasis of Skour and Dadès Valley or Ouarzazate.
Besides the incredible landscapes (did you know that Game of Thrones had been partially shot in a Moroccan desert village?), some places also offer a great immersion in Morocco history and culture.
Hike the Atlas Mountains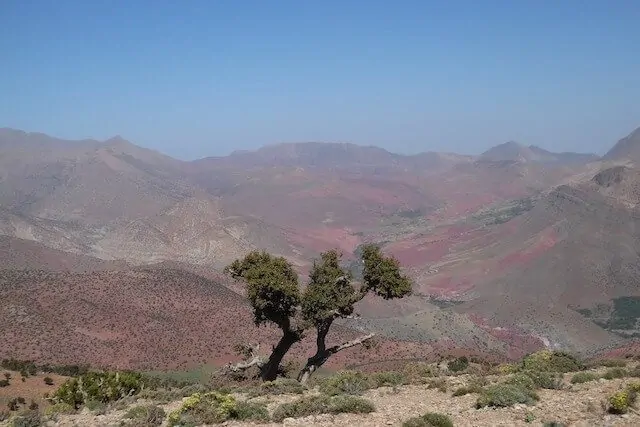 The Atlas Mountains are a series of mountain ranges including the Mount Toubkal, North Africa's highest peak, which rises to more than 4000 meters.
Hiking the Atlas Mountains in Morocco is possible all year long, the best seasons are fall and spring as the mountains get colorful with beautiful views from the top. The Atlas Mountains also make for a great day trip from Marrakesh.
Ski during the Winter
Most people think Morocco is hot all year long, which is not true. Some Moroccan cities close to the Mountains get snowy during the winter. Perfect for skiing and chilling in luxurious resorts like the Oukaimeden and Michelifen resorts.
Relax on the Moroccan Coast
If you love beaches, you will be thrilled in Morocco with numerous gorgeous beaches on the Mediterranean and Atlantic coast.
You can either relax, sunbathe or surf, and there are plenty of beach hotels to choose from along the coast if you just want a few days of beachside relaxation.
Eat Delicious Moroccan Cuisine
Eating is definitely one of the best things to do in Morocco. Traditional Moroccan dishes are very tasty and satisfy even the fussiest of eaters.
The selection of dishes available is practically limitless, so you won't get bored and will spend all your trips exploring new recipes. Morocco's most known and loved dishes are the Moroccan tagine and the Moroccan couscous.
Learn About Moroccan Culture and History
Morocco's history has crossed many cultures like the Phoenician, Roman, Arabic and European civilizations. This impacted Moroccan architecture and can still be seen in many beautiful monuments and historical sites across the country.
Important spots include the ancient ruins of El Badi Palace and the beauty of El Bahia Palace in Marrakech, the Mohammed V Mausoleum in Rabat, the Berber mountain kasbah of Ait Benhaddou in Ouarzazate or the ancient Roman ruins of Volubilis (also a UNESCO World Heritage Site) and many of the countries mosques.
However, please be aware that apart from the Hassan II Mosque in Casablanca, most mosques in Morocco are not open to non-Muslims.
.
Get Lost in one of Morocco's Stunning National Parks
There are 11 National Parks in Morocco which are perfect escape from the hustle and bustle of Morocco's busy cities.
In the Atlas Mountains, there is Toubkal National Park and Ifrane National Park; in the South, there is Dakhla National Park; Souss-Massa National Park near Agadir is famous for its bird-life and Khenifiss National Park features the biggest lagoon situated on Moroccos Coast Line.
Explore the Famous Blue City of Chefchaouen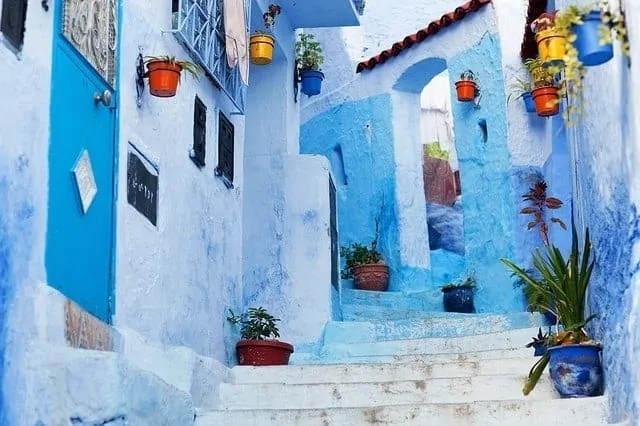 If you have looked up Morocco on Instagram I can guarantee that you have seen some beautiful images of this painted blue city and whose colour makes it one of the most interesting cities to visit.
Founded in 1471 in the Rif mountains (northwest of Marrakesh) by the Jews and Moors fleeing Spain, there are a few stories about why the city is blue (that it was pained by the Jews escaping Hitler; that it is the colour of the sea; or, it is blue to keep away the mosquitos).
But regardless, it has served the city well and it is now one of the most popular places to visit in Morocco.
Get A Beautiful Henna Tattoos
Henna tattoos are part of Morocco's culture. For locals, they are associated with happy celebrations (for instance, all Moroccan brides have a Henna tattoo on their wedding day).
If you visit Morocco, you can ask for a Henna tattoo and chose from traditional designs or modern ones, either in your hands, legs, arms, shoulders, back or neck.
Stay in Gorgeous Riads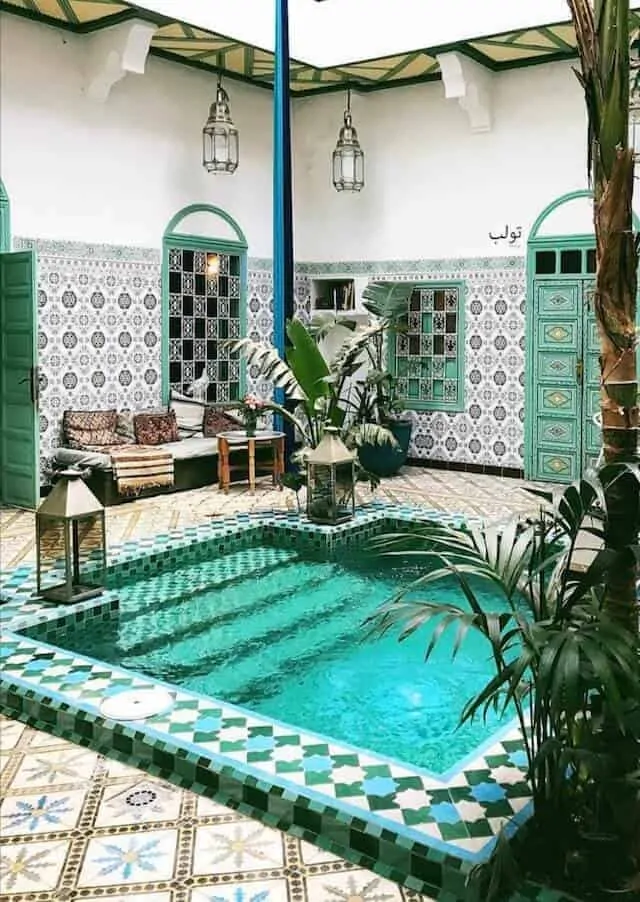 In historical cities like Marrakech and Fez, some old houses date from many centuries and are, luckily, still well preserved.
Many of them became guesthouses offering visitors an authentic immersion in Morocco's history. They can get booked very quickly so don't forget to make reservations at least a few weeks before your trip.
Wander the Medina of Marrakesh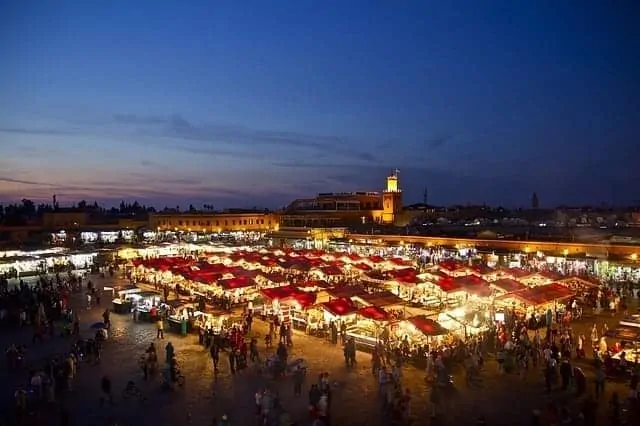 Marrakesh is often the first stop for visitors to Morocco – and for good reason! The medina (full title: Jeema el fna) is the original city, surrounded by tall city walls and filled with narrow winding streets. Practically every visitor gets a little lost – but that is OK, it's all part of the adventure!
There is also a range of things to do in and around the old city including shopping in the souk, dining at the open-air market in the square, watching the sunset behind the Koutoubia Mosque from a rooftop bar, escaping the heat in the Jardin Majorelle or exploring the ruins of El Badi Palace (to name a few!)
Meet Moroccan People
In Morocco, it is very common to get invited by a Moroccan you just met to share a traditional mint tea with some Moroccan pastries.
That's Moroccan people's hospitality. Moroccans are happy and warm people that will give you tips and tricks and do anything to make your trip unforgettable. This is just one of the reasons you should visit Morocco!
Shop for Moroccan Handicrafts
If you love shopping, you will really enjoy visiting Morocco, especially if you visit historical Moroccan cities.
Within their souks and infinite streets of shops, visitors can spend hours exploring Moroccan traditional handicrafts such as leather shoes, handbags, decorated wood stools, and rugs.
All made with high-end material like genuine leather, silk and juniper wood. Just make sure you are prepared to haggle! (See below!)
Top Morocco Travel Tips: What To Know Before You Go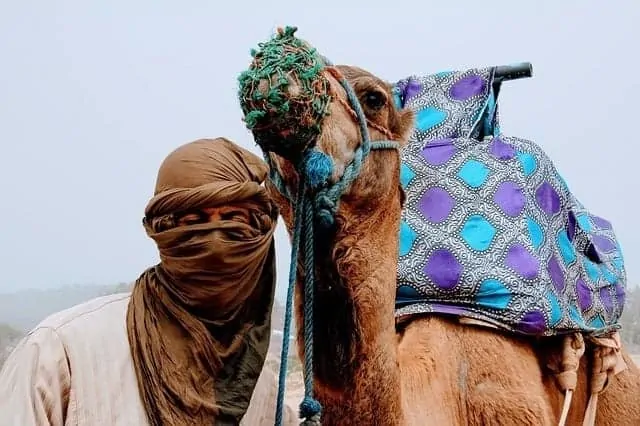 It's a pretty big place: unless you have oodles of time on your hands, try to pick just a couple of places to visit and experiences to have on each trip (and try and make them relatively close together to avoid excessive travel.
Morocco has a closed currency: This just means that you can only get local currency in the country – whether via an ATM withdrawal or currency exchange. You will also need to convert any leftover cashback before leaving the country (and at usually less than favorable rates) so try and get out only what you need.
Cash is King: whilst most larger hotels, riads, and tour companies do accept credit card payments – restaurants, shops, cabs, etc will not and is best to have correct change and/or small notes where possible (you'd be surprised how many people may not have the correct change…)
Love shopping? Be Prepared to Haggle: As we mentioned above you can get some absolutely gorgeous pieces/handicrafts/trinkets but your gonna have to have your wits about you to get a good price. And by that we mean the best price for both parties – haggling isn't about insulting people or bartering folks down to the breadline, but a way of arriving at a price you are both happy with. Vendors will start high, buyers should start low(ish), and hopefully, you'll meet in the middle.
Be aware of scams in big cities: Morocco is totally safe, but there are always people out there (and that goes for anywhere in the world) wanting to make a quick buck off you.
– Be wary of those who are over-friendly or anyone offering free things/directions (these are practically never free)
– Do some research online and ask in your hotel/raid what things should cost (especially when it comes to tours); and
– Don't be afraid to politely decline and walk away if you don't feel comfortable.
Morocco is a Muslim Country:
– This means ladies need to dress appropriately (covered knees, shoulders and cleavage at a minimum) – and ladies even when you do, don't expect to get a whole heap of attention; it's just the way it is. Try and ignore it, keep walking and don't make eye contact. Unfortunately, it is just away a lot of men pass the time.
– Mosques are places of worship, not tourist attractions. Unlike other predominantly Muslim nations where tourists are permitted to enter mosques, in Morocco, they are closed to non-Muslims and women alike.
– Weekends are Saturday and Sunday – and not the typical Fri/Sat affair that is often observed in Muslim countries. Fridays are still the main prayer day, however, with lots of businesses taking an extra-long lunch or closing early on Fridays, although the tourist areas remain mostly open – just be sure not to have Friday as your designated shopping day!
Health/Hygiene Tips: Bring your own toilet paper/tissues as not every bathroom is stocked western style. (Travel-sized tissue packs are perfect for this) and Bring some Imodium – the food is delicious, but even the strongest stomachs may take a couple of days to adapt.
Learn a Bit of the Local Lingo: Moroccans speak a mixture of Arabic, Berber, English, and French. And whilst you will be fine with English in most of the larger cities, you may need a translator if you are intending to explore some more rural parts of the country.
– Basic Arabic
Hello: Marhaba
Yes: na'am
No: la
OK: hasanan
Thank You: shokran
Ask Before Taking Photos – and you may have to pay: You are going to see some incredible sights and meet lots of interesting people, but before taking photos of them please ask. And in some instances, you may be asked to pay a small sum.
So there you have it – hopefully, this guide to the best places to visit in Morocco and Morocco travel tips has helped with planning your trip and to make sure you get the most from your visit. Don't forget to let me know your own highlights once you're back! Or if I have missed your favorite spot in Morocco, let me know in the comments below.

Oh, and if you liked this post please share on Facebook, tweet or pin – I'd really appreciate it! Click the P in the share bar for full-size images.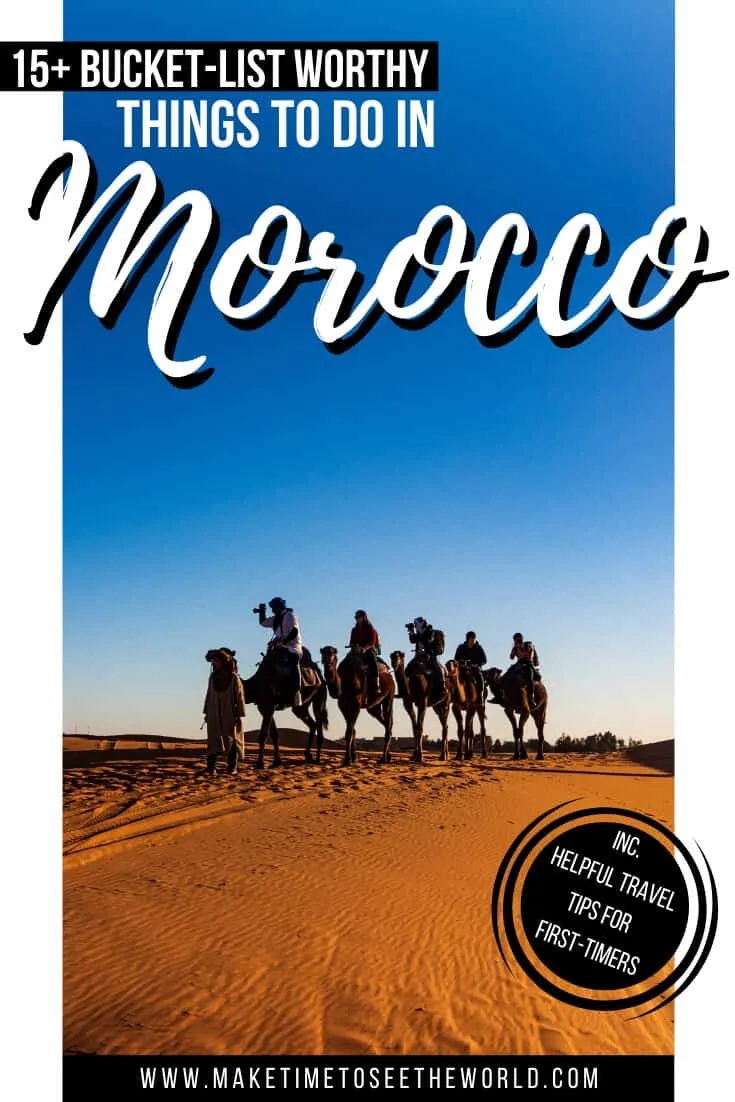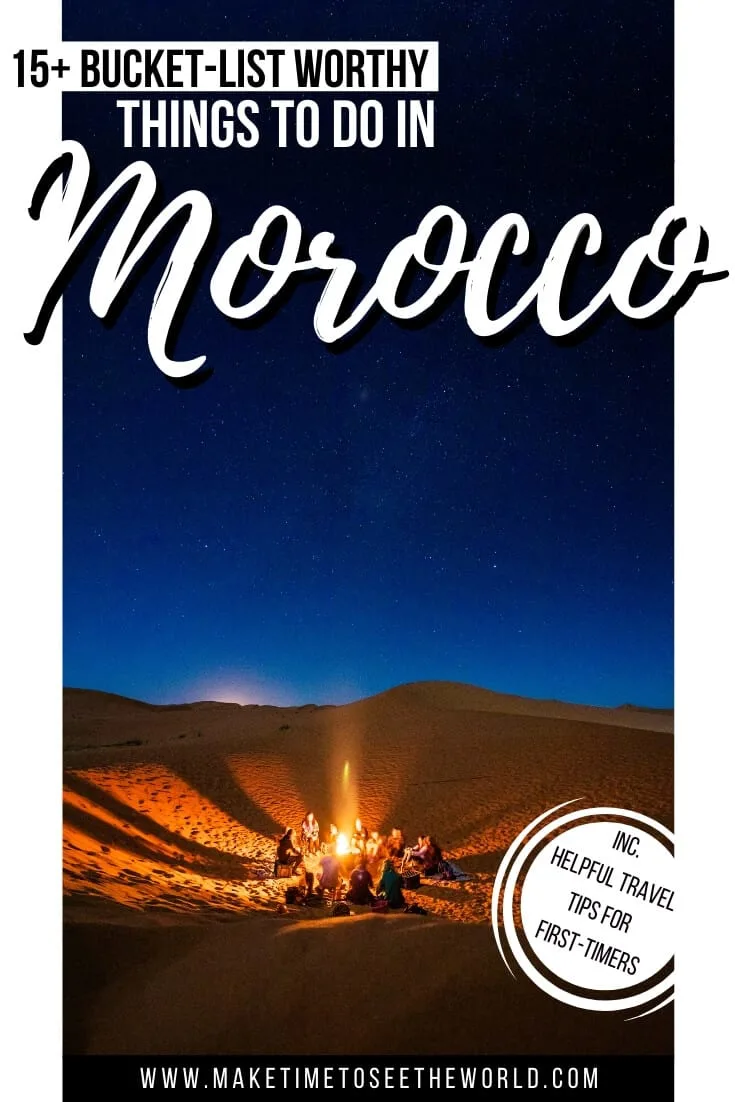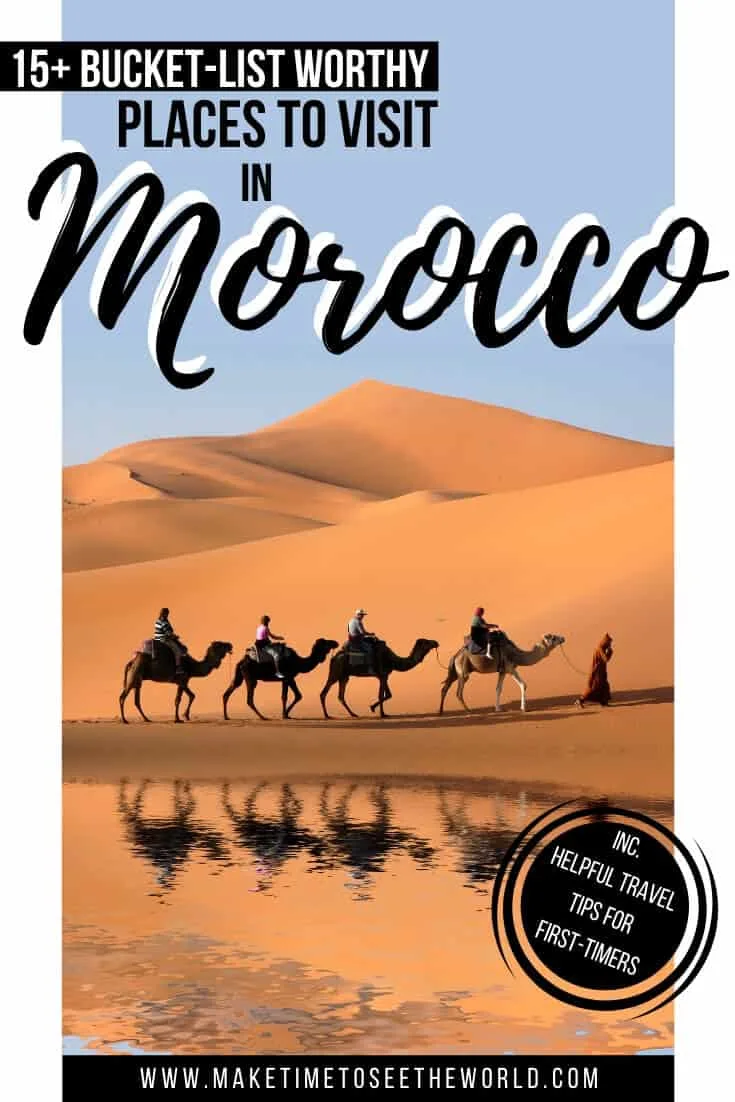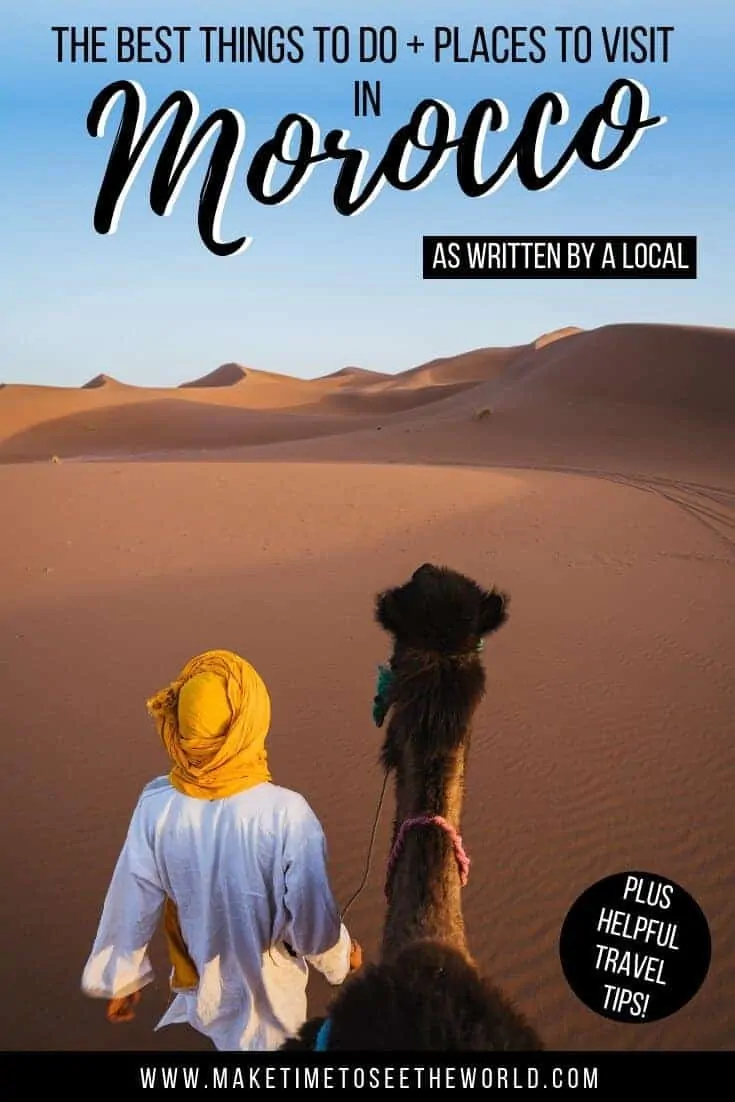 READY TO EXPLORE MORE OF AFRICA & BEYOND? YOU MIGHT BE INTERESTED IN THESE ARTICLES
Hi There! Thanks for reading our travel guide to the Top Things to Do and Best Places to Visit in Morocco (+ Helpful Morocco Travel Tips)! I just wanted to let you know that this post contains affiliate links, which means if you purchase something after clicking a link, I may get a small commission – which is at absolutely no cost to you. If you enjoyed this article and are going to be searching for some of the things I mention anyway, I would love it if you could click through from the links above & thank you in advance! Read my full Disclosure here. Thank you for reading the MakeTimeToSeeTheWorld travel blog.