I recently had the pleasure of visiting the Solomon Islands for the first time, and I sincerely hope that it will not be the last. This fascinating island nation remains one of the few places in the world that are off the beaten path and in welcoming less than 25,000 visitors per year, the authenticity – which is often erased with the arrival of mass tourism – shines through everywhere you go and through all the people of Solomon Islands that you meet.
There are 992 Islands within the country, with only 6 of these large enough to hold larger hubs of people, with the rest living a relatively simply life on smaller, isolated islands in family and community groups with close relatives. It is here where traditional Kastoms are expressed in song, dance and music; and it is these songs that tell the stories of the islanders' ancestors and their preservation ensures that culture can be shared with the world.
I intend to write more about the Solomon Islands, but first, a few introductory facts to pique your interest followed by a few images of the people of the Solomon Islands from my adventure cruise around the Russell and Florida Islands (read the full review here).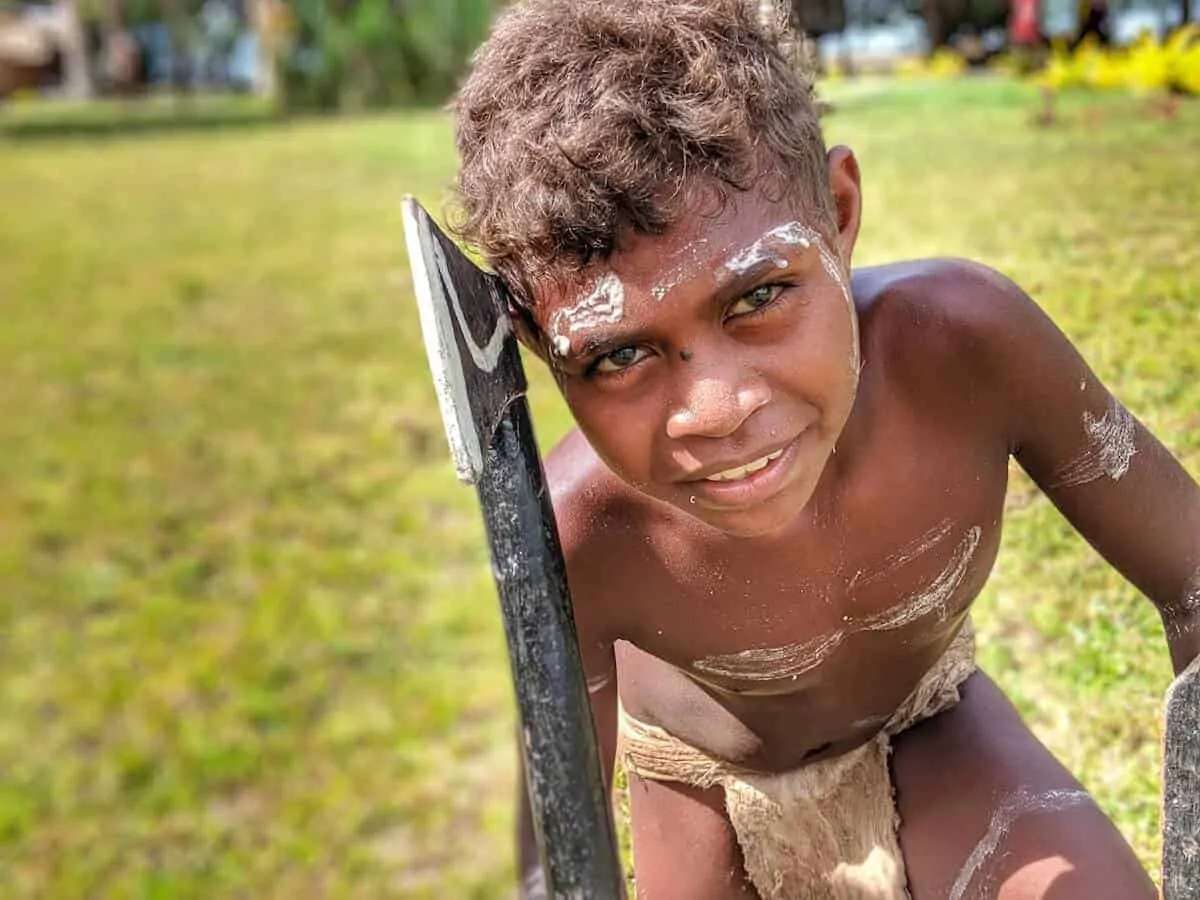 Disclaimer: I visited the Solomon Islands as a guest of Solomon Islands Tourism, Solomon Airlines and Solomon Islands Discovery Cruises, although as always, all incredible experiences I had, photographs taken and amazing moments were entirely my own.
Where Are The Solomon Islands?
On the Continent of Oceania, and the heart of the South Pacific, the Solomon Islands lie to the east of Papua New Guinea, northwest of Vanuatu and a short 2.5 hour flight from Brisbane, Australia. There are 992 islands, 6 large islands and the rest small, and over 600 are entirely uninhabited. The total land area covers 28,400 square kilometres (11,000 sq mi).
Quick Solomon Islands Facts
Time in Solomon Islands: GMT+11
Solomon Islands Currency is Solomon Island Dollar whose approximate exchange rate is as follows: $10 SBD = $1 USD or $1.50 AUD or £1 GBP. Solomon Island Dollars can be withdrawn from ATMs at a few locations in Honiara and credit cards are accepted at most hotels. Check the latest exchange rate here.
Capital of Solomon Islands: The Solomon Islands capital city is Honiara
Solomon Islands Population: In 2018 the population was recorded as 628,913, of which approximately 60,000 live in the capital city on Honiara. Other 'large' cities include Auki, Gizo and Tualgi, but not have a population higher than 7,000. The majority of people live on one of 300+ smaller islands in rural villages, with over 600 remaining uninhabited.
Official Language: The official language of the Solomon Islands is English, however less than 2% of the country speak it. The lingua franca (and what most people speak) is Pijin/Pidgin (an English based Creole) but there are also 60-70 local languages spoken throughout the country.
Food in the Solomon Islands: Solomon Islanders have a diet rich in fish alongside

sweet potatoes, rice, taro roots, cassava, taro leaves and many other vegetables

.
Work/Jobs in the Solomon Islands: 3 out of 4 indigenous people live in rural villages and make a living from sustenance farming often trading or bartering crops for services. It is also not uncommon in very rural places to find that shell money is still used.
Brief Solomon Islands History
The Solomon Islands are packed with rich history, and to visit is practically like stepping back in time. It is thought by some that ancient peoples may have arrived into parts of the Solomons from places far away as early as 25-30,000 BC, however islander stories – from various tribes – believe they originated from within the islands. However, what is known, through carbon dating, is that the earliest date of known human habitation has been put at 1300-1000BC following testing on remains that were found in a cave on Guadalcanal.
The first European to visit the islands was the Spanish navigator Álvaro de Mendaña de Neira, on a voyage from Peru in 1568. He named them The "Islands of Solomon", in the mistaken belief that this could be one of the locations in which King Solomon (the Israelite monarch) obtained gold for his temple in Jerusalem. He was followed by missionaries, traders and colonial administrators from Europe and Asia.

The United Kingdom declared a protectorate over the southern Solomons in response to the encroaching slave trade in June 1893; and in 1898 and 1899, more outlying islands were added to the protectorate. In 1900 the remainder of the archipelago, an area previously under German jurisdiction, was transferred to the British.
World War II had a significant and bloody impact on the Solomon Islands, and was a site of intense fighting during the Pacific War between January 1942 and 21 August 1945. (A result of which is the number of unique wreck dive sites throughout the islands). The battles were fought primarily between the Americans and the Japanese, who believed that because of it's proximity to Australia, The Solomon Islands were a key vantage point.
The capital, Honiara, was created with the remnants of the infrastructure of war and a rise in Nationalism following WWII resulted in the Islands gaining Independence from the British in 1978.
In 1998 tribal rivalries erupted in civil war and ethnic violence, which required the assistance of Australia, New Zealand and other Pacific Nations to negotiate peace. Assistance is still provided by those countries today but with a focus on sustainable development and community policing. Read more about the history of the Solomon here.
Solomon Islands Culture & People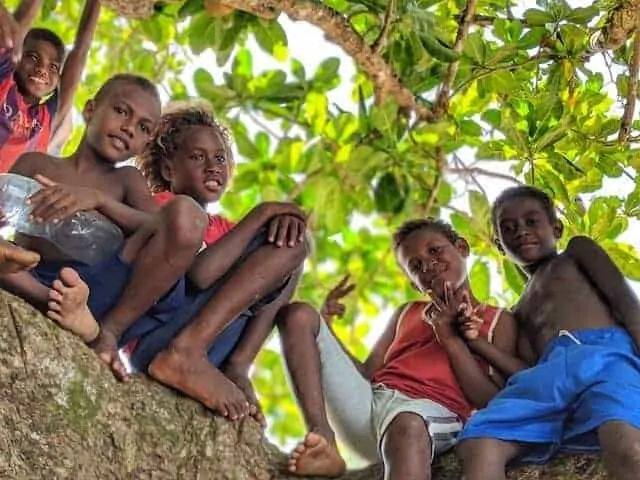 About 95% of Pacific Islanders from the Solomon Islands identify as Melanesian; with smaller communities of Polynesian, Micronesian, Chinese and European people.

Also included in Melanesia (translated from Greek as the 'black islands') are Papua New Guinea, Fiji and Vanuatu along with New Caledonia (which is a territory of France) and Western New Guinea (a region of Indonesia).

More than 90% of Solomon Island people identify as Christians (as a result of the work of missionaries).

There are a variety of different Kastoms and Cultural differences throughout the Solomon Islands, which are often influenced by family, kinship and clan ties.
Kastom is a Pijin term derived from 'custom'. Throughout the Solomon Islands, kastom represents the idea of culture or traditional ways of doing things and together with the Wantok system, is central to village life and the way the society is organised.
Wantok literally means 'one talk', describing the way villagers feel a duty to those who speak the same language and why kinship and clan ties are strong in the Solomons.
Portraits of the People of Solomon Islands
Their faces tell stories, their eyes shine and their smiles (although sometimes hesitant to share) are infectious. I hope that these images will encourage you to visit this incredible country. Not only to see it's natural beauty and incredible underwater world, but to also meet, speak to and learn about the amazing Solomon Island people, their beliefs, lifestyles, kastoms and cultures. It truly is one of the most amazing, undiscovered and unspoiled places on the planet.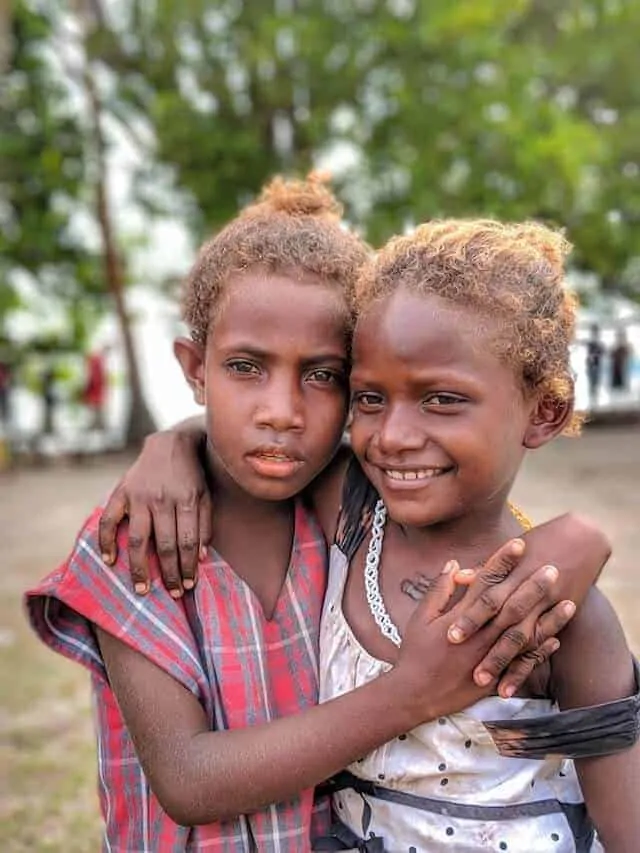 I hope in reading this article I have whet your appetite for more Solomon Islands content, and if you enjoyed the photography and portraits contained in this post I would really appreciate a share on Facebook, Twitter, Flipboard or Pinterest (each of the vertical images are pins in their own rights – just click the P in the sharebar and choose your favorite).
READY TO EXPLORE MORE OF AUSTRALIA AND THE SOUTH PACIFIC? YOU MIGHT BE INTERESTED IN THESE ARTICLES:
Hi There! Thanks for reading my post about The People of Solomon Islands with Portraits. I just wanted to let you know that every post on the site may contains affiliate links, which means if you purchase something after clicking a link, I may get a small commission – which is at absolutely no cost to you. If you enjoyed this article and are going to be searching for some of the things I mention anyway, I would love it if you could click through from the links above & thank you in advance! Read my full Disclosure here.