Undiscovered. Off the Beaten Path. Incredible: These are just a few of the words I have used across social media to attempt to describe one of the last truly authentic places on the planet, but even these don't seem to do justice to everything that makes the Solomon Islands the unique, unspoiled and captivating destination that it is. Perfect for a Solomon Islands Holiday.

I recently had the pleasure of taking my first (and hopefully not the last) trip to the Solomon Islands when I was invited onboard the MV Taka for the newly launched Solomon Islands Discovery Cruise. An innovative tourism product that aims to increase sustainable tourism in the country and bridge the gap between the established scuba-loving crowd and the increasing number of Eco-tourists.
It seamlessly blends island hopping between various remote and isolated islands with an insight into traditional Kastom Culture as part of a fun packed itinerary featuring water-sports, relaxation and beach BBQs (to name a few) – and all hosted by an incredible crew. It really is the perfect Solomon Islands holiday and I hope after reading this post you will be inclined to agree with me!
Solomon Island Discovery Cruise: The Perfect Solomon Islands Holiday!
Quick Facts:
The Solomon Islands is a short 3 hour flight from Brisbane (more Solomon Islands Facts here!)
The Cruise is 7 Nights, 8 Days
Passengers on the MV Taka are limited to 30 (with 12 Crew Members)
Accommodation is on a full board basis inc. tea, coffee and water (alcohol and soft drinks are available for purchase)
All tours, excursions and onboard/water-based activities (SUP, waterski, sea-biscuit, wake-board etc) are included
Selected Scuba Dives available (equipment can be rented on-board)
'Try Scuba' with qualified instructors available if you want to see what it's like (up to) 10m below the surface.
PLUS BBQs, Cocktail nights, Top Deck Hammocks, Nightly Stargazing, Possible Sunrise Yoga (crew dependent) + all the relaxation you can handle.
The MV Taka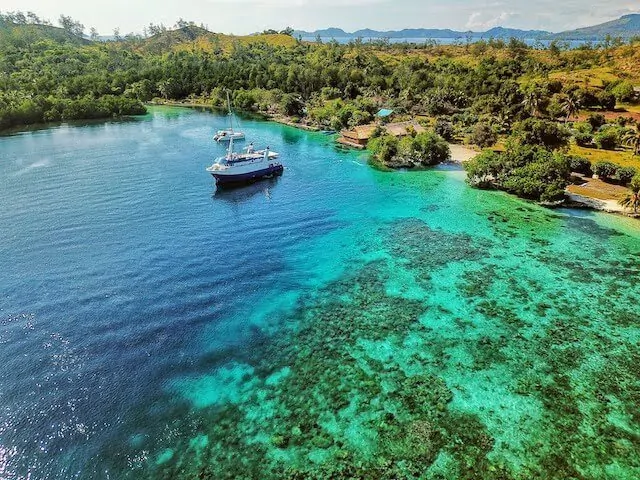 The MV Taka is one of only two liveaboard boats that sail the Solomon Islands, and up until now it has been used exclusively for Scuba diving packages and trips. And as a Dive Boat – for the uninitiated – it can never be described a luxurious in the conventional sense (like here and here), but is certainly comfortable, functional and has everything you need for an adventure cruise.
There are 4 passenger decks: on top a sun deck, complete with 4 hammocks at the bow; the upper deck is comprised of 6 en-suite guest rooms and an outdoor seating area; the main deck is split between the external wet/dive area with 5 bath/shower cubicles and the internal dry area which comprises the air-conditioned saloon with extensive seating and the kitchen/bar; the lower deck has 7 further guest rooms, the bathrooms for which are those located on the dive deck.
Accommodation
The 6 rooms on the upper deck sleep 2-3 people per room and have a double bed with a single bunk above. There is an en-suite bathroom in each with toilet, shower and sink (complete with readily available hot water) and each is fitted with an air conditioner unit which can be controlled as you see fit.
The 7 rooms on the lower deck are made up of 5 twin rooms and 2 quad rooms. All the beds are single bunks and none of the rooms are ensuite, instead making use of the bathroom cubicles on the dive deck. Rooms 9A/B and 10A/B are also particularly small and it is recommended that if selecting this room you travel with minimal luggage as it is only possible to open one suitcase in the floor space. These rooms are air-conditioned, but it is centrally controlled to maintain comfortable levels throughout the entire interior space (which can get a little chilly – I slept with 2 duvets on).
Dining on Board
All guests are welcomed on a full board basis. This means each day you will be served breakfast, lunch and dinner (and on quite a few days an afternoon snack too!) You can be absolutely sure that you will not be hungry. There are two chefs and two hostesses on board who freshly prepare a variety of dishes over the course of the week and who are happy to cater to dietary needs.
Breakfast typically consists of fresh fruit, cereals, bacon, eggs (cooked different ways) alongside baked-on-board breads and other cooked items. Lunch and dinner could be anything from pizza to curry, rice and/or noodle dishes to burgers and good old (locally caught) fish & chips; and then there is a different dessert each night! Almost all meals are served buffet style with a selection of vegetables.
The Bar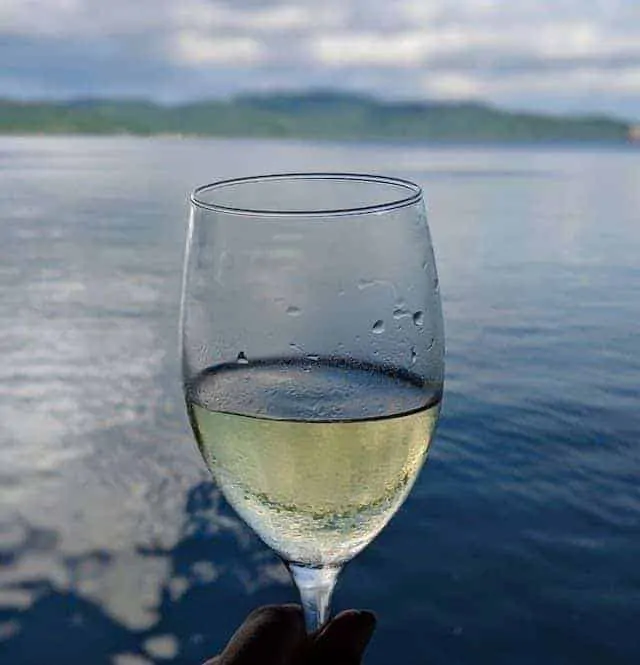 There is a small, but well stocked bar on board the MV Taka featuring a selection of local beers, international wines (white and red) alongside spirits, mixers and sodas. All prices are in US Dollars and can be settled on credit/debit cards at the end of your stay. Cans of beers and soda are $4 and $2 respectively, and (at the time of publication) wine is only available by the bottle with prices starting at $45USD. The high prices are a consequence of the wine both being imported and then gotten out onto the ship.
WiFi on Board the MV Taka
Is non-existent, and it is glorious. That is not to say that your own personal data roaming won't work, but seriously, one of the best things about this incredible country is that you can take a real digital detox. The ship does not have it's own Wifi (although dependent on where you sail you may have access to a hotspot for an hour or so) and although it is possible to get a local sim card at the airport (for free) – the cost to add even a tiny bit of data is quiet excessive and – in my opinion – not worth it.
Hop on board, turn your data roaming off, switch off the WiFi function (it'll just drain your battery) and enjoy the world around you. Digital detoxes are good for the soul – and the Solomon's are a beautiful place to go 'off the grid' in.
RELATED –
Although a Solomon Islands Discovery Cruise may be a little different to where you have cruised before, you'll still need most of the usual
cruise essentials
<- click to find out more!
.
Itinerary & Activities on Board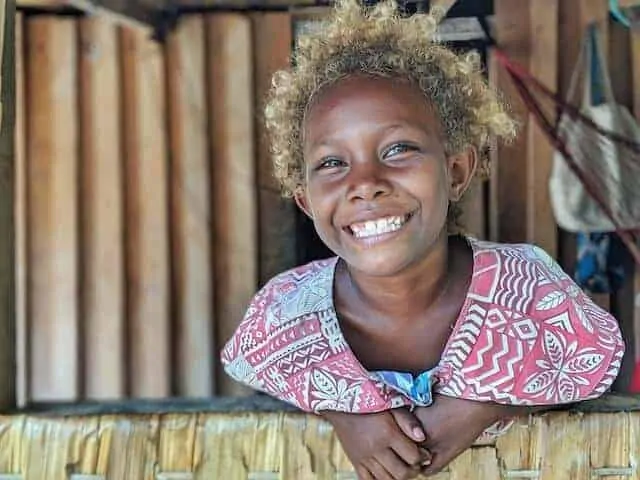 The itinerary is fantastic and it is the combination and variety of activities that make it the perfect Solomon Islands holiday. Whilst on board the MV Taka you will cruise through either the Central Province (one of 7 provinces in the Solomon's) and explore the beauty of the Russell and Florida Islands; or through the Western Province from Munda on the Island of New Georgia (which will require an internal flight to get to the departure point). You will visit remote villages to experience and learn about local Kastoms (a pidgin word derived from the English 'customs') and discover some of the WWII history which made the country a significant base during the conflict.
IN THE KNOW –
You will visit up to three villages whilst cruising the Solomon Islands, each will give you a tour of village when you'll learn about their schools, industries and day to day life and will likely be invited to attend a cultural performance of pan pipe music, dances and traditional songs that tell the stories of the village elders and ancestors. Take a look at my photo essay about the
Solomon Islands People
for a sneaky peek of what you'll see.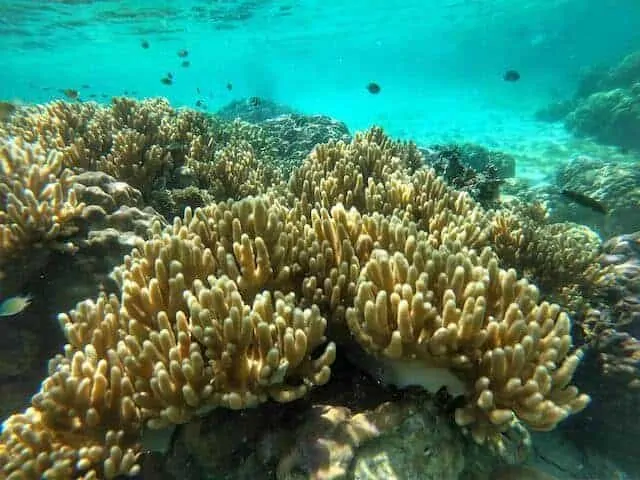 You will also have the opportunity to partake in several water based activities, from snorkeling to surfing, water-skiing to wake-boarding, as well as some Stand Up Paddle-boarding, sun bathing and day time sleeping (an afternoon nap after a morning in the water is often just what to doctor ordered!). Then there are beach BBQs and bonfires on remote island sandbanks as the sun goes down, and stargazing on the top deck (download the free StarTracker app for guidance!) under some of the clearest skies in the world – and all of these are included in the price of the cruise.
RELATED –
Don't head to the beach without packing some (or all!) of these
beach essentials
!
It was also be rude to visit the Solomon Islands and not experience some of the most amazing scuba diving sites you could ever hope to see. (Scuba dives and equipment are at an additional cost). From WWII wrecks to natural cuts, stunning hard and soft corals and with all the sea-life, it is honestly like swimming in an aquarium! The Solomon's are also the easternmost part of the so-called Coral Triangle, a region within Asia-Pacific that has the highest marine biodiversity in the world and you can expect to see dolphins, pilot whales, sharks and manta rays alongside hundreds of different types fish and one of the highest concentrations of anemone fish in the world (they are 'Nemo's' in case you were wondering!) If you dive at a site called Mirror Pond, you also have an opportunity to meet a crocodile who is known by the crew as Tracy. Don't say I didn't warn you!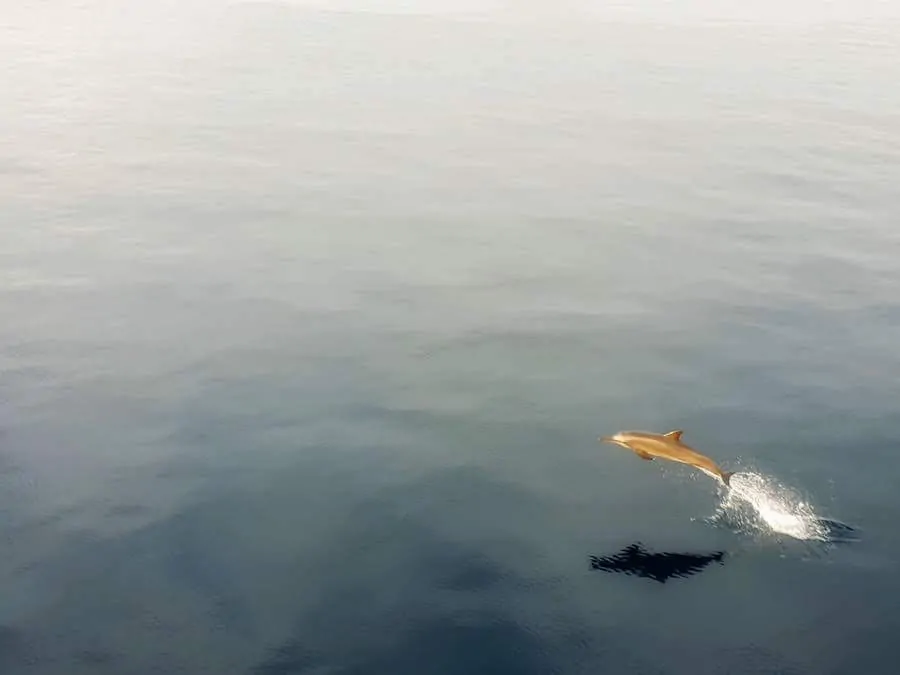 For those of you who haven't mastered breathing underwater yet, you will also have the opportunity to 'Try Scuba' with the qualified instructors on board. This is essentially taster session which runs you through the technical side and the 'how-to' of scuba diving before letting you have a go in a shallow section of water where you will descend to a depth of up to 10m.
The Staff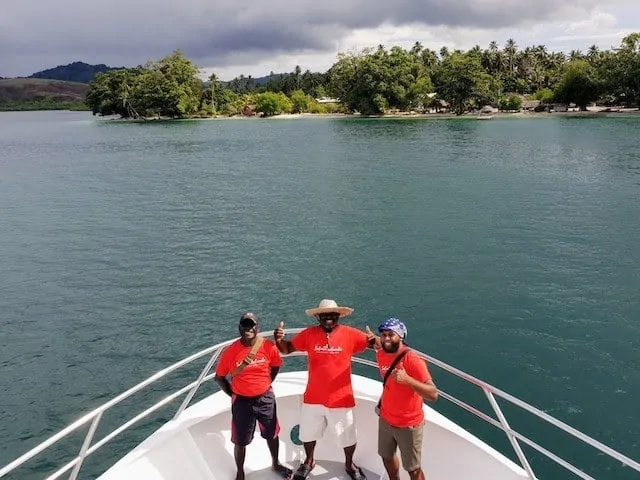 The staff on board are super friendly, accommodating, helpful and welcoming. Made up of mostly Solomon Islanders (with a couple folks from Vanuatu) they are a shining example of just how special the people who are from this region are. As well as making sure you have everything you need for a great cruise, they are also very happy to have a chat and tell you about their lives, and are essentially an untapped resource when it comes to learning about this incredible island nation. Do not miss a chance to get to know them!
The Verdict: Should you hop onboard the Solomon Islands Discovery Cruise?
Absolutely. Right away. What are you waiting for?!
If you haven't guessed, I completely fell in love with the Solomon Islands and the SI Discovery Cruise is a fantastic was to get a taste of the various different activities that are available on board whist getting a glimpse into Island life and meeting some incredible people; all whist being fed 3-4 times a day and with world class scuba diving and snorkeling everywhere you look.
It's amazing, unspoiled, undiscovered and unique. Offering a truly off the beaten path adventure that is eco-friendly and sustainable. It's also been likened to visiting a Fiji of 40 years ago, and its raw, authentic vibe is heartwarming. It is all together one of the most magical and special places I have ever visited – and after 50+ countries, that is a big call!
Go as soon as you can. You won't regret it.
What You Need to Know
Get Here: Return economy flights from Brisbane to Honiara with Solomon Airways usually fall in the region of $500-600AUD (cheaper when you book in advance)
A lower deck twin share cabin starts at $2499AUD per person (on a two person share basis)
All accommodation is on a full board basis
All listed activities (with the exception of scuba dives) are included in the price.
Don't forget Sunscreen, Sunglasses, Bug Spray (for the islands), GoPro Hero7 (for those epic underwater shots)
And that's a wrap folks. I hope I have convinced you that an SI Discovery Cruise is easily the best Solomon Islands holiday on the market – and I haven't let me know your thoughts or questions in the comments below so that I can keep trying to convince you!
Oh, and if you liked this article, or know some people who would LOVE to go (even if it's just you!) please share this article on Facebook, Twitter, Pinterest, or Flipboard – it would really help get the word out about this amazing place.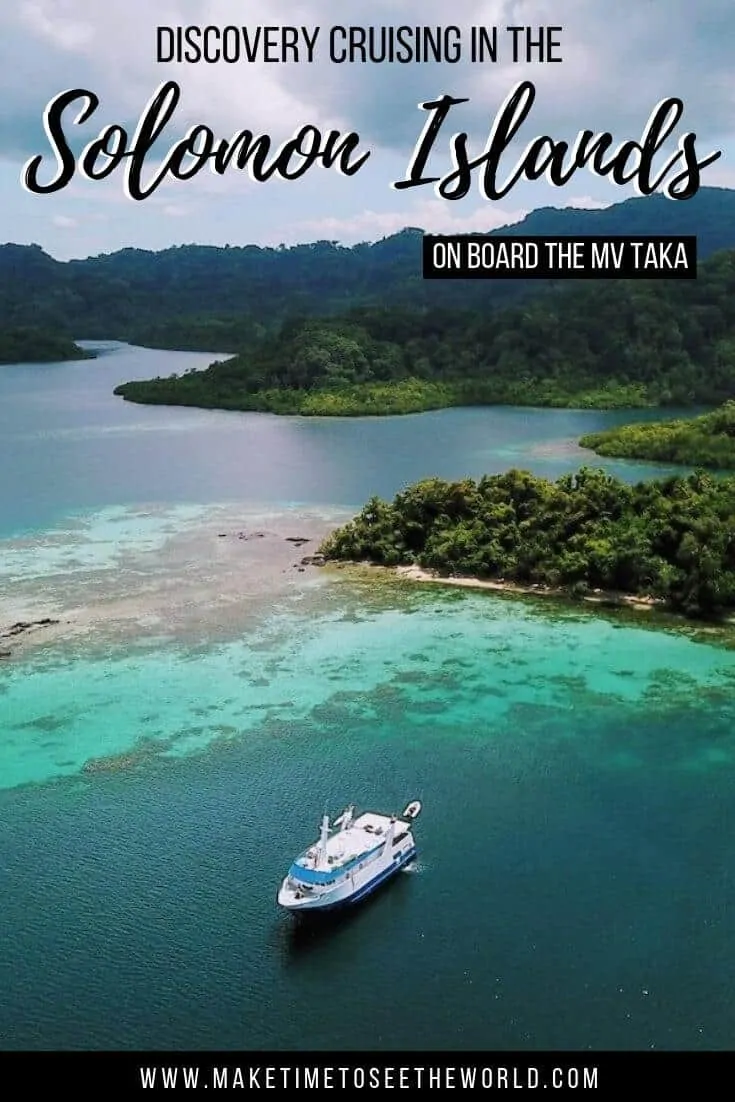 READY TO EXPLORE MORE OF AUSTRALIA AND THE SOUTH PACIFIC? YOU MIGHT BE INTERESTED IN THESE ARTICLES:
Hi There! Thanks for reading my post about Solomon Islands Discovery Cruise – The PERFECT Solomon Islands Holiday. I just wanted to let you know that every post on the site may contain affiliate links, which means if you purchase something after clicking a link, I may get a small commission – which is at absolutely no cost to you. If you enjoyed this article and are going to be searching for some of the things I mention anyway, I would love it if you could click through from the links above & thank you in advance! Read my full Disclosure here.
PSA: Check out these Solomon Island Holiday Packages in the Western Province with Virgin Australia. Also, taking a look at the South Pacific you could also consider visiting Port Vila in Vanuatu, Papua New Guinea, The Cook Islands, French Polynesia, Marau Sound, the Marshall Island or the Coral Coast!