In our opinion, there is nothing worse than arriving at the beach only to realize you could have done with [insert your favorite beach essential here!] Don't worry, we've all been there and we know just how annoying it can be, and we are here to make sure that that never happens to your again!
Just a little planning can go a long way when it comes to a trip to the beach and with our selection of the beach essentials, gadgets and accessories, we will have you summer-ready in no time. Think of this as the perfect beach packing list! (and you can thank us later and if you need a little distraction, take a peek at our Beach Quotes & Ocean Quotes for some sun and salt-infused inspiration!)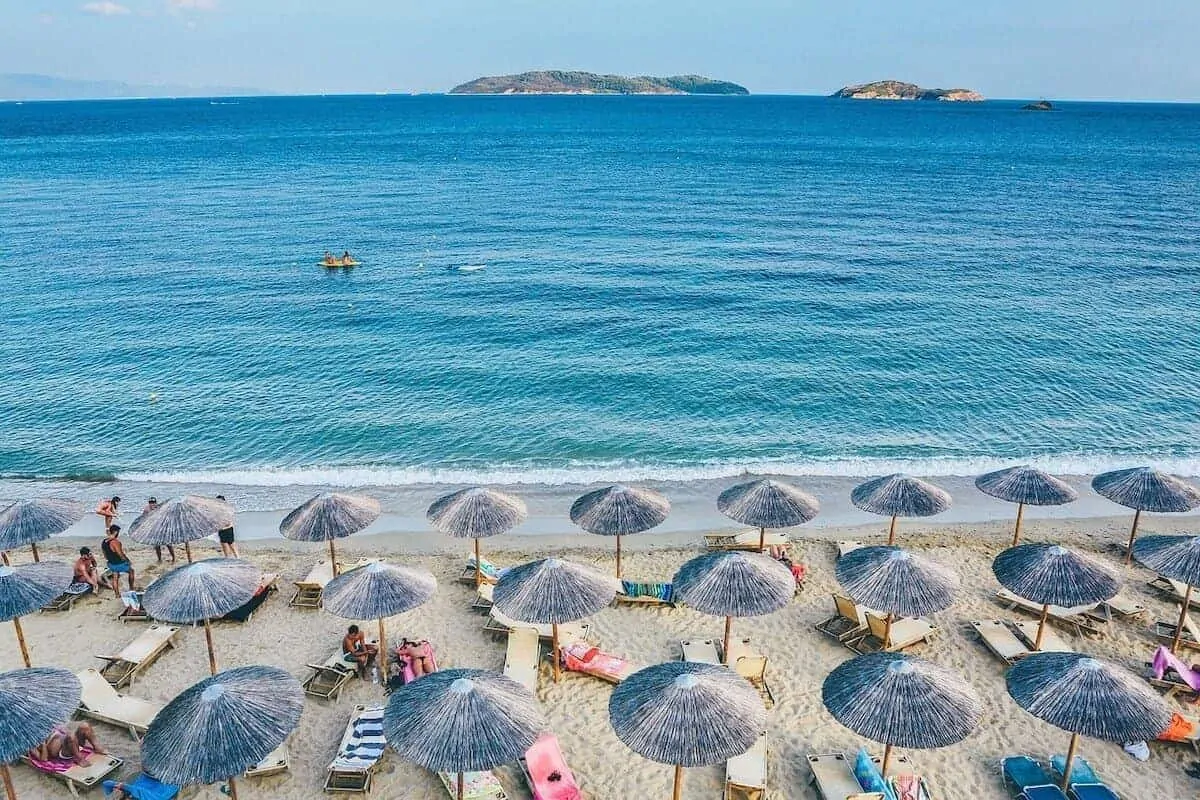 Disclaimer: This very helpful post about the best beach essentials for your beach packing list contains affiliate links, which means that should you click any of the links and make a purchase I may get a small commission at absolutely no cost to you. If you are thinking about buying any of these beach essentials for your next beach vacation – please consider using the links below. And you can read the legal stuff about it all in my Disclosure.
45+ Beach Essentials you ABSOLUTELY need to add to your Beach Packing List!
Waterproof Phone Case
This waterproof phone case from YOSH is just what you need for taking beach selfies all day long. Use this phone dry bag in the sea or with wet hands with its highly responsive screen, compatible with almost all phones – and it comes in different colors too! A true beach bag essential and a worthy gadget to start this beach packing list!
Click here to check out prices and color options in your country.
.
Beach tent
This pop up beach tent is super easy to put up in just 10 seconds! (and is way better than a beach umbrella!) Providing you with shade all day long, with certified sun & UV protection and multiple pockets it is also windproof and waterproof. It's the perfect sun shelter for families and groups on beach trips.
Check prices of beach tents here.
.
Floating sunglasses
Never worry about losing your sunglasses in the sea again with theses floating sunglasses from Cressi. Featuring a durable frame and polarized UV lenses for extra protection.
Grab a pair here.
.
After-sun leave-in hair repair
Protect your locks with the Sun Bum restorative leave-in conditioner, perfect to spray all over your hair after a session in the sun for easy hair repair on the go. One of the key essentials for the beach for anyone with longer locks they want to protect. Added bonus – this sun protectant is Vegan and Eco-friendly so you can protect your hair while you protect the environment. Winning. Buy a bottle (or 2!) here.
.
Portable UE Wonderboom Waterproof Bluetooth Speaker
The UE Wonderboom super portable Bluetooth speaker is one of the very best when it comes to waterproof portable speakers. It's a shockproof, waterproof speaker – and even floats(!) making it ideal for all weather conditions and one of our top beach essentials. Add portable speakers to your beach bag here.
.
Microfibre/Quick Dry Beach Towel
Say goodbye to traditional bulky beach towels with the colorful range of beach towels available from Dock & Bay. They are not only compact but also lightweight, quick drying and sand resistant. An essential beach packing list item if ever I saw one! And this beach blanket is a much better option than traditional travel towels which are often bland and made of 'interesting' materials!
Grab an extra large one and spread out on your sand-free space!
(If you'll be lounging on a sunbed we also recommend a set of towel clips to keep your towel secure and to stop the fight of keeping it flat as you lie down!)
.
Travel water bottle
Stay hydrated at the beach all day with the POP water bottle. Available in a selection of sizes, these babies guarantee to keep your drink cold for up to 24 hours or hot for 12 hours. Its one of our top beach necessities and a true travel essential no matter where you plan to explore. Check out POP here in the US, or SHO (who make similarly great water bottles) in the UK.
.
Foldable sun hat
A sun hat that is both stylish an practical. Made from straw, this hat is adjustable, features a large brim for sun protection and folds away easily to fit in any bag. And if you are a fan of the 'Gram and are hoping to capture some of those wistful tropical vibe back of the head beach shots – this (and a good looking swimsuit!) are your ultimate essential beach items!
Add a floppy hat to your kit here.
.
Cleansing wipes
Sand, sea, sweat… You name it, you are bound to end up feeling a bit sticking during your day at the beach but with a handy packet of Biodegradable travel cleansing wipes you will feel refreshed in no time.
Pop a pack in your beach tote here.
RELATED –
Looking to be more Green? Check out our
Eco-friendly gifts and accessories
for inspiration & ideas! It's not as hard as you may think to be better to the planet!
.
Cool bag
You can't miss this colourful 18L insulated cooler bag, ideal for a picnic at the beach. With plenty of space for refreshing drinks and snacks, this versatile portable cooler is durable and easy to clean too. And let's face it – you are not going to lose it on the beach in this colorful design!
Grab Your beach coolers here.
.
Beach cover-up
A beautiful, lightweight swim coverup, this cotton/polyester beach dress comes in a wide variety of designs and is loose fitting making is easy to slip on over swimwear for a stroll along the beach.
Find your perfect cover up here.
.
Reef safe sunscreen
Help protect our oceans by wearing All Good Reef Safe sunscreen spf 50+. It's organic, cruelty-free and biodegradable making it safe for our reefs; and at 50+ SPF will keep your skin protected in the harsh sun on your beach trip.
Stock up now.
.
Water shoes
Stay comfortable and protect your feet with these slip-on swim socks / water shoes. Made from breathable material, they are lightweight, quick drying and with the number of colors and designs available – you could even match them to your swimsuit!
They are available for men, women and children here.
.
GoPro HERO9
This GoPro Hero 9 Black camera is not only a great action camera with video stabilization and live streaming, it is also waterproof and durable making it ideal for use at the beach.
Grab a GoPro Here Today
.
And if you are hoping to capture some amazing over-under shots – be sure to pick up a
GoPro dome
too!
.
Folding outdoor sit/lounge mat
This isn't just any old beach chair, this is the Coleman beach ground mat, suitable for outdoor use, it is portable, lightweight and extremely comfortable, no matter what the terrain.
Order this lightweight portable beach chair and prepared to get comfy!
.
Active Swimwear/Rash Guard
If you plan to hit the waves whilst at the beach, be sure to grab an Rashguard. They're made from a protective fabric to fight against UV rays and come in long sleeve, short sleeve designs. There are loads of colors to choose from online – click through from the links above to see more.
.
Fitbit
Track your fitness even whilst at the beach with the Fitbit advanced fitness tracker it's water resistant up to 50M and has a battery life of up to seven days. Get tracking your activity today (and it's not just for the beach!)
.
Snorkel & Mask Set
Going to a beach with amazing coral or tropical fish? You are definitely going to want to pop on a mask and snorkel to help you take a good look around under the waves! Opt either for a traditional 2-piece mask & snorkel set, or try out on the the new style 180º panoramic full face mask.
.
Portable shower
No shower at the beach? Consider bringing your own! This easy to use portable shower from Rinse Kit requires no pumping or batteries and can spray for up to four minutes. Perfect for a quick rinse off for those that hate sand between their toes when they are putting on their shoes or simply want to rinse out swimwear or even a surfboard!
.
SPF Lip Balm & Sea Salt Spray
.
Small but mighty, this SPF30-infused lip balm with keep your lips hydrated and cracked free during your day at the beach; and this Sea Salt Spray will prevent frizz whilst giving your locks volume and style whilst you basking in the sun and enjoying the beach.
.
Surf sandals
These surf flip flop style sandals are ideal for walking on the beach and uneven surfaces with added grip, support and durability. Find your flip flops size here.
.
Grab some Inflatables!
Have you even been to the beach if you haven't had your photo taken on an inflatable unicorn, or lounged around on a floating pineapple? And if you are really not a fan of sand, this inflatable beach lounger is the perfect elevated platform to relax on during beach days (and can even be used in your back garden if you like!).
And the waterproof pillow, great for resting your head both in the water and on the sand. Add one of these beach day essentials (or all of them!) to your beach packing list now! (And maybe a portable pump in case you don't want to end up out of breath!)
.
Portable lock box
Keep your valuables safe with this portable lock box from Den of Goods. Made from durable plastic, it is weather resistant, has a capacity of 1.5L and features a security wire cable to attach it anywhere. Order yours today and never worry about your stuff being taken whilst you're taking a dip again.
.
Droplet bag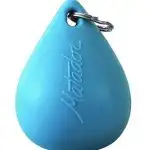 This handy little bag keeps water both in and out making it versatile for storing wet swimwear or keeping your valuables dry. A compact solution, it has a keyring attachment so you never forget it. A very handy (and cheap!) beach essential – grab yours here.
.
Insta-Worthy Sunglasses
Protect your eyes, look fantastic and rock some Jackie-O style with these oversize sunglasses, or stand out with the latest trend of colored and mirrored lenses. Whatever you decide – just own it!
.
Kindle
If you're anything like me, a bit of beach time is the perfect opportunity to get into a good book (and it's something I often neglect!) And whilst I also like the feel of a book, when I'm traveling, they are often extra weight I just don't want to carry – and that's where my Kindle Oasis e-reader comes in. With adaptive backlight technology and waterproof casing – and the ability to stack multiple beach reads on there at one time, it makes it perfect for using in the sunlight, near to water and for saving space in my bag! Treat yourself to some new tech here.
.
Folding Beach Sunshade
Get shade when you need it or have it act as a wind breaker on blustery days. Create your own little private space with this beach wind screen and fold it down and back into it's carry bag once you are done! Buy yours here.
.
Portable folding table
Enjoy drinks, a picnic or even a BBQ at the beach with this handy folding beach table. Made from aluminum, this table is sturdy but also lightweight for long walks down to the beach and helps keep the pesky sand out of your food and drink! Click the image to add it to your beach gear list on Amazon!
.
Beach First Aid Kit

Be prepared for anything with this mini first aid kit, containing 85 first aid supplies including plasters, scissors and bandages. It's ideal for popping in your bag to take the beach. Although be warned – if you get stung by a jellyfish, you are still going to need to pee on the sting.. everyone remembers that Friends episode, right?!
Add a mini-first aid kit to your beach packing list here.
.
Solar Power Bank
This high capacity solar power bank is one of our must-have beach essentials for long days by the ocean – particularly if you want to use all your gadgets (smartphones, kindle etc) and is compatible with both IOS and Android devices. And with 36 connecting leads, 3 USB outlets and hours of charging from one full charge, you'll be able to power up all your friend's devices too. Put this at the top of your beach essentials list and Grab your own personal solar power bank here.
.
Beach Tote Bag
We have found your perfect beach tote bag, it's stylish, large enough to fill with all your beach essentials (even a change of clothes!) and a zip to keep them secure; there is even another internal zipped compartment for an extra sand-free space! Be sure to add this to your beach essentials list (and amazon shopping bag!) quickly so you don't forget!
.
Dry Bag
Worried about getting your camera or other techy things wet or sandy whilst at the beach? A dry bag is an essential beach packing list item. Dry bags come in a range of sizes and colors and can be used for various water-based activities such as scuba diving or snorkeling on future boat trips!
.
Wet Bag
If you have kids that don't like wearing wet bathers, or you yourself rather get completely dry and changed before getting in the car, a wet bag is pretty much the reverse of the dry bag above in that it is designed to keep wet things in – thus keeping all your other things dry!
Aomais Beach Sand Coasters
Never spill your drink at the beach again with this handy drink holder. Suitable for cups, bottles and cans, and you don't have to dig into the sand to keep them level! Fun and compact, they are a beach packing list essential and because they are so cute you'll want to use them and so they'll also keep you hydrated (because no-one wants a warm drink on the beach, right?!)
Grab a set here.
.
Picnic Backpack
If you are planning a beach picnic with your friends or a romantic sunset snack, the standard table and beach blanket combination may be a little underwhelming. Do yourself a favor and grab a dedicated picnic backpack – this one features a wine bottle holder, picnic blanket, stainless steel cutlery, plastic wine glasses (and bottle opener) and even a cheese board & cheese knife. I know I'd be impressed if my significant other rocked up with one of these babies! The backpack itself is also made of high quality, water and tear-resistant material. A beach essential if ever I saw one – and can be used for loads of outdoor activities!
Get yours here.
.
Aftersun
Last but not least – and ultimately the No.1 Beach Essential and an absolute MUST when it comes to your beach packing list (or mine at least!) – is aftersun. We can be as careful as possible but some of us just have body parts that are more susceptible to sunburn than others (for me it is my nose!) and a moisturizing and cooling aftersun (especially with aloe vera) is like a little slice of heaven on my burnt bits after a day in the sun!
.
Oh, and for the (big) kids – a beach kite or other beach toys!
Have you really had a great day at the beach or a fun day in the sun if you haven't played a few games?! From kites to beach bocce ball, to paddle to Slammo (a 2 on 2 beach volleyball-esque game!). Take a few minutes and play like you did when you were a child; or add these to your kit for the perfect family beach day. Either way – it'll be a whole heap of fun!
.
Extra Beach Essentials for Kids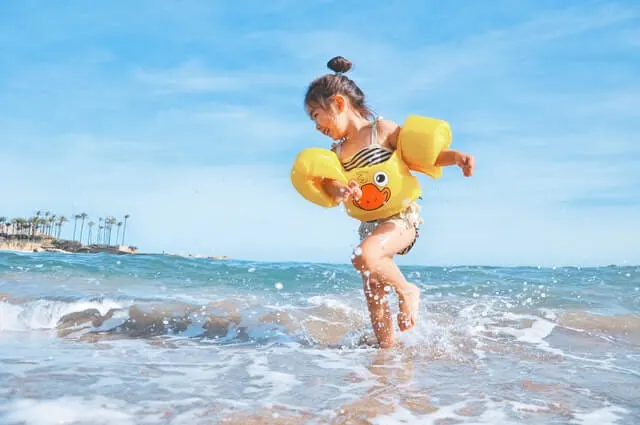 Plan the perfect day at the beach with the littlies with these extra beach essentials for kids:
Large Beach Mat that everyone can share;
Kids swimmers, flippers, mask, snorkel, or googles;
Beach and Sand Toys (frisbee, bucket and spade etc);
Kids Clothing, Kids Cover-Ups & Dry clothing (for the trip home);
Kids flip flops, kids sunglasses and kids hat;
Swim diapers (as needed, dependant of your child age);
Floaties or Arm Bands (as needed); and
High SPF and Waterproof Sunscreen lotion
A Quick Beach Packing List for Dogs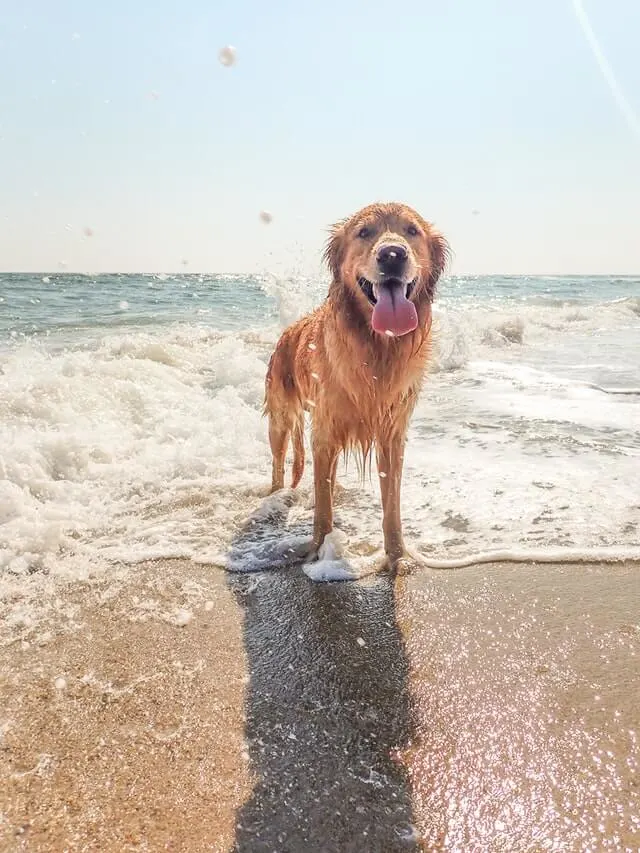 If you're planning some fun in the sun with your furry friend, our beach necessities for dogs will make sure you have everything you need:
Portable water and food bowls (+ adequate water supply);
Sun Protection;
Floating toy and/or beach ball;
Spiral dog stake (to buy in the sand and keep your pup on a leash);
Dog Life Jacket (if required);
Absorbent pet towel;
Car seat cover (if you pup sites in the back rather than the boot/trunk); and
Pop up shade (if you are not taking your own that you can share)
And that's a wrap folks! Have we made your beach vacation packing list a little longer? We are really sorry if we have but trust us: you'll be so grateful to have any of the beach accessories featured in this guide for a carefree trip when you head to the beach this summer.
Do you know of any other fantastic beach accessories or summer essentials that you think should definitely be included in our guide for what to bring to the beach? Or have you already got (and love) one of our best beach bag essentials? Tell us in the comments below.
And if you liked this post – or know someone who needs a little reminder about what essentials to pack for the beach, please tweet, flip, share on Facebook or pin the image below – remember – sharing is caring!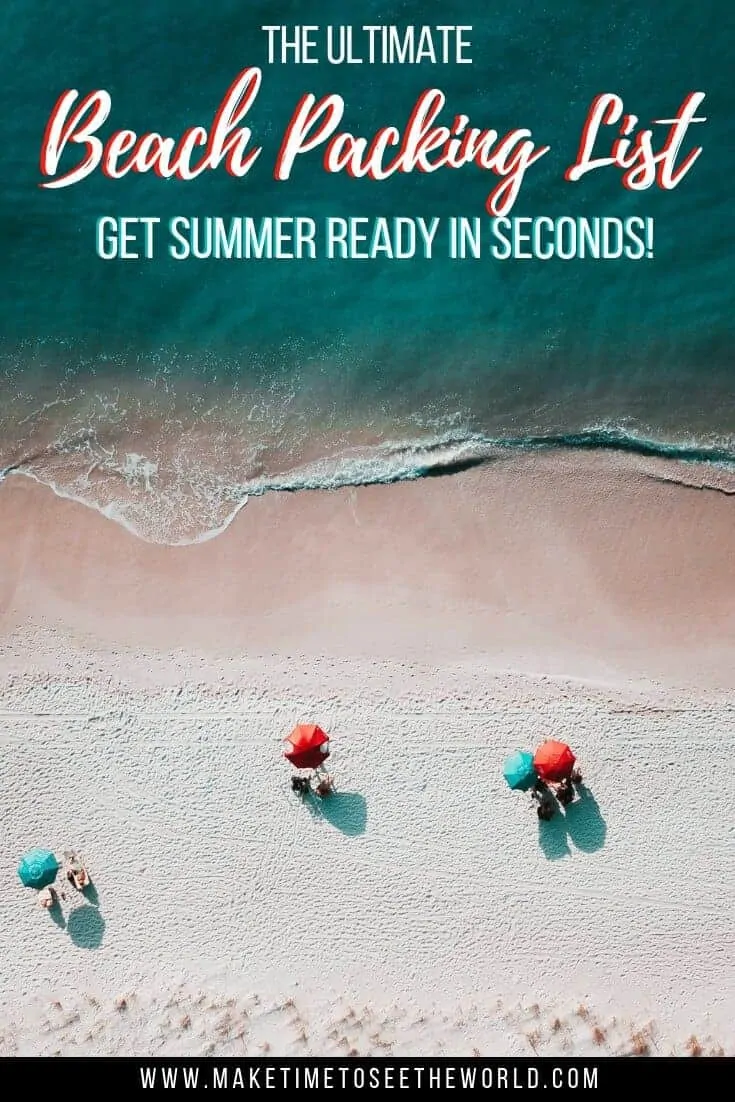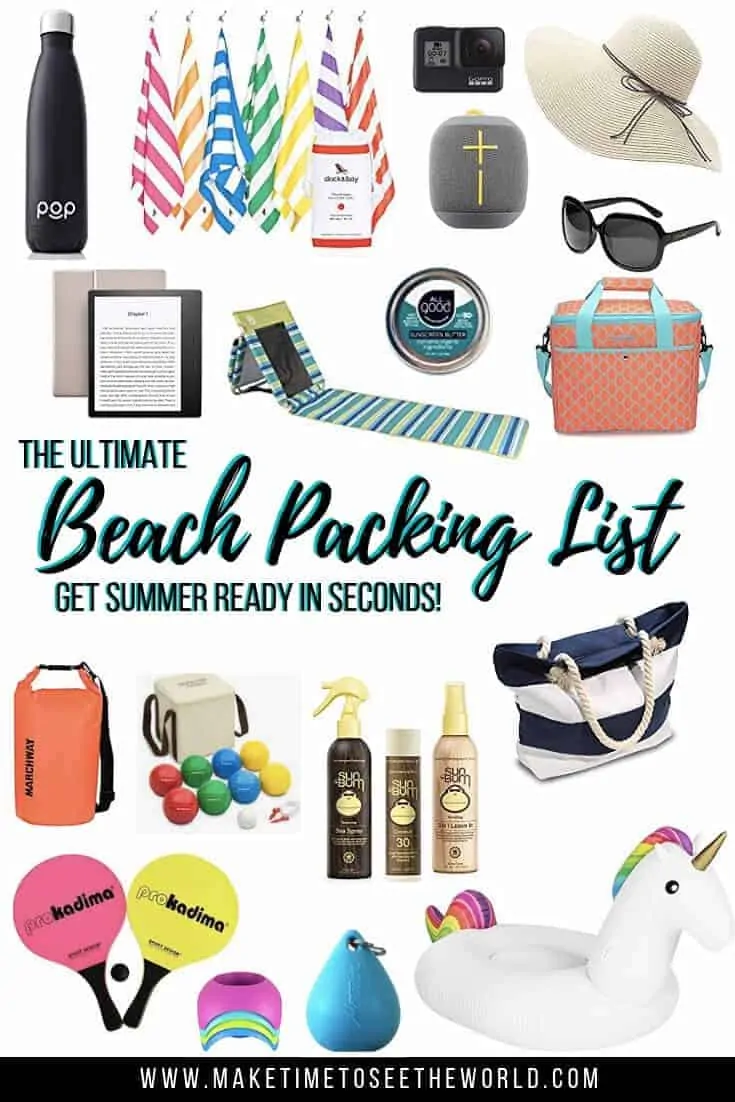 READY MORE TRAVEL INSPIRATION? YOU MIGHT BE INTERESTED IN THESE RECENT POSTS, TRAVEL ARTICLES, TRAVEL ACCESSORIES, DESTINATION GUIDES, TRAVELER RESOURCES, TRAVEL GEAR GUIDES AND RELATED POSTS ABOUT OTHER AMAZING PLACES AROUND THE WORLD:
Hi There! Thanks for reading my buying guide & travel gear guide to The Best Beach Essentials for your Beach Packing List (which are the ultimate beach bag essentials)! I just wanted to let you know that this post contains affiliate links, which means if you purchase something after clicking a link, I may get a small commission – which is at absolutely no cost to you. If you enjoyed this article and are going to be searching for some of the things I mention anyway, I would love it if you could click through from the links above & thank you in advance! Read my full Disclosure here.

And Thank you for reading the MakeTimeToSeeTheWorld travel blog posts.