Whether you're a seasoned globetrotter or a first-time traveler, having a detailed international travel packing list for your checked bag can make all the difference in preparing for your trip. We're going to go right back to basics, from looking at what travel bag is best, to what toiletries and medications you should carry, the best tech for travel and a capsule wardrobe that will make sure you are prepared for almost* any weather.
From packing light, to the carry on essentials you need in your carry on bag, these packing hacks are everything you need to get yourself ready to travel. Scroll down for the Ultimate Packing Checklist for Travel – complete with FREE Printable Travel Packing Checklist!
*Note: NOT for the Arctic/Antarctic Circles.. you're definitely going to need some specialist stuff for those destinations!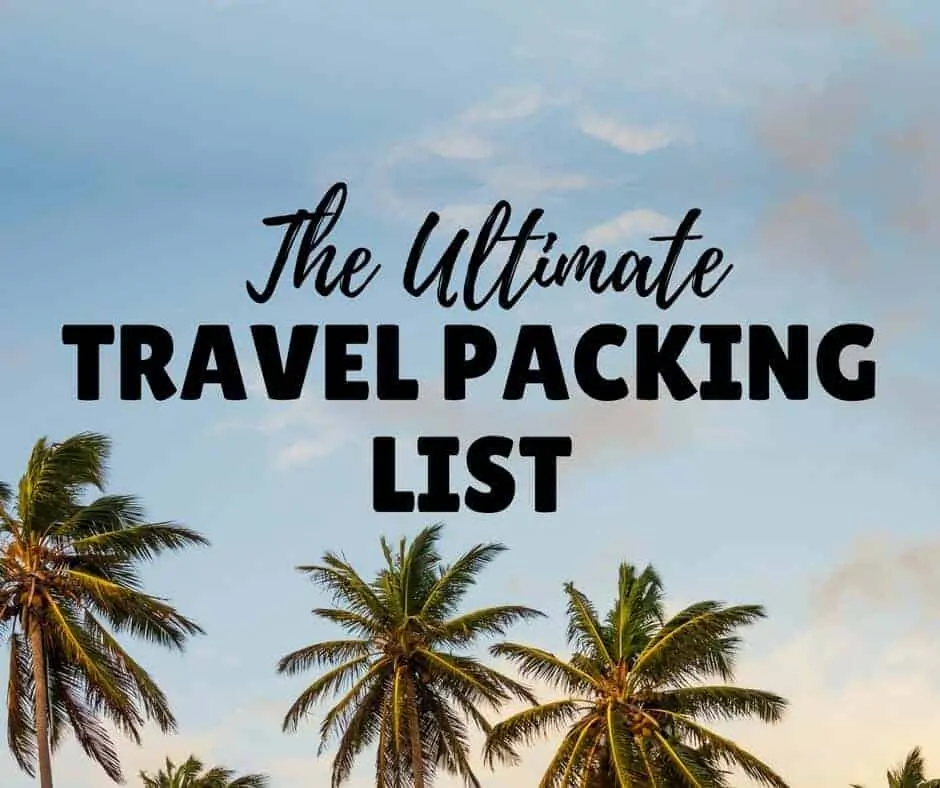 Disclaimer: This very helpful post about the ultimate travel packing list including free travel checklist contains affiliate links, which means that should you click any of the links and make a purchase I may get a small commission at absolutely no cost to you. If you are trying to make sure you have everything you need for your big trip – which if you are here I presume you are – please consider using the links below. And you can read the legal stuff about it all in my Disclosure.
Packing a bag for travel can seem like a mammoth task, but we've put together this travel packing checklist to help you travel smarter. Whether you are packing for Europe, International travel or simply packing for vacation, the travel essentials listed in this post will make sure you are perfectly prepped for every adventure. It really is the Ultimate Packing List for practically all situations!
The Travel Packing List Guide to the Right Type of Bag


Wherever you're planning to go, you'll need to choose luggage that is versatile, sturdy yet lightweight and big enough to hold all your essentials. With the myriad of bags now on the market – from trusty wheeled cases to high tech backpacks, making a decision on what travel bag is best for you can be tough. These are our top recommendations for each of the different styles of bag and where they can best be utilized:
Rolling Luggage – Traditional, the stuff your family holidays were made of. A wheeled suitcase is not the enemy that hard core travelers tend to make out. If you are traveling in a western country/countries where the roads are paved and the buildings have elevators, a wheeled bag is perfectly adequate for your travels. Just don't buy one that's too big or you'll end up packing more than you need!
Our recommendation: Samsonite Luggage Ripstop 30 Inch Wheeled Duffel
4-Wheels Can Be Better Than 2! – Depending on how much luggage you plan to take, your bag can become heavy quickly. If you know there will be lots of walking with your bag where ever you are traveling to, consider purchasing a case with 4 wheels that will reduce the pressure required on your wrist from dragging it. And can effortlessly glide by your side.
Our recommendation: Samsonite Lifttwo Hardside Spinner
Duffel Bag – Simple, Lightweight and Durable, it's just like carrying a sports bag! They're also great to have as a 'extra bag option' as they generally fold up quite small and can be used for the 'extra stuff' and souvenirs you may acquire on your travels.
Our recommendation: Shacke Duffel XL
Wheeled Backpack – If you'll be going through different types of terrain, or switching from airports to cobblestones, having a bag with the option to roll it or carry it like a backpack or duffel is really handy.
Our recommendation: Blackwolf Grand Tour
Travel Backpack – You know you're a traveler once you have bought a backpack. (I resisted for years!) But now my backpack is practically part of me, and perfect for traveling in Asia, South and Central America and Africa.
Our recommendation: Mountain Top 50l + 5l with Raincover
Carry-On – This one requires incredible discipline and prevents the risk of ever over-packing. But if you can get away with traveling with only a carry on pack you will save time at airports, save on checked baggage fees, never run the risk of the airline losing your bag and won't do too much damage to your back from carrying a heavy pack during long term travel!
Our recommendation: Osprey Porter Travel Backpack 46l
.
The Best Tech for Travel


A lot of this section will be dependent on how long your trip is and the destinations you are visiting. But regardless of that you want to capture the best memories and make use of the incredible technology available to us in this day and age – most of which will needed to be carried as your personal item(s) in your carryon bag on the plane.
Smart Phone & phone chargers: Everyone has one. Perfect for keeping up with your friends and family back home via social media, using maps to navigate around your destination, and taking quick photos.
Our recommendation: IphoneX, Google Pixel 4 (for those that love a good portrait mode. Selfie anyone?!) or if you're Samsung Devotee, the Samsung Galaxy S20 is the latest and greatest.
A Good Camera + Spare Memory Card: A 'good' camera is entirely subjective and will depend on how serious about photography you are and your technical skill level. And don't forget a spare memory card or two!
Our recommendations:
– If you're after a cheap point and shoot you can't go wrong with a Canon Powershot
– If you're after a big more punch but don't want to learn how to use a DSLR the Lumix Fz70 is the perfect bridge camera. Lightweight, compact, x60 zoom. Read my full review here.
– Moving onto a traditional DSLR, the Canon EOS 7D Mark II has been voted one of the best in its category and is in the middle of the range when it comes to expense, however traditional DSLRs are starting to be be replaced by mirrorless cameras and the Sony A6000 has been a photographers favorite for a number of years now.
– And don't forget a trusty GoPro for all those action sports and scuba diving you'll be doing!
A Drone: That's right folks, a technology advances at record breaking rates, drones are getting better and better. Whilst the bigger drones (such as the DJI Phantom) are great pieces of kit, they can be a bit bulky to carry around, particularly if you're traveling solo.
Our recommendation: The DJI Mavic 2 or the DJI Mavic Air (it's my new favorite bit of travel gear!) Light and compact, it folds down to practically nothing and offers incredible control and tracking via the handset controls. And with falling prices you too can capture those incredible aerial shots that are rocking Instagram!
RELATED –
Still undecided about your Travel Camera of choice? Let us help you pick out the perfect travel companion for you with our guide to the
Best Cameras for Travel Photography
or if you're wanting to step up your game, take a peek at our
drone comparison article
and find the best bird for you and your budget..
Noise Cancelling Headphones: For planes, trains and automobiles, when you want to rock out to your favorite feel good tracks, but don't want to annoy the life out of your fellow passengers, or listen to them spoil your you time!
Our recommendations: When space is at a premium, in ear headphones are a must, but for those who love that over ear feeling, you cant go wrong with the Sennheiser PXC550 (read my full review here)
Laptop: Due to my job revolving around a website, a laptop is an absolute necessity for me, but it really isn't necessary for other travelers on short trips. If however you a planning to be away for more than a month, a laptop is a great for watching movies or some serious web surfing. For example, i much prefer to look at flights and compose important emails on a big screen. And I may be slightly addicted to a few TV shows which I stream behind a VPN…
Our recommendation: MacBook Air
Kindle or e reader
Portable Wifi Hotspot: If you are a digital nomad or simply need to get some work done from a reliable internet connection whilst traveling, a personal wifi hotspot device is just what you need. Read our Wifi Hotspot Review & Comparison Guide to find your perfect match.
Adapter Plug: Different countries = Different power adapters required. Grab a Multi-Adapter and make sure you've got all bases covered. There's nothing worse than having tech you can't charge!
Our recommendation: Travel Adapter with USB Ports
Power Bank: Power banks are great way to keep your phone and camera alive whilst out and about!
Our recommendation: Anker 2000 Power Bank

Tech Tacos: With travel tech comes lots of cables – for charging, syncing there can be wires everywhere. Keep them organized with cute Tech Tacos!
Travel Speakers: Because sometimes you need a little music to get a party started.
The Best in Travel Comfort


If you're going to be on the road – particularly for an extended period of time – you're going to want to be comfortable on those long travel days. The following travel accessories will keep you comfortable in every potential mode of transport and will help you grab the nap you've been craving. Add them to your packing list for vacation immediately!
Travel Pillow: If you haven't heard of the TRLT Travel Pillow, you are seriously missing out. I always struggle with traditional neck pillows as they don't provide enough support for my giraffe like neck. Soft and Strong it is scientifically proven to provide incredible neck support and possibly be the best thing to ever happen to naps! Better still, if folds down to nothing and will take up way less space in your bag than the traditional neck wrap.
Eye Mask & Ear Plugs: Slap on your eye mask. Put in your ear plugs. Block out the light, block out the sound and drift of to sleep.
Tangle Teezer: The. Best. Hairbrush. Ever. I bought one of these almost 3 years ago now and it goes everywhere with me. Compact and in its own protective case, it glides through my long hair with ease – and get rid of knots without ripping the hair from my head. I don't know how I ever lived without one before.
Foldable Water Bottle: A foldable water bottles is perfect for filling up from the water fountains after airport security, or folding down and packing into your bag after you've finished a hike. Read our full comparison post on the best travel water bottles here.
Travel Moisturizer & Lip Balm: Sometimes your body just needs a little help when traveling through different climates, altitudes and time zones!
A pen: for filling in forms or jotting down notes. You should always have a pen in your bag whether you are traveling or not!
How to Pack a Capsule Wardrobe for Travel


Packing travel clothes for any trip can be a nightmare. From trying to find pieces that match and can be worn with multiple outfits, to limiting jackets and accessories to save space and finding a way to organize everything so it is easily accessible. (Packing cubes are a lifesaver for this! – check out our favorite Sets of Packing Cells here.)
This is predominately a packing list for women, and clothing items and the amount of clothes you need to pack will be variable depending on your destinations and how long you intend on traveling for, but a skeleton capsule wardrobe would include the following: Psst. keep scrolling down for my free printable packing list for travel to help plan your trip.
Lightweight clothing that can be layered
1x Longsleeved shirt(s)
1x Sweaters or fleece jacket (for cold weather destinations)
4x T shirts and tank tops (take a couple that have sleeves to be respectful of the culture you are visiting)
2x Travel Pants and/or shorts
2x Dresses and/or skirts
1 x pair of jeans (good for travel days/airports and planes)
1x Packable Rain jacket, windbreaker and/or a mini umbrella
1x Sports Bra
1x Yoga Pants & Sports Top
1x Pajamas / sleepwear
1x Belt
Underwear, Bras & Socks – wool socks are best for hiking, pop socks for day to day wear.
3x Pairs of Travel Shoes: 1x Comfortable walking shoes / athletic shoes, 1x flip flops (for shared shower facilities) and 1x pair of dress shoes /going out shoes. If you find yourself packing more than 3 pair of shoes, be ruthless and decide if you really need them!
Sunglasses and glasses case
Jewelry – pack your favorite pieces in this Travel Jewellery Organizer
Hat or sun visor
2x Bandana / Scarf – can be worn in the hair/over the head/as a wrap and as a scarf
2-3 Swimsuit / Bikini (I like one full swimsuit for watersports/scuba diving, and two different style bikinis to alternate to avoid tan lines. I know, very vain of me!)
And – my personal pièce de résistance – is my super soft cashmere wrap. It can be dressed up, dressed down, is perfect for an extra layer (both comfortable and warm) on the plane or for covering your shoulders at places of worship. It's the best travel companion and comes in lots of colors! IMO a good 'wrap' is an essential wardrobe staple for any point of your life – but should definitely be included in a vacation checklist!

.
What to Pack in your Travel Toiletries Kit Bag

This is the ultimate packing list for toiletries and is the same for each and every trip you take!
Toothbrush, Toothpaste, Toothbrush Cover & Dental Floss
Deodorant
Hand Sanitizer
Shampoo, Conditioner & Shower Gel (if you're not likely to be staying in fancy hotels where this is provided)
Wet Wipes/Make Up Remover Wipes/Face wash
Travel Towel
Hair Bobbles/Bobby Pins
Feminine Hygiene Products
PLUS: Any additional hair products required to tame your mane (mouse/gel/hairspray/anti-humidity spray etc)


.
What to Pack in your Travel Health/Medication Bag

Any prescription medications – with the pertinent information from the box cut out and kept with the medication. This is mandatory for an international travel pack list.
Travel First Aid Kit: A travel first aid kit will usually contain band aids, antiseptic wipes, bandages, gauze, small scissors and tape/pins. An invaluable addition to a travel packing list if I do say so myself.

Imodium ( for any tummy upsets from new foods)
Paracetamol (for pain & fever relief)
Anti-inflammatory Medication (for when your muscles hurt after that hike or had days trekking)
Bug Spray/Insect Repellent
Cold and Flu Tablets/Lozenges
Antihistamines/Allergy medication
Motion sickness Tablets
Sleeping Pills (if required)
Antibacterial Ointment
Region specific medication (ie. prophylactics/anti-malarials if traveling to an affected part of the world) Check the malaria risk of a region here
Organizing Your Travel Documents

You're not going to get far without these essential travel documents:
Passport/visa(s) – Not sure if you need a travel visa? Check here.
Personal ID/Student ID card – If you're a student, some companies offer discount cards to help you get good deals while on the road.
Cash and credit card(s) – Call your credit card companies before you travel to inform them of your travel and try to carry 1 debit card and 2 different credit cards in separate bags/pockets/travel wallet in case one gets stolen/damaged.
Frequent flyer card(s) and other loyalty program card numbers (it's best if you can find one program and stick with it instead of jumping between them – which is what I do!)
Travel insurance information
Reservations, itineraries or pre-printed boarding pass – try and keep an electronic copy of all documents too.
Hotel and/or tour contact information
Transportation tickets (plane, train, bus, car, etc.)
Emergency contacts and important addresses
Travel Security
It is always a good idea to have a safe place/secret pocket where you can store important documents whilst you are traveling. Try also to book accommodation that either has an in -room safe (hotel) or lock box (for hostels). You could also look at the following travel safety products and decide if they are something you would utilize:
And that's a wrap folks. We hope we have answered all your questions about what to pack for a trip and I hope you have found these packing tips super helpful in getting ready for your next trip. If you'd like a bit more help, subscribe below to get my FREE Printable Travel Packing List (Plus more travelling tips and packing tips than you can shake a stick at!) to get you packing like a boss in no time!

This really is the ultimate packing list for international travel and comes with a free printable travel lists for packing at home – you're welcome!

And if you liked this post, please tweet, pin and share – as always, click the P in the sharebar to the left for the full sized image!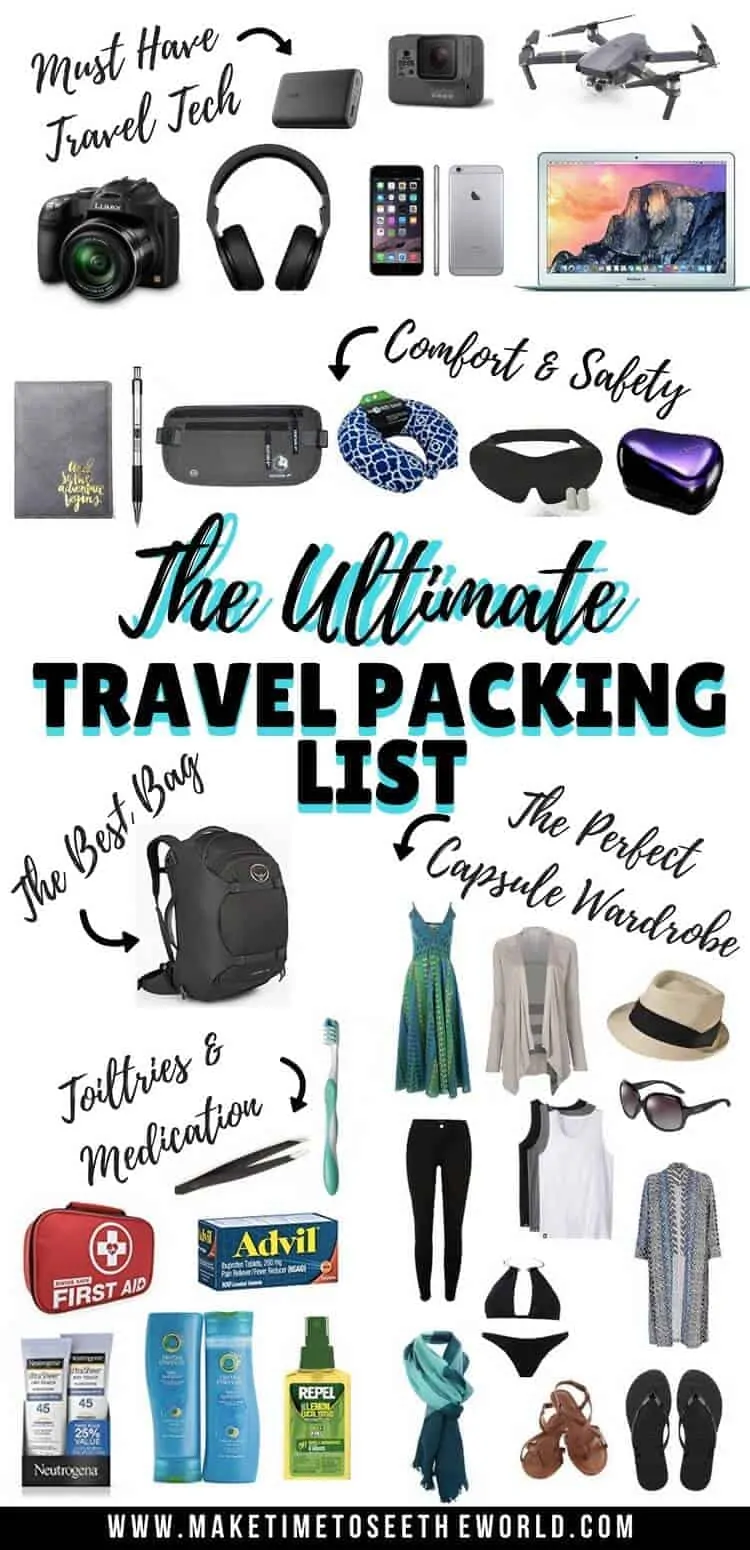 And if you liked this travel essentials checklist, vacation checklist, vacation packing list (etc!) take a look at the other packing list for travel in this series:
Hi There! Thanks for reading my post traveling list about The Ultimate Travel Packing List filled with packing essentials, travel kit list and a travel checklist! I just wanted to let you know that this post contains affiliate links, which means if you purchase something after clicking a link, I may get a small commission – which is at absolutely no cost to you. If you enjoyed this article and are going to be searching for some of the things I mention anyway, I would love it if you could click through from the links above & thank you in advance! Read my full Disclosure here.